Best Jumpsuit CC For The Sims 4 (Maxis Match + Alpha)
This post may contain affiliate links. If you buy something we may get a small commission at no extra cost to you. (Learn more).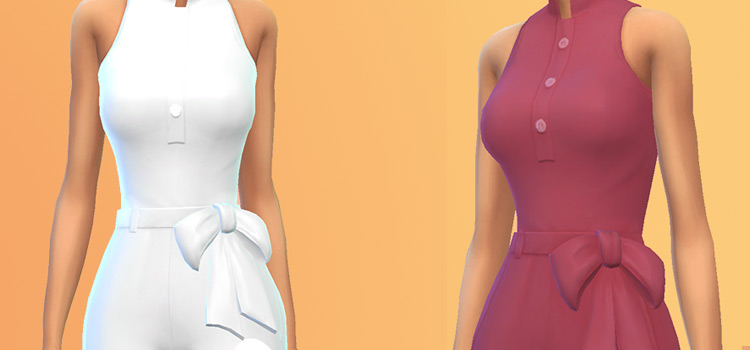 There's nothing quite like a jumpsuit.
Whether you're channeling Meryl Streep from Mamma Mia, or just looking for a way to look way more 90s than you actually are, jumpsuits are the way to go.
What other outfit could possibly function both as an acceptable thing to sleep in, and a piece of formalwear? I'm at a loss.
Well your Sims will surely thank you for all these new jumpsuits you'll be getting for them – and we've got quite a list for you to look through.
1.

VILA Jumpsuit by Helsoseira
This jumpsuit is basically just the industrial style, but made sexy. It's precisely the type of look that only a jumpsuit could provide.
It's both extremely casual (imitating a worker's uniform) while also being runway-ready. Yes, somehow that's possible.
Pop on some high heels, or for a more laid-back look, try some converse shoes. Then your Sim lady is ready to go out.
Your Sims are bound to turn many heads wearing this.
2.

Heidi Jumpsuit by MissFortune
OK, this outfit is just breathtaking.
The small corset top draws attention with the delicate, ornate detailing. And the pants are a masterpiece in their own right, with the vintage floral pattern.
Put them together in a one-piece and you get a magical outfit that your Sims could easily wear to a dinner party – or maybe even to your friend's wedding.
3.

DS Design Two-Layer Jumpsuit by DarkNighTt
Jumpsuits can sometimes get the reputation of being more suitable for the younger crowd.
But if your older and more well-established professional Sim is worried about that, well, they don't have to anymore.
This jumpsuit is the type of sophisticated look they're after.
It comes in 20 different colors too. From white and black, to far more daring choices, you're sure to find the right style for any Sim.
4.

Jumpsuit Serena by Beo Creations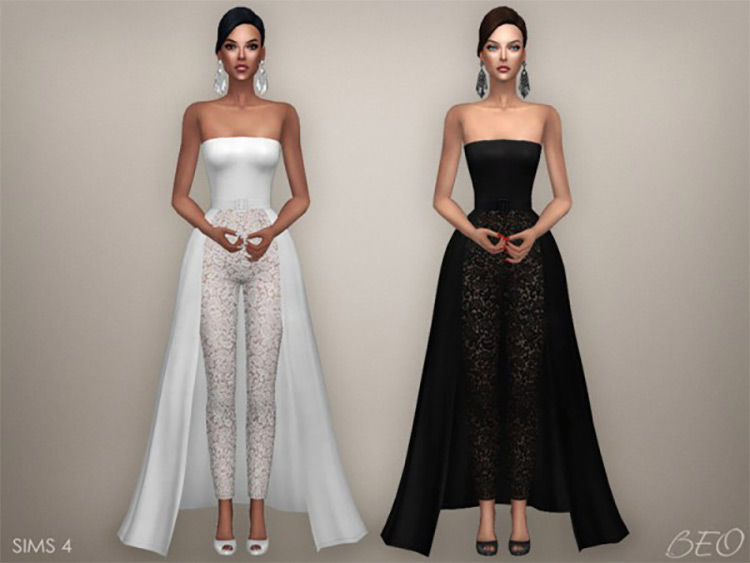 I once saw this episode of Say Yes to The Dress where the bride really wanted to wear a jumpsuit on her wedding day.
Not everyone was thrilled about the idea.
That's probably because they haven't seen the right jumpsuit yet… like this one.
Honestly, your Sim could easily pull this off for their wedding. And it would likely impress all the guests.
Even the annoyingly traditional mother-in-law who always seems to have a strong opinion on everything.
5.

Jumpsuit with Bow Knot by ChloeMMM
If you're looking for an outfit that your Sim could strut around near a beach, here ya go.
This jumpsuit comes designed with a bow, and comes in 7 swatches, most of which would be perfect on a sunny day.
Match these up with a nice pair of sunglasses and some cute sandals, and you've got an outfit that's both comfy and fashionable.
All they need now is some cheeky ice cream and their holiday is perfect.
6.

Open Jumpsuit by NitroPanic
I can just imagine this jumpsuit on a Sim that just loves watching "Keeping up with the Simdashians" (or whatever the Sim version of that TV show would be).
I mean look at this thing! It's stylish, it's tight-fitting, and it has a collar that functions as a choker too.
And you can get this CC in a couple of different colors. Plus it's available to any Sim from teenagers to elders.
So theoretically, you could have a whole family dressed in these in no time.
Kardashian-themed party, anyone?
7.

Dafne Jumpsuit by MissFortune
I've got this one friend who always likes to go for unusual clothes: the stranger, the better.
Abstract patterns and artsy looking things are her favorite.
I just know she would love this jumpsuit.
It's so out there, and it feels like something a painter could wear while explaining their latest masterpiece.
So artistic. So cool.
8.

Snow Jumpsuit by KaTPurpura
Christmas is coming (it's always coming). And with it comes the age-old question:
What are you going to wear on Christmas Day?
Sure, you could just go with that ugly but cozy Christmas sweater and blend in with everyone else in your family who's wearing the same.
But if your Sim likes to stand out and go all-out, you can ditch the sweater for this exquisite jumpsuit.
If your Sim is looking to impress their rich boyfriend and encourage them make a move to finally propose, this outfit is the way to go.
I can just feel the engagement ring coming.
9.

Suspenders Overall Jumpsuit by Rimings
We've had a couple of sexy jumpsuits already – but I know that's not necessarily everyone's style.
If your Sim's taste is more demure and kawaii, they're going to absolutely adore this jumpsuit.
It comes in 24 swatches, all of which can fulfill your soft girl fantasy.
10.

Fortuna Jumpsuit by simplistic
OK, if you have that one Sim that loves to look opulent and loves to exude how much money they have… then yeah, you have to download this CC.
This formal jumpsuit has a distinct bathrobe vibe – which we all want.
After all, it's a truth universally acknowledged that any person that has a lot of money must wear formalwear that looks like brutally expensive sleepwear.
Or whatever Jane Austen said.
Anyway, it's a thing rich people do. Trust me.
11.

Polo Shirt Jumpsuit by ChloeM
Here's a jumpsuit for that one Sim of yours that always dreamt of becoming the Sporty Spice substitute.
It's fashionable, it's breathable, and it looks like your Sim could jump around in it without much of a problem.
It also comes in 11 colors, so you can pick almost anything here – from denim to tracksuit styles.
Just pair it with some nice trainers and get dancing.
12.

Overall Jumpsuit by Jenni Sims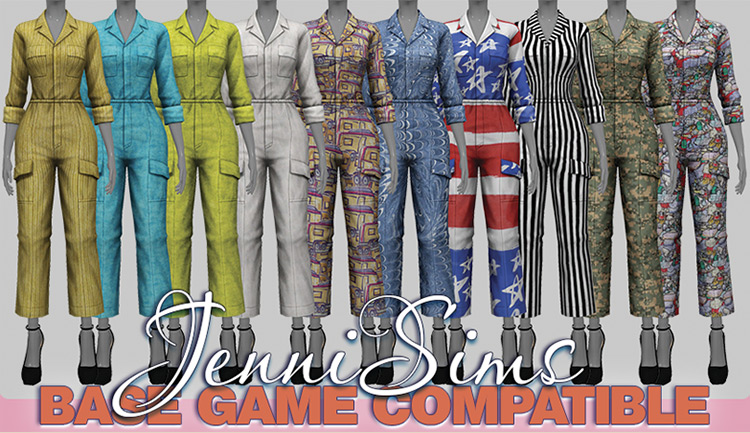 We've had jumpsuits for the painter and for the rich wife – well this is a jumpsuit for the photographer.
You know that one Sim that's moved to the city to become a famous street photographer? The Sim that wants to live in their atelier and thinks nothing's better than a black-and-white photo?
This is the jumpsuit they'll want in their closet. And you can't tell me otherwise.
There are tons of swatches available, too, so your photograph-loving Sim can choose whatever fits best with their "aesthetic" for the day.
Browse:
Lists
Maxis Match
The Sims 4
Video Games