Sims 4 Junk Food & Fast Food (CC + Clutter)
This post may contain affiliate links. If you buy something we may get a small commission at no extra cost to you. (Learn more).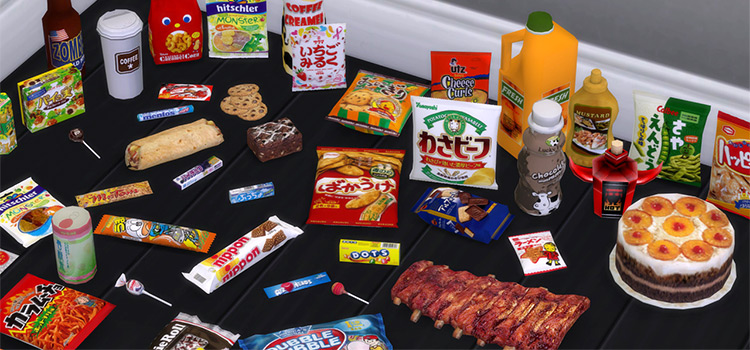 Ah, junk food. I'd call it the forbidden fruit of everyone's three-a-day, but that'd be pretty ironic.
Nonetheless, we've all dabbled!
The occasional extra bag of hot Cheetos? The Taco Bell order that stretched well beyond Wednesday? The full pizza for nights when we don't feel like cooking (or doing dishes)?
Hey, it's only once a week. No harm no foul.
So let's decorate your Sim's living space with evidence of their unhealthy food habits with all of these custom junk food clutter sets.
1.

Junk Food Haul by llazyneiph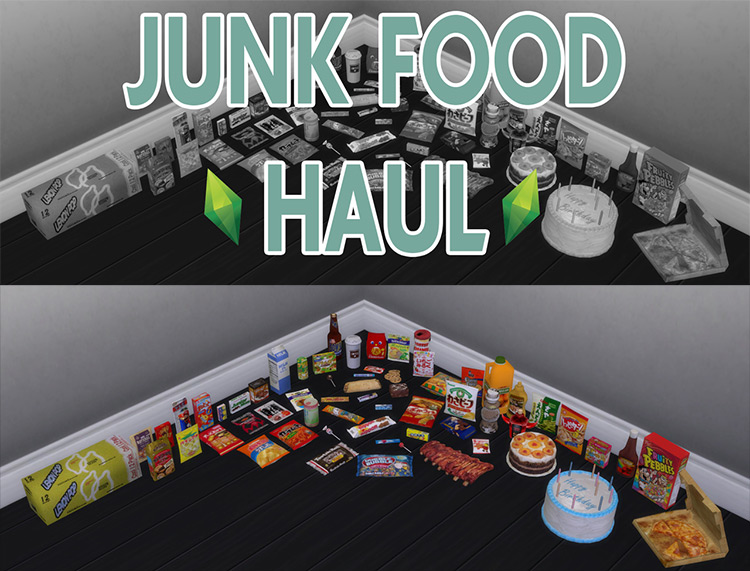 The alternate title of this set is "65 Food Items that Your Sim Probably Shouldn't be Eating."
Indeed; a truer word has yet to be spoken.
Look at the literal smorgasbord of packaged treats, sugar-laced goodies, and instant meals dripping in sodium and preservatives. This honestly looks like a five-year-old's shopping list. Or like a college Sim's pre-rager grocery haul. Either way, the quality of all these meshes – and their design! – is fantastic.
2.

Chipotle Set by NoNvme Studios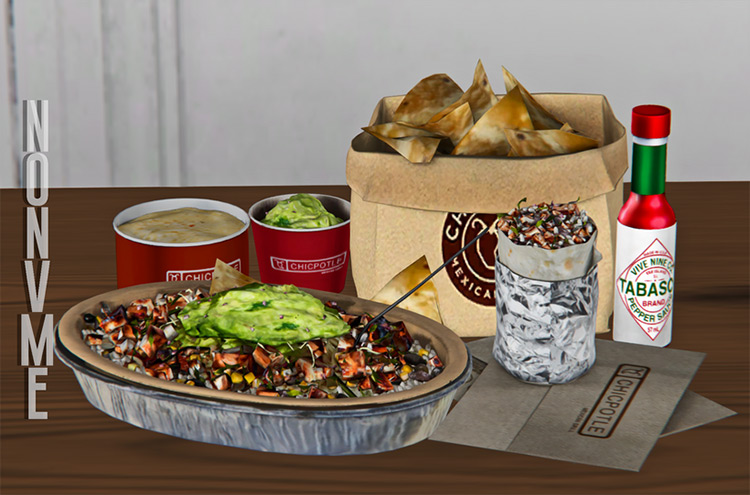 For those days when you (or your Sim!) are craving Mexican fast food, grab some Chipotle! It's savory, it's mildly spicy, and it's – as the creator puts it – "good eats."
You can download this oh-so-delectable Chipotle set from NoNvme Studios to give your Sim something to snack on, too!
3.

McDonald's Custom Food & Drinks by Around the Sims 4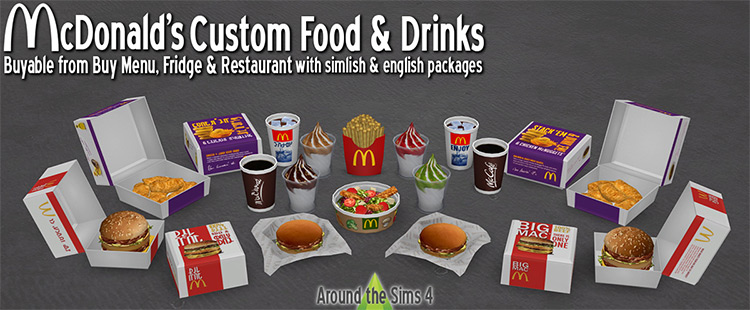 Around the Sims 4's McDonald's set is pretty packed.
You can buy all the food items pictured (burgers, fries, sundaes, etc.) as purely decorative items.
But you can also turn them into actual dishes and desserts that your Sims can eat! If you have TheFoodGroup's Custom Food Interactions and Custom Drink Interactions mods installed, they'll become edible items that'll fill your Sim's Hunger need.
P.S. We also have a separate list of McDonald's CC if you wanna take this clutter to the next level.
4.

Edible Junk Food by Around the Sims 4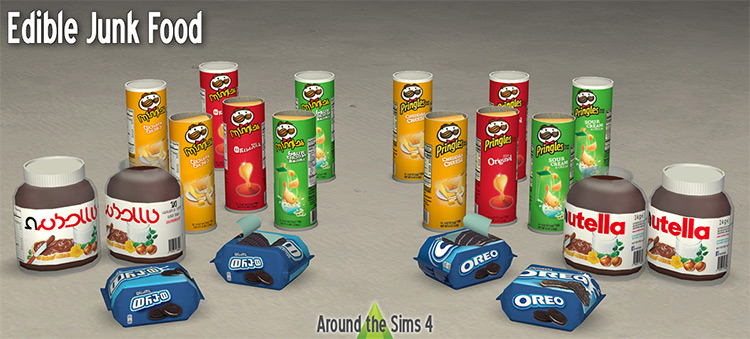 These work the same as the creator's McDonald's Custom Food & Drink CC set (see previous item).
You can place these cans of Pringles, jars of Nutella, and packs of Oreos down as decorative food clutter. But if you have the Custom Food Interactions and Custom Drink Interactions mods installed, your Sims can actually eat them!
5.

Popeye's Chicken Set by pixelheaux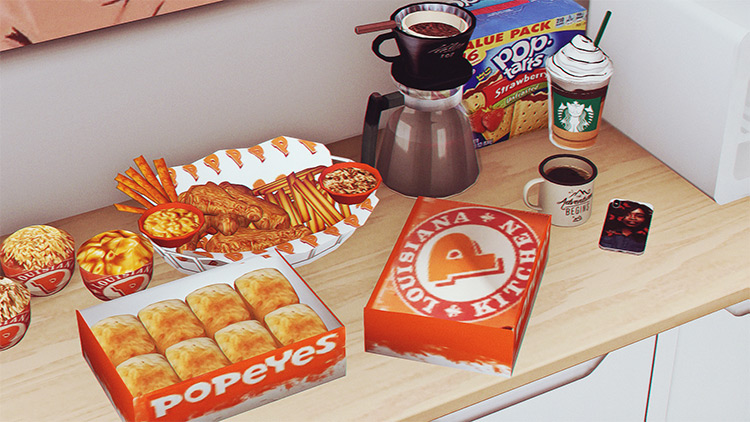 As a loyal, avid consumer of Popeye's Mac n' Cheese Hot Pops, I was a bit disappointed to see that they weren't included in this custom food set.
However, since the equally-as-addictive buttered biscuits have been properly represented, I can, in good conscience, recommend this set.
Navigation to the actual download link is a bit tricky, so try this direct download link if you're having trouble.
You can get the Popeye's takeout bag, fries and drinks, and other miscellaneous sides here.
6.

Japanese Convenience Store Set by karzalee
If you're just after a nice stack of decorative (yet oh-so delicious) snacks, the deco snack sets in this Japanese Convenience Store CC pack should tide you over.
Cans of Lays, boxes of Pretz, packs of Oreos, and little bags of tiramisu-flavored KitKat?
Truly a visual delight that'll amp up your salty n' sweet cravings.
7.

Pizza & Pizza Slices by DescargasSims
This Italian treat by DescaragasSims comes in two versions: a single slice and the whole darn pie.
Perfect for setting up a pizza party or the snack table for movie night!
The direct Simfileshare links are posted in the comments, but I'll relink them here, too: you can download the pizza here and the slices here.
8.

Breaded Wings by Afrosimtric Sims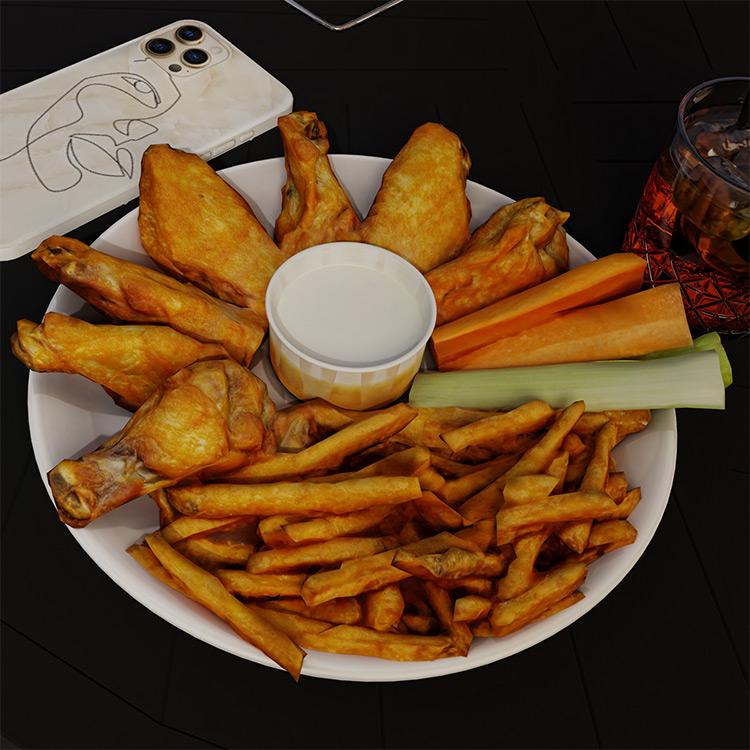 Breaded wings, crispy fries, and a glass (or two) of cold beer.
Sounds like a tasty way to celebrate Friday!
There are even a couple sticks of vegetables in this set, which means this snack food is partially healthy.
9.

TS4 Subway Set by cropzsims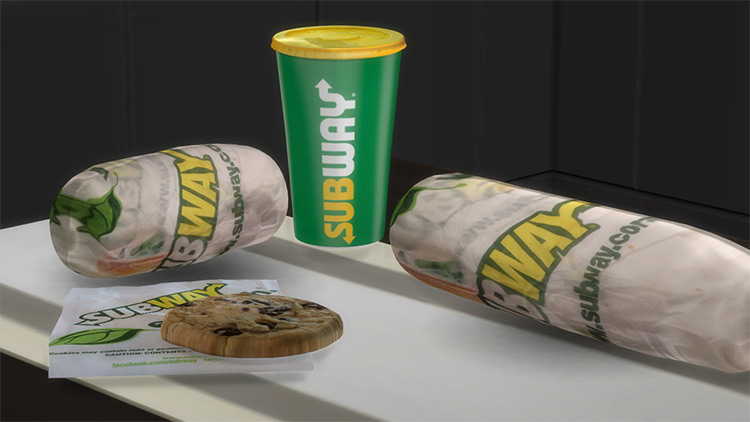 For when your Sim needs something quick, easy, and filling, Subway's always a tasty option.
This CC set contains the six-inch and twelve-inch subs, a drink cup, and Subway's oh-so sweet choco chip cookie in its own bag. Definitely an on-the-go meal for champions.
10.

Fat Snacks – Edible Sim Food by Simmin' My Best Life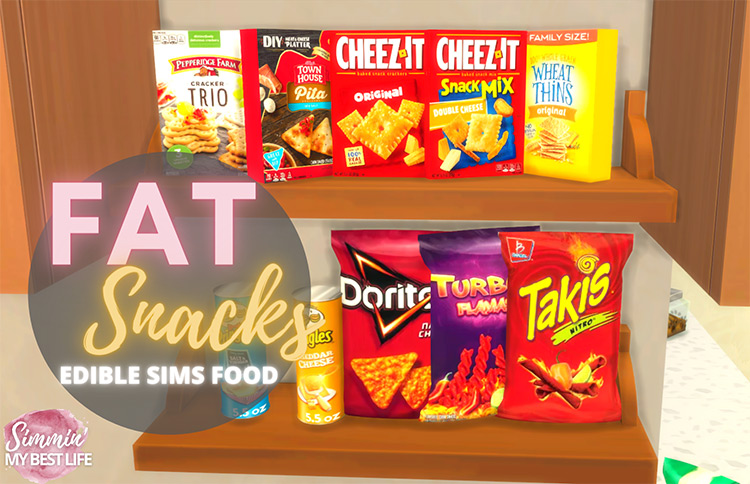 I know this list is just supposed to contain in-game clutter, but I can't help that Sims CC creators go the extra mile! Seriously, I would have been fine with these snack packs being purely decorative.
They'd clutter up a kitchen counter or shelf in the most aesthetic way.
But Simmin' My Best Life went all out and made them actual edible food that your Sim can interact with.
It improves their hunger motive and gives them a sweet +1 Happy moodlet that lasts for four hours. It's highkey impressive!
11.

Lay's Potato Chips by Insimnia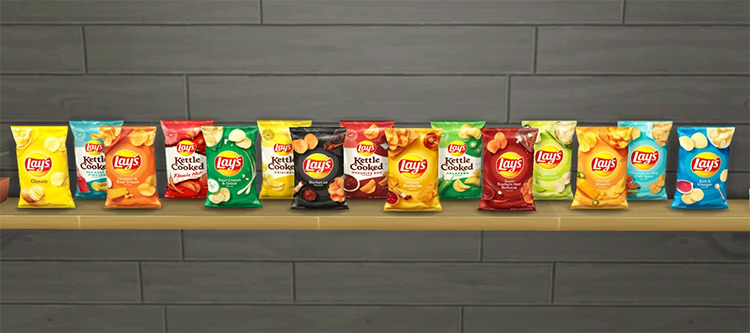 Up until I found this set, I thought Lay's only came in four flavors: original, cheese, sour cream and onion, and barbecue.
So, yeah; I was pretty shocked to see Insimnia's decorative Lay's Potato Chips had fifteen flavors (aka swatches). And now your lucky Sim can easily get them with this one download.
12.

Taco Salad by Afrosimtric Sims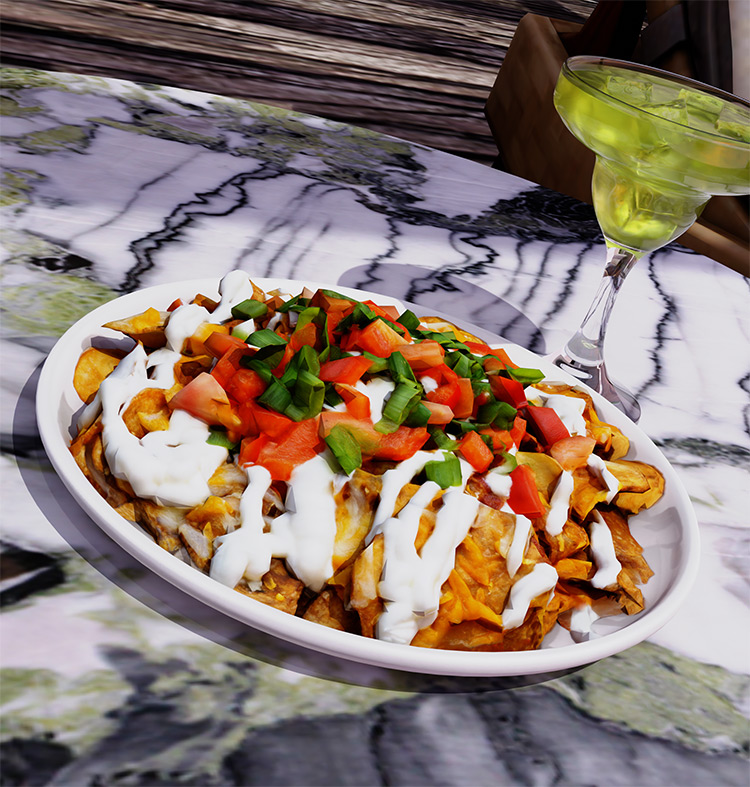 Salads are healthy, right? Right.
Which means your Sim can enjoy this Taco Salad by Afrosimtric Sims as often as they want without feeling an ounce of guilt.
Download with caution, though; the color and texture of this dish is so on-point, it can definitely trigger sudden cravings for Mexican fare.
13.

Dunkin Donuts Set by SimmerKate
When you're craving something sweet, cheap, and simple, you can't go wrong with Dunkin.
Give your Sim the commercialized, artificially-flavored sweet treat experience with this box of DIY donuts and a coffee (or three) on the side.
And if they're flying solo, this CC set also contains a single plain donut.
14.

Eat Like a Gilmore Snacks Pack by pois0nsage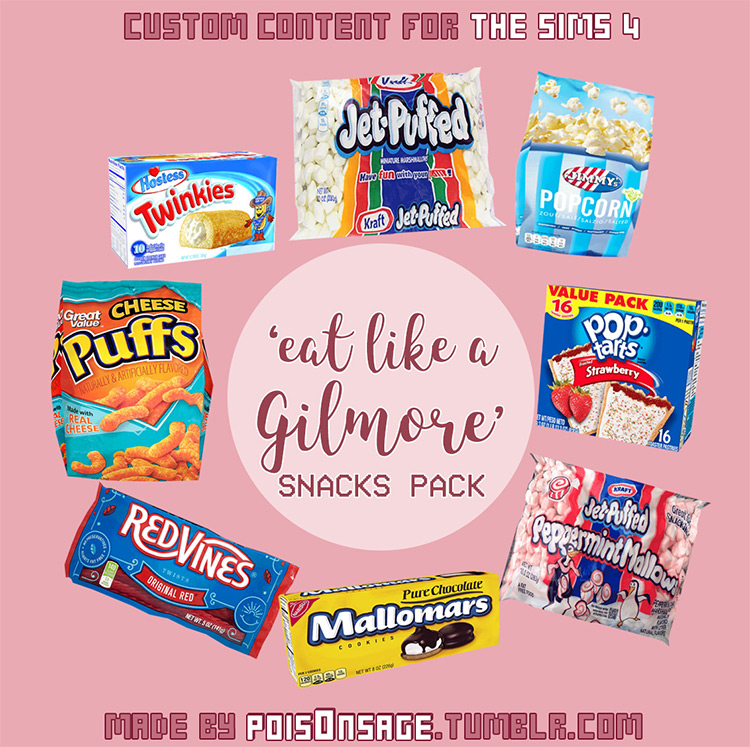 As someone who's never watched Gilmore Girls, I have no idea if these are the snacks they frequent.
Regardless, who doesn't like Poptarts, Twinkies, and Cheese Puffs?
Perfect snacks for populating a Sim's well-stocked "guilty pleasures" cupboard.
15.

Ice Cream Donut by Jenni Life Sims
For Sims with insatiable, mother-of-all sweet tooths, this is it; two of the sweetest snacks you can think of, blended together – with extra sweet fixins! – to create something that'll spike your Sim's sugar levels like no other.
This Ice Cream Donut CC by Jenni Life Sims is equal parts appealing and intimidating.
Thank goodness it's just decorative!
16.

Fast Food CC Set by SimmerKate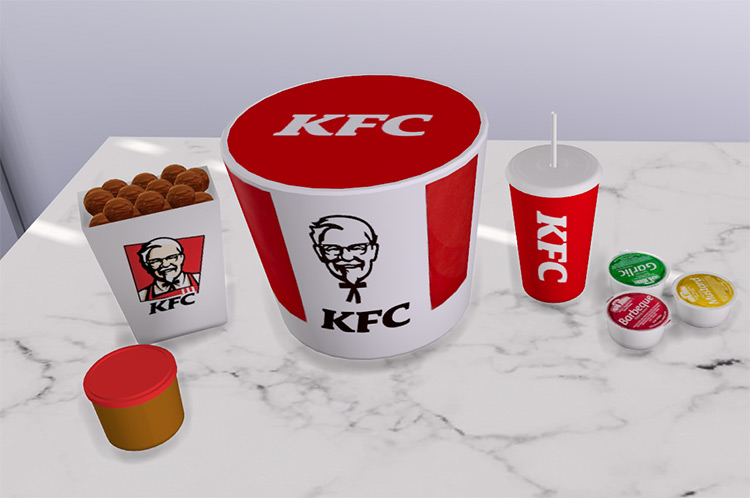 This decorative fast food spread looks like something I'd order in on a Friday night (after a particularly rough week).
It's got everything a fast food connoisseur needs: fried chicken, popcorn chicken, ice-cold soda, and buckets of dip. There's even pizza from Papa Sims!
17.

Pizza – New Mesh by simtographies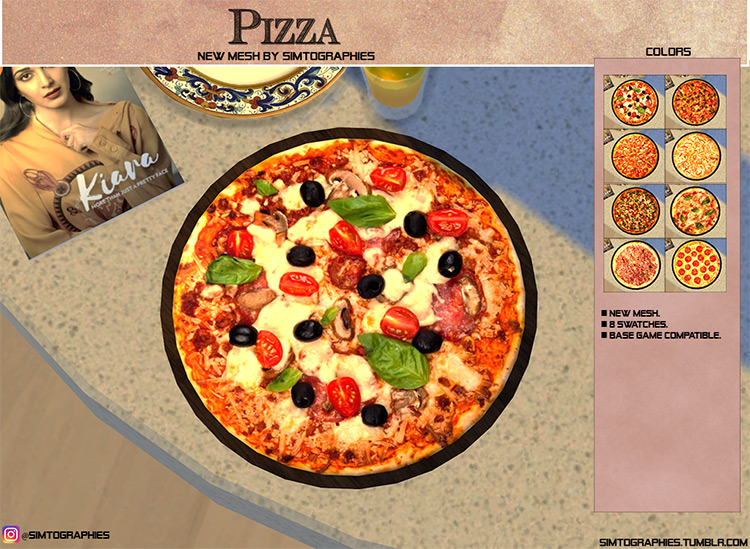 Sim planning a pizza party?
This decorative pizza by simtographies comes in eight flavors: classic pepperoni, olives and mushrooms, four cheese, and five other classic pizza combos for your Sims to enjoy!
It's not an interactive snackable, but it's undeniably photogenic.
18.

Pizza Boxes by LeoSims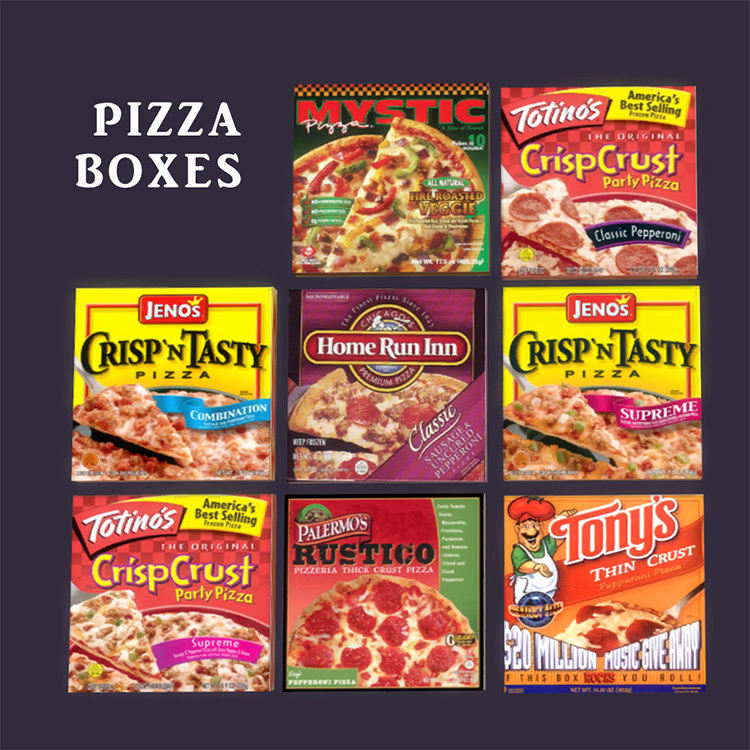 If your Sim doesn't feel like ordering in, they can always pop a frozen pizza into the microwave for some tasty eating.
Leosims' Pizza Boxes set contains a simple, decorative box with eight swatches — each swatch a different pizza from different brands.
The vibrant selection makes this download perfect for kitchen clutter. And if you're having trouble finding the download, here's the direct Simfileshare link.
Browse:
Lists
The Sims 4
Video Games