Sims 4 Justin Bieber CC: Tattoos, Clothes & More
This post may contain affiliate links. If you buy something we may get a small commission at no extra cost to you. (Learn more).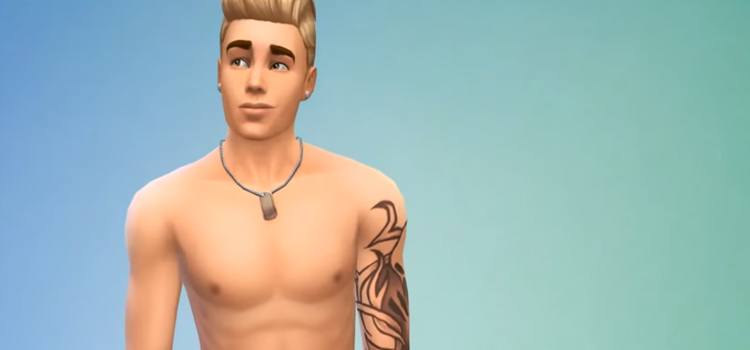 It's impossible to think about 2010 without Justin Bieber's decade-defining My World 2.0.
This legendary debut studio album launched itself at number one on the US Billboard 200, thrusting Bieber into worldwide fame at only 16 years old.
From there, Bieber had it all:
A solid discography before hitting 20, Selena Gomez, Usher as a mentor, and more.
But like any teenage superstar, Bieber had multiple controversies that almost ended his career.
Yet here we are, over a decade since "One Time" was released, with Bieber preparing for his next world tour. So let's celebrate the one and only Biebs with some of his best CC made for The Sims 4.
1.

Justin Bieber's Tattoos
Getting photos of Justin Bieber's tattoos is as easy as looking up your crush on social media.
And it's all because the Canadian-born singer has a habit of taking off his shirt and hasn't grown out of it since.
The pop star has over 60 tattoos – and while this CC only features a few of them, there's no mistaking to whom that cross tatt belongs.
Now it's easier than ever to brand your Sim with Justin Bieber-approved body art.
What more could we ask for?
2.

Justin Bieber CAS
Justin Bieber may be the butt of every joke back in the 2010s. But I won't be ashamed to admit that I fell hard for his baby face and prepubescent voice.
He wasn't a Johnny Depp or Leonardo DiCaprio when he was young. Still, his talents and good looks were above average enough to attract the loyalty of millions of teenage girls – including Billie Eilish.
Although as he grew up, Bieber became a walking cringe – but that didn't stop fans from swooning over him from time to time.
And now your Sims can copy his Kristen Stewart-inspired look from back in 2015, all with this CC made by adybatch.
3.

Justin Bieber Lookbook Collection
Justin Bieber's go-to outfit involves three things:
An oversized shirt, skinny bottoms, and trendy designer sneakers.
Add extensive body art on your Sim's arms, neck, and chest, plus Bieber's trademark confused expression, and you're golden.
This lookbook is more of a curated list of options to grab, but it's got plenty of great stuff worth trying.
4.

WINGS-TZ0204 (Justin Hair)
During the Believe era, the world saw a drastic change in Justin Bieber's most recognizable asset: his hair.
The shiny helmet hairstyle from his debut was replaced by a slicked-back look held by a generous amount of gel.
Bieber owned the hairstyle during the start of his rebellious years.
He even got that infamous mug shot taken with his gravity-defying hair on display.
Eventually he moved on to his bleached-blond hair phase. But this CC by wingssims is here to remind us of Bieber's crazy antics back in the day.
5.

Hair #1 (Justin Bieber)
You can't reminisce about Justin Bieber's decade-long career without talking about the original hair that launched a thousand memes and skits.
The world first met the Biebs with his iconic swoopy hair as he sang about the highs and lows of adolescent love.
The look didn't age well.
But it remains synonymous with Bieber's early success.
Get this OG Bieber hairstyle into your game, and maybe your teen Sim can be the next big star!
6.

R.I.P Jeans
The Biebs always sang about how much he adored girls, but he couldn't ignore his feelings towards ripped jeans.
Justin Bieber isn't exactly a trendsetter – but him and ripped jeans go well together like pancakes and maple syrup.
Never say never to this fashion staple, because it likely won't go out of style.
7.

Bon Denim Hoodie Jacket
Celebrities tend to overdress when they're out and about in the city. But not Justin Bieber.
The Grammy-award winner's ensemble can be described as lowkey in the past few years, with sweaters and hoodies being his top choice.
Although not an original look, it does its job to make pop stars – and even Sims – look pretty cute.
This custom denim hoodie+jacket combo comes in 10 total swatches. And while it does have an alpha design, it works for all Sims aged teen to elder.
So I hope your teenage Sim is ready for stardom.
8.

New York Dreamer (Simply Black Caps)
Why even wear a hat when you have majestic hair like Justin Bieber?
I want to remind the Biebs that his hair is a national treasure – but maybe even famous singers sometimes get bad hair.
For when days seem slow and a pain in the butt, a flat-brimmed cap is here to help.
And this pack is basically a perfect match for his style.
9.

Unisex Jewelry
It's tough to defend Justin Bieber's fashion choices – especially when he was a young and wild kid who dealt with anger issues.
Everything about Bieber is a hit or miss.
But in this case, his use of silver and gold necklaces is a real winner.
Jealous? No need to be! Grab this CC and start accessorizing your male Sims with the same look.
10.

High Top Sneakers
For as long as I could still remember the lyrics to "One Less Lonely Girl" and that awful lip gloss Justin Bieber wore in the music video, the singer has always worn high-top sneakers.
It was crazy popular back in the 2010s.
And nowadays? Well, I think only Kanye West could revive it from fashion hell.
High-tops may not be as cool now as it was back then, but no Justin Bieber Sim would be complete without a pair.
This CC does lean more towards alpha than Maxis Match, but we also have lists of Air Jordans and even some Nike sneakers. So there's plenty to dig through.
Browse:
Lists
The Sims 4
Video Games