Sims 4 Kardashian CC: Best Clothes, Hair & More
This post may contain affiliate links. If you buy something we may get a small commission at no extra cost to you. (Learn more).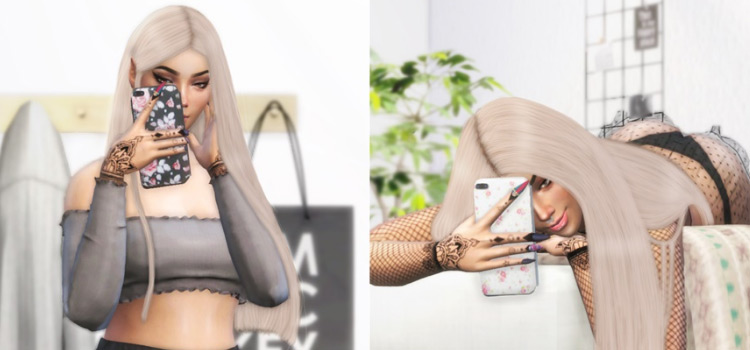 With over 850M combined followers on Instagram alone, the Kardashian clan has cemented itself as the world's most famous family.
Wherever you scroll, there's bound to be at least an image of Kim's overly cinched waist, Kylie's famous pout, Kendall's runway walk, Kourtney's thirst traps, and Kourtney's Good American ads.
This comes as no surprise.
The Kardashian-Jenners were the OG influencers– one of the first few people to realize the power of posting well-edited selfies on social media.
And despite being constantly branded as a talentless bunch, the Kardashians have proven to be savvy entrepreneurs and are naturally capable to stay in the limelight for as long as their lip and butt fillers hold.
And you can have your Sims become part of their legacy by getting the best Kardashian-inspired CCs below!
15.

Kylie Jenner
Kylie may be the youngest among the Kardashian-Jenner sisters, but she is definitely the most successful (and probably Kris' favorite money maker).
This makeup mogul and ex-billionaire is social media royalty, with posts gaining millions of likes and comments within a DAY.
Her influence is simply staggering, and begs academic research as to why people are continuously drawn to her.
It may be the perfectly lined eyebrows, her exaggerated hourglass figure, or her obviously fake lips.
Whatever it is, fans love her. And this CC by Jolea has captured her likeness just the way they like it.
14.

Kendall Jenner
Kris hit the jackpot with both her youngest daughters.
On one side, she has Kylie's cosmetic empire. On the other, she has Kendall – the world's highest-paid model since 2018.
Kendall is not as Internet-breaking and controversial as Kim (except for that Pepsi commercial).
Yet she has managed to model for Chanel, Versace, Fendi, and just about any other luxury fashion brand from The Devil Wears Prada.
What further separates her from her sisters is her more private social life, which in this family, makes her a unicorn.
If you're a fan of Kendall, the unproblematic queen, then this CC is for you!
13.

Khloe Kardashian
Khloe a.k.a Koko is the unluckiest gal in the group when it comes to love.
Her consistent streak in falling for jerks and serial cheaters has been a crutch to the Kardashian Klan.
But at the end of every heartbreak, she comes out stronger (and hopefully smarter).
Introduce this fitness enthusiast and lovesick Kardashian to your TS4 gameplay by getting this CC from Zenia1995.
12.

Kim Kardashian
There's no argument that Kim is the most popular, most controversial, and most daring among the five sisters.
She's the queen of selfies, big butts, and contouring, and the unofficial holder of uploading the most nudes on the internet.
This woman started it all. And no Kardashian-inspired family in the Sims would be complete without a Kim at the top.
11.

Kourtney Kardashian
When you have five famous sisters who are all equally selfie-obsessed, it can't be helped to compare who's the best of them all.
It's a discussion that can light up Reddit and Twitter feuds, but most would agree that Kourtney has got this in the bag.
Funny, shady, witty, and relatable, the eldest Kardashian has been a good source of memes from their eponymous hit TV series.
We stan a queen who doesn't care about Kim losing a $75,000 earring because TBH, "there's people that are dying."
Find a friend in Kourt by getting this CC from Jolea now!
10.

Dreamdoll Body Preset
Big boobs, small waist, and big butts?
Sounds like a Kardashian to me!
The family's unrealistic beauty standards have long been a hot topic online, mainly due to causing damaging effects to younger people who try to emulate their looks.
The fab five continue to thank "good genes" for their perfect appearance. However, they often forget to include Photoshop and plastic surgery in that sentence.
Fair warning to readers: never trust a Kardashian-approved health product. Stick to this Dreamdoll Body Preset for safer Sim body transformations!
9.

Jenner Hair
Before she became CEO of Kylie Cosmetics, Stormi's mom went through the same beauty obsessions as any other teenager (excluding lip injections).
Kylie rocked a similar hairstyle like this CC back in the day, and was known for pretty much trying every hair color under the sun.
Her recognizable teal extensions were a major hair inspo in 2014, and surprisingly it continues to fit the style of Pinterest-driven teens.
Get some color in your Sim's locks with this Jenner Hair CC by Ade_Darma.
8.

Queen Barbie Hair
With all the hair changes the Kardashians went through over the years, I don't even know what's real anymore.
But whatever mane makeover they debut, it always ends up looking divine.
Nowadays, Kim and Kylie are sticking to black waist-length hairstyles that look as if they're living in the Victorian era.
Despite looking undoubtedly fake, I think deep inside, it's the modern mermaid hairstyle that we need to normalize right now.
Instantly grow your Sim's hair like a Kardashian with this Queen Barbie Hair CC that comes in 30 colors.
7.

The Stormi Palette
ICYDK, Kylie's a mom now to Stormi, a child who owns more designer items than me.
To honor her baby girl, Kylie launched the Stormi Palette which includes glitters and shimmers that would make your look "riiIiSse and sHiiinEe."
Having a beauty industry debut at the age of 2 is no easy feat (such as the life of a privileged child), and Kylie didn't disappoint to make this one of her best makeup collections yet.
Dust your Sim's eyes with this Stormi Palette conversion from crypticsim that includes 4 shimmer shades, 5 matte shades, and 31 combination shades!
6.

Kylie Cosmetics Lip Kit – Ultimate Collection
Kylie's journey to becoming the world's youngest billionaire (and being stripped of that title) all started with her lip kits.
When it was released in 2015, people were crashing sites to get a hold of those kits that were supposedly the "secret" to Kylie's full lips.
Of course, it was just an ordinary set of liquid lippies and matching lip liners. But it didn't discourage buyers from giving Kylie her million-dollar paycheck that year.
Hate it or not, the youngest Jenner made an empire out of these babies – might as well give all these shades a try!
5.

Skims Loungewear
Skims is branded as a solutions-oriented brand that would pave the way for the evolution of underwear, loungewear, and shapewear.
It was ambitious, yet people were willing to ride along because at the forefront of this project is none other than Kim Kardashian-West herself.
Sad to say, it wasn't as seamless as Kim promoted it.
And it certainly wasn't cheap.
But that didn't really stop people from buying a $140 lounge top.
The lesson? Try it now, complain later.
4.

IDFC Bikini Set
Even the pandemic didn't stop the Kardashians from popularizing an old trend.
Our favorite sister, Kourtney, was seen wearing an upside-down bikini while on vacation somewhere I can't afford right now.
Kylie followed soon after, which was just the boost this trend needed to fly off.
Showing that much under boob is a Kardashian classic, and once again, they look phenomenal in it.
Try it out for your Sims by getting this CC from NitroPanic!
3.

Kim Kardashian's Latex Dress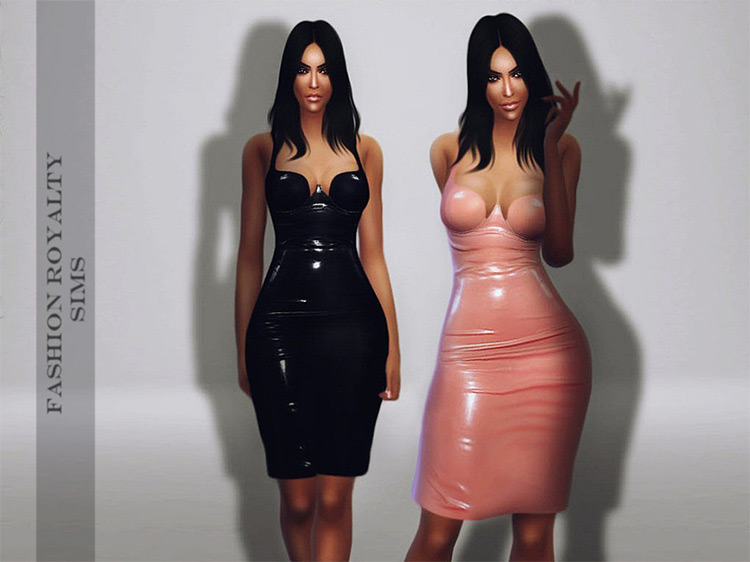 It's widely known that the whole Kardashian-Jenner family loves Balmain, most especially Kim.
She loves it so much that she's willing to squeeze into the most uncomfortable outfit I've ever seen in my life.
This mustard ensemble made Kim look like a melted caramel bar, while this Latex Dress CC is a more sophisticated choice for Fashion Week.
Let's take comfort in the fact that Sims can skip all the torture of wearing this dress with just one click.
2.

W – Collection One
Olivier Rousteing is an amazing designer.
But he lucked out with having the Kardashian-Jenners as his Balmain buddies.
Just one red carpet appearance from any of the family members can mean instant profit for the French luxury house, and in return, the clan gets customizable pieces like this Balmain face mask.
True enough, without the sheer presence of Kim et al., plebs like us wouldn't seek out designer items like these.
Fill your Sims wardrobe with everything this free collection has to offer and start dressing like a bona fide Kardashian!
1.

Random Mirror Selfie 2.0
When the Kardashians met Instagram, it was like a second Big Bang.
They've loaded the online landscape with thousands of selfies, showing us the subject matter they know and love the best: themselves.
But out of everyone, it was Kim who fell into the black hole of self-portrait photography which led to the publication of Selfish: a coffee table book filled with––you guessed it––her selfies!
Indeed, you can't be a true Kardashian without daily shoots at the mirror.
And with that, here's a pose pack to keep your Sim's selfie game strong.
Browse:
Lists
The Sims 4
Video Games