Kawaii Sims 4 CC: Best Clothes, Décor, Mods & More
This post may contain affiliate links. If you buy something we may get a small commission at no extra cost to you. (Learn more).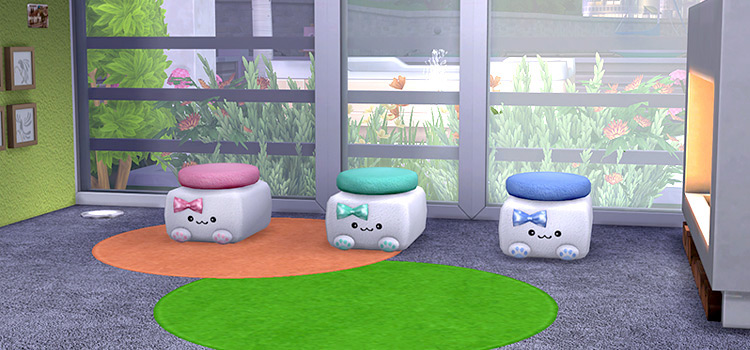 Who doesn't want their lives to be a little more kawaii?
As this trend rises around the world, lots of people have found themselves falling in a hole of all things cutesy and girly. And who could blame them?
Not only are all things kawaii adorable, but they add a bit of fun and happiness to our daily lives. Including our Sims!
The best thing about the world of kawaii fashion is that if you want something to fit your new-found aesthetic, it probably exists.
And you're not limited to wearing the things you love on your clothes. You can find kawaii home decor, kawaii accessories, and so much more. The possibilities are endless.
And so is the case with Sims 4 Custom Content.
For anyone who wants their Sims 4 game to be more colorful, youthful, and sweet, we're taking a look at the coolest kawaii CC worth downloading.
Everything from clothes to mods, you'll be surprised just how much kawaii is out there!
15.

Wear Your Heart On Your Cheek Mole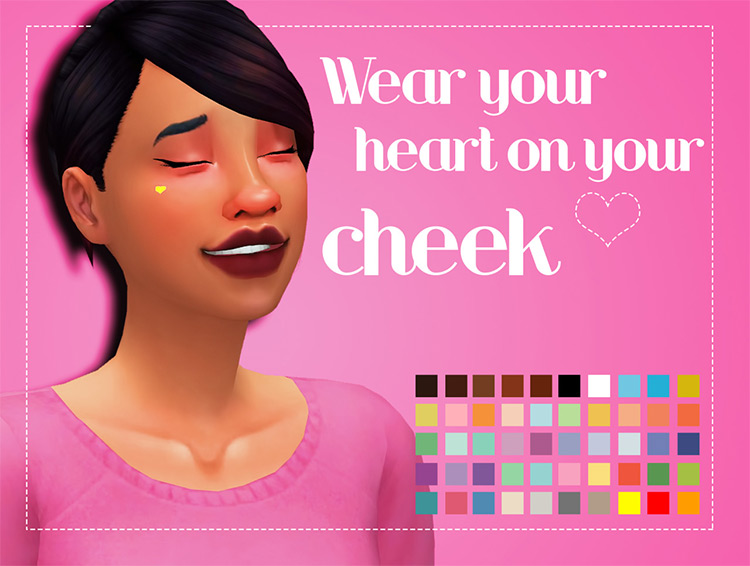 One of my favorite kawaii trends has to be all of the unique makeup styles that have come out of this aesthetic.
Whether it be using chunky glitter on your cheeks, or the vibrant eyeshadows that make your eyes look like a cotton candy dream, I'm here for it all.
However, my favorite overall has got to be the designs on faces. Moons, stars, you name it… they've all been done. And they look super cute on any Sim, too.
That's exactly why this heart mole caught, well… my heart! Not only is it an adorable kawaii makeup look that can be seen all over fashion blogs, but it's also a reference to Marina and The Diamonds masterpiece of an album Electra Heart, which just so happened to be my teenage go-to in terms of music.
For all these reasons and more, the heart mole is a perfect addition for any kawaii sim. Or even a sim who's looking to take their makeup game to the next level.
14.

Kawaii Picnic Outdoor Dining Collection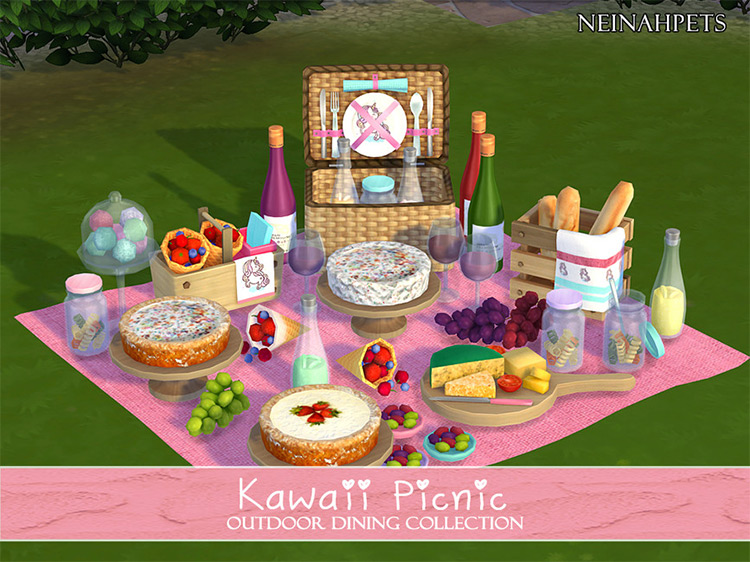 Incorporating kawaii into your Sim's lifestyle can seem a little overwhelming. But you don't have to fully commit to all things cute and pastel!
Sometimes it's refreshing to mix it up a little, or pull together pieces from different styles. Just to take a break from what we're used to.
Maybe it's time for your Sim to take a mini-vacation away from their normal lives, and have a relaxing day filled with sweets, treats, and just about every shade of pink that you can think of.
If that sounds like as much of a good idea to you, then check out this Kawaii Picnic Outdoor Dining Collection!
There are lots of reasons why this collection is great.
Of course, you can add it to your local park and make a spot for Sims to unwind, have some candy, and enjoy how kawaii their day outdoors is.
Or you can pick and choose what you like from this collection, then add the pieces to your lot to brighten things up!
Nice for spicing up the kitchen, making the living room more inviting with a candy bowl, or even putting some wine bottles on display in the dining room to show off just how fancy your Sim is!
13.

Terrazzo Floor 3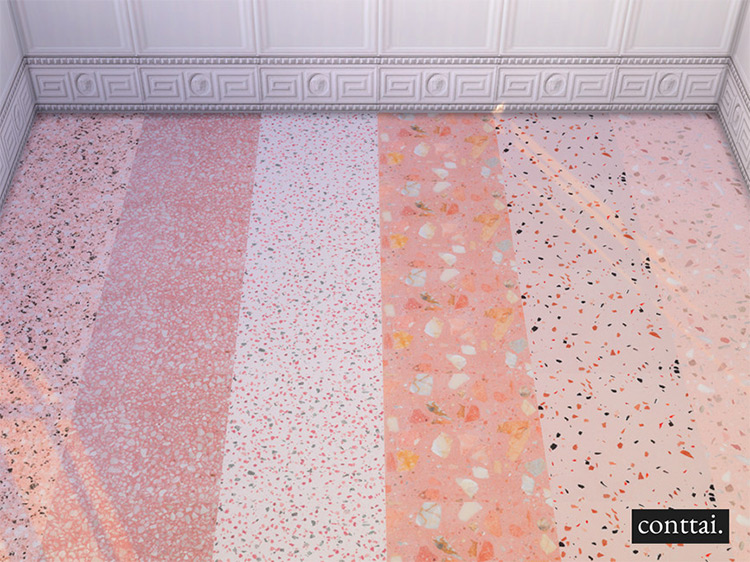 Boring hardwood floors are a thing of the past.
At least, they are if you're looking to turn your lot into a kawaii dreamhouse.
Making a themed lot can be difficult. Sometimes it's even hard to figure out where to start since there's so much to choose from. But what better place to start, than with the basics?
This pink confetti-style flooring is exactly what comes to mind when I think what kind of floors would be in a kawaii house. Shimmery, speckled, shiny, it's got everything we could want!
Pair this in a room with a more neutral wall to balance the room out, or even fully commit with an equally pink wallpaper to start your project strong, and create the perfect lot that you (and your Sim) have been dreaming of.
12.

Strawberry Bag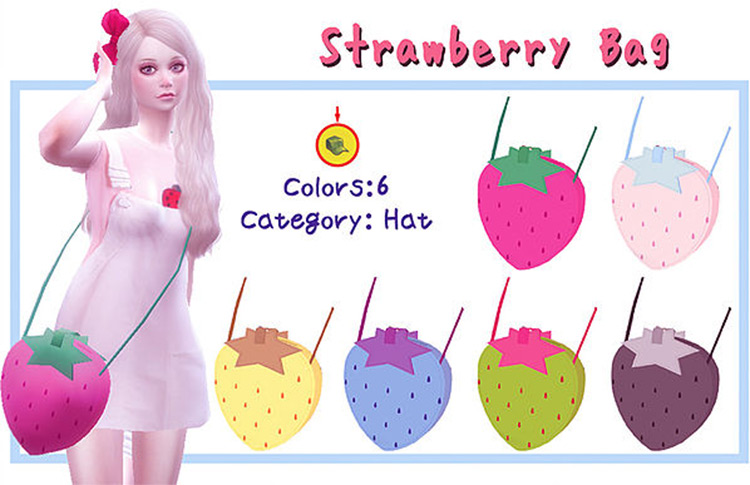 We've all heard of and love the strawberry dress. Now get ready for the strawberry bag!
Strawberries seem to have become a whole trend on their own, and rightfully so. Everything about a strawberry screams kawaii, from how delicious they are on their own, to how they taste in desserts, and their adorable color scheme.
It's a perfect recipe for kawaii fashion!
Most kawaii ensembles have some sort of bag or purse to tie the look together. And what better way to achieve that than with a strawberry bag.
Plus I've always been a big fan of "shaped" stuff. So a bag in the shape of a strawberry is just, my goodness!
This bag is gorgeous for casual outfits, great for trips to the library, the museum, or out on a casual walk at the park.
It can even be a piece for those Sims who have a bit of an eccentric fashion sense, and want to make a fruit/strawberry-themed lolita-style outfit.
It comes in 6 colors, too!
11.

Pool And Bear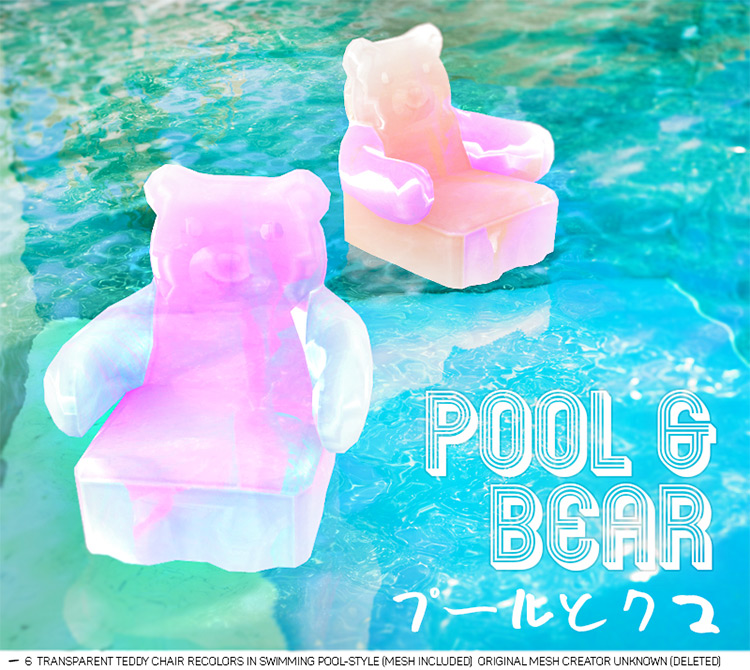 From teddy bears to some bears in cartoons all over, they've been rebranded from the beasts they once were into adorable squishy characters that we've all grown to love.
A lot of fans of kawaii have used bears as accessories, prints on shirts, or even character-themed socks.
But here's something new to the bear theme: bear pool accessories!
Pools and backyards are one of the areas in my lots that I always have the most trouble decorating.
I never know what theme I want, if I want a theme at all, how much is too much, etc.
But these pool accessories help end a lot of my struggle. And if you're in the same position, this CC will definitely help you too.
Maybe some cute ice cream cones to satisfy your Sim's sweet tooth after a swim. Or a cute bear floaty for while they're trying to soak up the sun. This is a nice collection to help bring your backyard paradise to life.
10.

Mix Match Socks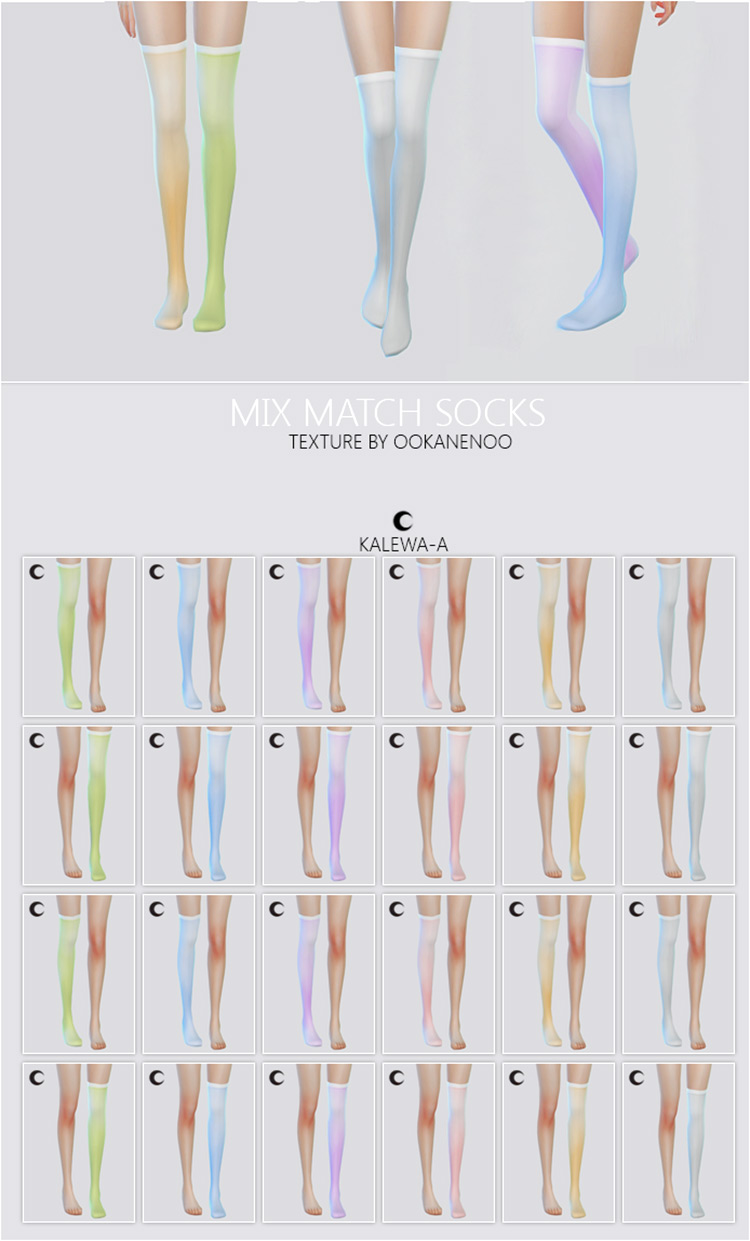 Socks are too underrated in my opinion.
First of all, there's no reason your socks should be bland. There are so many fun sock options, and they're always a nice surprise when you take off your shoes every day.
Maybe I'm a little too enthusiastic about footwear…
But I think we're all in agreement when I say that a cute accessory for any outfit is a knee-high sock.
Knee-highs have been in kawaii style for a while now. And I've always loved how they're used instead of tights (my childhood self couldn't be happier that tights have pretty much died off by now). And I more importantly love how many colors, styles, and options that this sock CC pack has to offer.
These Mix Match socks incorporate a lot of what kawaii is about, being a little quirky and eclectic, but still making everything come together in the end.
This set comes with knee-highs, thigh-highs, options for just one sock, or to have a matching pair.
The possibilities are endless! And your Sims will never be caught wearing bland socks again.
9.

Pastel Luxury Bathtub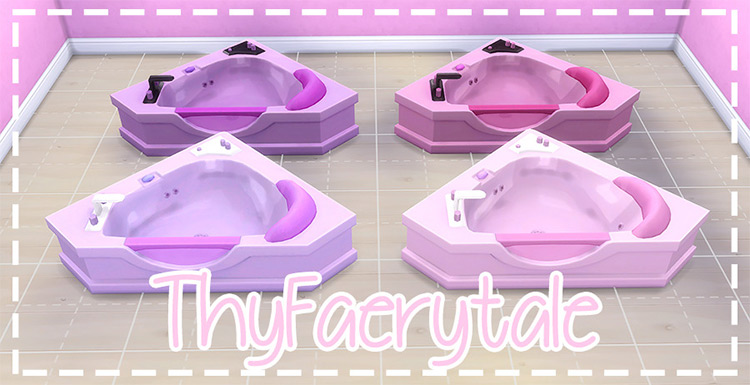 No room in your lot should be left undecorated. At least that's what I think anyway, and this pastel bathtub proves it.
There are 4 color options to choose from. So whether you want a bathroom that's more pink or purple is up to you, and from there the decorating begins.
Bathtime can now feel less like a chore and more like something your Sim looks forward to, just to relax in a pastel fairytale.
8.

Ruffle Half Sheer Top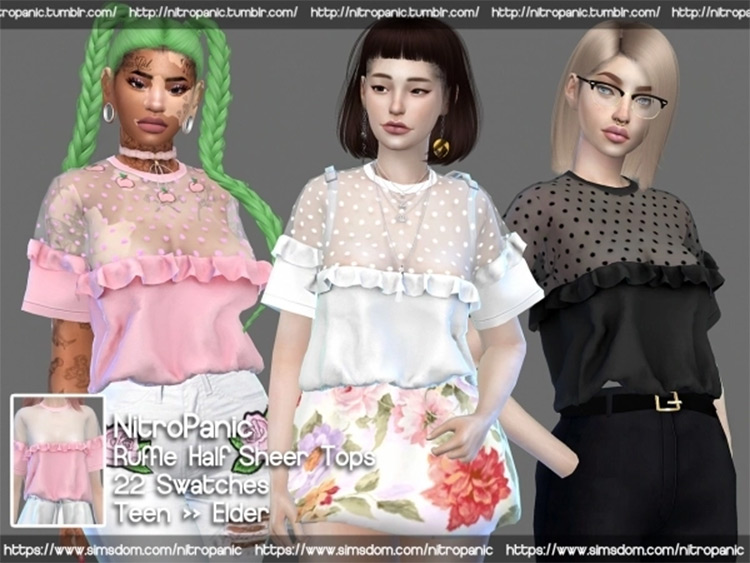 Nothing says frilly and kawaii quite like ruffles do.
They're a subtle accent to any piece of clothing that makes for an exciting outfit. And in this top, the extra detail with the upper half is one of the best shirts on the list!
What really drew me into this CC was the peach option, the pastel color, and the prints were too good to pass up.
Pairing this top with a matching skirt and some chunky shoes is all you'd need for a more relaxed, everyday look that'll make your kawaii Sim look anything but boring.
7.

Bat Bootie Slippers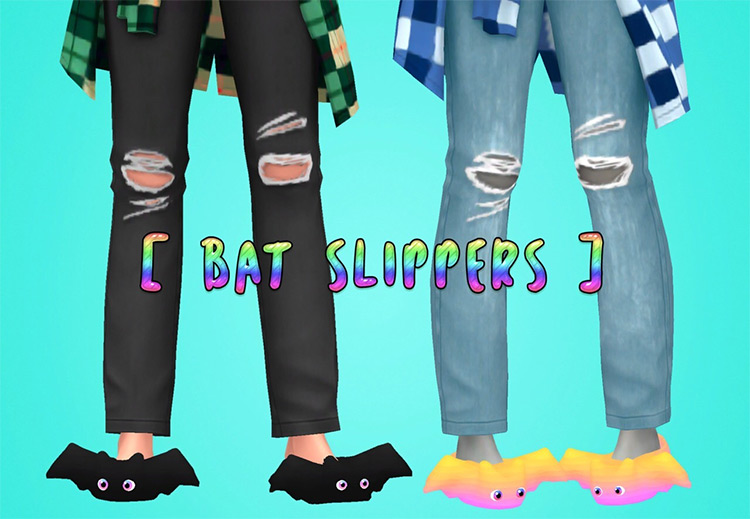 Whether you have kawaii or Halloween in mind, these Bat Bootie Slippers are definitely the way to go.
These could be worn indoors or outdoors – all up to you!
They come in traditional black for the usual spooky vibe, or a beautiful sunset gradient that makes these creatures look more like our friends, and less like a foe.
I also really like the creator's outfit idea to pair these slippers with the thigh-high socks (similar to what we had earlier) and the overside hoodie is just what any Sim needs to relax at home with their new fuzzy friends.
6.

Kawaii Toast Earrings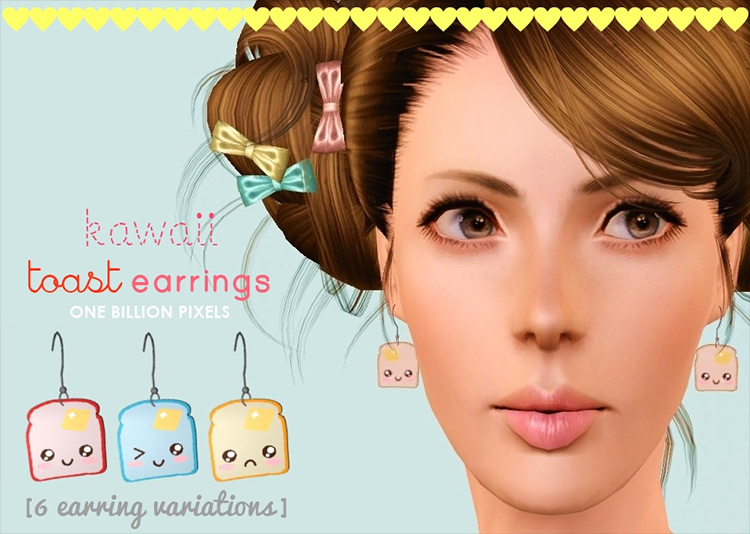 I've been loving all of the new earring options that I've seen circulating the Internet recently.
I would have never thought before to take something like a tiny bag of Cheetos and put them on my ears… but it's exactly the kinda thing we all wanted as kids, right?
These toast earrings are, dare I say, better than a bag of Cheetos.
First of all, they have adorable little faces that make my heart melt. They also have 6 colors that remind me of little candies, which couldn't be more perfect for today's aesthetic.
All topped with a little bit of shiny butter, these earrings aren't good for eating… but they are a great food-themed accessory.
5.

Kawaii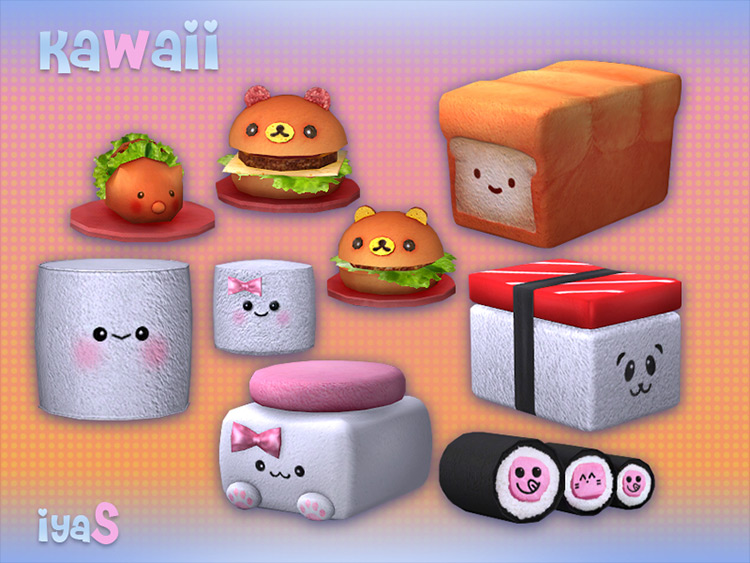 Who else can't get enough of random decor?
Everything from poufs to random clutter to fill the awkward spaces in your lot, this collection has it all!
There are a bunch of options to choose from here, like cat and bread stools to sushi and bear-themed burgers, just to make mealtime more exciting.
Smiling little faces and food that looks too good to eat. What could be better?
4.

Backpack and Bow
A beloved favorite kawaii mascot is everyone's favorite Pusheen.
So what could be a better backpack choice than wearing Pusheen right on your shoulders?
This backpack CC is great for when your Sim is off to school, or if they prefer the look of a classic backpack to a chunky purse.
All while repping their favorite fat cat.
The download also comes with a matching bow, complete with a heart in the middle and long ribbons to tie the look together.
3.

Decoration Dress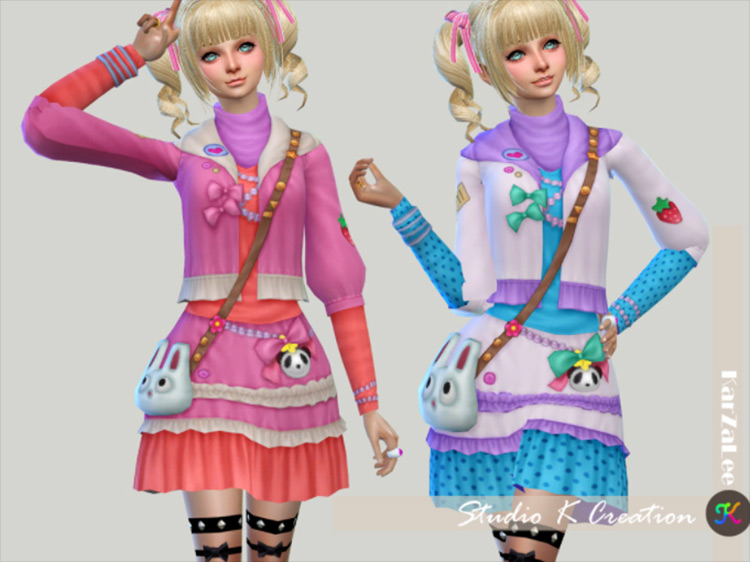 These styles of dresses are iconic to streetwear, complete with accessories, ruffles, bows, bags and more!
If you're looking to recreate some of the popular looks that have been spotted all throughout Instagram, then this is the dress for your Sim.
It comes in a variety of colors for any mood and any occasion. And all you'll need to tie it together is a great hair style!
2.

Gem Hair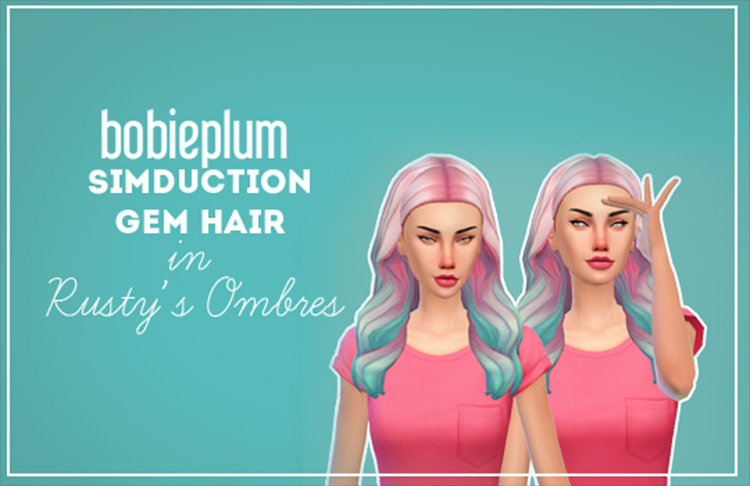 An ombre hairstyle perfect for teens and elders alike, this gem hair CC is a go-to choice for any Sim that's looking to add a bit of color to their already-colorful wardrobe.
It's a great spin on traditional ombre combinations that The Sims 4 already offers us.
But it's made way cuter by adding the bubblegum-inspired colors and pastel shades. Which is sure to be the finishing touch to the kawaii attire you've picked for your Sim.
1.

Kawaii Home Starter Set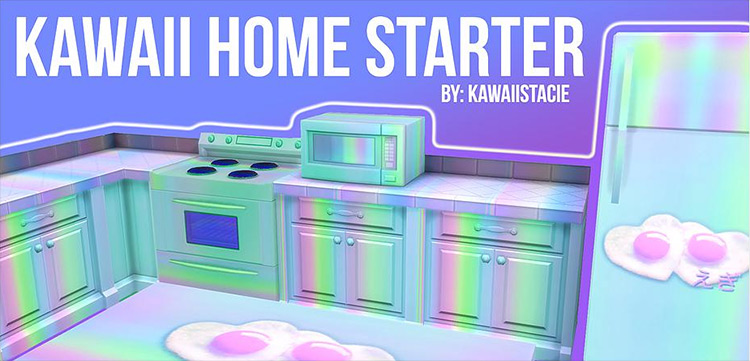 The Kawaii Home Starter Set is a great resource for all things kawaii.
Arguably the best TS4 mod for any kawaii décor!
All your appliances, sinks, and other goodies can be found here in cool gradient options. Or with bright, vibrant colors to brighten up your Sim's home.
It speaks for itself, I'd say.
With over 80 swatches, you can find everything you're looking for and more!
This is available only on Patreon for subscribers, but you can check out a preview in this review.
Browse:
Lists
The Sims 4
Video Games