Sims 4 Keys Clutter (Key Holders & Key Hooks)
This post may contain affiliate links. If you buy something we may get a small commission at no extra cost to you. (Learn more).
When my husband and I moved into our first house, my number one priority was getting my key hook hung by our front door. It really made it feel like our house.
I spent a few days picking one out before we moved in. I never would have thought there were so many options to hold my keys.
That got me thinking.
Why don't I have little key hooks by my sims' front doors? Just because they don't have keys?
Now I like to put key hooks right by the front door in all my new homes for my Sims. They deserve that little luxury, too.
1.

Key Holder (Home)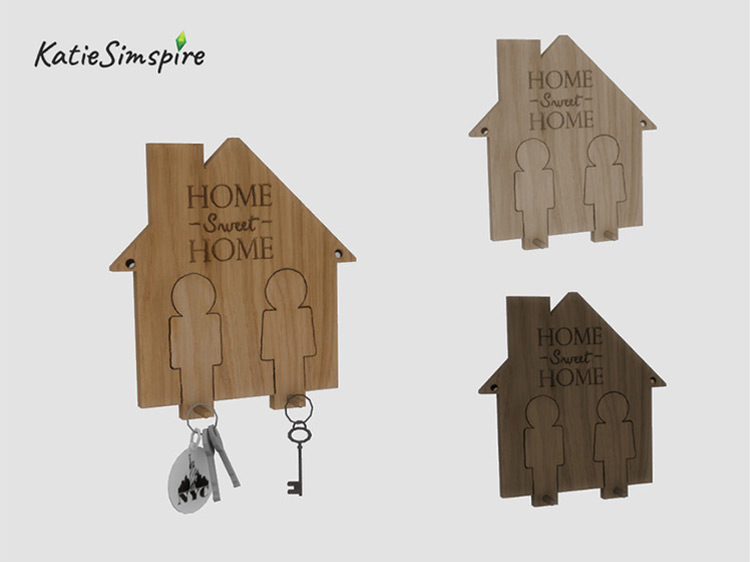 They say 'home is where the heart is', but in this case it should be 'home is where my keys are'.
This cute home shaped key holder is only made cuter with its 'Home Sweet Home' inscription and tiny cut out people shapes above the key hooks.
It comes in three different shades of wood, and here's some keys you can download to hang on onto this holder.
2.

Music Star Décor Piano Key Holders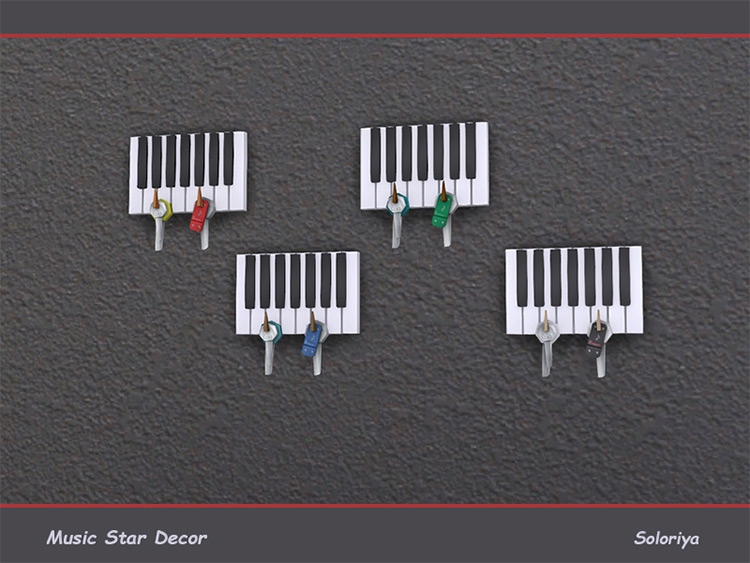 If you like word play and places to hang your keys, you're going to love this: a piano key key holder.
This is my go to for my childish Sims and keyboard enthusiasts, but these could also easily be used in any sleek, modern style house.
There are four different color variations, but only on the color of the key fobs.
3.

Marshall Guitar Amp Key Holder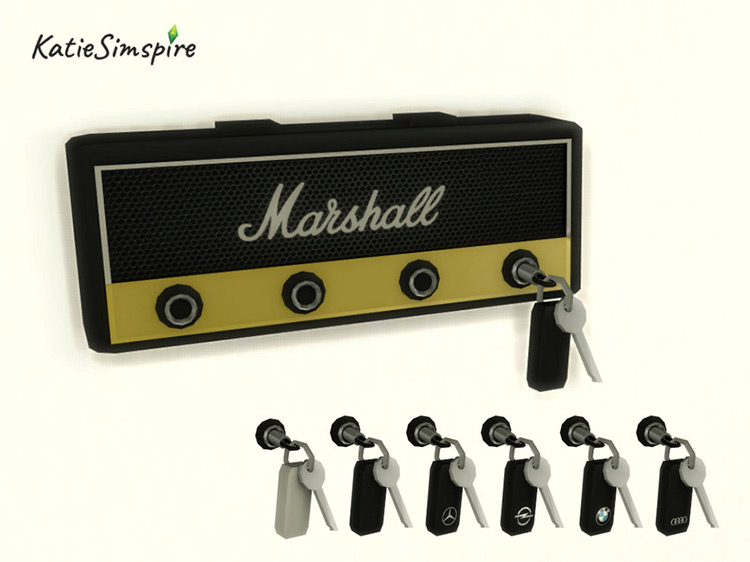 Is your sim musically inclined?
Are they looking for a more rock and roll key holder?
Well plug in and crank it up to eleven with this Marshall amp key hanger.
This CC comes with one key holder and six keys with brand name car key fobs, like Mercedes and BMW.
4.

Lettered Key Holder
This key holder is for the sims and simmers who are always misplacing or forgetting their keys.
It's pretty hard to walk past this decor without patting your pockets.
Just note that you'll need to also download keys for this key hanger, which can be found here.
This board is also compatible with the old style keys from this set.
5.

Key Holder (Mountains)
Now this is my kind of key hook.
It doubles as a shelf and decorative key hook and is compatible with the keys from this set and the CC key sets mentioned above.
There are 4 different color options available for this holder, each with the red and black accent mountains still shining through.
Browse:
Lists
The Sims 4
Video Games