Best Sims 4 Onesies For Kids & Toddlers (Free CC)
This post may contain affiliate links. If you buy something we may get a small commission at no extra cost to you. (Learn more).
The onesie is perhaps the cutest outfit you can dress up your toddlers in.
Unfortunately, The Sims 4 includes very few onesie designs in the original game (or even in the expansion packs). Which is a pity since they're so darn cute!
But we've scoured the web and found a selection of the best custom onesies made by the CC community – all ready to dress up your Sims children in style, whether they're chilling out at home over the weekend, or settled down for an afternoon nap.
1.

Logan Onesies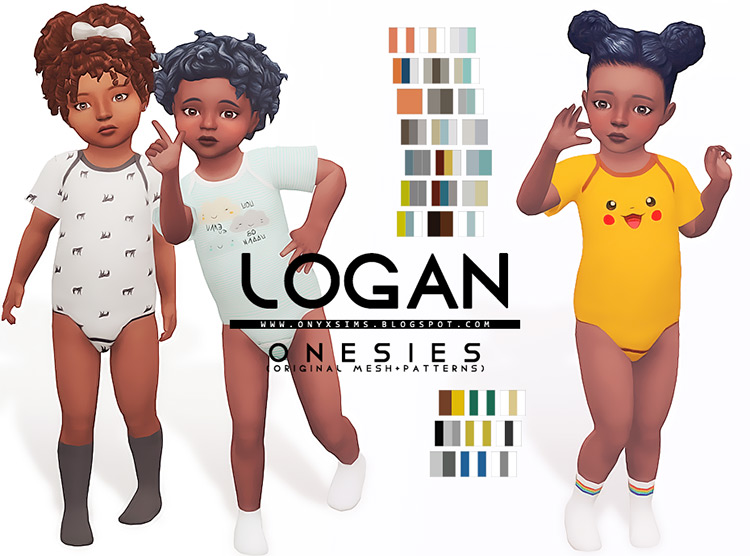 These cute onesies from creator Onyx-Sims are simply an adorable addition to your toddler's wardrobe.
Coming with a choice of 30 different patterned swatches, from stripes and sushi to Pokémon-themed designs, there's plenty of variety to mix and match.
And this CC is available for both male and female toddler Sims, with its own original mesh (editable if you know how!)
But best of all:
This CC is completely base game compatible, so you can dress your toddlers up in this new style from day one.
2.

KK Imadako Animal Night Wear
If your kids love a good animal onesie, look no further than this CC from Simmer ooobsooo.
As a mesh edit from an original mesh for adults by Imadako, this onesie design truly feels unique. And it's available for both boys and girls.
There's 24 different color swatches and 5 meshes to choose from here too. So your child Sims can decide whether to dress as a penguin, cat, teddy bear, bunny, or even a frog (among many other options!)
If you look closely, you can see there's even a cute tail included on some of the meshes.
That's what I call craftsmanship.
3.

Toddler Onesies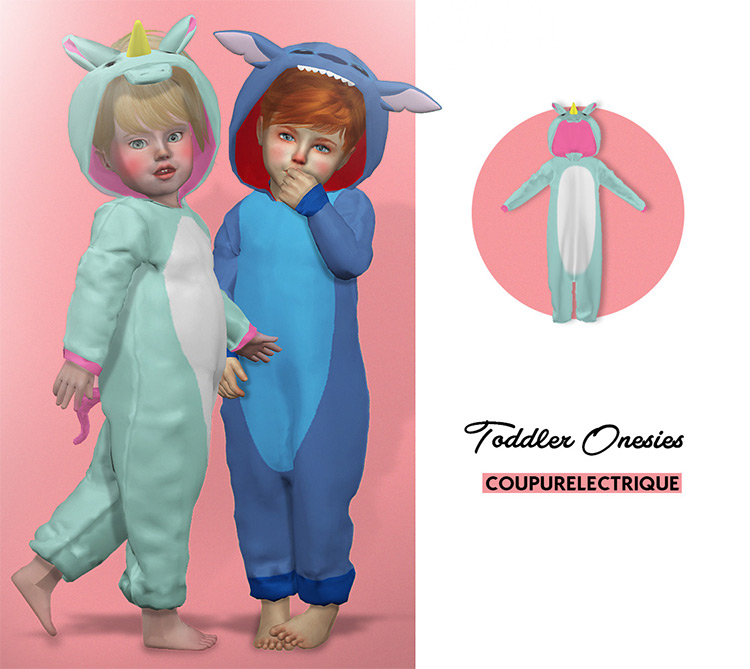 For even more onesie choices, Redhead Sims has designed this fantastic CC adapted from the original TS3 mesh by plumb-da-bots.
It's available as a unisex onesie for toddlers, and you can choose from any of the 6 unique designs based on popular kid's TV shows and movies.
The most interesting designs include Stitch, Pikachu, or the Cookie Monster.
Or if you'd rather stick to the basics, pick a sweet cow patterned design – or maybe an adorable blue unicorn. Great for boys or girls!
4.

Trippy Onesie Toddler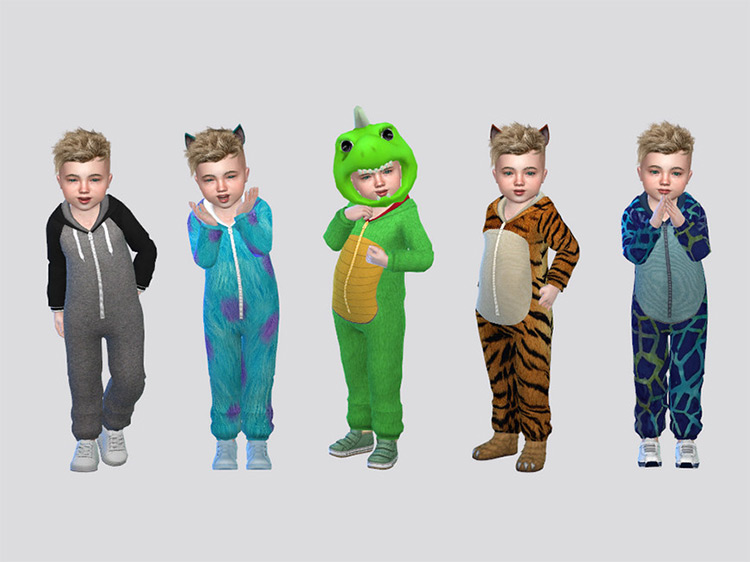 This male toddler onesie CC has popping designs galore!
It's an original mesh by McLayneSims, and this CC was made for male toddler Sims specifically.
It offers a selection of 12 different swatches, from plain color swatches, to tiger stripes, to full-blown dinosaur dress-up looks, complete with a cute dinosaur hat and everything.
We even spotted a cute design inspired by Sully from Monsters Inc.
Disney & Pixar fans are sure to love this.
5.

IP Toddler Christmas Elf Onesie
If the festive season is right around the corner for your Sims, then there's no better outfit for your toddlers than this cute Christmas elf onesie from InfinitePlumbobs.
The good news is that you can select this outfit for both male and female toddlers as a unisex design.
The bad news is… well, there is none. Just more good news.
Since this is a base game recolor, the outfit is totally base game compatible.
That said, it may tie in best if you have the free Holiday Celebration pack installed through Origin (or perhaps the Seasons expansion pack if you want the full winter holiday experience!)
Either way, you'll be able to capture some adorable posed pictures on Christmas morning.
6.

Moose Onesie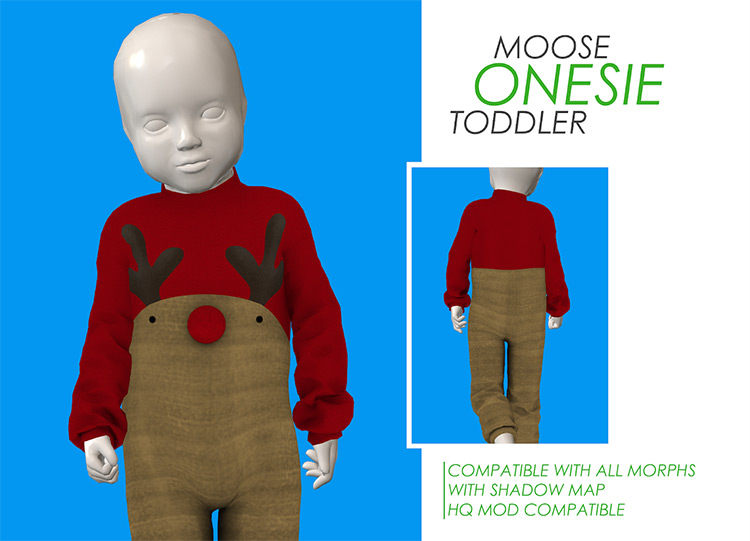 There's a moose on the loose!
This cute design from Redhead Sims comes with a staggering 52 different color options, so you can mix and match this with your toddler Sims' favorite colors for some year-round onesie outfits.
Whether you're feeling festive and want a Rudolph look (you know, the reindeer?), or if you pair a look with contrasting color patterns. Either way this eye-catching CC will certainly have your toddlers drawing attention anywhere they roam.
7.

Faux Fur Unisex Onesie
There's nothing better than a fuzzy furry onesie for the ultimate comfort when winter rolls around.
And now your child Sims can enjoy this snuggly onesie CC from KariAngelova, available in 4 different swatches including leopard prints, tiger prints, and giraffe patterns.
This outfit is available for both male and female Sims, and can be found in the Sleepwear section. So your kids can rock these comfy outfits as Everyday wear, or as nightwear when bedtime rolls around.
8.

IP Toddler Halloween Onesie
If Spooky Month is your thing, check out these amazing Halloween-themed onesies from creator InfinitePlumbobs.
Whether your toddlers look cute as pie in pumpkin designs, or dress up in spooky scary skeletons, there are 8 different patterned swatches to choose from here – all available for both male and female Sims.
Plus this CC is compatible with the base game, so you can dress up your Toddlers for a cozy autumn night whether you have Seasons installed or not!
9.

Pikachu & Totoro Onesie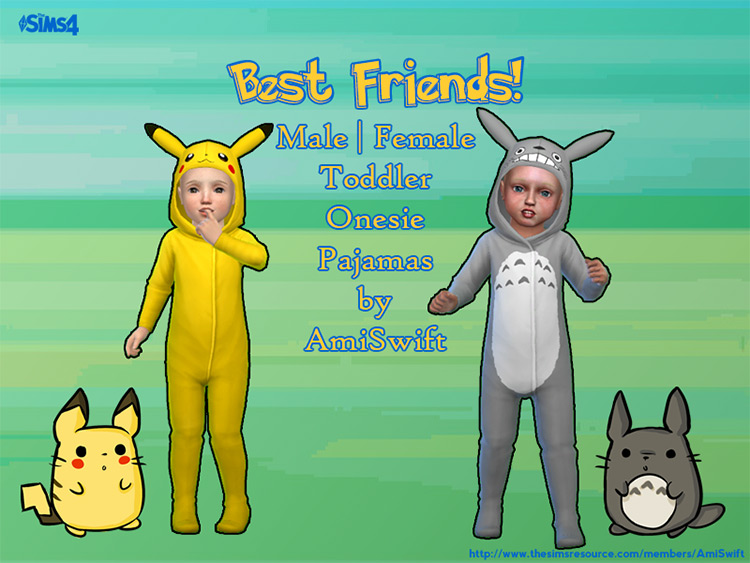 Japanese pop culture makes a solid entry into The Sims universe with these incredibly detailed onesie designs from AmiSwift.
Each mesh comes with cute ears on the hood, as well as zipper and tail detailing as part of the design.
Designs include Pikachu from the Pokémon franchise, and Totoro from Studio Ghibli's movie My Neighbor Totoro.
These are available for both male and female toddlers as adorable pajamas – ready to hit naptime in style.
10.

Hello Kitty Onesie
Speaking of Japanese pop culture, we couldn't ignore the queen herself – Hello Kitty!
We've covered some Hello Kitty CC in another list, but this onesie is too perfect to leave off this list here.
This cute design from MahoCreations is wearable by both male and female toddlers, and it comes in 8 different vibrant swatches to choose from.
We particularly love the adorable bow detail on the hood. Such a classic Hello Kitty look!
And this mesh is also fully compatible from the base game onwards, so you can download this & enjoy it regardless of any expansion packs.
Browse:
Lists
The Sims 4
Video Games