Best Sims 4 Kimono CC For Men & Women
This post may contain affiliate links. If you buy something we may get a small commission at no extra cost to you. (Learn more).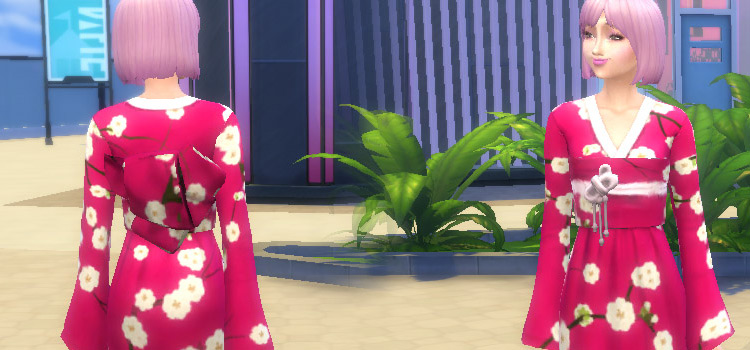 Konnichiwa! Let's get into the Japanese vibe as we look at the best of what CC creators give us regarding Japan's traditional garments: kimonos.
Your Japanese-at-heart sims(or even you simmers) will instantly fall in love with every one of these beautifully made kimonos.
Looking for a sleek Japanese aesthetic? You'll certainly find it here!
Mariposa Kimono Blouse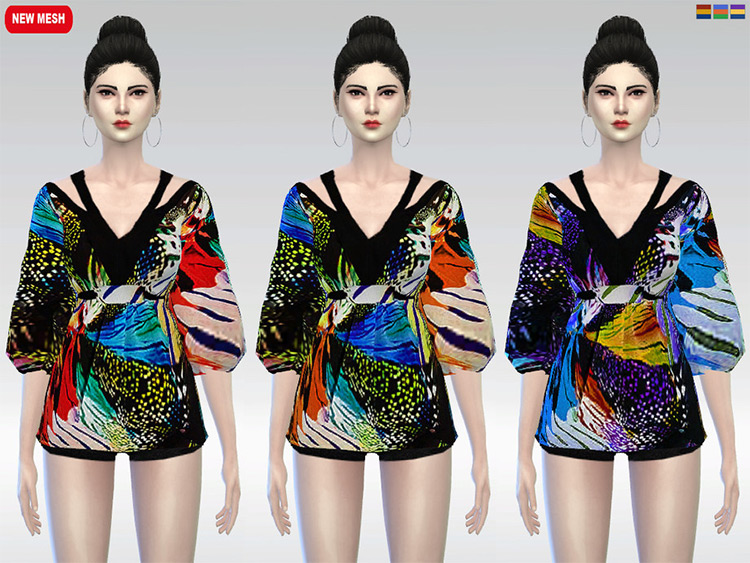 We're starting off colorful with a beautiful blouse that would make all the neighbors jealous.
This will quickly become your sim's new everyday outfit, at least at home.
It's a sexy, modern-day looking kimono that every sim would want in their closet. Don't be surprised if other sims are looking you over, it's just the outfit babe.
SimmieV SaH Kimono Blouse for Men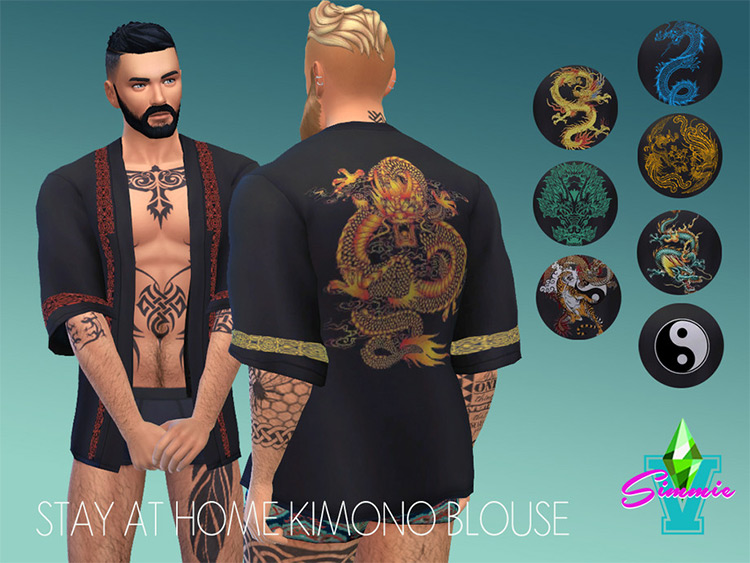 Is your sim an "I-don't-want-to-go-outside" type?
Well here's something that will keep him comfortable indoors. And yes, for him!
Kimonos are certainly not just for ladies.
With this kimono blouse CC for you guys out there, your sim will instantly gain an inspired moodlet, or even a confident moodlet. Since he can effortlessly flex those muscles in the mirror.
This kimono will never let you down.
You can choose different colors and different printed designs at the back of your kimono, too. Each design is badass, and I wouldn't doubt you'll feel truly special in this.
Kimono Jacket Set 1 & 2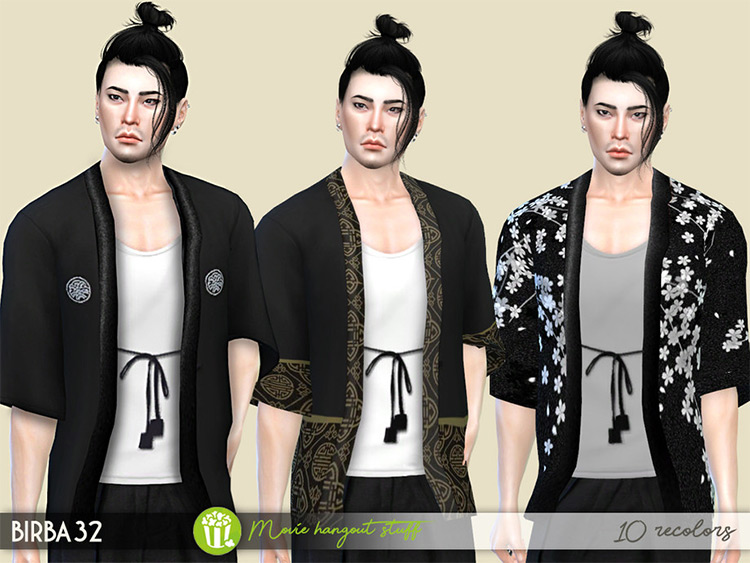 Don't be shy with this jacket set! Make your sim start conversations with some beautiful ladies, all while wearing these stylish kimono CC jackets.
Probably best for the cooler months, though.
There are two sets to choose from with this CC.
Set 1 has ten recolors, and set 2 has eight recolors. The choice feels almost endless, so you won't have to worry about finding one that matches your sim's style. There's something here for every occasion!
Izanami Kimono Cardigans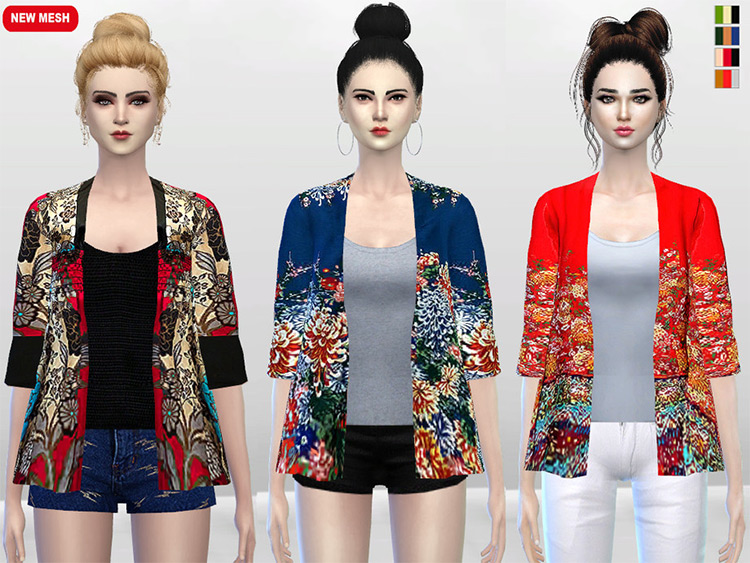 Want something a bit more casual, yet still gives off that traditional Japanese vibe?
Then these Izanami Kimono Cardigans are just what you need.
They're simple and stylish, making your sim look confident yet cozy the whole day.
Sakura Kimono Jacket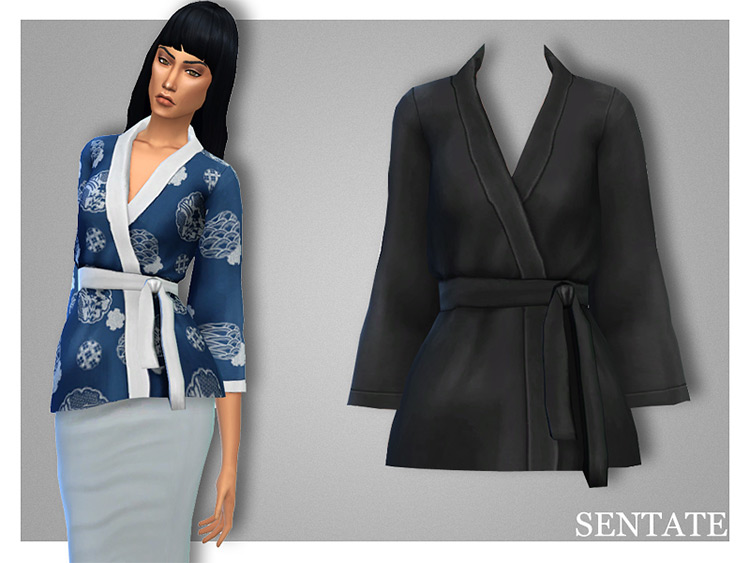 Let's say your sim is a bit stressed and they need a calming bubble bath. Want your sim to look cute after the bath?
We got you!
This Sakura Kimono CC will keep your sim feeling safe and snug. I'm sure wearing this with your sim's significant other would trigger a flirty moodlet to boot.
It's a cropped wrap-around jacket with 3/4 sleeves that tie at the waist, and come in 5 plain colors and 5 Japanese floral prints.
I promise the floral prints will give the illusion that sakura flowers are embracing you.
Khalifa Kimono Top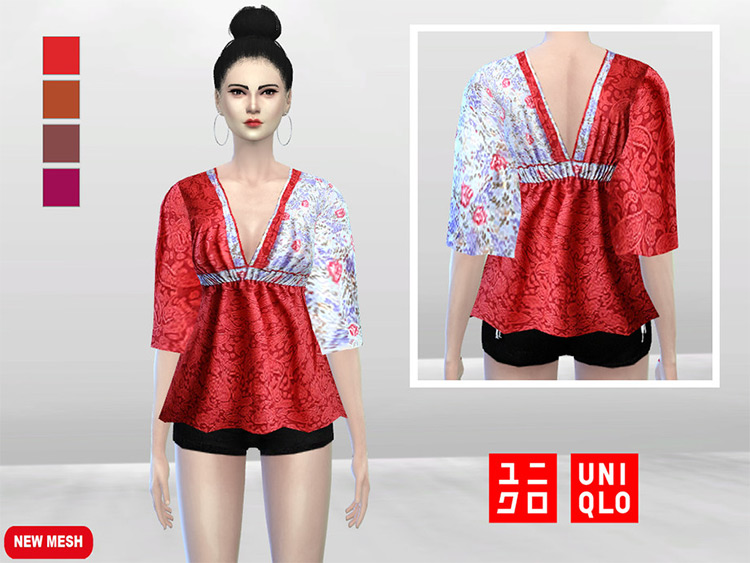 Bold. Sexy. Stunning. Confident.
This Kimono top screams all of that.
If your sim were out in real life, they'd have people left and right turning heads. Just watching them walk by like a model on a runway.
Nothing can top that feeling!
This beautiful top is a must-have for your confident sim.
Japanese Retro Student Costume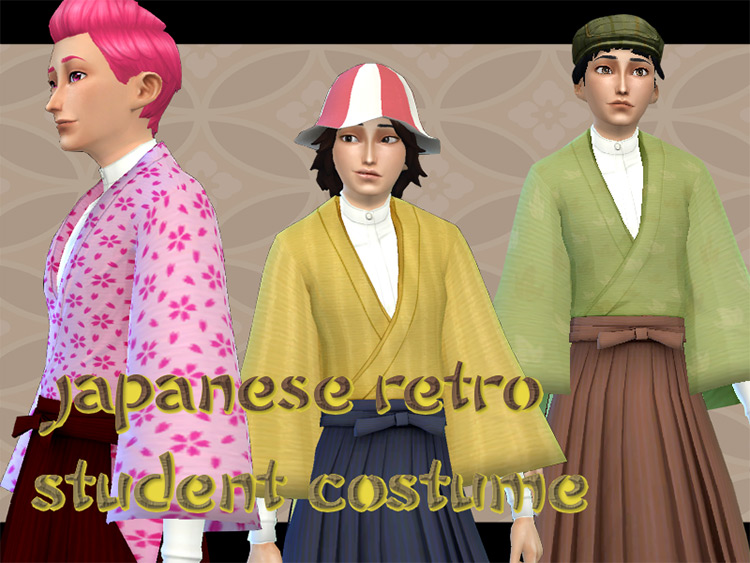 Want to introduce your sim's teenage boys to the Japanese tradition?
Well these costumes are an excellent place to start.
These are perfect for when your teen sim gets to take part in a traditional play, or if a Japanese holiday somehow finds its way into your household.
If you have the Get Famous pack, your sim might even get into cosplay and become famous just with this CC. Who knows, crazier things have happened!
Wano Robe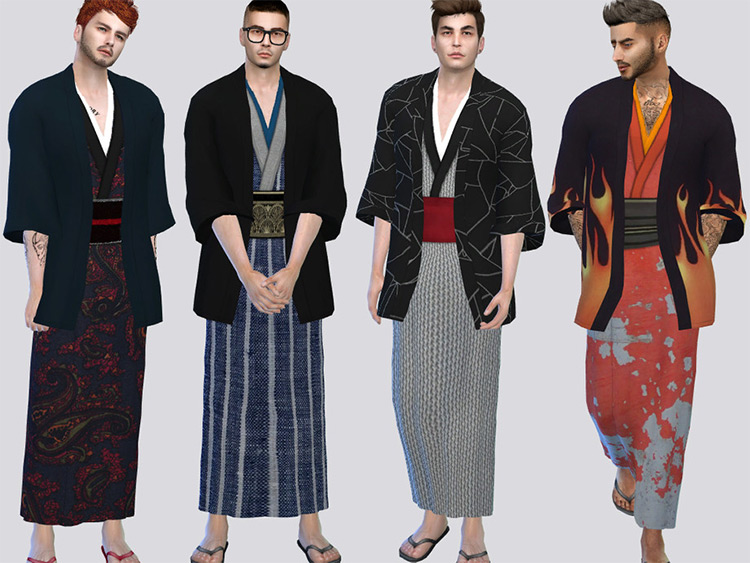 It's time to get into a real full-body kimono.
These Wano robes go perfectly with any colored kimono.
And this outfit will make your sim look like an old-fashioned bad boy. All the ladies will be swooning over this surprisingly cute CC for guys.
Jom Sims Creations: Kimio Kimono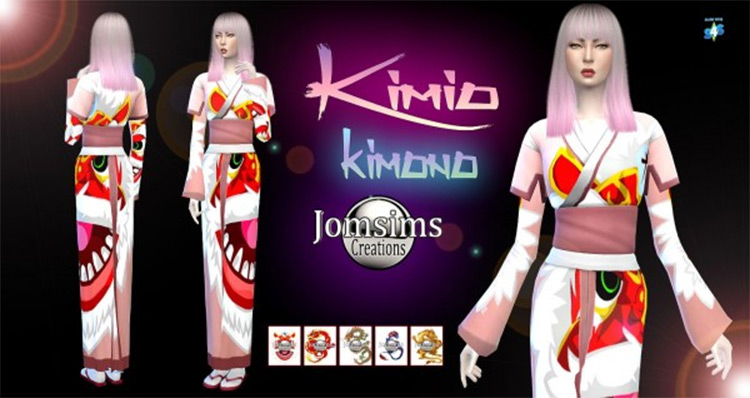 Now this beautiful kimono is almost too perfect to touch.
If your sim picks up this baby, they'll instantly look more graceful and elegant.
It has a dragon pattern, sure. But it doesn't give any aggressive vibes at all.
This CC is so elegant, any sim can pull this off at any formal party (probably).
No doubt your sim and their kimono will be the talk of the party, depending where you like to party of course.
Dress Inspiration Kimono 1-3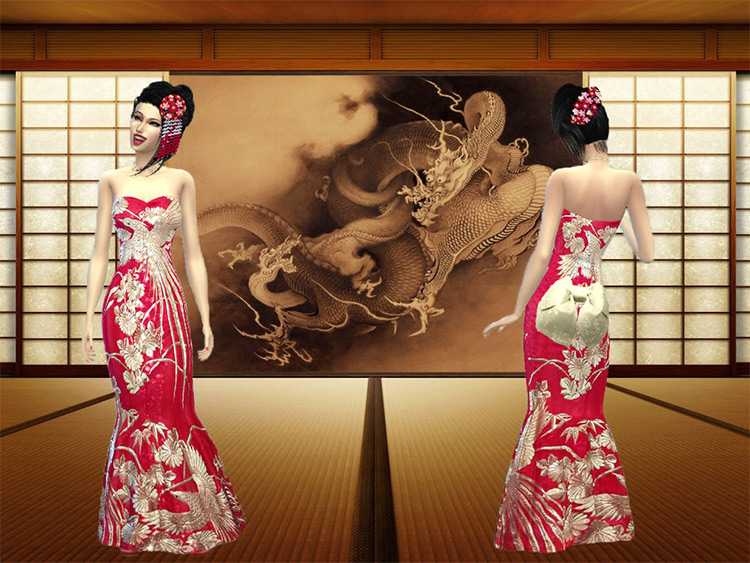 These three kimono dresses are perfect in their own little ways, I just have to rank them all together.
Let me talk about each one.
The first kimono is very simple in design, and it's a lot like your usual gowns. The bird and flower patterns make it stand out from all the others. On the back there's also a big ribbon print that looks a lot like ribbons that traditional kimonos have. Simple and subtle, yet meaningful.
The second kimono is also simple, but it appears more traditional.
You know the saying "less is more." This design could pass for a traditional kimono if it had sleeves easily.
And the third kimono is the most traditional among the three. Its modest design is quite appealing, and the way it subtly ruffles out towards the bottom of the dress just seems like adorably accurate Japanese attire.
Japanese Kimono Maid Dress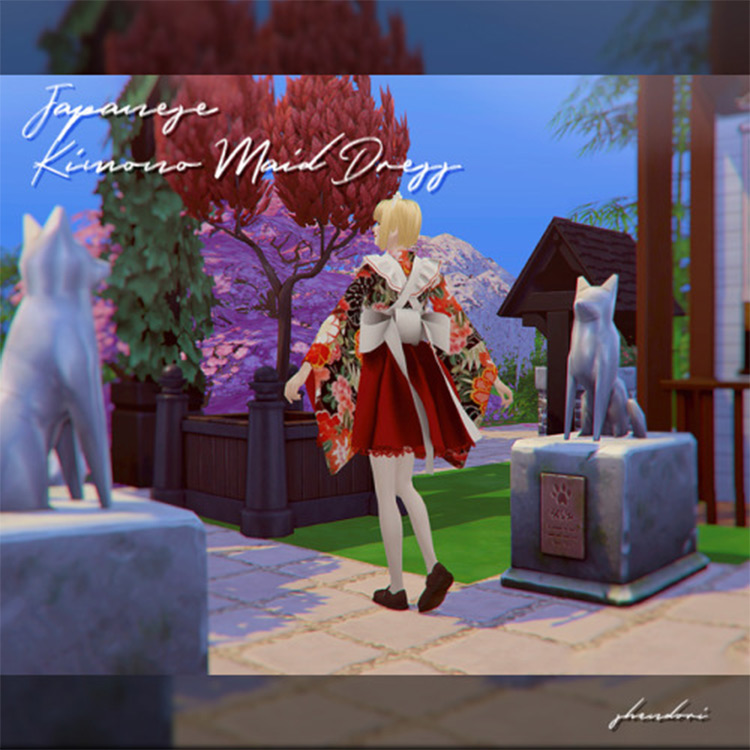 This has to be the most "kawaii" kimono out there.
The short and graceful dress will make you feel just like you're floating on air. This kimono gives out the aura that butterflies surround you wherever you go. Is that something you're after?
Any sim who wears this is sure to trigger that classic happy moodlet, too.
Japanese Kimono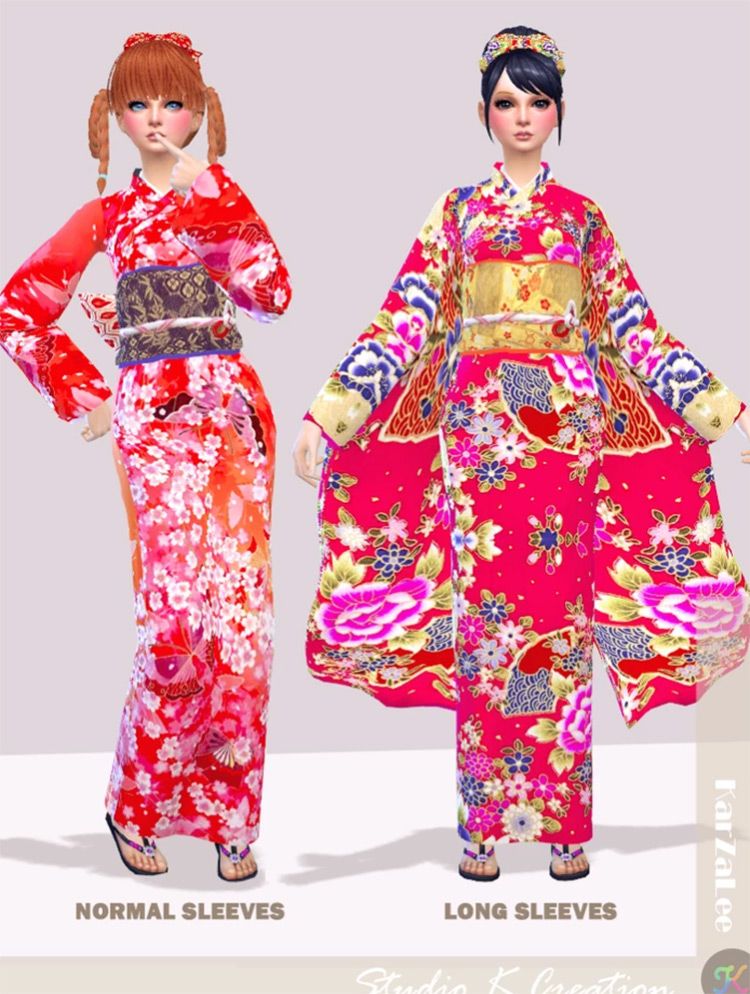 And this Japanese Kimono CC pack comes as close as you can get to real kimonos out there.
The long flowy fabric is beautiful, and it still clings enough for you to show off your figure.
This pack consists of two types of kimonos: the normal long sleeve, and the super long sleeve.
Naturally the regular long sleeve kimonos are lovely, though they cover almost every part of your sim's body. They come in 32 beautiful colors so there's plenty of variety to go around.
The perfect choice of clothing for late night festivals, or maybe some summertime fireworks.
Now the super long sleeve kimonos give your sim that extra grace that makes it seem like they have wings.
When it comes to more authentic Japanese attire, this CC is worth checking out.
Browse:
Lists
The Sims 4
Video Games