Best Sims 4 Kitchen Clutter CC (All Free)
This post may contain affiliate links. If you buy something we may get a small commission at no extra cost to you. (Learn more).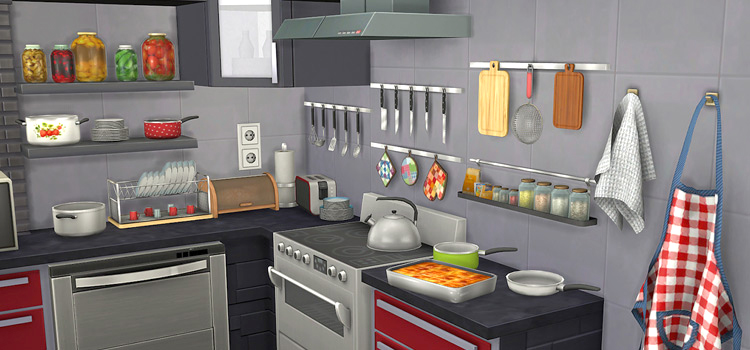 What's the best way to add personality to a build?
Clutter.
Lots and lots of random clutter. Pile of clothes, a book out of place, a bin full of random hair care products, empty lotion bottles that still haven't been thrown out…
You get the idea.
I promise you; any build with just furniture, decorations, and light fixtures looks bland. It's perfect, but it's also plain.
Give your Sims' kitchens some character with these beautiful custom clutter packs!
1.

Despensa "Madison" by PQSIM4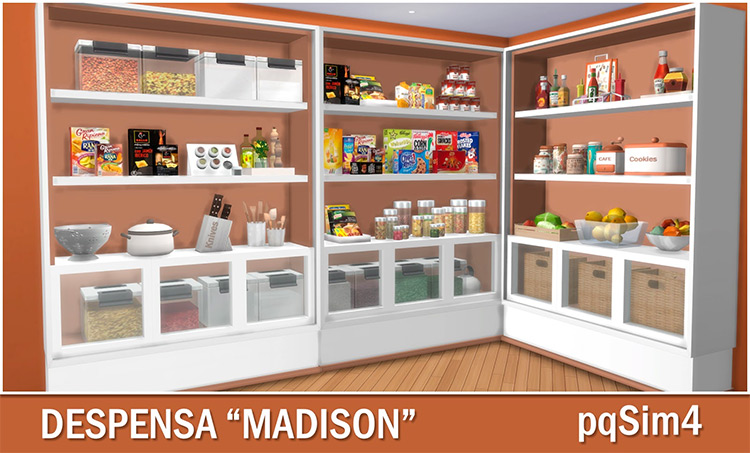 Maybe EA has something against pantries and cabinets, what with how Sims pull out literally every cooking ingredient they need from the fridge.
At least with this Despensa "Madison" set, your Sims can look like they store their cereal boxes, jam jars, spices, and soup cans at room temperature.
The creator even includes shelving options in this pack if you want to keep things organized.
2.

Tiny Clutter by pixelunivairse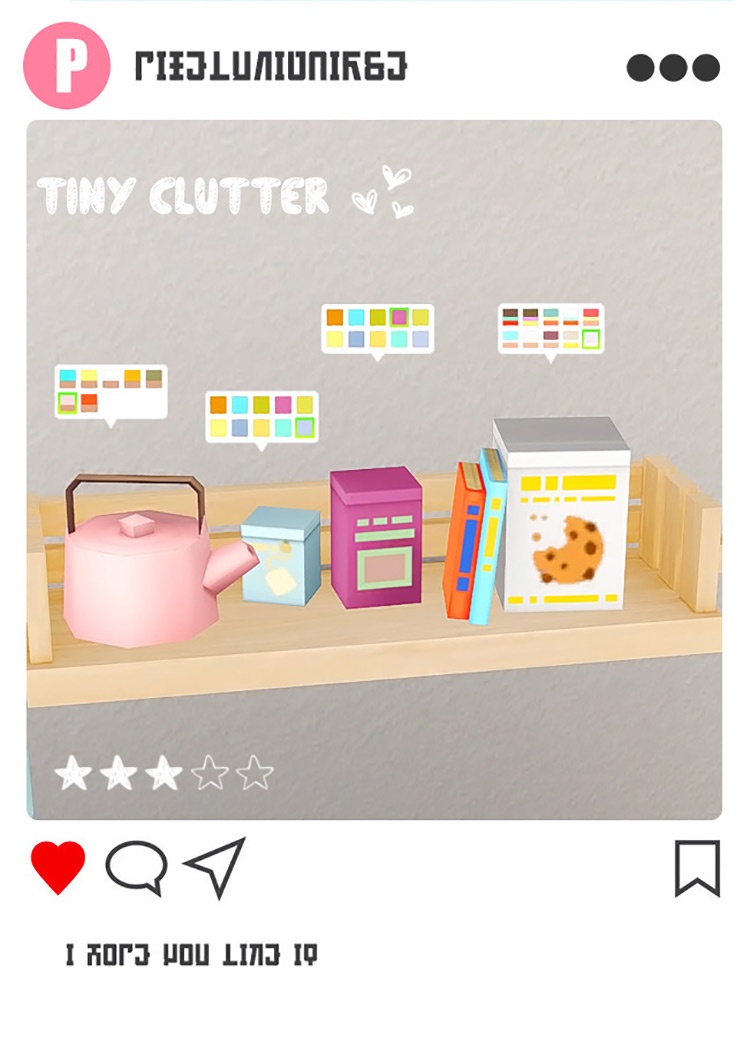 Just some cute little kitchen odds-n-ends to clutter up your Sim's snacking space. According to the creator, these are part of a decorated shelf from The Sims 4: Tiny Living pack.
They just separated them from the surface and made them individual buyable objects. This way, you can place down as many as you need.
Who says you can't have half a dozen cookie boxes scattered around, anyway?
3.

Tiny Clutter 2 by pixelunivairse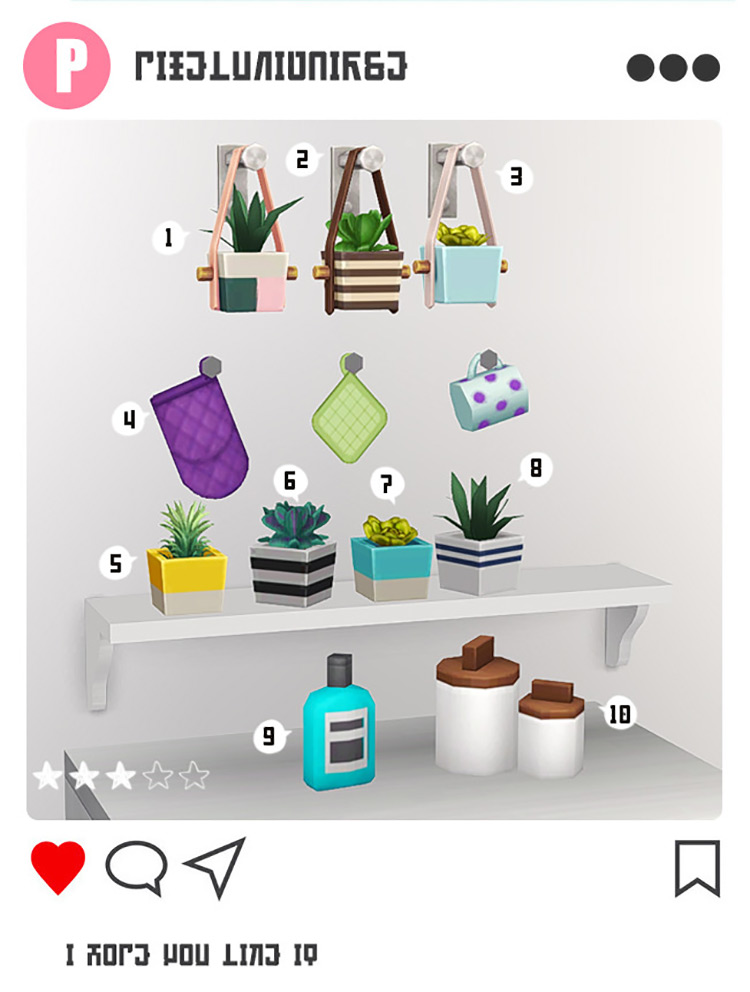 Liked pixelunivairse's Tiny Clutter pack? Then here's more!
Ten more cute, quirky, and oh-so tiny (but not really) kitchen clutter items to sweeten your build.
The wall-mounted décor items in this pack are really great for balancing out builds with plain, bare walls.
Shout-out to the mug with the purple polka dots. I would love to have that IRL.
4.

Kitchen Clutter by ShinoKCR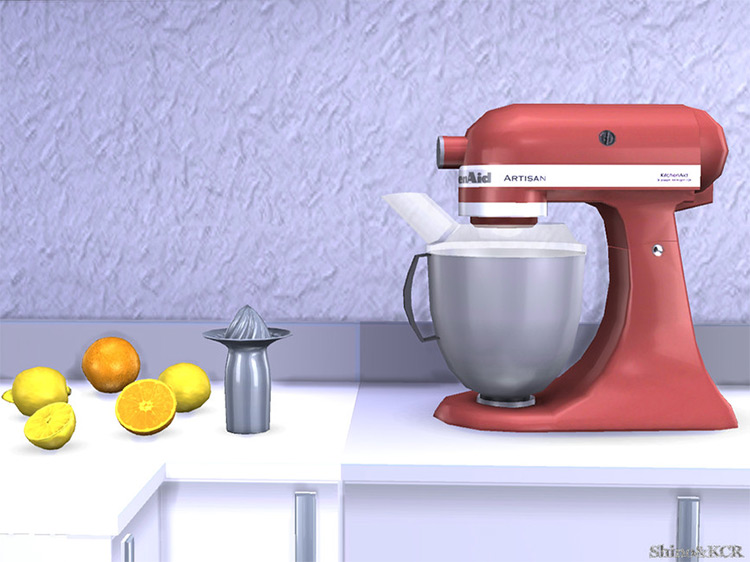 This set is just like its name: simple and straightforward.
You asked for kitchen clutter? You get kitchen clutter.
Fifteen clutter items total, in fact. Pots, woks, cookbooks, and a couple citrusy fruits to boot.
Whatever it is your Sim's preparing, you can bet they've got more than enough tools to pull it off.
5.

Phoenix Kitchen Accessories by Forever Designs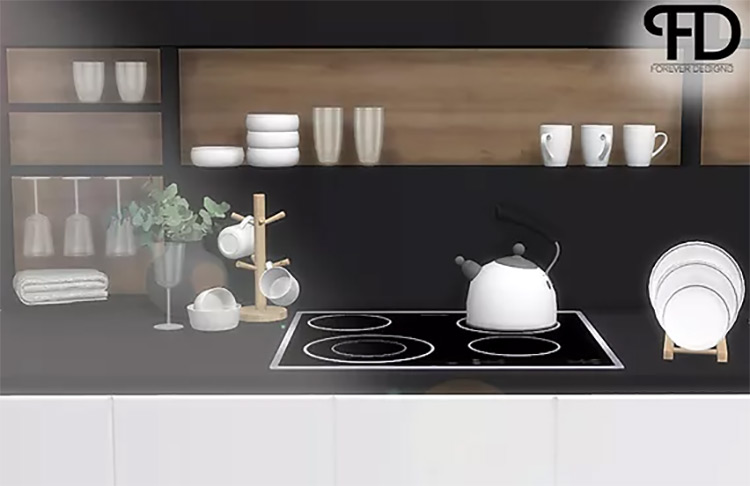 The clutter from this set looks exactly as delicate in-game as it does in the preview photos.
Seriously; the glasses are so transparent, they barely look solid. They genuinely look like they'd shatter if you so much as breathe violently.
Mad kudos to the creator; the quality is superb.
6.

Peg to Differ – Kitchen Clutter by Ravasheen
Cute pun aside, the concept of this clutter pack by Ravasheen is a total winner.
All the wall-mounted clutter items you see are kitchen staples. I'm talking dish towels, pots and pans, novelty mugs, and colorful knife sets.
Plus, if you run out of space on the pegboard, there are still some clutter items in this set that are designed to rest on horizontal surfaces.
7.

The Pantry Collection – Pasta Boxes by wtrshpdwn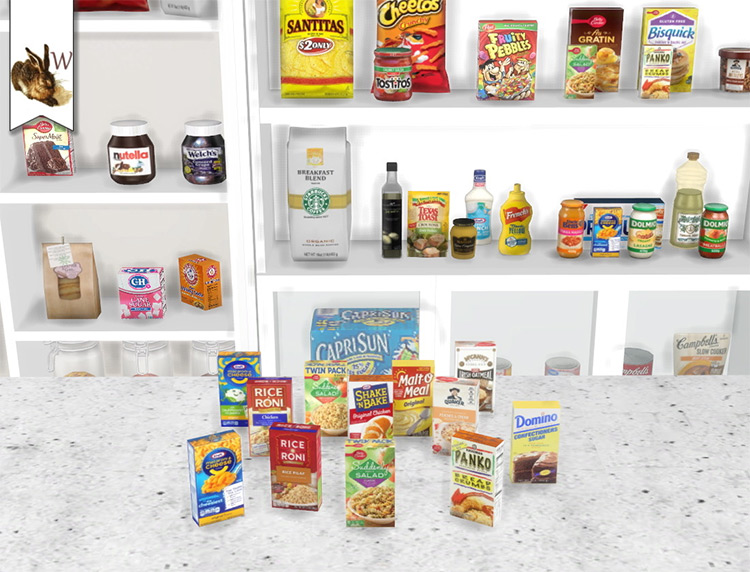 Mac & Cheese, Rice-a-Roni, Shake 'n Bake, Panko, Malt-O Meal, and powdered sugar.
Any of these items present on your Sim's grocery list?
Then these decorative packaged food boxes will make an excellent addition to their kitchen. Or pantry.
Wherever your Sim stores their non-perishables!
8.

Naturalis Pantry Jars 4 by SIMcredible!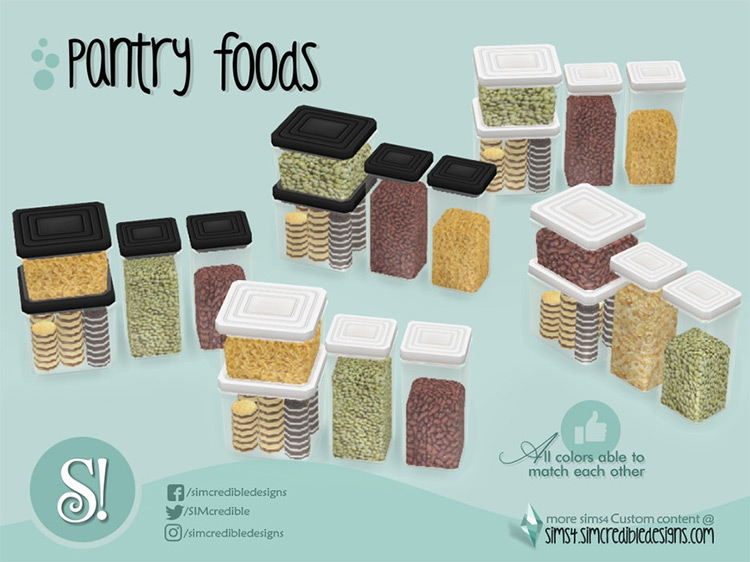 If you've ever watched satisfying organization TikToks (the ones with the sped up, cleanly-cut footage), then you know these see-through containers are a must for efficient – and aesthetic – food storage.
Available in two variations!
9.

Serenity Kitchen Decorations by ArwenKaboom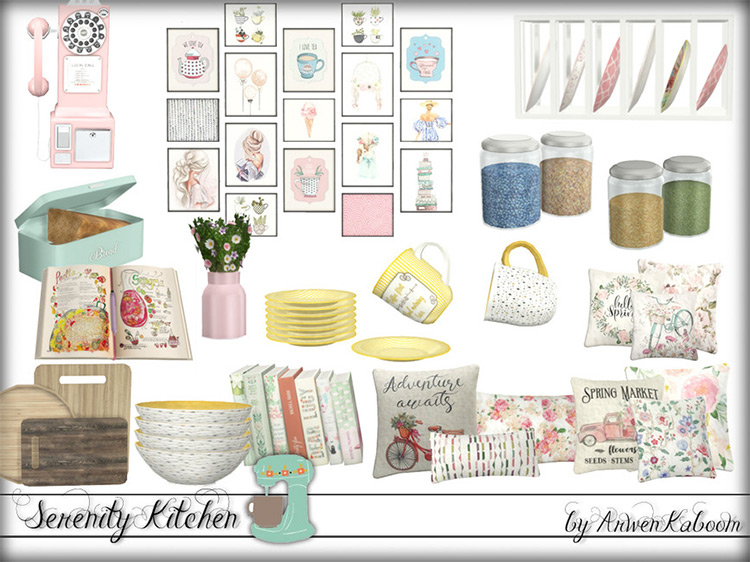 If you run out of deco slots for all the items here, use bb.moveobjects on to lie down ArwenKaboom's kitchen decorations by the dozen.
No one ever said kitchens could only have one bread box and one stack of plates.
10.

Curio Kitchen Conversion by Mio-sims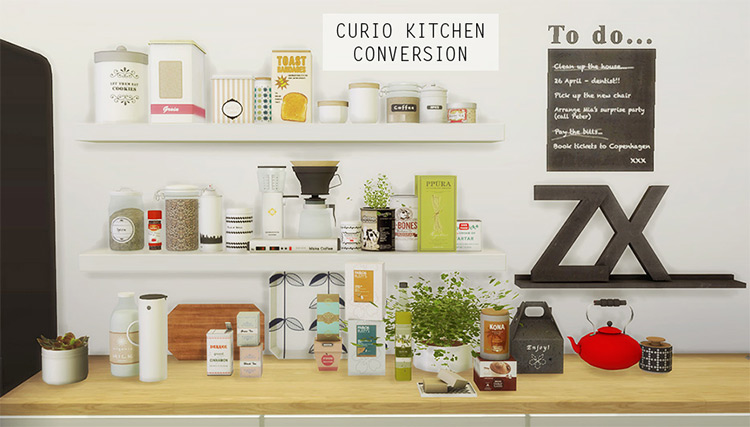 This isn't so much a stuff pack as it is a full-blown expansion pack. I'm exaggerating, of course, but just a little.
Because there are 40 meshes in this, and they're all new.
TS4 base game-compatible spice bins, wooden trays, teapots, milk cartons, olive oil bottles, and more.
Have fun browsing!
11.

Kitchen Décor Set (The Sims 4) by darasims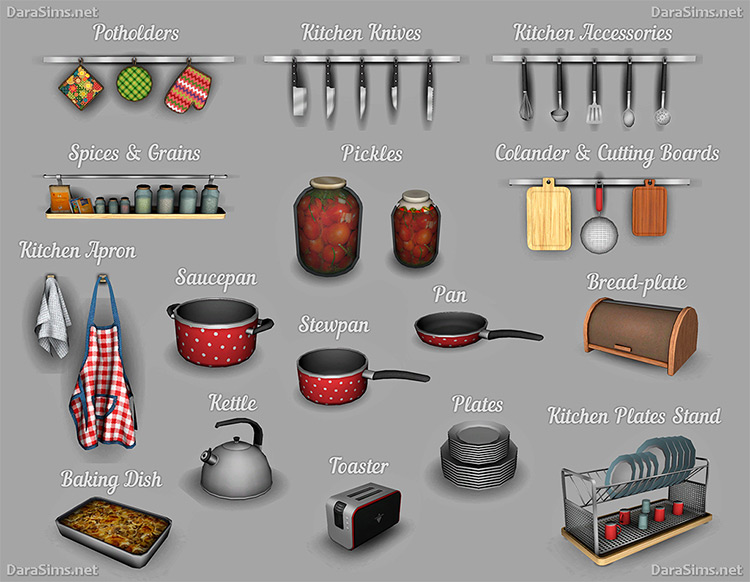 This here's a well-stocked CC pack for a well-stocked (and well-decorated!) kitchen. I mean, three types of pans?
A full shelf of spices and grains?
Five different cooking utensils (of which I can only name the spatula and the whisk, unfortunately—I don't do a lot of cooking)?
This kitchen set means serious business.
12.

Essential Kitchen Clutter by PQSIMS4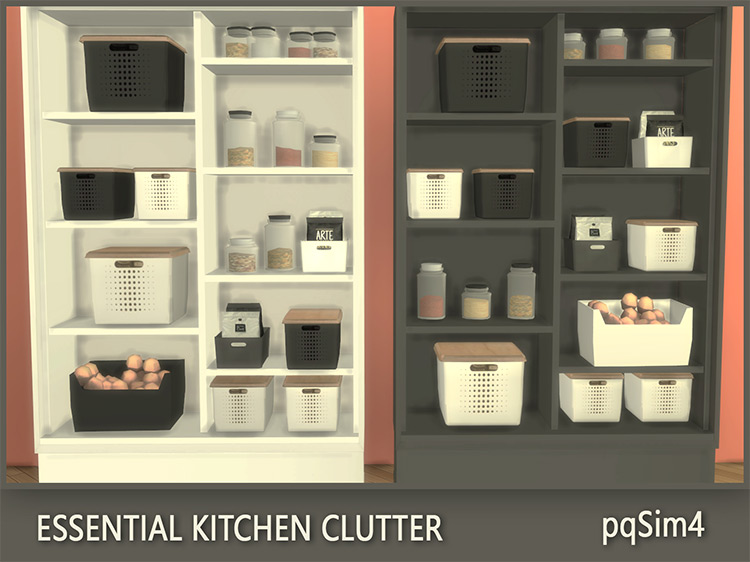 Not to be confused with their Despensa "Madison" pantry pack, PQSIMS4 introduces more storage and organization options for your Sim's kitchen!
Solid glass jars for loose ingredients (like flour, sugar, grains, and beans), covered bins for bigger food items (I'm thinking pound bags of quick snacks), and open trays for other miscellaneous items.
Methinks the items here can personalize empty spaces quite nicely.
13.

Life is Strange 2 Food Set B by mimoto-sims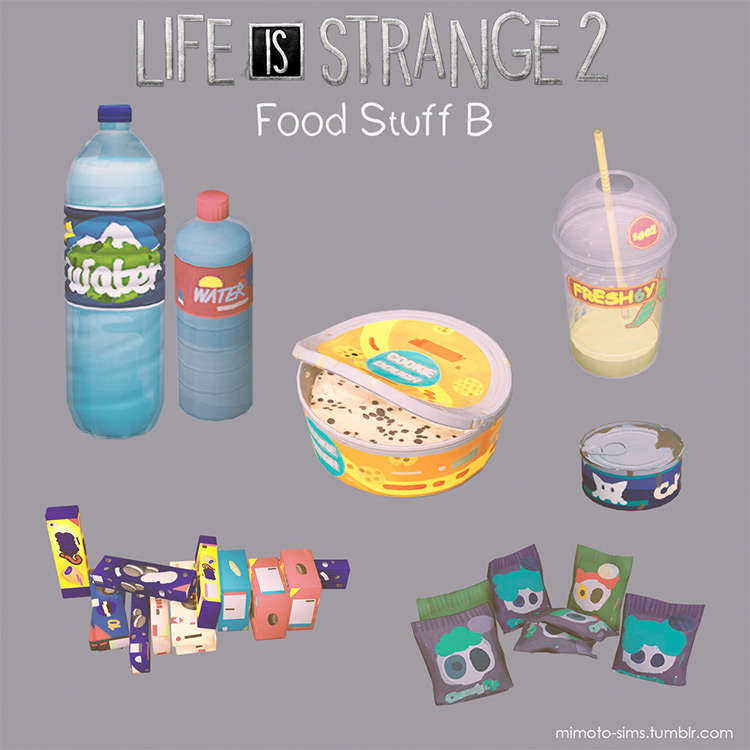 If you're familiar with the Life is Strange video game franchise, then you probably recognize the packaged food and snackables in this set.
I've never played the game but, from what I can tell, these are pretty solid conversions. The wrappers and logos are cute, too!
14.

Simmer Down Kitchen Clutter Set by Ravasheen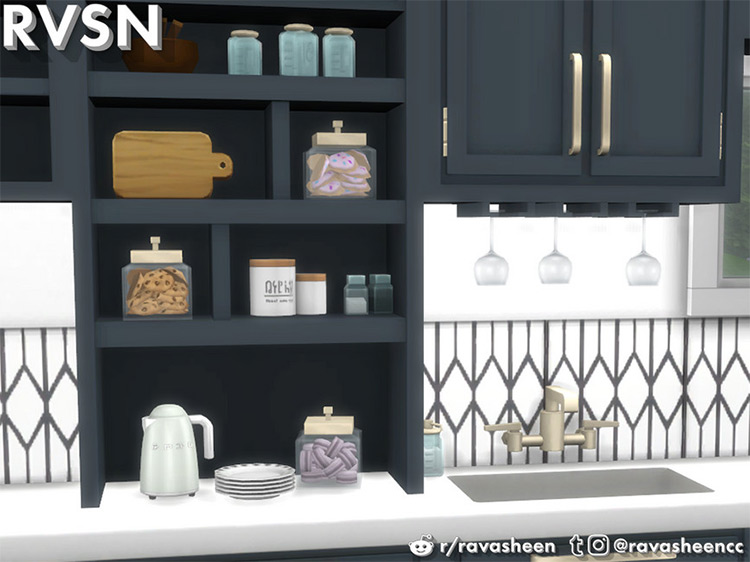 Another gorgeous kitchen set by the ever-so-talented Ravasheen, except this one's got macaroons.
Glass jars of macaroons, to be specific, and different sugar cookies, too (for when the cravings are really strong).
This set also contains jars of flour, squat little tea kettles, and a gorgeous, geometric runner. Little knick-knacks that can add great personality to your builds.
15.

Ceratonia Kitchen Decorations by wondymoon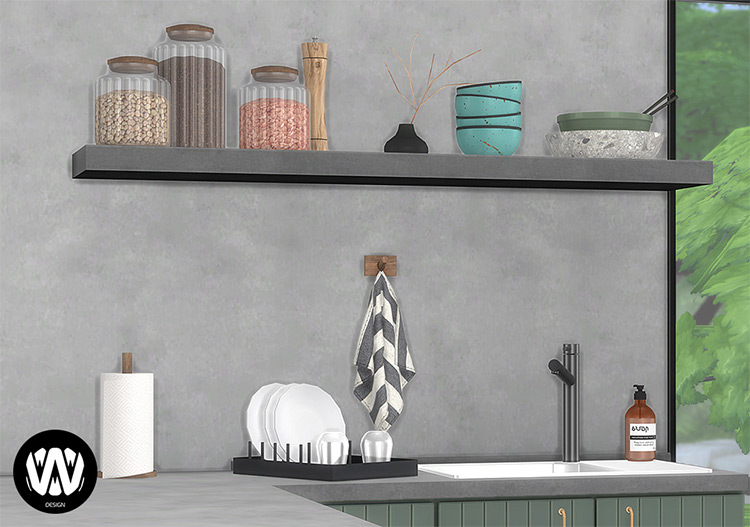 May I just say that the texture of this pack is outstanding.
You know I'm a big Maxis Match fan but my goodness; these objects look so real, it's insane. And so aesthetically pleasing too.
My eyes are immediately drawn to the lightly speckled stack of bowls.
16.

Kitchen Deco Set by lina-cherie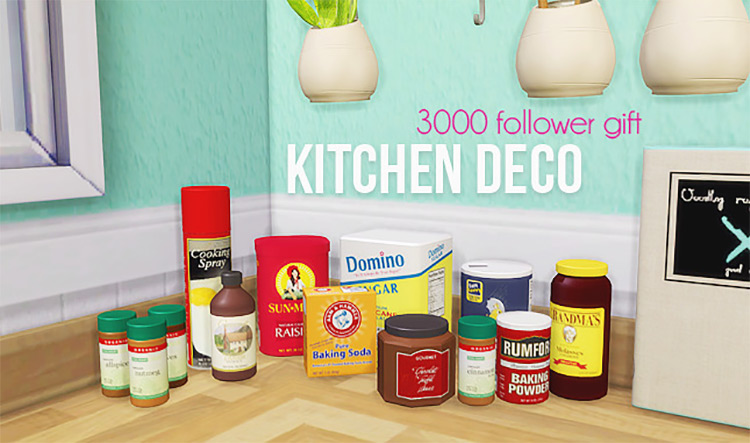 Chocolate sauce, vanilla extract, raisins, molasses, and baking powder. If your Sim's an avid baker of pastries, confections, and treats, why not decorate their kitchen appropriately?
This sweet (no pun intended!) but simple set by lina-cherie introduces eleven new clutter items.
Line them up neatly in shelving units or bunch them up in a corner — they'll look fantastic either way!
17.

Coralitt Conversions by coralitt-sims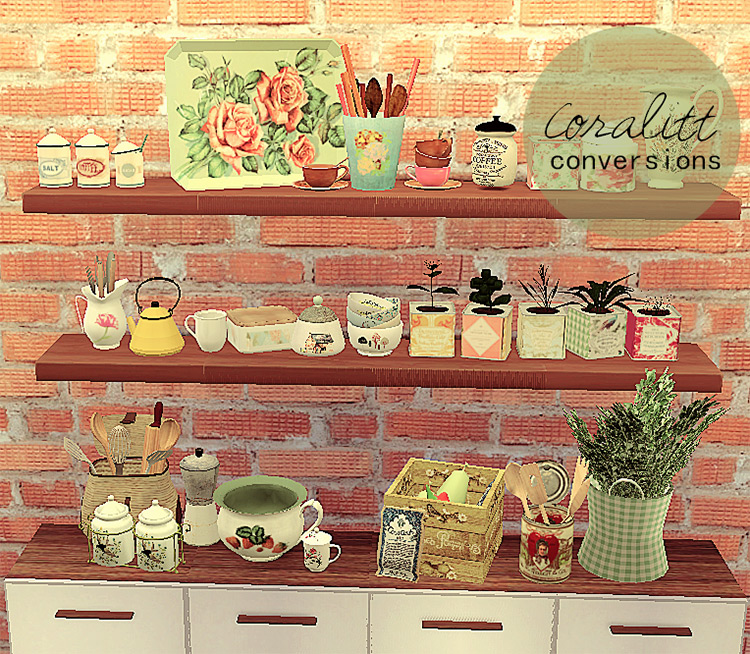 "Some little clutters for your kitchen," indeed!
This set contains some of the daintiest custom Buy items I've ever seen.
Vintage spoons, porcelain jars, tea planters, and colorful, tiny teacups.
The items look like they belong to some kindly old lady who preserved her whole downtown suburban home and refused to "upgrade" to modern variations.
This clutter set is the definition of quaint.
18.

Baking Clutter by Around the Sims 4

Add on to lina-cherie's small set of baking ingredients with Around the Sims 4's Baking Clutter pack for the full confectioner experience!
Whereas the other pack had the ingredients, this pack has the tools.
No respectable pastry chef would stand for a kitchen without a mixing bowl, sifter, and spatula!
19.

Breakfast Clutter by Around the Sims 4
I feel like this Breakfast Clutter set by Around the Sims 4 gets recommended all the time.
And honestly? I can see why.
The quality of their custom items is right up there. Plus, the concepts behind their packs? More often than not, totally unique.
If you're looking to add a personal touch to your Sim's cooking space, brightly-colored cereal boxes, sliced tangerines, and plates of fresh toast will do the trick!
20.

In the Kitchen by kardofe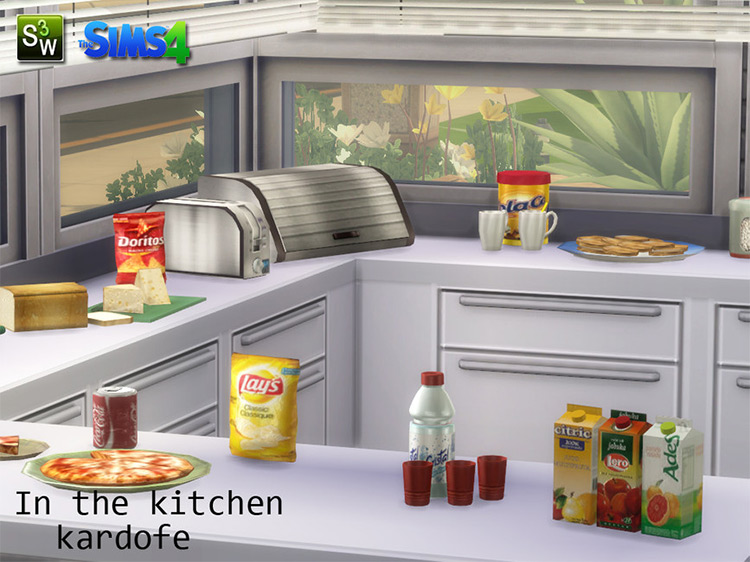 There are nineteen objects in this set and, according to the creator, they're meant to "create disorder" in the kitchen.
Which, apparently, will give a "more comfortable and realistic air".
Honestly, they're right. A kitchen without clutter belongs in a showroom. It's perfect but impersonal.
Adding the occasional plate of half-eaten food, the haphazardly stacked pans, and the milk carton that someone forgot to return to the fridge?
It makes a kitchen warm and homely.
21.

Vintage Crockery by leaf-motif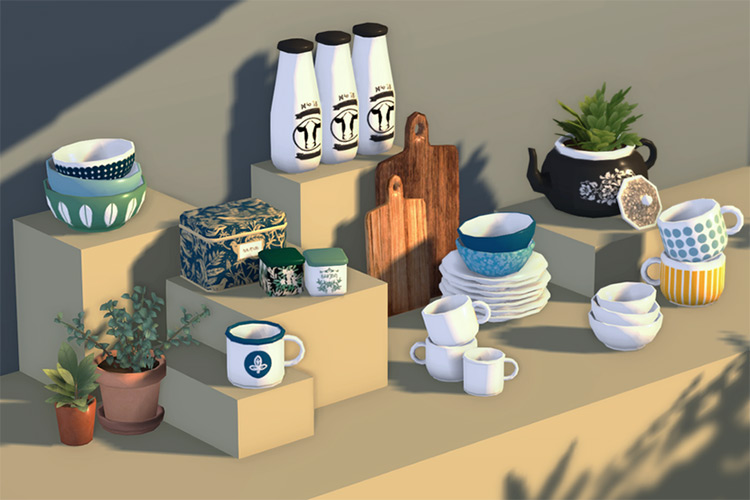 Do these tin mugs, tiny white bowls, and proper, leaf-decorated tea tins not look like they came straight from Nana's collection?
Leaf-motif perfectly captures the porcelain charm of the 60s and 70s with this Vintage Crockery clutter collection.
22.

Retro ReBOOT – Georgie Kitchen Materials by ArtVitalex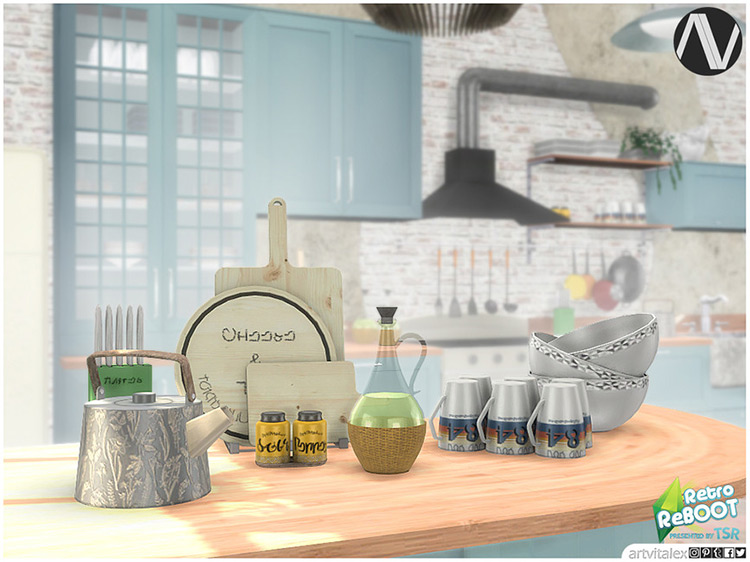 We've covered vintage now, so why not head over into retro territory?
If these mugs, bowls, pots, and boards were made in the 80s, they look pretty darn good for their age.
Plus the color combinations and caricatures aren't so crazy loud. I'd say they all look tasteful, even with the green bowls and cute cartoon owls.
23.

My Lil' Pantry Kitchen Clutter by Simmin My Best Life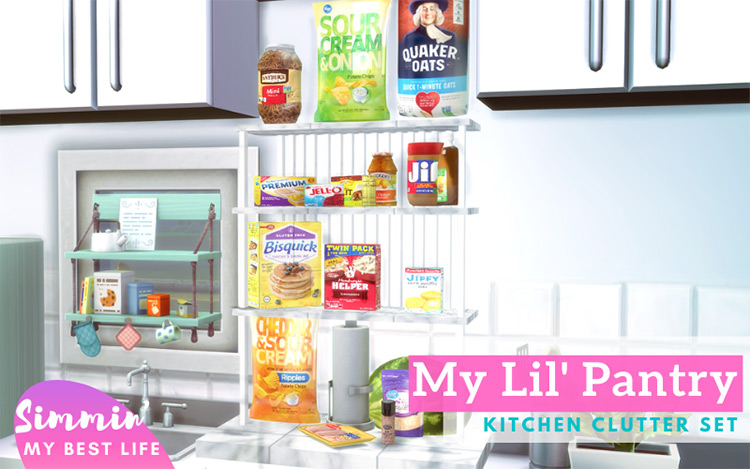 It's like your Sim went on a grocery run and brought back paper bags full of snackables (and a whole fresh watermelon, too).
This fun snack pack contains Smuckers jams, McCormick's seasoning, Goldfish crackers, and more.
Can't keep track of all the food? No worries. The creator lists the items out in their description.
24.

Tania Kitchen Clutter by PQSIMS4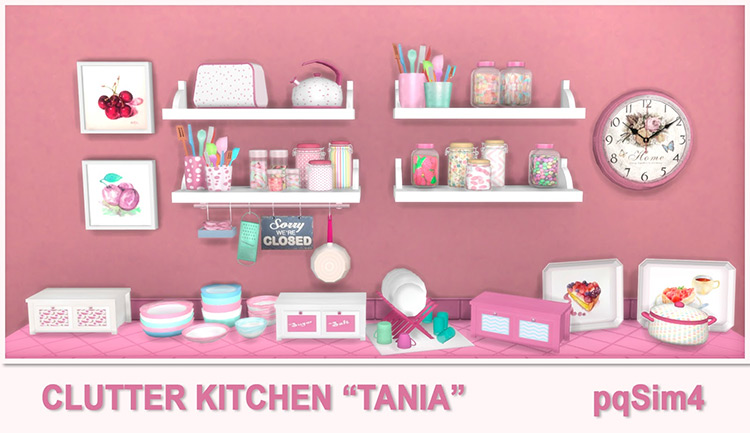 So the reason PQSIMS4 keeps popping up on this list is because they keep releasing cute, high-quality clutter packs.
When the Buy items look that good (teapots with tiny dots, candy-striped jars, colorful pastel plates?), I can't not recommend it!
25.

Kitchen Clutters by Viviansims Studio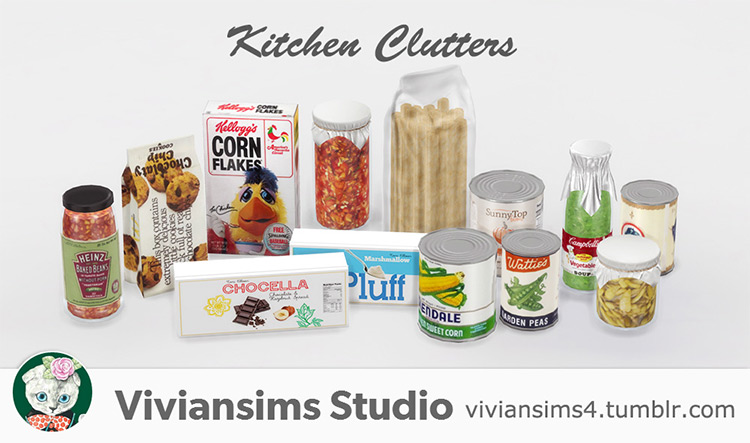 Here are some small decorative packs of non-perishable, quick-snack staples you'd find lying on anyone's kitchen counter.
Baked beans, sweet corn kernels, package of cookies, and a big box of Kellogg's corn flakes to start the day.
Just little items that you can use to fill space and wouldn't look out of place.
26.

Clutter Crazy Part 1 by Martine's Simblr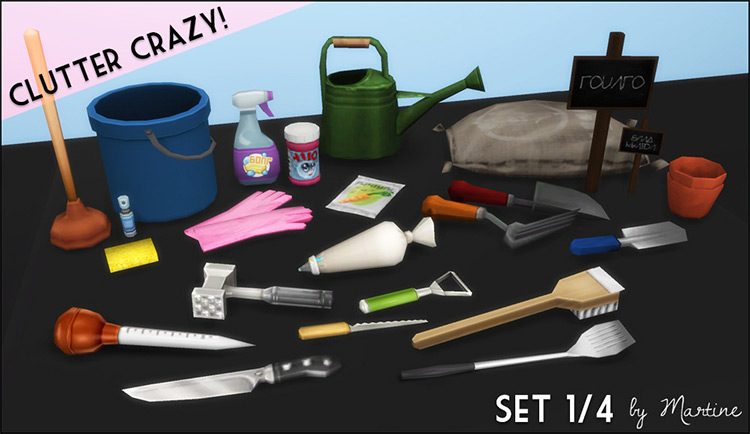 Now before you blanch at the preview photo, this set is a mix of garden, kitchen, and cleaning materials.
I can't help that they placed everything in one photo, but I'm not trying to suggest that a plunger, bucket, and watering can belong in your kitchen. I promise.
I was looking at the spatula, knife, frosting bag, grill brush, meat tenderizer, vegetable peeler, and turkey baster.
27.

Scandi Kitchenware by Severinka_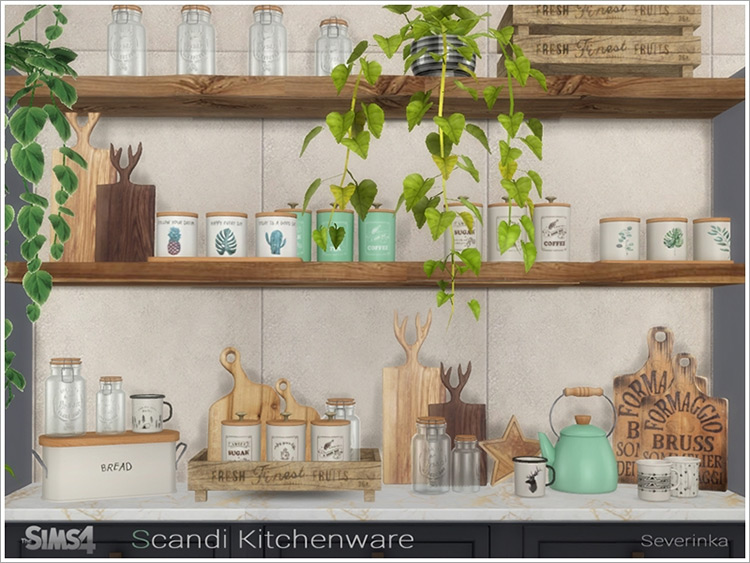 Tying up this list is Severinka_'s beautiful Scandi Kitchenware pack.
Scandinavian interior design always looks so aesthetically pleasing, what with their geometric shapes, clean lines, and nature elements.
Look at the chopping boards with little deer antlers. And the star-shaped tray.
The visual appeal is high with this clutter set.
Browse:
Lists
The Sims 4
Video Games