Best Kitchen Island CC For The Sims 4 (All Free)
This post may contain affiliate links. If you buy something we may get a small commission at no extra cost to you. (Learn more).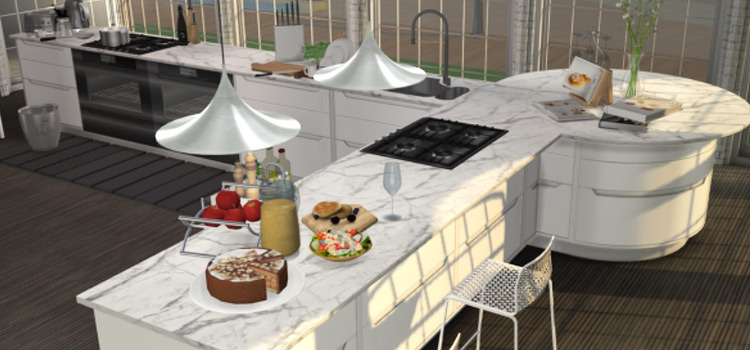 Looking to upgrade your Sim's kitchen?
Everyone knows you need a nice fridge, stove, and even a coffee maker.
But you may forget one thing that truly ties a kitchen together: island countertops.
If you want something more than the vanilla game can offer, let's take a look at the cleanest, sharpest, and most unique kitchen island CC available on the net.
As someone who just got their kitchen renovated, trust me when I say it's an upgrade well worth it.
Let's go!
9.

Cali Island Counter
Creator Mincsims give us this Cali-inspired island counter CC.
It's mostly straight with a swirly finish near the end that acts as a spot for bar stools.
The original texture comes in a light hazelnut brown, which is great for any kitchens with a rustic look.
It features a total of 6 swatches with unique combos for both the countertop and its base.
8.

Marie Kitchen Counter
This next island counter would fit nicely in most kitchens, regardless of style.
It's a standard "S" shape counter, with unique tabletop finishes ranging from white marble all the way to brittle brown.
ArwenKaboom gives us 8 recolors here, allowing us enough variation to see which look fits best for your kitchen.
If you don't want to overlook a kitchen island, but just want to find something that works, this CC is worth checking out.
7.

Budbyn Counter Island
ArtVitalex gives us a unique kitchen island with this Budbyn Countertops CC.
Sporting more darker colors, this kitchen island is more suited for an area with a grey/dark tone, on the appliances and/or the room color.
With 3 unique swatches, the standout is a diamond black counter finish with a sharp grey design for the counter's base.
This can offer a great look for a kitchen with an emphasis on steel textures and grey colors.
6.

Series 1 Kitchen Island
Ever wanted a kitchen island that also can act as a decently sized dinner table?
Look no further.
LunaticaVillage's kitchen island features a normal kitchen counter island that ends off with a rounded area.
This area can definitely feature chairs around it, or just an extra area to include some clutter.
This could be a perfect spot the family can gather around, as someone blows out their candles on some Blue Confetti Cake.
5.

Ombre Counter Island
Here's another S-shaped island, this one giving us a well detailed countertop finish.
Popular creator Winner9 provides some gorgeous ombre touch ups on these counters, almost shining as much as typical bowling lanes.
The CC comes in 4 swatches and is one of the more nicely-crafted items on this list.
Could fit perfectly in a home near the beachside.
4.

Naturalis Counter
Lots of the kitchen islands mentioned here are missing a key component: storage space.
SIMcredible fixes that problem with this Naturalis Counter.
This offers an L-shaped countertop with plenty of shelves and cabinets to store all your kitchen accessories.
Definitely a good island for tighter spaces, and it features 5 variants for you to choose from.
3.

Anukoi Counter Island
Similar to LunaticasVillage's kitchen island mentioned earlier, this piece features the same design in some nicer color schemes.
This one also has some sharper looks, including an all-cream white or a pink rose marble finish. And those are just 2 of the 4 great color options.
Modern, beautiful, and well-designed for any kitchen.
2.

Avis Counter Island
A longer island can be perfect for bigger kitchens and restaurants.
If that's what you need, look no further than this CC made by NynaeveDesign.
It offers some very nice color combos with a total of 16 different recolors.
The size of this S-shaped island means it can hold twice the amount of items compared to other islands, making it perfect for any of your restaurateurs.
Talk about having too many chefs in the kitchen… but this island would be a good reason for that!
1.

Frosted Grove Counter Island
ArwenKaboom makes a second appearance here and also gives us an incredible kitchen island with this Frosted Grove counter island.
It has a truly stunning finish with an amazing brittle brown base color. I'd argue this particular island CC stands above the rest.
Great for any top-tier kitchens, preferably open concept designs.
And with 4 amazing different color options, this island will have all your family members copying your interior design style.
Browse:
Lists
The Sims 4
Video Games