Best Sims 4 Kitchen CC: Appliances, Clutter & More
This post may contain affiliate links. If you buy something we may get a small commission at no extra cost to you. (Learn more).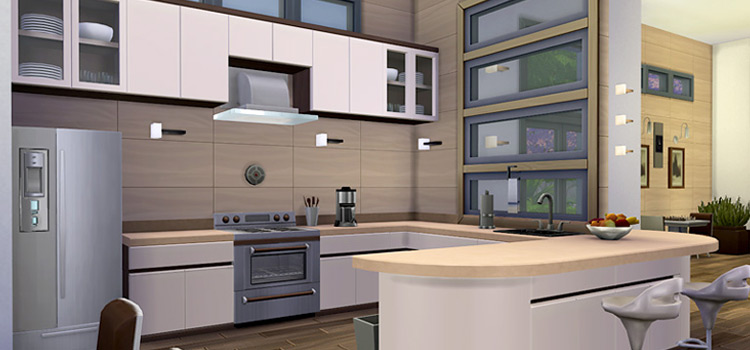 It's getting hot in the kitchen!
Gordon Ramsey probably never knew how to make Shabu-Shabu or Blue Confetti Cake, but guess who did?
Your Sim!
Today we look to break down the top kitchen CC for The Sims 4, every appliance and every piece of furniture your kitchen needs to thrive.
The kitchen is an important aspect to every Sim home, as we known that hunger bar goes down faster than anything else.
Well lets spice up the look of your kitchen with items from utensils and clutter, to appliances like stoves and refrigerators.
This list is your meal ticket to a sizzling new kitchen experience, so time to get cooking!
25.

Flamingo Fruit Bowls
Starting off our list is the everyday household fruit bowl.
DragonQueen gives us apples, lemons, and oranges, among other artificial fruits to give us a kitchen essential that's not-so-essential.
The flamingo bowl pattern is what makes this fruit bowl CC distinct from others.
Flamingos do have that effect of standing out.
24.

SMEGlish Microwave
Ravasheen pops in with a throwback take on a microwave.
Featuring classic dial controls, the SMEGlish Microwave comes in 8 unique swatches.
The fire red swatch especially sticks out.
Nothing really compares to dialing it back to a simpler time.
23.

Kitchen Jen – Bowl
The first item from a set that will be featured on this list, we have kitchen bowls by ung999.
6 unique color options with distinct patterns and high-quality design.
If you Sim's cooking skills aren't too high at least you have something pretty to eat your cereal out of.
I always say the bowl is the unsung hero of kitchen silverware.
22.

Avis Fruit Bowl
You might think I'm a little crazy for having two different fruit bowls on this list.
Yet this particular design by NynaeveDesin is visually stunning.
While only featuring one particular fruit in the Granny Smith apple, the bowl itself is gorgeous.
Sleek wood that any person would use for flooring and polished neatly with 8 unique colors to choose from.
21.

INSPIRE Kitchen Shelf Oven
One of the more unique items to make this list is this shelf oven by k-omu.
This piece features a stove planted into shelving, which could be nice feature in a starter home.
The only downside to this piece is it's only decorative, but man would I have loved to bake some cookies in an elevated oven.
20.

Time to Plug Toaster
Don't burn the bread!
We have our first toaster CC here coming from SIMcredible.
The shape of this actually gives me Brave Little Toaster vibes (maybe I'm aging myself here) and is provided in four colors including an incredible sharp black.
Not to mention some ready to go toast popping out for your Sims breakfast.
19.

Kitchen Jen – Cookware
More cooking goodness! ung999's next item from the Kitchen Jen set are some deliciously nice pots.
Whether it's warm broth or a sizzling stew, these are the pots I would want to use.
All 6 swatches are great, having great tints especially in the beige and cream white looks.
18.

Altara Kitchen Appliances
Next up is this kitchen appliance set by NynaeveDesign.
The set contains various items including food processors, blenders, a toaster, pots and pans.
The variety is great and two color schemes are included.
Anyone looking to have a full kitchen doesn't have to look past this set.
17.

Storage Wrap & Soul Food Clutter
Every kitchen has its mandatory items, and this clutter provides those.
Whether you need foil wrap to preserve the kids' lunch, or just need a peanut butter sandwich. This clutter brings all those to life.
It includes a loaf of bread, old bay seasoning, and tin foil wrap, among handy items.
A clutter set that really fits the bill of a modern family kitchen.
16.

Serenity Fridge
Cooling right around the middle of our list is this Serenity Fridge CC by ArwenKaboom.
This luscious fridge features the classic bottom freezer look.
It looks unique for the sheer fact it's wider than most base game fridges, featuring a greyish-blue border around it's sparkling white finish.
I wouldn't be wrong by saying this would be a "cool" fit for any kitchen.
15.

Kitchen Jen – Teapot
This is the final appearance from this set, and the standout items for me are the teapots.
It's definitely hard to find any CC of teapots either way, and these ones are beautifully crafted. Much like the other pieces in this set.
The teapots come in 6 swatches, and realistically they all look great with one having a more rustic look compared to the aluminum look of the other 5.
Time to prep for some crumpets in style!
14.

SMEGlish Fridge
Next up we have the fridge from Ravasheen's SMEGlish set.
Another old school look featuring a tall frame and large right handle.
The fridge also comes packed with inside food clutter, which is a nice touch for an already dope item.
This classic item comes with 8 beautifully vibrant swatches to boot.
13.

Serenity Kitchen Counter
Another set with more than one outstanding piece is the serenity set.
This island is a gorgeous pairing with almost any surrounding appliances.
A luscious wood top with dazzling white cabinets make this island a winner in any Sim's kitchen.
Kudos to ArwenKaboom for designing a piece that can fit in with almost any theme, whether it's new age or rustic or modern, or something else entirely.
12.

Avis Kitchen Utensils
Every chef needs their spatula.
Every grill master needs their flipper.
And thanks to NynaeveDesign, all the above can happen.
This set comes filled with kitchen utensils in 8 unique looks. Steel, wood, or aluminum alike, the choice is yours.
If your Sim is a master chef in the making, they'll definitely want this décor piece. And if they're not, well maybe try some cooking mods to see if they help.
Remember, every artist has their own set of tools.
In the case of chef, their tools can dice onions and flip patties.
11.

Argon Kitchen Hanger
One of my favorite CCcreators "wondymoon" makes a splash here with this kitchen hanger.
Used to stick utensils to a metal bar, this piece could work in a Get to Work restaurant kitchen.
Coming loaded with several items like a coffee mug and oven mittens, this is definitely one of the better standalone pieces on this list.
Talk about the true definition of "hanging out" in the kitchen.
10.

Mila Utensils
Here we have another utensil set featuring different items by Buffsum.
These items in particular contrast wonderfully off each other, with objects such as a cutting board, knife holder, a spice holder, and spice rack.
All items have an elegant tabletop wood finish that's simply stunning.
This stuff pack would definitely bode well with a rustic-themed kitchen.
9.

Carbon Stove
Outdoor retreat lovers, attention please!
This carbon stove by wondymoon was made specifically for you outdoorsmen Sims!
A microwave-style oven combined with a barbecue-style stove makes this piece perfect for cooking some mean dogs for your camping trip.
At least in the Sims you don't have to run to the gas station for more propane when it runs out, am I right?
8.

Kayo Kitchen Cabinet for Fridge
It's well known in The Sims that you place your dishwasher into counters, or your kitchen sinks on countertops.
While in most cases a fridge doesn't need to be placed, Angela has a unique take with this cabinet for fridges.
The cabinet features a large opening for a fridge to be tucked nicely into.
Not to mention the luxurious dark oak design, this item sparks in both creativity and uniqueness.
I feel like this particular cabinet would fit well with a high-end fridge in any larger than life kitchen.
7.

Peg to Differ Kitchen Clutter
Ravasheen makes another appearance with this unique peg board with diverse uses.
The board is useable and can be altered for different things.
For example, you could just stick items like knives or a measuring cup right on there.
Or you add shelving to place even more items in a tighter look.
The mix & match capabilities give this CC a lot more to offer than just a simple pegging board. That's why it's definitely worth checking out
Not to mention this set comes stacked with 12 creations, some featuring countless variations and swatches.
You're getting more than enough value from this set just by clicking download.
6.

BMC Stove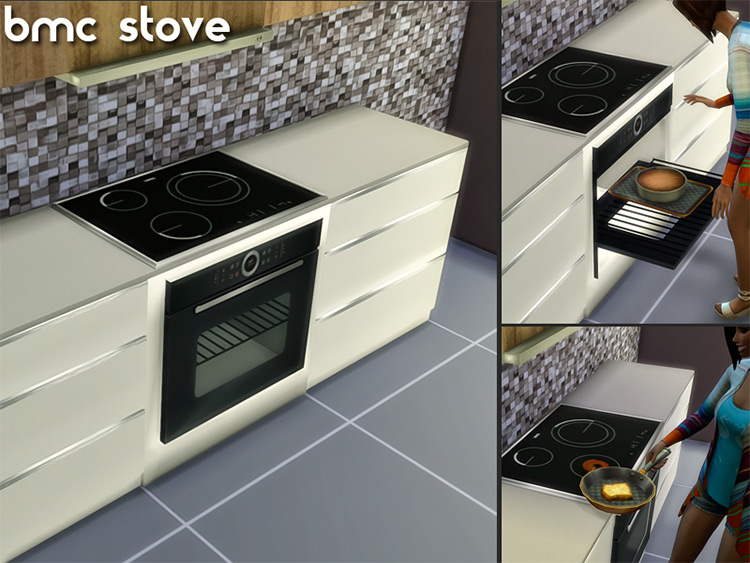 This next stove is almost too hot to handle.
And no, I'm not talking about the Netflix show. (Sorry Franchesca)
Nikadema does what they always do and absolutely delivers another stunning item.
The BMC stove is sleek all-around, featuring a modern touch stove that indicates heat when being used.
This stove CC looks especially stunning surrounded by clean white counters, as the crisp black really stands out that way.
5.

Soho Dishwasher
Sims are known for leaving dirty dishes all over the place.
This dual swatch dishwasher by NynaeveDesign takes the crown for not only the best, but the only dishwasher CC to be placed on this list.
The dishwasher comes with an awesome steel finish, featuring a semi-transparent door to give all you clean freaks that well-needed affirmation.
But please don't sit around and watch the dishes get cleaned… come on, man!
Next time those slob neighbors come over; you'll have an answer for all their mess.
4.

Industrial Kitchen Pantry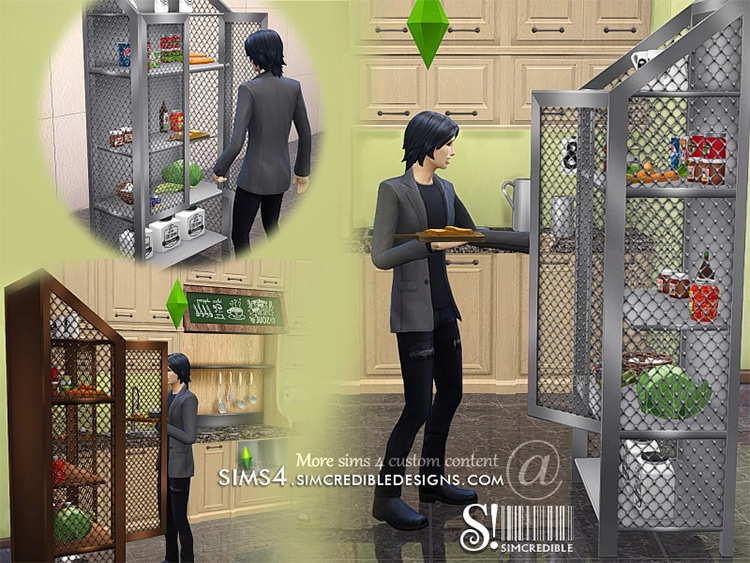 A definite for large families or restaurant chefs is a pantry.
We have SIMcredible giving us this beautiful steel rendition of a kitchen pantry.
The item comes in three unique color variations, with my personal favorite being the bronzed-out steel coloring.
The pantry is quite massive, and comes filled with various canned goods and vegetables too.
The cherry on top? It fully functions like a fridge, giving it actual use in the game.
3.

Avis Stove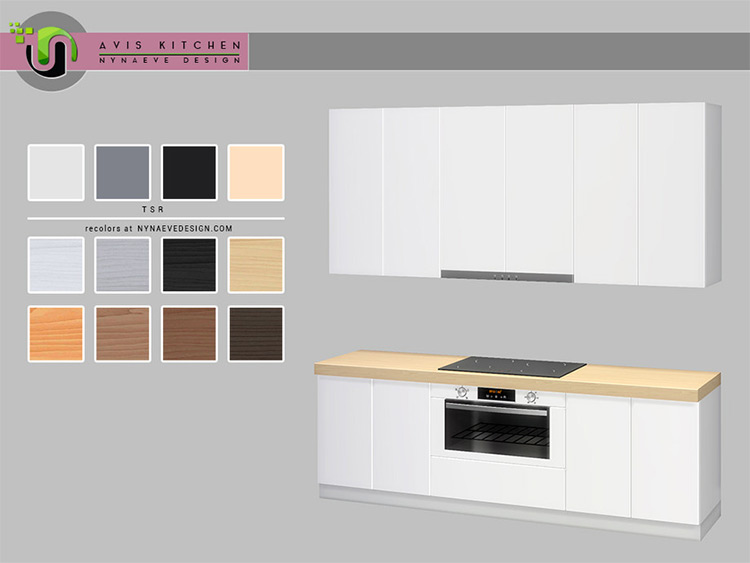 Another gorgeous stove here that comes from the Avis set, which made consistent appearances on this list.
This stove is uniquely attached inside a counter, unlike other stoves.
It features a heat roof, touch stove grill, and a lavish oven with knobs and a digital clock.
The design and slight differences make this a step above the rest of the pack.
A clean look, beautiful design, and 12 unique swatches make this CC exactly the place where I want to bake my Blue Confetti Cake.
2.

Pacific Heights Kitchen Accessories
This stuff pack is by the top creator making several appearances on this list, NynaeveDesign.
It not only includes multiple unique items, but includes some of the most aesthetically pleasing items on this list.
The toaster is the best lone item, just being well-crafted with tons of small details like a timer and button preferences.
The coffee maker and microwave come fully functional and follow the same thematic approach as the toaster.
Along with this is plates, cutlery, kitchen towels, and tableware, just to name a few.
My personal favourite? The branded cereal which is unique based on which swatch you choose. Now that's thorough!
For the green you get good ol' Cinnamon Jacks, while the red offers Chocolate Muds & Bugs. Nothing better than a loaded stuff pack with branded items.
The Pacific Heights accessories definitely do the whole nine.
1.

Country Fridge
I still standby uniqueness being the biggest factor for me when it comes to rankings on these lists.
Yes, a great item with variety, or a large set can sometimes conquer my rankings. But if the out of the ordinary CC excels all other aspects, well then it deserves the blue ribbon.
ShinoKCR does just that with this Country Fridge CC.
This western style fridge is top-to-bottom wooden, featuring countless handles for smaller areas of the fridge.
It looks like a cabinet.
But still gives enough to be a fridge, especially if you decide to add the glass frame on top of it. This would fit perfectly in any cottage home, and it comes in 4 distinct looks.
Browse:
Lists
The Sims 4
Video Games