Sims 4 K-pop CC & Mods: Hair, Clothes, Makeup & More
This post may contain affiliate links. If you buy something we may get a small commission at no extra cost to you. (Learn more).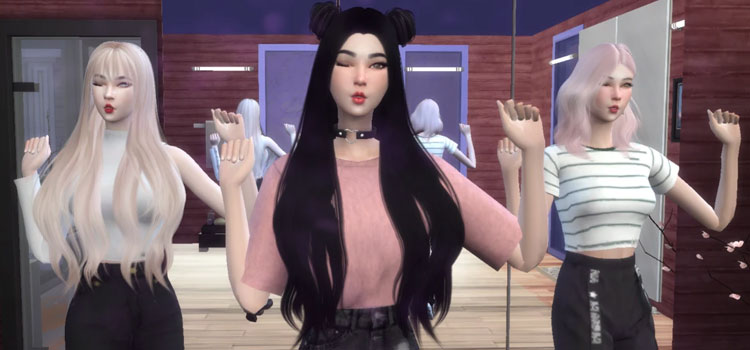 K-pop has firmly latched itself onto the global stage, soaring above being a global phenomenon to becoming one of the most popular genres in the music industry.
Gone are the days where people only knew Psy's "Gangnam Style." Now the whole world's scrambling over BTS concert tickets, the latest BLACKPINK albums, and TWICE comebacks.
Whether you like it or not, Korean pop music is dominating the planet – even in the realm of the Sims.
Let's hooked on creating our own K-pop idols (or creating the fans who adore them) with these must-have CCs!
20.

Fandom Masks
If you've Googled K-pop groups for research on a school assignment or a college essay, chances are you've seen idols sporting face masks when they're out and about.
Even before people turned into germaphobes, K-pop idols (and most Koreans) already had a habit of wearing face masks as part of their daily OOTDs.
Reasons why they wear them can vary. But what I can say is that South Korean fashion has long been a lifesaver in more ways than one.
Don stylish unisex masks from Pralinesims and enjoy over 30 designs for your Sim to try on!
19.

BTS Piercing Set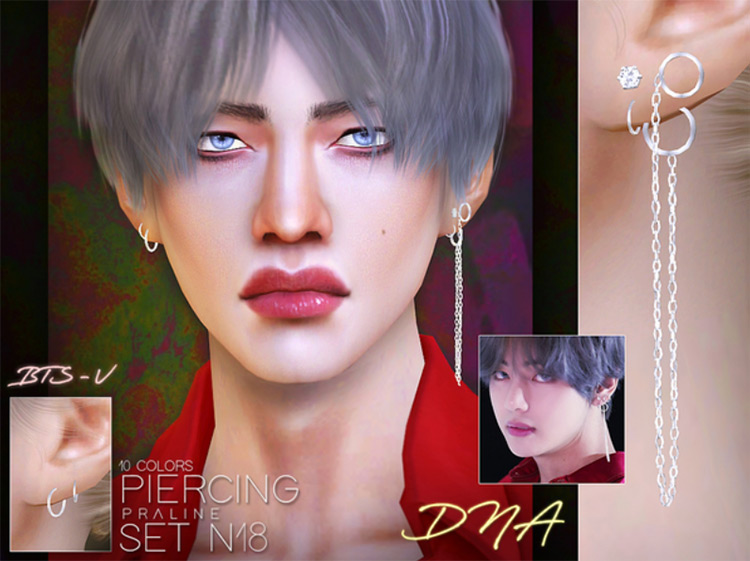 Koreans aren't a big fan of tattoos. But piercings seem to be more acceptable when it comes to the visible body modifications of idols (along with, you know, plastic surgery).
Although some idols still get inked, Korean TV networks go to great lengths to cover it up whenever they have appearances on their shows.
With this restriction, it's no wonder why idols prefer getting pierced all over.
Give your Sims new sparkly additions with these BTS-approved piercing sets!
18.

Obsession Lip Chain Piercing + Psycho Face Chain
Obsession Lip Chain Piercing CC
Longtime fans would know that the K-pop aesthetic is elaborately edgy and sometimes confusing… but ultimately, idols can pull it off.
Korean idols manage to make questionable fashion choices work – just look at TVXQ's anime-inspired hair and feathered eyeliner as an example.
Compared to TVXQ's iconic look, this lip chain piercing and face chain CC from Pralinesims can be considered mild within the spectrum of K-pop fashion.
17.

Anna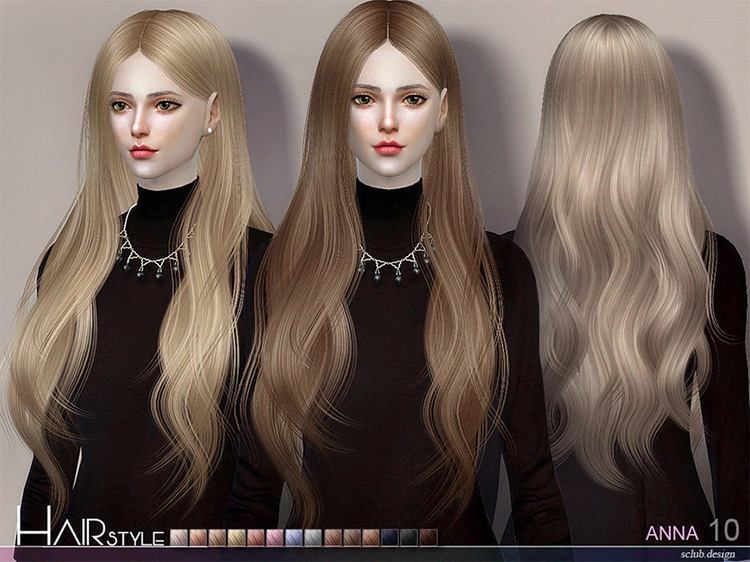 I'd say K-pop entertainment companies invest a lot of money into their idols. Especially when it comes to achieving the intense beauty standards of South Korea.
Idols are manufactured to have a picture-perfect aesthetic, which starts with gorgeous locks that you'll only see on heavily-edited shampoo commercials.
Fortunately for your Sims, they wouldn't need a tub of Moroccan oil, Adobe Photoshop, or an on-the-go stylist to have this hairstyle forever.
Get that healthy, shiny, and wavy long hair forevermore with this CC by S-Club which comes with 14 swatches!
16.

Sage Cut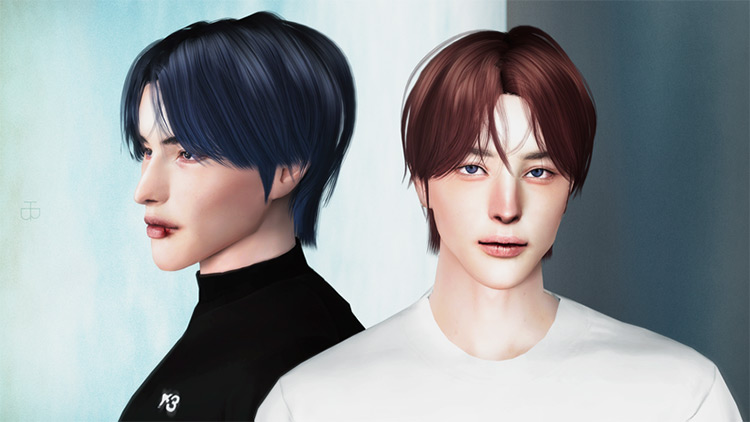 The Sage Cut is like that one-size-fits-all hoodie that surprisingly compliments any gender and body type.
It's one of the most common and popular hairstyles for male idols (and even female idols) simply because it exudes soft masculinity that fans loved seeing.
This cut may not be the most unique in terms of style. But I guarantee that it's a classic fit for any era, concept, or comeback.
15.

Kick It Hair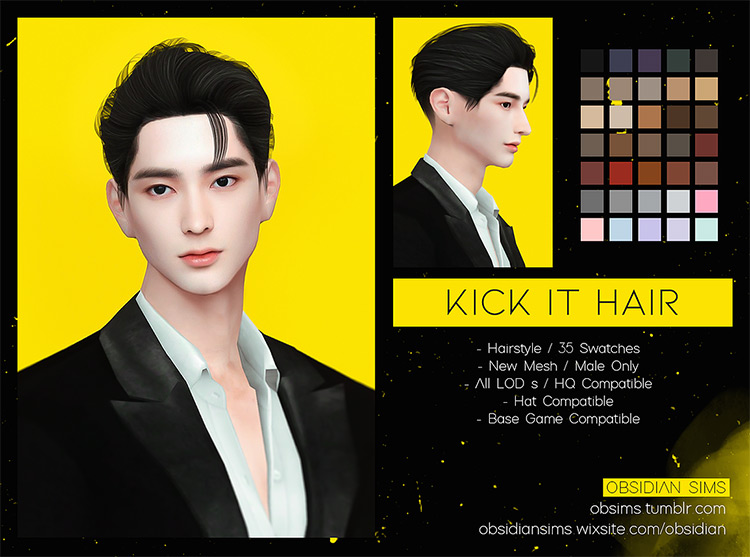 NCT has been consistently releasing bops and jaw-dropping visuals since 2016. But having 23 members in a group doesn't make it easy for anyone to stand out.
Although member Taeyong shined during the promotions for "Kick It" in 2020, NCTzens would agree that Jaehyun's visuals are worth fighting for.
Replicate the sleek look of NCT's Jaehyun with this Kick It Hair by Obsidian Sims!
14.

Jennie Hairstyle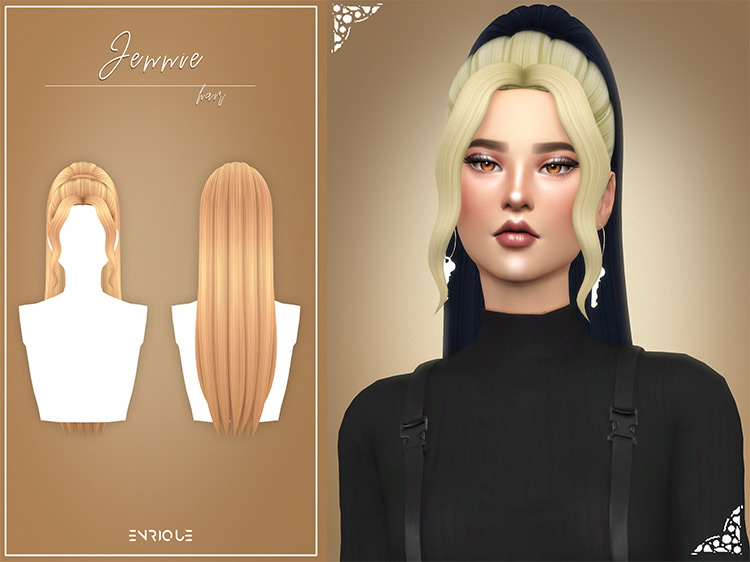 One of the million things to love about BLACKPINK is that they're a certified trendsetter.
But if there's one member who spawns thousands of copycats, it's Jennie.
BLACKPINK's main rapper and unofficial Face of the Group (yeah, that's an actual thing in K-pop) has delivered iconic looks since debut.
However, it wasn't until the era of "How You Like That" did Jennie achieve global influencer status.
Her blonde-dyed bangs were so well-received that it became a craze, prompting several personalities and celebrities to copy the look.
Have your Sims try out this Jennie Hairstyle CC. By the time you're sick of it, you'll probably end up stanning Jennie Kim anyway.
13.

Winter Bear Hair
If you don't know who V is, then you must be living under a WiFi-absent rock.
Taehyung (or V) is most well-known for being a BTS member and for topping TC Candler's reliable-ish list of Top 100 Most Handsome Faces in 2017.
Apart from having a voice deeper than the Mariana Trench, V's stunning visuals have been a subject of numerous blogs, YouTube videos, and daily worship.
If you're attempting to replicate his divine looks in the Sims 4, then I suggest you get one of his best hairstyles with this CC.
12.

Cloud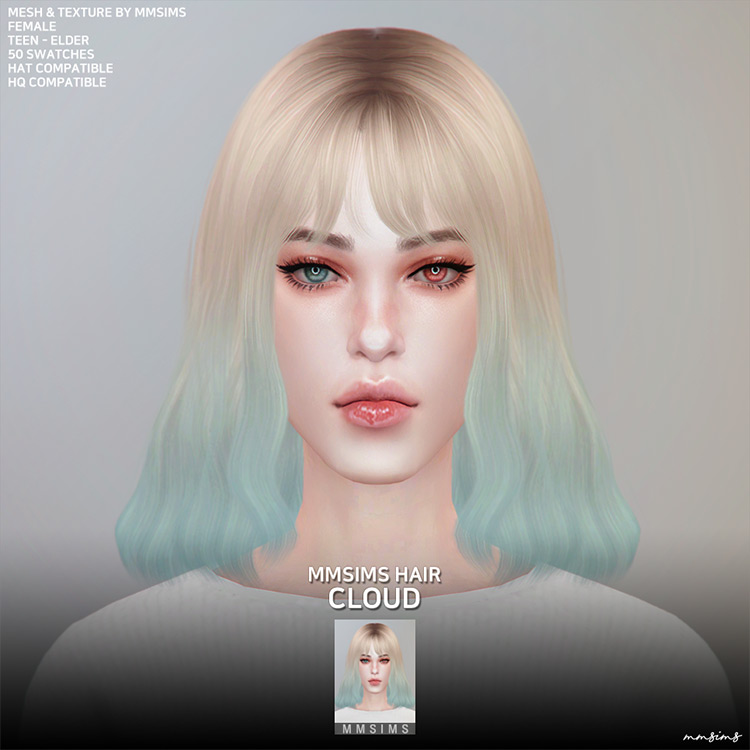 For K-pop idols, sporting a seaweed green hair color (or even unicorn blue locks) is nothing new.
It's common practice for K-pop idols to change their hair color every other month – there's even a list of who dyes their hair the most!
It truly is a miracle that idols aren't left looking like Gollum. But I guess that's the power of Korean hair care.
If you're as fearless in sampling all the colors of the rainbow, then this ombre hairstyle from MMSIMS has got your Sim's K-pop hair aesthetics covered!
11.

Liner CC11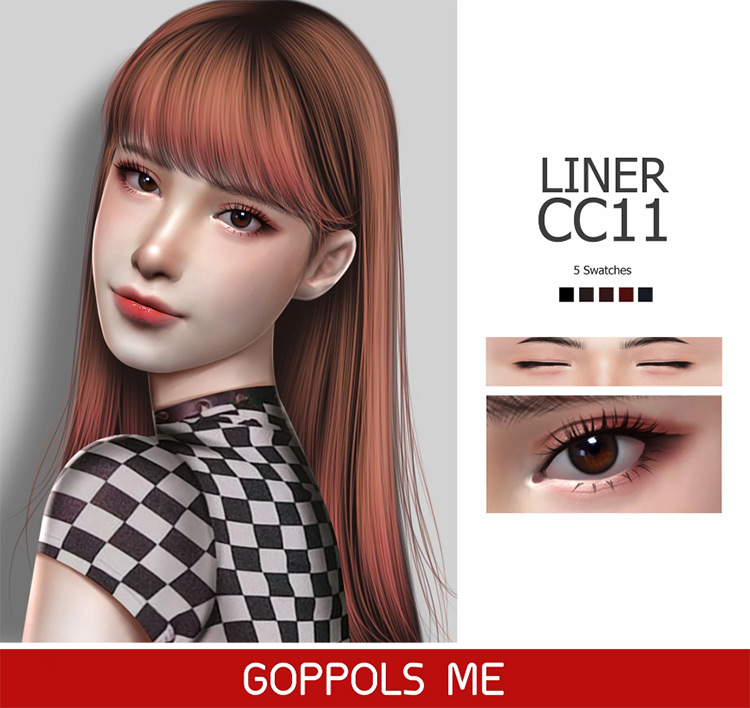 If you think it isn't possible to look beautiful after crying, then you haven't been following Korean makeup trends.
Korean women suddenly had a eureka moment and discovered that they don't really look so bad after a crying session.
Hence, the birth of blossom eyes: a trend where peach-colored eyeshadow is dabbed on the eyes to create an I-just-cried look that surprisingly… doesn't look too bad.
And if BLACKPINK's Lisa, Chungha, and HyunA are applying it, then your Sim might as well!
10.

K-pop Idol Makeup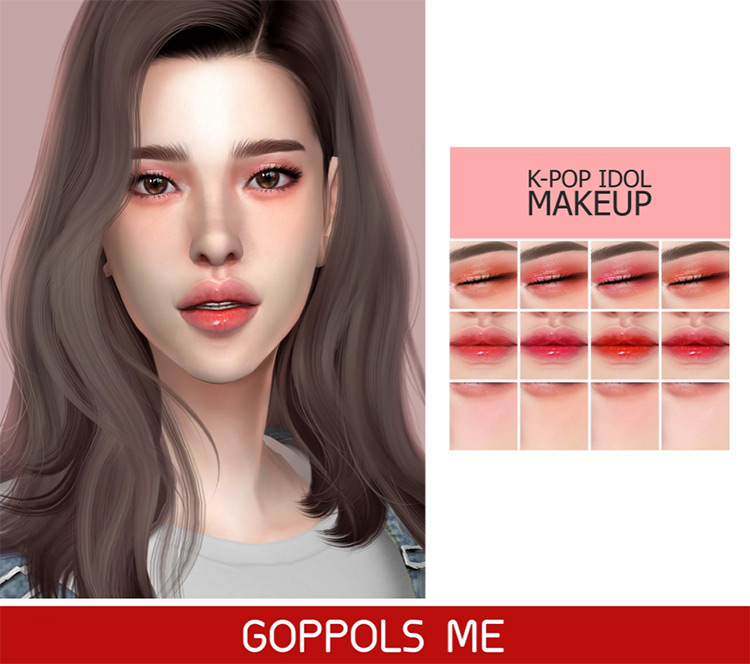 If you want to quickly get that dewy glass-like skin glow up, then you won't find the solution in Korean skincare.
Korean makeup is all about highlighting flawless skin accompanied only by a light blush, juicy lip gloss, and a thick swipe of eyeliner.
It's simple AF but works wonders in cutting your age for up to 10 years if you're lucky.
Trust in the power of Korean beauty and apply this K-pop Idol Makeup from GoppolsMe now!
9.

Idol Suit Jacket + Pants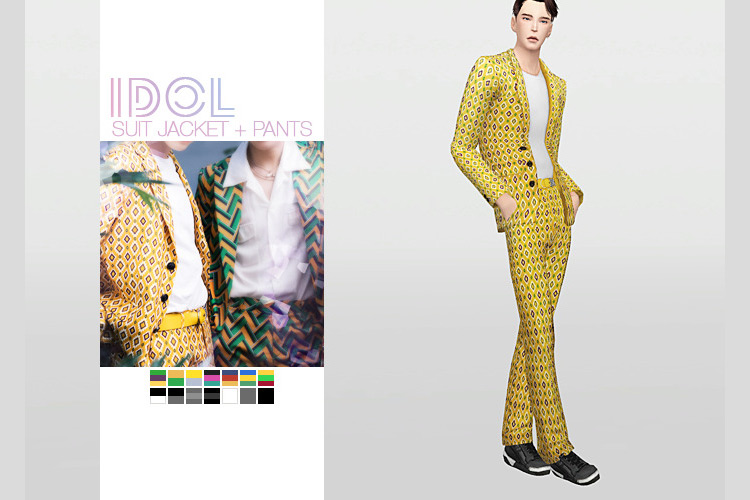 Before you read any further, I want you to watch this dance practice for BTS' "IDOL".
Looks intense, right?
Now imagine performing that in an arena concert while wearing a tight suit and pants. Sounds like a wardrobe malfunction waiting to happen…
This CC wouldn't be my first choice when dancing to an aggressive choreography in front of thousands of people. But damn if it doesn't make idols look good.
Don't worry though: I'm sure your Sims won't be ripping their pants mid-performance anytime soon with this CC on.
8.

Produce 101 Uniform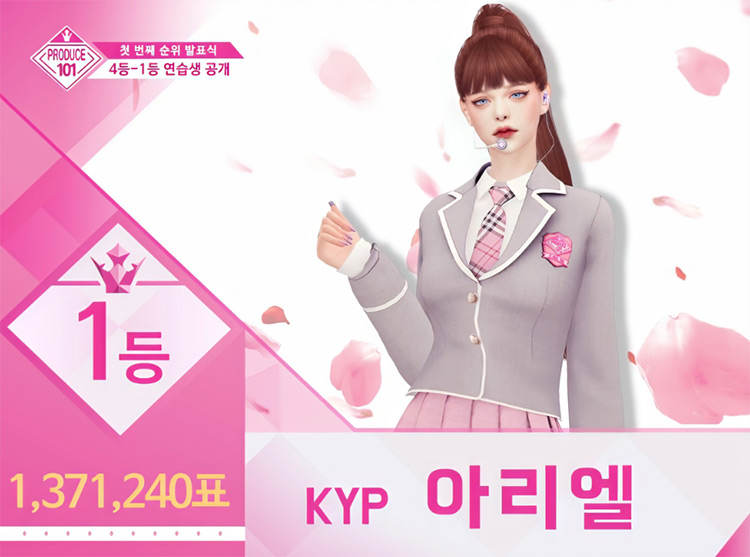 Familiar with the girl group I.O.I?
Then this CC will give you a solemn nostalgia trip.
Produce 101 was a 2016 survival reality show which pitted 101 trainees against each other to compete for a spot in a soon-to-debut girl group.
The show produced some of the most iconic performances such as "Pick Me" where all 101 trainees danced and sang their hearts out in schoolgirl uniforms.
For a time, this uniform was the symbol of one of the most successful reality shows in Korean history until, well, this happened.
7.

K/DA Outfits and Accessories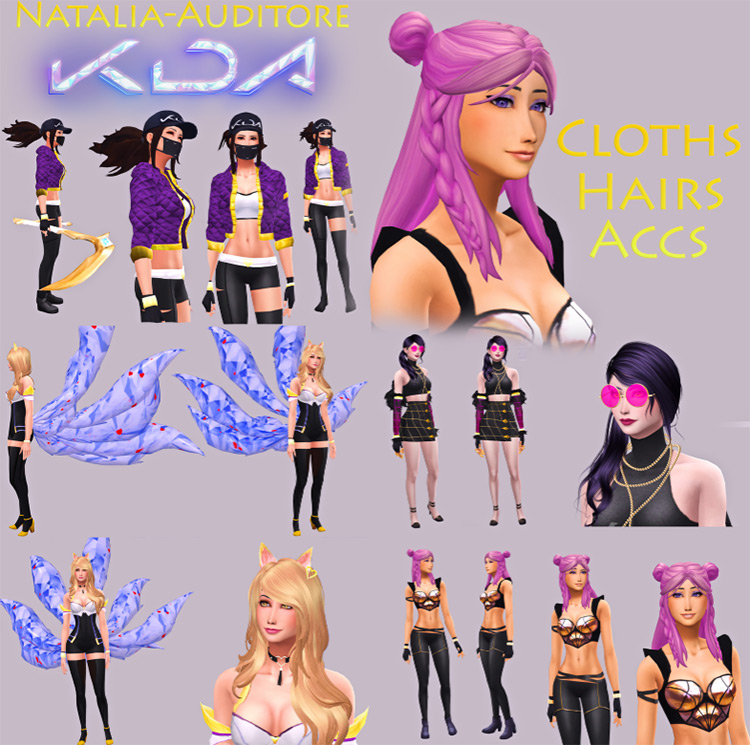 K/DA is a testament to the immense popularity of K-pop in the world.
This virtual K-pop girl group consists of four themed versions of League of Legends characters, two of which are voiced by Soyeon and Miyeon of (G)I-DLE.
Get the iconic looks of Kai'Sa, Ahri, Akali, and Evelynn from this CC by Natalia-Auditore and bop to "Pop/Stars" while you're at it.
6.

K-pop Girl Group Dance Poses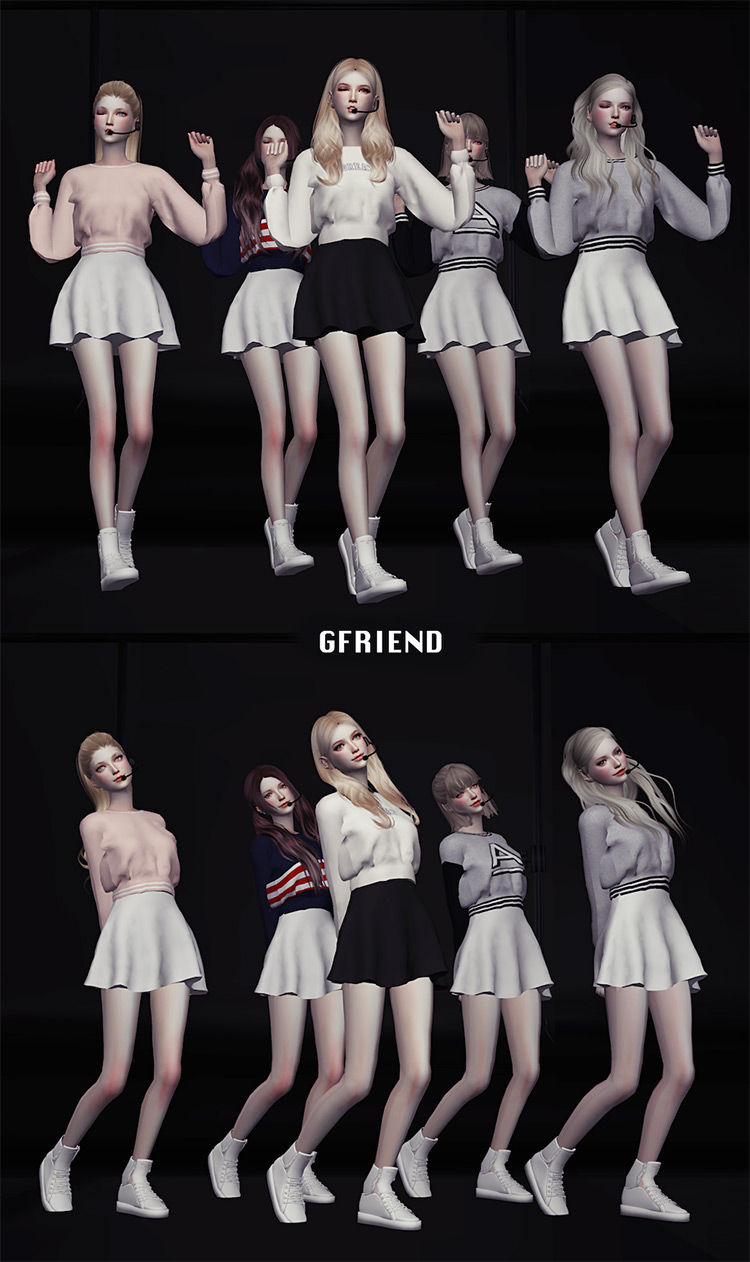 When you're a K-pop idol, there's more pressure to be perfect than a royal member of the British family.
In terms of dancing, group members are often pushed to their limits to achieve better synchronization than Just Dance video game actors.
It's a tough life even for a Sim. Which is why it's best to take this shortcut to success.
Program 100% synchronization into your Sim's next K-pop dance practice with this pose pack from Flower Chamber.
5.

Random Group Pose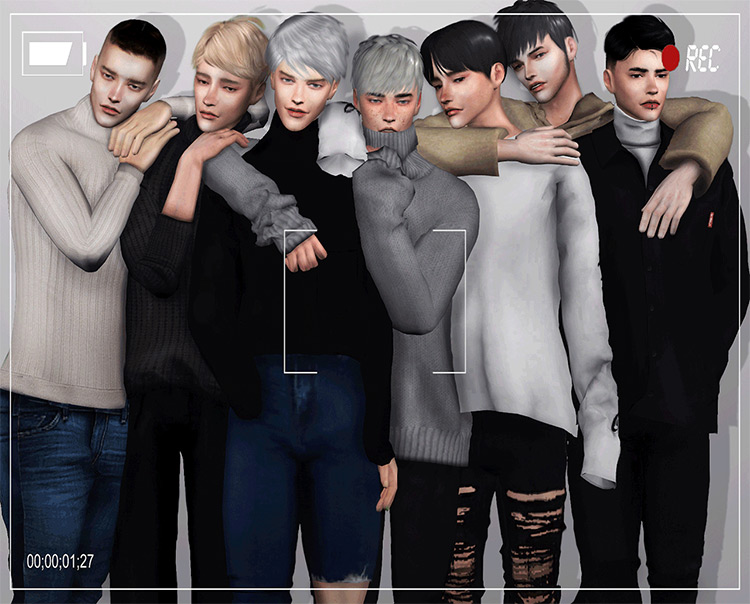 There are three things any aspiring idol needs to have: a talent in singing, dancing, and good looks.
More often than not, K-pop idols end up being actors or models thanks to their amazing visuals.
In case your Sim ends up enjoying life without 12-hour dance practices and vocal coaching, then start developing their modeling skills with this random group pose CC!
4.

Idol Mic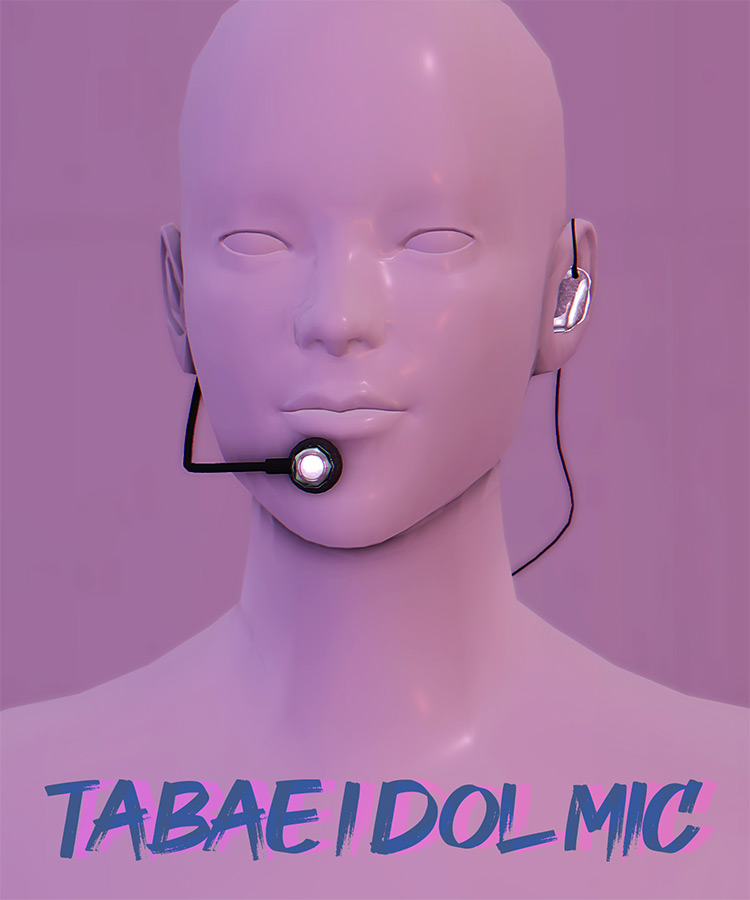 The mic is an integral part of an idol's onstage performance.
It's the one accessory needed to convince fans that there's been an attempt at singing live.
For that, you can count on Tabae's Idol Mic CC.
With 5 swatches, you're sure to find the perfect aesthetic match for your Sim's style and attitude.
3.

DDU-DU DDU-DU & Forever Young Dance Cover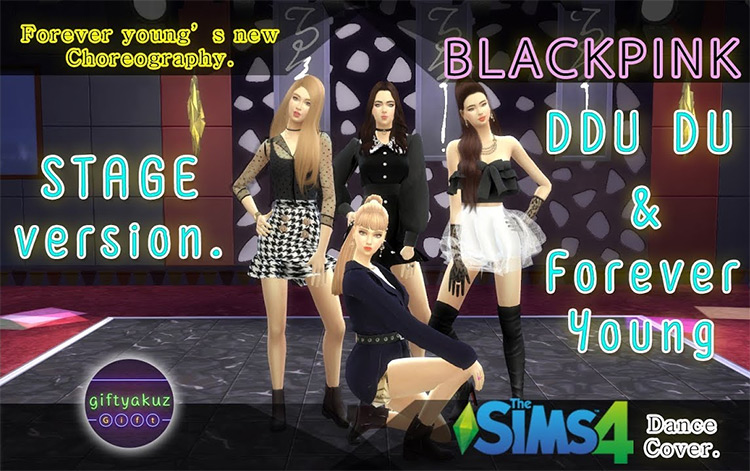 When it comes to girl crush concepts, no one does it better than BLACKPINK.
The 4-member girl group has been badass queens since "BOOMBAYAH," but it was in 2018 that BLINKS got to see it in full force.
Get your Sims dancing to the beat of "DDU-DU DDU-DU" and "Forever Young" with this CC by Giftyakuz!
2.

Fake Love Cover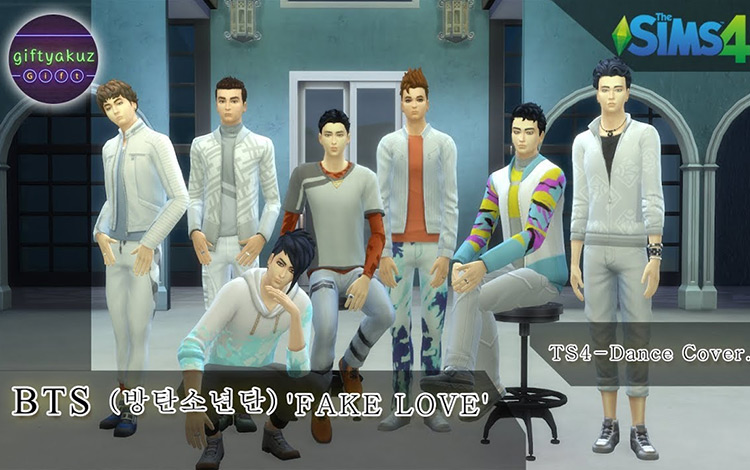 In real life, it would probably take ages to master the choreography from BTS' "Fake Love".
In the world of the Sims, though, they can nail it on their first try thanks to Giftyakuz's Fake Love Cover CC!
While it's certainly not as good as the real thing, your Sims will be oozing with that signature Bangtan Boys charisma in mere seconds.
1.

K-Pop Star Mod
If you think your Sim has what it takes to get to the top, then join the grind today with Stacie's K-Pop Star Mod.
From the audition to the debut as a full-fledged K-pop superstar, this mod will take your Sim through all the stages that your favorite idols had to go through.
It's this highly-accurate and immersive experience that makes this mod worthy of the top spot for this list. A must-try for sure.
Browse:
Lists
The Sims 4
Video Games