Sims 4 CC: K-Pop Décor, Posters & Clutter (All Free)
This post may contain affiliate links. If you buy something we may get a small commission at no extra cost to you. (Learn more).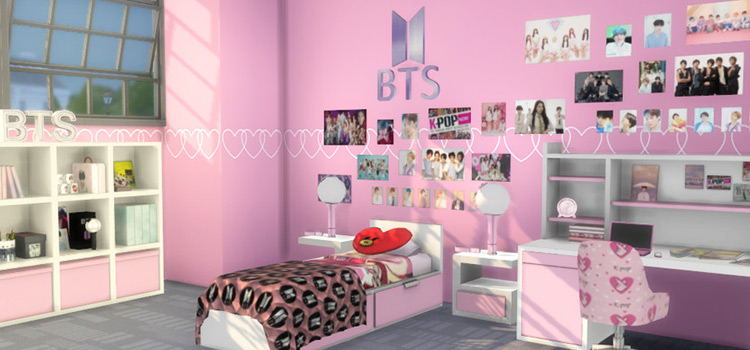 All of us have, at one point, decorated our bedrooms to reflect our personal hobbies (or obsessions).
I know plenty of teens had that one wall in their bedroom that was just completely plastered with like fifty different posters. Movie posters, band posters, inspirational Instagram posters… you get the idea.
With the Korean Wave (also known as Hallyu) at an all-time high, at least half of the world's population knows what K-pop is.
I'm willing to bet a good chunk of them listen to it, too.
If your Sim falls into that statistic, why not set them up with a K-pop inspired bedroom?
1.

Baepsae Set – Kpop Bedroom (part 1) by Syboubou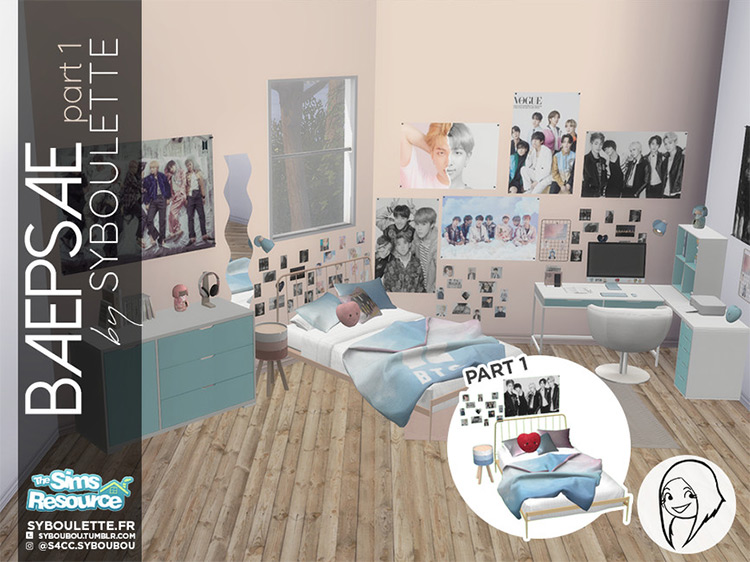 Blushing heart pillows, comeback era montage photos, BTS (Bangtan Sonyeodan) posters, and cute striped moodlight lamps. Yup, this is a K-pop stan's bedroom!
Check it out; the rumpled quilt even has the band logo on it (three different swatches).
It also comes in four plain patterns if you want to tone down the dedication a bit.
I like how not all the items in the bedroom are speckled with the boys' seven faces. It balances out the room enough that the overall visual is still very attractive.
2.

Baepsae Set – Kpop Bedroom (part 2) by Syboubou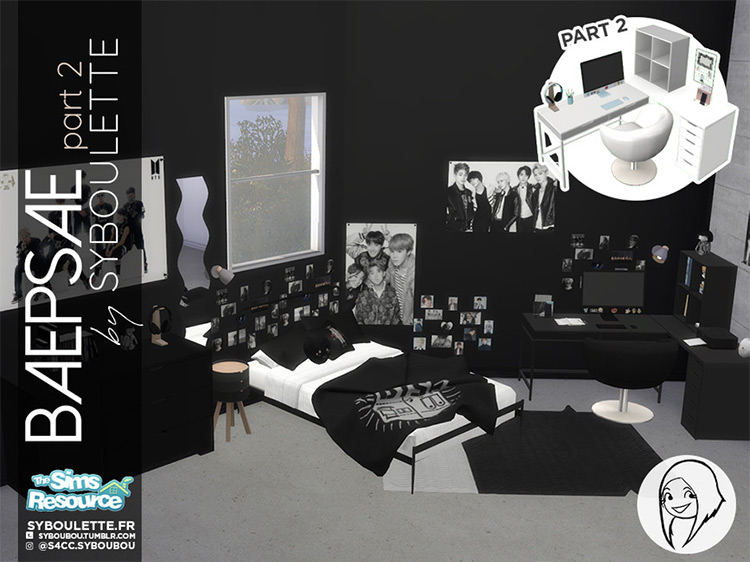 If you're wondering why some of the items in the preview photos of Syboubou's Baepsae Set aren't available for download, that's because they're here.
Or they're in part 3.
This is basically a bedroom set spread over three parts, and I think that's a smart way to keep everything nice and neat.
I also like how there's a good mix of regular furniture and K-pop themed furniture in all three parts.
Part 2 seems to focus solely on the desk area. It includes (among other stuff)
The corner desk
A cushy looking desk chair in five colors
A desk organizer (with bonus album outbox)
And a cute memo board
3.

Baepsae Set – Kpop Bedroom (part 3) by Syboubou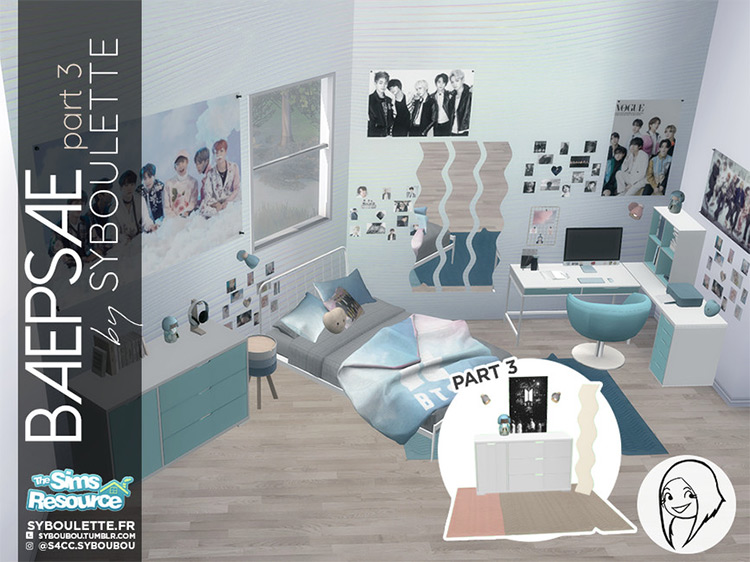 And we've reached part 3!
This part contains a lot too:
A beautiful minimalist dresser (available in six pastel colors)
Kokeshi doll (which sort of confuses me since Kokeshi dolls are Japanese, but I'm not here to complain)
A gorgeous two-tone rug
Candy-colored wall lamps (both slanted left and right)
And more wall posters (vertical this time)
Unfortunately for multistans, the furniture swatches only feature BTS—hence the name (Baepsae is one of the band's popular songs).
If you want other K-pop faces to grace your Sims' bedroom, check out the other items on this list!
4.

It's a K-Pop Thing by seimar8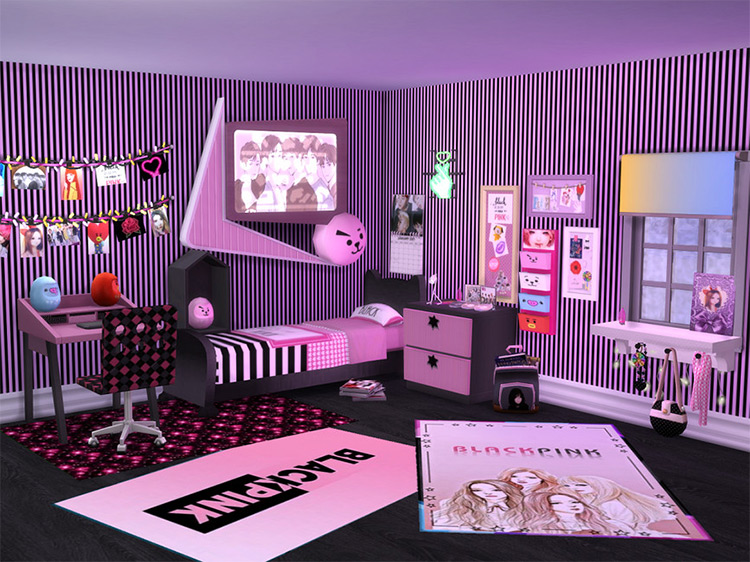 While the immediate visuals of this bedroom suggest a Blackpink fan (also called Blinks), small décor items suggest a multistan with a heavy bias.
That includes stuff like the decorative CD cases, the wall decals, and the egg-shaped collectibles.
Like Syboubou's Baepsae bedroom sets, this CC pack contains a mix of furniture and decorative clutter items, which is always appreciated.
5.

Mochi BTS Fan Pack Update by mochachiiii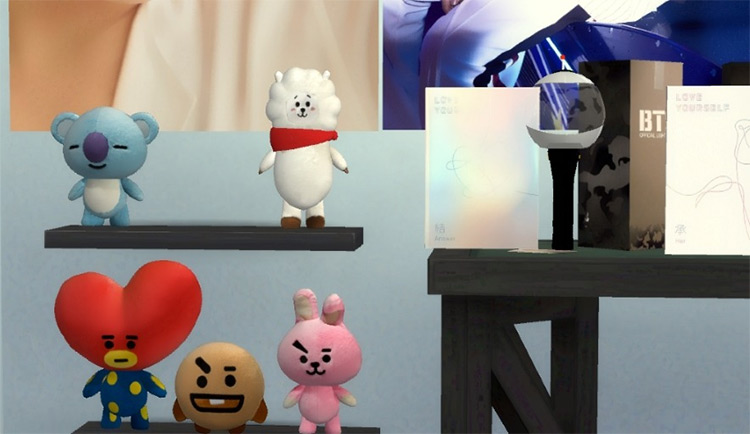 There are 35 items in this pack. 35!
Truly a variety pack that can satisfy even the pickiest of K-pop fans.
Albums, posters, plushies, lighsticks… this pack has all that and then some.
There's even a decorative standee for your Sim to take selfies with.
This creator clearly did their research (or is a fan themselves) because they included all versions of the BTS lightstick, most of their albums, and all eight characters of the band's animated character collaborations with Line (a popular messaging app in Korea).
6.

2NE1 Fan Pack Sims 4 by mochachiiii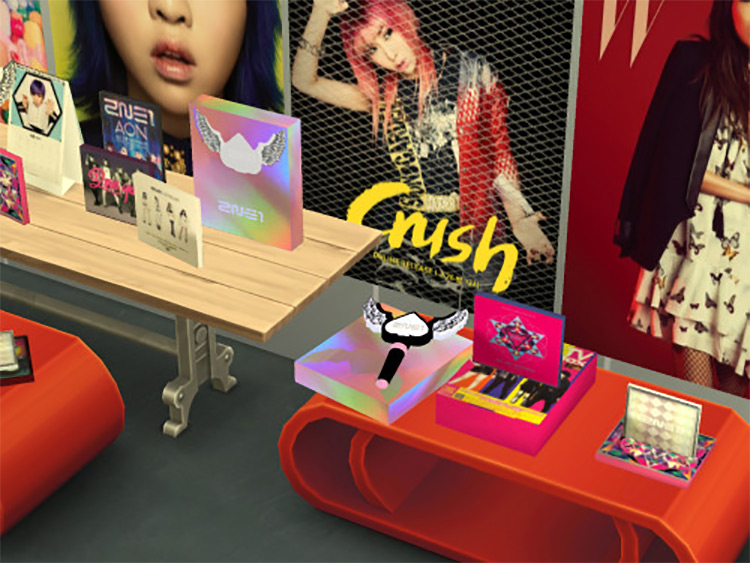 Okay, so. I think I can comfortably say that the creator is an actual K-pop fan, since they know a 2nd Gen (second generation) band like 2NE1.
I mean, it's either that or they're really dedicated to their research.
Either way, as an old-school K-pop fan myself, I can appreciate the custom collection of 2NE1 merch—especially the lightstick and the albums.
Unlike seimar8's and Syboubou's stuff packs, this set by mochachiiii only contains decorative clutter pieces; no custom furniture like beds or desks.
If you're only after the sprucing-up aspect of building a bedroom, this is a handy grab-and-go option.
7.

BT21 Goodies by Glimmerguk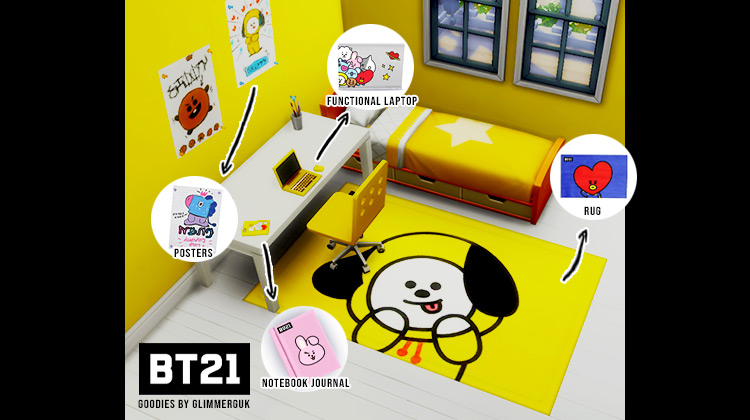 Remember those eight animated characters I mentioned above? (Mochi BTS Fan Pack Update by mochachiiii)
Again, they're the result of a collaboration between K-pop band BTS and messaging app Line. The collective name for these cute critters is BT21.
And although they're not a K-pop band exactly, they're still an iconic part of the Hallyu wave.
So this adorable CAS + Build n' Buy set still counts in the context of this listicle.
There are four clutter items in here, including a brightly-colored notebook journal, a huge floor rug, and some cute wall posters.
The description for each item also tells you the specific packs you'll need to make the custom piece work.
8.

Twice Mini Pack 1.0 by cherryonkpop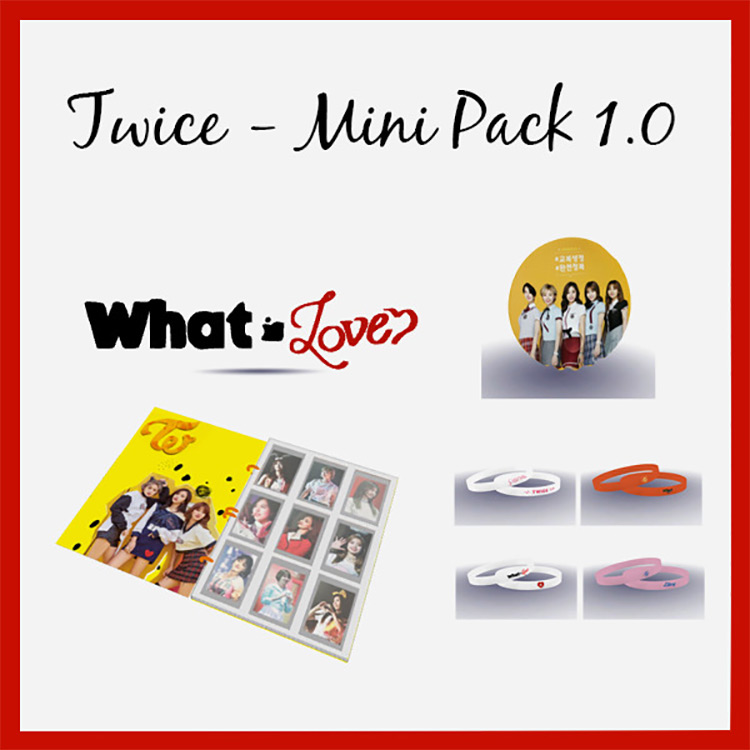 Some sweet and simple Twice-themed clutter – just to add a touch of Hallyu to your Sims' room!
What caught my eye was the scarily accurate 9P photocard binder.
I can't tell if it's a jelly binder, a macaron binder, or a typical leather A4 binder, but as far as aesthetics go it's definitely on the nose.
Perfect for storing your Sim's proud album pulls.
Other cute Twice-flavored items in here include a "What is Love?" sculpture (the band's popular album), a hand fan featuring the girls, and a Twice-themed jelly bracelet for some fun eye-candy clutter.
9.

Kardofe_Kpop Bedroom by kardofe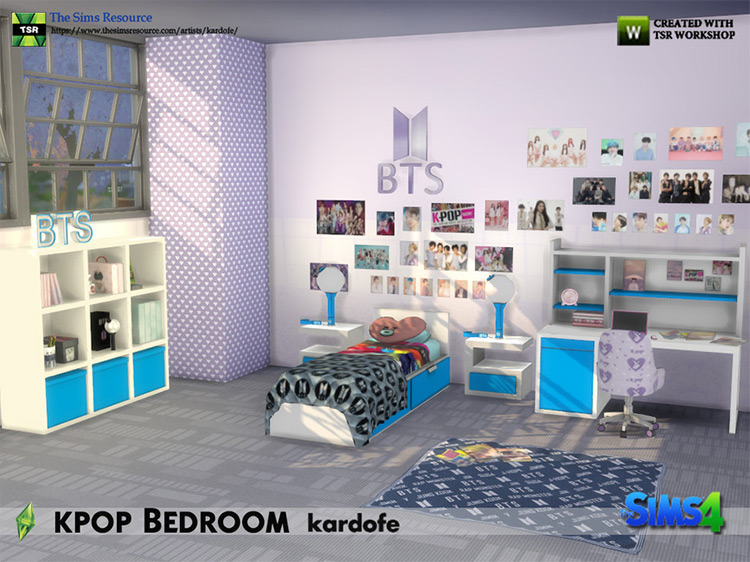 What's in a typical K-pop fan's bedroom?
According to kardofe, large, decorative letters that spell out the group's name, cute, collectible mugs with the members' likeness, a cushy floor rug with the band members' stage names, plenty of display units to proudly store K-pop merch, and a wall decoration in the shape of the band's logo.
Don't forget the Line collaboration character pillow!
There are a total of 15 items in this set – including a bed! And they're all fully functional.
The desk can be used as a desk, the cabinets can be used as display/surface objects, and the clutter can be slotted pretty much anywhere (just make sure to turn on bb.moveobjects first!)
10.

Twice's Standing Candy Bong Decoration Pack by GratoNite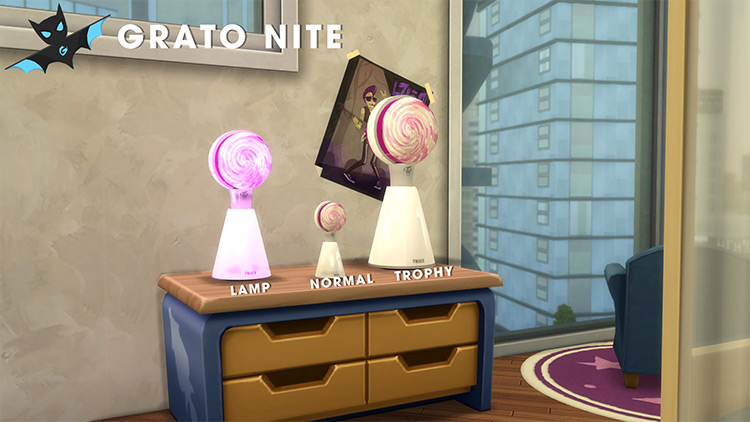 Candy bongs!
This is apparently the band's official lightstick, which fans use at concerts (and as flashlights, from what I hear).
I'm no Twice stan, but I am loving the name.
Did minimal research (aka typed "twice candy bong" into Google) and can confirm that the appearance is accurate.
Definitely suits the name to a T!
11.

Mocha_BlackPink Small Fan Pack by mochachiiii
Add some (black)pink to your Sim's bedroom with this cute clutter pack from mochachiiii!
There are a total of 10 items here, and I genuinely love the effort and attention to detail this creator puts into their fan pack sets.
Aside from the accurate meshes and colors, there are little touches that make the CC items believable—like stuff a fan really would collect from merchandise pop-up shops and events.
Take the photocards and the standee. They're not typical decorations for a bedroom, but for a K-pop stan bedroom?
Pretty on-point.
12.

BTS Magazines (Stack) by PhoenixTsukino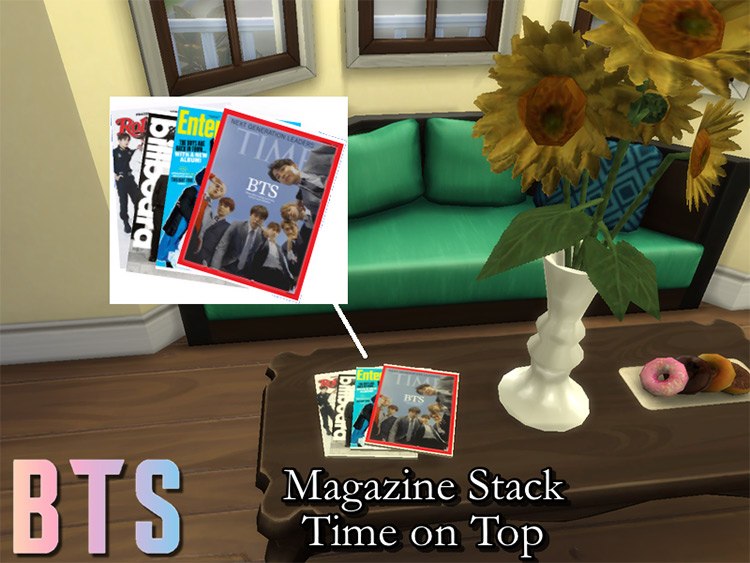 Let people know your Sim supports the printed word… so long as the printed word features their favorite K-pop group!
This simple décor item from PhoenixTsukino is exactly what the name suggests: a clutter item that you can slot basically anywhere, only it's distinctly K-pop-themed (specifically BTS-themed).
And there are four swatches available:
Entertainment Weekly
Billboard
Rolling Stone
Time Magazine
Just pick whichever interview your Sim read recently.
Browse:
Lists
The Sims 4
Video Games