Sims 4 Lady Gaga CC: Hair, Outfits & More
This post may contain affiliate links. If you buy something we may get a small commission at no extra cost to you. (Learn more).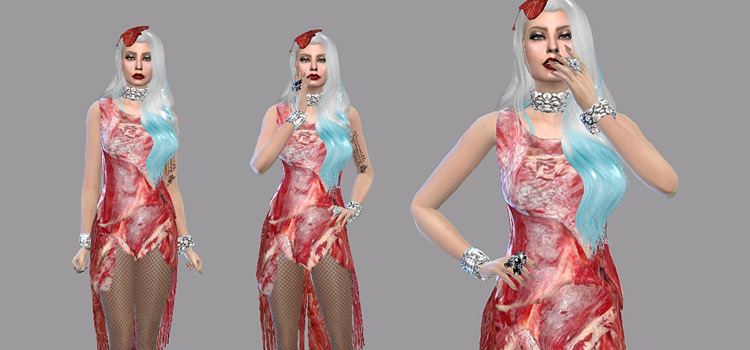 Whether you just grew up in the era of Snapchat or TikTok, you've probably heard about Lady Gaga.
"Talented, brilliant, incredible, amazing, show-stopping, spectacular, never the same, totally unique, completely not ever been done before, unafraid to reference or not reference, put it in a blender"
Yup, that's her, in her own words.
Mother Monster has ravaged the world time and time again with countless hits and fashion moments that pushed the boundaries of normalcy.
And now, more than a decade into her career, Lady Gaga shows no signs of stopping her ability to cast megawatt star presence into our lives – and in the lives of The Sims.
Now we can emulate Stefani Germanotta in TS4 with some of the most iconic Lady Gaga CC on the web.
Lady Gaga Tattoos
Even before this star was born, Gaga already had quite a tattoo collection, with each piece having a sentimental meaning behind it.
The singer-actress hybrid first got inked when she was just 17 and promised her father to keep all her tatts on the left side of her body.
But Gaga seems immune to following the rules – because she still had that recognizable trumpet tattoo on her right bicep, designed by the one and only Tony Bennet.
Luvjake certainly did their homework, because this CC has all of Mother Monster's tatts from head to toe.
Lady Gaga Skin Details
When Lady Gaga first started her career, it wasn't easy to keep up with her ever-changing looks.
Sometimes you won't even get to see her face – courtesy of her flamboyant outfits.
But on days when a white tablecloth doesn't cover her entire body, Gaga truly has the looks to, well, go gaga over.
And you can get that superstar quality for your Sim by applying this skin CC pack made by fabianandres.
Lady Gaga in Nina Ricci Heels
Killer stilettos are simply not enough for Mother Monster.
If you spot Lady Gaga walking around, there's a high chance that you would find her wearing gravity-defying heels in bold colors.
Your Sims can even mimic Gaga's affection for outrageous footwear with these Nina Ricci heels, rendered and designed for TS4.
Just practice walking in them a little before going out.
Seashell Bikini
Like all pieces of contemporary art, not many people got to appreciate (or even understand) Artpop at first.
From the music production and lyrics to the music videos, everything was just too bizarre for the 2013 audience.
It also failed to exceed the monster success of Born This Way.
But for the majority of her fans, Artpop was just way too ahead of its time.
I mean, who else could make a song about clapping hit so hard?
Save some applause for Lady Gaga's iconic Seashell Bikini during the Artpop era, and don that look for yourself in The Sims.
Stupid Love
Lady Gaga has a lot of talent – especially in creating bops that could make you dance crazy inside your room.
And with her return to dance-pop in Chromatica, the world had high expectations.
Fans and critics alike would argue that something is lacking in her latest release.
But personally, the album had the same tunes that made a Little Monster out of me way back in 2009.
Embrace Gaga's signature out-of-this-world aesthetic with this quirky ensemble from her "Stupid Love" music video!
Joanne Hat
Upon the release of Joanne, Gaga's fifth studio album, many people were quick to brand it as a flop.
After years of doing eargasmic pop songs, producing a stripped-down country rock album was somewhat an absurd concept – even by the standards of Lady Gaga.
However, the album did manage to reach number one in the US and other countries.
Not to mention it had one of my all-time favorite songs to date.
Sure, it wasn't as life-changing as Born This Way or The Fame.
But Gaga's pink hat symbolizes her ability to handle any genre and kill it.
Poker Face Blue Swimsuit
The moment Lady Gaga emerged from a dalmatian-guarded pool at the intro of "Poker Face," she hooked the whole world.
Then the chorus came in, and you just knew this song was never going to die, like ever.
This song kicked off Gaga's career in the stratosphere back in 2009.
Now it's one of the best-selling singles of all time, and its music video has almost 1 billion views on YouTube.
Commemorate this song's contribution to pop music history by donning Gaga's revealing blue swimsuit from the MV!
Lady Gaga Clothing: Telephone
Stop callin', stop callin', I don't wanna think any more about what to write for this CC – because frankly, it doesn't need any introduction.
"Telephone" was just one of the mega-hit songs from Gaga's third EP, The Fame Monster.
Most notably, its music video displayed Gaga going on a road trip with Beyoncé, who poisoned Tyrese Gibson and danced inside the diner where they murdered all the customers.
Yup, just your typical Lady Gaga MV, ladies and gentlemen.
Score one of Gaga's many costumes from the video with this CC from Sims-Gaga.
Lady Gaga's 2016 Golden Globes Dress
Even global superstars like Lady Gaga have insecurities.
Especially when it comes to fulfilling their childhood dream.
Before hitting the stage, Gaga had dreams of becoming an actress. But it was only in 2015 that she made her acting debut in American Horror Story: Hotel.
And guess what? She won a Golden Globe for it!
Let your Sims copy the look of this versatile performer by downloading the exact style of dress Lady Gaga wore at the 2016 Golden Globes.
Meat Dress
Almost all the "top lady gaga moments" articles I've read mentioned the infamous meat dress she wore at the 2010 MTV Video Music Awards, and for good reason.
Who in their right mind would wear a dress made out of raw meat at one of the biggest music events of the year?
Lady Gaga, that's who.
Surprisingly, the fashion choice wasn't meant for seeking attention – but for making a statement against the military's "don't ask, don't tell" policy, and their restrictions on the rights of gay soldiers.
While the message wasn't entirely intuitive, you can't deny that this meat dress has got that shock factor all pop stars need – even simulated ones.
Browse:
Lists
The Sims 4
Video Games