The Sims 4: Best Laundry CC, Mods & Clutter Packs
This post may contain affiliate links. If you buy something we may get a small commission at no extra cost to you. (Learn more).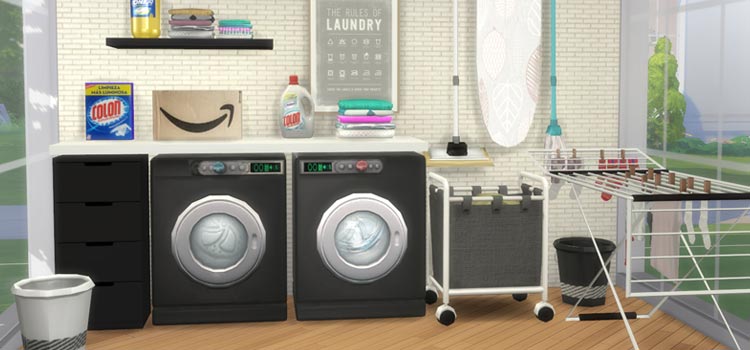 The Sims 4 Laundry Day stuff pack may have introduced a new gameplay element to the… well, the game. But it didn't really give us new clutter.
For something centered on laundry, there were initially just three hampers, one type of clothesline, and one bottle of detergent.
As a Simmer who loves clutter, I was definitely expecting a little more… stuff.
Boxes of powdered soap, maybe. Some decorative clothing piles. Clothespins and hangers.
So I took to the ever-reliable Sims 4 CC community to get myself some fun laundry related stuff. Here's some CC that I highly recommend!
1.

Less Laundry Fires by Rainbow_Brite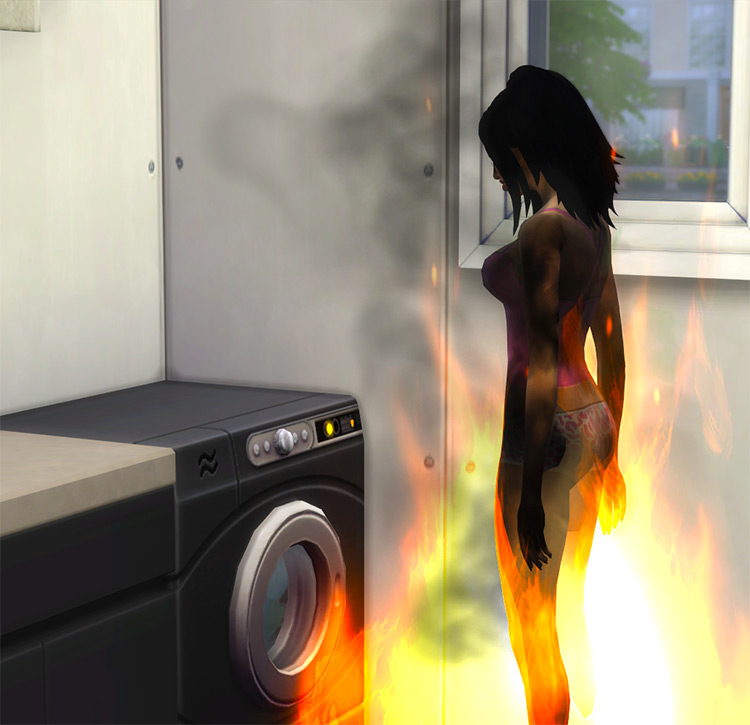 As a Simmer who plays dysfunctional, high-stress households full of chaotic, irresponsible Young Adults almost exclusively, this is a mod I personally use.
My Sims barely have time to do the laundry, let alone clean the dryer's lint trap.
And before anyone tells me to "use the clothesline," TS4 Seasons has made rainy days a thing.
I'd rather the laundry room catch fire than deal with the frustration of clothes not drying in time.
Content creator Rainbow_Brite's mod makes it so that there's only a 10% chance of the dryer catching fire, rather than the default 55% (which is unfairly high). There's also an extra flavor file that allows your Sims to self-extinguish themselves immediately should they fall into that 10%.
If your household is as fast-paced as mine or if you just can't be bothered to clean the lint trap, this mod is a literal godsend.
2.

Small Laundry Overhaul by LittleMsSam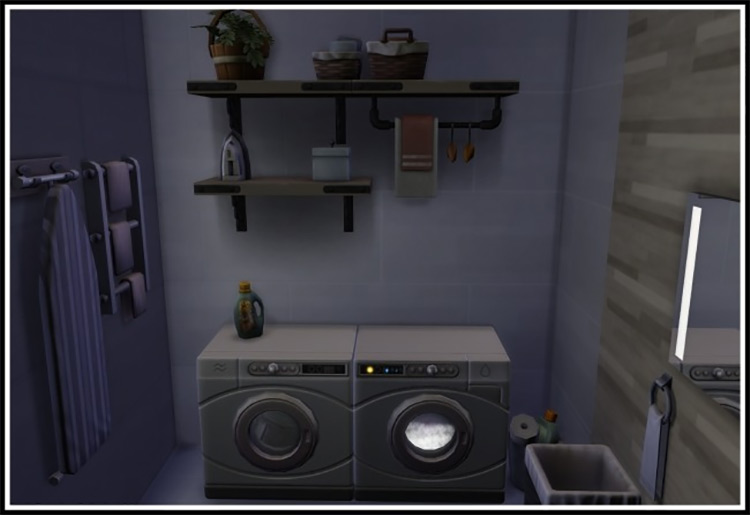 This mod is exactly what the title says: a minor overhaul that tweaks the game's original laundry parameters into something that makes more sense.
This mod, for instance, makes it so your Sim will autonomously throw their clothes in the hamper unless they have the Lazy/Slob Traits.
Realistic, no?
Great news for those getting tired of picking up after their Sims.
(Just because we can drag the clothing pile to the hamper, doesn't mean we have to.)
This mod also places a clothing pile in your inventory if you change clothes on Community Lots (cute addition and makes sense, realistically), makes it so your Sims automatically turn on the Washing Machine and Dryer after loading it (instead of staring at the machine and willing it to work), and changes the Unload & Put Down interaction so that your Sims still put the laundry away regardless.
(Because why leave a pile of fresh laundry on the floor? Why?)
I highly recommend reading the creator's notes in full before installing this mod, just so that you know what to expect.
But overall, the overhaul's subtle changes do make the game a lot easier.
3.

Larger Hamper Capacity by egureh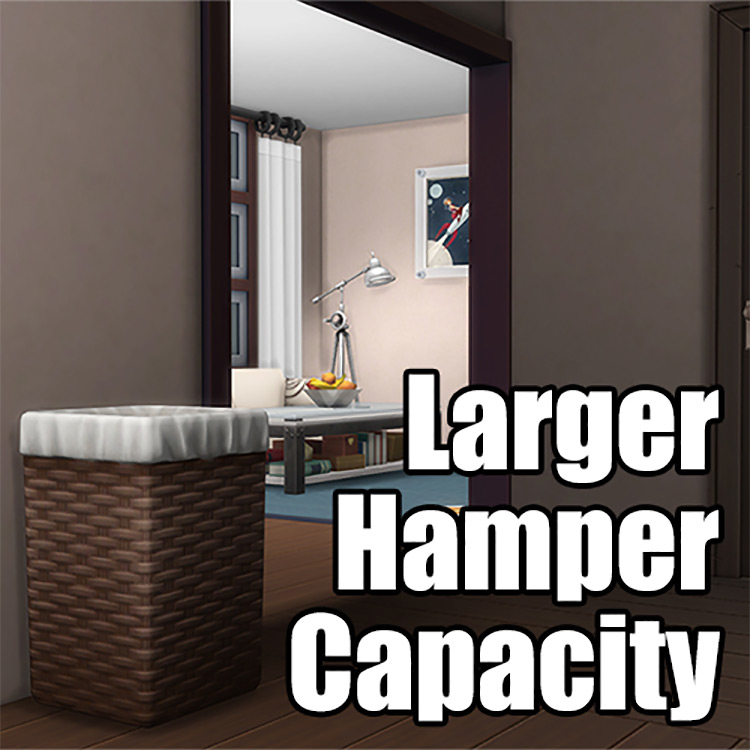 Another Sims 4 Laundry mod that I highly, highly recommend (because once I installed it, I never looked back).
Egureh's Larger Hamper Capacity mod is pretty self-explanatory. It changes the default maximum of in-game storage hampers from 20 piles of clothing to 100.
A difference of 80 may seem like too much. But note that Sims tend to change clothes more frequently than we IRL people do (I'd say they do three or four changes a day, especially if they have a rabbit-hole-location job).
So for a household with 8 Sims all changing clothes left, right, and center? This mod is a must-have.
Make sure to check the creator's notes for compatibility details and potential mod conflicts!
4.

Moody Laundry Piles Mod by PolarBearSims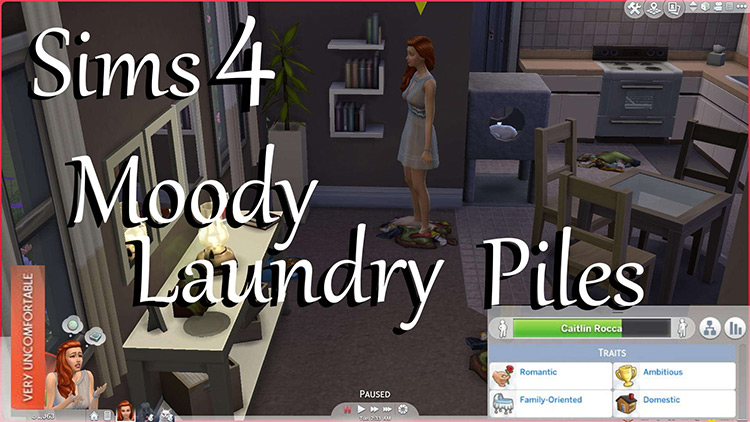 Unlike the other mods on this list, this isn't meant to make the game easier.
It instead adds a quirky bit of flavor and variety.
In the description, the creator admits that she doesn't find it fun how certain Traits dictate your Sim's actions 100% of the time (i.e., if they're Neat, Family-Oriented, etc.) when it comes to laundry.
So to spice it up a little, this mod makes it so that Sims will either pick up dirty clothes or leave them on the floor based on their current Mood.
So imagine this: Sad or Depressed Sims that simply aren't in the emotional state to care about dirty clothes on the floor. Stressed Sims that just don't have the time. And Angry or Enraged Sims that are too busy being mad to care about some stray clothing piles.
They'll deal with it later.
This mod is novel concept that was executed perfectly.
If you're up for some emotion-based gameplay, then you should get it. If you need a cheat sheet, all the moods that leave laundry on the floor are listed in the creator's notes.
5.

No! Laundry Piles by PolarBearSims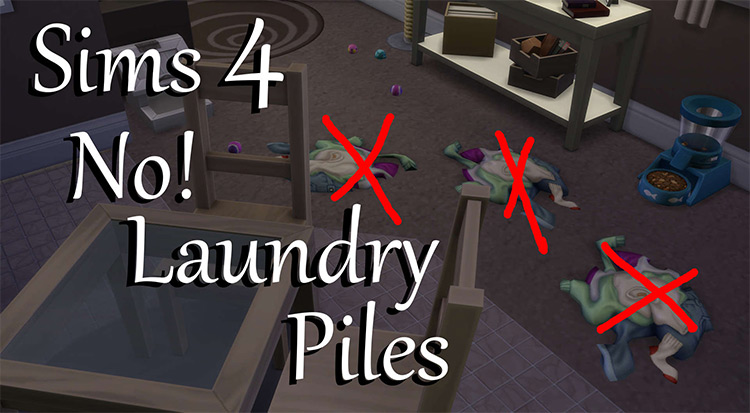 Want to get rid of the laundry piles altogether?
Just let your Sim enjoy the benefits of clean, dry clothes without stressing over dirty laundry detritus? This mod can take care of that, easy-peasy.
It makes it so that there are no clothing piles after a Sim changes, regardless of their mood, age, or Traits – exactly as its name implies.
Simple and self-explanatory, but it'll make a heck of a difference in-game.
Quick Note: this is from the same creator of the previous "Moody Laundry Piles" mod.
If you have that mod installed, they will clash.
Best pick whichever suits your gaming style.
6.

Under Counter Washing Machine & Dryer by Teknikah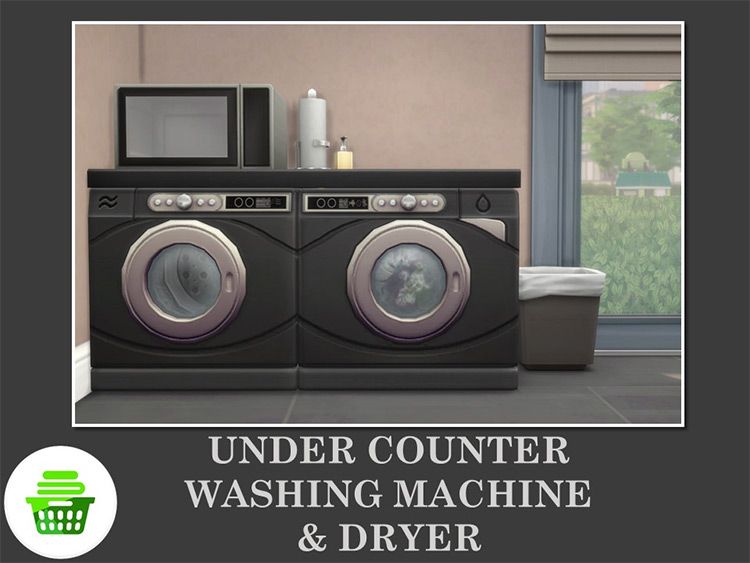 As someone who enjoys Tiny Living immensely (because the perks almost feel like you're legally cheating), I was forced to forego a laundry area.
The good thing about The Sims 4 is that your game ignores all things laundry if you don't have a hamper and any sort of item to wash and dry clothes with. So I was saved from drowning in clothing piles.
However!
I do enjoy the Happiness and Confidence boosts clean clothes give my Sims. So I was kinda bummed.
Enter Teknikah's absolutely genius idea of washing machines and dryers that you can slot under counters. Like a dishwasher.
I mean, you have to have at least one free counter in your home – no matter how small – for food prep. Why not turn it into a dual-purpose, multi-functional cooking-washing area?
This mod doesn't replace the existing washing machines and dryers in-game, so you can still choose to play with the ones that stack (not slot) if you wish.
I personally love mods that turn things into space savers. So this mod, for me, is a big win.
7.

Under Counter Laundry Baskets by Teknikah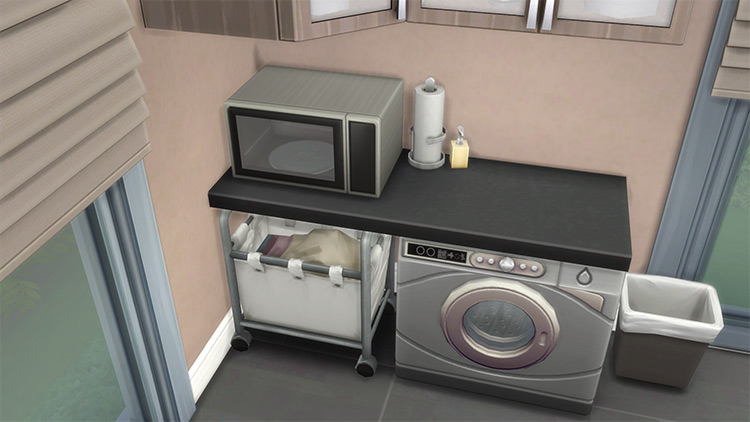 Read everything I just wrote for the previous mod, because it applies to this, too.
This mod comes from the same creator as the "Under Counter Washing Machine & Dryer" mod, which makes total sense.
If you're gonna wash your clothes under the counter, you might as well stash them under the counter.
Again; space-saving mods that are absolute genius.
Just like the washing machines and dryers, these are new in-game hampers – not replacers! – that'll work with pretty much any vanilla game counter (I haven't tried them with any modded or CC counters).
There are four in total: (1) the Feelin' Fabric hamper, (2) the LaundryMaid Clothing hamper, (3) the Laundry Basket, and (4) the Wicker Whims hamper. Color/style swatches are the same as their in-game, non-counter-slotting counterparts.
8.

Rea Toddlers Laundry by jomsims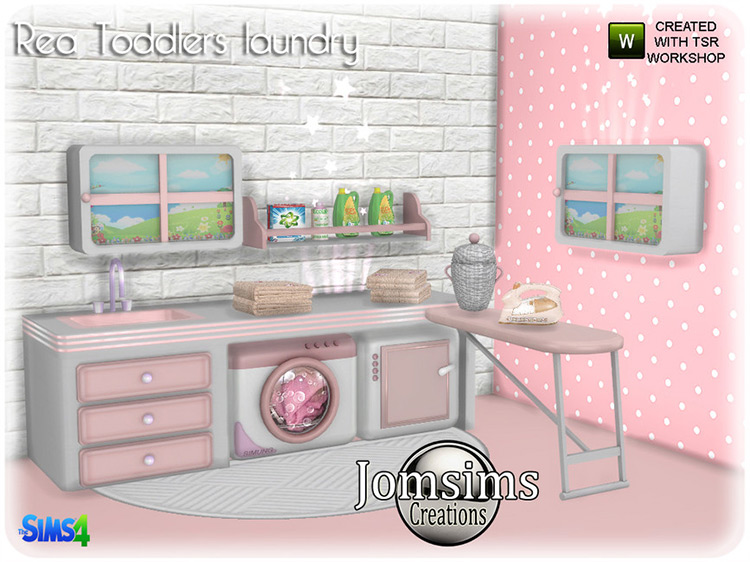 These CC pieces are non-interactive, purely decorative laundry items meant to emulate a laundry area for Toddlers and they are all.
So.
Freaking.
Cute.
Seriously; look how weeny those things are! Barely comes up to a Young Adult Sim's waist. My Sim, for scale.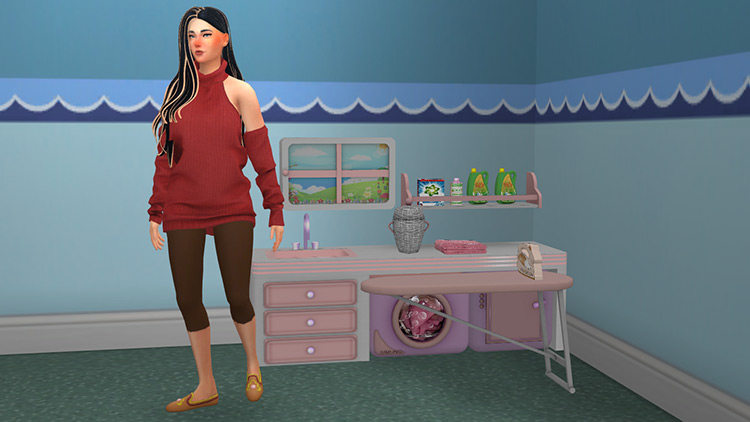 I cannot reiterate this enough; these pieces are small.
Concept-wise, I love this.
It's not like toddlers can actually do laundry (both in-game and IRL). But it certainly is reminiscent of those working toy appliances that kids often get gifted.
Think like Easy-Bake Ovens and wearable kid's makeup. The washing machine, dryer, sink, and clothing iron look like toys that work like their adult counterparts, but just at 5% or something.
Point is, as far decorations go, this CC pack's an absolute delight. 10/10 would recommend for family-based gameplay.
9.

Laundry Décor Set (The Sims 4) by Dara_Savelly (darasims.net)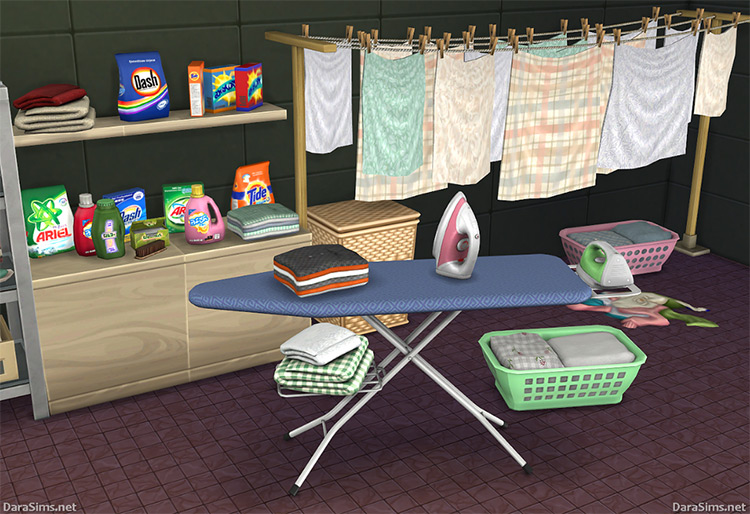 Now this is a neat décor set/clutter pack that keeps things nice and simple.
All of the pieces in this set are great items to have if you want to decorate a functional, no-frills Laundry Room that looks clean and lived-in.
I will say that my absolute favorite of the pack is the ironing board with 7 slots – two of which are on the little metal grill-trays.
Since this Sims 4 clutter pack also comes with custom clothing iron decors (one lying flat and one tipped upright), those slots make sense.
The ironing board also has the most swatches (12 designs in total), so I think it's fair to say it's one of the set's centerpieces.
The rest of the décor here comes together to create a space that looks practical and no-nonsense, so highly recommended if that's to your taste.
There's also a complete list of all the items in the creator's notes, if you want to know what you're downloading.
10.

Laundry Day Window w/ Clutter Slots by Illogical Sims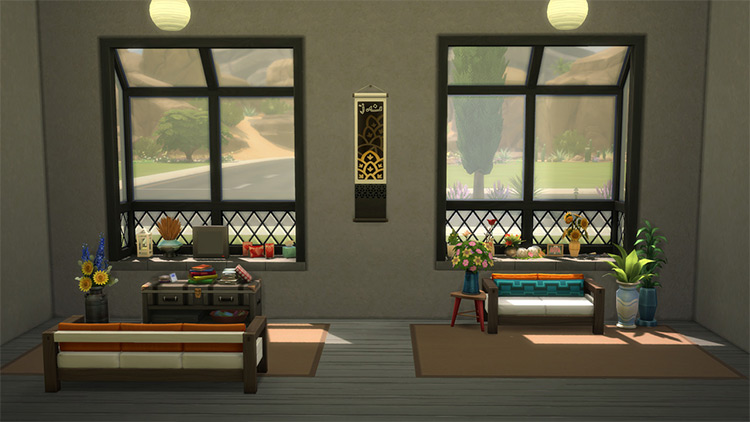 Okay, hear me out.
This technically has nothing to do with laundry.
I'm aware.
But since it's the "Bae Window" from the Laundry Day stuff pack, I'm going to say I get a pass.
That, and I think the idea for this CC piece is excellent.
Since the "Bae Window" is literally a bay window, the wooden panel it's got at the bottom could technically be used as an extra surface. It's too small for functional pillows or seating but clutter and décor? Just the right size.
Highly recommend turning the bb.moveobjects cheat on if you want to create denser clutter. The slots work, but they're a little fiddly.
Still, I experimented with this window in-game, and I personally love it.
11.

The Laundry – Decoration by BuffSumm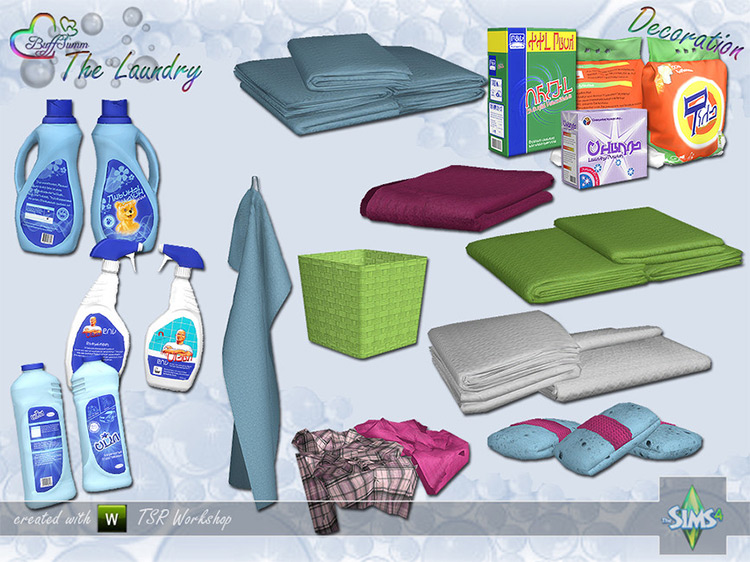 What if you want clothing piles without actually having to deal with Clothing Piles? You know, for that cozy, lived-in, lazy routine aesthetic?
Then this clutter pack by BuffSumm is an excellent choice.
It gives you folded towels, rumpled clothes, some detergent boxes, laundry sponges, and more – all without you needing the Laundry Day stuff pack!
Build a nice little laundry area in your Sim's home or apartment without the hassle of actual in-game laundry.
I personally love the detergent boxes and fabric conditioner sprays. Really makes everything look nicely cluttered. (I'm a sucker for homes that look rumpled and lived-in, okay?)
12.

Laundry Area "Liere" by pqsim4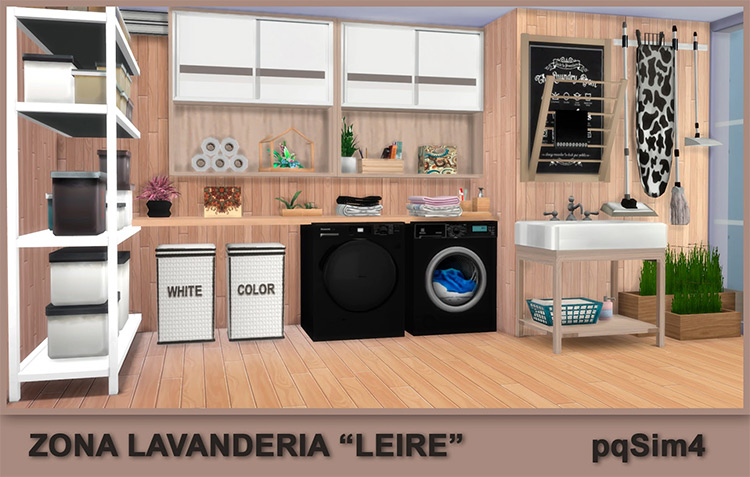 This laundry clutter pack is pretty different from the "Laundry Décor Set" by Dara_Savelly and "The Laundry – Decoration" by BuffSumm packs.
Whereas those didn't follow a particular style theme beyond "laundry room that is used fairly often," this "Liere" set by pqsim4 has a very distinct style.
The décor is all clean, straight cuts and solid panels of color. The accents are arranged just so. The wall hangings are very contemporary.
Even the mop and dustpan don't look like they've seen a speck of dirt.
It's a very clean, minimalist style, is what I'm getting at.
And for a laundry room, it's not a style I was expecting.
But I think pqsim4 pulled it off flawlessly. The pieces are gorgeous, the designs are very elegant, and I adore the clearly-labeled hampers. Those are hampers I would actually buy in real life.
13.

Laundry Set by pqsim4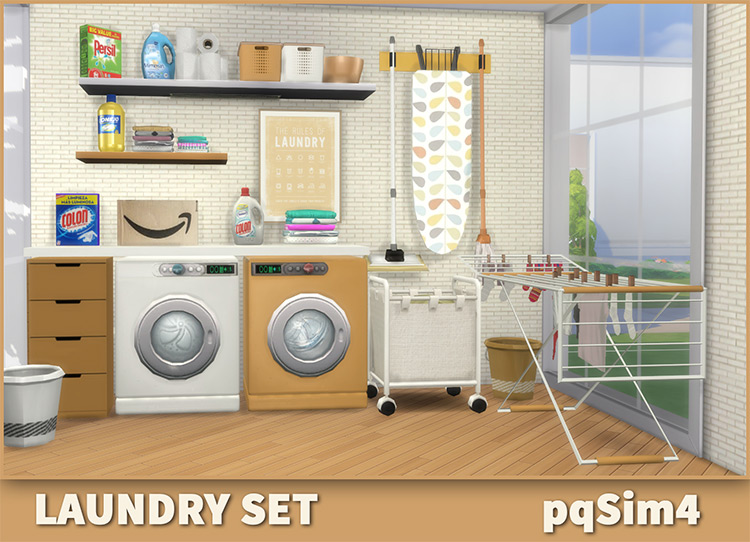 This set is still from pqsim4, and it shows.
I'm honestly in love with this creator's very simple, clean-cut style.
The pieces have this "no fuss, no muss" vibe while simultaneously falling under a specific style category. And the color palettes of the pieces are gorgeous, too. Bright pastels, clean wood, solid black-and-white, and some pops of darker, warmer colors.
I think of all the clutter packs, this one has the most random clutter pieces that still sort of work.
I mean, you've got the detergent boxes and the soap bottles, sure. But there's also an Amazon-esque box that contains who-knows-what and a framed photo that clearly dictates "The Rules of Laundry."
It's stylishly quirky, is what I'll say about this pack, and I honestly adore that.
Plus, the clutter slots on all the available surfaces are amazing. No bb.moveobjects needed here; there's plenty of room!
14.

Laundry Set by Severinka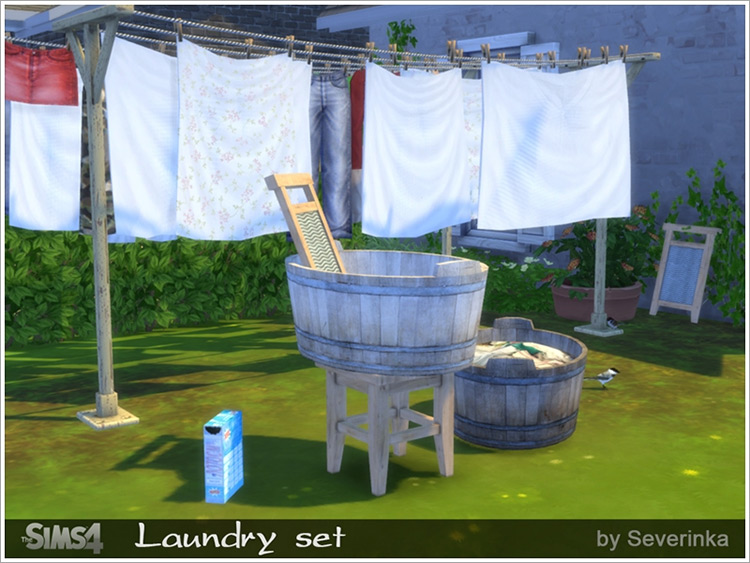 This stunning old-school laundry set by Severinka serves a big slice of nostalgia pie.
They describe it as a pack of furniture and decoration "for hand washing" laundry, and that alone sells it for my semi-old soul.
The execution?
Beautiful. Absolutely beautiful.
There's a worn wood washbasin, a washbasin with a washboard, a classic small stool (the kind that lets you lean over and scrub like a madman), and clotheslines with classic wooden clothespins. All the pieces are made of wood and they all look lovingly used.
The vibe is very "sunny afternoons at the house on the prairie." If that's true to your gameplay style – or if you're looking to build an actual old-timey wood house – I highly recommend this.
15.

Vintage Laundry by Lulu265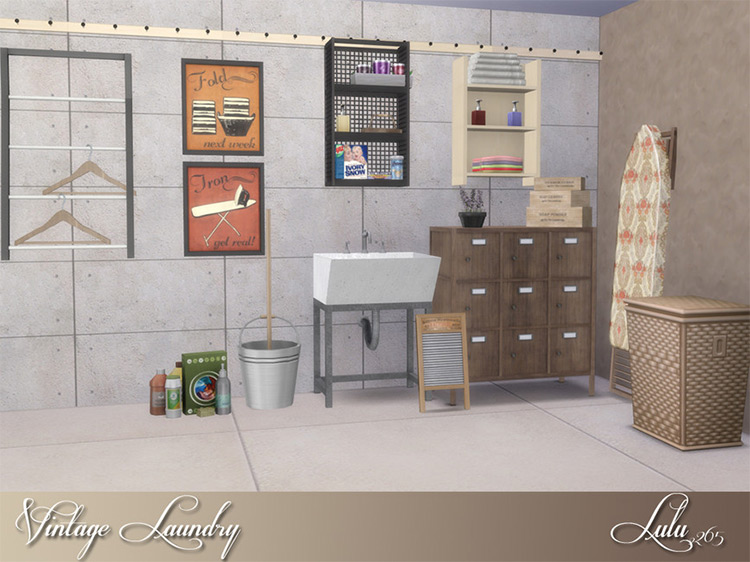 I saved my favorite laundry clutter/deco pack for last.
This "Vintage Laundry" set by Lulu265 is gorgeous. Just straight-up stunning.
I might be biased since I have a soft spot for all things classic, retro, and vintage, but you can't deny how beautiful the pieces look.
The worn wooden cabinet, the stainless steel bucket, the laundry shelves, the wall hangings – trust me, they all look fantastic in-game.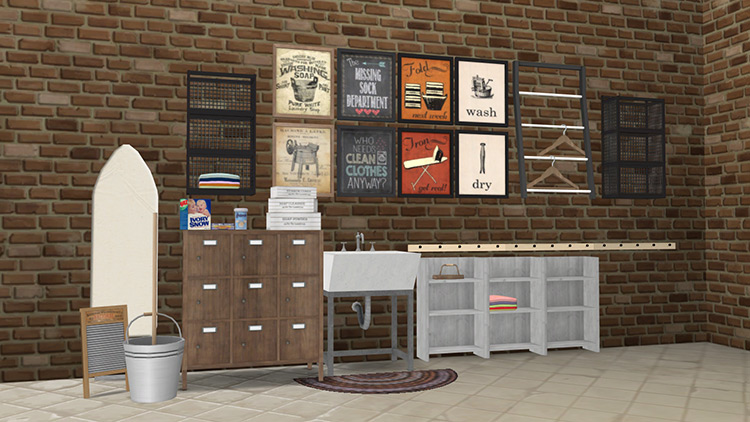 My favorite piece from this collection has to be the wall décor.
They come in four style variations which are either artful, sassy, wonderfully vintage, or a combination of all three.
The swatch with "The Missing Sock Department" print, in particular, speaks to me on a spiritual level.
This laundry set basically contains wonderfully unique pieces that let you create a vintage laundry room that's kind of minimalist and fully striking.
Pair with some exposed brick and maybe one of the wicker hampers for an Instagrammable (Simstagrammable?) build.
Browse:
Lists
The Sims 4
Video Games