Sims 4 Lava Lamp CC (All Free To Download)
This post may contain affiliate links. If you buy something we may get a small commission at no extra cost to you. (Learn more).
As someone who has never owned a lava lamp, they've always fascinated me!
Sure, the science behind it gets explained and I can understand the mechanics (to a certain degree). However, that doesn't eliminate the magic of it! Whenever I see them in media, I get absolutely mesmerized.
Give your Sims' space a little lava-lamp-y love with these cool custom lava lamps.
1.

Classic Lava Lamp – Requires Strangerville (GP07) by littledica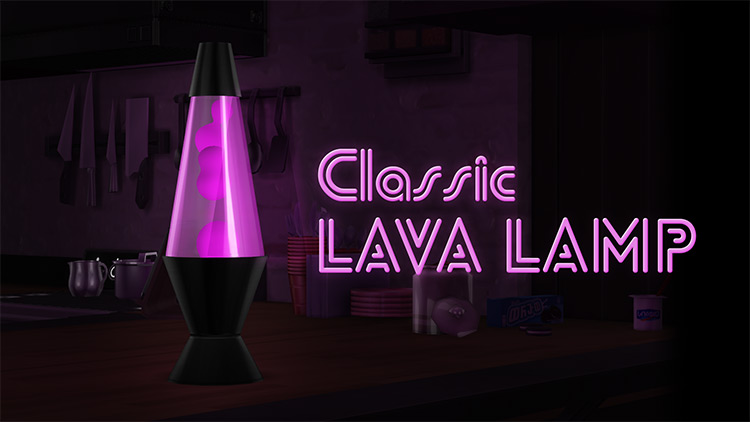 While The Sims 4: Strangerville tried to give us an acceptable lava lamp (aka the various Lava Beacon options), the animation and mesh left much to be desired.
In fact, I don't think I'd have figured out they were lava lamps if they didn't have the word 'Lava' in their name.
Just saying.
So! Littledica's Classic Lava Lamp introduces a much more recognizable and eye-catching version.
It's got the classic silhouette, the neon colors, and most importantly, the groovy, slowly oozing blobs of liquid.
It's a lot more fun and a lot more psychedelic. Highly recommend.
2.

Lavalicious Lava Lamp by luumia
Luumia's Lavalicious Lava Lamp is a pretty – and functional! – light source.
The lava may not be animated, but the mesh itself looks pretty cool.
Plus, it's still a lot more lava-lamp-like than the Strangerville iteration.
You'll have to manually set the color of the light depending on the swatch (red, blue, or green) to get the best effect. It's a little crude but, hey. It's simple, it's functional, and it's still sufficiently psychedelic.
Plus it's 100% base game-compatible!
3.

Fully Animated Lava Lamps by necrodogmtsands4s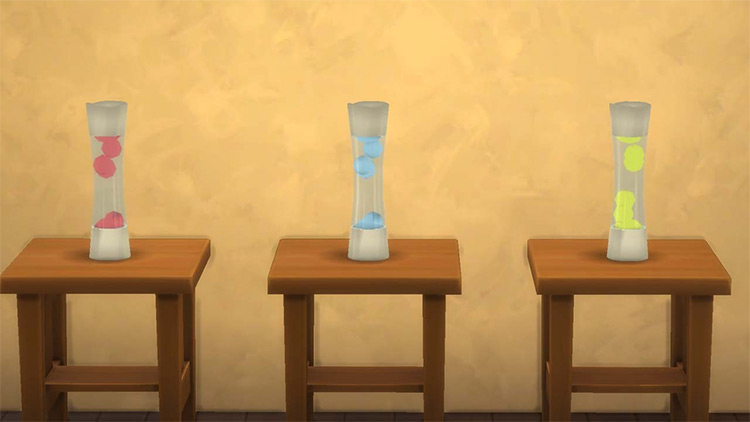 These lava lamps don't have that classic pod design like luumia's and littledica's do, but they're fully animated and fully beautiful.
These nifty little cylinders are filled with clear liquid and goopy, oozing bubbles of brightly-colored wax. And the wax clusters actually move!
It's pretty darn mesmerizing to watch (as most lava lamps usually are) and it makes for a fantastic two-for-one: sufficient light source in the room and decorative table ornament.
Like luumia's lamp, this CC has three color swatches.
4.

Emotional Lava Lamps by EroSims Studio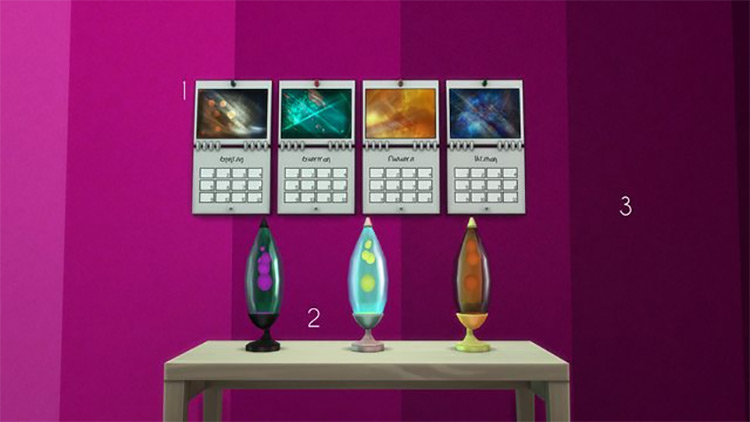 The story behind this custom lava lamp goes like this:
The creator saw we were getting lava lamps in Strangerville, got super excited, and then unfortunately was let down by the "lack of color choices and no emotional aura buffs".
So they set out to edit the existing mesh.
The result?
A couple colorful new lava lamps (four base colors) with built-in auras that you can switch on and off as needed! Kind of like TS4 crystals, only more neon!
5.

Lava Lamps by Around the Sims 4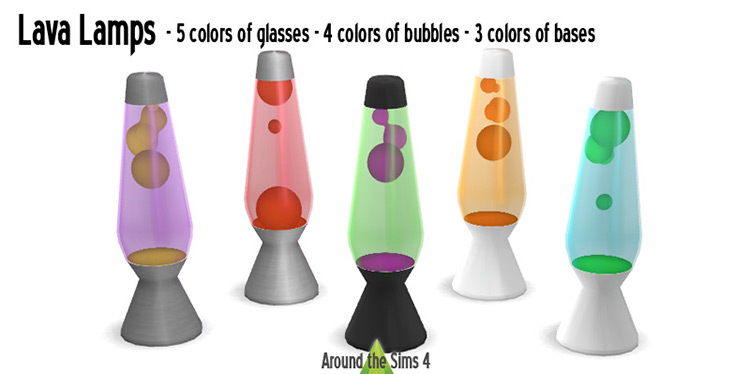 For December 5 of ATS4's 2021 Advent Calendar Gifts release, they brought in – drum roll, please – lava lamps!
They're pretty, they're dainty, and they come with a lot of swatches per version.
There are four versions based on the color of the bubbles in the lamp: yellow, red, pink, and green.
Each version gets three different colors for the base – black, white, and silver – and then five different colors of the glass.
Again, I can't do math.
But trust me when I say that that's basically a lot of potential combinations. I'm confident you'll find a lamp here that fits right in your interior color scheme!
6.

Noonie Toddlers Bedroom Table Lamp by jomsims
This may be marketed as a table lamp for a Toddler's bedroom, but I know my lava lamps.
And I know a lava lamp when I see one.
Granted, it's not animated, neon, or psychedelic. But the capsule shape? The splotchy, goopy liquid oozing around in the middle?
The hypnotizing visuals?
This, sir, is a lava lamp.
The different-colored splotches may not move like they're in a lava lamp, but the effect is there. Plus it's still a fully-functional lamp!
Browse:
Lists
The Sims 4
Video Games