Sims 4 Lighting CC: Home Lights & Lamps (All Free)
This post may contain affiliate links. If you buy something we may get a small commission at no extra cost to you. (Learn more).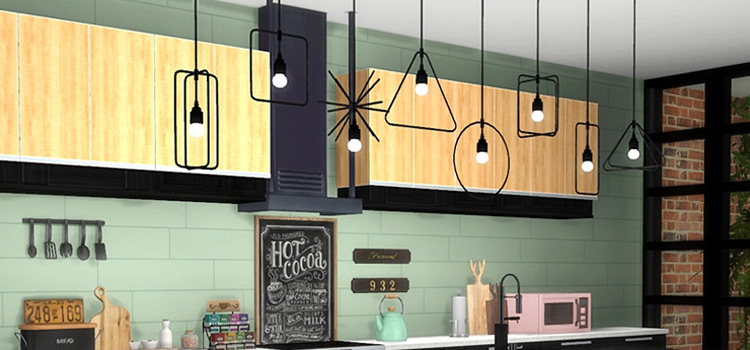 I don't know about you all, but I for one have a problem with getting stuck in what I like to call a CC rut.
What this is, really, is just my inability to use any other CC item once I find one that I really love.
I'll use the same item for so long that it's almost as if other options don't even exist to me.
And one thing I'm bad about in this aspect is with lighting. I'll only ever use the same ceiling light repeatedly, even if it doesn't really go with the build, because I like it so much.
So to help prevent this from happening to you, I've compiled a list of some incredible lighting options for your Sims 4 sessions. Enjoy!
Star Wall Lamp by Leo 4 Sims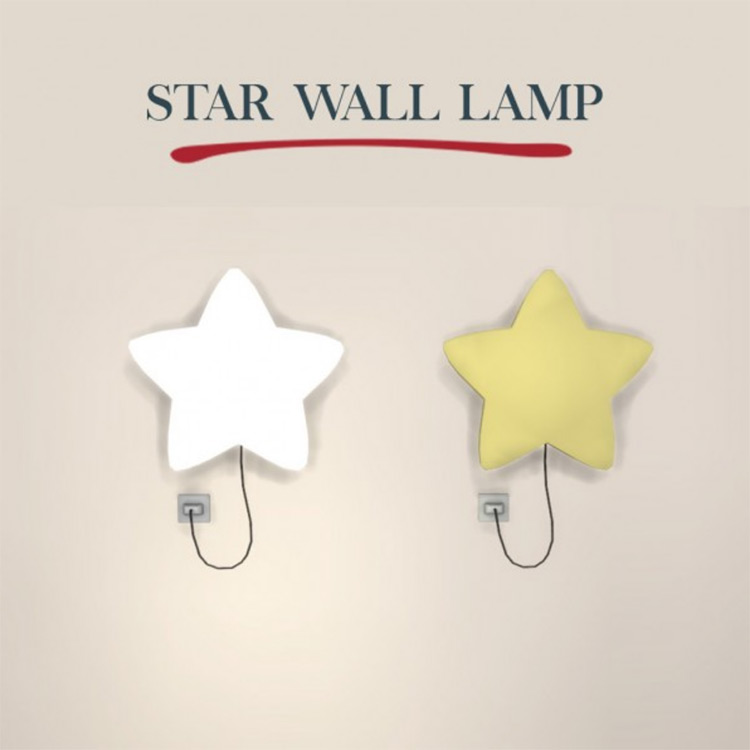 This star lamp is basically everything to me, I'm not gonna lie.
It's so simple, yet so perfect for almost any room.
The thing I love the most about this is the little electrical plug and cord hanging down. It just feels so real to me.
This one would look great as a night light in a kid's room, in a bathroom, or even on a sunroom or a porch.
Fairy House Set by Severinka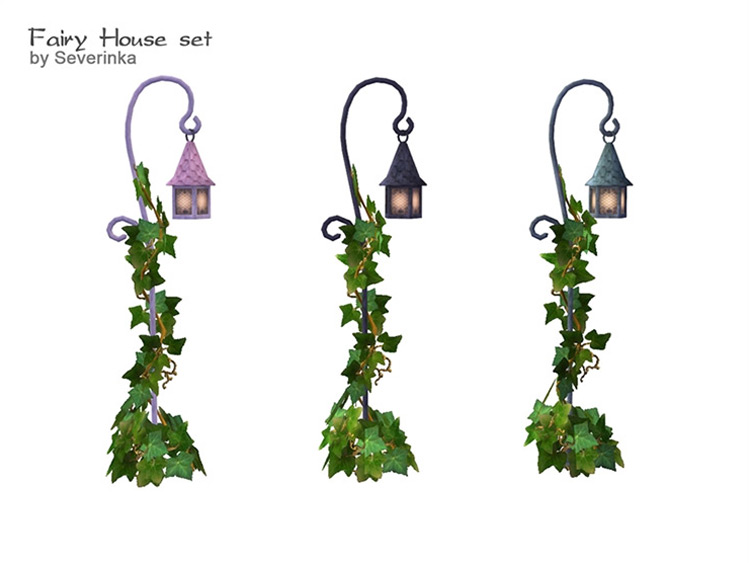 Can you imagine this little gem lighting the path to your Sim's tiny cottage home?
Especially if you're into any kind of fairycore aesthetic.
This outdoor light is adorable, and really does give off the perfect fairy vibes.
And even though this is technically an outdoor light, it could also look cute in a kid's room as well.
Lighted Fence by Leo 4 Sims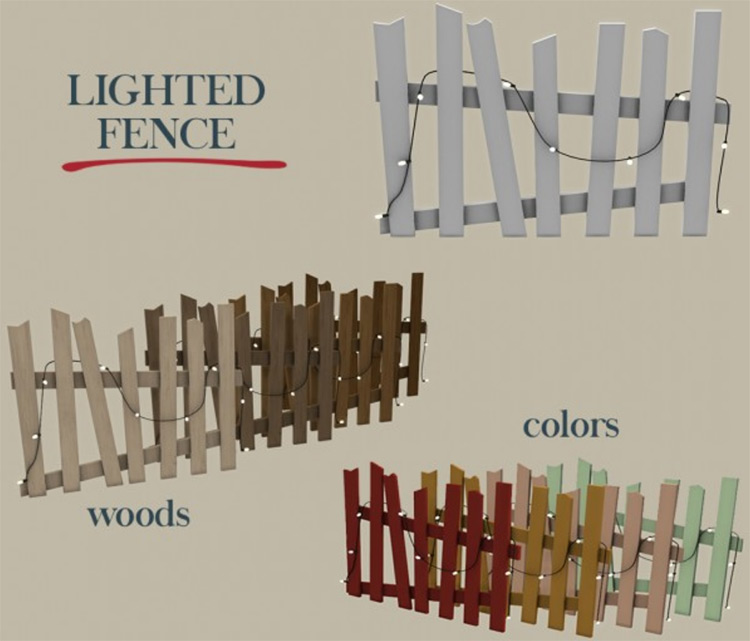 Leo 4 Sims makes some of the best lighting options around.
And this lighted fence CC is one of my favorites of theirs.
I personally like to use items in my game that look as if they've been repurposed, and this one is just what I like to see.
This light could be pieced together to create a fence. Or it could even be placed against an already existing fence for a bit of character.
It has great color options too, so it's going to fit in with any type of build.
Fall Ladder Light by Leo 4 Sims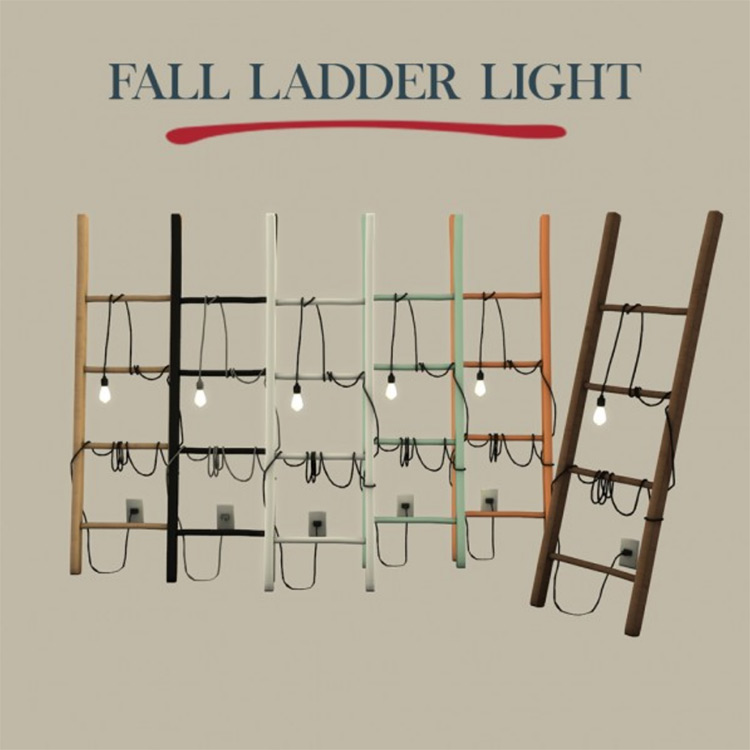 Just like the previous item, this ladder light looks so perfectly repurposed!
It even has the added little detail of having a plug and hanging cord, which really puts it over the top.
It would look so nice in a garage or a workshop, or even on a porch.
Plus this also features a really nice-looking lightbulb that would go with a ton of different styles.
Christmas Lights by Natalia-Auditore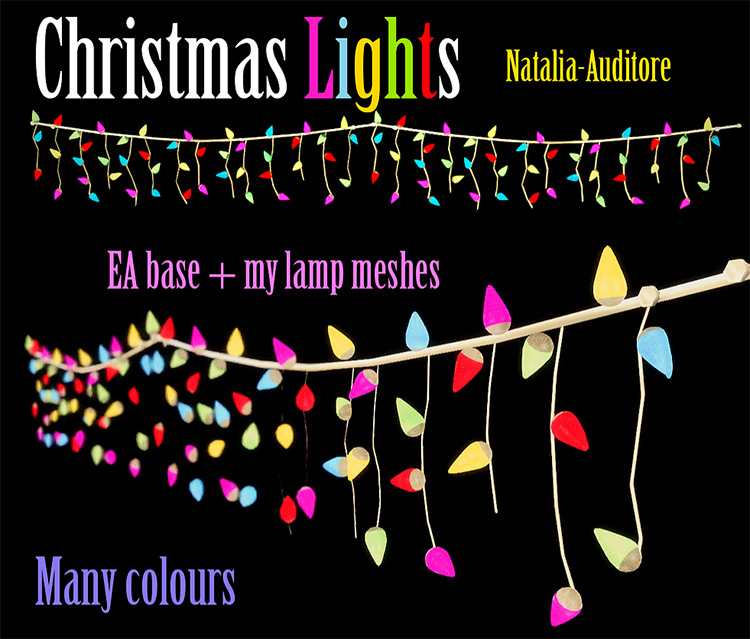 I'm sure you've all seen the trend lately with Christmas lights hanging in bedrooms, right?
Well, I for one absolutely love the vibe it gives a room. So I think our Sims deserve that as well.
This Christmas light recolor takes the EA lights that we got from Seasons, and revamps them for everyday use.
They can be found in the lighting section in build mode, and have so many colors to pick from!
Christmas Tree Lamp by Veranka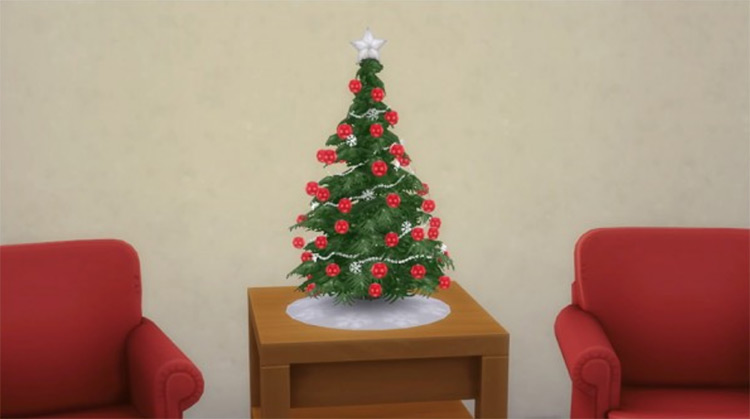 Speaking of Christmas lights, am I the only one who forgets to decorate my houses for the various Sim holidays?
Well, a lot of times I skip decorating for Winterfest because the trees never fit in my homes. But Veranka might have solved the problem!
This cute little lamp is meant for tabletops, and has twenty-five different swatches to pick from.
And it's so festive, right? This would blend great with any other Christmas-themed CC.
Plumbob Pink Salt Lamp by the Cedar Chest Sims
Oh look, another CC item for The Sims that we could all have in real life.
I'm sure you've all seen (or owned) a Pink Himalayan salt lamp before. And now your Sims can have one too!
They've been said to have health benefits, but I for one just think they're pretty.
This one by Cedar Chest Sims is shaped like a plumbob too, so how perfect is that?
I'd love to see this little beauty in a home office build, or even a bathroom!
Zone Patio Candle by NynaeveDesign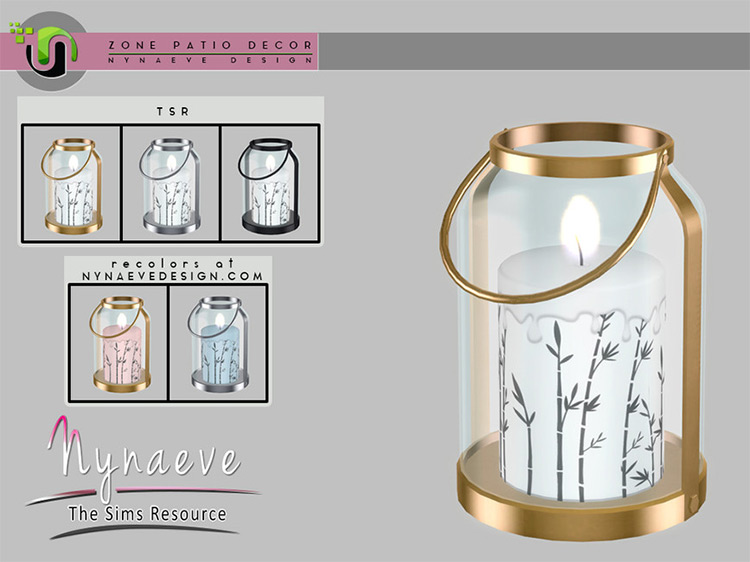 A lot of times, I'll place candles around my Sims' houses for a homier feel.
So when I found this CC by NynaeveDesign I just knew I had to have it.
It has a believable-looking flame on it, and even has little wax drippings to make it seem as if it's melting.
Love it!
This can be found under table lamps in build mode, and comes in five gorgeous colors.
I'm betting it could also be sized down or placed near other candles to create a beautiful centerpiece option for a table.
Sunset Mirrors by Winner9
Much like with my lights, I typically only use one or two mirrors in my games… but now with this one by Winner9, I have the best of both worlds!
This CC comes in twelve swatches, and it also includes a non-lighted option, as well as just a single mirror option.
It would look so nice in a teen's room, wouldn't it?
Or maybe even in a salon!
All the swatches are really vibrant. And just like other lights in the game, you can choose the color of the light and the opacity here.
So it could really make a statement in any room you place it in!
Slot Override- Tiny Living Lamp by Allisas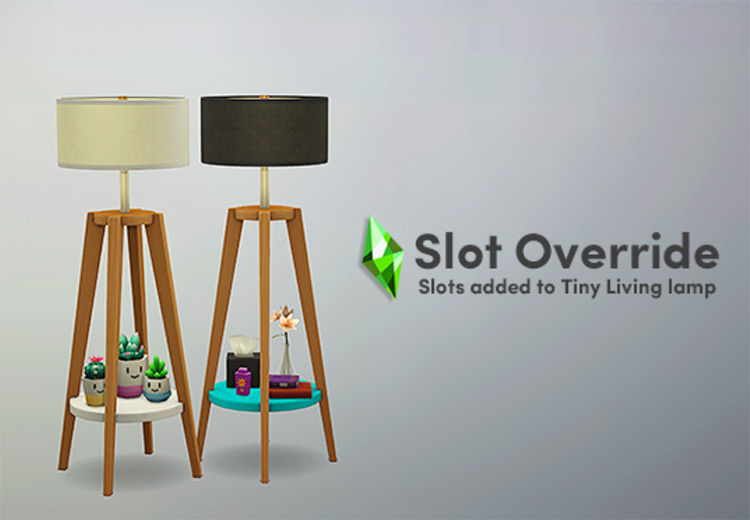 Now this one might just look like a simple lamp that we got from Tiny Living.
But it's that and so much more!
Allisas has taken the already-nice lamp and added in slots on the bottom to hold clutter items. Because we all know that our Sims' houses just look better with clutter!
Since this is made for a smaller home, it could even hold important things like books, or maybe even a small TV?
Neon Strip Lights by Amoebae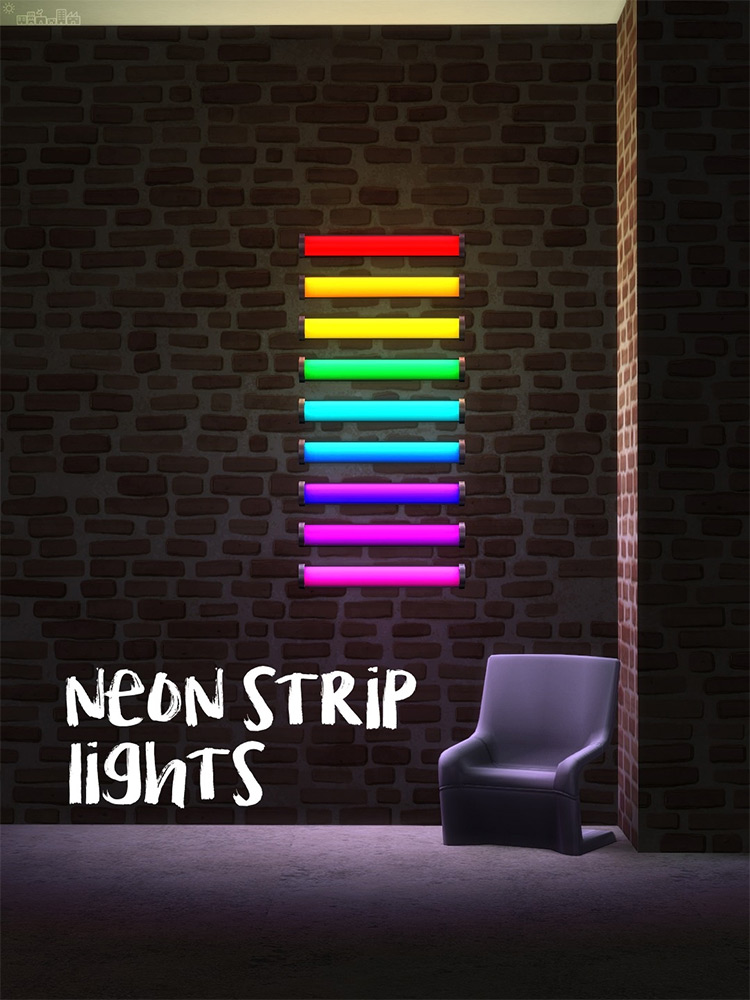 This neon strip light is so simple, and could be used for so many different things!
It comes in a ton of different colors. And it's thin enough that it won't take up a ton of wall space, but still gives off plenty of light.
I also think you could put them together and make a light fixture/statement piece in nearly any room of your house.
If you were looking for a light for a bar build or another type of club, these would really look great. Or try to mix and match with some other neon lights.
Fairy Cactus Light by Leo 4 Sims
Leo 4 Sims is at again, folks!
This Fairy Cactus Light is so dang cute.
I'm personally in love with the all-pink option, and I think adding the lights to where the little points on the cactus would be is such an awesome touch.
This is meant for tables, but I think it could also look incredible outside in a garden, or even on a porch!
The CC has 5 swatches in all, and with varying pots, there's an option for every style you need.
GRWM Ring Light by Simkoos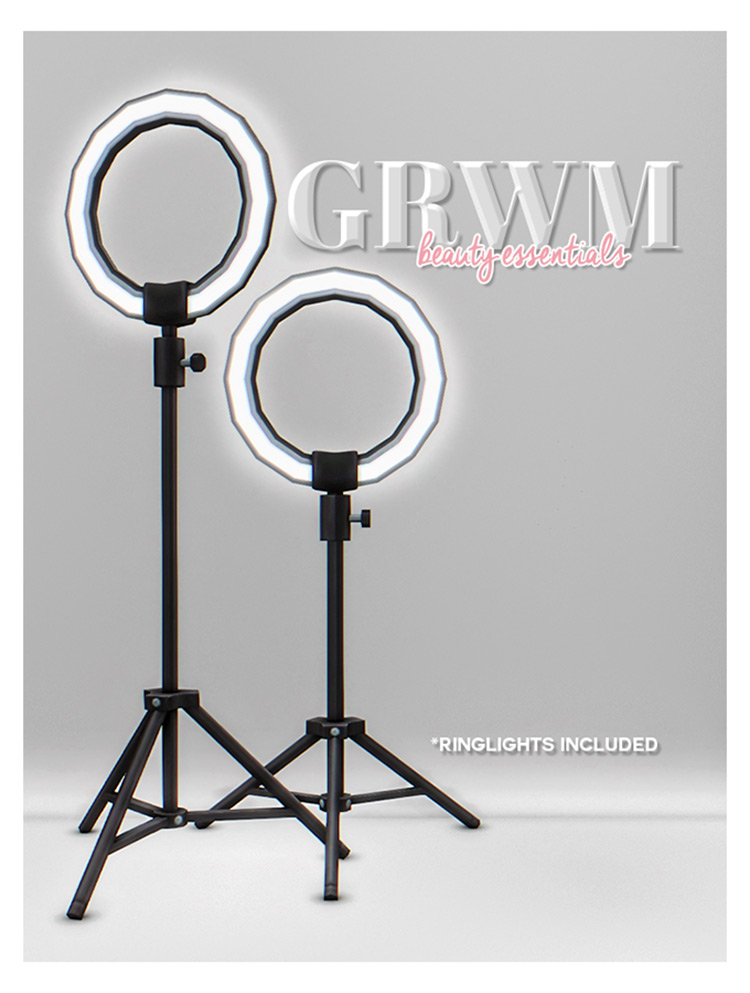 Okay, now this one is just so cool!
I'm sure you've seen at least one "Get Ready With Me" video on some platform or another, right?
Well now your Sims can film their own!
Okay, maybe not really… but it will at least seem like it with these cool ring lights!
These could also work really well in a Photography studio, or even in a teen's room so they can record all of those dancing videos in the privacy of their bedrooms.
But it's also a perfect light setup for any kind of YouTube streamer. Who says your Sim can't become an Internet celebrity?
Yokeda Lighting Set by Winner9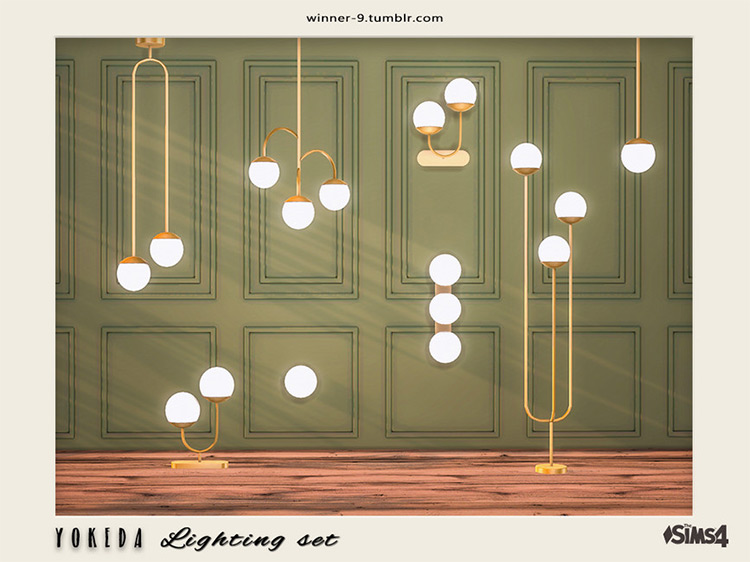 Well, here it is.
This is the very set that I have been stuck on for months now… but can you blame me?
It's so great!
CC creator Winner9 has made a set of modern, yet also minimalist, lights for every part of your home. And it comes in four metallic color options!
I've been using the wall light fixtures the most, and they fit in so well with absolutely everything I've designed since downloading them.
The set has eight lights in total, so if you're looking for a single style or set for a room, here it is!
Eddison Lamp Set by Severinka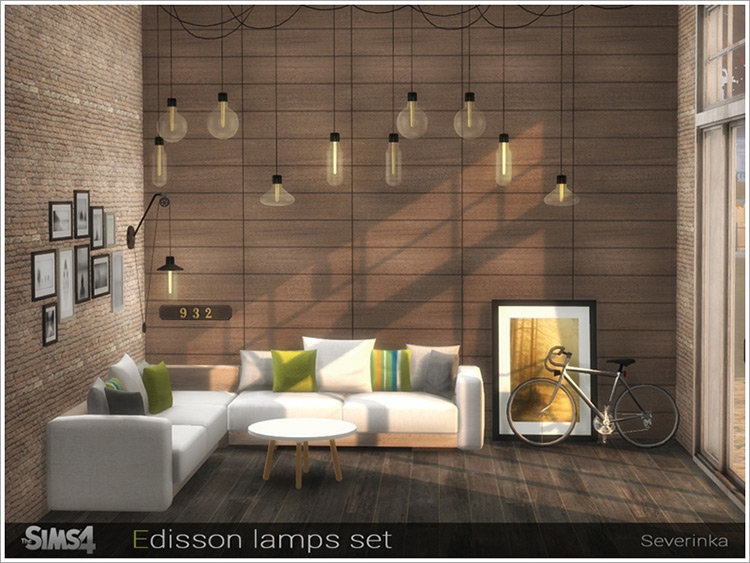 Oh man, do I love a good Eddison light.
This CC set by Severinka is absolutely stunning, isn't it?
The set was created for medium height walls and would look great in a loft setting.
The simple design is great, and the additional feature of the long cords hanging down are going to really make your rooms that much better.
Changing the color of the light should also change the bulb color, and it should give them all a great look no matter what you're going for.
Browse:
Lists
The Sims 4
Video Games