Best Lips CC & Mods For Sims 4: The Ultimate Collection
This post may contain affiliate links. If you buy something we may get a small commission at no extra cost to you. (Learn more).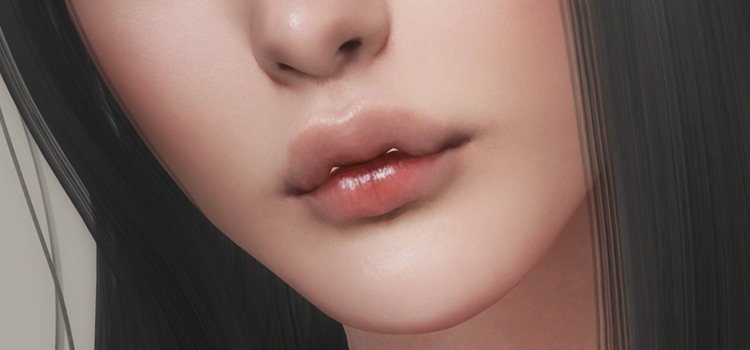 We all want our Sims to look their best, unless we're intentionally making them look their worst.
There's a reason townie makeovers are so popular, and why so much facial-modifying CC exists.
I'll admit, I'm ruthlessly judgmental of Sims in a way I'd never dream of being to actual people. A Sim's flaws tend to stand out, and also will be possibly passed onto their children or grandchildren.
As a result, Simmers tend to spend quite a bit of time in CAS agonizing over every little detail of their Sim's faces. Eyes, nose, and possibly the most important: lips.
A weird set of lips can really offset your whole Sim's whole look. And it's unfortunate that most of the built-in presets don't look the greatest.
Well fear not. You no longer have to choose only between the EA lips or spending hours meticulously sculpting.
There are plenty of CC lip enhancements, mods, and presets out there just waiting for you to use them.
Note: Before we dive in, I want to clarify that my dislike of 'weird' lips on my Sims applies only to those presets or randomized ones that absolutely no real person has. Real people's features are all beautiful, while the same can't always be said for Sims.
Poor Nina Caliente and Malcolm Landgraab will attest to that, will they not?
1.

Pouty Lip-Slider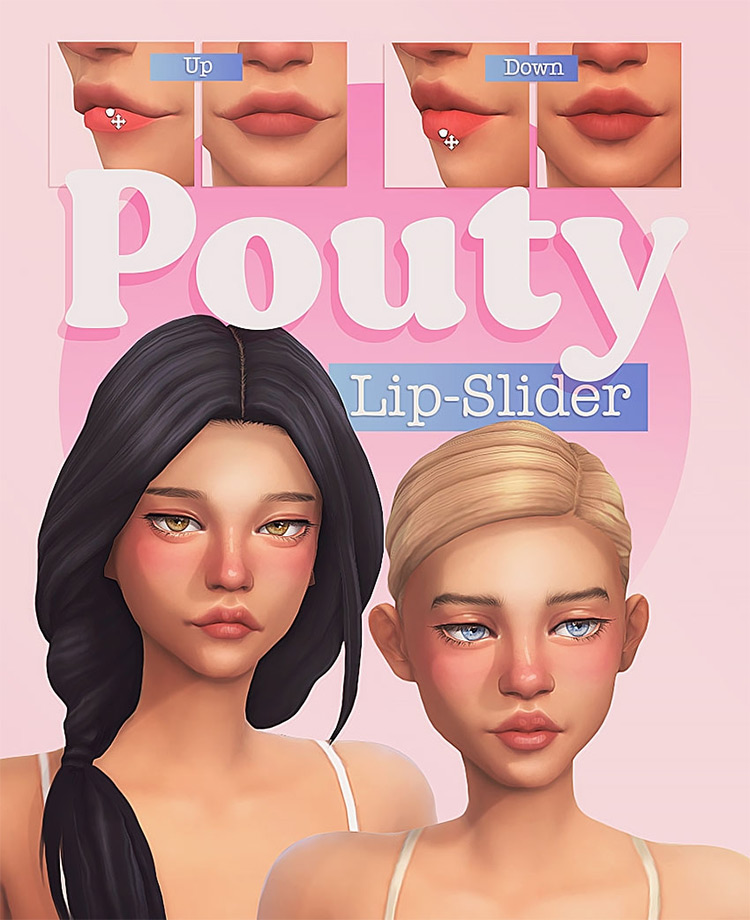 Lips CC is already taking a step towards broadening your customization options for your Sims.
These pouty lip-sliders from Miiko go even further, allowing you to fully shape your Sim's lips to your liking.
You can never have too many ways to adjust the little details of their face, and sliders are a little more in-depth than presets.
This mod is geared towards shifting your Sims lips between different pouty lips.
Basically Sim plastic surgery, if you think about it… without any expensive procedure or lengthy recovery necessary!
2.

Three Lips Presets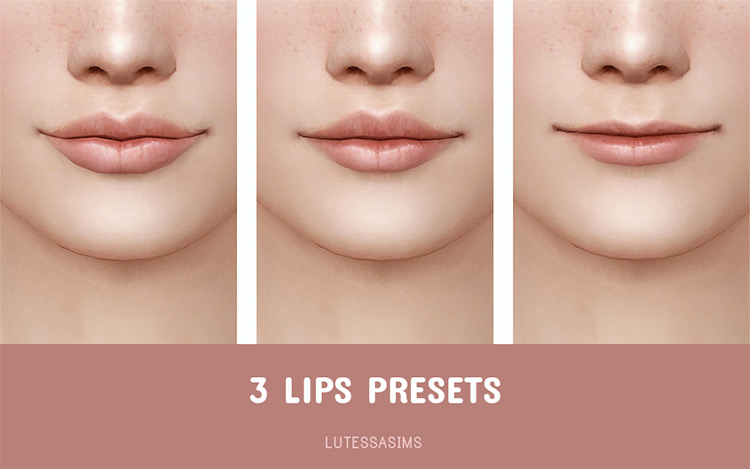 Here we have three options for some thinner lips.
Each one varies in the thickness of the upper or bottom lips, and corners of the mouth vary slightly too.
I think the first one especially will make for a more youthful, mischievous look with the slight smirk built in. It's an unfair bias that thin lips are often seen as undesirable thanks to modern beauty standards – these are nothing short of beautiful.
They were clearly made with care, which will save you the time of agonizing over shaping them just right.
3.

Red Wine Lip Presets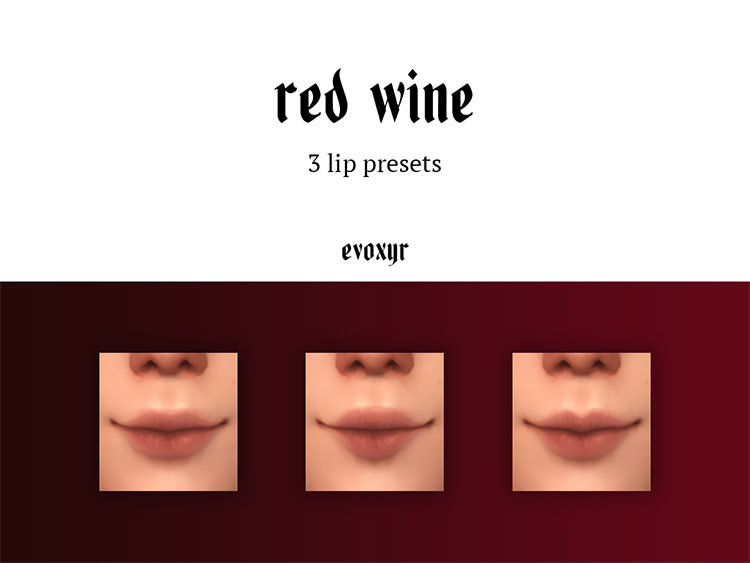 When you think about it, our lips at the center of nearly everything that happens in our lives.
They can whisper a secret, shout words in anger, or produce a laugh that lights up a room.
Actually, our vocal chords have a lot more to do with any of that than our lips, but whatever. They're still pretty important.
These presets from evoxyr capture the beauty of complexity of our mouths flawlessly. With three even, rounded options, your Sim will be ready for anything.
4.

Pomeline Lip Preset
This plump lip preset will make any Sim look runway ready.
They're really gorgeous, and this is another one where all of the weird things that happen in CAS when you're first trying to make a shape like this are eliminated.
No worries about the corners being too far back, or trying to balance moving the lips forward without messing up the cheeks.
Nope, assuming you've got the rest of your Sim's face all set up, you can just slap these on them and be ready to go!
5.

Natural Lip Presets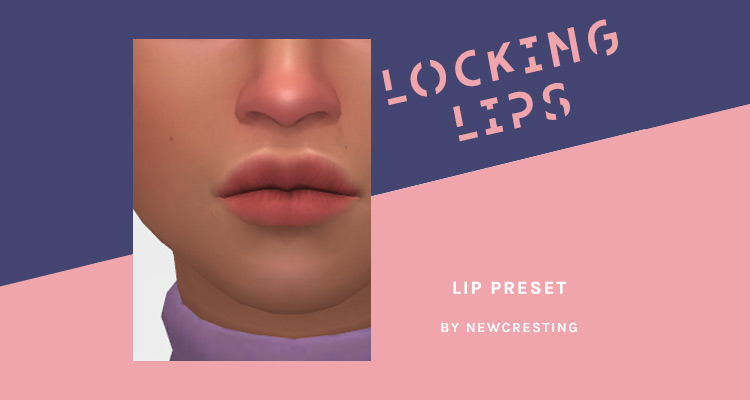 It may surprise you how much of this CC has the word 'normal' in it.
I guess us Simmers are all in agreement that the options in CAS can use a bit of tweaking.
Newcresting's preset features a very well-sculpted pair of lips in a slightly downturned shape. You wouldn't exactly call these thin, and who can complain about that?
The real question is, do the lips make the Sim, or does the Sim make the lips?
I honestly don't know the answer to that. I think it's the latter – anyone can rock anything with the right amount of confidence, and lips as fantastic as these are bound to make any person (even a fake one) feel like a million bucks.
6.

Summer Equinox Lip Presets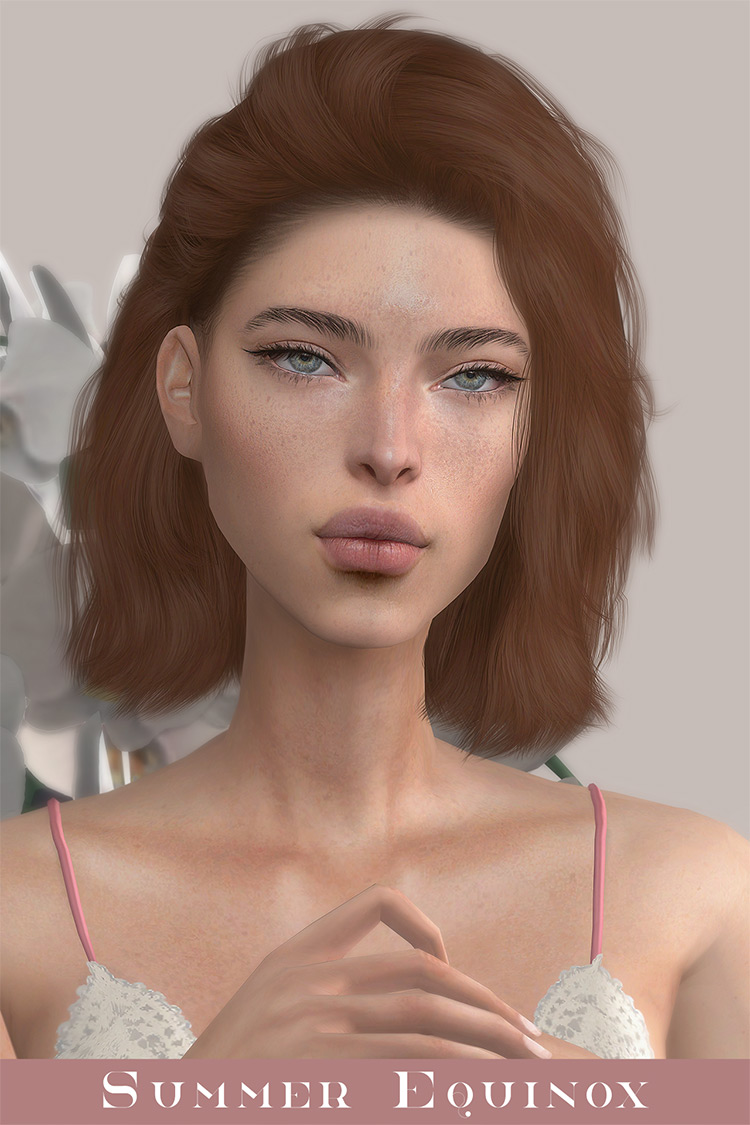 There are twelve presets here total, in varying degrees of full or medium-full sizes.
While these are awesome and certainly nothing to overlook, I think the main focus here is that they all come in so many different shades.
With a whopping 123 colors available, you're sure to be able to find the one that's just right for your Sim.
7.

Redefined Nat Lips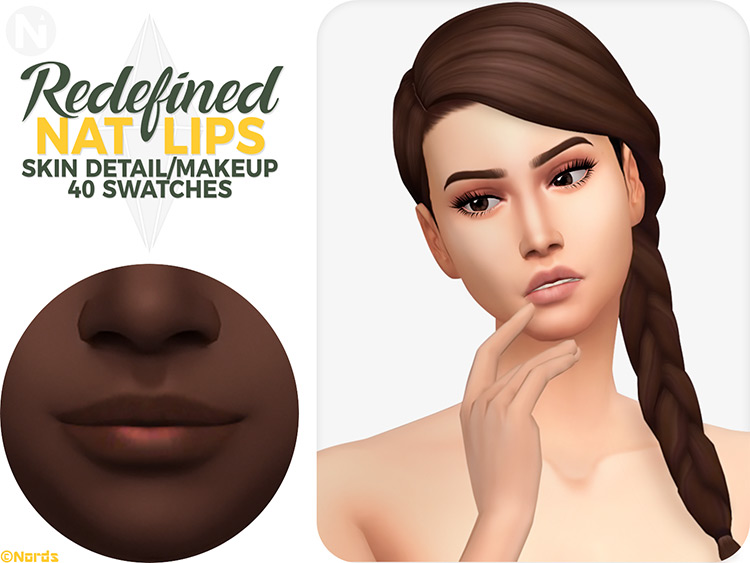 If you want a lot of choices when it comes to your Sims lips, not only in terms of shape but color as well, look no further.
This is a really diverse set of presets that includes a very wide array of sizes and shapes. All of the presets here range in shading and details as well.
I think this will be hard to top.
It's such a great addition to the game too, because of course in real life, there are an infinite number of different colors or shades one's lips might be. Most of the ones here lean towards more natural tones.
8.

Mouth Scale Slider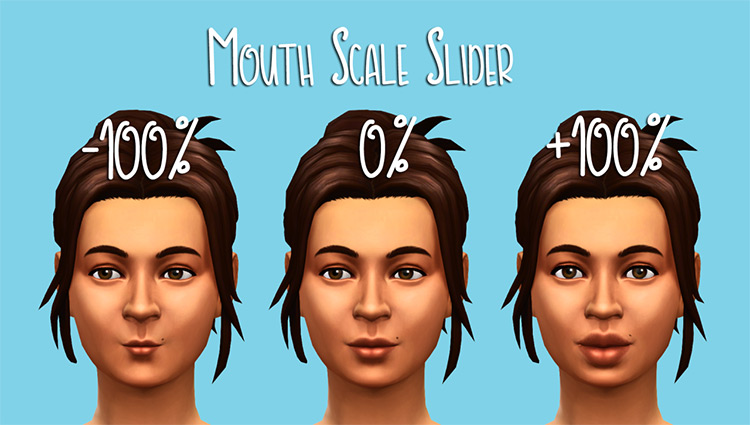 The size of a Sim's mouth is another thing where there are – or should be – endless possibilities.
Even a slight tweak can change the entire look of your Sim's face, and that's where this slider from Teanmoon will come in very handy.
This is focused on changing the scale of your Sim's lips, so now you can make them as small or broad as you wish.
Now there's been a glitch in CAS lately that whenever I try to do this with the EA sliders, the whole mouth goes as far forward as the game will allow. I haven't seen anyone else mention it, so maybe it's just me that has no skills and keeps basically giving my Sims beaks.
Well, game flaw or Simmer flaw, anything that's gonna help players have more control is greatly appreciated by me.
9.

Mwah Lip Presets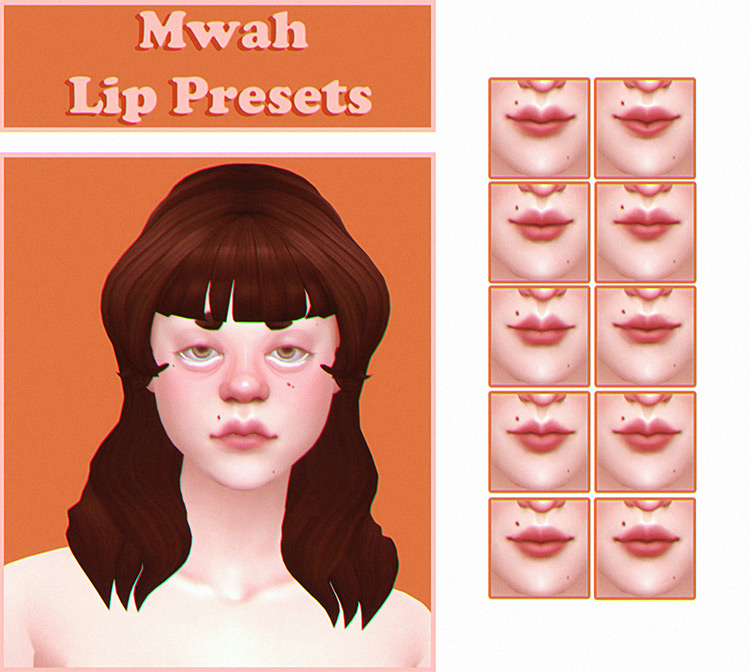 These presets from Sammmi present more options for full, unique shapes.
Each upper lip has quite a defined look while the bottom is more rounded, making them as cute as a pair of lips can be.
I love how each pair included here is different, yet slightly similar enough you can tell they're all from the same creator.
Any of them will be great choices to make well-constructed Sims. That may seem like a strange thing to say, but really that's what we as Simmers are setting out to do when we start diving into CAS custom content.
All we want is for every detail to be perfect, and that's what you get from Sammmi.
10.

Lip-kit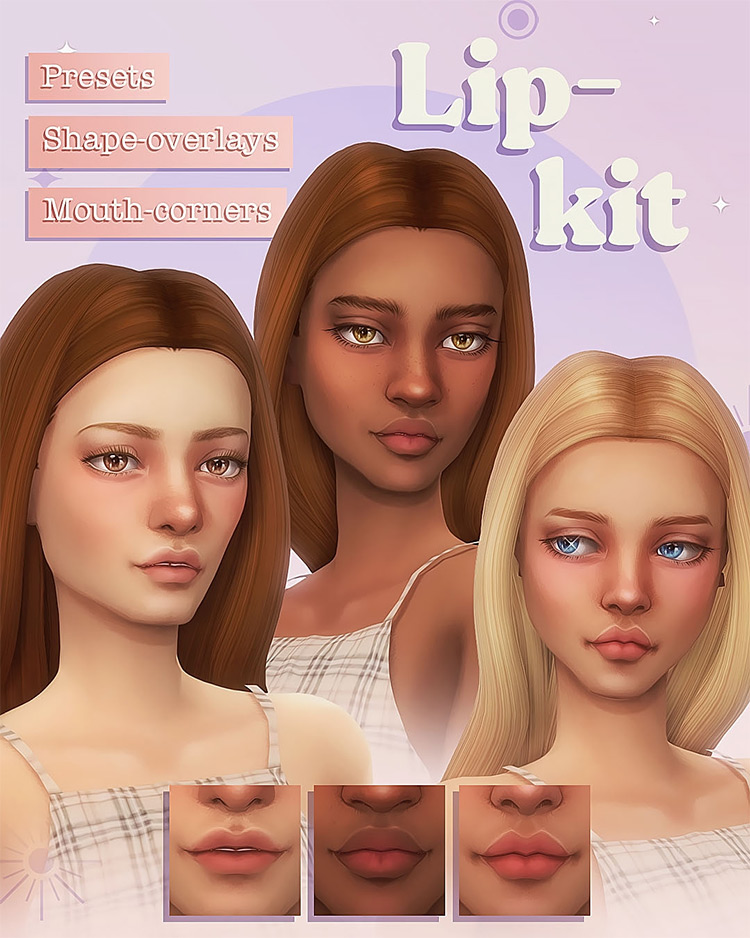 Miiko has created a kit with everything you'll need to give your Sim the most flawless, customized lips possible.
Not only are there presets here, but shape-overlays and mouth corners as well.
There are three presets and each one is quite different. The bottom lip mostly stays the same full shape in each, but the upper lip ranges in roundness.
Did you know that the 'pointy' part in upper lips is called the Cupid's bow?
Yeah, I didn't either, until I realized it probably had a name and Google'd it. For some reason, that moniker just makes sense.
This kit also includes opacity variations in the overlays, to further shake up the tone of your Sim's lips, as well as much more defined mouth corners than we have ever seen in the game.
11.

Natural Kiss Lipstick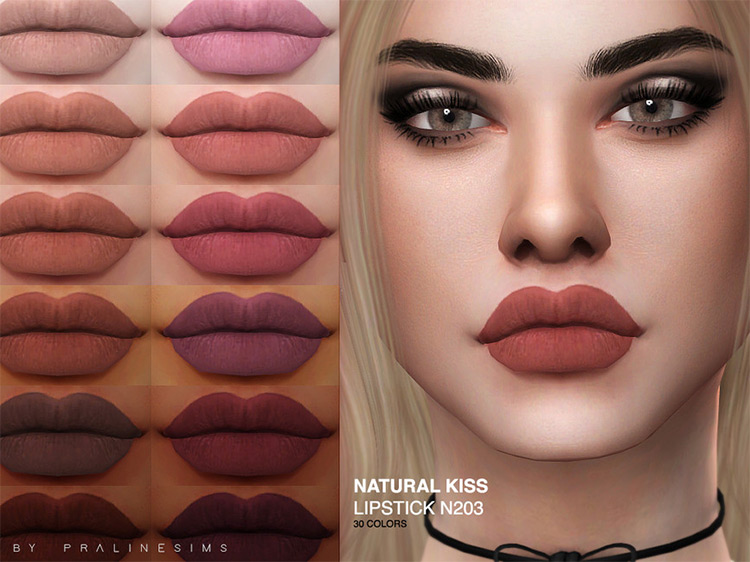 Once you've picked up some great new presets thanks to this list, you'll probably want some lipsticks to use.
You could always go with the trusty options already available in the game, or you could get some perfect new shades to go with your Sim's perfect new lips.
Well pucker up! Using Pralinesims' Natural Kiss Lipstick swatches will make your Sims so beautiful you'll have to beat their pursuers off with a stick.
12.

Lip Preset Pack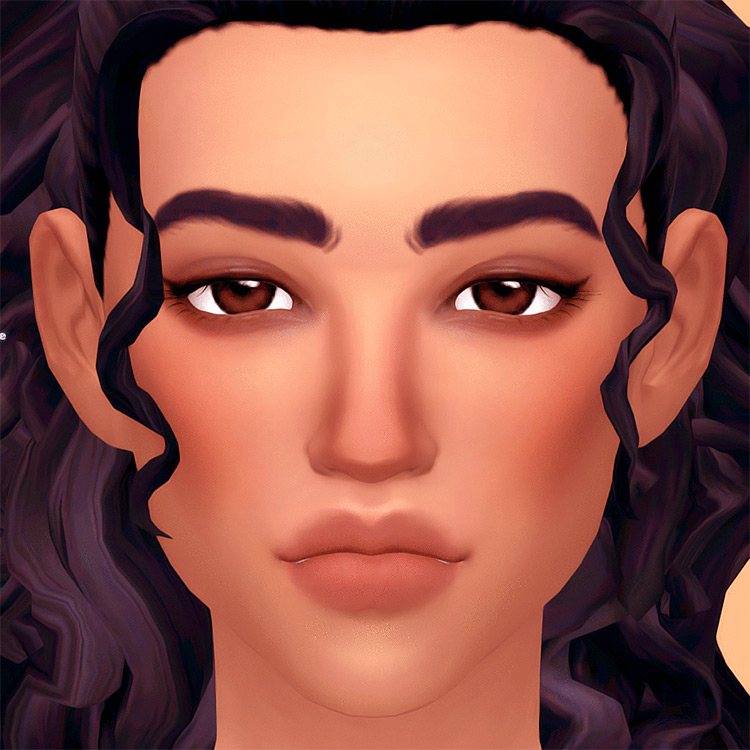 Lately, it seems like lips are the focal point of most beauty discussions.
Everywhere you look, there will be someone lamenting over having a 'bad' shaped mouth or someone wanting lip injections.
These struggles, thankfully, will never be something your Sim experiences.
Squeamishsim's preset pack contains all the perfect lip types that everyone wants, and those with the means go to great lengths to get.
13.

Cleft Lip Pack
I am so proud to be part of a community that's always working to bring inclusion of all physical features into the game.
'Different' or 'rare' is just as beautiful as what we consider the norm. So I really appreciate the CC that makes it possible to represent these real life diversities within our Sims.
This cleft lip pack is available to your Sims of all ages as both a preset or skin detail.
14.

7 Lip Presets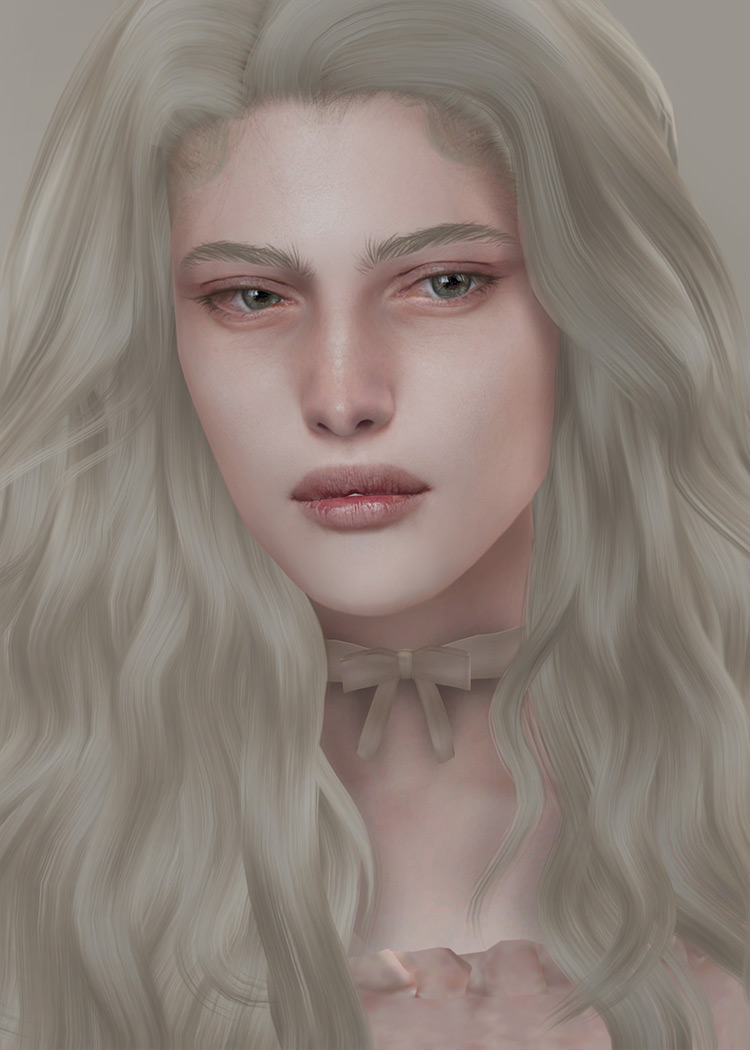 These seven presets might be your go-to in CAS for years to come.
They'll compliment every face shape there is. Round faces, square jaws, those with thin cheeks – these lips will enhance the features of anyone.
Even if you don't want to spend a ton of time editing every little detail of your Sim, these lips alone will really take their looks up a notch.
This goes for children and toddlers as well – these lips are available to females of all ages!
15.

Lip Preset 5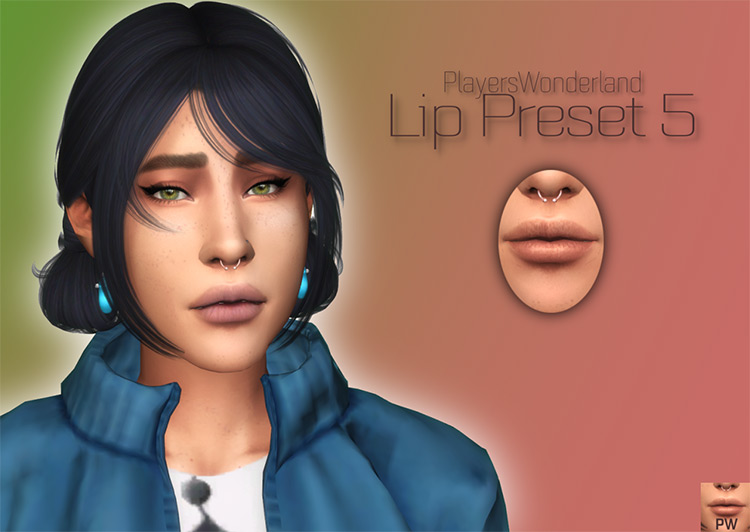 As they say, big is beautiful. And that has never been clearer than with this preset from PlayersWonderland.
It creates a distinct, bold look for your Sim.
Whether you keep these lips plain or use every lipstick you can't go wrong.
I stand by my statement that all lips are beautiful, but as someone with some fairly thin ones, I'm envious of anyone whose lips don't shrink away or virtually disappear when they smile.
16.

Asymmetrical Lips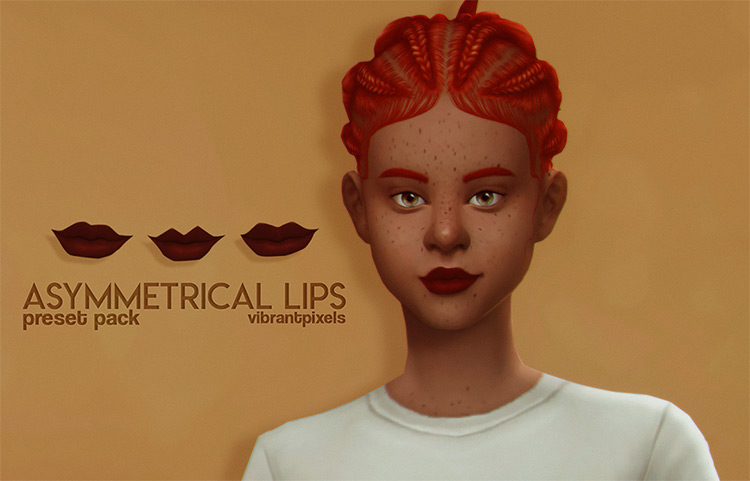 These three presets of crooked lips will be like putting a built-in charming smirk on your Sim's face.
Creator vibrant pixels describes these as 'quirky', and I'm inclined to agree.
Using these is the same as pushing an 'instantly adorable' button for your Sim.
To me, quirky is a great thing! Especially when it comes to little facial features like this.
I can't get enough of new ways to personalize each Sim.
Asymmetrical shapes like this aren't possible without CC as far as I know, so this is another situation of content creators bringing new things to the game that we (nor the developers) probably ever thought was possible.
17.

Dry Lips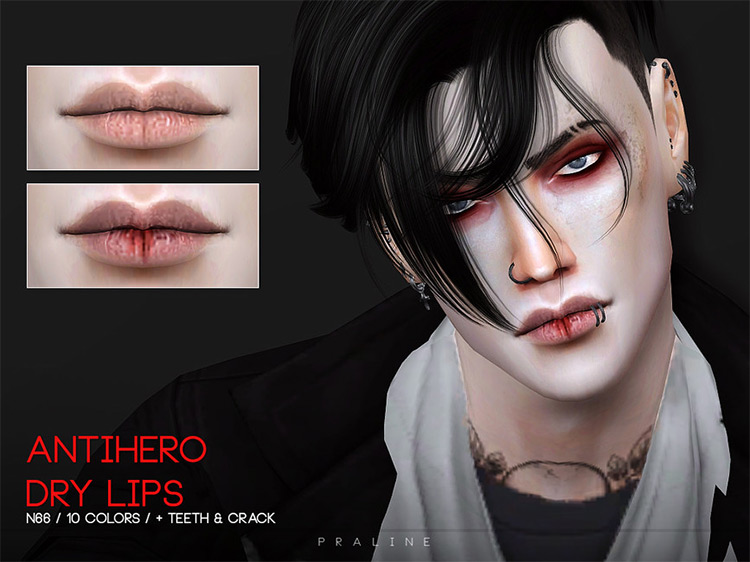 As envious I am of all the perfect lips out there, I had to throw a dose of reality in here.
It's a tragic fact of life that not everyone has nice, soft, healthy lips. Some people's are reduced to chapped and bloody messes for most of the year.
I'm not saying I'm talking about myself, but uh…let's just say I'm glad lips don't really show scar tissue. Because if they did, I'd look like the Joker by now.
And I know I'm not alone. It can really be difficult to keep your lips in top shape.
It's only fair that our Sims have these struggles, too. Why should they get to have flawless lips?!
And these lips from Pralinesims will really level the playing field, in fantastic quality. There are two versions and ten colors of chapped, bleeding, dry lips.
18.

Bigger Mouth Preset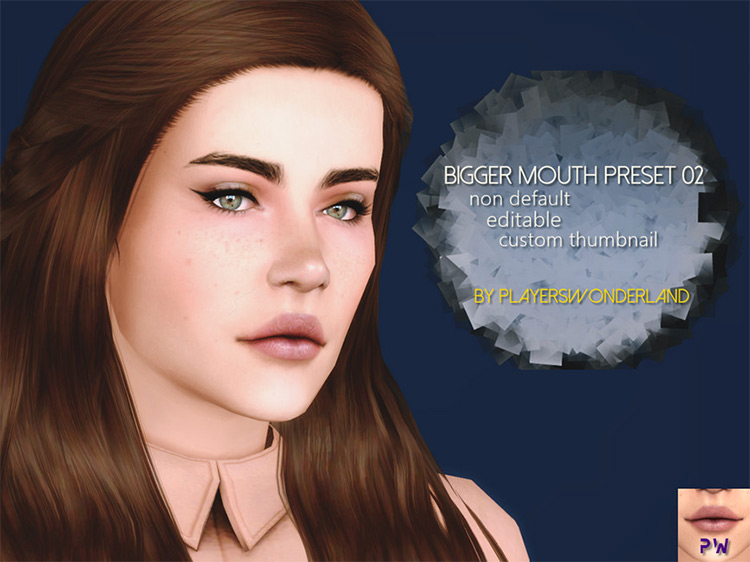 PlayersWonderland's Bigger Mouth Preset offers an option lips fuller than most of the base game presets.
These just look so good, it's stunning.
They might be some of the most perfect ones here.
While there are ones above that are dryer than the desert, these are the pinnacle of lush and plump lips. There will be no doubt that your Sim's the most gorgeous in their neighborhood.
19.

Realistic Lips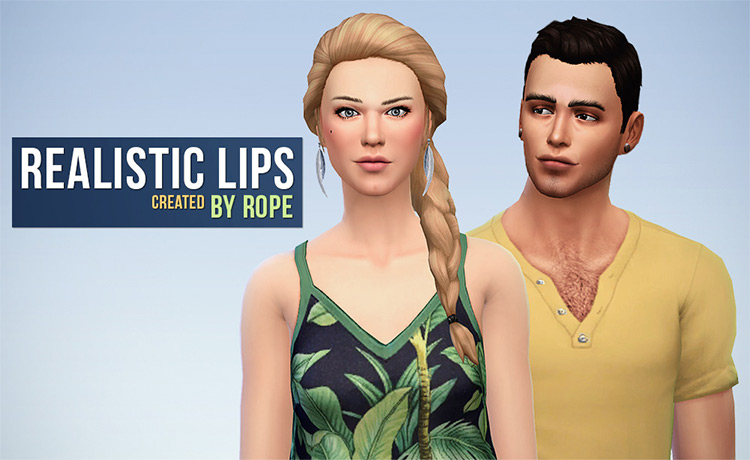 Here we have some more color options for your Sim's lips, because the more I think about it, the more it is kind of weird that they all have roughly the same beige tint.
CC Creator Rope has made these thirty natural, realistic tones for Sims of all ages.
And the amount of variation here is really admirable. Just as in real life, these shades range from muted pinks and faint reds to darker browns and mauves.
20.

Mouth Preset Five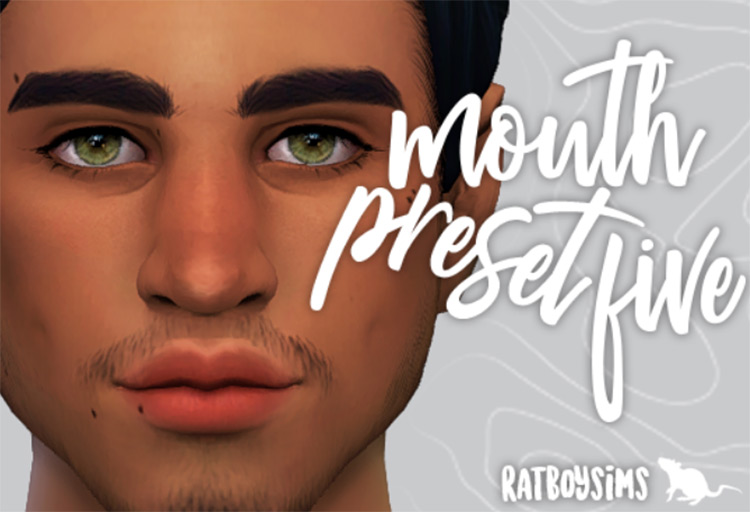 Hey we can't leave out the guys, they deserve nice lips too!
And these presets from ratboysims are just too good to pass up.
He describes them as 'kissable'. And honestly, I'm inclined to agree.
Admit it: there's definitely been a Sim you wanted to kiss before remembering they're just a bunch of pixels.
As long as it's a common experience, it's not weird. Right?
For whatever reason, I think lips are a little more difficult to get right for guys than girls. And I'm so glad I have these available as my go-to now.
Browse:
Lists
The Sims 4
Video Games