Sims 4 Lipstick CC: Best Custom Lipstick & Lip Gloss To Download
This post may contain affiliate links. If you buy something we may get a small commission at no extra cost to you. (Learn more).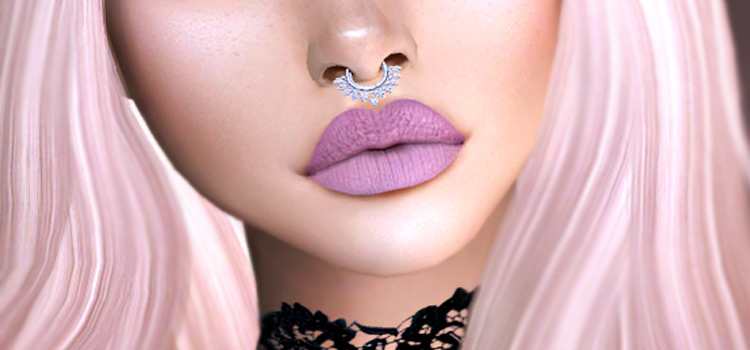 The lips are easily the sexiest facial feature.
That's why finding new lipstick is like lining up at Starbucks on a Monday morning – it takes too damn long.
The time it takes to analyze the zillion shades of pinks and reds is so exhausting, that by the end of it, you'll have no choice but to continue overusing that one shade your Sim's been wearing for months on end.
And that's the eternal struggle of every lipstick lover.
But once you've found that perfect shade, you can finally kiss your worries goodbye. And today might just be your lucky day!
From the hundreds of lip cosmetic CCs that paint the internet, here are the must-have lipstick CCs that prove that makeup miracles do exist.
15.

Lustrous Lipgloss
I'm sure your relationship with lipstick started with lip gloss – the only makeup moms thought as age-appropriate for curious 7-year-olds.
What they didn't realize is that this old-school shimmer laid the groundwork for luscious, flirty looks.
This CC might not be compatible with kids. But teens, adults, and elders would love the shiny, kissable finish.
Well, maybe not grandma.
14.

Frosting Lip Gloss N197
What's great about this lipstick is the jelly-like gloss on a mind-blowing 65 shades that would glisten on any skin tone!
Plus, it gives your Sims realistically moist and healthy lips.
If only it was that easy to cover up dry lips in real-life.
Add-on the Frosting Lip Gloss N197 on pouty lips, and you got yourself a coyishly-stunning Sim with impeccable lipstick taste.
13.

Charm Lipstick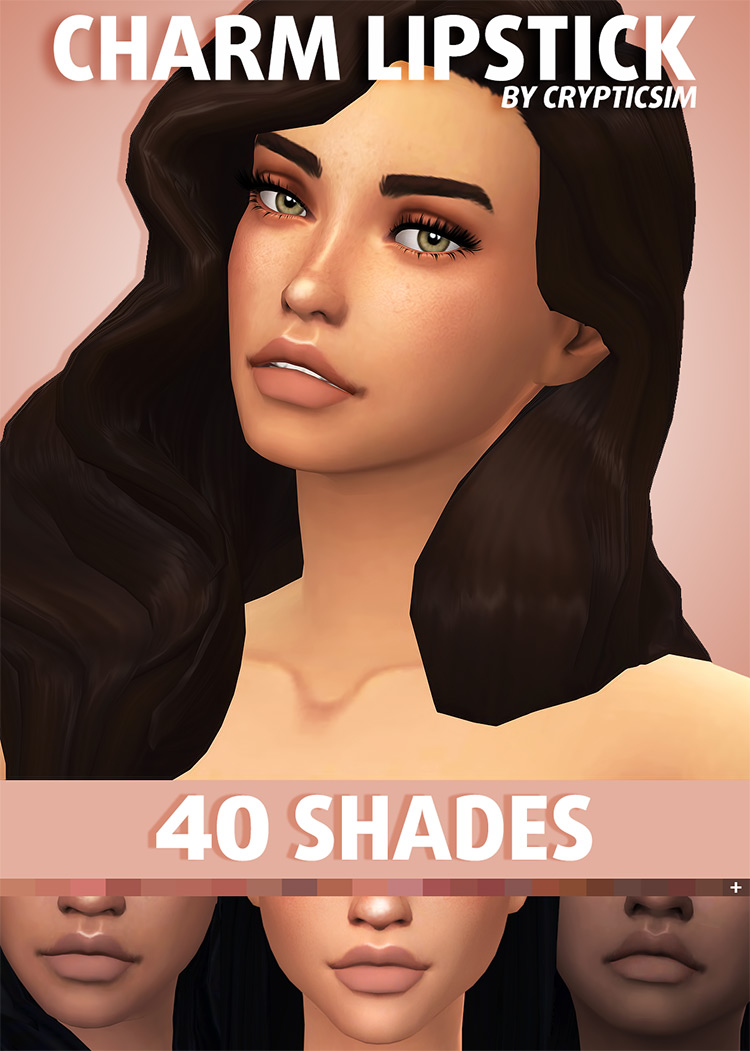 There's no cheat needed to achieve the trendy no-makeup makeup look for your Sim.
This Charm Lipstick pack from Crypticsim has a hefty size of 40 nude shades to complement any skin tone (well, except alien ones).
Best of all, the velvety matte finish is so well done it'll make you believe that our Sims got the better end of the deal with this free CC, compared to the $30 retail price of Kylie's overrated lip kit.
12.

Robyn Lipstick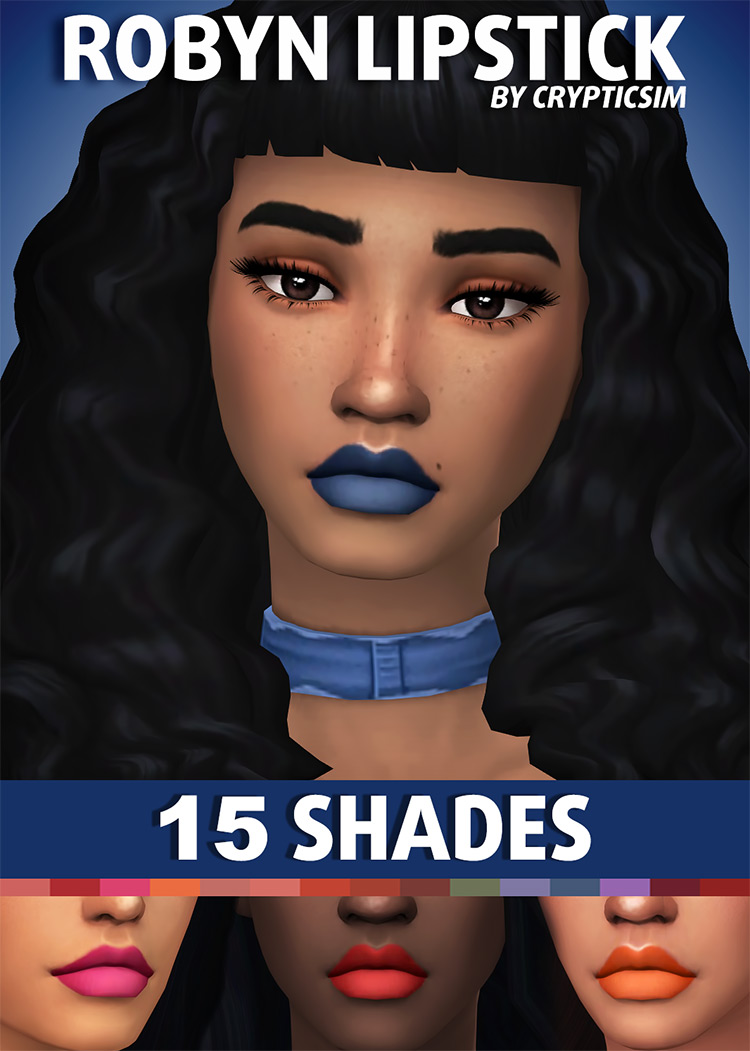 Don't let the highly-pigmented and electrically bright colors throw you off.
Because the Robyn Lipstick might be your in-game wildcard.
Trying unconventional shades is the best way to go out of your fashion comfort zone.
And since the CC is based on the Mattemoiselle line of Fenty Beauty by Rihanna, you can trust the queen to never disappoint when it comes to setting new beauty trends.
With 15 shades encompassing the colors of the rainbow, it's time to set up an epic Sim transformation.
11.

Taylor Lipstick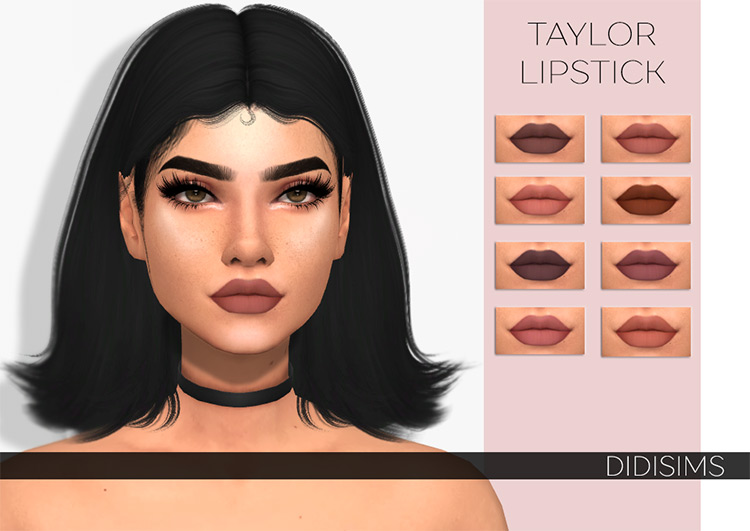 When you're not in the mood for nudes and find blood-red lips too vampy, then a mauve-colored lippie is the most suitable blend for your indecisive tendencies.
With its dusty rose hue and pinkish-red tones, mauve flaunts an I-drank-too-much-red-wine shade.
Ideal for clashing a sweet and sultry vibe.
If you're looking for that final touch to make a convincing subtle seductress, then a mauve matte finish can deliver the right intensity.
10.

Tequila Matte Lipstick
You've heard it here first: matte lipstick is going down in makeup history as the best lipstick type of all time.
As proof of how good it is, this applies to both humans and Sims of color!
Whether you agree or not, this new classic is the most versatile piece of makeup you can have in your arsenal.
With this CC, though, it has enough firepower – a big collection of 25 shades – to keep you at the top of your game until TS5 comes out.
9.

Vixen Lipstick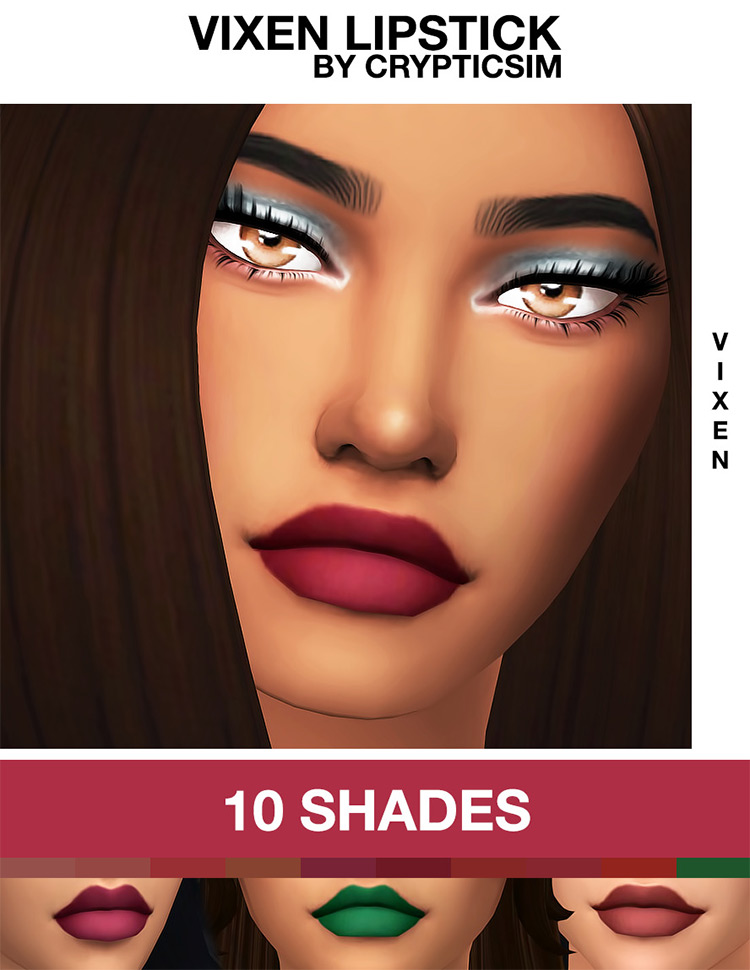 The perfect formula for lipstick CC is not as chemically complicated as its real-life counterpart.
All it takes to create a cult-favorite CC is a dedicated fan and a talented artist.
The Vixen Lipstick is the ultimate full-coverage BFF to support your Sim's crazy antics from sunup to sundown.
Even if your Sim's drowning in a pool, being burned alive, or dying from WooHoo exhaustion, you can trust your lips to still be bursting with life and color.
8.

Yvette Lipstick
By now, you'll probably have fifty or more colors and swatches to choose from if you're closely following this list.
But trust me when I say that there will be days when selecting a shade from rows of hot pinks and deep reds won't be as exciting as it was before.
If you're feeling lazy but unwilling to jeopardize your Sim's flawless brand, Cintrontart's Yvette Lipstick has the perfect collection of skin-toned and muted shades to carry out an effortlessly stunning look.
With a bit of shine and sheer, this CC dazzles to become your next go-to cosmetic.
7.

Matte Lips
Nothing lifts my spirit more than a drop-dead gorgeous palette of matte lipstick!
Aside from the killer range of hues – from pale pink to camo green – the soft application of color around the lips' edges sealed the deal.
It's refreshing to see the application of a delicate outline which was beautifully made by Simblier.
The faint blend balances out the deeply pigmented tones of the palette, providing a smooth pop of color. Just what the doctor ordered.
This CC is also the best match for players who want to experiment with eccentric colors without looking like a mad clown.
6.

Gradient Lips V2 The Red Collection
Koreans have mastered the art of providing a naturally cute and youthful appearance through the use of barely-there makeup.
And although the TS4 community is more acceptable for outlandish displays, and sometimes very bizarre fashion senses, I'm glad the trend caught up elsewhere in the world.
The famous gradient lip style reached its peak a few years ago. But it still looks as beautiful now as it did then.
The allure is the soft bloom of color starting from the center of the mouth, resulting in an I-just-sucked-a-popsicle effect that makes pouting sweetly sexy.
If you aim to impress by just a smack of the lips, then fall in love with this must-have CC.
5.

Ginger Lip Gloss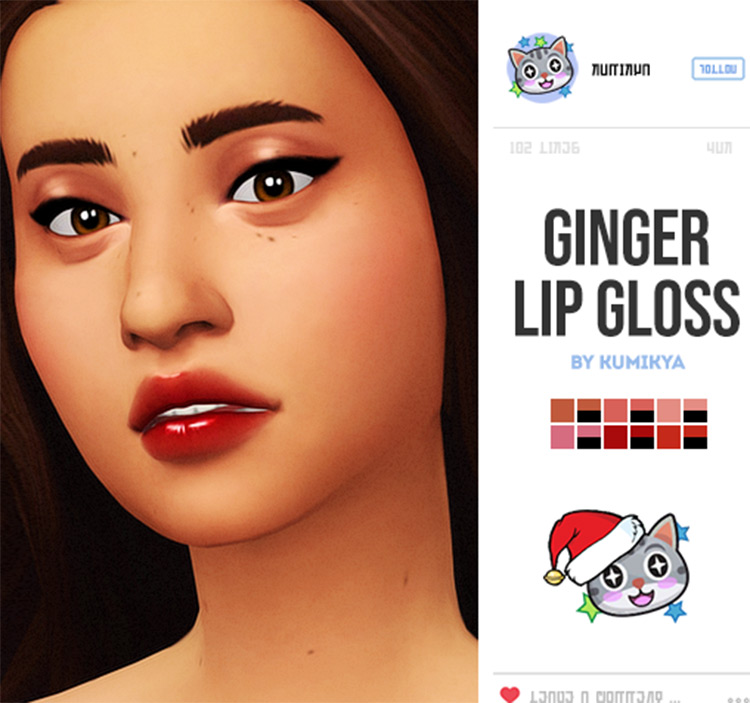 I have always judged lip gloss as makeup for teenyboppers who watched far too much Hannah Montana back in the day.
I also don't like that it lacks a visible base color and is practically invisible.
The only silver lining is that lip gloss tastes so good.
But I see the appeal of the juicy sheen, and its promising results in forming fuller lips that look ready to kiss. Hard.
And oh, how we love staging a good makeout session for our Sims!
For all intents and aesthetic purposes, this Ginger Lip Gloss from Kumikya definitely changed my perspective.
4.

Silken Lips
This is exactly the kind of lipstick I'd try at home, but never wear in public.
There's a level of confidence needed to pull off a sheer red lipstick, the kind of confidence that, apparently, every Sim has.
Good for them!
This sheer, satin, or whatever lipstick can put a shine on the dullest of events.
If you're out and about for some neighborhood fun, make sure to pack some charisma in the form of these Silken Lips.
3.

Cupid Collection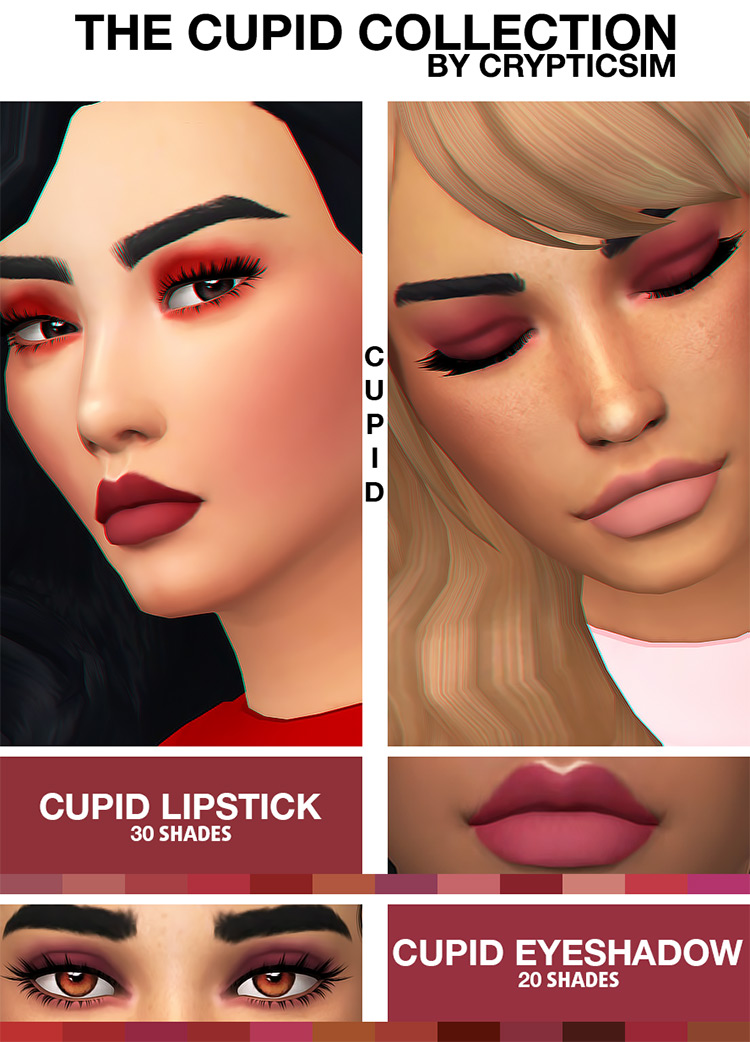 Pucker up, because this next CC is most probably what you were waiting for!
The classic red lipstick is an iconic symbol for women. So you have every right to be picky in choosing a CC that would properly honor the signature look.
But among all the red lipstick variations splattered on Pinterest, Tumblr, and resource sites, it was Crypticsim's Cupid Collection that resonated with glorious feminine power.
With 30 shades playing within the spectrum of pinks and red, the Cupid Lipstick proves to have more value beyond its Valentine concept.
So go ahead, make your power move and flash your brightest crimson smile.
2.

Juliet Lips
If only Juliet had painted her lips with grimcookie's bold shades at the Capulet banquet, Romeo might have renounced his name on the spot.
Alas, it's by our grace that our Sims be blessed with the best sheer matte-looking lipstick that shines like satin and sets like velvet.
I'll let Shakespeare speak for me: thus with a kiss I die… in pure delight of this CC.
1.

Tender Puff! Lipstick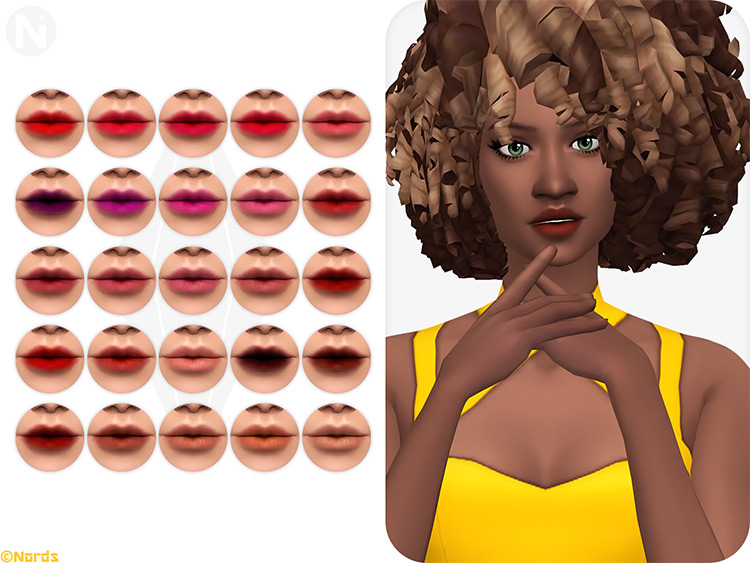 This collection makes me want to indulge in shameless vanity and call over my Sim's SO to get a taste of some Tender Puff! Lipstick.
Even though I consider matte lipsticks as god-tier makeup, ultimately it's the soft features of the gradient lip that had me head over heels on this one.
With over 25 colors stunningly-designed in a delicate fashion, the color payoff is more than enough to match any occasion.
In this collection, I found the most exquisite paints to adorn any canvas – and I'm looking forward to trying out every single swatch this CC has to offer.
Browse:
Lists
The Sims 4
Video Games