Sims 4 Ariel & Little Mermaid CC: The Ultimate List
This post may contain affiliate links. If you buy something we may get a small commission at no extra cost to you. (Learn more).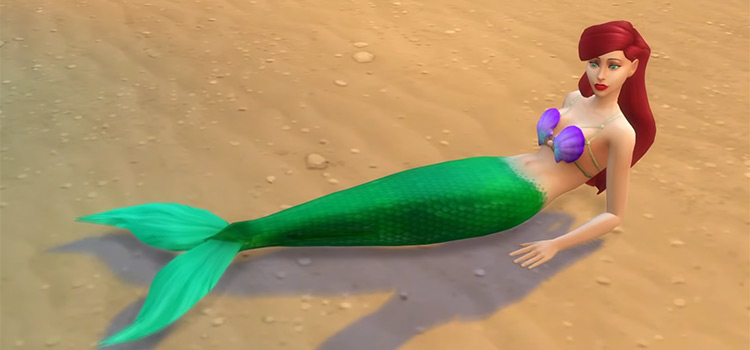 Ever felt like taking part in the TS4 Disney Princess Challenge?
This is your sign to do so.
All things considered, the introduction of mermaids to the Sims 4 (thanks to The Sims 4: Island Living) combined with the hyper-intuitiveness of Sims 4 CAS makes it easier than ever to design beautiful mermaids. The default tails, scales, fins, and eyes alone are stunning; how much more the custom ones?
Here's a list of Little Mermaid-themed CC (CAS stuff + some poses) to get you started.
Ariel Poses
1.

Ariel, The Little Mermaid Poses by RainbowSims
Amidst the hundreds (if not thousands !) of mermaid pose packs out there, this set stood out.
Instead of a couple generic mermaid floating poses, the two custom poses in here are straight from the movie!
You can see which scenes the creator referenced in the preview photos, and I think they did an excellent job replicating them — especially the second one (where Ariel first discovers the concept of feet attached to your person).
2.

Pose Request #14: Mermaids by byanxhlove
This custom post set by byanxhlove isn't specifically marketed as a Little Mermaid pose pack.
However, as far as nonspecific mermaid pose sets go, I like this one a lot.
There are sixteen poses in total – eight solo mermaid poses and four couple poses – and they're all pretty varied.
I feel like the singing and lounging poses in particular would work well for an Ariel Sim!
3.

Little Mermaid Ariel Saves Eric Pose Pack by katverse
Exactly what the title says it is: this is a set of three poses depicting the scene where Ariel saves Prince Eric from a watery death.
It's been a while since I watched the movie so I can't attest to how accurate these poses are, but they're definitely serving the nostalgia!
Don't forget to make your mermaid!Sim go swimming first so that their tail appears (unless you're using a CC tail).
Ariel Hair CC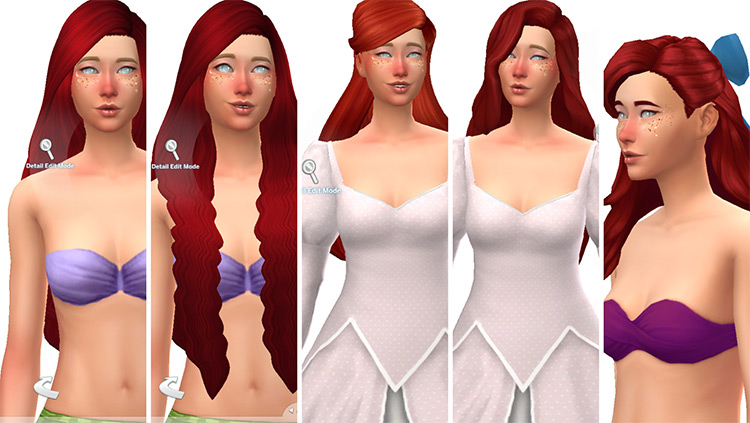 4.

Ariel Mermaid Set by redheadsims-cc
The first two pictures in the banner are from redheadsims-cc's Ariel Mermaid Set.
It contains two variations of long, flow-y red hair in Alpha CC texture. V1 has the hair pushed to the front so that the end waves are visible. V2 keeps everything gathered at the back. Both look really pretty even with Laptop Mode turned on!
This set also contains Ariel's seashell bra and two versions of her tail (a short one and a visibly longer one with larger fins).
5.

Ariel Hair by tekrisims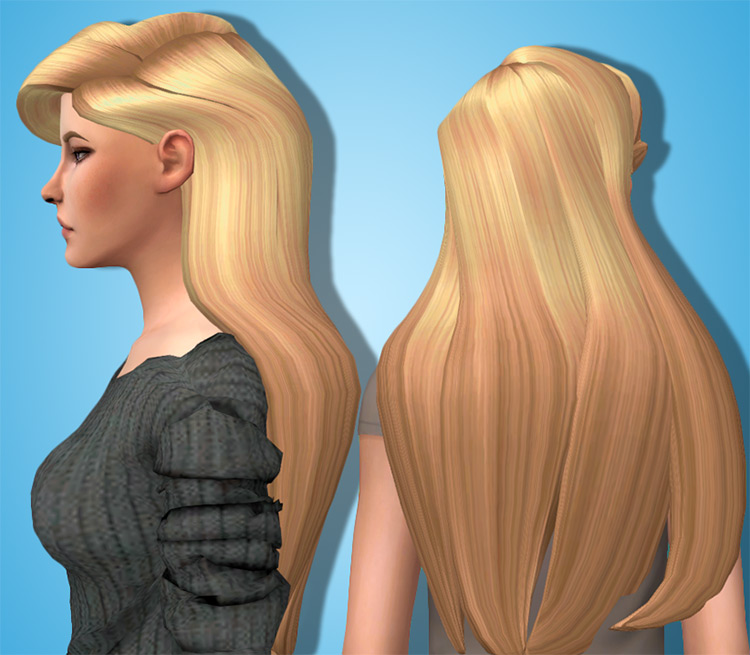 Simply titled Ariel, this Maxis Mix hair from tekrisims (half clayified, half photoskinned) follows the mermaid princess's style almost to a T: swooped, floppy, side-swept bangs and hair that billows out and tapers back in at the edges.
The preview photos on the download page show the hair in bottle blond. But, as you can see from the third photo in the category header, you can have the hair in a brilliant, fiery red, too!
6.

Hair Fix Dump: Enigma Hair by simandy
Out of all the (gorgeous) hairs in simandy's hair dump, I think the Enigma hair suits The Little Mermaid the best.
It's got a fair bit of length to it and plenty of volume.
Plus, most importantly, it's got that iconic fluffy, swoopy side bang that slightly covers Ariel's right eye.
Enigma's number 2 on the creator's list (check the description) and it's the fourth photo in this category's header.
7.

The Little Mermaid Collection by Simple Simmer
This is, hands-down, the best pack you could ask for to recreate Ariel in-game.
It contains custom hairs, custom accessories, and custom clothes that are all Little-Mermaid-themed!
The clothes in particular are a mix of modern styles (tube tops, candy shorts, etc.) that follow Ariel's color scheme and TS4 versions of Ariel's actual outfits from the movie.
This stuff pack is a fantastic go-to if you want to do either a modern or a classic Disney princess build.
For the fifth photo in the header, I tested Simple Simmer's Ariel Hair V3 combined with the Ariel Hair V3 Bow Accessory for her soft and romantic "Kiss the Girl" look. I also tested the pink, off-shoulder Ballgown dress and the Corset Dress—both of which are taken from the movie. All worked beautifully!
Ariel Seashell Bra CC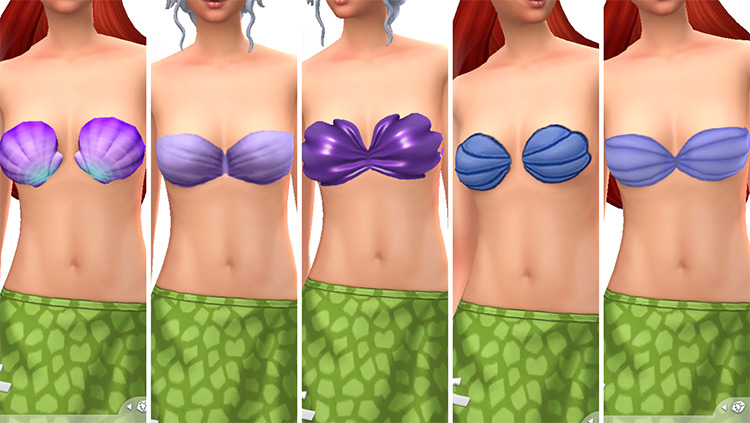 8.

Subtle Scallops by Nolan-Sims
This takes the concept of "seashell bra" to a whole new level, but you I gotta admit; the execution is interesting. And definitely one of a kind.
These scallops are a little too realistic to suit Ariel's cartoony seashell top, but I like their gradient/ombre colors.
And if the style suits your Sim, then by all means!
9.

Ariel Set by Danny's Domain
This custom clothing set by Danny's Domain contains three outfits from the movie: Ariel's pink dinner dress, Ariel's out-in-town dress, and Ariel's default purple seashells.
The dresses are beautiful (and pretty darn accurate!) items that you can find in the Full Body category.
In particular, the blue and white dress is especially spot-on.
The seashells themselves look more like a ruched purple bra (especially compared to Nolan-Sims' Subtle Scallops) that, as you can see from the preview photo, fits Ariel's red-green-purple color palette quite well.
10.

Mermaid Tops by toxxicsims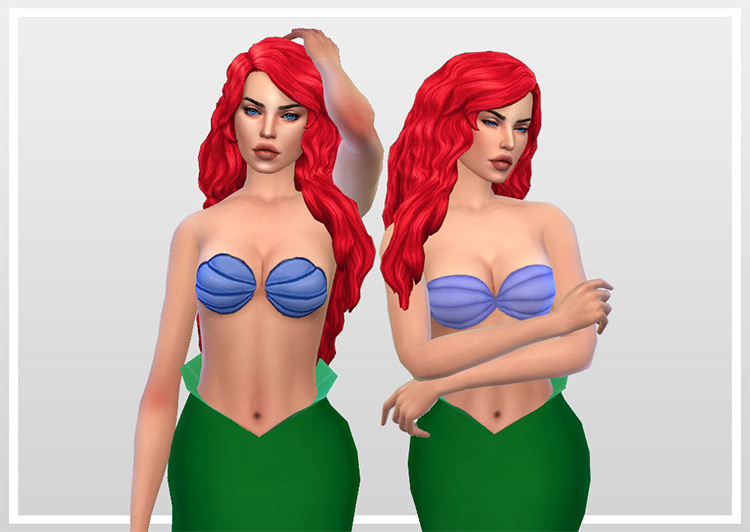 This is a set of two seashell bra tops from toxxicsims.
One has scalloped edges and no visible wraps or support. The other looks more like a structured, strapless bra with lines going through it.
I think the first iteration is closer to Ariel's actual top based on the shape and color. However, they both mimic Ariel's mermaid outfit quite well, so you can pick whichever catches your eye!
Ariel Tail CC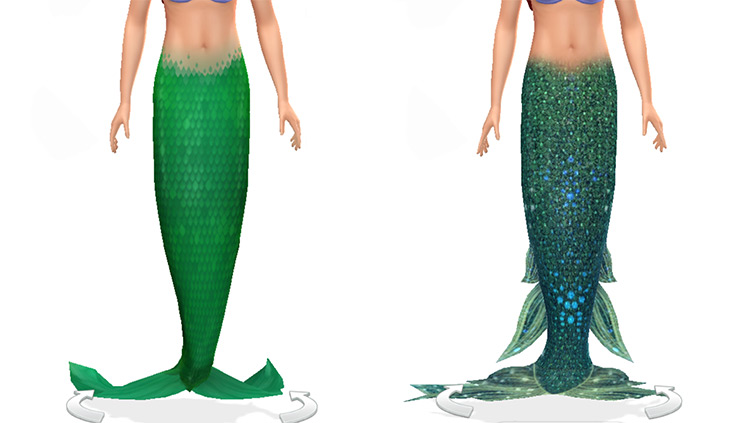 11.

Ariel Mermaid Tail by Merman Simmer
I know this tail looks like the default mermaid tails that come with Island Living. But it's got a sparkly surprise — literally!
Merman Simmer's edit of these tails adds a transformation VFX to it. A little razzle n' dazzle to highlight your MerSims' fishy makeover! You can check the video on the download page to see what it looks like.
12.

Mermaid Tail G1 by Goppols Me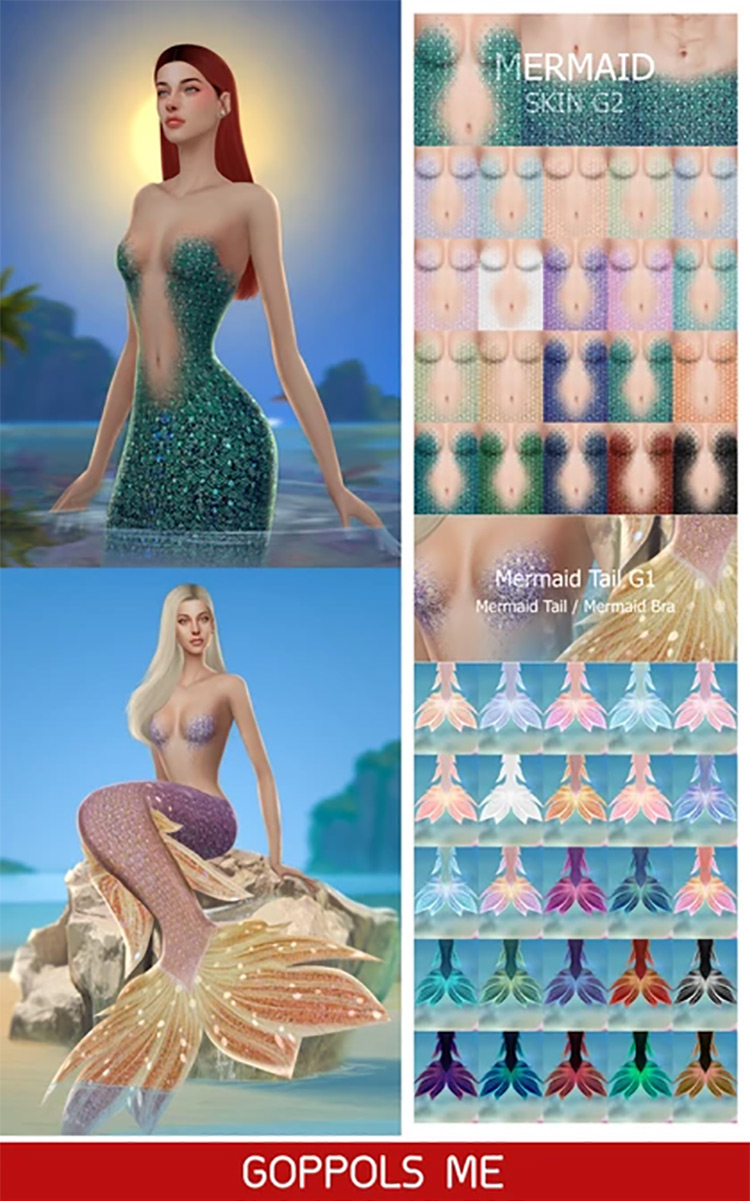 This custom tail by Goppols Me is a stunning combination of simple yet stunning.
The Alpha CC texture highlights all the details — like the gradual gradient where the tail meets the body and the jewel-like speckles on the tail and fins.
Even though Ariel's tail in the movie is pretty simple and straightforward, a slightly fancier tail like this Mermaid Tail G1 can still get a clean pass.
Ariel's Ballgown CC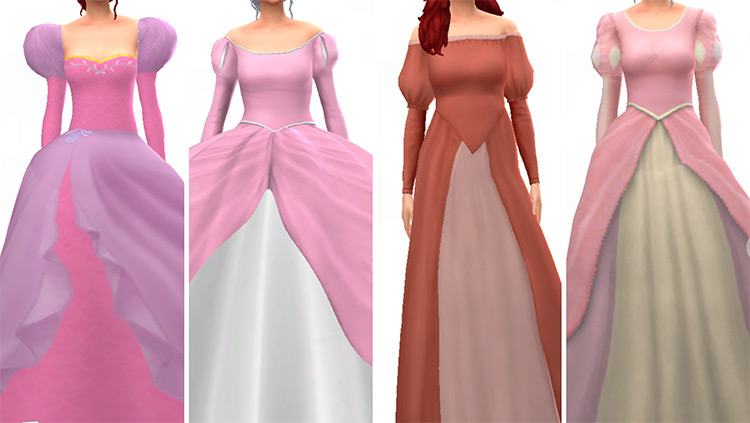 13.

Ariel Encyclopedia Dress by Stardust Sims 4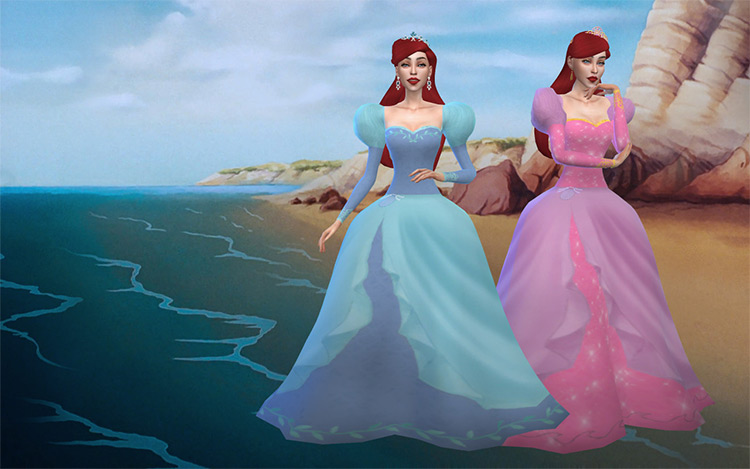 This Ariel Encyclopedia Dress (first one pictured in the header) isn't actually a TS4 version of the pink gown Ariel wears to dinner.
But since the shape and style are pretty close, I'm including it in this category.
Stardust Sims 4 gives us a fairly fluffy item with a decent amount of frills, sparkles, and – most importantly – big, puffy balloon sleeves.
14.

Ariel Mermaid Dress by MARIOBRO0S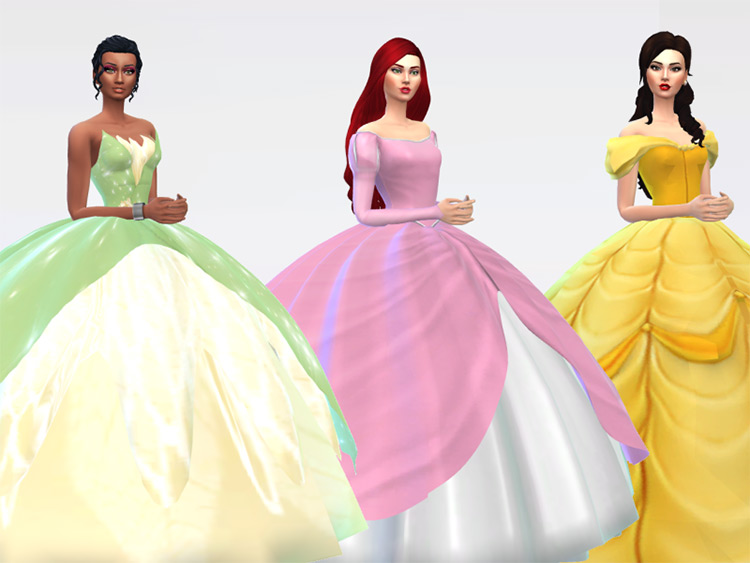 This Ariel Mermaid Dress by MARIOBRO0S is the second one pictured in the header photo.
The neckline is pretty much the mid-point of the pink gowns from Simple Simmer and Danny's Domain; not too off the shoulder (Simple Simmer; third pic) but not too close to the neck, either (Danny's Domain, fourth).
It rests right at the shoulders and has a decent amount of puff in both the sleeves and the skirt.
In fact, I think it has the puffiest, most tent-like skirt of the four. You could fit a whole circus in there!
Ariel Casual Dress CC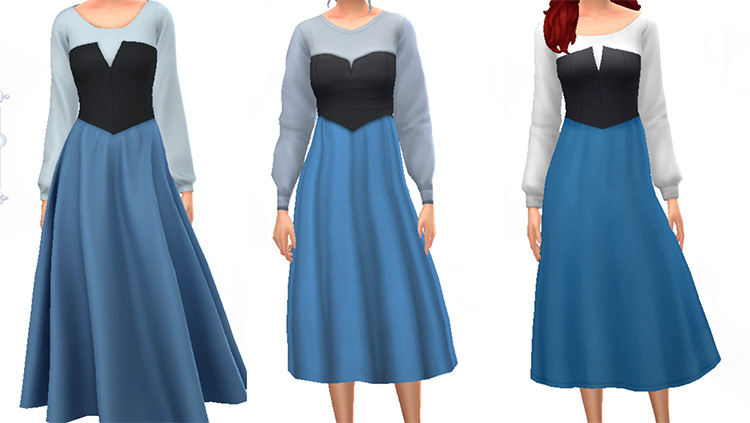 15.

Ariel Dress by Sifix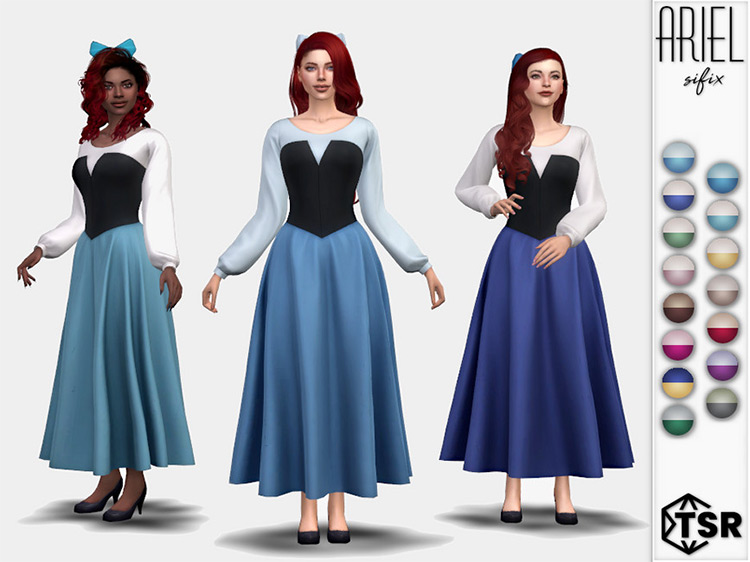 This Ariel Dress by Sifix is the first dress pictured in the header.
The second one is from Danny's Domain's Ariel Set and the third is from Simple Simmer's The Little Mermaid Collection. As you can see, Sifix's dress isn't all that different from the others. (Not surprising, considering they're all following the same dress).
Sifix's version has the longest skirt and a balanced neckline — not too closed, not too wide!
Ariel Accessories CC
16.

3D Lashes Version 2 by kijiko
Ariel's got these crazy-long lashes, right?
Unfortunately, none of the default EA lashes reach even half their length.
Thankfully, kijiko's here to save the day!
These 3D lashes are beautifully tapered and come in a wide range of lengths and styles.
If you want to achieve Ariel's wide, youthful doe eyes, you definitely need some bomb lashes to line them.
17.

Ursula CC by the secret life of kimiko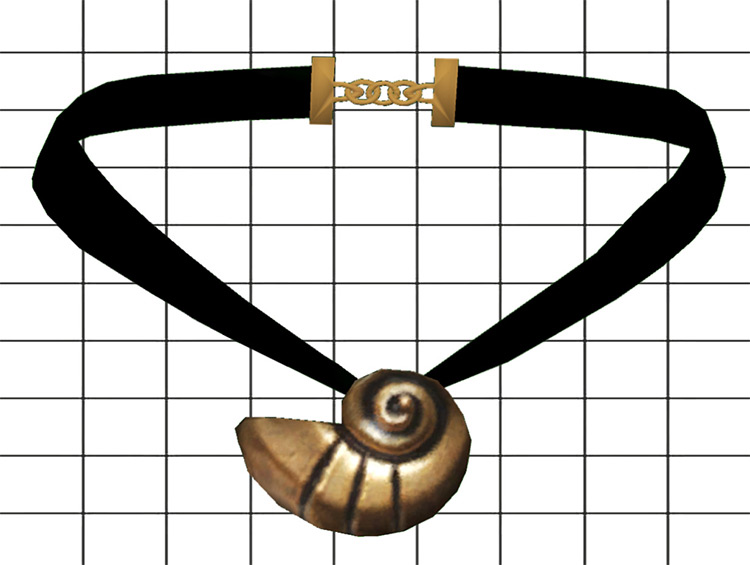 I don't think Ariel ever wore this necklace, but Ursula cosplaying as Ariel did.
If you want to recreate that creepy beach scene where Ursula's trotting up and down the shore using Ariel's voice trapped in the seashell pendant, this is the perfect item to do so!
18.

Ariel Shipwreck Dress by Stardust Sims 4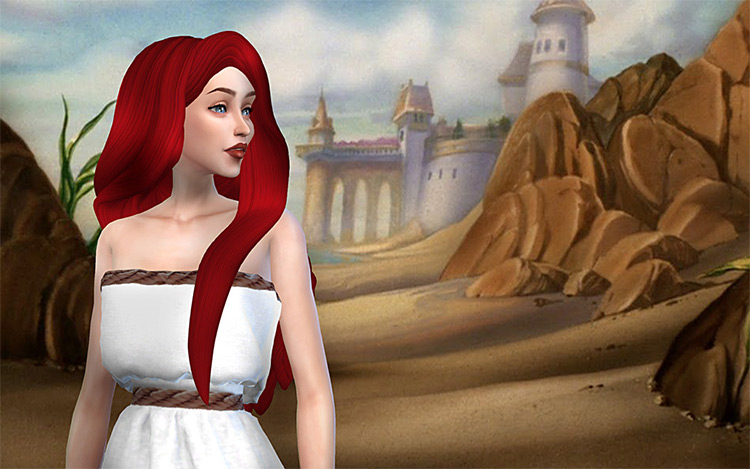 All things considered, Scuttle (Ariel's seagull pal) did a pretty good job fashioning a dress out of torn sails and leftover rope.
It's not glamorous, and I definitely think Ariel's black, blue, and white casual dress suits her better. But this makeshift dress? It got the job done.
If you're shooting some scenes post-legs but pre-Eric's castle, this is the perfect outfit.
19.

Ariel's Seafoam Dress by MissTex89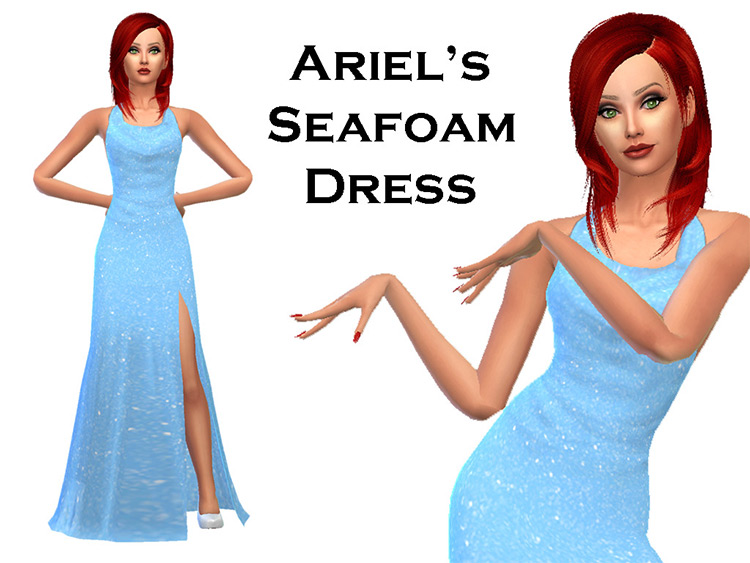 Remember the first pose from RainbowSims' Ariel, the Little Mermaid Poses set?
The one depicting Ariel walking from the sea, arms open wide?
This is the perfect dress to use with that pose.
The creator included a GIF of the scene for reference in the description and, as you can see, the outfit's pretty spot-on! It's not as magically sparkly as Ariel's, but MissTex89 definitely captured the style, color, and silhouette!
20.

Ariel Wedding Dress by KiaraZurk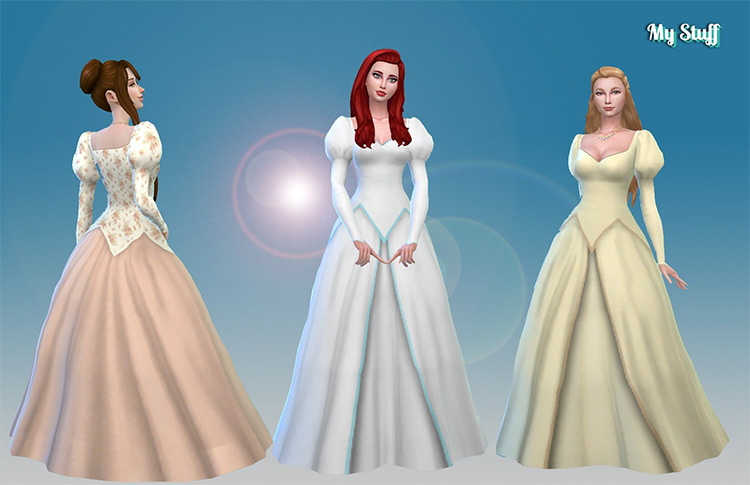 And to finish out the list, Ariel's outfit from the last clip in the movie: her (very brief) wedding shot.
Sadly, I couldn't find a custom veil-and-crown combo to complete this look. But the dress itself more than makes up for that with how on-point it is.
Puffy balloon sleeves, a sweetheart neckline, fairly wide skirt, and light-green lining. The accuracy is real!
Browse:
Lists
The Sims 4
Video Games