The Sims 4: Best Log Cabin CC For Custom Décor
This post may contain affiliate links. If you buy something we may get a small commission at no extra cost to you. (Learn more).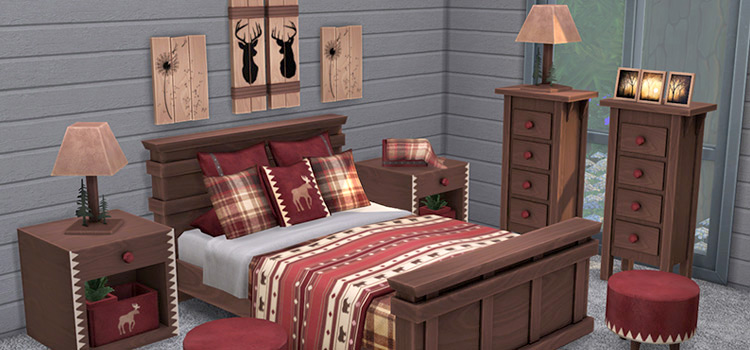 Whether or not you're someone who would enjoy living in a cabin, you have to admit there's something pretty special about them.
They're the next step up from a tent that still allows you to be close to nature.
People may not realize just how much of a range there is when it comes to cabins. Everything from simple one-room abodes to massive mansions can be considered cabins, as long as they're made out of logs.
As such, there's something for everyone.
Be it a vacation home or their forever home, every Sim can benefit from some cabin time. Besides, building them is a lot of fun.
And you know what'll make it even more fun? Custom content, of course!
There's a whole bunch of it out there centered around this very idea, so get your Sims ready for the cabin life.
Cabin Wood Siding
A cabin isn't much of a cabin if it doesn't have a wood exterior.
That's like the number one rule of cabin-ing.
Depending on what packs you have, you may not have many (or any) options for wood siding. You don't want to pick just anything, after all.
You need realistic wood – and that's exactly what you'll get here.
Creator Emerald made a vertical siding with the "cabin vibe" in mind.
This can provide a cool rustic exterior, as well as something funkier, depending on what swatch you choose. Not only are a range of wood shades available here, but yellow, red, blue, and purple colors as well.
Hey, I just said you need a wood exterior, not necessarily a brown one!
Forest Fantasy Bedroom Set
What's inside of a home is just as important as what's outside. Just like people.
Wait, that seems a little off.
What's inside is more important with people, but this is The Sims. Nobody wants to look at an unsightly exterior.
That seems almost mean now… how did I get so far off track? Just look at this bedroom set, it's really cool, okay?!
Outdoorsy accents abound here, even with the lamp. It's even got little spruce trees on the base and everything!
This is just the kind of stuff that any cabin-lover would want to furnish their lovely home with.
There are plenty of little critters to spot in the items too, like bears on the duvet, deer silhouette wall hangings, and matching moose designs on the pillow and end table.
For the record, the plural of moose should be meese. I'm hoping that catches on soon.
Rustic Wood Décor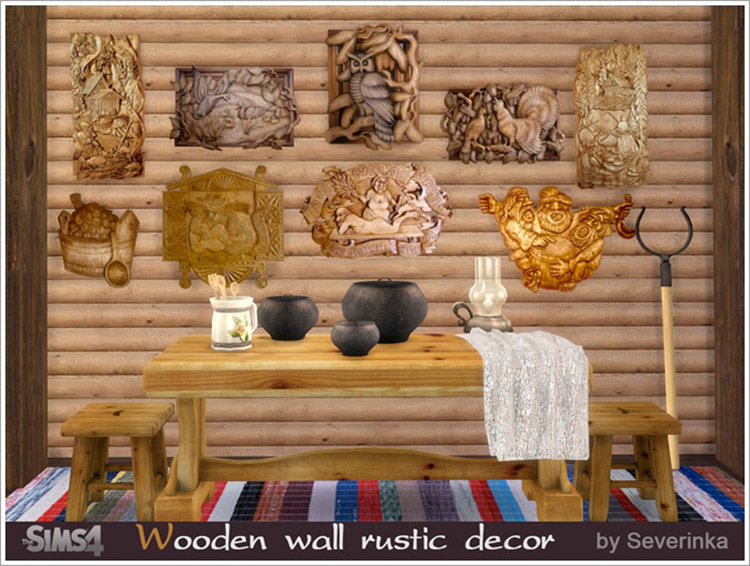 Continuing with the importance of wood, here are some rustic carvings.
These are inspired by Russian art and as a result, are quite unique.
The designs are all whimsical and incredibly detailed. You just know if you wanted to buy these for real, they'd put a dent in your bank account.
But fortunately, you can enjoy these through your Sims for nothing at all.
Any of them will look fantastic in any room of a cabin. There are plenty of animals here as well, including owls, ducks, and a rather mythological-looking fowl of some sort.
Now I'm left to wonder… are gnomes considered animals? Hmm.
Anyways, one of the pieces here features them and it feels really whimsical – it's one of my favorites!
Alpine Winter Dining Set
I'm sure they are great places to be year round, but I think the log cabin aesthetic is at its peak in winter.
You can't get any cozier than being cooped up in a beautiful cabin, frost on the windows, fireplace crackling.
And there's no better or easier way to indulge in such a life than through The Sims.
In this game, the can be what you want when you want. So don't hesitate to force a blizzard and trap your Sims in their cabin!
If that's something you'd like to do, you'll need some fitting décor – and there's plenty of it right here in this CC set.
First, let's talk about the sleds, being the icon of winter fun that they are.
There are two options here: a wall one and a surface. The latter sits on the floor and will function as a surface.
Then there's the furniture.
If you like things with a country flair, then you'll love this stuff!
Both the ceiling light and lamp have antlers, the end table and picnic table have a heart cut out, and it all comes in a variety of realistic, grainy, wood swatches.
And finally, we have the practical details.
No cabin is fit for life without snow boots, mittens, or a snow shovel.
Wall Décor Deer Head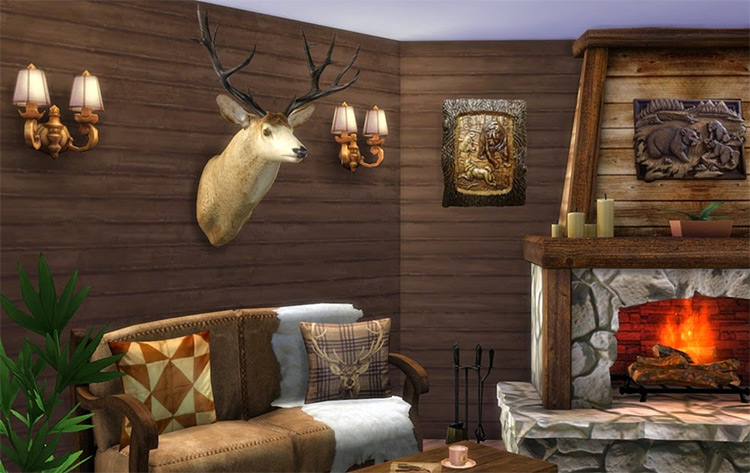 No deer were harmed in the making of this CC, I'm sure.
Many people who live in cabins choose to do so to be closer to nature for hunting or fishing purposes.
They can go right out their front door and have a new decorative piece for the wall in a matter of minutes.
It may not be for everyone, but that's a way of life for some.
If you think your Sim is the type to enjoy that kind of thing, then this is definitely for you. Simmer Natatanec has a pretty realistic deer head mount here. It'll look like the deer is popping in to say hello.
The fur and antlers are a nice texture, and overall it's the perfect size to suit any cabin.
Bear Skin Rug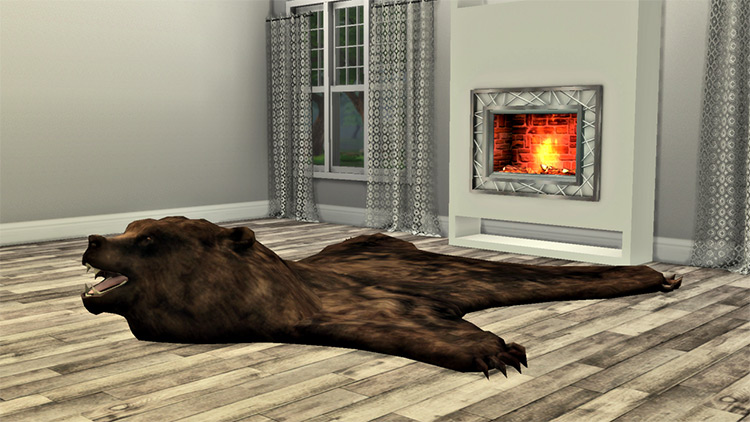 As someone who has actually built cabins in The Sims 4, I must tell you, the floor is a difficult area to tackle.
Carpet won't look right – so you'll want to stick to hardwood throughout the house.
But most of the rugs don't fit in, either.
So what's left to do besides turn to CC?
This bear skin rug will certainly do the trick.
Just don't look it in the eye, that's when it'll start to feel a little weird.
These have been a common item in many outdoorsman's homes for centuries. You can always say it's a faux rug if you want, though.
Plaid Cushions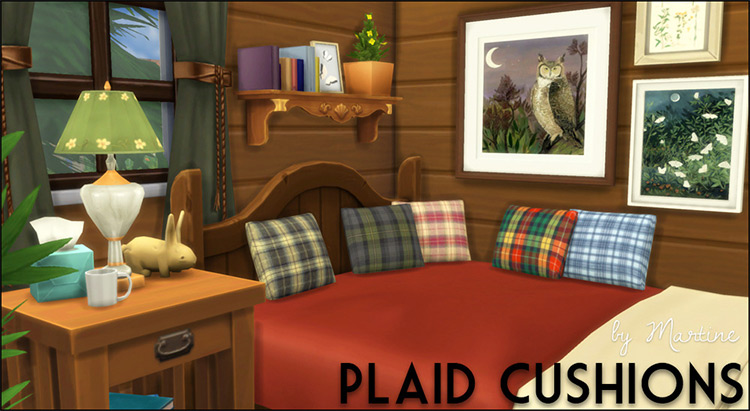 Plaid and log cabins are the best combo since bread and butter.
There's just something about them that complement each other so well!
Martine has made a variety of plaid decorative cushions here for you to place wherever you want.
Remember, with a little know-how, these can go on your Sim's couch, bed, floor, the roof, a tree… go crazy with cushions, it'll add some great depth.
By just using the "bb.moveobjects on" cheat (and using the 9 and 0 keys to adjust height) you can basically do whatever you want.
And you'll definitely want to go all out once you see these swatches.
It's amazing how changing the color can change everything when it comes to plaid.
Nature Paintings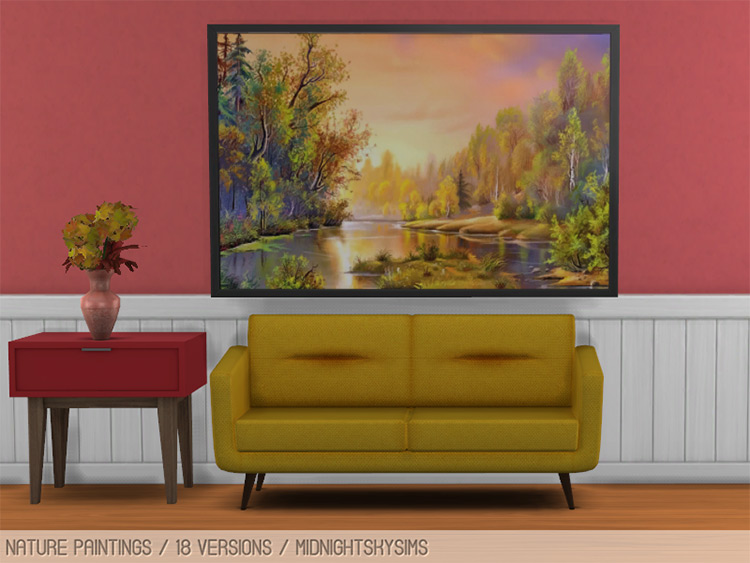 Something that can be a bit difficult when furnishing cabins is avoiding going overboard with wood.
It's natural instinct to go that route for everything possible. But in this game, it can get visually "blah" really fast.
When you come to that point, then paintings will be a huge help.
This set has plenty of cabin-appropriate styles to choose from, all focusing on nature.
Three of them feature deer with gorgeous scenery and rundown barns in the background, and nothing is more cabin than that.
Aside from those designs, there are fifteen others to choose from with plenty of variety.
Country Chair and Pouf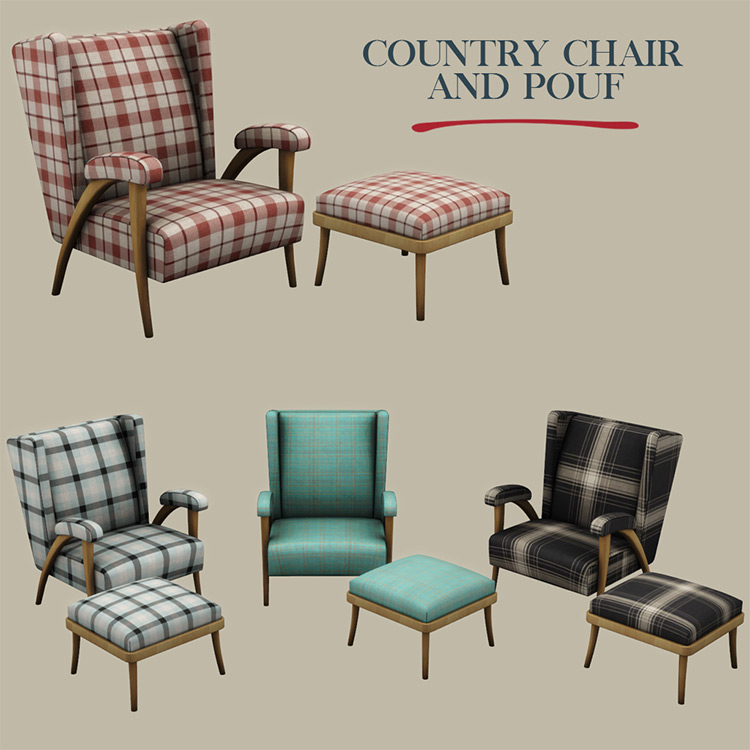 As you may have realized, most country stuff works splendidly in cabins.
This chair and pouf set would be no exception.
They're a great way to add some color to your build, and step away from wood-centric themes for a moment.
So yeah, we're back to plaid. But it looks so great!
This chair looks very comfy, and has a subtle mid-century modern thing going on with the thin & slanted wood pieces that double as the legs, as well as the armrest.
Then there's the pouf.
Aside from that just being a really fun word, they're great to have around in The Sims.
They can serve as an extra seat, or a decorative footstool, perhaps even an ottoman.
Eleanor Bathroom Set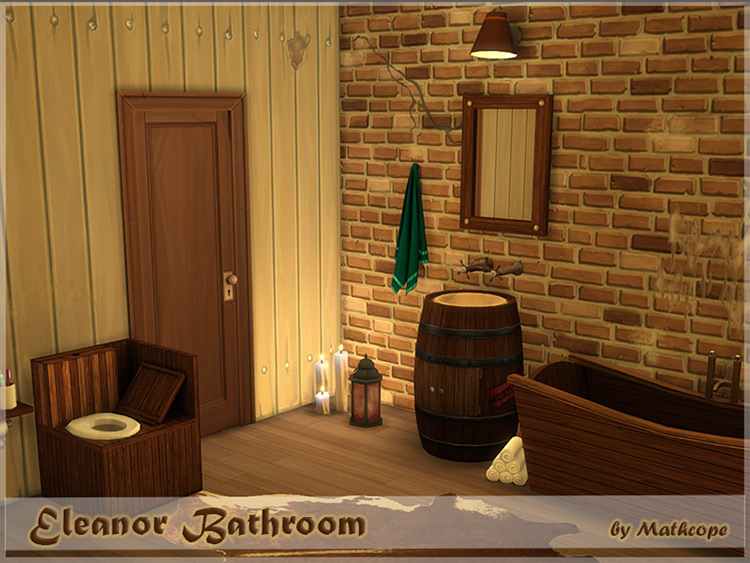 With great excitement, I present:
The Eleanor Bathroom set.
It's got a wooden bathtub, so I'm personally pretty psyched about this.
Out of all the rooms in your home, the bathroom is one space that can be quite a conundrum in cabins.
Unless you have Outdoor Retreat, there's next to nothing you can do besides go for typical porcelain stuff.
But that's no fun, since real-life cabin bathrooms don't tend to do that.
This CC set will allow you to keep the wood theme going even in the most sacred room. All of the essentials have matching wood swatches, including the mirror, toilet, bathtub, and toilet paper holder.
Oh, and the sink? That's a barrel! The faucet is "floating" and will appear to be mounted to the wall once it's placed.
Browse:
Lists
The Sims
Video Games