The Sims 4: Best Louis Vuitton CC (All Free)
This post may contain affiliate links. If you buy something we may get a small commission at no extra cost to you. (Learn more).
The French have made a lot of life-changing innovations throughout history: like cinema, camera phones, aspirin, and staplers.
But if there's one thing the French are really good at, it's creating top-tier fashion houses that redefine luxury.
Louis Vuitton is just one of many French brands that have dominated the industry of luxury fashion.
And seeing as it was named as the world's most valuable luxury brand more times than Leonardo DiCaprio has won an Oscar, it's safe to say that LV knows how to stay at the top of its game.
Now you can give your Sims the fashionable world of the rich and famous with some of these Louis Vuitton CCs!
10.

Elastic Waist Long Dress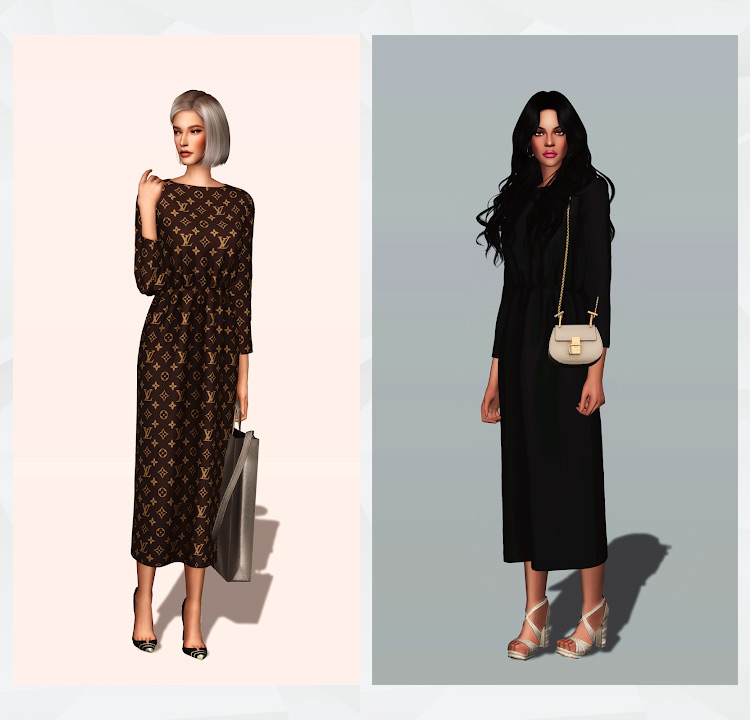 The Louis Vuitton Monogram is a status symbol.
It's like the King Midas of luxury brands – every item that features its iconic pattern turns into a retail gold mine, even the fake ones!
So, it's no wonder why this LV-branded dress looks more exquisite from top to bottom.
Have your sim try it on and they won't ever take it off.
9.

LV Handbag
Louis Vuitton has come a long way from making bulky luggage trunks.
Now we have transparent handbags that don't look half as bad if it wasn't a safety hazard.
Still, the French fashion house could use more out-of-the-box thinking, which this CC clearly delivered (pun intended).
8.

LV Duffle Bags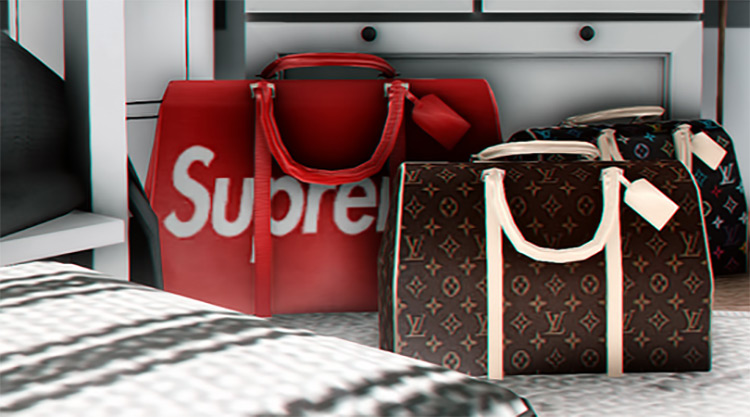 Celebrities have a lot of baggage. Specifically the Louis Vuitton kind.
From carry-on luggage to wheeled suitcases, celebrities do their best to take glamorous travel to new heights.
Some have private jets waiting on the tarmac, while others have Louis Vuitton luggage going through a baggage scanner.
Spending thousands of dollars for a place to store underwear and overnight clothes sounds a bit overkill… but damn, doesn't it look good?
Give your Sims a fancy package with these LV Duffle Bags that comes in 3 swatches.
7.

Vuitton Fanny Pack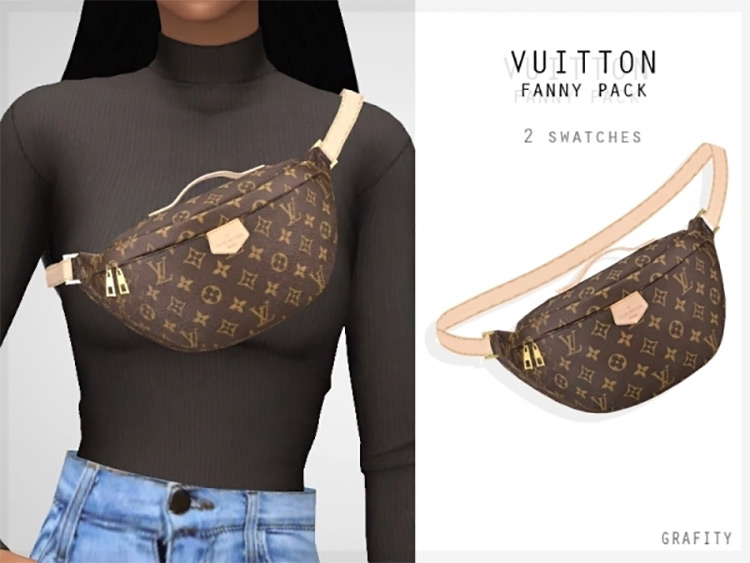 Fanny packs are back in vogue. And this time, nobody's laughing.
This quirky accessory has been the laughing stock of the fashion world since the 1990s, simply because no one had any idea how to make it work.
Then came the modern influencers and Instagram baddies of the 2010s who gave fanny packs a Neville Longbottom glow up.
Louis Vuitton jumped the bandwagon, of course, and manufactured this sleek-looking piece for those mature enough to see its potential.
Get this true-to-life rendering of a Louis Vuitton Bumbag and work your Sims into becoming millennial trendsetters.
6.

Louis Vuitton Collection
After countless Google searches to know why Louis Vuitton is so damn expensive, all results point to the fashion house's impeccable craftsmanship.
Like creating a jacket bag and somehow making it look cool.
This Monogram Admiral Jacket from LV's real-life collection is crafted from the iconic Monogram canvas and features more compartments than a JanSport backpack.
As bulky as it looks, it's a pretty amazing addition to anti-theft fashion.
5.

Supreme x Louis Vuitton Collection
Supreme and Louis Vuitton are at opposite ends of the spectrum when it comes to demographics and aesthetics.
Supreme inspires a cult following from teenage hypebeasts, while LV attracts sophisticated moms and women with money to burn.
In terms of aesthetics, Supreme is the king of streetwear, while LV reigns over designer bags.
But from the unlikely collaboration between these two brands came an unexpected love child that surprisingly exceeded expectations.
Get the whole Supreme x Louis Vuitton Collection from simsrunway which comes with a barrel bag, bandana, bomber jackets, an LV-branded skateboard, and more plus an additional recolor set for more options!
4.

LV Basics
Along with Chanel and Hermès, Louis Vuitton completes the holy trinity of designer handbags.
Desirable, durable, and expensive AF, these Big Three brands have a lot in common.
But even within this elite group of brands, LV shines in constantly producing classic handbags that justifies its price.
The Louis Vuitton Neverfull and Speedy are two of the most well-known "house icons" of LV. And they've been fan favorites since forever, simply because they fulfill the purpose of all bags – to store a lot of stuff.
These fancy bags can hold more than a pack of gum and a coin purse, and that's enough to convince me that these two are worth the download.
3.

Petite Malle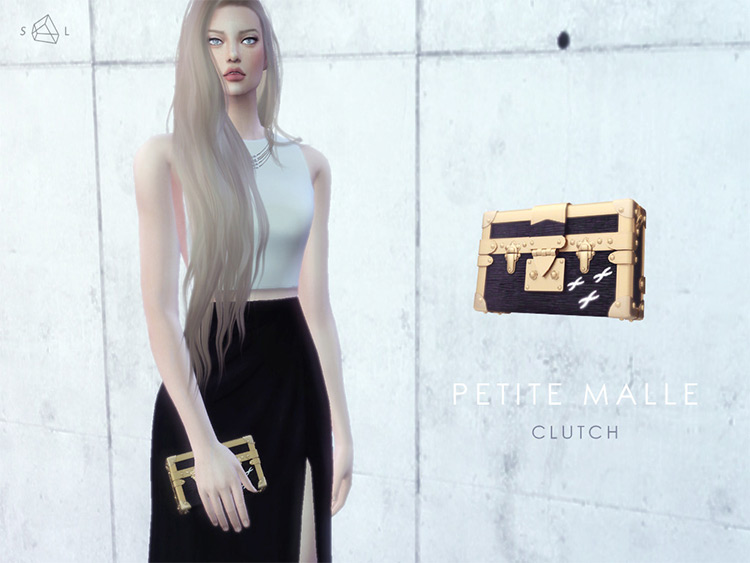 Louis Vuitton's Petite Malle certainly lives up to its name.
This tiny (borderline impractical) bag is a thing of beauty, even if it does seem incapable of storing anything more than a phone, a few bucks, and some coins.
The Petite Malle may be short on bag space, but it beautifully pays tribute to Louis Vuitton's history of creating classy trunks.
Have the option to show off the Petite Malle in your TS4 games as a decoration or a functional handbag, and enjoy more than 6 swatches each!
2.

Louis Vuitton SS20 Collection
There aren't a lot of LV-branded clothes online for Sims.
But CC creator bergdorfsims made sure you'll never have to look for more.
This Louis Vuitton SS20 Collection is a massive assortment of ready-to-wear clothes and accessories that would cover a Sim lifetime's worth of OOTD.
The collection is divided into menswear and womenswear, with each category containing more than five items that would complete any look from head to toe.
1.

Louis Vuitton Classic Speedy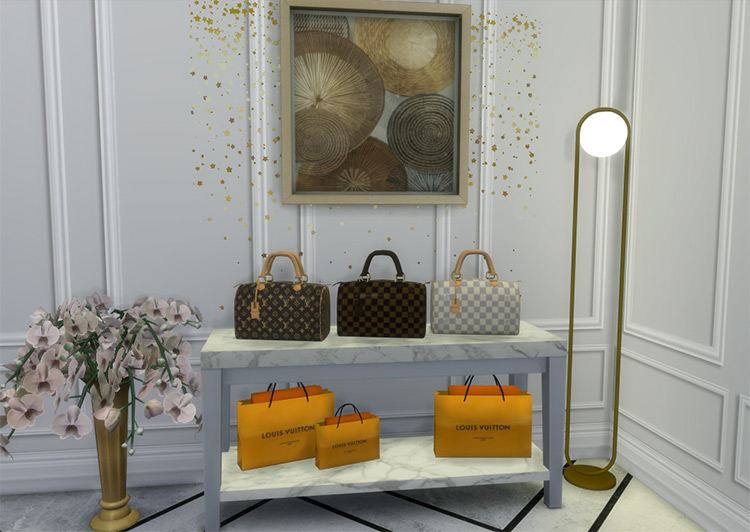 At its core, Louis Vuitton is a luxury brand that rose to fame for its stunning range of designer bags.
And on top of all that is the Speedy, the most iconic LV handbag since 1930.
This mini luggage is the brand's crème de la crème, the essential Louis Vuitton bag that might have probably been your mom's first love.
With that kind of praise, there's no question that this classic Speedy is the number one must-have Louis Vuitton CC for any Sims 4 player.
Browse:
Lists
The Sims 4
Video Games