Sims 4 Lounge Chair CC & Mods (All Free)
This post may contain affiliate links. If you buy something we may get a small commission at no extra cost to you. (Learn more).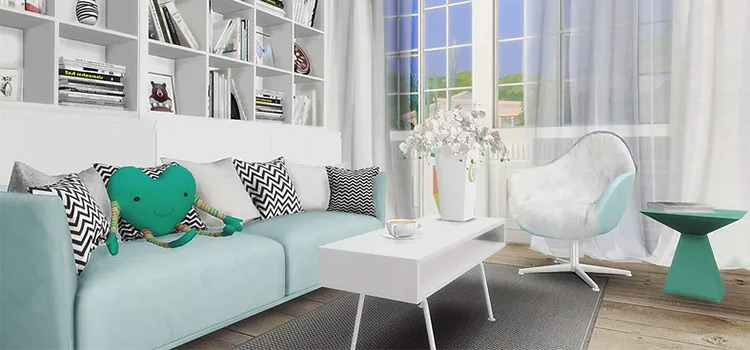 Decorating your Sims home can be a lot harder than it seems at first!
You need to create the right mood, have the right color schemes, and make the perfect environment. Somewhere they can relax, invite friends over, and maybe get their work done during the day.
A lot of us strive for that comfy homey vibe when we're decorating.
We want our home to feel as warm as our love for the other people that live in it with us. And when you're relaxing at home, where do you wanna be?
Likely either the couch, or a comfy lounge chair.
Get ready to slink into your new favorite chair, because we're going over all the best lounge chair CC you can snag.
9.

Fur Blanket Chair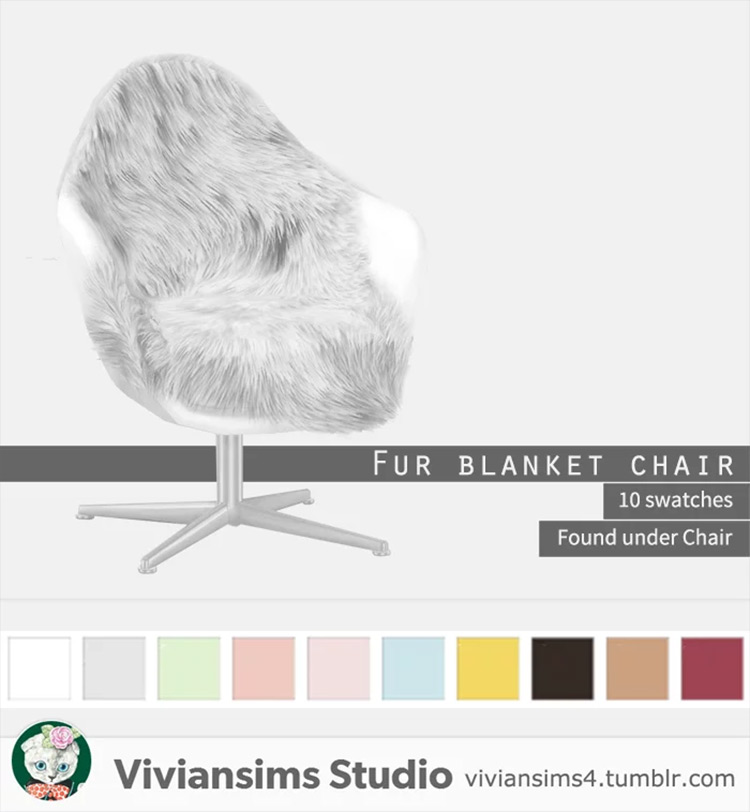 Nothing is quite as inviting as a fur blanket on a comfortable chair.
All I can think of is how nice it would be to snuggle up in this thing on a cold fall day with something warm to drink and my favorite movie playing in the background.
This chair is sure to liven up your Sim's room, whether they have a warm fireplace to add to the aesthetic, or they want to make their office feel a little more inviting.
The fur blanket with this chair is going to rise to the occasion.
8.

Eames Lounge Chair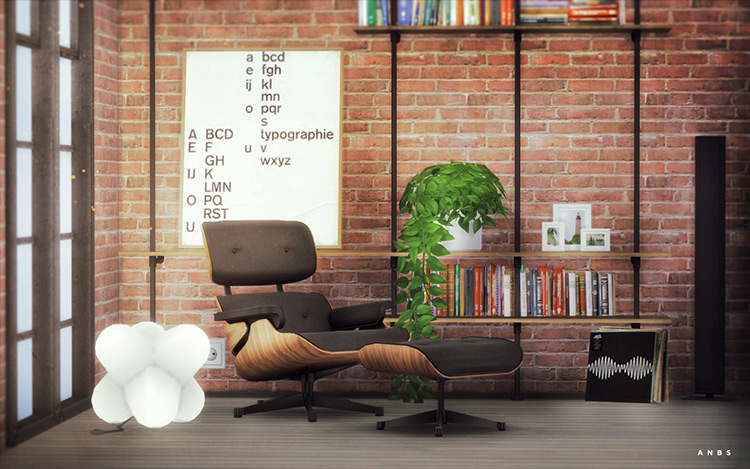 Scholarly. Sophisticated. Classy.
Your Sim needs a chair that has the same personality they do.
If your Sims are the bookish types, the wise ones, or the kinds of people you can expect to find cooped up in their office all hours of the day, then the Eames Lounge Chair is the perfect option for them.
With the laid back position of the chair itself, and the matching ottoman, your Sim can put their feet up and take a bit of the pressure off.
This also looks quite a bit like that infamous chair in Frasier, no less!
7.

Under The Sun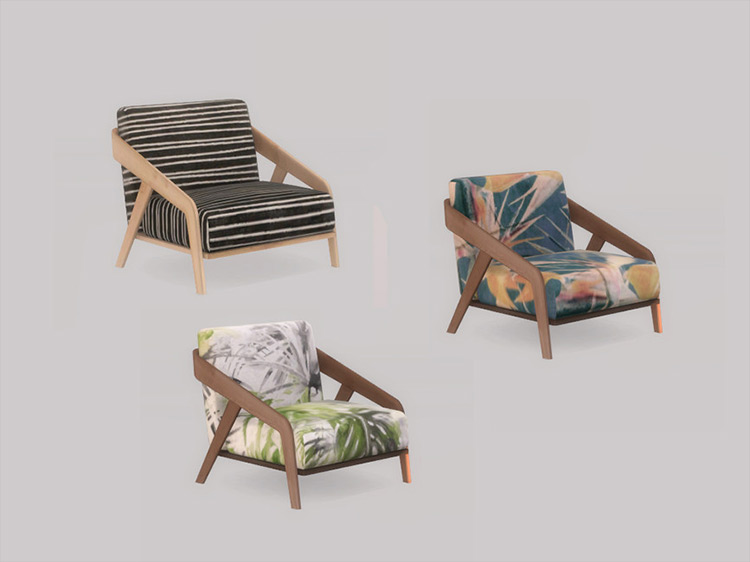 Lounge chairs certainly are great, whether you're using them indoors or outdoors.
Under The Sun is a sleek armchair made just for whatever your Sim needs.
A cute piece of CC that veers away from the norm here.
Finally, your Sim can maximize comfort and style as they lay out under the summer sun and work on that tan they've been dreaming of.
6.

Marte Lounge Chair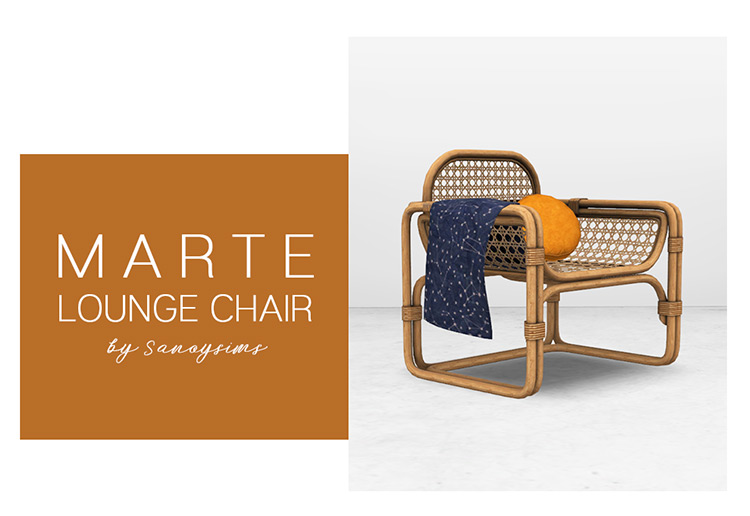 Wicker furniture is a great option for a variety of looks and styles.
Whether it's a bohemian free-spirited mood, or something more vintage, this style is sure to get the message across.
That being said, this Marte Lounge Chair CC looks like something your really cool friend would have.
You know the one. They know how to keep their plants alive, they eat really healthy, and they have a beautiful home. Maybe that's you IRL (I wish I could say the same) but now your Sim can be that way too.
And this chair is here to help.
Did I mention there's a matching blanket and pillow that go with it? Yea, it's that nice!
5.

Gold Living Chair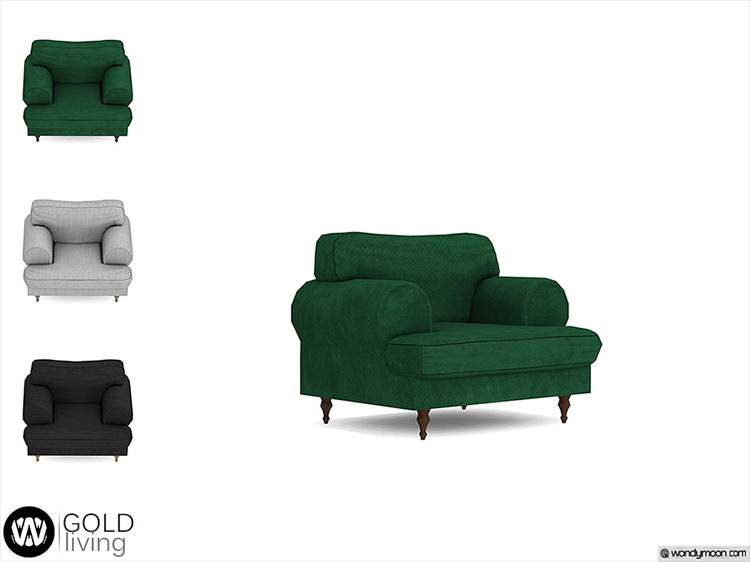 This chair looks like if we could buy it, then it would be made of the best materials in the world.
You could sink into this chair like it consisted of giant marshmallows and clouds.
What else could you possibly want in a lounge chair?
The Gold Living Chair also comes in 3 colors, one of them being a beautiful emerald green. Which is even more the reason to incorporate this piece as you go off decorating.
4.

Oh Reykjavik large arm chair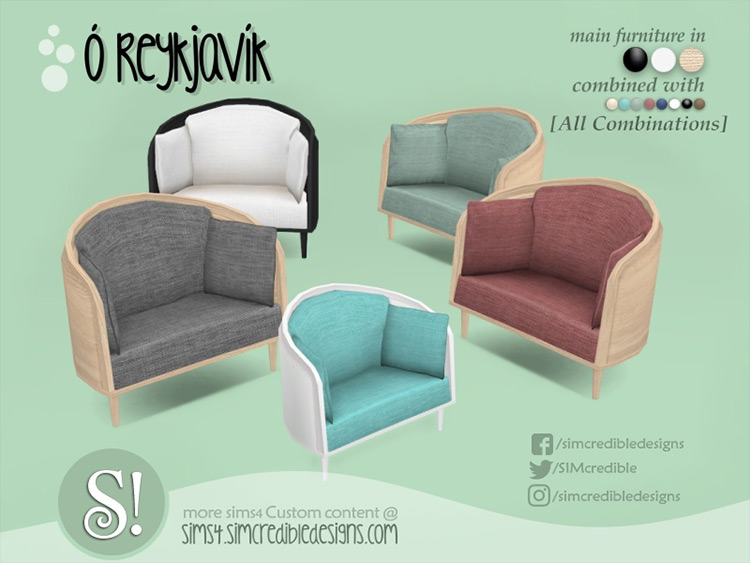 A perfect option for any Sim home that leans into the modern side of style.
The Oh Reykjavik arm chair incorporates form and function to create a space that will wrap your Sim up in its cushions.
This is the kind of chair that you'll want to lay your body across and unwind in your own kind of way. With such a neutral color palette, it's sure to match any room or theme you've got going on.
And it's definitely going to be that one chair your Sims will fight over to see who gets it.
3.

Wonderfully Woven Hanging Chair
Lounge chairs come in all different shapes, sizes, colors. And even whether they sit on the ground or not!
Unconventional pieces of furniture are my favorite when it comes to decorating any lot that I take on.
And this Wonderfully Woven Hanging Chair is just the type of thing I would try to use as much as possible.
Place it outside on the porch where your Sim can enjoy their morning coffee and listen to the birds chirp. Or even make your own rules and put this in your living room for a fun conversation starter.
Either way, your Sim won't be disappointed with this comfy lounger.
2.

Rock Designer Rocking Chair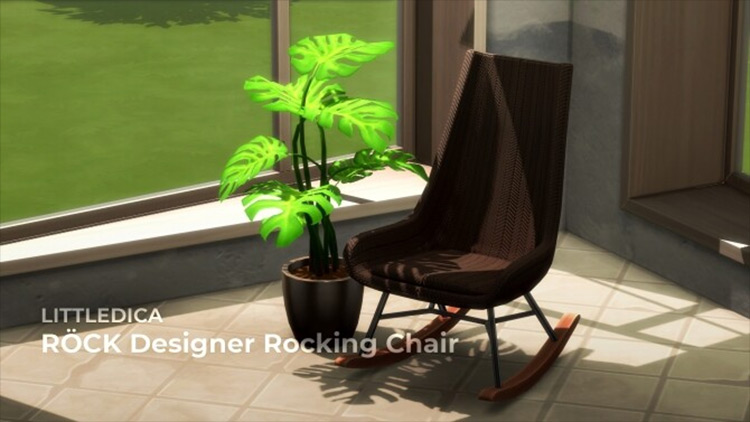 Rocking chairs are the classic chairs to relax in.
There's a reason they've been around for so long: rocking yourself back and forth is liberating. It's nice take all the stress from the day and just watch it melt away, a feeling like no other.
And this chair will certainly do its job for your Sims!
Lounging back in their favorite chair is going to be a regular thing with this CC and its sleek design.
Plus with 5 color options there's 5 more reasons to add this baby into your home.
1.

Awesims Curved Lounger
Our most lovable lounge chair of the list also looks like a blast from the past.
Think fainting chairs, but if they were more stylish and there wasn't such a terrible backstory to them.
Your Sim can lay back and catch a quick nap on their new Awesims Curved Lounger, with its welcoming design that should match any room.
And with how soft this chair looks, if your Sim ever need to sleep on the couch for a night, it may not be such a bad thing.
Browse:
Lists
The Sims 4
Video Games