Sims 4 Low Rise Jeans CC (Maxis Match + Alpha)
This post may contain affiliate links. If you buy something we may get a small commission at no extra cost to you. (Learn more).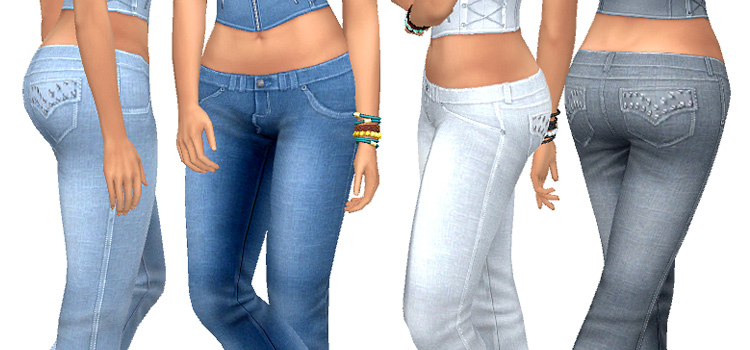 Low-rise jeans remain one of my biggest fashion fears.
As someone who prefers having fabric covering my lower tummy area, pants with a low waistline make me feel unsupported and exposed.
Sadly, high-waisted jeans weren't fashionably acceptable until just recently, so. Shopping for pants I can trust has always been a nightmare.
And sure as clockwork, low-rise jeans are slowly becoming trendy AF again.
Fashion is cyclical, as they say, and it looks like we're due for another rotation.
That being said, we can keep your Sims' wardrobes up-to-date with the latest and greatest trouser styles.
Maxis Match CC Low-Rise Jeans
1.

Low Waist Jeans by Dissia
Low-rise, boot-cut jeans and low-rise jeans with flared bottoms are a lot more forgiving than low-waisted skinny jeans.
They're infinitely comfier, too! Keep your Sims feeling and looking fresh all day, every day, with a pair of comfortably flared denims.
If they're feeling extra daring, they could totally pair it with a high-cut cropped top for a nostalgic early 2000s vibe.
2.

AIMA Jeans by jellymoo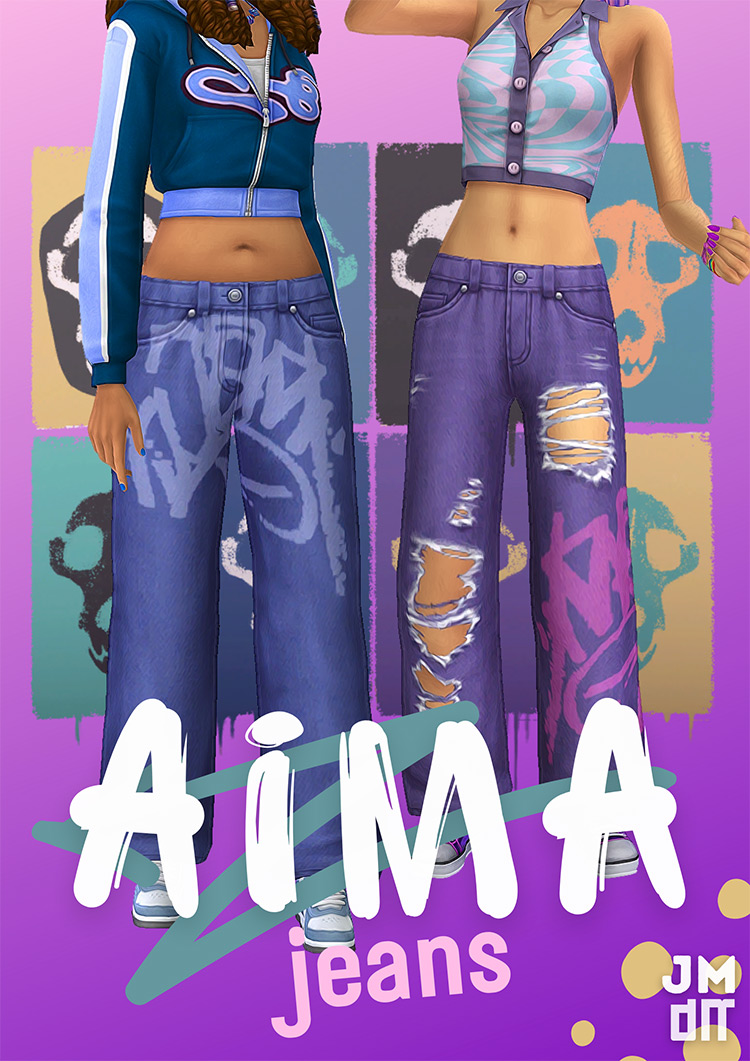 Baggy, wide-legged boyfriend jeans—with rips and graffiti? Yes, please!
We're leaning way into the Y2K fashion with this but, hey; fashion trends are cyclical. I'm all for loose, shapeless denims (even if they do herald the return of frosted eyeshadow and tank tops), and I think any Sim can pull them off easily.
Jellymoo's mesh edit and recolor even adds 80 new swatches. Talk about variety!
3.

Diesel Jeans by ERae013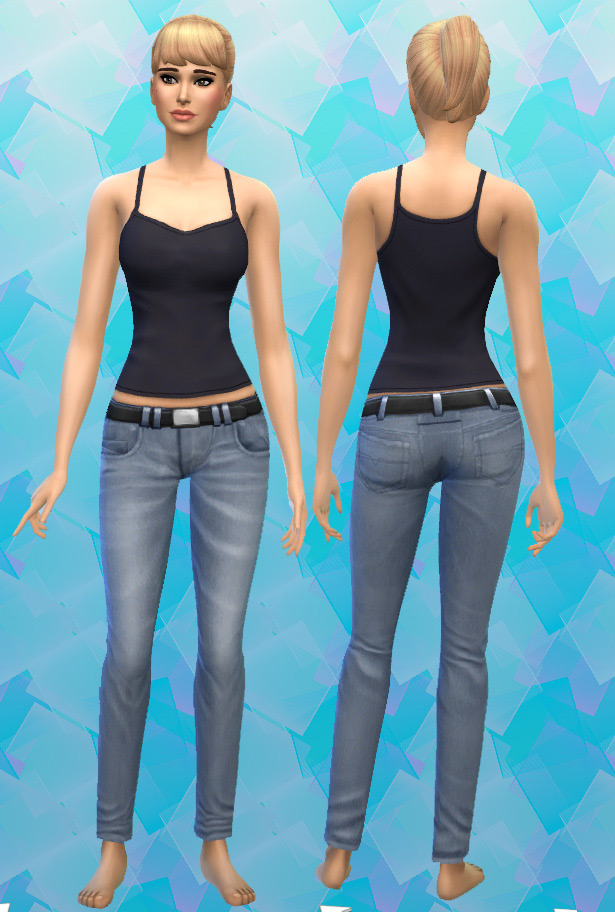 As someone who genuinely enjoyed the CAS items in The Sims 3: DIESEL Stuff pack, this mesh edit is an absolute delight!
Not only does it introduce a pretty sweet pair of TS3 jeans into the TS4 'verse, but it also retains Maxis Match's lovely clayified texture.
The pants' accessory belt may seem pretty low but, trust me; this hip-hugging-waistline style was all the rage, back in the day.
4.

Low Rise Jeans by Darte77
These jeans manage to straddle the line between trendy and combat-ready.
They're dark, fairly loose, and totally badass.
Check out the preview pic of them tucked into boots. I feel like that's the only way to wear them!
These do come in eight different colors, but they're all just varying levels of dark denim, so. Don't expect any bright, fashionable candy-colors or pastels here!
5.

Like My Briefs? Low Rise Jeans by Peacemaker IC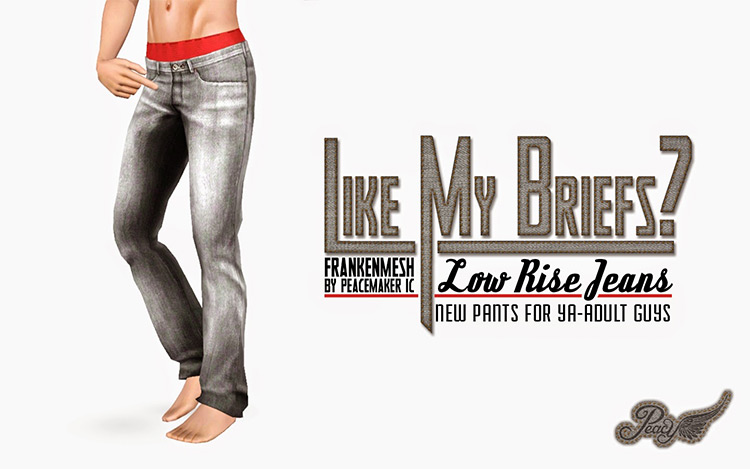 Dunno how I feel about the briefs, personally, but I think the jeans look great! They're comfortable-looking, low-waisted denims for Male Sims frames.
Not quite flared or boot-cut, but definitely not skinny, either.
They feel like the casual wash-and-wear jeans you use five days out of seven when you don't need to dress up.
6.

Low Rise Chinos Jeans – Dark Blue by doumeki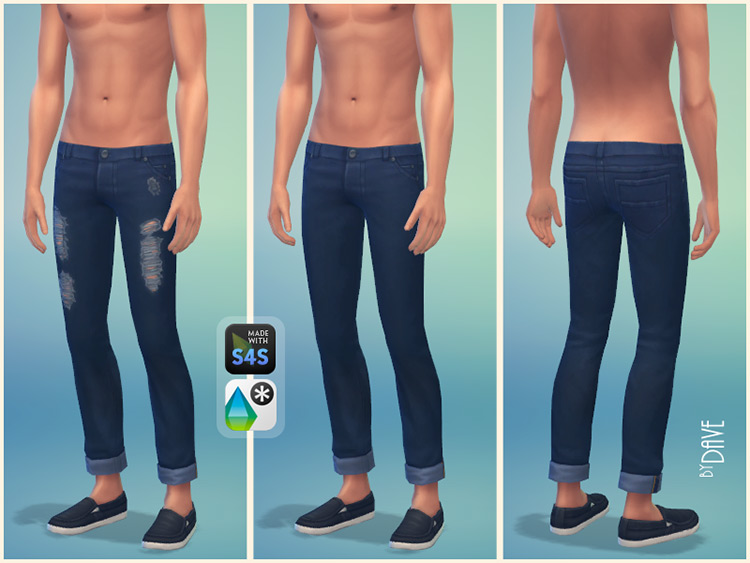 These are exactly what it says they are on the tin; low-rise chinos in a lovely dark blue color.
These are the pants your Sim should wear if they're aiming for a casual, yet presentable look.
Chinos can instantly make you look more put together (compared to baggy, washed-out denims, anyway) even if you pair them with regular shirts or polo tops.
It achieves that "preppy but chill" vibe that a lot of people find appealing.
7.

Low Rise Flare Jeans ND2020 by Nuska's Designs
Few can pull off low-rise jeans. Even fewer can pull off low-rise jeans with lace and fishnets.
If your Sim is a true, trendsetting fashionista, they might want to have a pair (or two) of these flared jeans in their CAS closet!
The appeal of these pants lie in their fashionably laid-back aura. They can make anyone who wears them seem ten times cooler than their peers.
Oddly specific, but also very true!
8.

Jeans 20200512 by dgandy
Honestly, I get why "low-rise" and "boot-cut" are often combined.
They just work so well together!
There's something in the way the low waistline seems to complement the dropped fabric and hem flare. I can't explain it, but I certainly can't deny it, either.
Dgandy's Jeans 20200512 are a great example of this. Don't overlook the bonus bedazzled back pockets, either!
9.

IOWA – Slim Fit Trousers by Helsoseira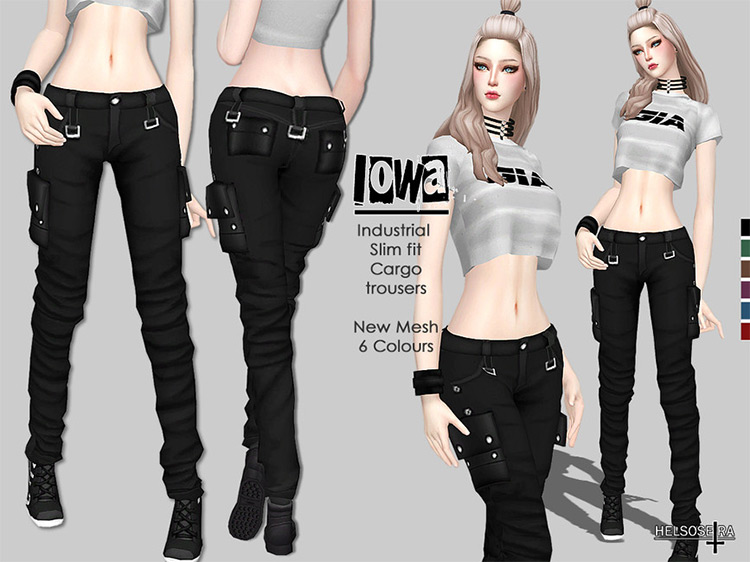 Just like Darte77's Low Rise Jeans, these Slim Fit Trousers by Helsoseira are locked, loaded, and ready for combat.
They look sufficiently loose to allow for plenty of movement, but not too baggy that they'll slide right off without a belt.
I also love all the extra bells, whistles, and buckles these pants have got going on.
They feel like trendy cargo pants—just with 80% less pockets and zippers!
10.

Ripped Jeans Maxis Match by Lollaleeloo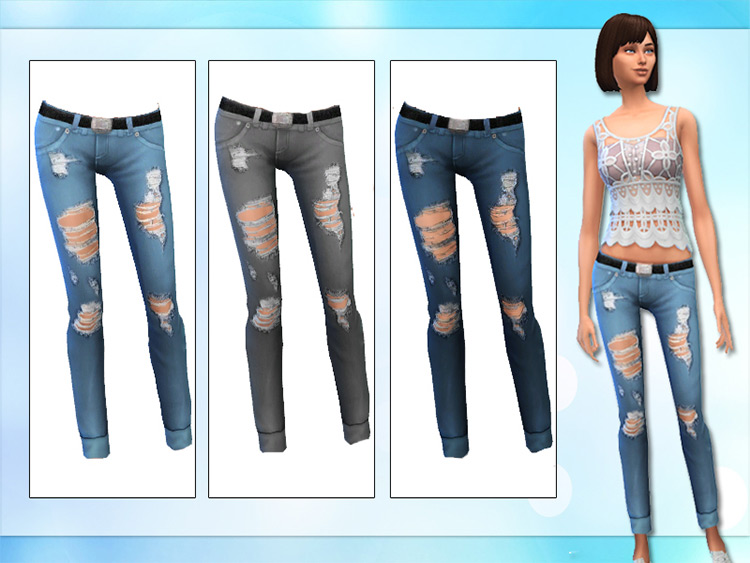 As you can see from the preview photos, these Maxis Match ripped jeans are stylish, edgy… and completely low-rise.
There is very little space between the crotch and the button.
The pockets look non-functional (and merely printed on).
If the waistline was any lower, these jeans would be considered either indecent or avant-garde.
All jokes aside, though, they are gorgeous custom pants. Highly recommend you grab 'em and install 'em to add some variety to your CAS closet.
Alpha CC Low-Rise Jeans
11.

Low Rise Skinny Denim 02 by Pinkzombiecupcakes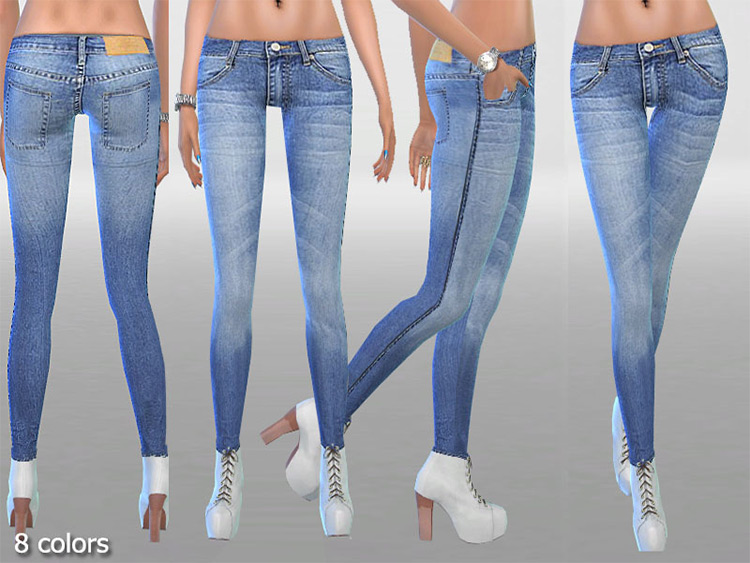 Here we go; the low-rise skinny jeans.
As I've said before; a style that very few can pull off.
I personally wouldn't wear these pants (I'm strictly mid- to high-rise), but I can still appreciate how sleek and trendy they are.
Plus the Alpha CC texture does an excellent job of highlighting the denim quality!
12.

Y2K Jeans by CherryBerrySim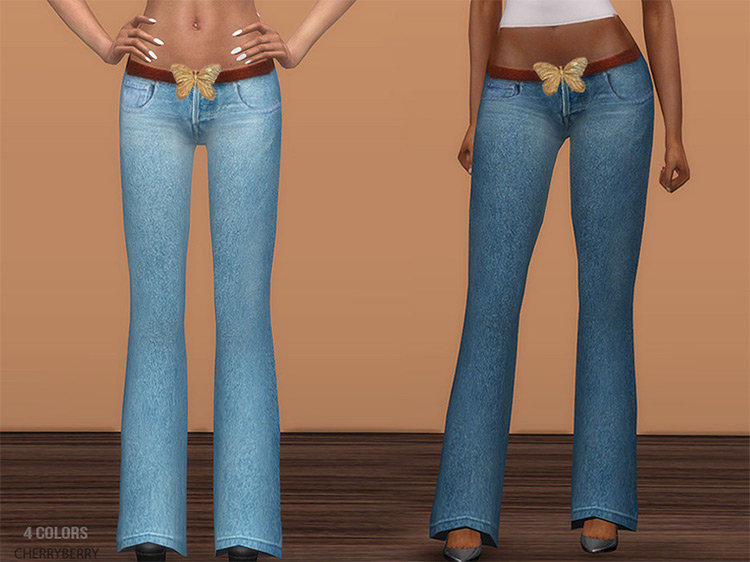 The creator describes these jeans as a "throwback to the early 2000s".
The more I think about it, the more I realize they're totally right!
Low waistline, almost bell-bottom-esque hems, and a belt with a butterfly buckle?
All that's left to do is throw on a candy-colored tank top, ridiculous platform wedges, and some super sticky lip gloss, and that's it—your Sim has travelled back to the onset of Y2K!
13.

Men Low Rise Skinny Fit Jeans by Saliwa
This is basically Pinkzombiecupcakes' Low Rise Skinny Denim jeans for Male frames.
Saliwa's skinny fit jeans are structured, low-waisted, and cling stubbornly to the wearer's legs.
Every cut, line, dip, and curve of your Sims' thighs, knees, glutes, and calves are hugged by soft blue, acid-washed denim.
It may not be to everyone's personal taste but, hey; if your Sim likes it (and can pull it off), definitely keep these painted-on skinny-jeans in your CAS closet—just in case!
14.

LTB Low Rise Jeans by Saliwa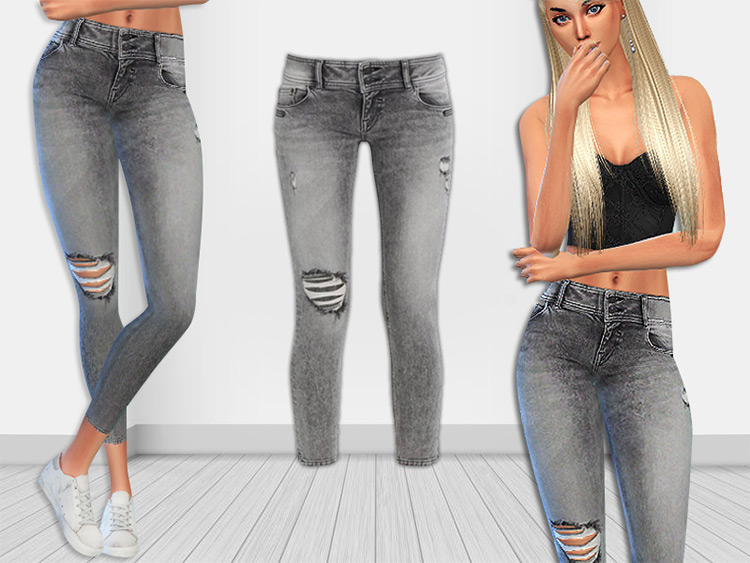 These low-rise skinny jeans by Saliwa have that well-worn, fashionably-edgy look to them.
Very mid-2000s, when skinny jeans were still the only acceptable style of trousers but brands were starting to introduce the concept of distressed denim.
Rips, holes, purposeful fraying… all that good stuff.
If you don't believe in "dated" fashion, go ahead and grab a pair for your Sims!
15.

Men's Low Waist Jeans by Sims House
I appreciate the availability of custom low-waist jeans specifically tailored for Male frames.
As we all know, Male frames don't get a lot of CAS love in most stuff, game, and expansion packs, so I'm happy the CC community is always ready to step up.
These distressed, acid-washed jeans feature classic ripped kneeholes, functional pockets (because even in TS4, men get functional pockets), and a simple – but still stylish – worn leather belt. Overall, perfect for a chill, everyday look.
16.

47 – Female Skinny Jeans by sims2fanbg
You know how you always have just one or two pairs of go-to pants? Like, maybe you have some nice, clean trousers hanging in your closet and several pairs of fresh, non-ripped denim jeans in a drawer somewhere, but you never take them out?
You always settle for your default pair of skinny denims, no matter how worn and faded they are, because you know they'll never let you down?
Yeah, that's the vibe I'm getting from these jeans.
Basically, a solid closet staple that comes in six cool, washed-out blue-jeans colors!
17.

Low-Rise Rhythm Jeans Leggings by Harmonia
If you ever subscribed to the "jeggings" craze (I know I did), then you can probably attest to the accuracy of these custom jeans-leggings by Harmonia.
They're basically pants with the texture and thickness of denim paired with the stretch, elasticity, and curve-hugging abilities of leggings.
If you need a change from all the boot cuts, the flareds, the wide-leggeds, and the mom jeans, why not try these on for size?
18.

Fashionable Skinny Jeans by CherryBerrySim
These are marketed as just "fashionable skinny jeans," but I know a pair of low-rise jeans when I see one. I'm seeing that below-the-navel waistline.
CherryBerrySim's custom trousers definitely have that same "jeggings" cut and feel that Harmonia's Low-Rise Rhythm Jeans Leggings have.
They appear molded to the body (and the booty). Bonus points for the extra-detailed denim texture, though! I love how the photoskinned texture of Alpha CC really enhances design details.
19.

Slim Fit Jeans by Saliwa
Another pair of fashionably worn-down jeans by Saliwa!
These are undoubtedly distressed denims with a fairly low waistline, zip pockets, and plenty of contrasting texture details to appear edgy and rough-around-the-edges.
They still look quite fashionable, all things considered, even though they're the exact opposite of high-rise mom jeans.
Maybe it's all the wear, tear, and wrinkles they've got going on.
They make the jeans pass as a solid submission for urban/street fashion.
20.

Serene Low-Rise Pants by Puresim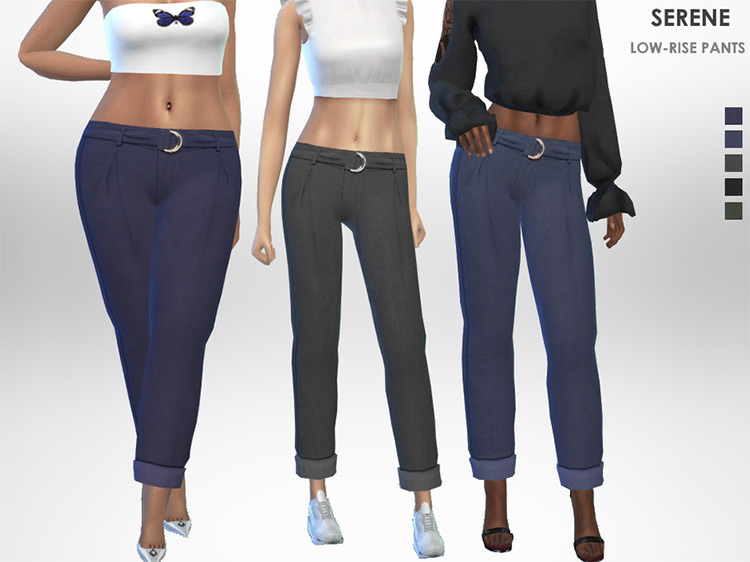 Probably one of the few non-denim pieces on this list, Puresim's Serene Low-Rise Pants have a fantastic silhouette!
Low, loose, and stylishly baggy, these pants are – without a doubt – trendy AF.
Crisp fabric, smartly tailored hems, and a cloth belt (with a minimalist belt buckle)?
The whole thing just screams tasteful and fashionable. Very much suited for fashionista Sims who are total stunners!
Browse:
Lists
The Sims 4
Video Games