Sims 4 Magazines CC (Clutter & Magazine Racks)
This post may contain affiliate links. If you buy something we may get a small commission at no extra cost to you. (Learn more).
Magazines are a lot of fun. They're lighter than books, often more compact, and they come with stunning photography as well as interesting articles and interviews.
And as a magazine reader, I know one thing to be true – once you buy it and bring it home, it always ends up lying on the coffee table or the desk for the foreseeable future.
Kind of like a decoration that you didn't plan, but that still sort of works.
I feel like in our Sim's world, things would be the same. After all, that's why we have the Clutter category. It's the best category to breathe some life into any room of the house.
So we rounded up a bunch of clutter & custom CC made for showing off magazines in The Sims 4. So now you can get your Sims can clutter it up with their own 'zines.
1.

Open Magazine by YourDorkBrains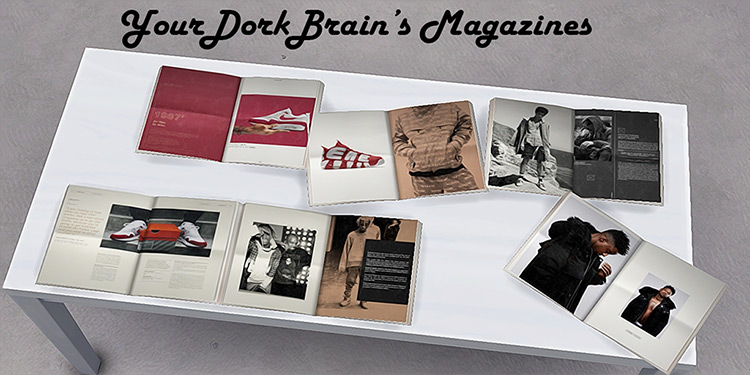 These Hype-Beast magazines are a dream come true for any dedicated Sims interior designer.
They come in 14 swatches, all of which are in simple colors and feature men's fashion. We don't talk about men's fashion enough!
I can see these in a modern flat of a fashion-conscious young man who knows which trainers are best and how to wear an oversized hoodie without looking like they're going through a rough time.
2.

Solatium Magazines by SIMcredible!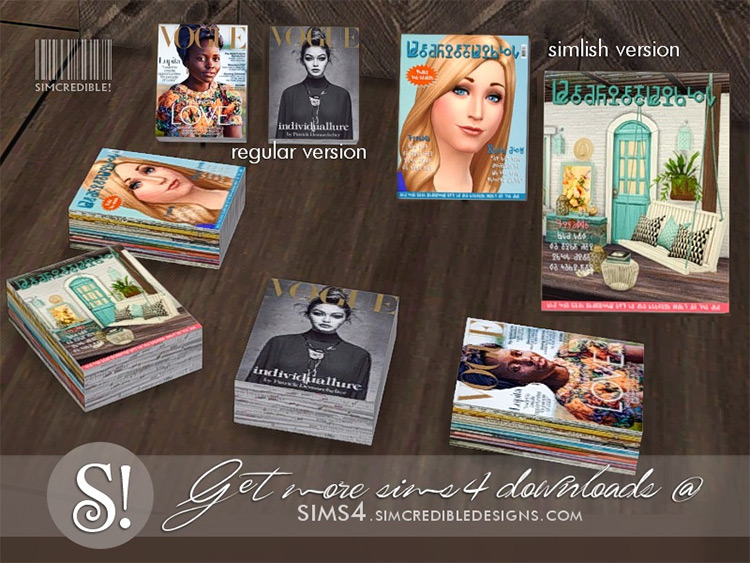 These are Simlish versions of popular magazines, and would be perfect for those of you who like their design to match with the Sim world.
And no English to be found here! Only Simlish. Sul-sul.
You can also choose between 4 colors and styles – so do think your Sim is more likely to read a fashion and beauty magazine, or a design magazine?
The choice is yours.
3.

SIM Magazines by dazmari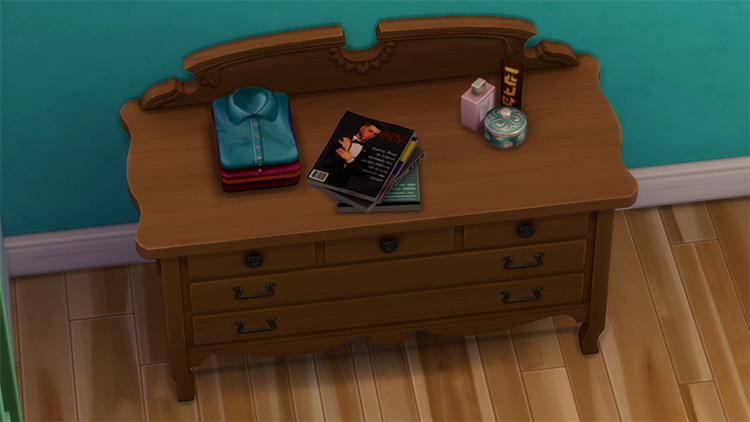 These Maxis Match mags come in 6 swatches and they're perfect for some compact decoration.
They won't take up too much space on your Sim's coffee table or hall table, but they will do a lot to make the room look more lived-in.
The only problem with these magazines is that they all look so good – which is why my Sims now have six different piles of magazines scattered all over the house.
Oops?
4.

Magazine Clutter by J00wish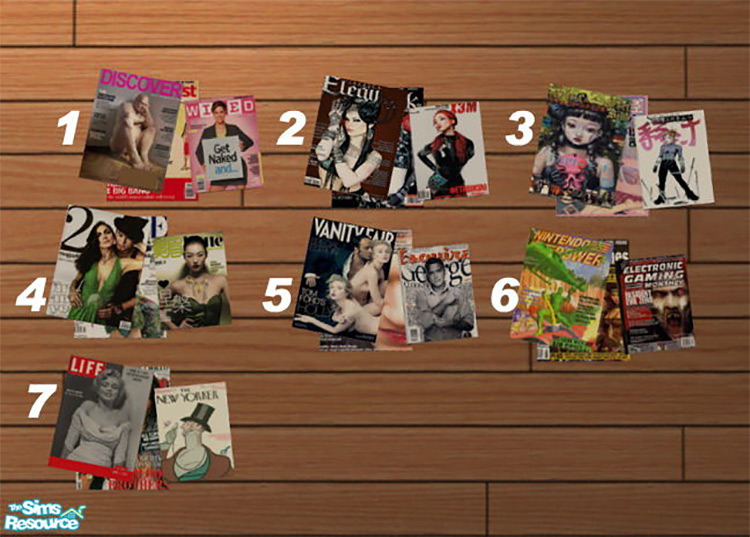 I picked this magazine clutter because it offers so much variety. Often when we think about magazines, we go to the selected few, like Vogue or Empire.
But those aren't the only options!
Is your Sims into Emo music? Here's a magazine for them.
Are they a gamer? Have this one.
What about if they want to read essays and commentaries? This one has them covered.
See what I mean? We're practically spoiled for choice with this magazine set.
5.

Melanin Magazines by simminmybestlife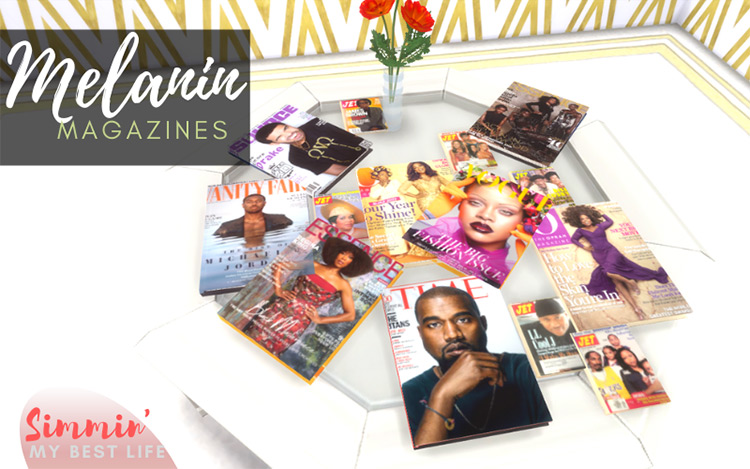 Diversity in media is important. We all know that.
So why not bring some diversity to the world of the Sims media as well?
This pack of magazine clutter features some awesome famous folks on the covers, all from a variety of backgrounds. From Jet Magazines to Vanity Fair, your Sims are bound to find something worth reading here.
6.

Gay Lifestyle Magazines by digisims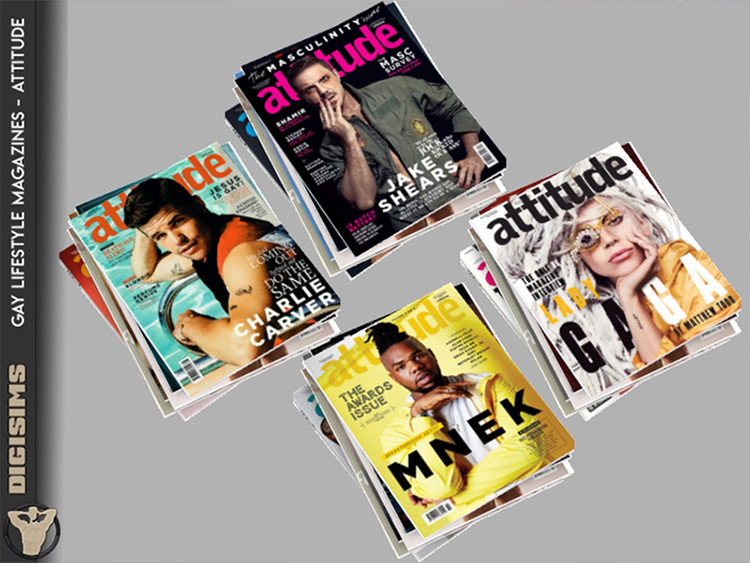 If you've never heard of Attitude magazine, let me explain it to you:
Attitude is a popular British gay lifestyle magazine. That's it. That's all you need to know.
It's a magazine for us LGBTQ+ folks.
And I don't know about you, but not all my Sims are straight. In fact, there might be a bit of an overwhelming majority of non-cis & straight Sims in my neighborhoods.
If you're in the same boat then I'm sure you'll understand the appeal of these. It'd be nice for our Sims to have the option to pick up something less hetero every now and then.
The magazines in this pack feature some exciting stars that your Sim would appreciate, too, like Lady Gaga or MNEK.
Now we can all fangirl together, Sims and their humans alike.
7.

Vintage Glamour Books and Magazines by Tukete

I love these custom books and magazines.
Firstly, I love them because they're more in the Maxis Match realm, and would not look out of place in my game.
Second, I love them because of the vintage vibe.
I love me some vintage vibe. I mean really, the Vintage Glamour Stuff Pack is my favorite pack so far.
I think this magazine clutter would look just divine on a vanity desk, maybe next to some perfumes and makeup.
8.

Magazine Holders by LeoSims
Forget the magazines, we also need some magazine holders too!
And these magazine holders are, in my opinion, pretty versatile.
You could use them in your shop – a couple of my Sims own a tiny little bookstore, and these would look great on the wall as décor.
But you could even have them in your home, especially if your Sims work in publishing, fashion, or photography.
I can already see these in my Sim's office, just to the left of the desktop computer. Taking up space that we didn't really need anyways.
9.

Erin Magazine Rack by NynaeveDesign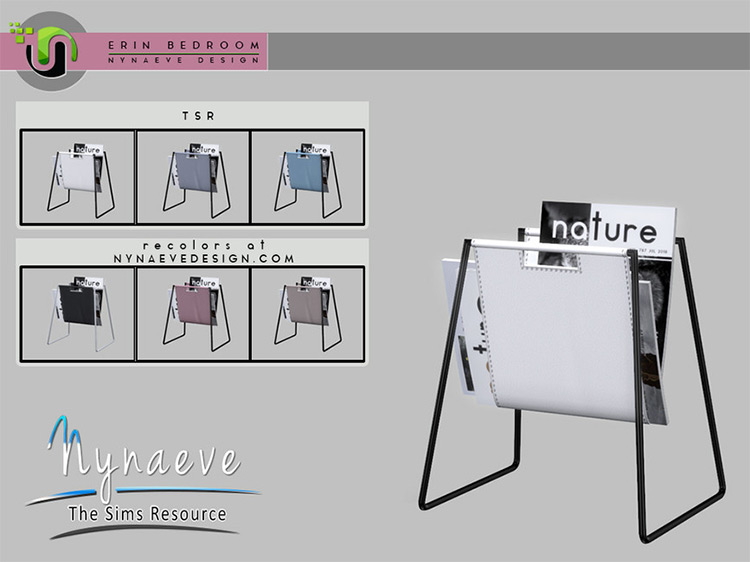 What would happen if there was such a thing as a laundry basket for magazines?
I think this CC is the answer.
But in all seriousness, this Erin Magazine Rack is gorgeous. It's simple, it has some tasteful color options, and it will hold lots of magazines.
Honestly, I need one of these for myself. It seems like a neat solution for that toppling pile of mags that are balancing on the edge of my desk.
10.

Wall Magazine Rack by MXIMS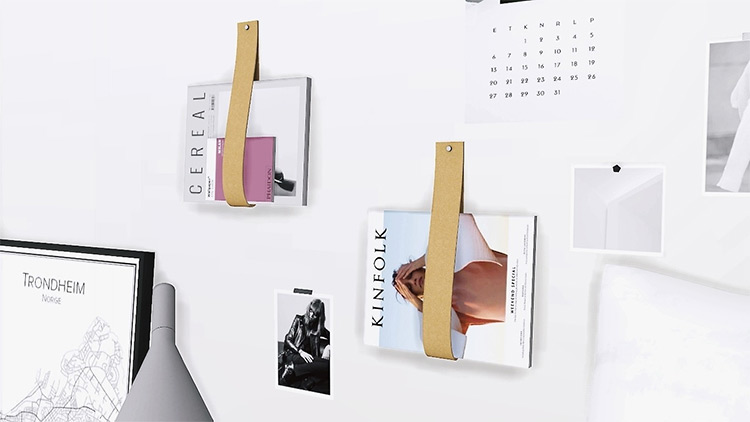 I'm going to quote Twilight here:
I am unconditionally and irrevocably in love with these wall magazine racks.
I think that's how that Twilight line goes, isn't it?
When I was looking up innovative magazine racks for TS4, I stumbled across these. And I actually gasped.
How simple and elegant is this?
I say that from now on, this is the only official way to store magazines.
Browse:
Lists
The Sims 4
Video Games