15 Best Maid CC & Mods For The Sims 4
This post may contain affiliate links. If you buy something we may get a small commission at no extra cost to you. (Learn more).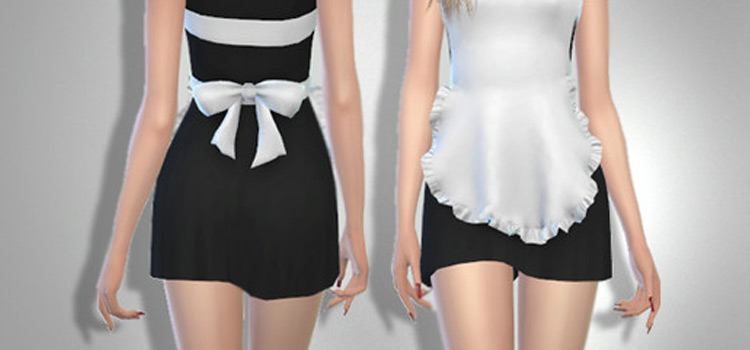 Welcome, Master! Or is it Mistress? Madam?
My lord? My lady?
Well whichever you prefer, you're sure to enjoy the CCs on our list. We've got maid outfits galore!
Different styles for various tastes brought to digital life by Sims 4 fans all over the world.
Not sure if you're into the demure kind, or maybe you want something related to anime? Maybe you want your sim looking classy instead.
No matter what kinda maid you're after, there's something on this list for you.
15.

EVE Maid Set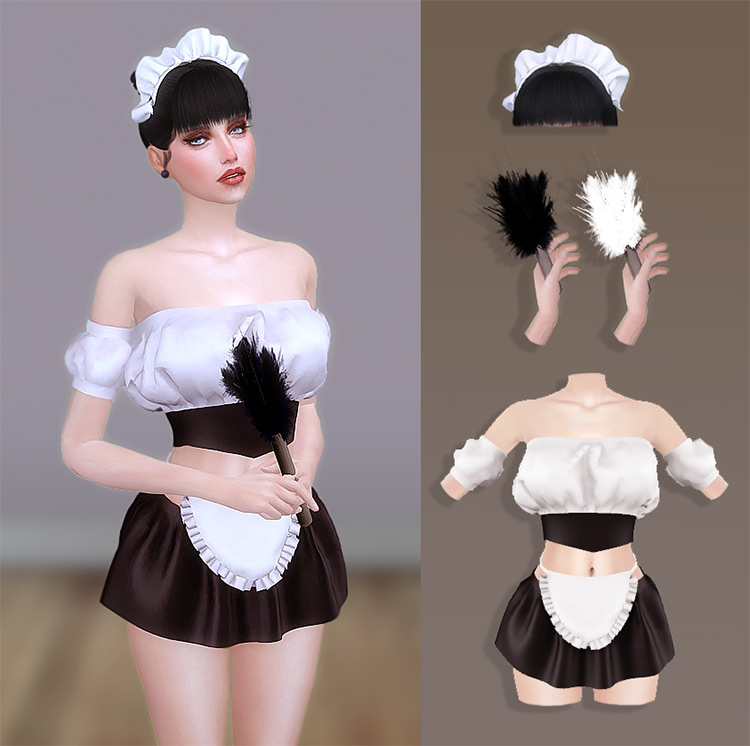 Greeting us first is this provocative little number by SMsims.
Coming in only 1 color, this CC belongs to a set that includes the same colored dusting wand and headdress to complete the look.
If you're a fan of Game of Thrones, Vikings, or The Tudors… you get the idea. Well this may be to your liking anyway.
It's on the risqué side with the lower butt visible at the back, so it's up to you if this fits your Sim's personality. Risk it to be risqué.
I say do it for the tiny apron.
Note: to access the link, you'll need to log into a DeviantArt account or create one. But it's all totally free either way.
14.

Maid Onepiece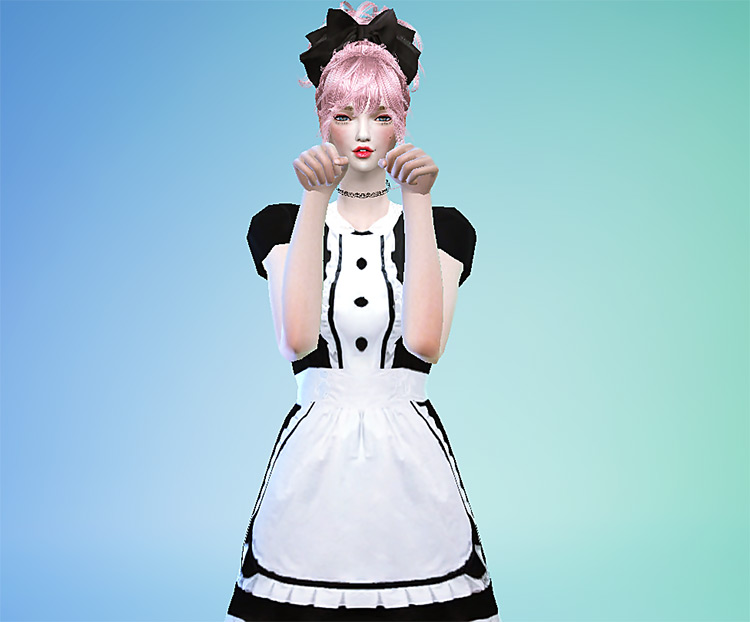 Cuter than your basic uniform.
Hoping to get less housework assigned to that one sim?
This may give just a small advantage.
South Korean CC maker Marigold nails the sweet and lovable vibe with this maid outfit. Frilly-looking without actually having frills, this dress is available in 6 dark primary colors.
Seems more like a uniform at a hip maid café rather than belonging to an actual household helper. But hey, that's The Sims!
13.

Maid Uniform V1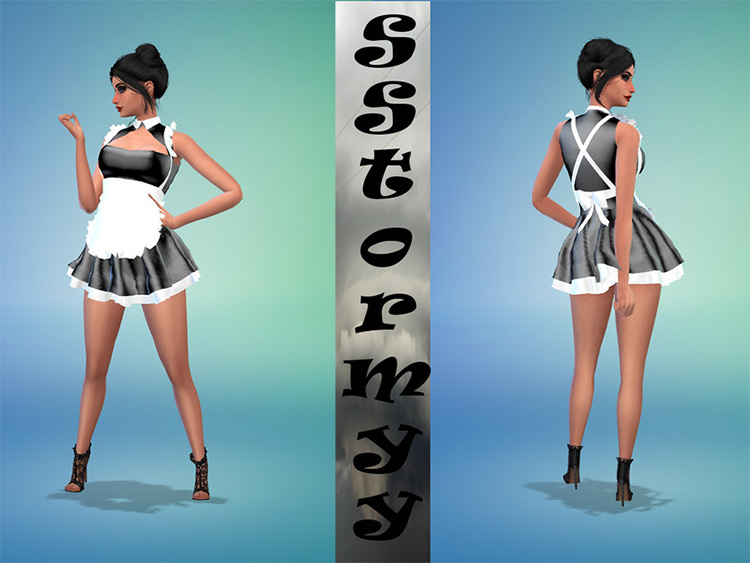 Seductress on a cleaning mission.
This very sexy low neckline dress gives plenty of cleavage without bordering on R18. All parts are guaranteed covered and secured, ladies.
This dress projects a presence similar to the French maid type—playful and alluring without being trashy.
Not highly recommended for cleaning, though. As it goes better as a flirty maid costume for a Halloween party.
All eyes will surely be on your sim.
Its creator Sstormy offers it to us in 6 bright neon colors.
12.

Maid Costume for Females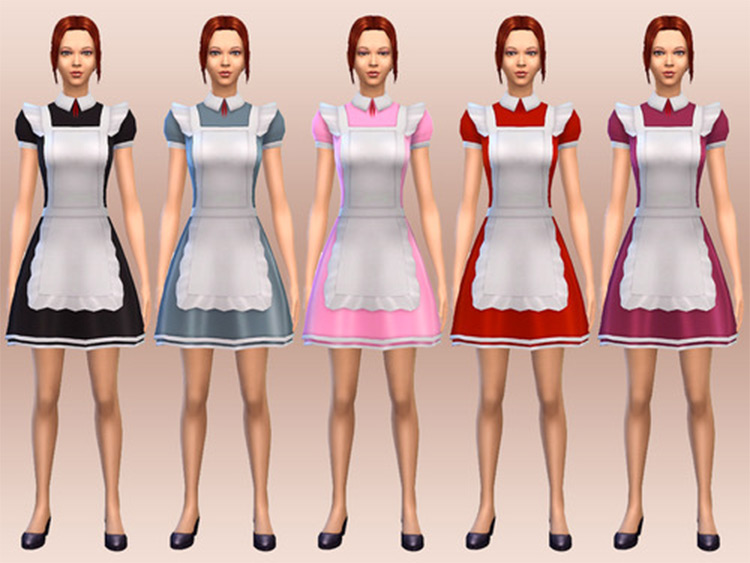 Did someone order a go-getter dress with loads of style and confidence?
Because CC artist NotEgain certainly delivered it.
Professional looking has never been as delightful as this. Poised without being stiff, this attractive maid outfit can easily be pulled off by any sim.
The dress's outline is sharp and means business. While the puffed balloon sleeves add a girlish charm.
Any Sim who wears this will look great in all of the 10 swatches. But wait, your favorite color isn't included?
Then go ahead and take your time to get the color you want with the recoloring files offered by the creator. How nice!
11.

Maid Uniforms
This one's got a unique feature.
The creator, Sims4Nexus, made 2 versions of this CC.
First is the 'override' version, which changes the game's maid uniform and even adds pantyhose stockings.
Only 4 of the 15 colors are applicable for this.
Second is the 'stand-alone' version with 15 colors, which is the regular CC that only applies to your Sims.
Simple and elegant.
The linen texture of the fabric is distinctly visible in most colors too, except the dark ones. If working diligently with class is your Sim's personality, this is the uniform you're looking for.
10.

Maid Costume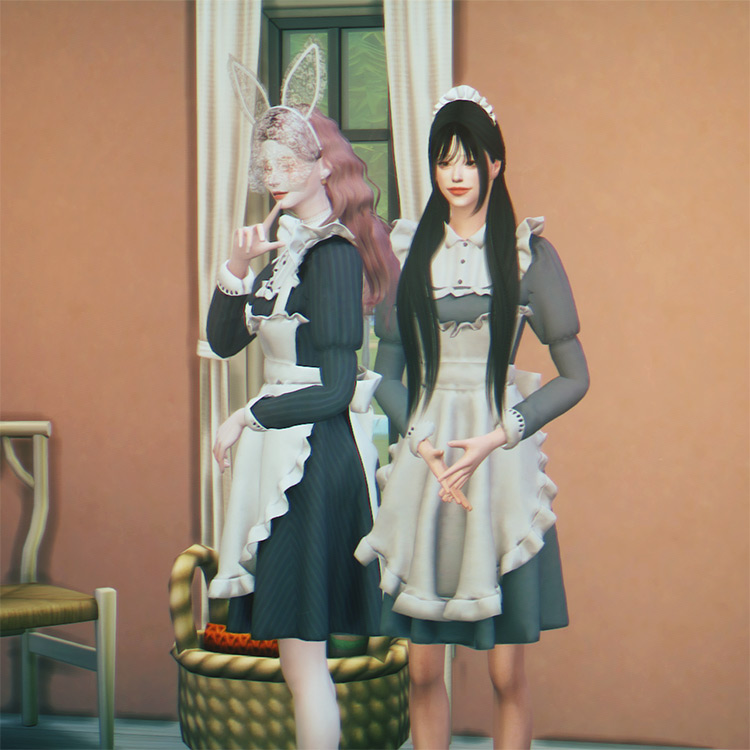 Get the perfect doll-like look you want.
This CC resembles doll clothes from old English times. Just ignore that the skirt ends high up above the knee, it is a pretty cute mini skirt style though!
Looking traditional like Jane Eyre up top, while flashing sculpted legs à la J. Lo.
Cutesy and formal with long sleeves, the frills that dominate this outfit add an innocent appeal to it.
Shendori, a South Korean artist, created this lovely dress in 8 mostly muted shades. Particularly eye-catching is the black and gray pinstripe swatch.
9.

1930s Maid Uniform Set
Prim and proper without a wrinkle in sight.
Traits of the golden age of Hollywood appear fully embodied in this stern but classy uniform. You'll find high waists that elongate the legs in this long straight skirt.
The 30's fashion style highlights the body's curvaceous shape, while concealing skin as much as possible.
Artist Happylifesims prepared 2 versions here, with and without the apron, both in 4 colors.
Perfect for vintage styled homes. And it can pass off as a modern dress without the apron, too.
8.

Maid Keyhole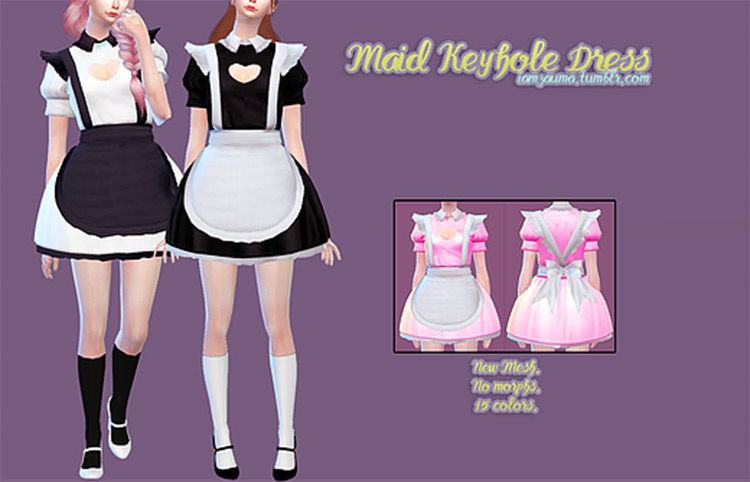 Kawaii got your heart?
Japanese CC producer Zauma makes some of the sweetest maid costumes for the Sims 4.
This Maid Keyhole outfit, in particular, makes your sims cute in 15 bright neon colors. Blindingly charming, even haters of bright colors might give this a chance.
The heart-shaped hole could leave you trapped in it for weeks as well. Nirvana reference aside, this CC is pretty and refreshing.
Kind of makes one want to turn an empty lot into a maid café.
7.

Dead Or Alive Maid Set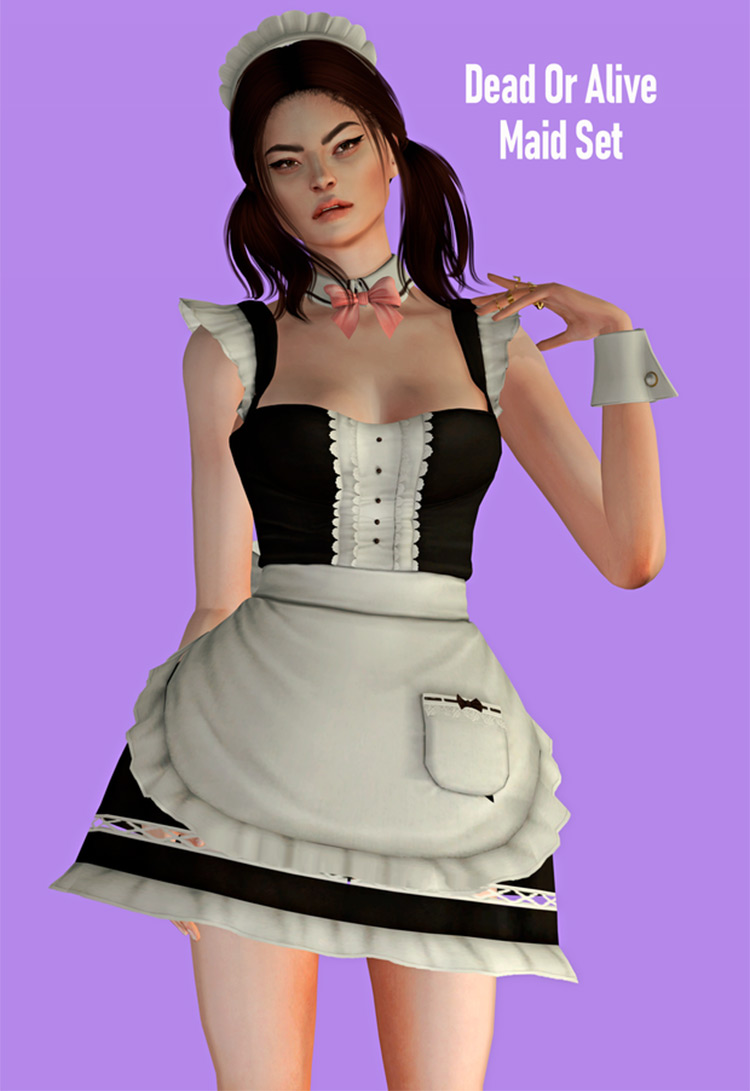 Va-va-voom. Pleasant distraction at your service.
Without a doubt, one of the sexiest outfits on the list.
This maid's uniform, despite radiating that "hot" appeal, is relatively wholesome. No butts, no peeks at anything.
Russian creator Astya96 made this based on one of the costumes of the video game Dead or Alive.
There are 8 options available for this dress. Quite a decent amount!
But the highlight is its voluptuous frame, which looks great on any Sim gal.
Overall, this is a pretty get-up that your sim will probably love.
6.

Chobits Chii Dress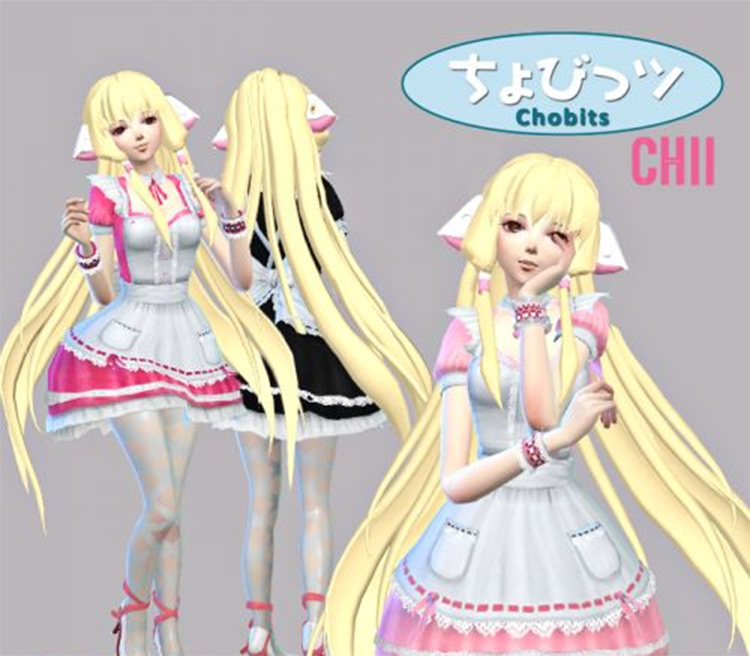 Get this for your ultimate anime robot waifu.
Anime lovers may easily recognize this outfit from the early 2000s. This bubbly design is replicated by maker Cosplaysimmer from the anime Chobits that aired in 2002.
Faithful to the character's consistent colors, Chii's dress is offered in 3 colors, light pink, pink, and black.
Fun and fluffy with a lacy skirt, you can even get the matching shoes and stockings to fully transform your sim to persocom.
5.

Mrs. White Maid's Uniform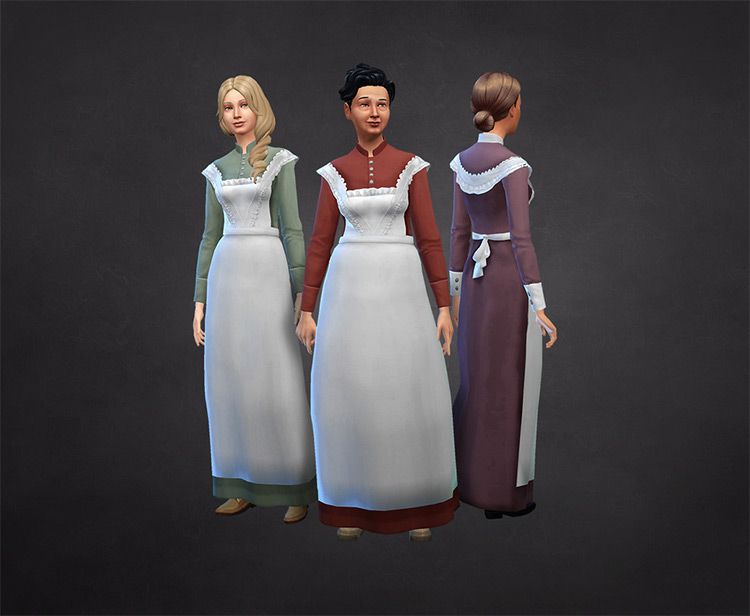 Are you in need of an experienced governess for your children?
Let Mrs. White care for them with discipline.
If you just imagined Maria from the Sound of Music turning all 'strictly-business-here' like the father, this is what she would have been wearing.
Accessible in 19 subdued colors, the long fitted sleeves and skirt give this dress a stern feeling. And the delicate details visible on the apron's shoulder straps give it a soft, classic quality too.
Linzlu definitely perfected the 1900s Victorian maid uniform with this CC.
4.

HIT Pyran Costume 1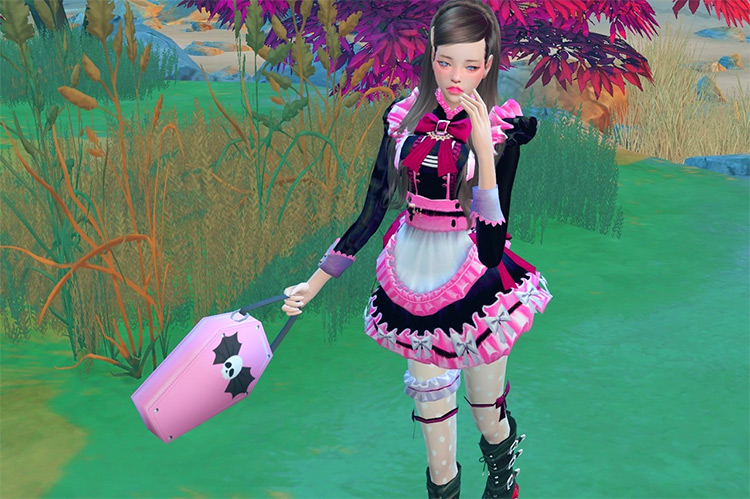 Bring your J-rock/pop fantasy to life.
Inspired by Pyran from the mobile game Heroes of Incredible Tales, artist Junkosims produced this dazzling CC.
Reminiscent of Japan's Harajuku fashion, this Japanese Lolita style maid outfit is overwhelming with cuteness and flair.
It's very detailed, with careful attention given to the laces and ribbons. Even the buttons on the uniform are clearly visible, along with other tiny features.
One cool part of this outfit is the thigh garter and ribbons. They also change colors to match the dress, pretty neat!
Choose from 12 vibrant swatch combinations that look best on your Sim.
3.

Japanese Kimono Maid Dress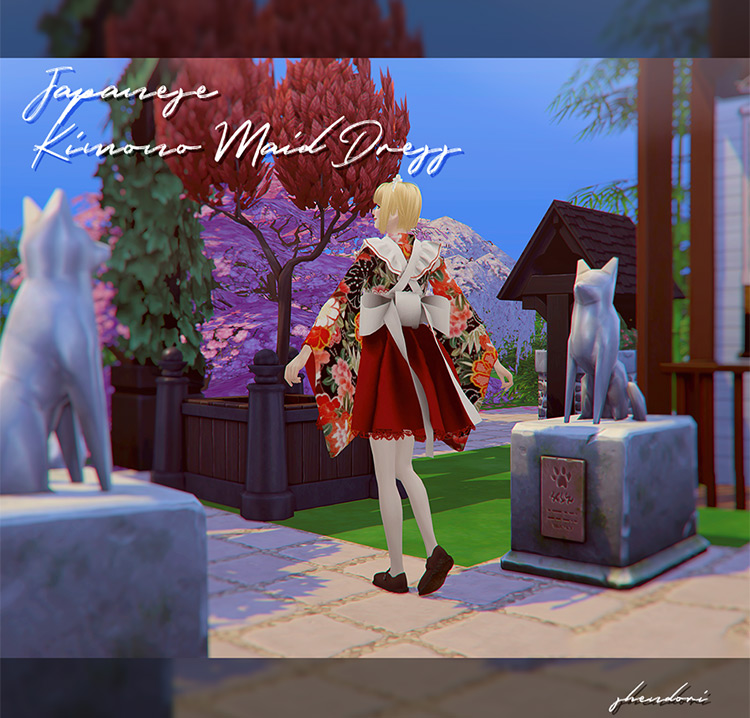 How may I be of service, my liege?
Dreamy and elegant, this kimono maid dress is easily a top-tier costume.
With your sim wearing this, she's automatically grants her loads of fancy points—no doubt about it.
Yes, your sim's still a maid. But better, because she's serving royalty. That'll be your sim's aura with this outfit.
You have 2 variants with this CC: the regular kimono sleeves, or longer and fuller sleeves.
Basically, take your pick between fancy and fancier.
There are also 18 beautiful hues for this dress. Shendori chose several picturesque patterns for the kimono top. and kept the skirt in solid matching colors.
2.

Maid Dress – Maria
Hopeful, and kind, but not accepting anyone's crap.
Also helping around the house while being sweet and pure.
From CC artist Saterlly, this outfit perfectly captures the pleasant but still formal vibe of a young governess newly introduced into an unruly house.
The long-fitted sleeves are tailored to look well and refined.
On top of the long skirt, the apron has slits on both sides too. Mostly for better movement to chase mischievous kids around the house.
There are 2 different color swatches for this, all totaling 80 colors.
1.

Cute Maid Dress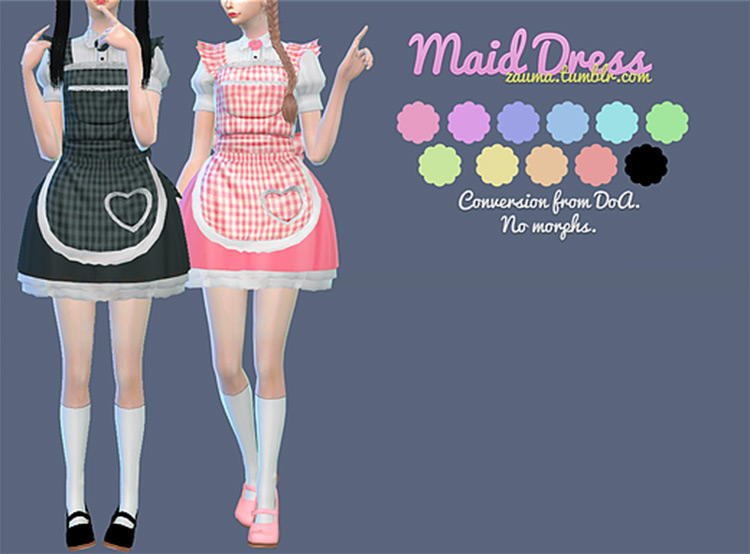 Utterly adorable.
People who like cute things in general, will find this one unbearably so.
Only cutesy positive words can be said for this maid outfit.
Reigning on top, Zauma presents this endearing maid's uniform in 11 colors. 10 soft pastel tones + the traditional black.
Everything fits so well together from the high rounded collar, and underskirt, to the rose collar accessory. It's all so perfect.
The checkered staple apron even has a noticeable heart pattern.
Who could resist this cutie?
Browse:
Lists
The Sims 4
Video Games