Sims 4 CC: Best Long Sleeve Shirts For Guys
This post may contain affiliate links. If you buy something we may get a small commission at no extra cost to you. (Learn more).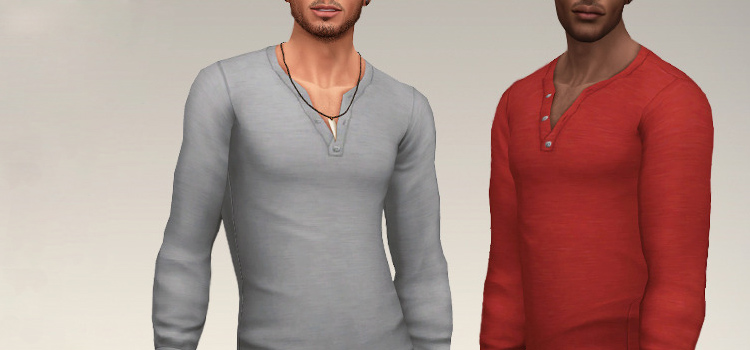 Male Sims don't get as much love as female Sims. So it can seem like there isn't a lot out there for them.
The truth is, there's a lot to be found – especially if you're looking for something broad like a specific type of shirt.
And there's definitely something to be said for long sleeve shirts, which come in a much larger variety in real life than in the game.
In this collection we're sharing a variety of CC for every guy Sim's tastes, from semi-formal button ups to super comfy long sleeve shirts.
And as always with custom content, you can count on a whole bunch of swatches for most of them!
1.

Men's Long Sleeved Tees
You're probably already familiar with this shirt since it's actually from the base game – but it's like brand new with all these additional swatches!
This has always been a fantastic casual option.
It's slightly form fitting, but not completely skin tight. Sometimes baggy clothes can make a Sim look a little too comfy, or like a prime candidate for the Slob trait.
Sorry, but it's true.
Balancing baggy shirts out is a lot easier in real life somehow. There's just no way to make those lopsided, oversized tops from Laundry Day look good.
You'll never have that problem here, though.
The issue was the limitation of swatches – and now with 28 new shades thanks to this recolor, your Sims will have options for days.
2.

Solid & Graphic Long Sleeve Shirts
As the creator themselves said here, we need more male CC.
That's no lie. For some reason, it's always seemed more difficult to make cute male Sims and the fanmade content reflects that.
There are exceptions, of course. A lot of creators have made awesome stuff and Ayoshi is one of them.
It's already pretty cool to have a brand new shirt, but you'll have a lot of choices here to make your Sims as handsome as can be!
This kind of detail isn't often done with Maxis Match clothes, but Ayoshi did it flawlessly here.
Not one of these 55 swatches will look one bit out of place in your game. Several have graphic designs, while the solid color palette brings tons of new colors to the table.
3.

Cats & Dogs Shirt Tucked In
Cats & Dogs may be one of the most beloved and least controversial out of all Sims packs.
No one can complain about our Sims finally being able to have furry friends – and the world, Brindleton Bay, is one of the best.
The additions to Create-A-Sim, on the other hand… well, they leave something to be desired for some players. A lot of them aren't very neutral, they're very heavy on the pet themes or have a certain style.
This little edit gives the layered buttoned shirt a much neater look due to the way they'll now automatically tuck into any bottoms.
And don't worry if you don't have the pack.
Thanks to this creator's efforts, the tweaked top is now base game compatible.
4.

Miles Top
One of the best parts about discovering new CC is being introduced to new styles.
This male top definitely fits the bill on both fronts.
Not only is it layered, but there's a zipped turtleneck thing going on too.
The days where your male Sims have to suffer with nothing more than the basics are long gone!
Pixelette has got something here that's completely original, even more so with all the swatches.
5.

Ayoshi's H&M Sweater
Being fashionably raggedy is a very popular style.
It sounds kind of funny, but that's the best way to describe the rips, holes, and threadbare look that makes up so many wardrobes.
From grunge fashion to streetwear, tons of men's outfits especially utilize the "worn" design.
Whether those holes come naturally or were out there by the manufacturer, the end result is pretty cool!
This design is based on a real sweater from H&M. But it's not as bulky as most of the sweaters in the game. Also the knit texture and tears are very vivid – and with 25 styles in total, there's plenty of great colors to choose from.
6.

Color Blocked Classic Shirt
Button-ups have been ruling men's fashion for decades.
They're the norm now just as much as they were in the '60s, when the "proper" way to wear them was tucked into khakis or corduroys.
Well this is a new age.
Fashion thrives on experimentation. And this Simmer, DarkNighTt, has put a modern twist on this classic.
Rather than just solid colors, all of these shirts have dark camouflage patches on the sides and sleeves.
It may sound a little weird. But honestly, it works really well!
That gray camo contrasts against the solids, which include all colors of the rainbow and then some, just right.
Your Sims can look handsome with a dash of old school charm.
7.

Tartan Shirts
As great as buttoned shirts look when they're fastened, the best thing about them is how versatile they are when left open.
They can play a larger part in an outfit as an outer layer, leading to a more carefree & laidback appearance.
And this style gives the shirt a whole new purpose. Several of them, as a matter of fact!
All 24 of these swatches have a plaid print in tons of colors both light and dark.
Each one is so different, you could use them again and again without it getting old.
Plus the shirt beneath is white throughout, which is actually a brilliant idea. By keeping that neutral, the plaid gets its chance to shine – and you don't have to worry about it clashing against other designs.
8.

Fashion Street Shirt
The Sims 4 is the most fashion-conscious game to date.
We've come a long way since the days where shoes and pants weren't separated.
Now we get Kits completely centered around adding new clothes, and that's pretty epic!
But players will always find ways to add their own personal touches.
And Cloudcat's edit of this shirt from the Fashion Street Kit might just be exactly what you needed.
It has a relaxed fit that's just a little on the baggy side, and the sleeves are bunched up near the elbows.
Sometimes clothes in this game can look like they're painted on, with no details of the fabric. But not here.
The cotton texture and faint stitching are both easy to see and brilliantly done.
9.

Don Juan Tucked Shirt
Here's a more traditional tucked shirt.
This one has everything that has made this style endure so long, and everything that makes it so flattering.
Something about the rolled sleeves is just so lovely.
It's a little more casual than when they go to the wrist – but a big perk of this halfway compromise is if your Sim has tattoos, they won't have to hide them!
10.

V-neck, Long Sleeves
CC creator Rope, who has tons of custom content geared towards men, retired from making new stuff a while ago.
But his clothes really are timeless.
And something a lot of Simmers may not know is that most of the time, Create-A-Sim CC isn't impacted by updates!
We all know the horror of dealing with outdated mods after a new patch. But since clothes and hair don't have anything to do with how the game itself runs or functions, the files are generally exempt from any risk of becoming corrupted.
Fortunately, this simple top should be safe for the foreseeable future.
The V-neck cut is a nice change of pace from the typical collar design. So this is a shirt that'll be staple for all ages.
Sims both young and old can rock this in their own way – and you can easily make that happen with such an abundance of swatches.
11.

Linen Henley
What's not to like about a Henley?
It's more than a t-shirt, less than a sweater, and perfect for everyday wear throughout the year.
Rope has done it again here – and by "it" I mean transformed something super basic into a sight to behold.
Simple as this may be, there's nothing like it in the base game.
And it's another neutral option for guys of all ages.
The loose fit, buttons, and uncomplicated appearance are all typical characteristics for Henley shirts.
What's important is that they're very much in fashion nowadays. And with 25 different options, you should be able to get tons of use out of them.
12.

Flower Power Shirts
Just one more button-up here, for good measure!
These shirts are all about florals, and it's honestly straight up genius.
A lot of folks might say flowers aren't manly. But I think they're awesome in any context.
It's a nice way to add something different to CAS for your male Sims.
If you want, you can go loud and proud with the flowers and pick one of the swatches where the whole shirt is covered in a big print.
Or you can always go with one of the more low key options, which all have just a small accent on the chest.
As far as I can tell, this is a recolor of a base game shirt – but it's a huge upgrade.
The solid colors are bright and smooth, while all of the flowers are clear, vivid, and compliment the main color.
No matter what swatch you go with, it's bound to be a winner!
13.

Back To Basics Long Sleeve Tee
Some players may think basic CC is boring.
But if you look at the bigger picture, it's easy to see this is actually some of the most worthwhile stuff you can download.
Since these are solid colored shirts with no additional prints, patterns, or logos, they're neutral enough to be used again and again.
You might come to connect a specific type of shirt with a certain Sim if you play them long enough, but will you really connect a gray tee to anyone in particular?
Probably not, unless you've got a really good memory.
This is another one of those shirts that fits into the game so well, it's a wonder this wasn't made by EA.
The faint knit texture is subtle enough that it'll never clash with any other fabric. And if you really want to get fancy, this is a prime candidate to experiment with accessory jackets or vests.
14.

Black Off White Marker Arrows Long Sleeve
Here's something a little more unique, in direct contrast to basic tops.
When you're after something trendy and cool, it's nice to have options.
This long-sleeve guy's shirt will be a valued addition to your mods folder for sure.
There's just one swatch, but it's awesome enough to stand on its own.
It has a solid black base while white drawings of geometric shapes and arrows run along the sleeves and back.
Black and white are classic opposites already, being used together for good reason.
But this is a very striking shirt all around – and will be a great choice for your male Sims ages teen and older.
15.

Colors T-Shirt
If you want something that'll really pop, look no further.
This vibrant long-sleeved shirt from RobertaPLobo is loaded with mixing and merging colors every which way.
Any given swatch is like a rainbow exploded.
There's also a claw design on the chest, like a dinosaur swiped it, exposing even more colors.
It's the opposite of a blackhole, this is an endless void of beauty!
Aside from that, this is your standard long sleeve shirt.
It'll be a perfect fit on any Sim in terms of size, and overall has a smooth design that does lean more Alpha than MM, but it still looks great.
And no need to worry about unsightly chopping or flaws.
Browse:
Lists
Maxis Match
The Sims 4
Video Games