Sims 4 CC: Male Ponytails & Updo Hair Mods (All Free)
This post may contain affiliate links. If you buy something we may get a small commission at no extra cost to you. (Learn more).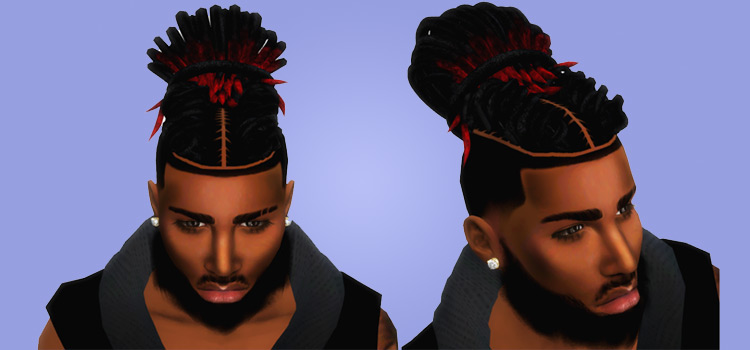 When women put their hair up, you better get out of the way because you know something serious is about to go down. The ponytail, or any updo, has been a woman's secret weapon since time immemorial – whether to combat heat, or to just keep hair away from the face (you guys don't understand the struggle).
And men who have long hair can definitely relate to the joys of maintaining an updo. It has seen a resurgence in style after being rather dormant since the late 90s.
But we believe it's about time men discovered the joys of having their hair up! In real life, and in The Sims.
We searched high and low for some of the best ponytail hairstyles for The Sims 4, with plenty of CC to make your gentlemen Sims looking extra classy.
10.

The Man Bun
Kicking off our list is the quintessential go-to updo for guys.
This look was once thought to be just a passing trend – reserved for modern day Casanovas – but it has proven its longevity as more long-haired non-hipster identifying fellas turn to this bun as their go-to look.
Rope recreated the effortless man bun with this CC for The Sims 4. Nothing fancy, just classy!
Your teen Sims can start sporting this up to their twilight years. Available in 18 base game colors.
9.

Low Man Bun
When they go high, we go low. Or was it the other way around?
This Low Man Bun by Peacemaker_IC is another classic. It evokes a more chill and carefree vibe, saying "I just woke up, wbu?"
All while you order your daily flat white before heading to volunteer work. I'm sure you we all know that Sim.
This hair is base game compatible, using the base colors. It will go well with your Sim's favorite hat, too, whether it's a classic cap or a tippable fedora.
8.

Ponytail Hair
Contrary to popular belief – ponytails aren't a sign of messiness!
Ponytails have gotten a bad rep for being a messy person's hairstyle of choice because of how easy they are to pull off.
Show people how well styled you are despite your long locks, all with Revolutions Sims' Ponytail Hair.
This sleek male ponytail CC comes in 6 swatches and is devoid of stray hairs, letting other Sims know that hey, you took some time combing this back.
Benefits include the ability to flaunt your chiseled jawline and the power to whip your hair back and forth.
7.

Shaved Bun Hair
Here's a confession, promise you won't judge:
We can't get enough of men and their shaved buns.
Simduction's Shaved Bun Hair, for us, is one of the best bun CCs your Sim can have!
It takes your cookie-cutter man bun to a whole new level. This look is not for the faint of heart, as you need lots of confidence to pull this off. This one is also hat compatible, but why bother?
This daring look will also look so great with your beard of choice.
6.

Updo Dreadlocks
Jah man!
Massive dreadlocks weighing you down, literally?
If you'd rather keep your Sim's dreadlocks but want to switch up their look, take a gander at Birksche's Updo Dreadlocks for male Sims. This messy updo still showcases the dreads without it looking too heavy.
It's compatible with hats or the classic beanie!
Feel the Rastafari vibes, and this look will have you feeling irie in an instant.
5.

Braided Dread Bun
Pulling this next look off in real life is a bit tricky and requires lots of maintenance.
But aren't you lucky we live in a Sim world where almost everything is possible?
You can call this Braided Dread Bun by XxBlackSims the ultimate updo. It fuses three man bun styles: braided, dreadlocks, and shaved. Whew child.
Imagine the upkeep for this in the real world! It looks totally rad, though, and guaranteed to make your Sim the freshest.
4.

Jujujam Ponytail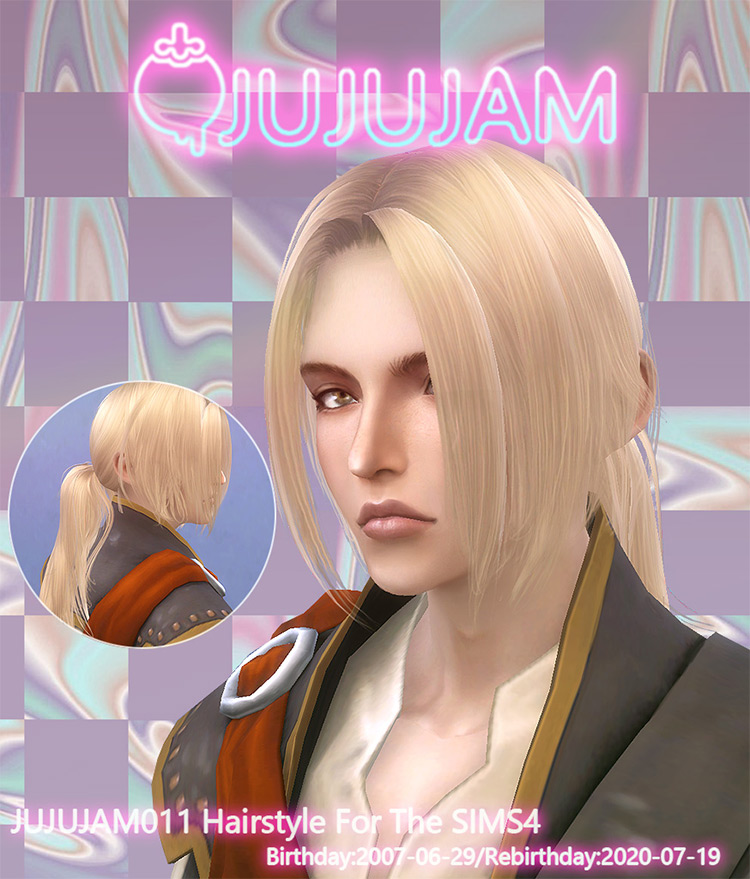 Whenever I play RPGs, I can't help but think to myself how cool those characters' hairstyles are—especially male characters who seem to have an endless supply of hair gel and treatments.
This Jujujam Ponytail CC is a hair worthy of those RPG heroes.
This reminds me of those Final Fantasy boys, with hair more lit than their woman counterparts!
Now all you need is a ridiculously large sword plus a bosom buddy, and you're free to go and save the world.
3.

Sunset
Amp up your Sim's coolness factor with this shaved and braided updo by Anto that will make any lady swipe right on Simda (yes, it's a real dating app mod).
This man bun has big 'I'll-love-then-leave-you' vibes, but don't tell the females that!
This Sunset hair features a high bun, shaved sides, and a single braid that elevates the whole look. It also puts you in a secret league of gentlemen who know how to braid. Win-win right?
This CC comes in 18 colors and can also be used with hats.
2.

Dreamcatcher Hair
We all know about dreamcatchers, yeah? Tools hung above one's bed because they're believed to catch bad dreams and allow good dreams to last all night.
With this ponytail CC by Nightcrawler Sims, your Sim will bring only good dreams into their life.
This sleek braided ponytail cascades down to the chest, with shaved sides that just ooze coolness. Choose from 22 colors, and even top it off with a hat if you're in the mood. Be the dream to catch!
1.

Drogo New Ponytail
There's one particular character that stood out during Game of Thrones' widely successful TV run, despite his one-season appearance: Khal Drogo – a Dothraki Khal (leader).
We won't get into too many specifics, but all you need to know is this: men wanted to be him, women wanted to be with him.
If you don't have an army at your disposal and rock hard abs in real life, maybe live out your Dothraki fantasies through The Sims using Birksche's Drogo New Ponytail CC.
Drogo had the longest ponytail in the Dothraki game, and that's what you'll get with this mod.
Now, off you go to find yourself your very own Khaleesi.
Browse:
Lists
The Sims 4
Video Games