Sims 4 CC: Male Shorts For Guys (All Free To Download)
This post may contain affiliate links. If you buy something we may get a small commission at no extra cost to you. (Learn more).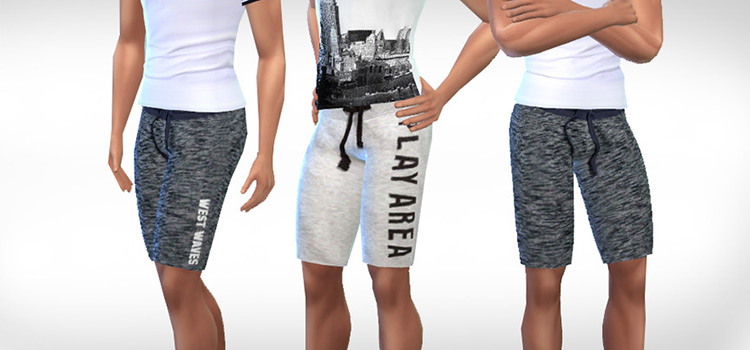 Want to hold on to that summer feeling forever? With this list designed for your adorable male sims, you can!
Roll up your shorts, get your flip-flops on, and head down to the beach. These custom shorts are ranging from deep blue denim to sports shorts that will get you moving, and everything inbetween.
No matter if you're looking for something to hit the gym in, or just looking to take a fashionable nap on the couch, shorts are the way to go.
But why stick to just the base game? We've got hundreds of talented CC creators out there, so let's give them some love.
10.

Stylish Steven Shorts
Coming in near the top are these everyday shorts by PinkZombieCupCakes.
These are your run of the mill, dusk to dawn men's shorts.
What I love about these is the fact they come in 39 colors. Talk about versatility! You could go anywhere in these. And are these available IRL? I'd wear 'em.
They have a nice central button, something distinctly different from the belt designs on this list.
If you're looking for something straight to the point, PinkZombieCupCakes has hit the nail on the head.
9.

DSF Shorts Noctis
Have you got a basketball game at 2 but a summer party at 3?
I'm pretty sure that's what DanSimsFantasy had in mind creating these Noctis Summer shorts.
Coming in a ridiculous range of 40 colors (I didn't even know there was that many?), this CC set has something for everyone.
Split between basketball shorts and loungewear, I'd say these babies will have you covered in any situation.
8.

Adidas Male Shorts
Give your Sim a day off. They deserve it!
If you're looking for a pair of shorts to lounge around the house in, Puresim has something for your guy.
The classic black, white, and grey Adidas design looks fantastic.
A white and black striped drawstring and matching colored pockets then create a neat finish.
Deck out your sim in all the latest brands.
7.

Safari Shorts
Okay, admit it. We've all had a cargo short moment in high school.
It's nothing to be ashamed about!
In fact, Sims House's Safari shorts CC are all about embracing the past.
There's something for everyone, coming in 19 different colors and pattern options, spanning over Camouflage, Monophonic, Floral, or Animal print.
If you're looking for a broad CC that has a little bit of everything, Sims House has got your back!
The range of patterns means any outfit you choose will have something in store.
Military fashion? Got the camo.
Going to band practice? Black and white checkers.
Anything you need, Sims House has thought of it and made it.
6.

Colourful Athletic Shorts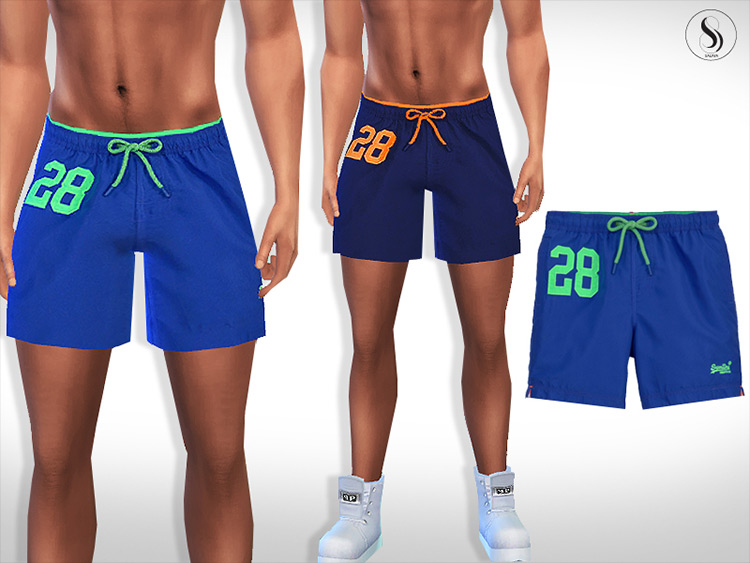 Now some dude's shorts heavyweights enter the ring.
Saliwa is known for their aesthetic and fashionable men's shorts CC. And from these, I can see why!
These blue shorts have a neon 28 printed on the side, boldly standing out. This contrast between neon and matte creates a fantastic finish.
With matching drawstring ties, Saliwa has created an excellent addition to anyone's wardrobe!
These look sporty enough for you to hit the weights. Or if you're not about that life, then head over the couch and take a seat. Just relax!
These stylish shorts will make any activity look just that much cooler.
5.

Grid Shorts
You say summer, I think picnic.
These shorts are the perfect outdoor picnic shorts. Make the most of the sun and head to the park!
Remaron has created a grid design, spanning over 9 different swatches. The design itself looks balanced, with lighter and darker shades of whichever color you pick spread over a solid color background.
My favorites are the green, black, and blue pair – sending to the download folder now.
4.

Beach Denim
It's summer in The Sims all year long, so let's hit the beach.
Birba32's mindset when making these denim shorts was wear and tear. These aren't your fanciest pair of jean shorts, but they just might be your favorites.
With well-placed fabric rips and matching color folded ends, these shorts scream "summer living".
They look cool with a nice frayed blue color.
Have fun at the beach my friends. Just try not to get too much sand in the holes… No one wants a sandy bum.
3.

Bermuda Sports Shorts
Sometimes you want to kick off your shoes, put the Telly on, and put your feet up.
Feeling a little like that today?
Well these Sports shorts CC by Saliwa are the best thing to wear around the house.
This versatile pair comes in a range of designs that will fit any occasion. If you love monochrome, these will be right up your alley.
The grey and white patterns look fantastic, a needed addition to any guy's wardrobe!
2.

Stripped Line Denim
Denim on denim on denim!
It's okay, The Sims has different rules.
Saliva makes the list once again with these sleek pair of Strip Line Denim shorts.
There's a whole lot of custom denim shorts out there, especially for girls. But these have that little extra something that pushes them above the rest.
The detailing across the shorts gives them a rugged and crumpled look, great for guys and totally capturing that 'just picked up off the floor' jean look.
A folded-over cuff at the bottom of the shorts gives a nice finish to the shorts, the slight color blocking providing a great contrast.
Finally, a color stripe of your choice will cut across the side of the jean, giving great definition and a really sleek finish.
1.

Run Away!
Running? I think not.
Well, at least not in real life.
But if that's your Sims' thing, Merci's 'Run Away Shorts' CC do exactly what they say on the tin.
These shorts are perfect for jogs around the neighborhood.
They have a great cut off, short-short design with side triangle slits.
The attention to detail in this CC is incredible. Merci included individual seams on the leggings, and they look so realistic it's crazy.
These short shorts will get all of Willow Creek talking!
With a Nike tick to let the other sims know you're serious about this fitness journey, snag a pair of these beauties today.
And merci to you, Merci!
Browse:
Lists
The Sims 4
Video Games