Sims 4 Male Tattoo CC: The Ultimate Collection
This post may contain affiliate links. If you buy something we may get a small commission at no extra cost to you. (Learn more).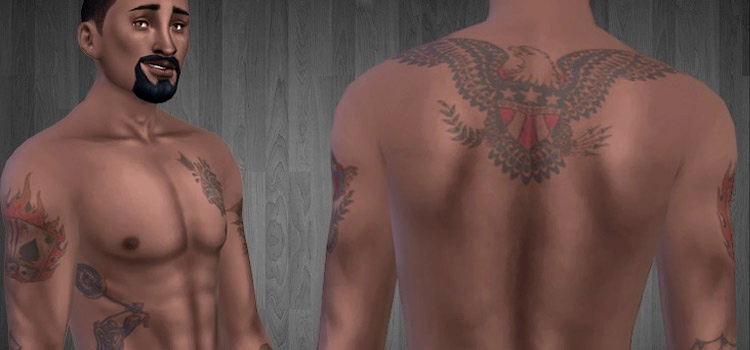 They can tell you everything about a person or nothing at all.
They sometimes upset older people, and there are still those who think they're taboo.
No, I'm not talking about psychics, but tattoos! We are severely limited in TS4 when it comes to tattoos – so it's to be expected that content creators have come up with a ton of new options.
1.

Doodle On Me Tattoos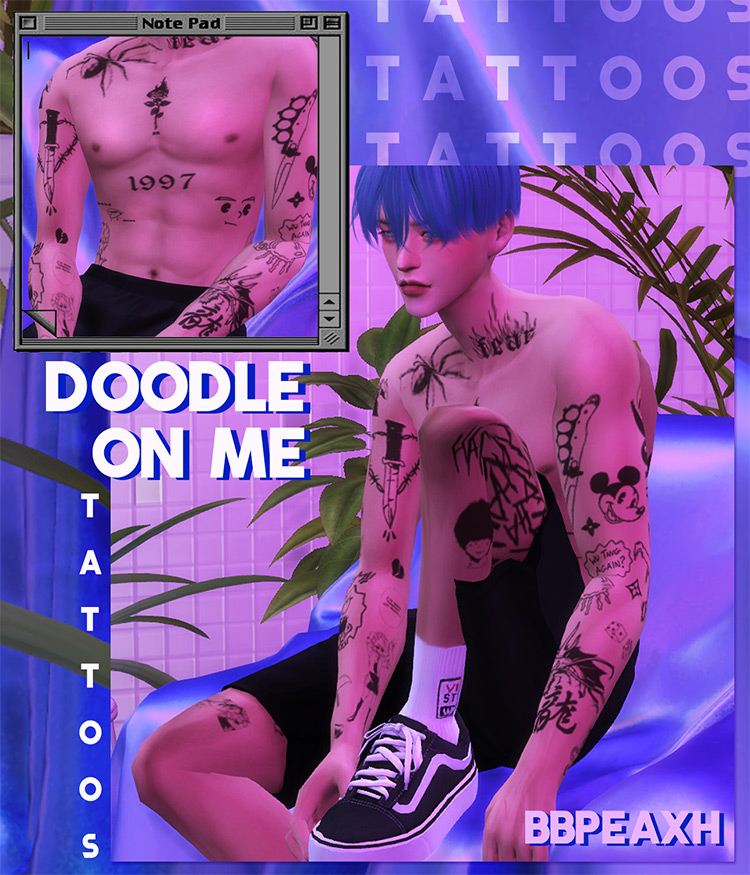 Fortunately, not many people believe anymore that tattoos are required to have significance.
A bunch of cool, random images are part of this, which will be applied to your Sim's arms and torso.
Some of the tats include Mickey Mouse, dice, a knife, and spider, among many other things.
2.

Harry Potter Fanboy Tattoos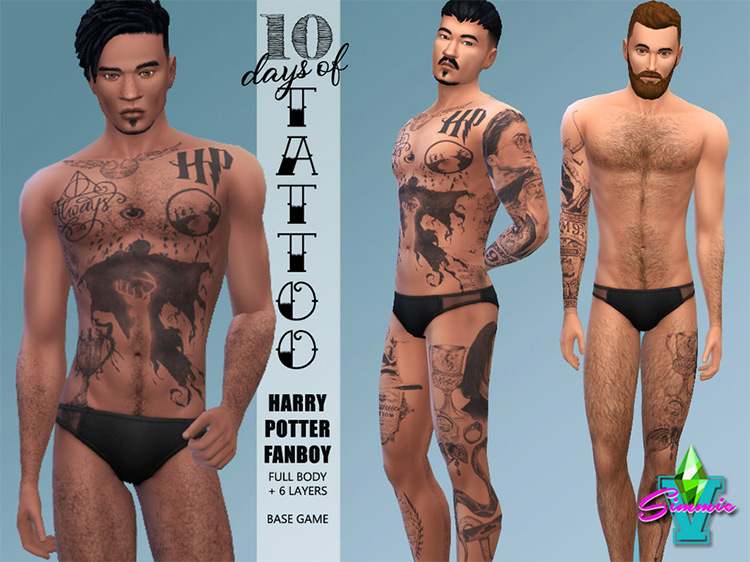 Probably every 5 out of 10 people or so love Harry Potter.
But you've got to be a pretty big fan to get some ink like this.
If you use this set to the fullest extent, then your Sim can be covered in HP tattoos on much of their torso and legs.
3.

Bad Boy Tattoos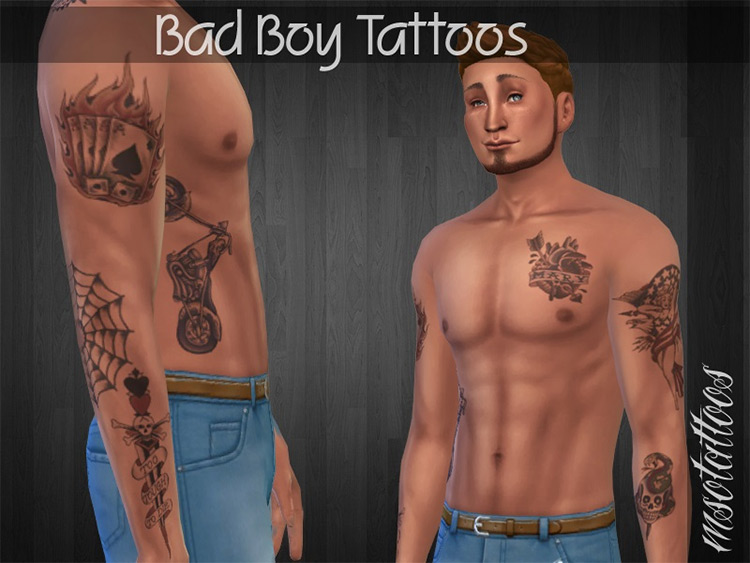 As archaic of an idea as it is, there's no need to fully abandon the "bad boys have tattoos" thing.
These old school tats include flaming cards, an eagle, spiderwebs, a chest tat with a woman's name, and so on. Standard stuff for a guy who always seems to find trouble.
4.

Swallows Chest Tattoo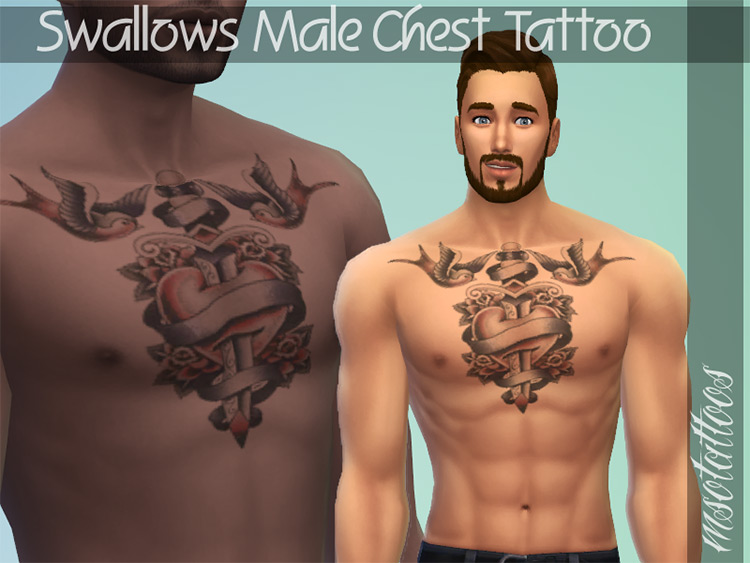 This large chest tattoo is very well done and has a fairly simple sword through the heart design, with two birds at the top. It's classy, beautiful, and a little rugged.
You can assign your own meaning to it, and use it as often as you please.
5.

Aztec Tattoos For Men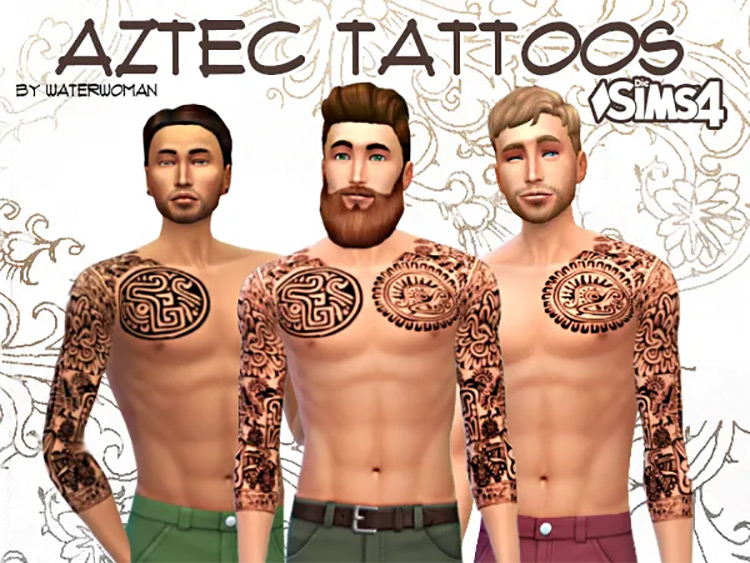 Tattoos have been an important part of many tribes for hundreds, maybe even thousands of years.
These bold arm and shoulder tats are a great example of modern Aztec designs. They pack a lot into a small area and the closer you look, the more you'll see.
6.

Stay Wild Full Body Tattoo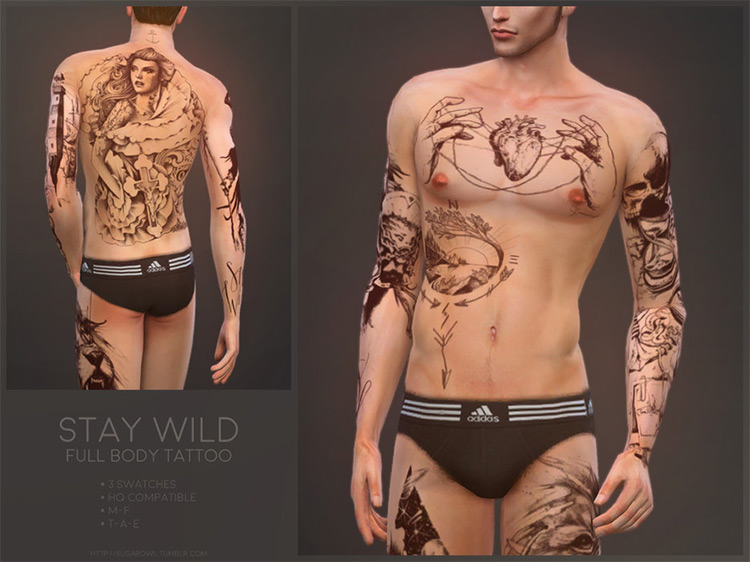 Sugar Owl has got some of the most detailed and realistic designs you'll find. Like this CC's name suggests, if your Sim's got a wild streak, then this should fit their personality well.
And this really is a full body design.
The front, back, and legs all have something going on.
7.

Wolfgang Tattoo Set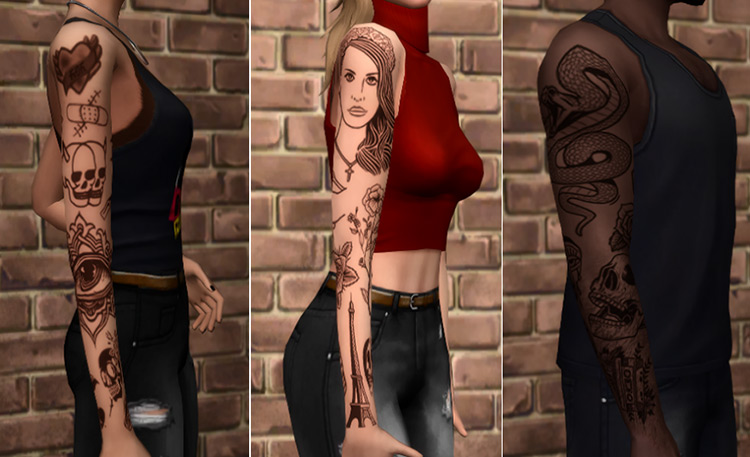 In The Sims 4, sleeves are a one-and-done deal to get Sims inked up and looking sick.
These 7 swatches suit the style of The Sims 4 perfectly and each one is so different and original, you'll never grow tired of them.
Roses, skulls, and eyeballs? Snakes, coffins, and ghosts? Sign me up.
8.

Sugar Owl's 4 Random Tattoos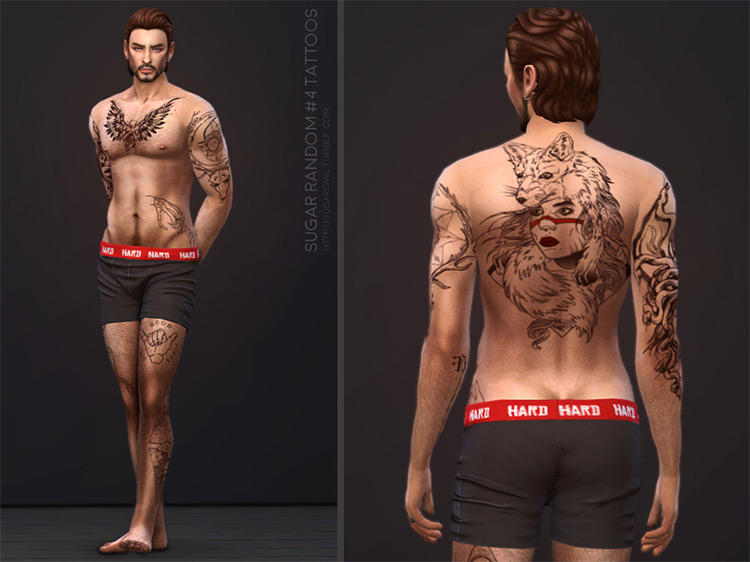 Here we have some more incredible, detailed designs from Sugar Owl, this time with no defined theme.
Just as most avid tattoo lovers will get all kinds of different things, these four random pieces of body art will result in one cool looking torso.
9.

Johnny's Tattoos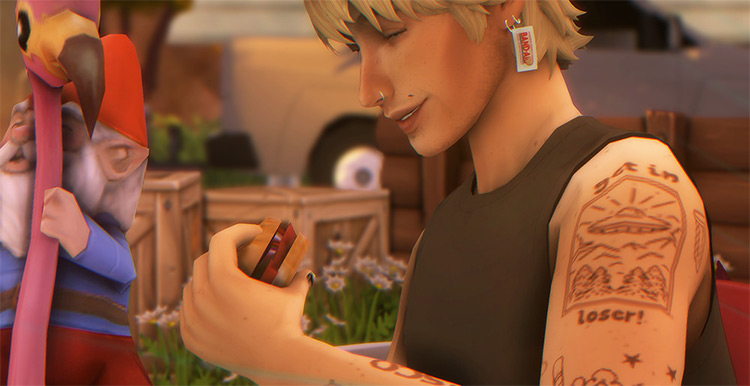 Who's Johnny? Beats me.
But apparently this Simmer created some personalized tattoos for him, and they just might feel personal to your own Sims, too.
This is another great example of the modern approach to tattoos. These are fun, carefree, and pretty random.
10.

Nocturne Tattoos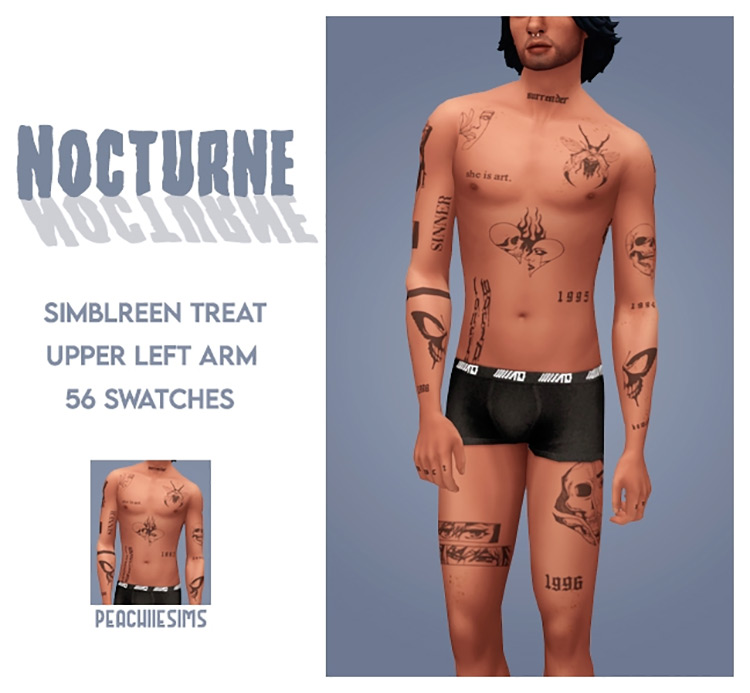 You'll have the ultimate level of control and customization with these 56 swatches.
That's an insane amount of options, 9 of which are for full body looks.
These are all based around nighttime, with an underlying nostalgic feel. Several English phrases are included as well as some years, but most swatches consist of imagery.
11.

Furtado Tattoo Set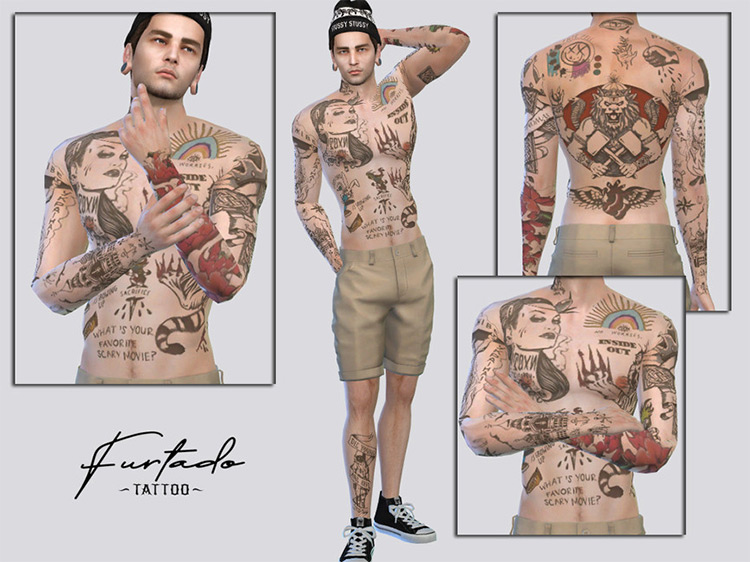 Most tattoos are black, both real ones and in The Sims.
Well, it turns out love isn't the only thing that looks better in color. The shades of blue and red included here make the designs stand out even more.
This set includes five swatches for your Sim's torso and arms.
12.

Tattoo Set Gentleman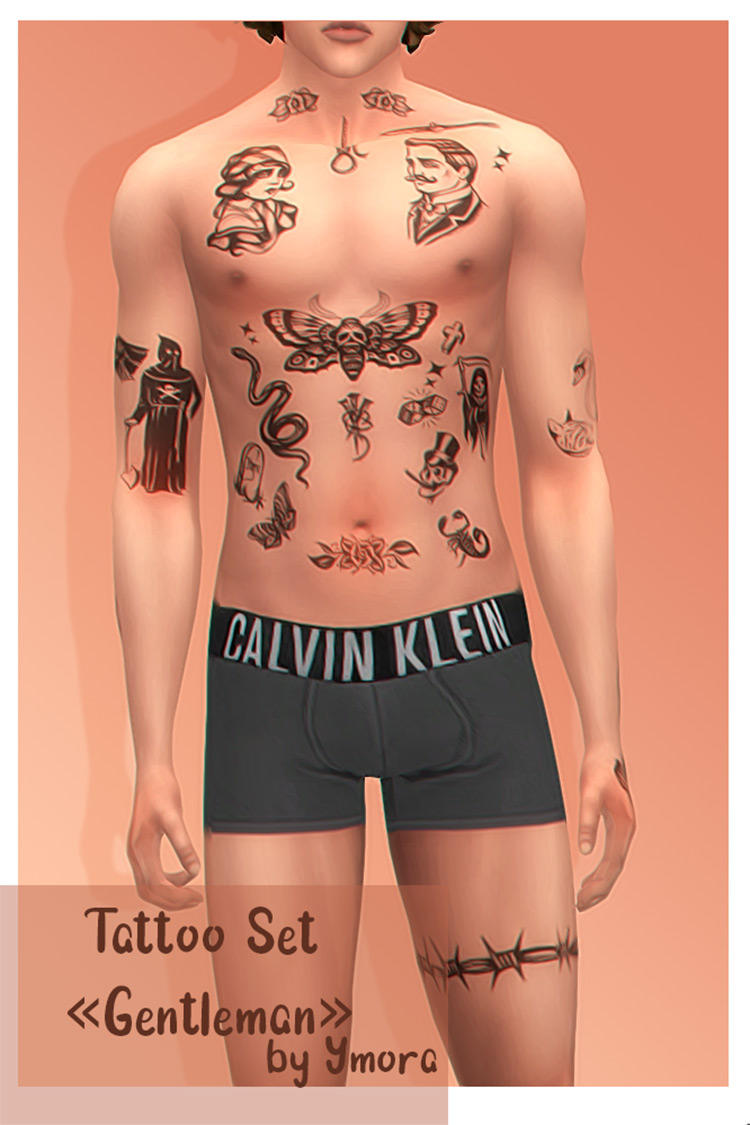 Lord knows there's nothing more gentlemanly than serpents and reapers. But the skull is wearing a top hat, so I guess it all balances out.
Even though there's just one swatch, several unique tattoos are included in this set – and they've got some very intricate details.
13.

Jade Scorpion's Tattoo Collection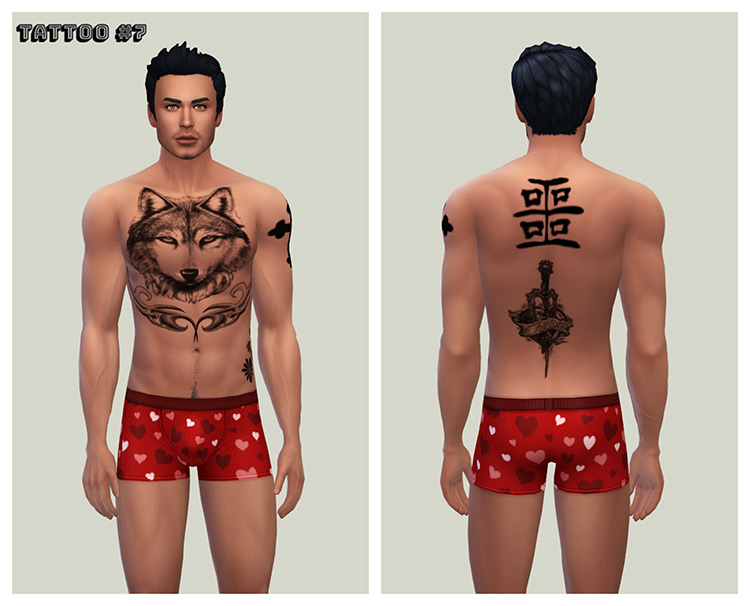 Here's a small pack with a nice variety.
Options include mandalas, a skull and crossbones, a good old dagger through the heart design, and another with a large heart surrounded by barbed wire.
There's also an incredible wolf tattoo, as well as some smaller stars and fairies.
14.

Skull Hand Tattoos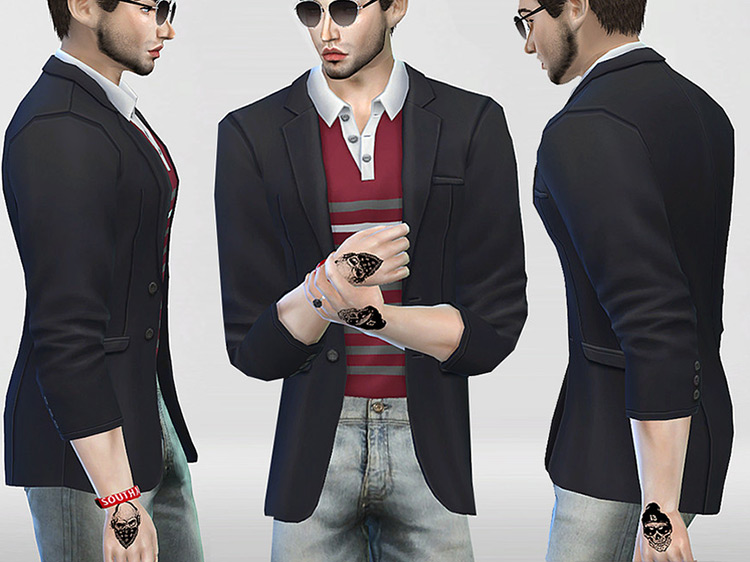 A lot of folks nowadays want to show off their ink loud and proud.
And why shouldn't they? If you've got something cool, everyone should see it!
There will be no hiding these skulls unless your Sim wears gloves, 'cause they go right on the back of their hands.
15.

Lil Peep Tattoos Pack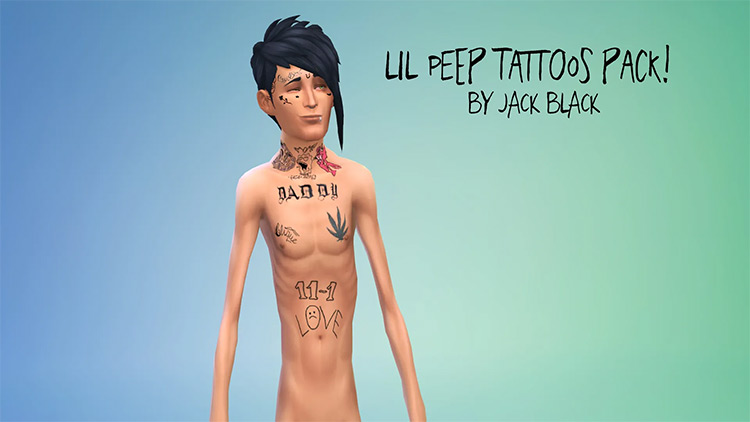 Lil Peep is a rapper who tragically passed on back in 2017, but he's living on through his fans and apparently… through The Sims?
These replica tattoos are extremely accurate, from the location to the design. They'll give you some good options for your Sim's torso, neck, and even face.
16.

Full Sleeves

These were created by an actual tattoo artist so you know they're gonna be good.
Given this Simmer's background and expertise, he wasn't satisfied with the base game options and stepped things up with this sleeve set. There's no question that these are some of the highest quality, most detailed sleeves around.
17.

BexoSims' Tattoo Set #4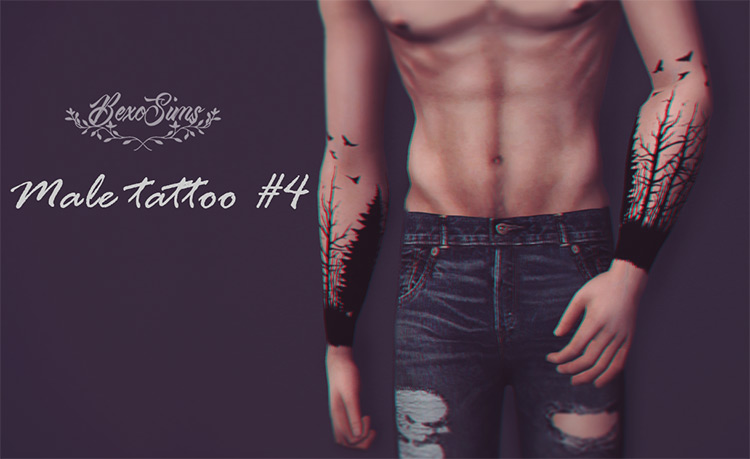 For something truly unique, you've got to snag these forearm tattoos from BexoSims.
The spooky, eerie feeling of these is unmatched. I didn't even know you could get that from tattoos, but here we are.
It's super dark, and it's basically a work of art.
18.

Soram Tattoo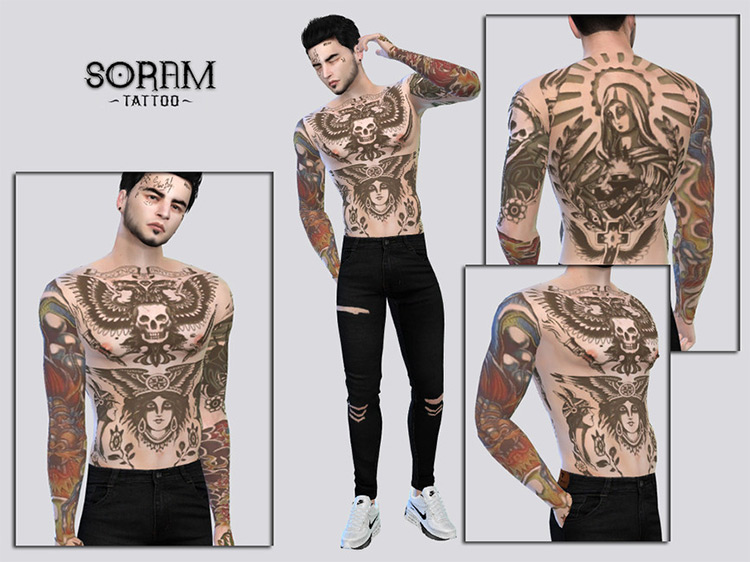 If tattooed arms are sleeves, maybe we should start calling tattooed torsos shirts. That makes sense to me.
It's certainly a distinct look, even on a Sim, so you'll want to make sure everything is perfect.
These designs are full of detailed artwork and a cool touch is that some are even in color.
19.

Misfit Tattoos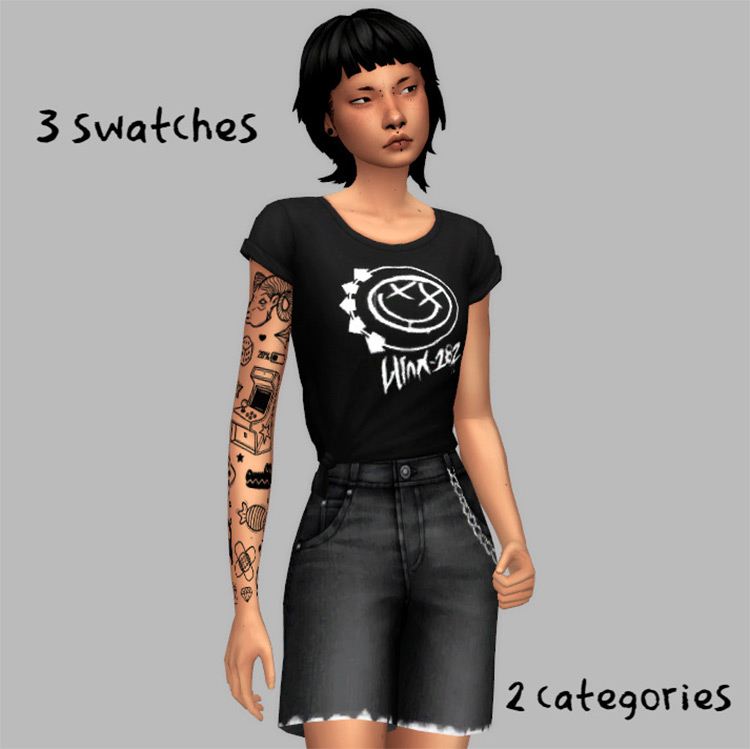 Here are some more fun doodle tattoos, this time in full sleeves.
As you'd expect, there's a lot going on here and if you like this style of ink, you're bound to love every bit of this.
The solar system inside of a lightbulb is the largest design for either arm and it's quite unique.
20.

Wicked Simlish Tattoos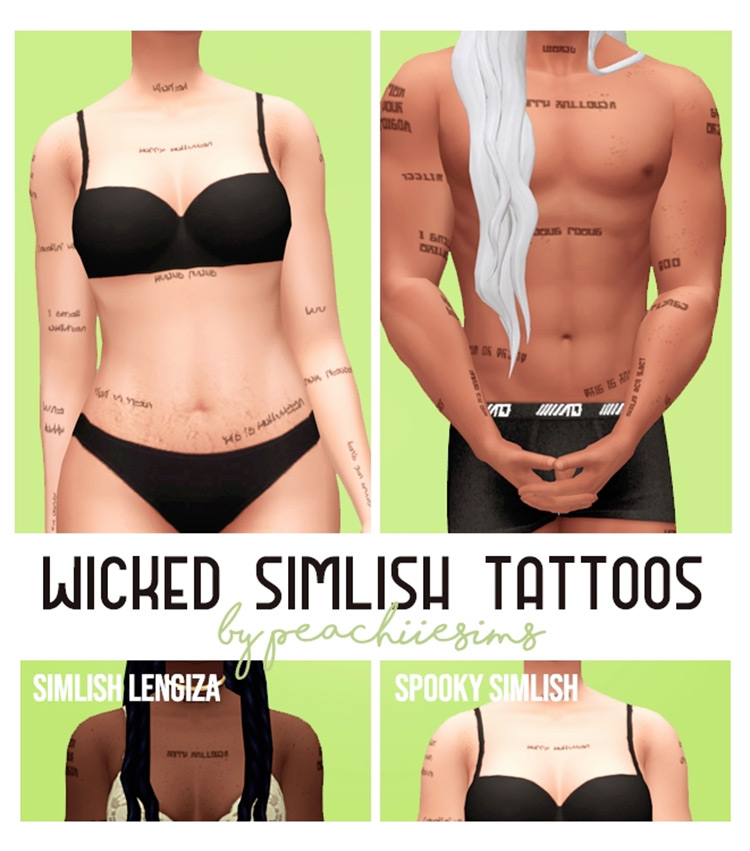 Simlish is like a secret code. Because only big time Simmers will see those senseless squiggles and symbols as something recognizable.
Most of the time, it just looks as unhinged and random as The Sims games themselves are.
This creator made 31 designs here, including 4 full body ones, all based off of Halloween sayings.
21.

Post Malone Face Tattoos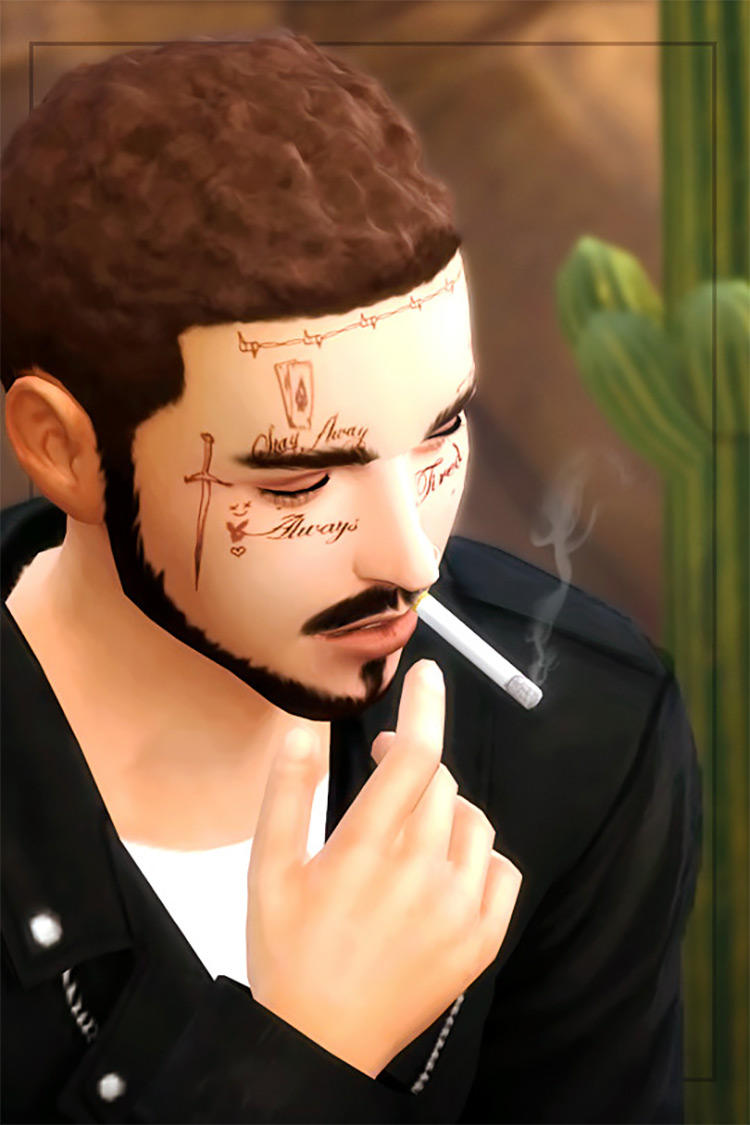 Tattoos for a Sim's face aren't nearly as plentiful as options for the rest of the body, so each one is a gem.
Post Malone's own tastes have been recreated here, and in perfect quality.
The CC creator even made them separated so you can mix and match however you want.
22.

Tattoo Set #5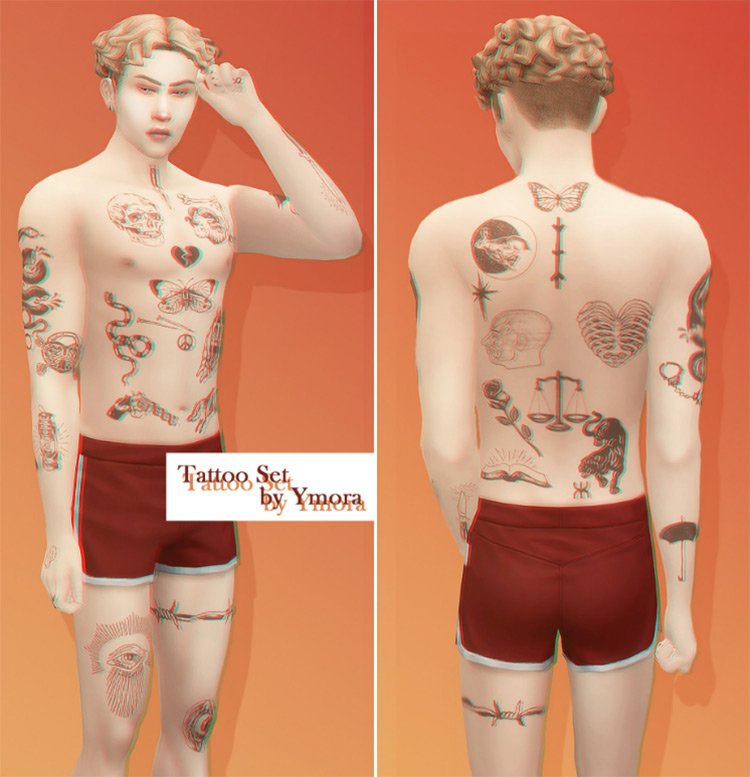 Some people want cute animals and pretty flowers for tattoos.
And then there are those who want snakes, skulls, and broken hearts. This CC set is for the 2nd group.
All of these are really cool, but on the darker, edgier side. The single swatch is for the whole torso.
23.

Paranormal Tattoos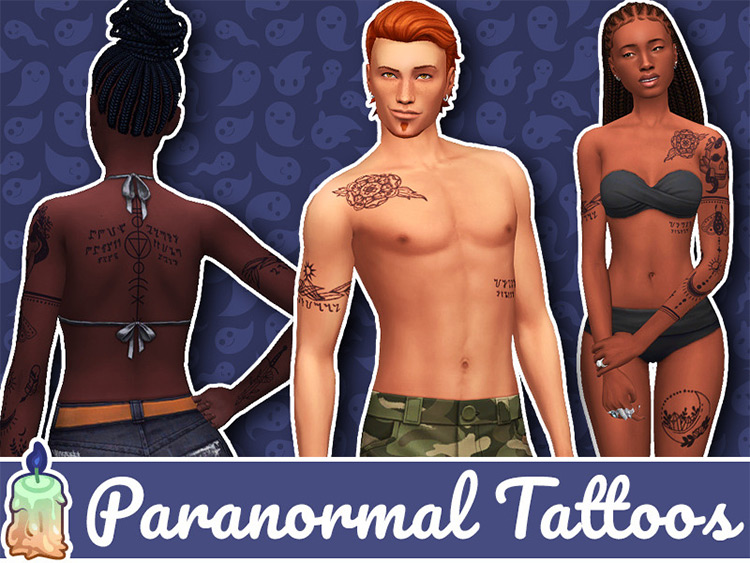 The paranormal is just so fun.
Maybe not when you're actually dealing with a poltergeist, but in The Sims, it literally is all fun and games!
FrenchieSim's 12 epic designs feature classics like a Ouija board, pentagram, skulls, and much more.
They are even inclusive, offering options for both dark and light skintones.
24.

Emeryn's RL Thigh Tattoo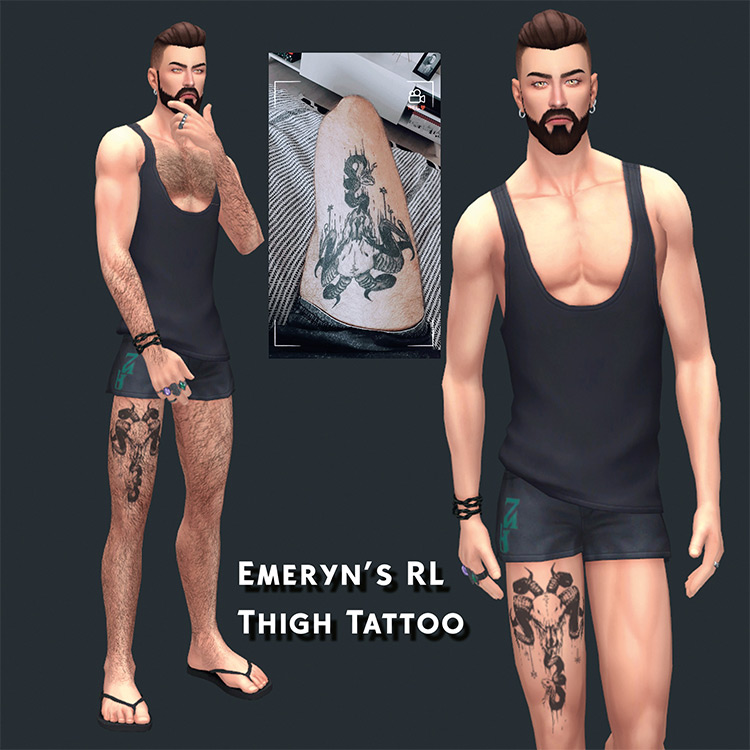 It's not often our Sims get content that's based on a real person, but this tattoo is just like what the creator has on their actual thought.
I don't know, that just makes it about fifty times cooler for some reason.
The ram design is gnarly in and of itself, too… maybe even a little spooky.
25.

Tiger Tattoo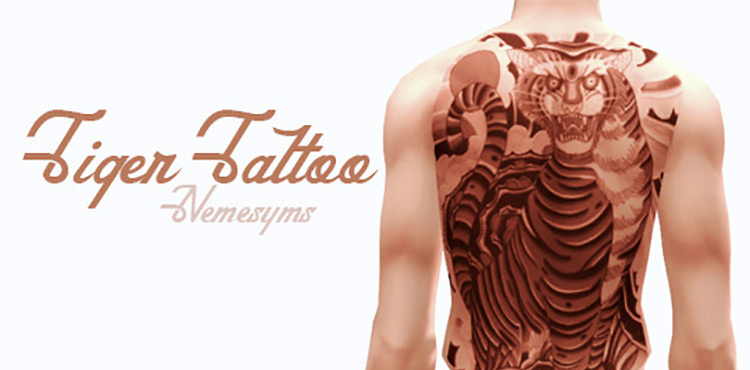 Finding something bigger or badder than this tiger tattoo might be difficult.
I mean, it even covers your Sim's booty. That's a first!
Once again, we're seeing something that's legit a work of art. The detail that went into this tiger is just mind blowing.
26.

Zietro Face Tattoos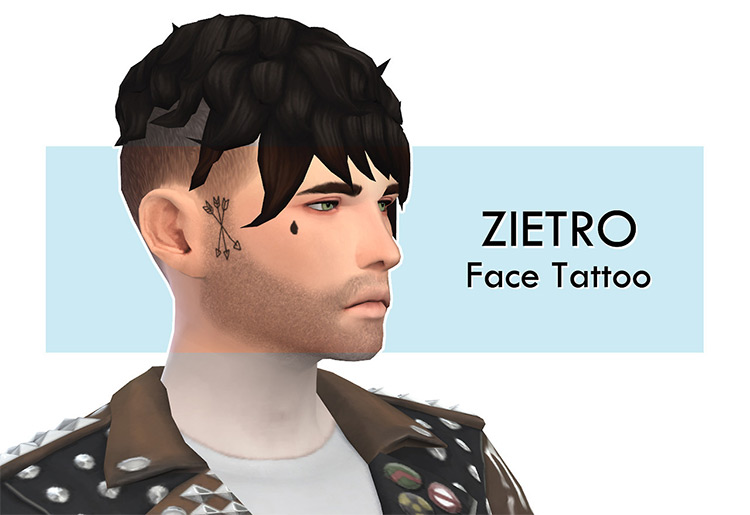 Here are just a few more face tats, as bold and beautiful as you'd expect.
Four different designs are available, two for each side. Yay for symmetry, right?!
This is already a pretty modern look but this artwork is quite trendy. For some reason, arrows have been popular for a while.
27.

In Flames Male Tattoo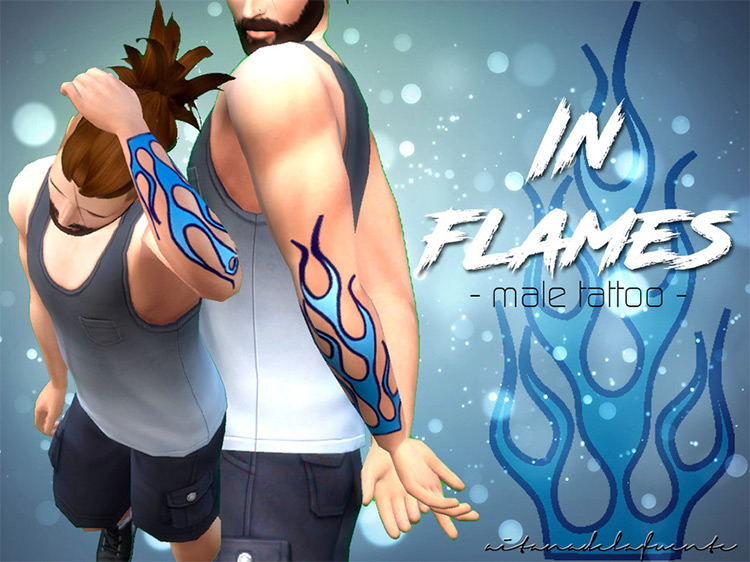 If you like vibrant, colorful tattoos then this one might quickly become a favorite.
These flames are extremely, vividly blue. It's quite straightforward, we get one swatch for left arms.
Your Sim will stand out a little more though, that's for sure.
28.

Tropical Punch Tattoos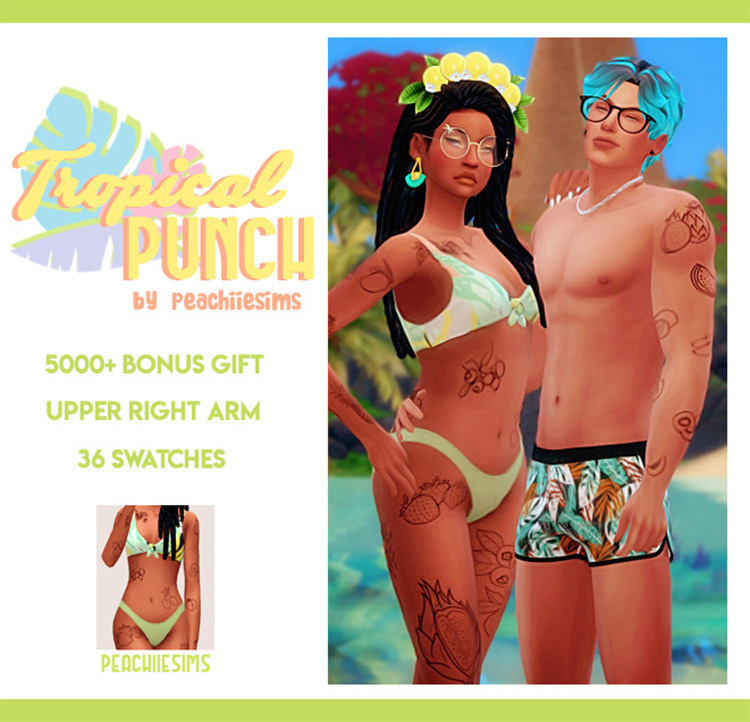 Beach vibes are never a bad thing.
That's largely what you get here, with a wide assortment of fruit tattoos. We're talking good stuff like kiwis, strawberries, dragonfruit, and… well, you get the idea.
One full body version is available, but there are 32 individual tattoos in total that you can use however.
29.

Marauders Tattoo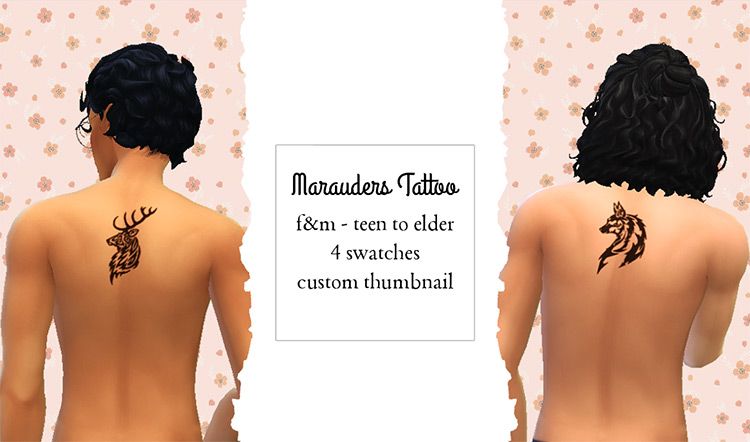 Surprisingly, we've circled around to some more Harry Potter tattoo stuff.
Moony, Wormtail, Padfoot, and Prongs. Those are four names every fan knows.
And honestly, this set would make for some great matching tattoos for besties, just like the Marauders themselves!
Each animagus animal is here as a small back tat.
30.

Nightmares Tattoo Set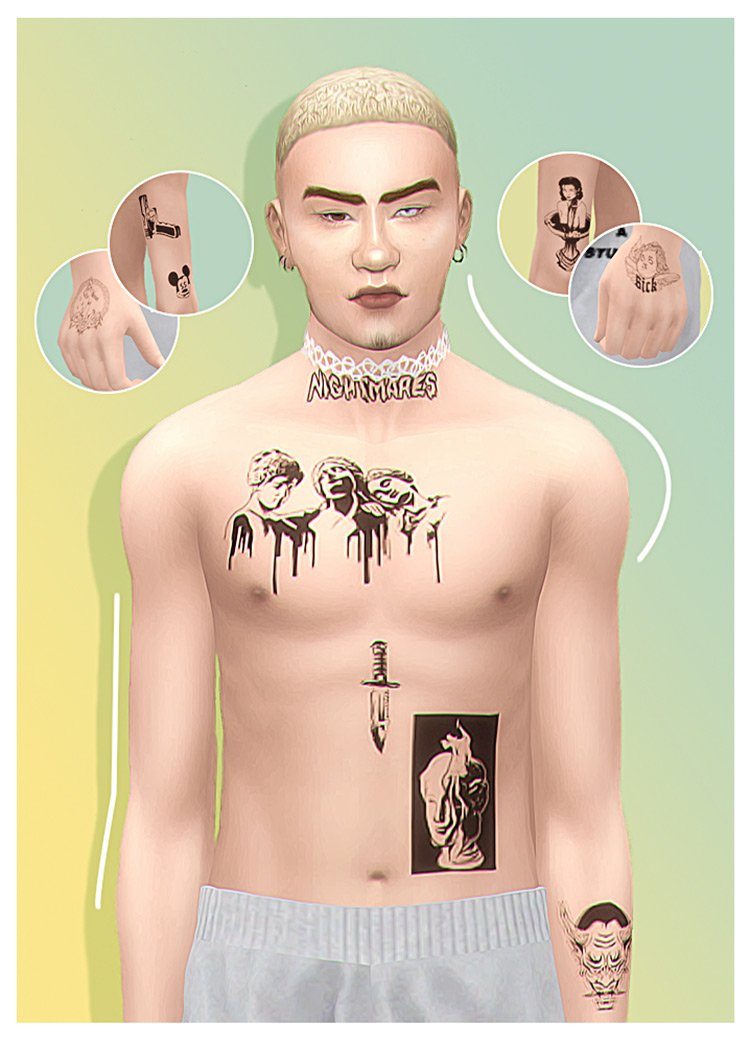 As expected from a set with a nightmare theme, these aren't exactly cheerful.
But that's okay, because they're awesome. Each one has lots of black. Your Sim can have these on his chest, arms, and hands.
This is stuff we won't ever see in an official release, like guns and knives.
Browse:
Lists
The Sims 4
Video Games