Sims 4 Man Bun Hair CC (All Free To Download)
This post may contain affiliate links. If you buy something we may get a small commission at no extra cost to you. (Learn more).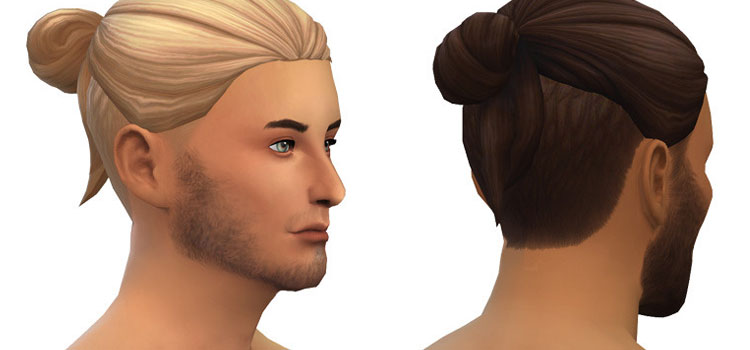 It's been too long that our Sims have had to put up with bad hairstyle after bad hairstyle.
After all, short male hair can only get you so far in switching things up. And if I'm being honest, most of the men I've ever created have cycled through the same 2-3 hairstyles for as long as I can remember.
But what if I were to tell you that this could all be taken care of?
Man buns don't need much of an introduction. They're the well-known widely loved hairstyle for men that have decided short hair isn't the move.
And here's some of the best CC out there for your man-bun-loving Sim.
7.

Anto Blackout Hair Recolor
A lot of man bun hairstyles come with the idea that your Sim needs to look like a hipster.
That couldn't be further from the truth!
There are plenty of types of men who need to throw their hair into a bun every once in a while, and with the Anto Blackout Hair Recolor, your male Sims can achieve that with a casual laid back look.
Instead of having some fancy design or a small bun on the top of their head like you might be used to seeing, this style looks like it was tied out of their face while they're doing something important, like getting some exercise in.
It's not too busy, but it doesn't mysteriously get rid of your Sims length when you need to change their look for a type of outfit, either.
6.

The Man Bun CC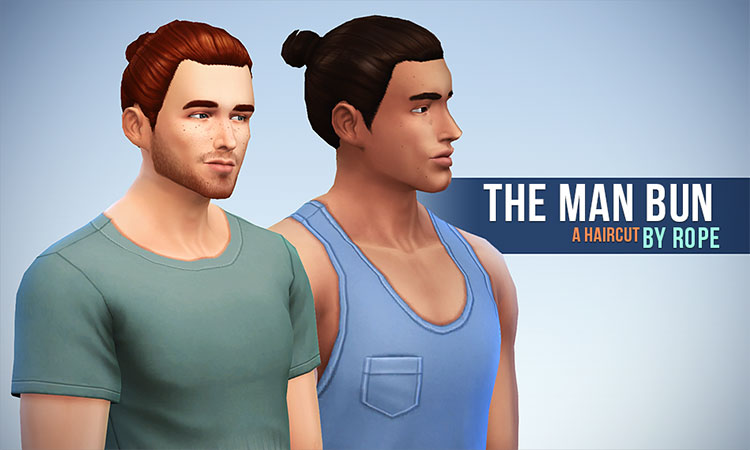 This style (created by Tumblr user The Rope) is a very classic look for the man bun.
Sits right in the middle of the back of your Sims bun, and it's rather small which implies that maybe their hair isn't too long when it's down.
But it gets the job done for all of your Sim's man bun needs. Everything's pulled back and kept in place!
5.

Caelan Hair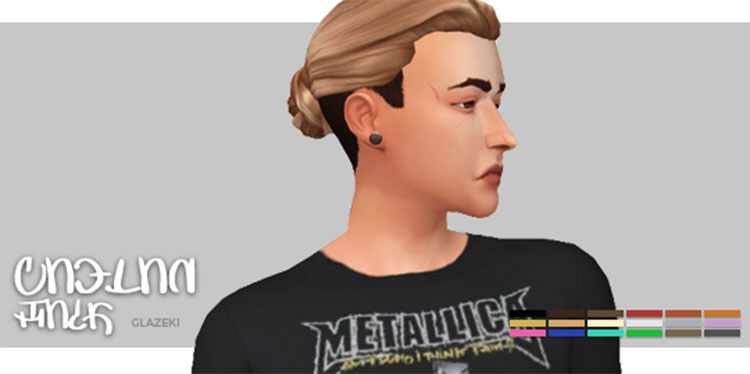 A man bun with some texture to it! This hair style stands out because of the layers that you can clearly see through the strands of hair pushed back, making a great option if your Sim needs to tie their hair up for the hotter months. Or before some physical activity.
But you can keep their hair on every other occasion as shaggy and full of life!
Another thing that makes the Caelan Hair an option to consider is that it comes in 30 colors, rather than the typical base colors that you'd expect to find in ordinary hairstyles.
This way, your male Sims can enjoy having dyed hair too!
4.

Raphael Bun V2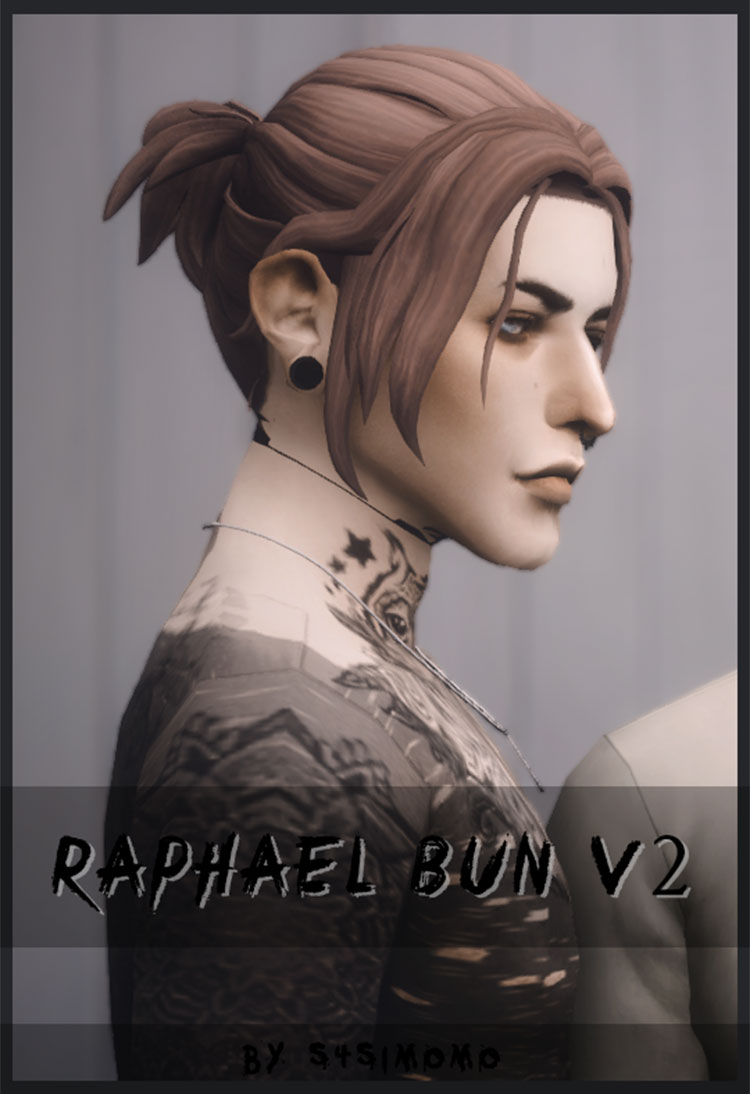 The Raphael Bun V2 comes with the right amount of attitude and style for the edgier Sims you've made.
Whether it's your teenage son who's going through his alternative phase, or a grown man Sim who you can still front row at a hardcore show, this bun is sure to live up to their outfits and lifestyle.
Similar to the style before, this man bun CC also has an incredible variety of colors, from different shades ranging to just about every color you could possibly think of.
Which seems pretty on-brand for hair like this.
3.

Wings Hair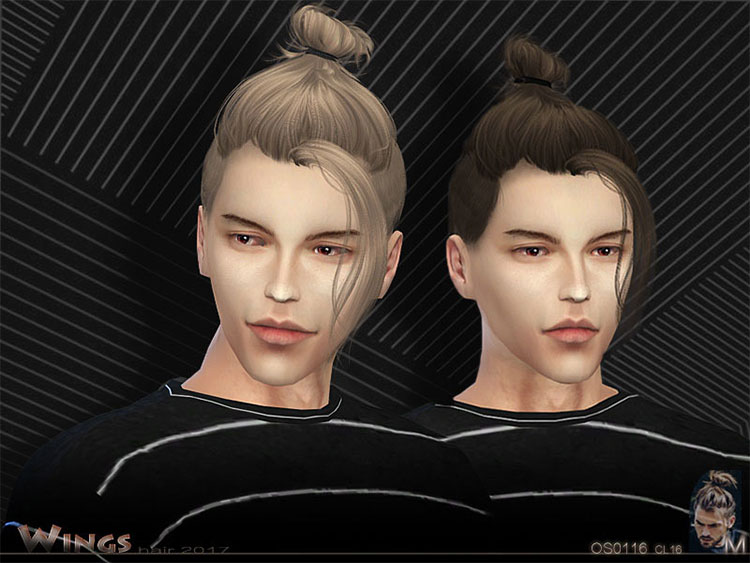 If you're looking for a man bun that has something to get excited over, then this is the hairstyle for you and your Sim.
Wings hair has a main attraction to it: the bangs.
What makes these bangs stand out as much as they do is the design and the way they fall, over one side of the face in one big section that looks casual, yet put together.
Another feature to make note of here is the shaved parts on each side of the head. Not to mention, the texture in this hair can't be matched with how wispy it looks.
If you want your Sim to look like they don't skimp out on hair care, this is a good starting place.
2.

Disconnected Top Knot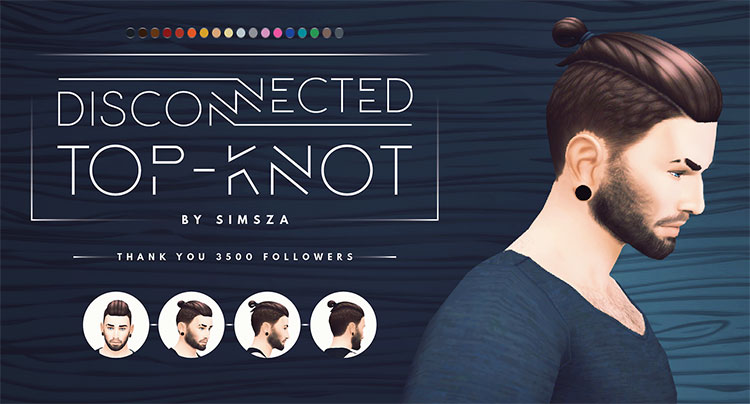 This Disconnected Top Knot CC is another take on a man bun with shaven sides, except this time, the shave is more of a fade. As you can see the hair much more clearly than before.
Additionally, this style is so versatile. It could fit with just about any style your Sim has going for them.
They can be used on athletic Sims, or those who are really professional and always seem to bring their work home with them, or even gamers when it's time to relax and play.
This style was inspired by what can be found in the City Living expansion pack, and only comes in the colors that were originally provided.
So it's a good option if you're someone who likes to use custom content, but maybe don't want to make your Sims look like they blend in with the rest of the neighborhood too much.
1.

Messy Shaved Bun

Most of the man buns that you find are tightly slicked back, well-put-together, and tied really tight.
But who doesn't love the look of something that took only a matter of seconds to do every now and again?
Let your Sims be comfortable and casual with relaxed hairstyles like this one.
After everything they've had to get done today, they deserve to wear whatever they want!
Browse:
Lists
The Sims 4
Video Games