The Sims 4: Best Man Cave CC For Your Home
This post may contain affiliate links. If you buy something we may get a small commission at no extra cost to you. (Learn more).
I don't know about you, but my custom content folder for The Sims 4 is heavily in favor of the ladies.
Clothes, hair, décor, furniture – in my saves, girls (and women) truly do run the world.
Does this sound familiar to you? Whether it's intentional or not, our male Sims often become afterthoughts during CC downloading sprees. Maybe you're finally looking to switch things up by gifting a Sim with his own man cave.
But oops – your CC folder's seriously lacking in that department. What to do?
No worries! I've found some great CC items for your Sim home to start that custom man cave build you've always wanted. Now go show that special (Sim) man in your life that you care!
10.

Neon Signs & Ambient Lighting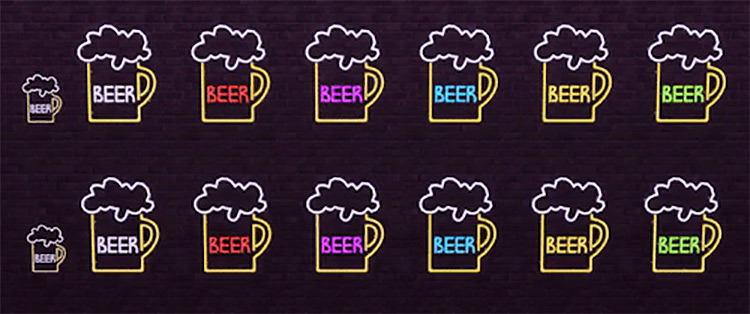 What's a man cave without a bar?
More importantly, what's a bar without neon signs telling you that it's a bar?
Creator NotEgain's collection of neon signs & ambient lighting make for a great addition in any man cave.
They're available in six different colors and two different styles – a frothy "Beer" mug or a classy "Cocktail" glass, and they also flicker to give that authentic neon sign feel!
Bonus: If you want the neon lighting effect sans the signs, there are ambient lights to give you exactly that.
Plus we have a whole list of neon sign CC that might be worth checking out.
9.

Classics Leather Set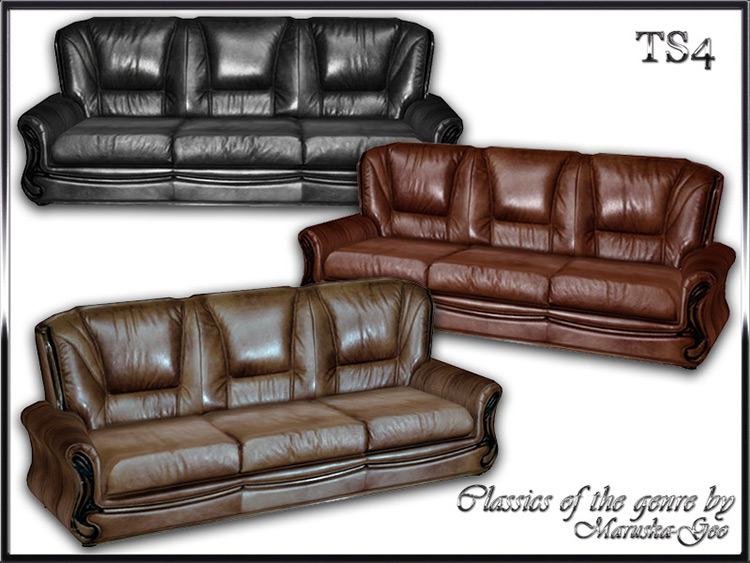 Leather Furniture + Man Caves = Perfection.
That's the only way to describe how well this leather furniture set made by Maruska-Geo will fit in your Sim's private hideaway.
The set features a sofa, loveseat, and living chairs, with colors ranging from burgundy red to classic black.
With very few leather pieces available in the vanilla game, this CC set will come in clutch for all your man cave decorating needs.
8.

Billiards Set (Décor)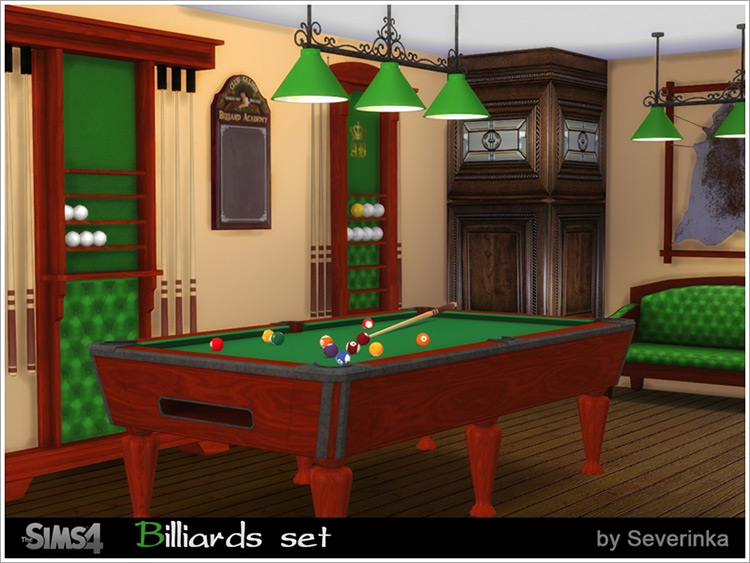 Up until The Sims 4, functional pool tables were a staple in the series.
While they're sorely missed, we can thank the talented Severinka for bridging the gap between past and present.
There's a whopping ten decor items in this Billiards Set: the billiard table and balls, two different lamps, a wall and floor stand, and more – all in four different colors!
While your bachelor Sim won't actually be able to use this table, the aesthetic will take their hangout to the next level.
7.

Gaming PC Collection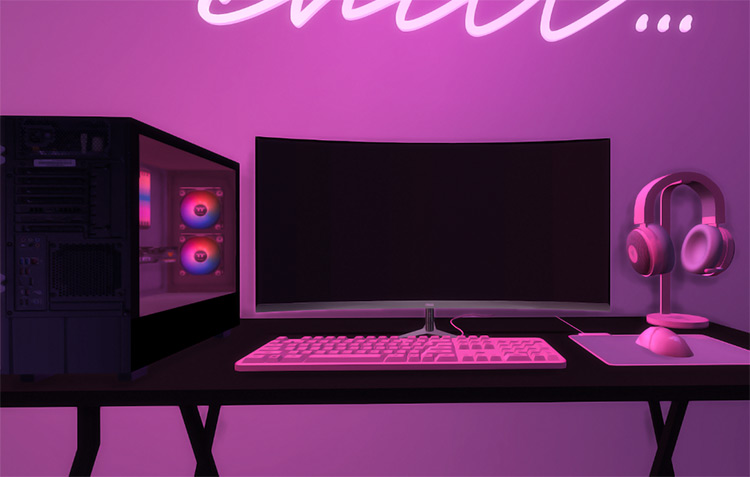 SimmerKate has exactly what your guy Sim's been missing for all his gaming needs.
Introducing this epic PC gaming setup!
You get real world brands like ASUS, Razr, and NVIDIA, which all combine to make the ultimate gaming rig.
This CC comes complete with a monitor, custom CPU, keyboard, mouse (with and without the mat – because choices!) and a headset with a stand.
You know how obsessed Sims are with computers.
Might as well give yours the best.
6.

Strong Gym Set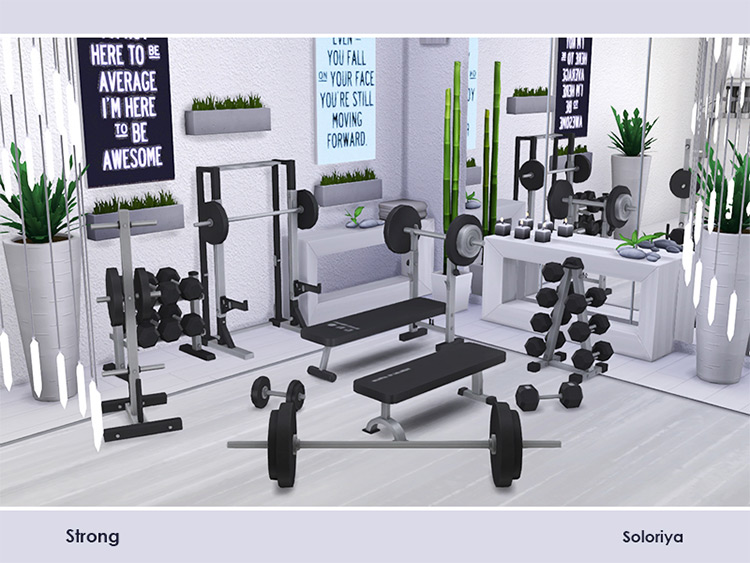 If your Sim's man cave would look more like a gym, but you've grown a little tired with the in-game equipment, here's something new to spice things up.
Part functional, part complimentary decor, creator Soloriya's "Strong" gym set is the breath of fresh air your athletic male Sim needs.
It's got a classic gray and black color palette with eleven items, including exercise benches and a variety of dumb bells and related equipment.
Level up twice with this set: once for your sim's athletic skill, and another for his man cave style.
5.

Beer Set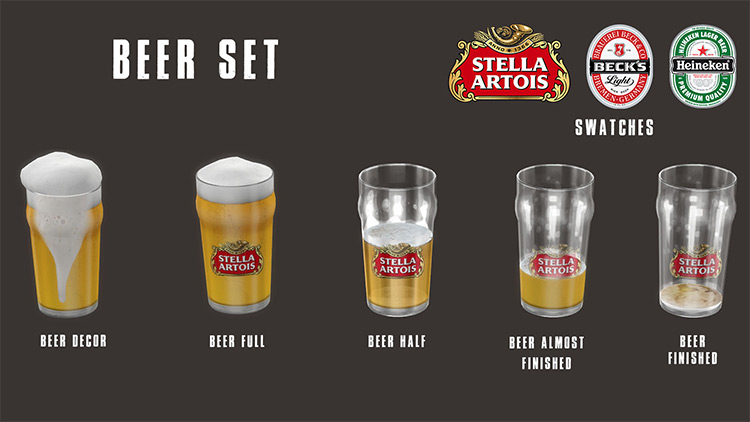 Most custom content lovers agree that when it comes to decorating, it's the little things that count.
And by little things, we mean clutter.
LeoSims' Beer CC Set is another bar-centric item. And this set is just *chef's kiss* needed to give your man cave that lived in look.
It's a single item only.
But the frothy golden ale comes in six swatches of various levels, from full to empty.
Raise your glass to LeoSims by heading over to their Patreon to download the set.
4.

Music Poster CC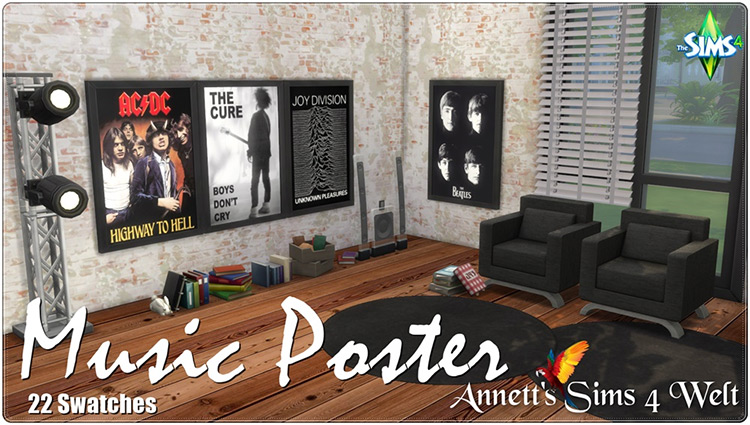 These next few entries on this list are great in their own right, but they make for the ultimate music lover's dream when paired together.
First up is this music poster set, featuring 22 (yes, you read that right!) real life musical artists:
AC/DC, Motorhead, Eminem, and the list goes on.
Creator Annett85's inclusive posters span several genres and decades, so you're bound to find the right one to express your Sim's musical tastes to and add some individuality to his hangout.
3.

Simlish Crosley Record Player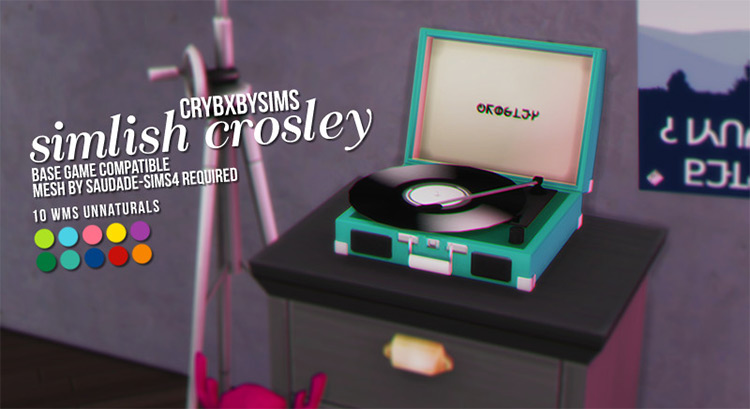 "Music sounds better on vinyl."
Would your music-loving Sim say something similar (in Simlish, of course)?
Then he'll be eternally grateful when you download the Simlish Crosley Record Player CC.
Not only is this record player by CrybxbySims fully functional, but it's also base game compatible and comes with ten different color swatches!
Grab the mesh, and then you'll be good to go.
Now, if only you had some vinyl records to go with it…
2.

Vinyl Records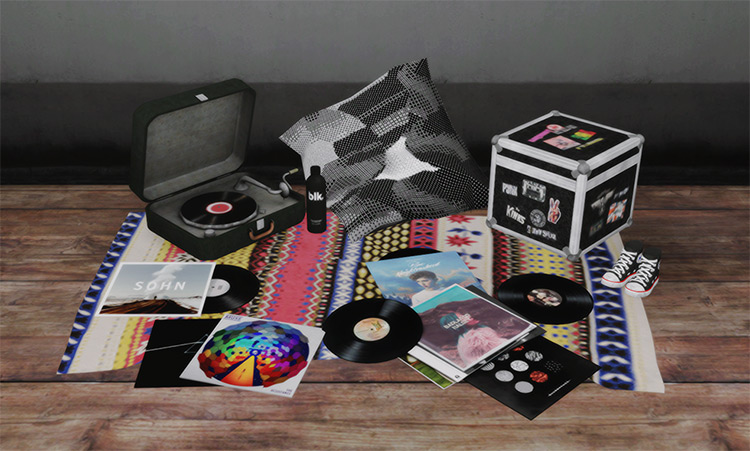 Someone mentioned records?
Got you covered!
You might recognize this set from The Sims 3, which was originally converted by Modish Kitten.
The linked vinyl decor set was re-meshed by DdaengSims for TS4, and comes with a ton of colorful vinyl records, plus shelves to showcase your Sim's impressive collection, and a bit more.
Music posters, vinyl records, and the record player to go with.
Everything your Sim would need for jam sessions in his man cave.
1.

Sony KDL50W800B Wall Mounted TV
Yes, a huge wall-mounted television.
Because all man caves need giant televisions.
And this isn't just any giant TV.
MXIMS's jaw-dropping, high-res creation of Sony's wall mounted television is truly a sight to behold like no other.
With two different sizes and coming paired with wall speakers, you might just see your Sim tear up while watching sports or playing a game, just from how crystal clear the picture is.
Browse:
Lists
The Sims 4
Video Games