Best Sims 4 Mansion Lots To Try Out (All Free)
This post may contain affiliate links. If you buy something we may get a small commission at no extra cost to you. (Learn more).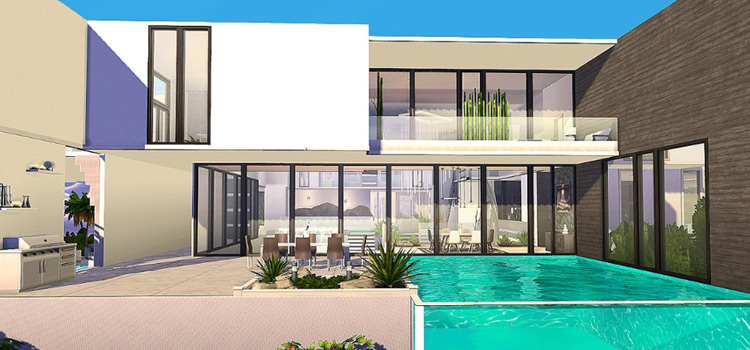 In this episode of "things we could have in the Sims but not in real life," we're listing down some of the best mansion lots & CC to have in TS4.
And when I say mansion, I'm talking about residential lots that could revive MTV Cribs.
Redefine your idea of Sim luxury living with these lots that ooze extravagance and hedonism in every square foot!
15.

Elouise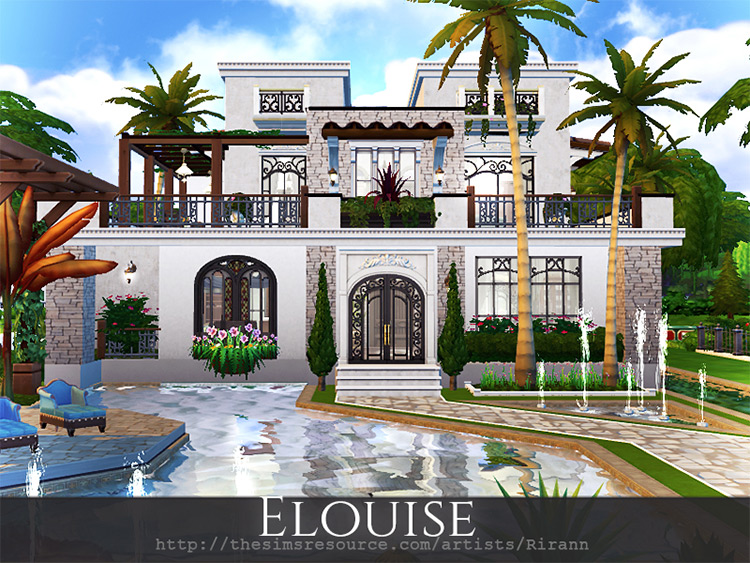 Perfect for: hardworking Sims who get their first taste of a hundred thousand simoleons without having to resort to using the motherlode cheat.
Rirann's Elouise lot is the ideal starting point for budding millionaires who finally have money to burn.
Inside, the house humbly contains 2 bedrooms, 2 bathrooms, a living room, a dining room, and a kitchen.
Outside there's a swimming pool, fountain, and patios that surround the Mediterranean-themed house like a five-star suburban hotel.
With a lot size of 40×30, your Sim still has enough space to spare to even grow palm trees.
14.

Kaylyn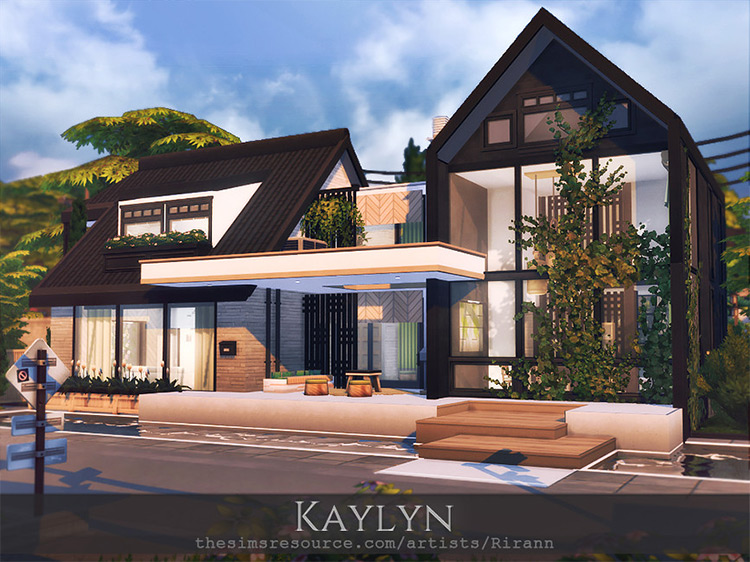 Perfect for: practical Sims who prefer comfort and functionality.
Out of all the mansions in this list, Kaylyn probably looks the simplest out of the bunch.
It has a cozy cottage vibe, kinda like a Disney princess's modern abode seeing as the foliage grows outside and inside the house.
Each room is also fully furnished with essential furniture that would ensure the survival of your Sim even when you're AFK.
For a 30×20 home, Kaylyn is a gorgeous piece of real estate to own for a lifetime.
13.

Mid-Century 3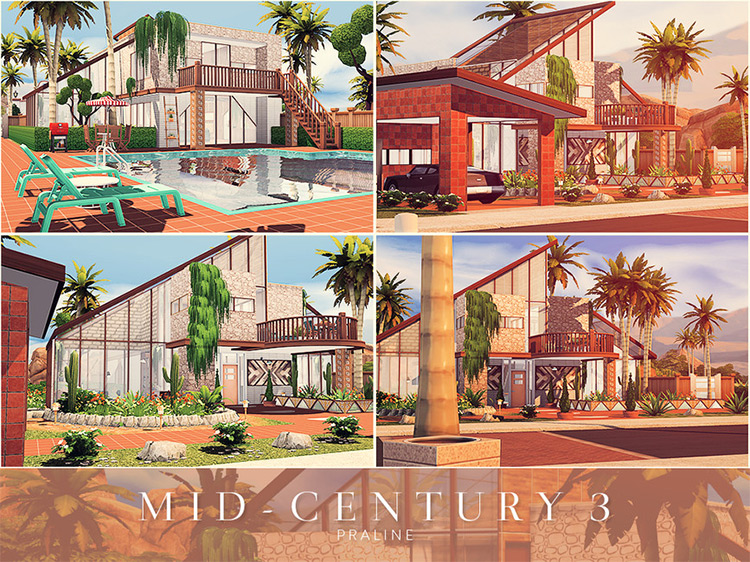 Perfect for: players who have yet to grow out of their Coachella phase.
Living in the middle of an unforgiving desert isn't so bad when cooped up inside this Mid-Century 3 home by Pralinesims.
Its very foundations are made up of floor-to-ceiling windows supported by wooden beams and a mid-century modern style of architecture.
With the amount of vitamin D your Sims are about to get, it's highly recommended to apply sunscreen daily for optimal living on this lot.
12.

Shuang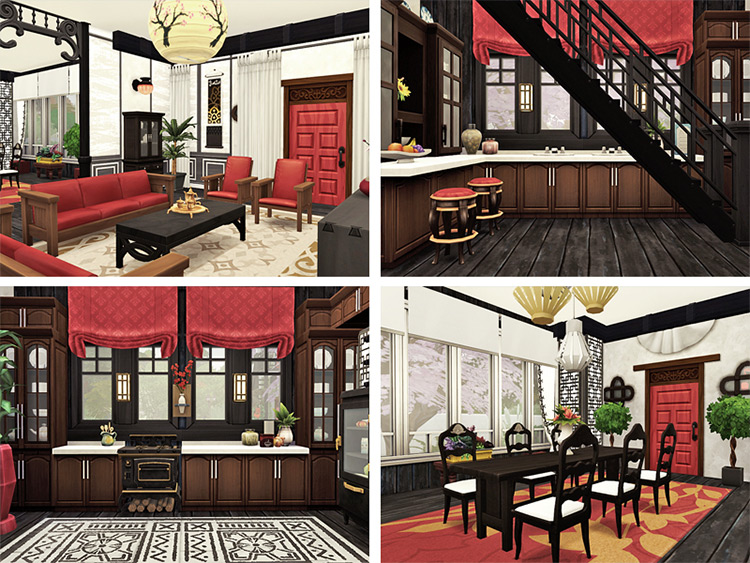 Perfect for: Sims in desperate need of zen and luck.
If you think a traditional Chinese home is a tough place to maintain, then you haven't seen this one yet.
Rirann's Shuang is a 40×40 Chinese-style mansion built on top of a manmade pond.
Past the fountains, lanterns, and hordes of lily pads, the house also comes with a living room, kitchen, dining room, office/library, 2 bedrooms, and a bathroom.
If your Sims are looking for a tranquil place to live in, then this property is sold.
11.

Family Mansion
Perfect for: filthy rich Sims who love 24/7 cardio.
Ever wondered how it would be like to live inside a mall-sized home?
Check out this custom family mansion design by Soulsistersims!
With 4 stories, 5 bedrooms, 2 bathrooms, and plenty more, this residential lot could house a whole community of Sims – and they still wouldn't get to find each other during hide-and-seek.
This sprawling property sits on a 64×64 lot, the area big enough for anyone to shed a couple of pounds just by taking out the trash and going back inside.
10.

Moroccan Mansion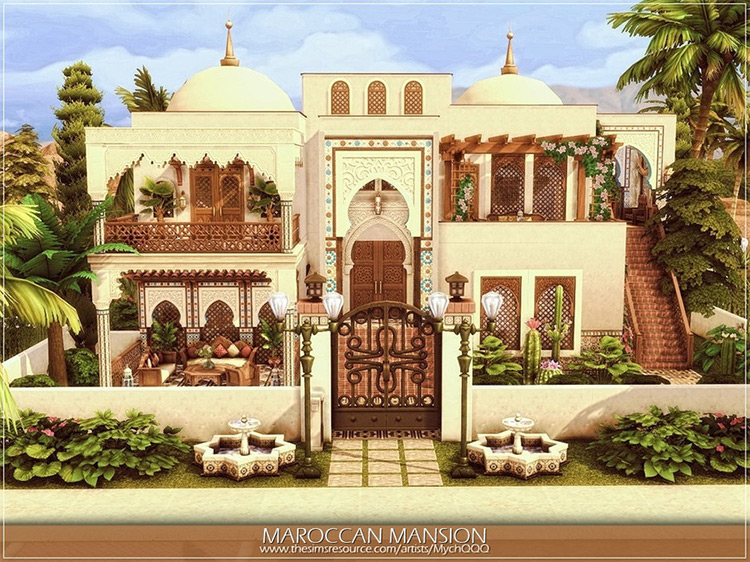 Perfect for: players with exotic tastes.
MychQQQ did a stunning job in creating this 40×30 oasis.
It contains 3 bedrooms, 2 bathrooms, a living room, kitchen, dining room, patio, and of course, a pool to host Sims in (or drown, whatever you prefer).
The lot features an exquisite render of a riad, or a traditional Moroccan house, furnished by eclectic wallpaper, indoor plants, and vibrant furniture like desert blooms.
This Moroccan-style mansion is a lot to take in.
But it doesn't take much to love.
9.

Japanese Beauty Villa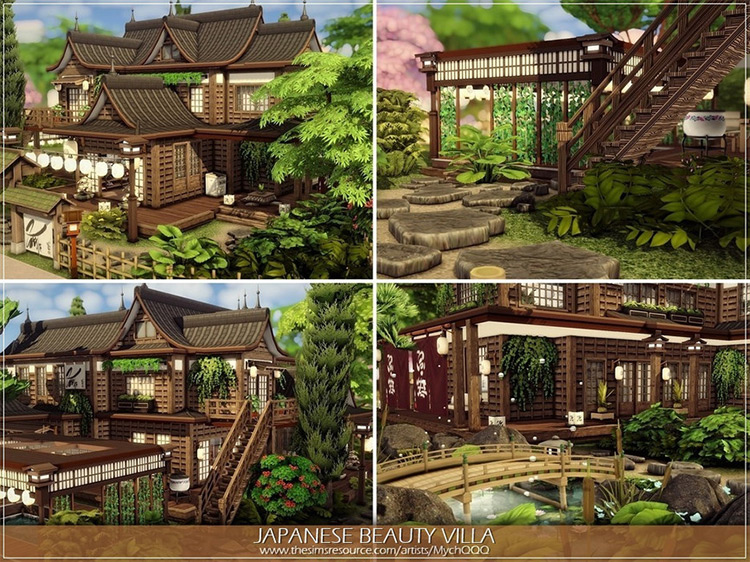 Perfect for: otakus, or players who have a genuine love for Japanese culture.
As someone who falls under both categories I mentioned above, this Japanese Villa lot by MychQQQ could only be described as sugoi.
On the outside, you can tell that the villa is designed with the look of a traditional Japanese house in mind.
Inside, the interiors are furnished with semi-modern and neutral-toned items, creating a balanced and cohesive home from top to bottom.
I'm pretty much geeking out on this lot – so I hope that's enough convincing.
8.

Nova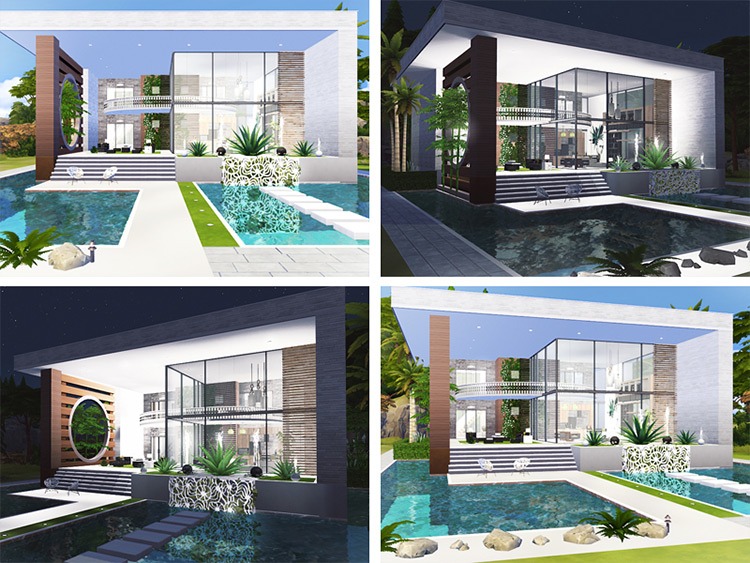 Perfect for: exhibitionist Sims who are all about transparency.
There are crazy houses, and then there are amazing houses.
Rirann's Nova falls somewhere in between.
Sure, it looks like a giant aquarium. And there are questionable design choices.
But somehow, its unique composition just works.
Living in a large transparent cube may not be a suitable lifestyle for most… but hey, you'll never know until you try!
7.

Royal Palm Mansion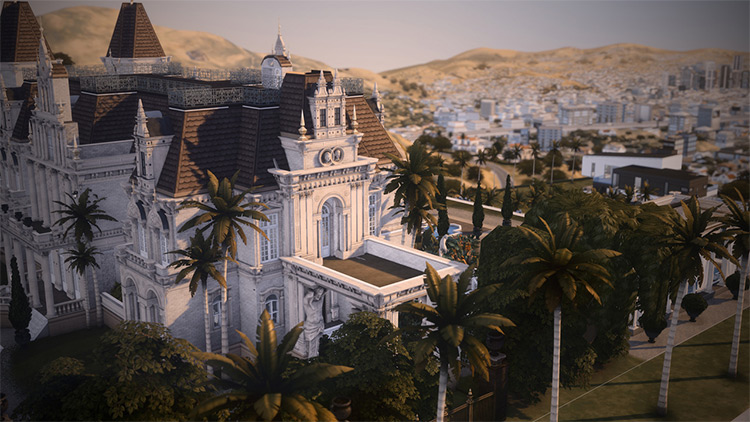 Perfect for: non-royal Sims who are rich enough to afford a palace.
Since the British royal family isn't vacating Buckingham Palace anytime soon, this Royal Palm Mansion stands as a majestic alternative.
Built on a 64×64 lot, this palatial estate houses 3 bedrooms, 5 bathrooms, a massive front yard, and foliage numerous enough to fill a small forest.
With this lot as your Sims' permanent residence, even Richie Rich would be jealous.
6.

Christmas in the Mountains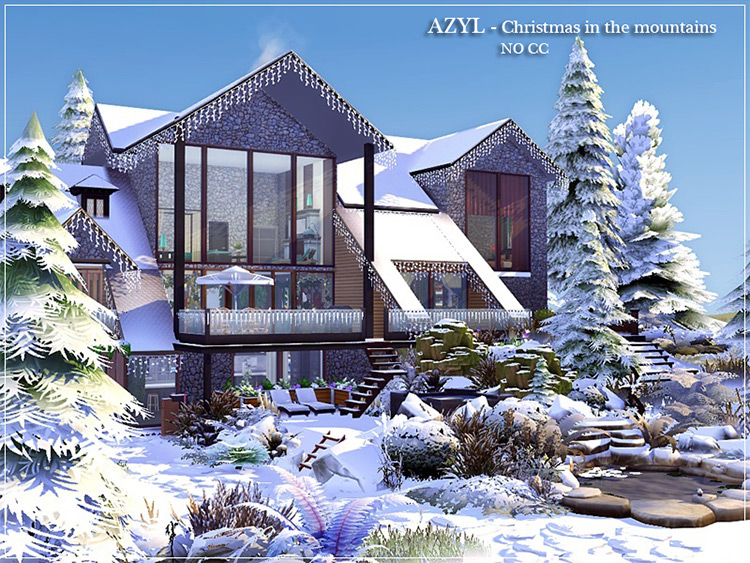 Perfect for: hermit Sims who could afford to live alone in the wild.
Although it's called Christmas in the Mountains, marychabb's custom lot is completely liveable in any season.
This huge cabin in the woods is the ideal setting for family retreats and vacation – maybe even for a permanent living if your Sim's sick of the city.
Actually, scratch that, who wouldn't be sick of the city?
Imagine waking up to a landscape of lush greenery and cleaner air – absolute heaven.
5.

Lake House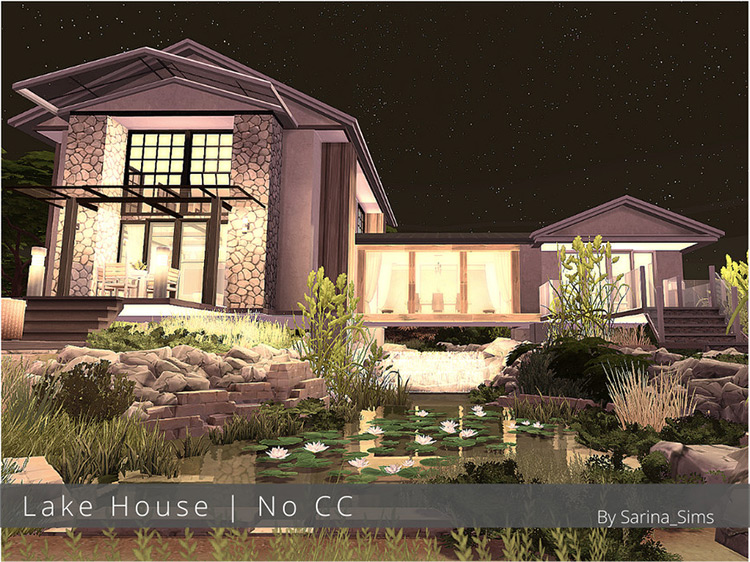 Perfect for: Sims whose got all the time in the world for stargazing.
What are the chances that I'd find my dream house while writing for this article?
Sarina_Sims' modern rustic custom lake house mansion is the outdoor haven you wish you owned in real life.
Incorporating an open plan concept, this lot minimizes the number of enclosed rooms in favor of… well, more open spaces.
Outside the property has a patio, a large terrace for barbecue, a pond with a small waterfall, and unobscured views of the lake beyond.
Find a home within nature by getting this lake house lot for your Sims!
4.

LARMO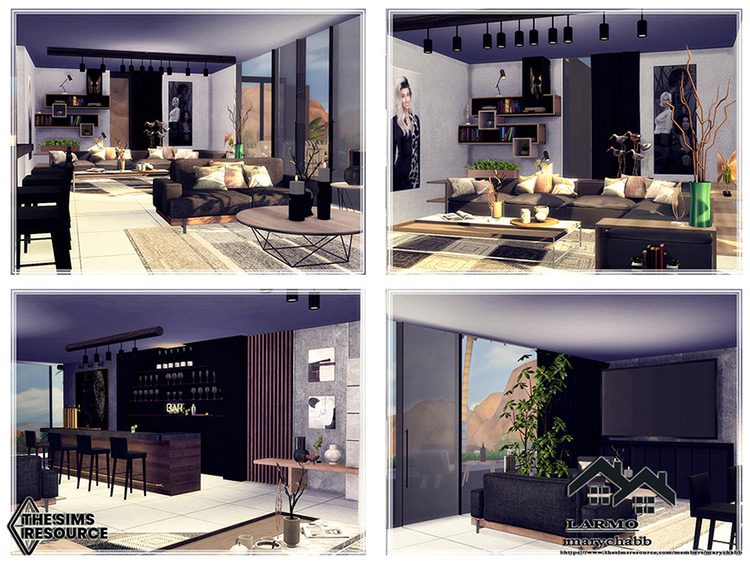 Perfect for: futuristic Sims who are all in for innovation.
If I would guess what houses would look like in the next 10 years, this would probably be it.
I could only describe Marychabb's LARMO as modern and sleek with enough windows to reflect sunlight and possibly burn other houses down.
A small jungle also decorates the exterior of the mansion, while each room has been fully furnished for your Sim's immediate use.
There's really nothing you should do now except to download this lot and live the simulated wealthy life you've always wanted.
3.

Beach Paradise 3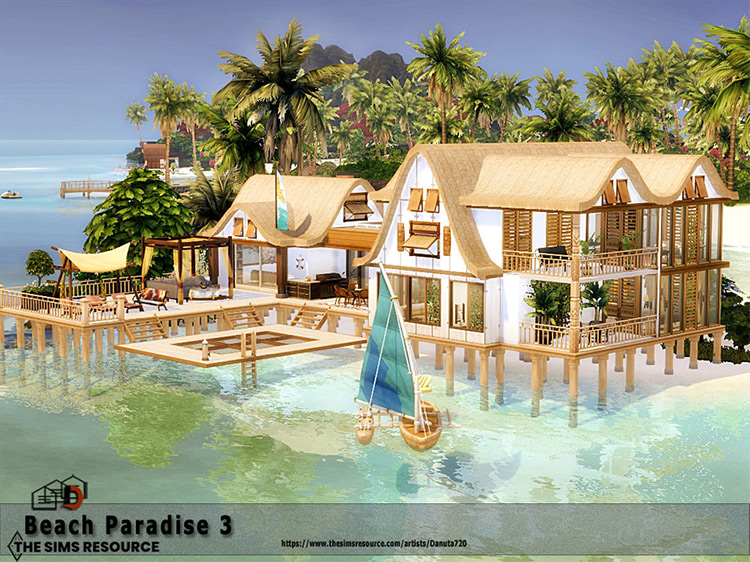 Perfect for: Sims who think they can live like Nathan Drake.
If genies and 11:11 wishes were real, I would without any doubt wish to live on an uncharted island with this Beach Paradise lot.
This villa on stilts is a tropical haven ideal for Sims who enjoy waking up to an ocean breeze and calming waves.
It's heaven on Earth.
And Sims are damn lucky to have this lot just built and ready for them.
2.

One Million Luxury Villa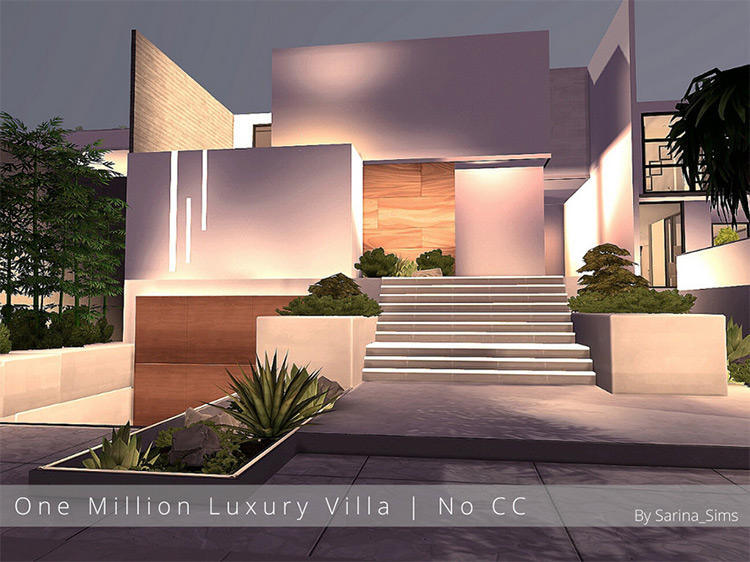 Perfect for: Sims who low-key want to live in a spaceship.
Sarina_Sims returns to deliver a super sleek and ultra-modern crib that looks as if it belonged to a billionaire CEO from a Black Mirror episode.
This luxurious 64×64 villa consists of a transparent outdoor pool, an indoor pool (because why not), a mini waterfall, a jacuzzi, and large lounge areas that assume your Sims have many friends to invite over.
The interiors look just as beautiful with its crisp furniture and neutral tones blending into a seamless landscape of extravagance.
Seriously, what more could your Sim want?
1.

Modern Hillside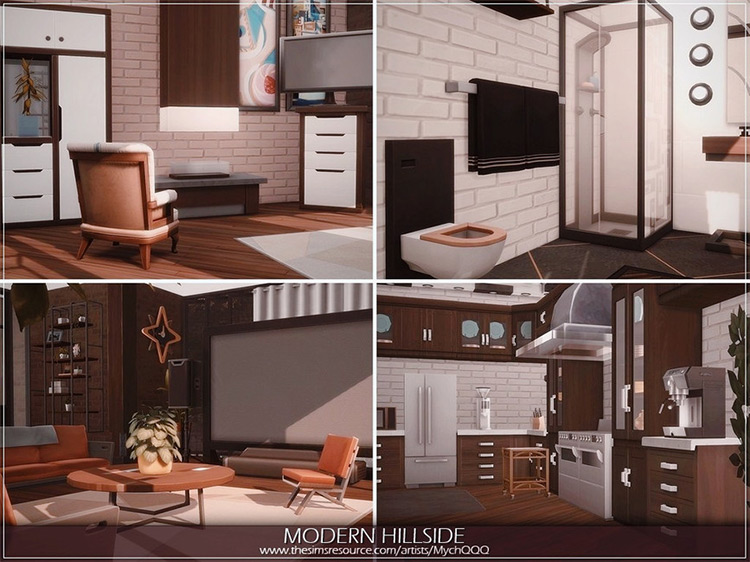 Perfect for: Sims who want to survive the impending apocalypse in style.
Situated atop a hill in the middle of nowhere, this beautiful mansion is encircled by rock formations that form a natural pool and waterfall.
They also form a convenient defense line against an army of the dead.
Worst case scenario, your Sims would have to live the remainder of their lives stuck in this gorgeous home with rooms big enough for two families.
If only our lives after the end of the world could be this perfect.
Browse:
Lists
The Sims 4
Video Games