Sims 4 Matching Couple Tattoos (Free CC & Mods)
This post may contain affiliate links. If you buy something we may get a small commission at no extra cost to you. (Learn more).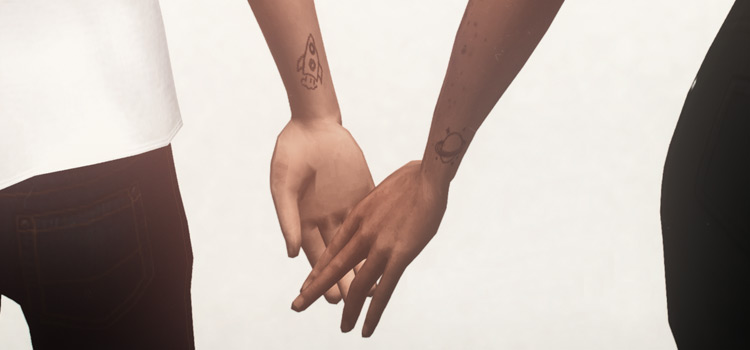 Tattoos have become a normal thing these days.
Hit the parlor, get some ink, and show all your friends what you got.
The culture behind it is huge, and people tend to get things with deeper meanings attached. This can also include couple tattoos, whether dating or married (or anything else!)
For this list we'll take a look at tattoos your Sim may get with their significant other, bonding them for life with ink.
8.

Matching Quotes Tattoo
Creator sugar owl gives us a bunch of matching quotes for your Sim and their partner to get.
One example has one Sim getting the "Nothing Sense We're", while the other gets "Makes When Apart"
So the sentence only works when both Sims are in each other's company.
While some might find the quotes a bit much (including me), others probably see it as a romantic gesture for two Sims in love.
7.

Various Couple Tattoos
Teddisy's give us our next matching tattoo CC with 3 different options in this set.
This pack includes a pair of boots, a compass and a high heel design; all can act as symbolism for love in some way.
The compass to me is the clear standout, while also having the best design out of the 3.
A good choice for couples that don't want to make their matching tattoo to obvious.
6.

Matching Avocado Tattoos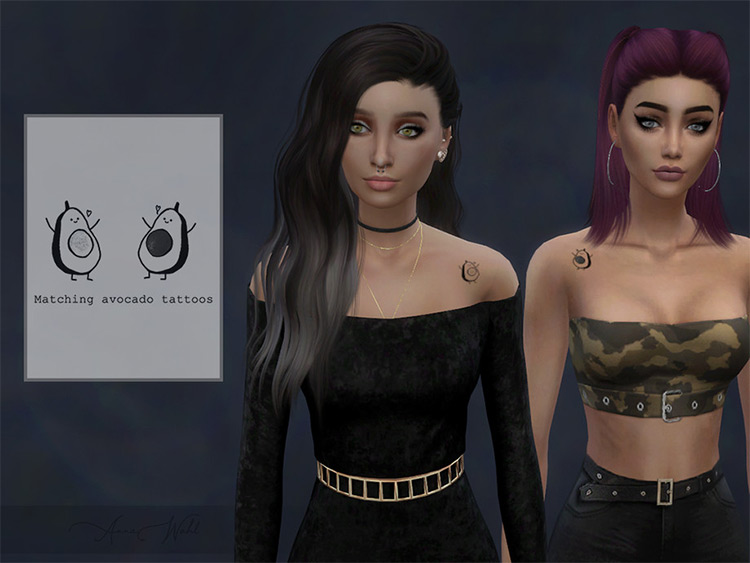 While this technically aims to be more like a matching BFF tattoo, I think this fits for couples too.
Especially foodie ones.
You either like avocados, or you don't, making this tattoo a serious commitment.
Not to mention the cute design of the little avocado people, designed by creator annawahl. This is just something adorable to remind your Sims of the connection they have.
5.

King and Queen Tattoos
Sugar owl returns for this slick king and queen tattoo design.
Written in silky cursive, each tattoo includes a crown fitting for either the king or queen.
A great design to have on the upper chest, and this CC offers 6 swatches plus HQ compatibility.
Let everyone know when the real royalty walks in.
4.

Chess Tattoos
Here's another one using the king and queen concept, but with a twist.
Creator luvjake gives us the king and queen chess pieces, in tattoo form.
Definitely an awesome design, and quite a large arm tattoo that's beautifully crafted with great details.
This tattoo could also be applied to the wrist, giving you a choice where you'd want to show off your inked love.
I'm thinking this could fit for your Sims that just love chess, or any that have a high logic skill.
3.

Lock & Key Tattoos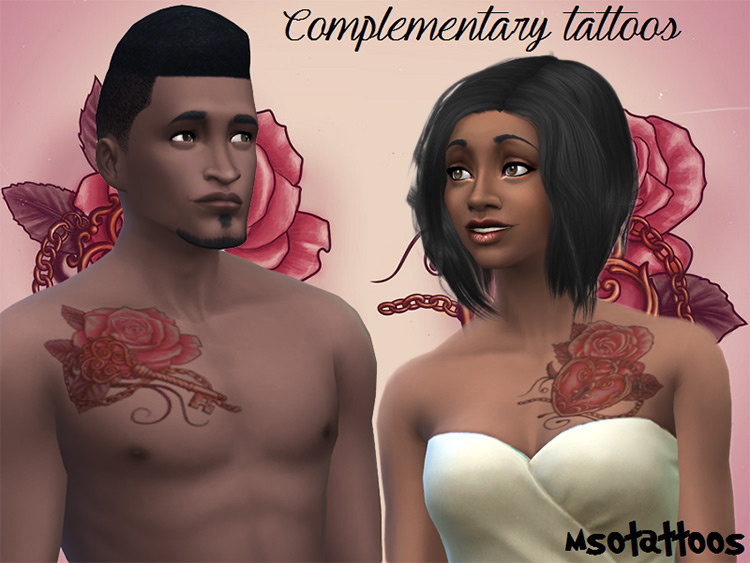 Luvjake goes back-to-back with probably the most unique matching tattoo set on this list.
It features a large red rose on both tattoos, where one has a heart key while the other includes a heart lock.
A great concept which doesn't need any deeper meaning. The art does the explaining itself.
The colors used are luscious, and this design definitely makes it stand out from the pack.
Never lock yourself out of love, my friends.
2.

AnnaWahl's King and Queen Tattoos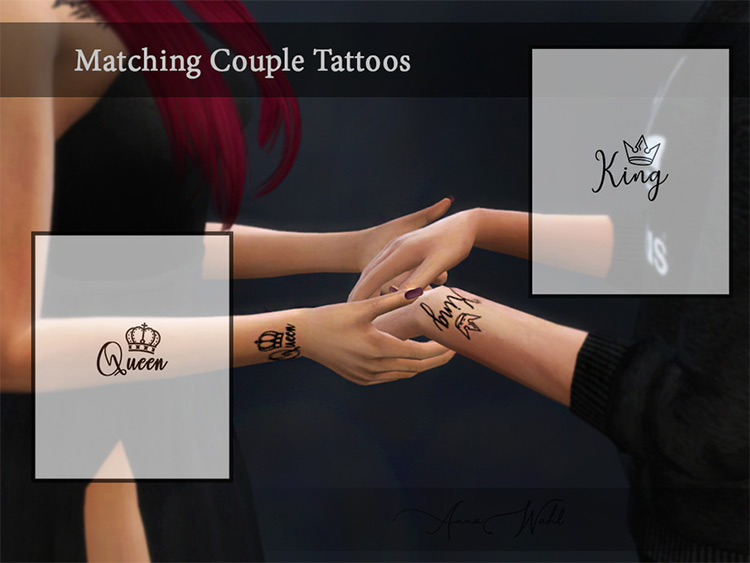 The king and queen concept seems to be a popular one for the CC community.
But AnnaWahl's version takes the cake here.
With a light cursive design and some cartoon-y crowns, this CC is the perfect fit for Sims looking for tattoos to match for life.
This is placed on the side of your Sim's wrist, which is a great placement for Sims who already have sleeves or tattoos in other areas.
In my eyes, this is the crowning achievement of the king and queen tattoo idea.
1.

Back Skull Tattoos
And here's one of our top picks for couples: a back skull tattoo by CC creator luvjake.
While each tattoo features a skull, one is dressed like a groom, and the other like a bride.
The cherry on top of this well-crafted tattoo is the word "Till" on the groom's side, and the word "Death" on the bride's side.
A great take on the vows of marriage, and backed up by amazing design work.
Hopefully all the couples who get these tattoos actually make it 'til death.
And at least The Sims has the "remove" feature if they don't…
Browse:
Lists
The Sims 4
Video Games