Sims 4 Maxis Match Alien CC: Eyes, Skin & More
This post may contain affiliate links. If you buy something we may get a small commission at no extra cost to you. (Learn more).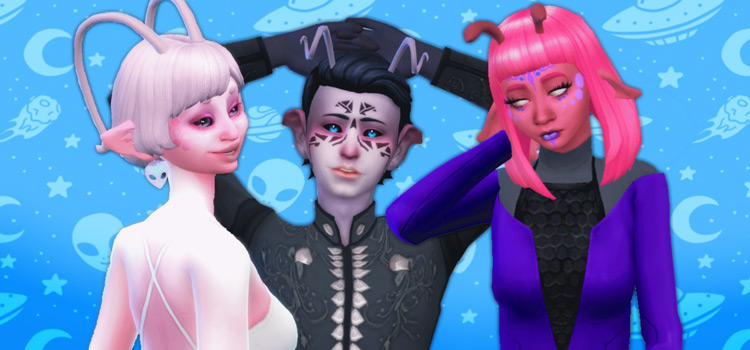 Obsessed with all things otherworldly and extraterrestrial? You're not the only one.
Turns out, the Sims 4 CC community is brimming with alien stuff! CAS cosmetics, space-themed décor, full-body costumes… the whole nine yards.
If you need help jump-starting a Maxis Match alien build, I've got dozens of items for you to check out.
1.

WMS Unnatural Skintones by Flow3rBunny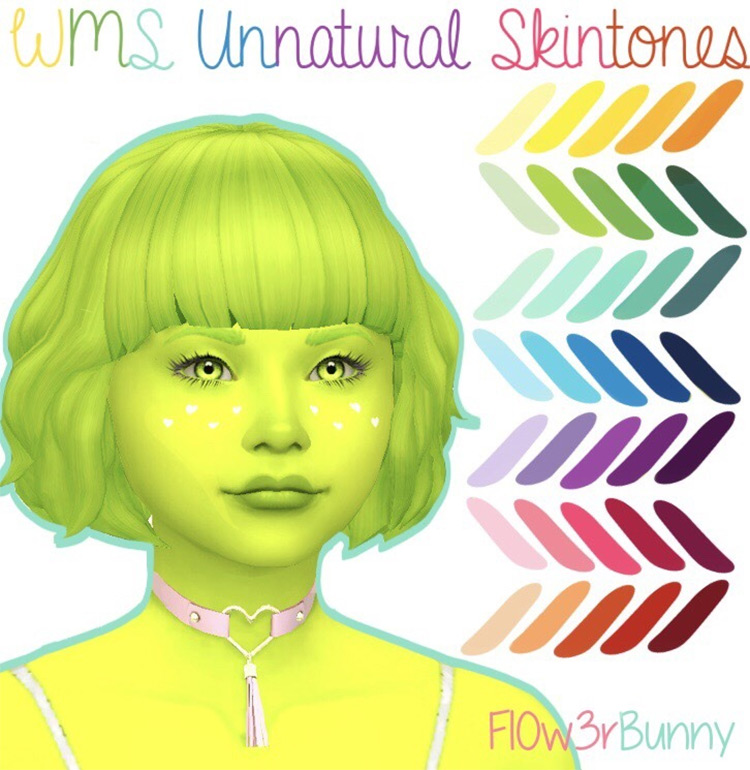 Green-skinned aliens? So last season.
Aliens can now rock all colors of the rainbow. If you want pastel-colored anthropomorphic visitors from another world, who's gonna say no?
These pretty skintones by Flow3rBunny should help you achieve a unique extraterrestrial look!
2.

Stardust Dragon – A Skin Set by rachirdsims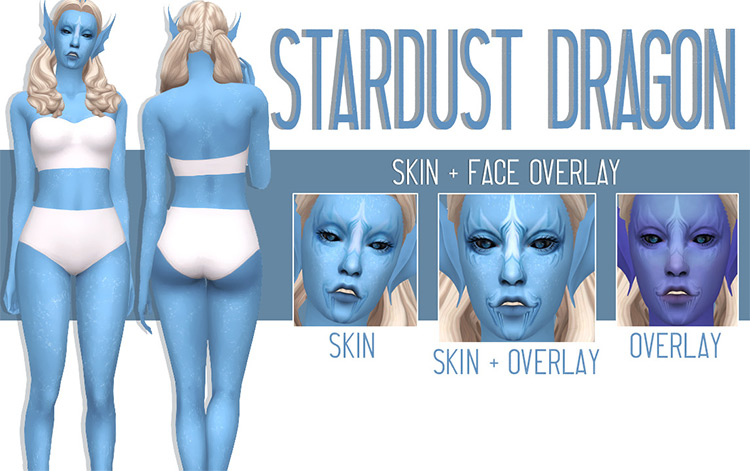 I personally love it when aliens with human features have embossed face markings.
It adds to the uncanny valley effect, which is the kind of uneasy you want people to feel around your alien.
This skin set by rachirdsims combines an unusual skin color with embossed face markings and celestial-y body spots. When used together, the effect is deliciously creepy.
3.

Star Skin by ratboysims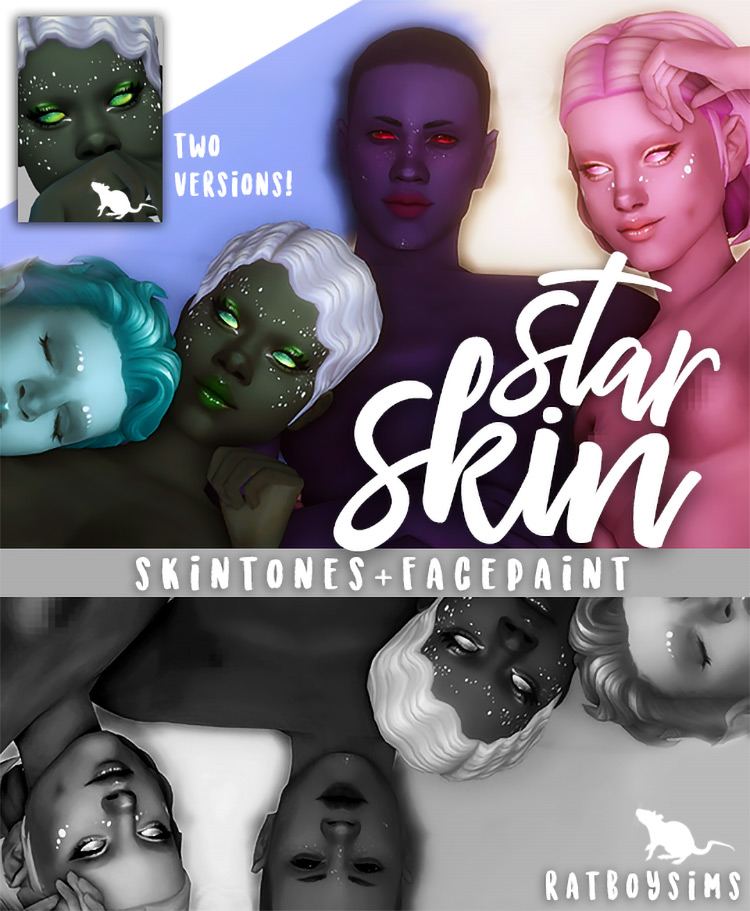 This is the alien/occult skin set I personally use — and it's all because of the pretty cluster facepaints.
They're stark white and sparkly, and when you place them atop dark skin colors (like the Eclipse skintones), it looks like a freaking galaxy on your Sim.
It's breathtaking.
4.

Interstellar Set by pyxis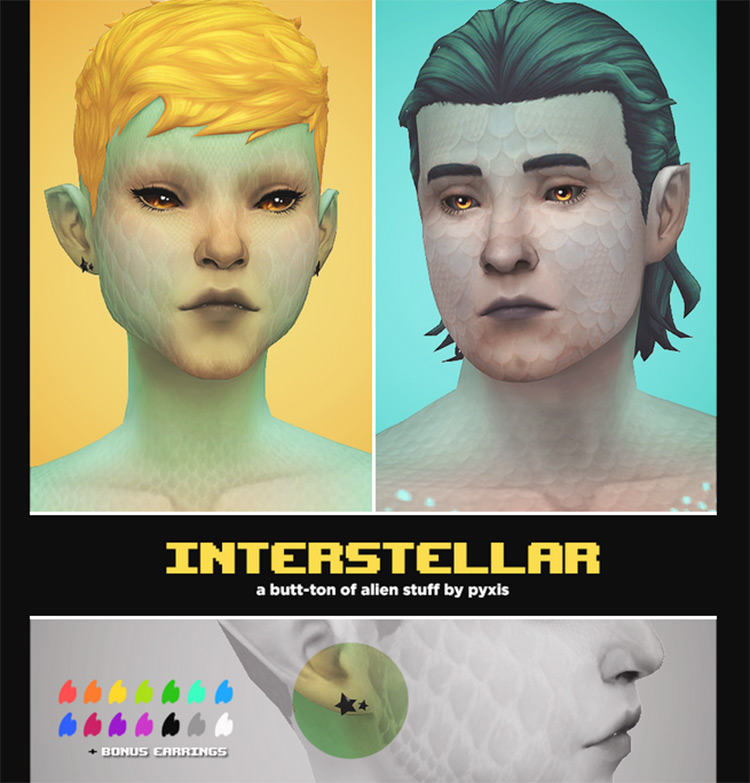 This "butt-ton of alien stuff" pack from pyxis (who will remain one of my favorite occult/supernatural CC creators) contains alien face + body blushes, reptilian scale overlays (which you can find in Tattoos), and clusters of face and body spots.
Plus some bonus star earrings, because pyxis is cute like that.
5.

Intergalactic Set by pyxis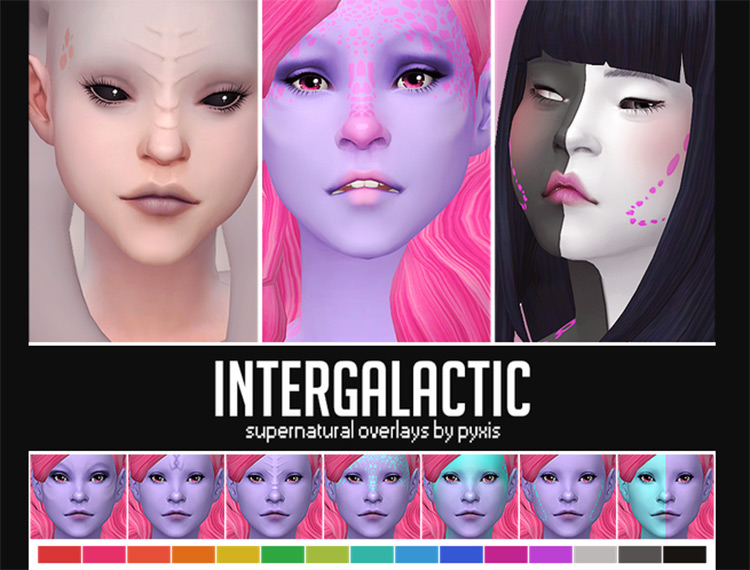 Pyxis' Intergalactic set pairs well with their Interstellar pack.
These contain skin color overlays, face ridges, triple belly button markings (yup!), and some extra body splotches.
Highly recommend for achieving that unearthly, non-human vibe that aliens should have.
You should have no problems overlaying these with the blushes and scales from pyxis' Interstellar set.
6.

Jupiter Island – An Alien Hair by pyxis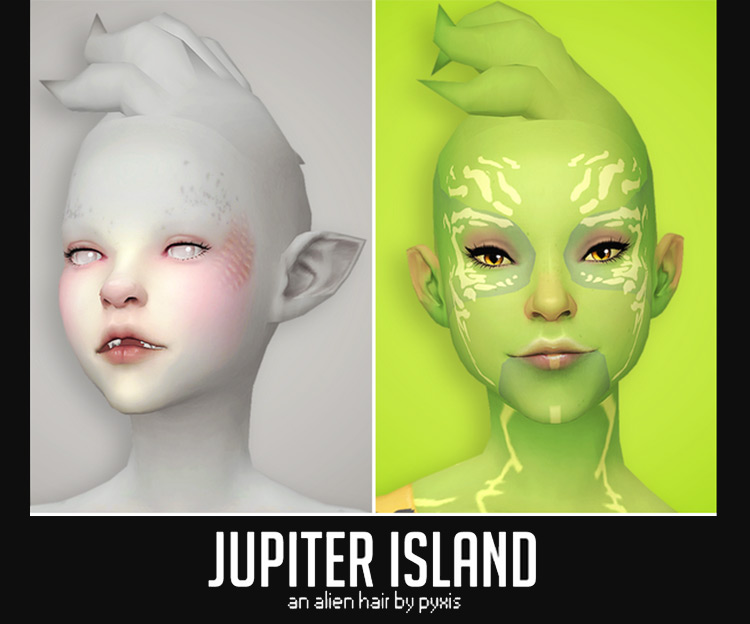 The popular alien hairstyle seems to be hair that merges seamlessly with the skin, so that it's impossible to tell where the face ends and the hair begins.
Take this Jupiter Island hair by pyxis.
It's a cute mini-mohawk for aliens, but I have no idea where the hairline is.
7.

Mercury Blues – An Alien Hair by pyxis
Speaking of seamlessly merging hair, here's another one. Still by pyxis.
It reminds of Ahsoka Tano (from Star Wars), what with the low front pigtails. I like this one a little more just because it actually works with hats, so there are more options to style and accessorize!
8.

Splatoon Octopus Hair by Zaneida & The Sims 4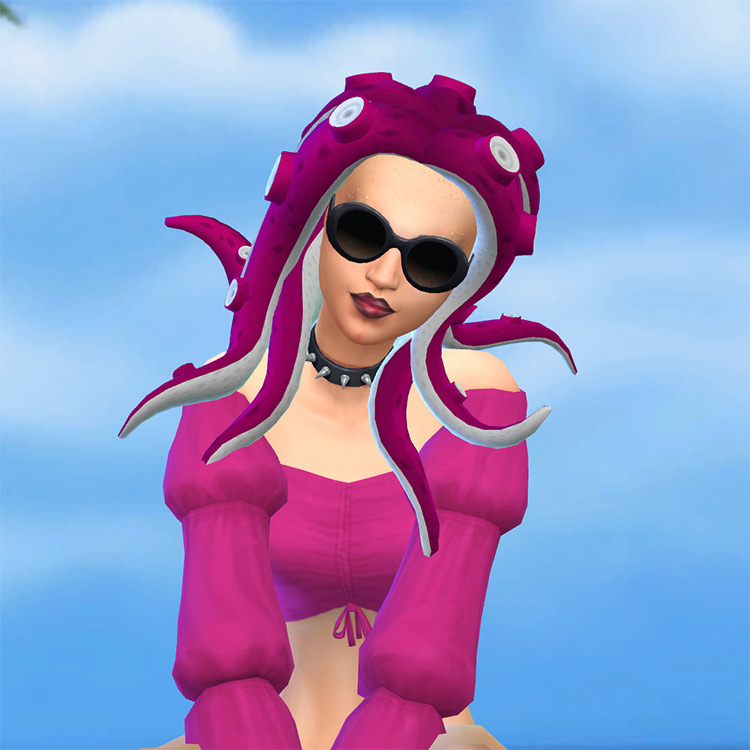 This hair makes me a tad bit uncomfortable, but within the context of aliens, that's a good thing. That's the effect you want.
Plus, octopi as hair? Cool – but creepy! – concept.
9.

Nautolan Tentacles by divadoom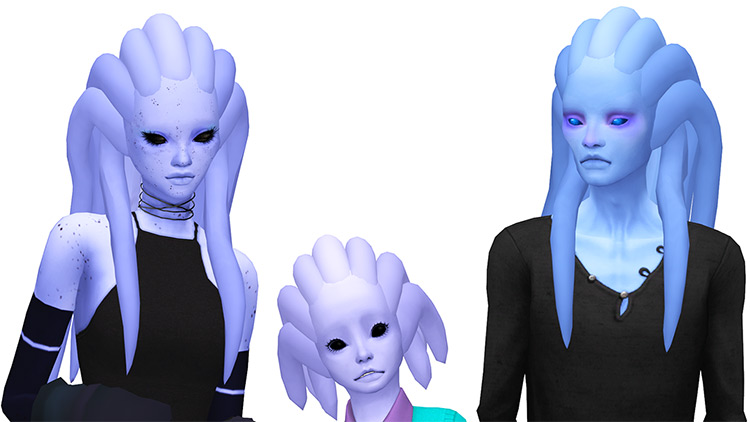 Star Wars fans, rise.
This custom tentacle hair gives us the option to create Jedi Master Kit Fisto's amphibious brethren from Glee Anselm.
If that was too much geek speak, I'm sorry. Ignore everything I said and just enjoy the alien hair!
10.

Glyph (Third Eye) by Valhallan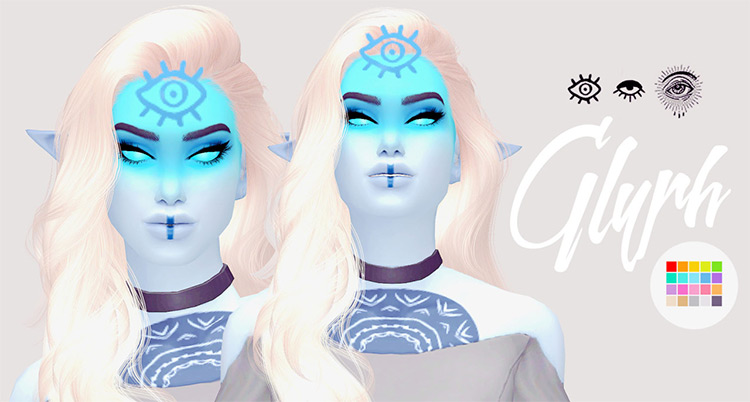 When your alien Sim needs to commune with the Iris, this is probably what human Sims see: a 2-dimensional eye hovering just above their forehead.
Not gonna lie, the effect in CAS is pretty cool.
The eye is drawn in three styles, and each style has 22 color options.
11.

Third Eye Accessory by gerbithats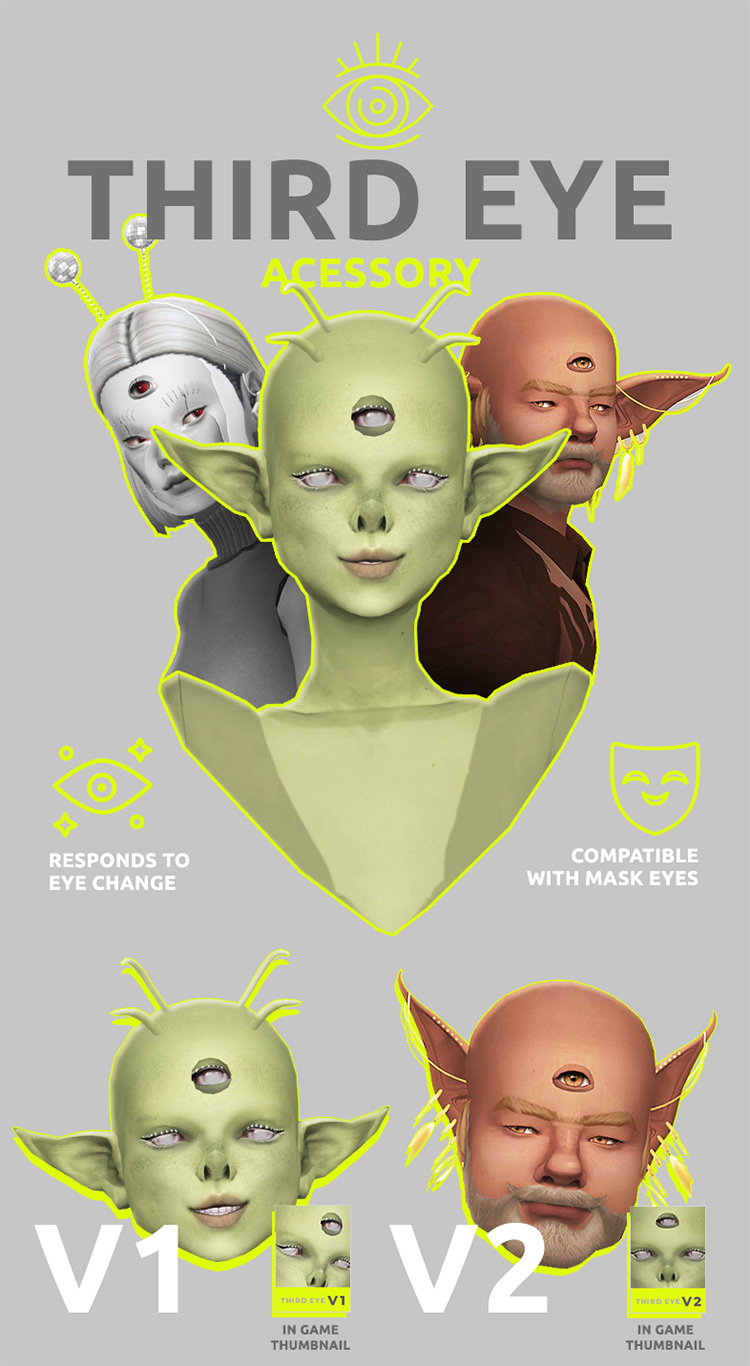 Third eyes on the forehead will always be ever-so-slightly disturbing. We typically equate them with monsters and demons but, hey. Aliens can have them, too.
Gerbithats' third eye accessory can be worn as either a Hat or a Ring, seamlessly follows your Sim's skintone, and works with both default and non-default eye mask overlays!
12.

Oculus: a Third Eye Accessory by Valhallan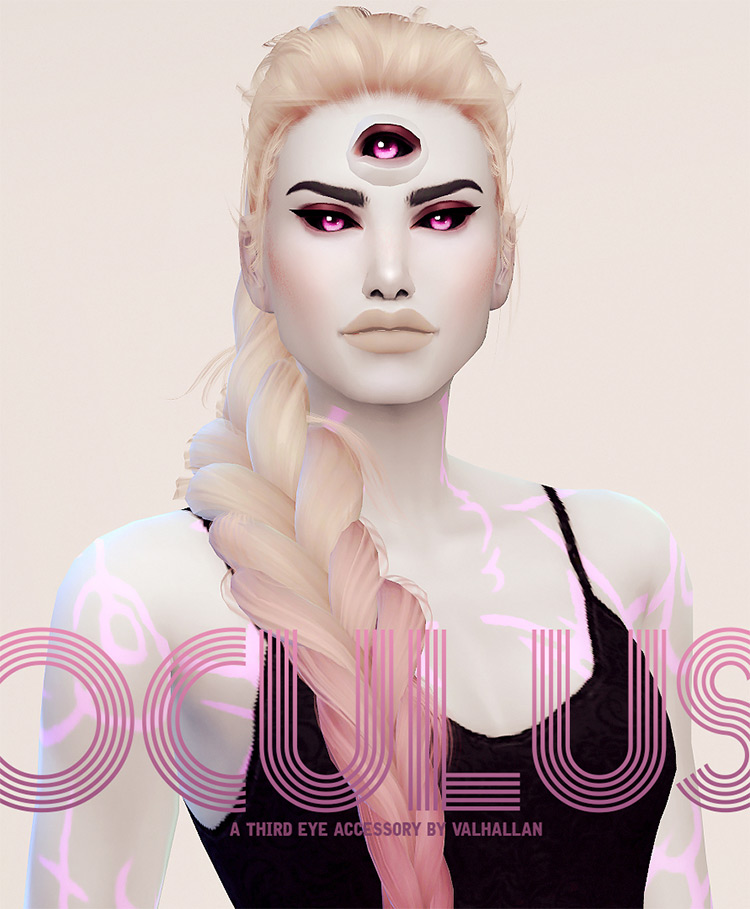 If you want a third eye accessory that's slightly more intimidating, Valhallan's Oculus is sort of the stuff of nightmares.
It's a deep pitch-black eyeball that's either embedded into your Sim's forehead or floating just an inch in front of it.
Either option is disturbing.
13.

Stellar Stuff by The Plumbob Tea Society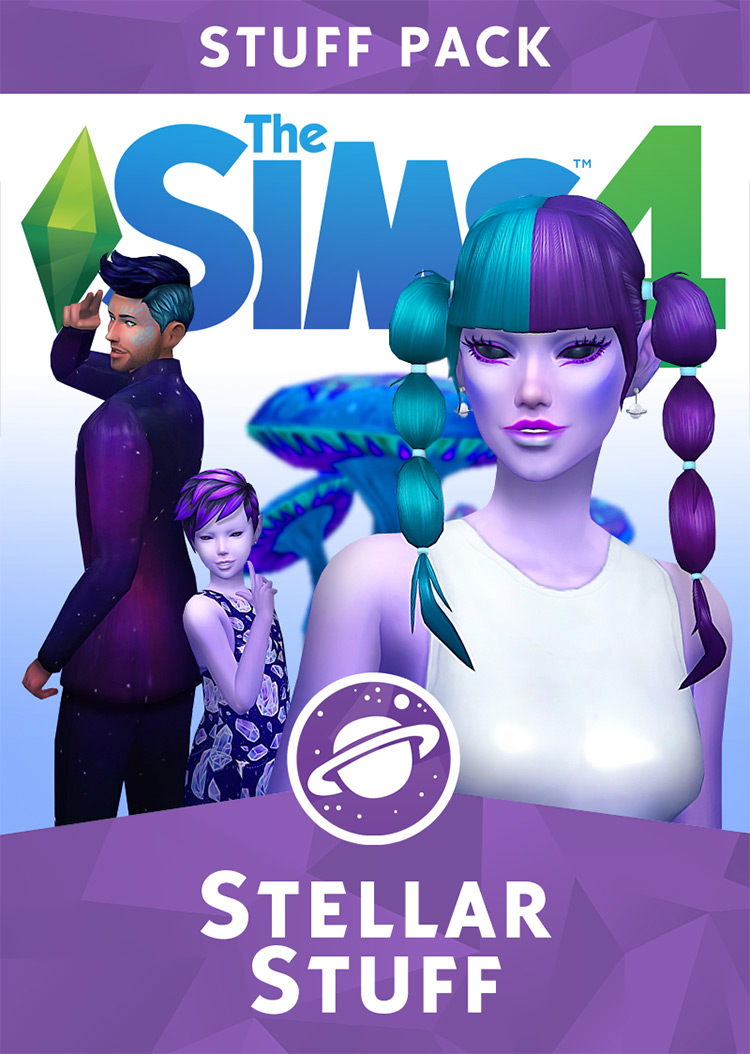 As is the usual with The Plumbob Tea Society, this custom stuff pack – Stellar Stuff – is crammed. I'm not kidding.
It offers 127 new original meshes for CAS and Build & Buy, and they're all distinctly space-themed.
From two-tone hairstyles to futuristic jumpsuits and hanging lamps in the form of celestial bodies, this stuff pack can put official EA stuff packs to shame.
14.

Holo Eyes Pack by pseudosim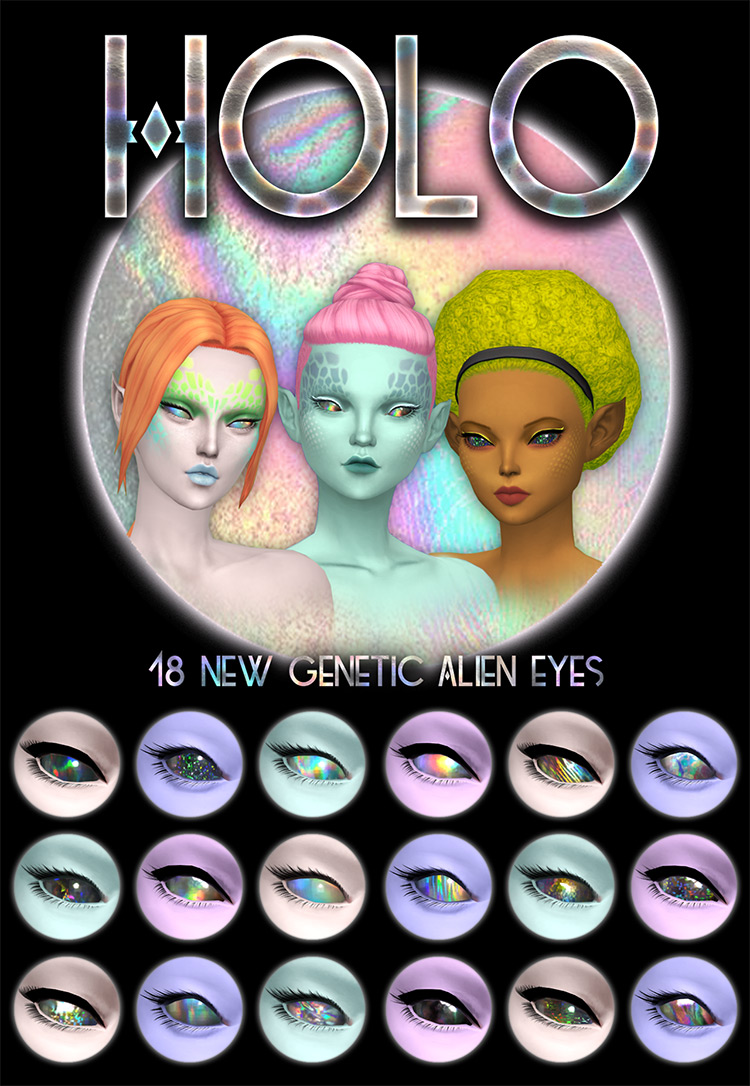 The era of pitch-black alien eyes has come and gone.
It's a classic look, for sure. But why limit our intergalactic friends to just one eye color when they could have literal nebulas as their sclera and iris?
In the case of pseudosims' Holo pack, they have eighteen mesmerizing holographic options.
15.

Space Bundle by lunnarise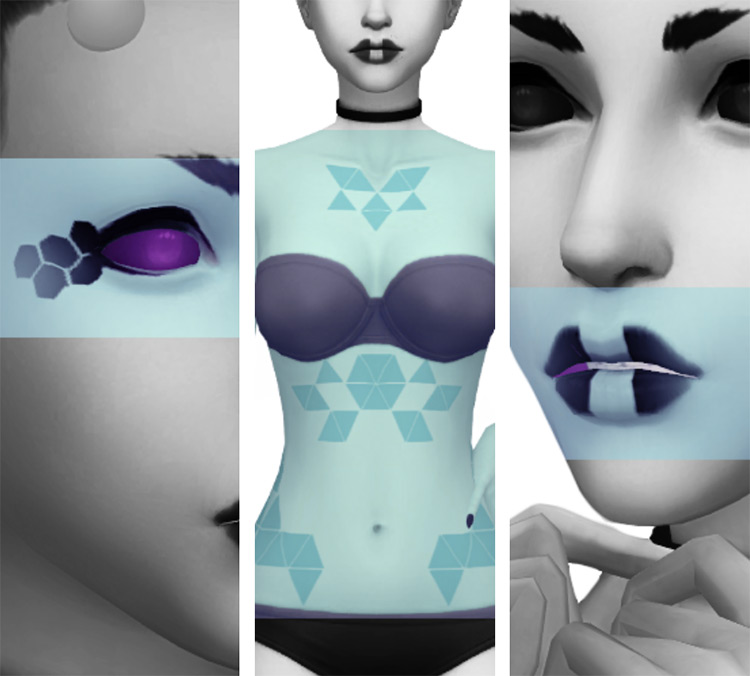 Eyeliner that branches out into hexagons, symmetrical geodesic body tattoos, and weird, striped lipstick.
If you need a couple extra cosmetic goodies to add more dimension to your alien!Sim, lunnarise's Space Bundle is a great CAS grab-bag.
16.

Back Halo (Glowing) by Zaneida & The Sims 4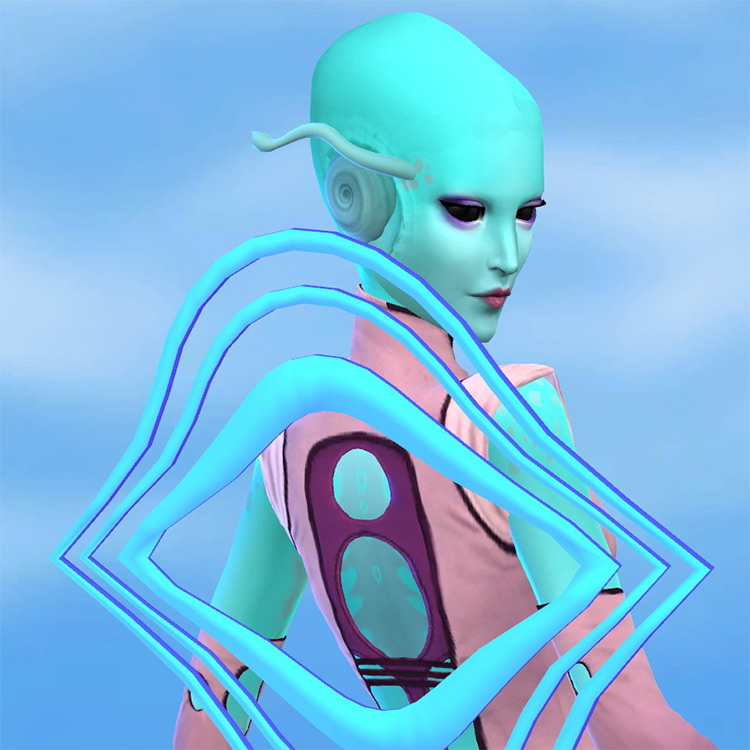 This back halo is such a creative concept, and I think the creator pulled it off perfectly!
In game, it looks like some unexplainable detached portal is following your alien!Sim around. Very cool and very otherworldly.
17.

Vorta Like Ears by Zaneida & The Sims 4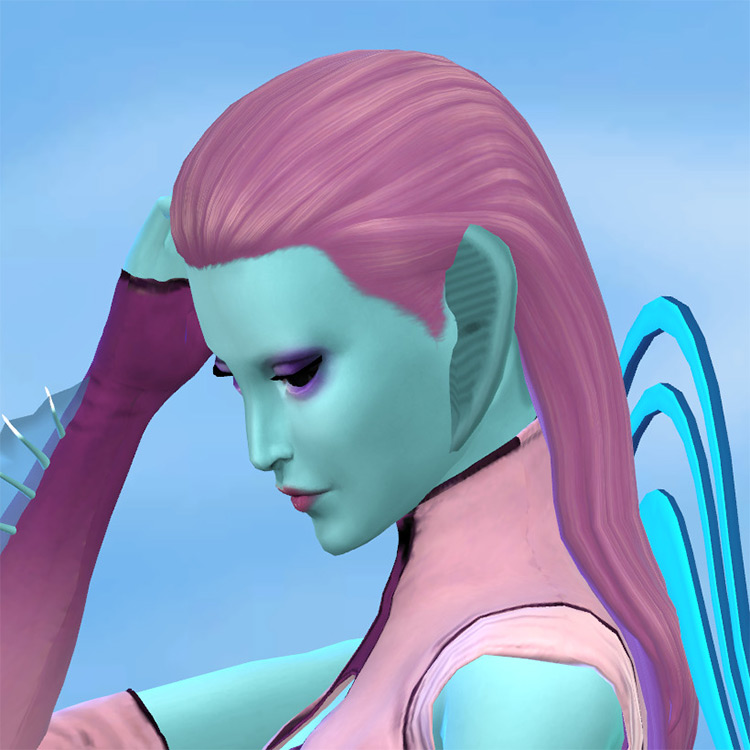 These Vorta Like ears are strange, ribbed, and oddly amphibious.
I'm not sure who or what a "vorta" is (since that's apparently the design inspo for these appendages), but I do know that the ears look sufficiently alien enough to belong on this list.
18.

Android Face by osimllia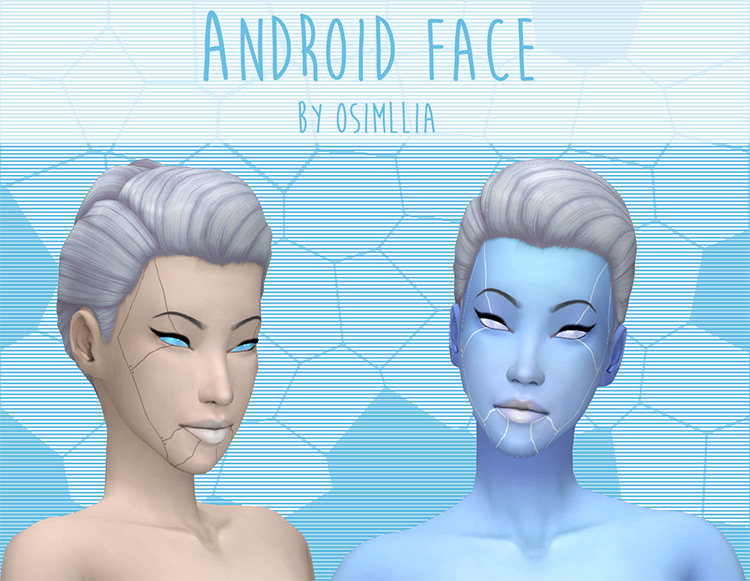 One thing we all seem to collectively agree on is that aliens probably have a better grasp of technology than we puny humans do.
Which is why we often depict aliens as beings that have merged seamlessly with technology beyond our understanding. This face tattoo allows for a subtle hint of artificial intelligence hidden beneath human skin.
19.

Cyber HeadEarsHalo by Zaneida & The Sims 4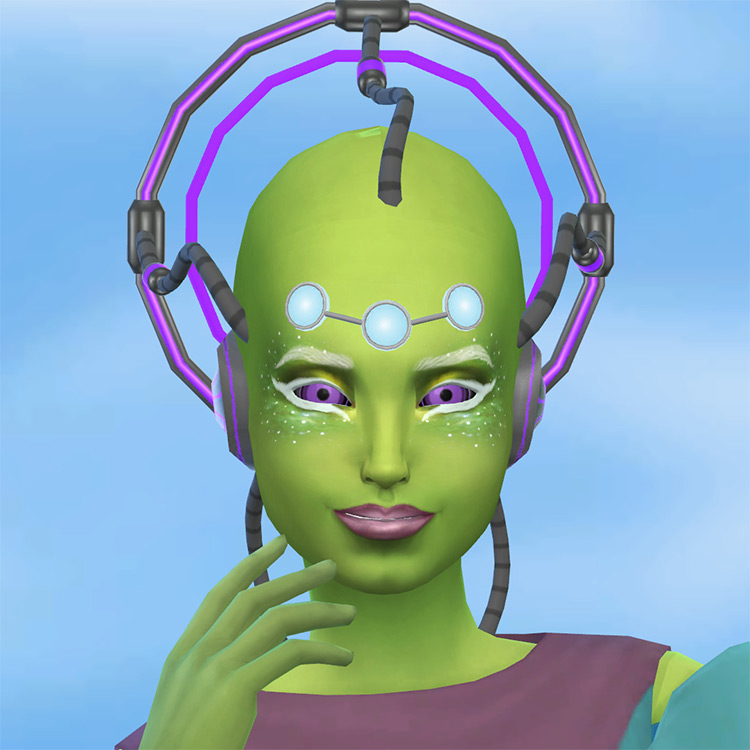 Pair this with osimllia's Android Face tattoo to complete your alien's cyborg look.
It's basically a cybernetic halo with a lot of unexplained wires, cables, and lights going on.
What is its purpose? Why is it connected to the head? Beats me.
But the not-of-this-earth vibe is definitely in full effect.
20.

Tentacle-Antennas by Zaneida & The Sims 4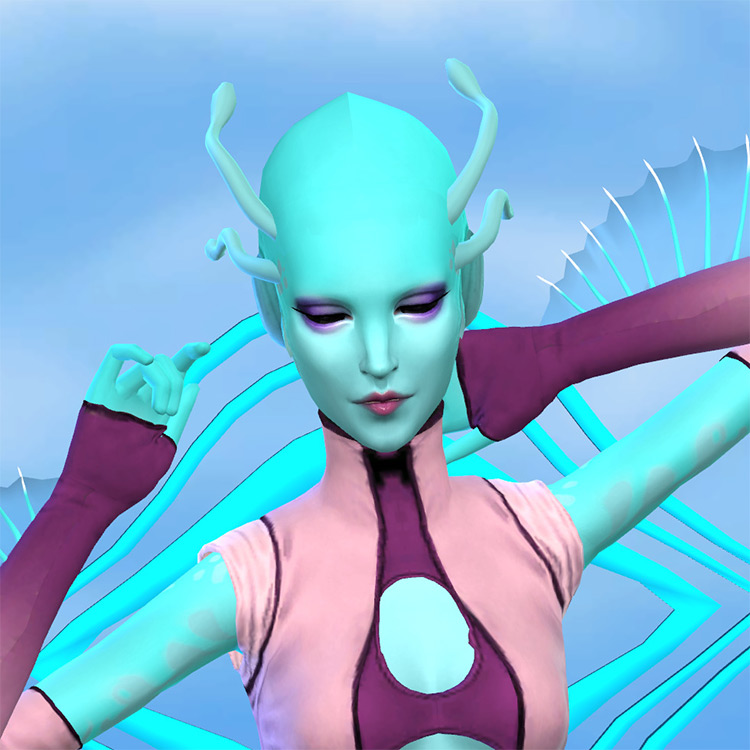 Yes, the alien's hair glows. Or it could not.
The creator included .package files for both options.
Either choice makes for a cool other-planetary being.
21.

Dangly Antennae by divadoom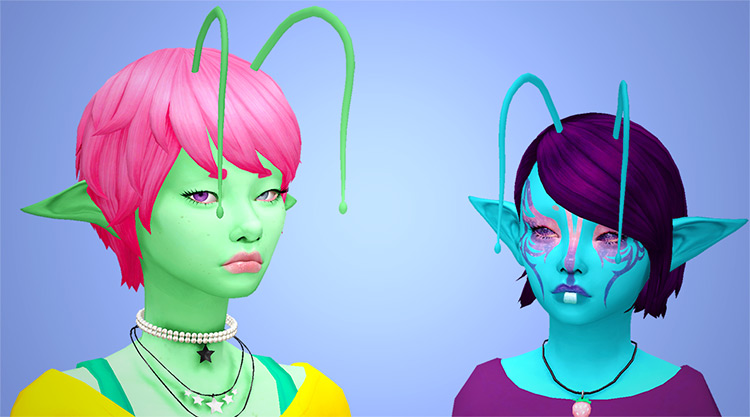 These droopy antennae are perfect for adding distinguishing features to otherworldly creatures (or angler fish).
Maybe pair this with pyxis' Mercury Blues hair or divadoom's Nautolan Tentacles for a fully nautical feel.
22.

Je Te Vois by Valhallan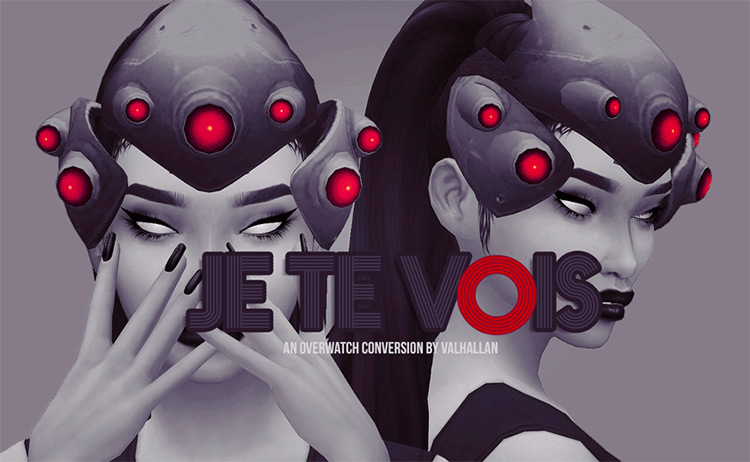 This is a conversion of Widowmaker's sniper visor (from the video game Overwatch).
The character isn't an alien per se, but this headpiece?
If you saw this on some seven-foot-tall alien with chromatic skin and tentacles, you'd probably play dead.
23.

Alien Speckles by weepingsimmer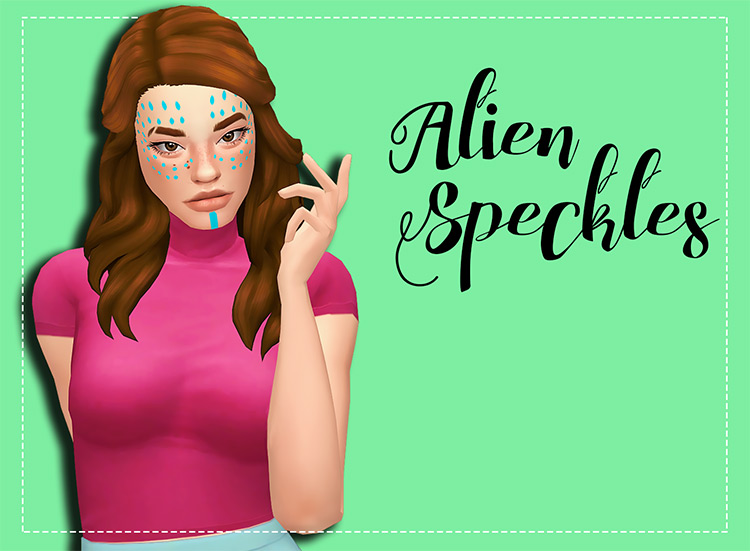 What's the extraterrestrial version of freckles?
Speckles, apparently!
Create a couple of cute aliens by splashing weepingsimmer's Speckles on their face.
It's available in 60 colors, so it'd be nigh impossible for you to not find a swatch that'll work with your Sim's skintone.
24.

Galaxmi's Uncanny Skintones by galaxmi
The more I write this list, the more I find myself falling in love with the colorful gradient alien concept.
I mean, you can't tell me these skintone combinations aren't cool.
Fallen Warrior and High Tide, in particular, are drawing me in.
Add a couple body markings and accessories (like something from pyxis' Interstellar set) and you've got yourself a bomb alien.
25.

Alien Flushed Blush by squeamishsims
Can aliens blush? Do they use makeup?
Who knows. We certainly don't.
But in the off-chance that they do keep up with the latest Terran beauty trends, squeamishsims' recolor of simulationcowboy's Flushed Blush adds a splash of color to their cheeks and nose area.
26.

Cthulhu Head by Natalia-Auditore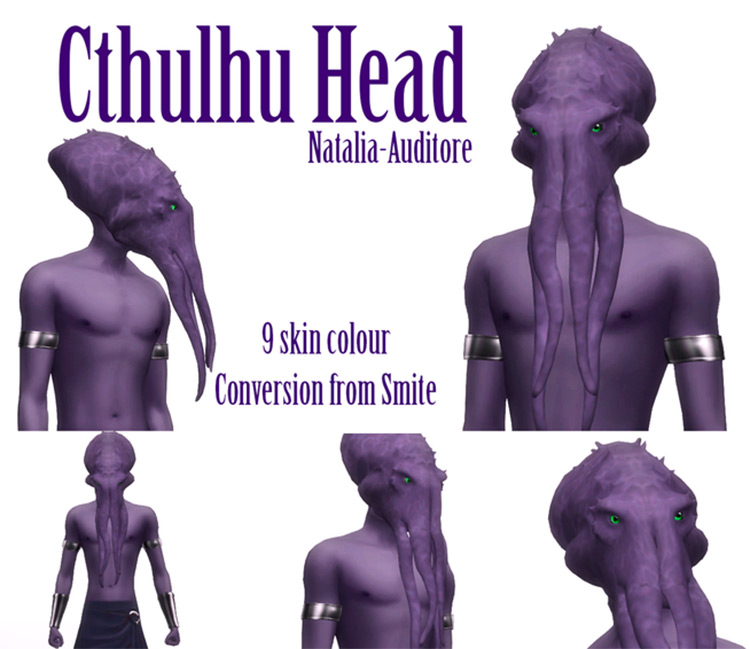 As a D&D player, this is a nightmare come true.
But as someone recommending alien-themed CC for your Sims, this would work a treat.
After all, not all interplanetary beings can be anthropomorphic. Some lean much closer to good ol' cephalopods.
27.

Fly For Your Life – Android Overlay by pyxis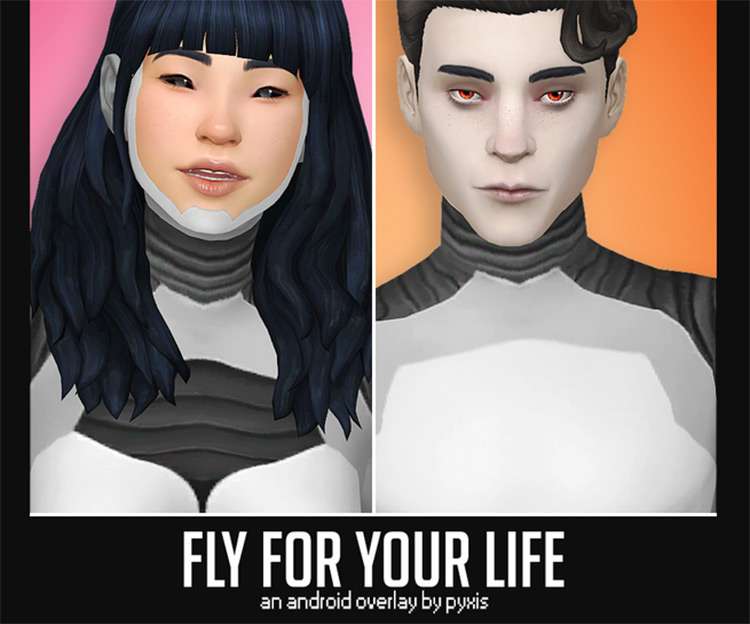 Ready to turn your alien!Sim full cyborg?
These body overlays by pyxis turn joints into cybernetic locking mechanisms and torsos into metal chest plates.
And because they're overlays, your Sims can still wear clothes over their robotic elements!
28.

Antennae Set by vapidsims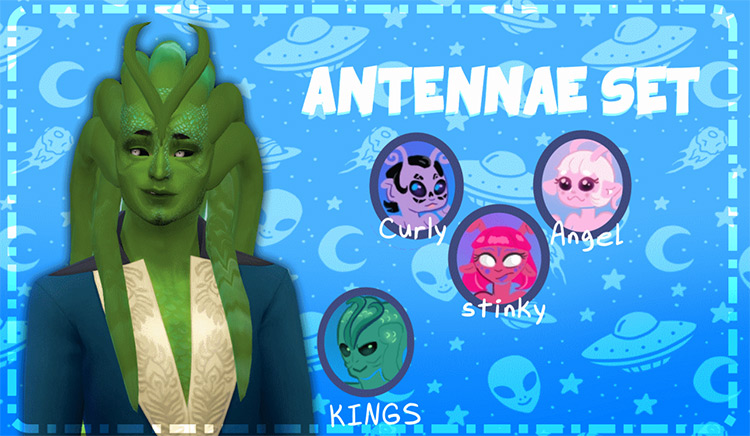 We've got plenty of amphibious features on this list for our semi-aquatic intergalactic pals, but where are the hexapod-inspired beings?
If your alien build is feeling a little bland, add a couple buggy elements to help them stand out. There are four antennae variations in this set (and I'm particularly fond of the Angel design).
29.

Speckles! by divadoom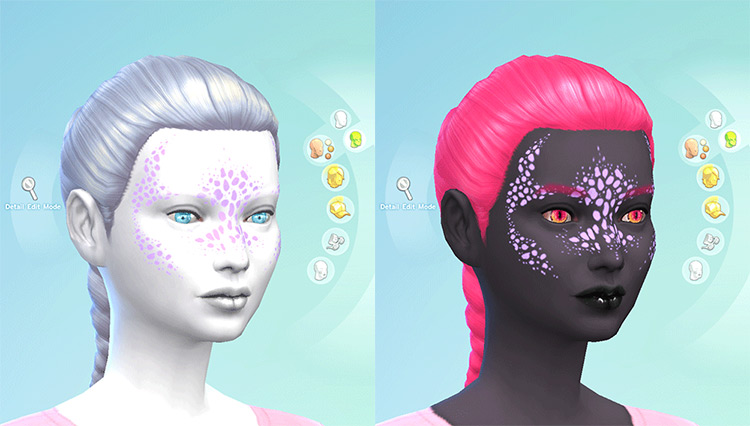 Not to be confused with weepingsimmer's Alien Speckles, these reptilian-esque face markings look more like face gems than extraterrestrial freckles.
They're also shinier and have more of a gradient coloring (as opposed to weepingsimmer's matte look).
30.

Subject 17 Tattoos by pixelatedfoxxsimming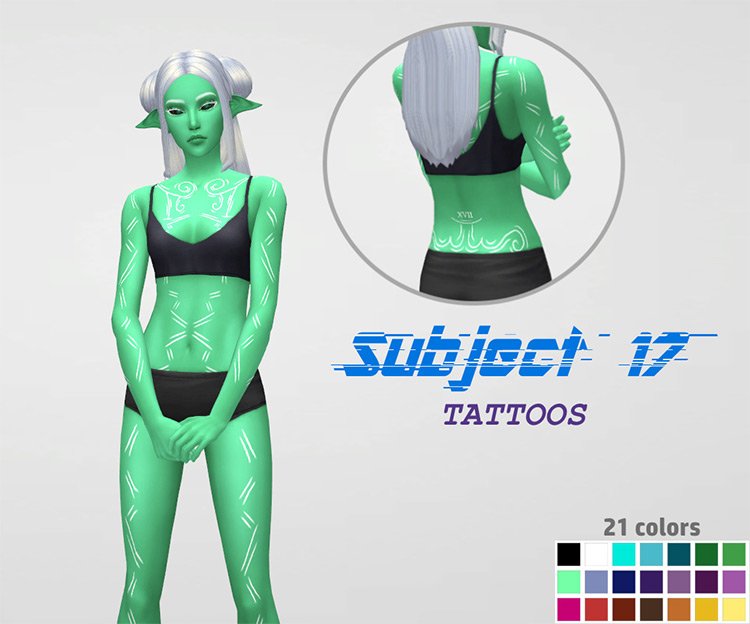 Who is Subject 17?
And why are their tattoos so distinct?
Seriously speaking, I do like how starkly these tattoos stand out on green skin (as evidenced by the preview photos). They're not particularly geometrical, but they do remind me of crop circles.
Which I guess is still on-brand with this article, given the theories around that particular phenomenon.
31.

SimplyHexagons Futuristic Face Tatoo by Xyliax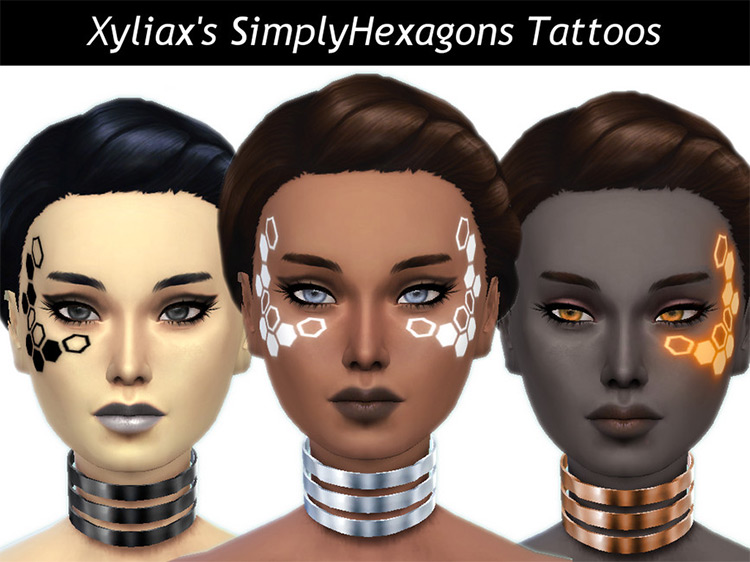 If Subject 17's tattoos didn't feel alien enough for you, I guarantee Xyliax's SimplyHexagons face art will do the trick.
These markings look like they have some sort of hidden, high-tech, cybernetic function because of how neat and geometric they are. I can easily see them paired with pyxis' Android Overlays for the full "advanced artificial technology" effect.
32.

Eyebrow Dump – The Witching Hour by rachirdsims
I know there are a lot of options here.
Don't worry; I'm just going to recommend two.
Fragmented Brows by lunnarise, and Teru Brows by suspiciouslypinklady.
These two have such an unconventional shape to them, they can't possibly be of this earth. All the other brows on this list look cool, but they're still within the realm of "possibly Terran."
Fragmented and Teru are definitely otherworldly.
33.

Alien-Bun Hair by Lady Kendal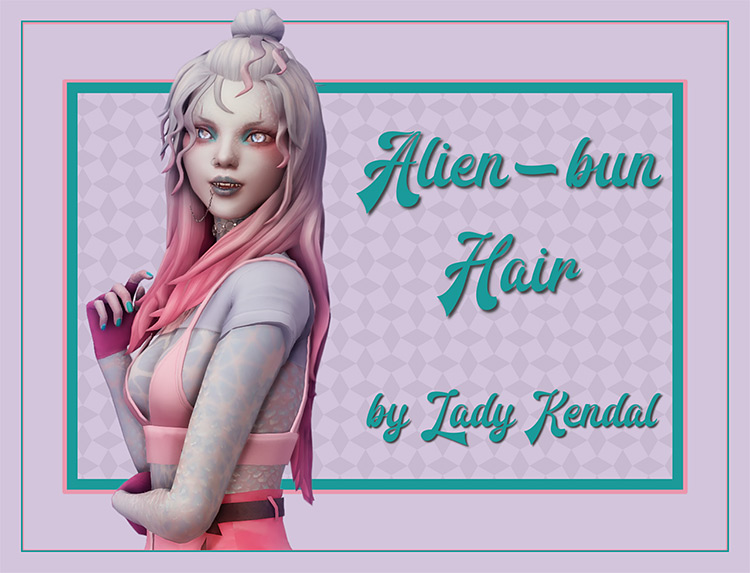 I'm not quite sure what about this hair is alien.
I mean, the Sim model is definitely not of this earth. But the hair?
Doesn't look particularly tentacle-y, element-y, or otherwise inorganic.
Nonetheless, it's very pretty. And since it can be colored ombre (check the description for the download link), I guess it could technically work for multicolored alien concepts.
34.

Nebula Hair by pinkpatchy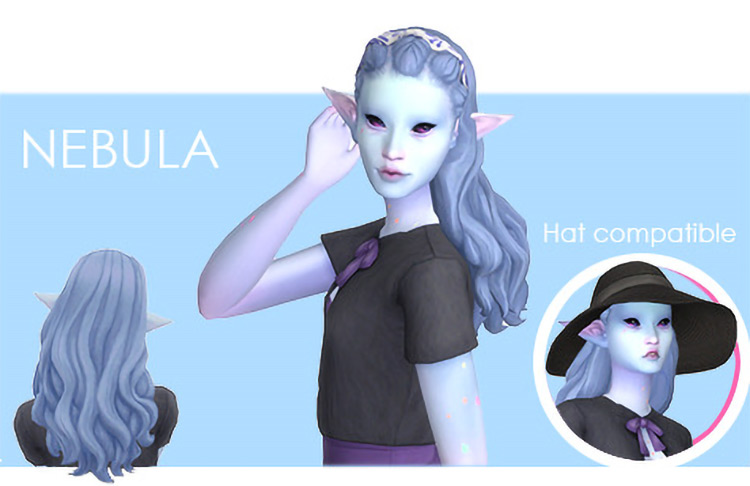 Although it's marketed specifically as alien hair, I think this custom 'do would look swell even on regular Terran Sims!
But for our interplanetary pals, this Nebula hair still works a treat.
Unfortunately, it isn't available in the fetching blue color pictured in the preview photo. You'll have to do with EA's standard bright blue.
35.

Spectrum, the Neptune Collection by Valhallan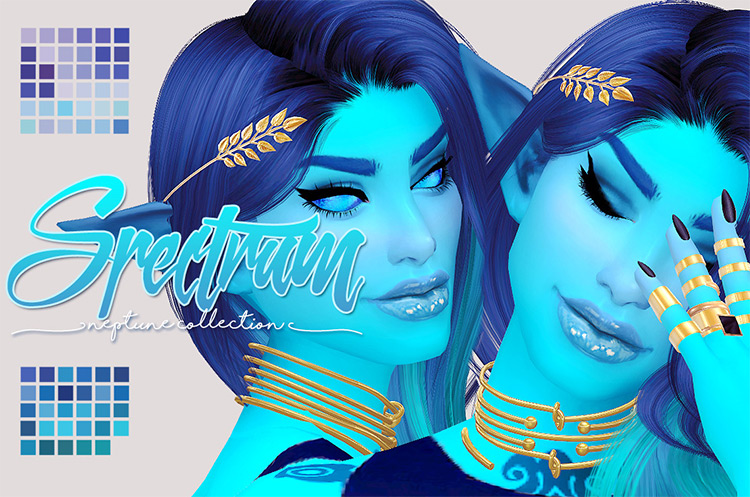 Nothing too crazy here—just some blue glossy lipsticks.
These would work fine on non-alien Sims too, but on blue-skinned extraterrestrials? The effect is fantastic.
And there are 65 shades of blue to play around with!
36.

Solid Eyes by voidfeathersims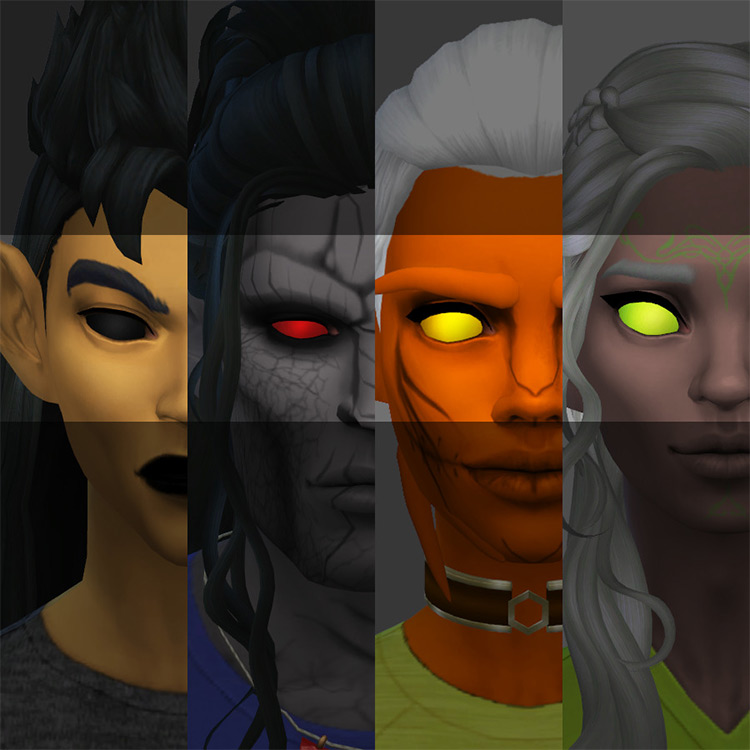 Friendly reminder that aliens, although probably generally peaceable, are still an unknown race.
Ergo, they can be intimidating—and rightfully feared.
These solid-colored eyes by voidfeathersims look suitably otherworldly… and kind of scary. Imagine being in a dark room and then seeing these electric yellow eyes staring at you.
37.

Vaswani by Valhallan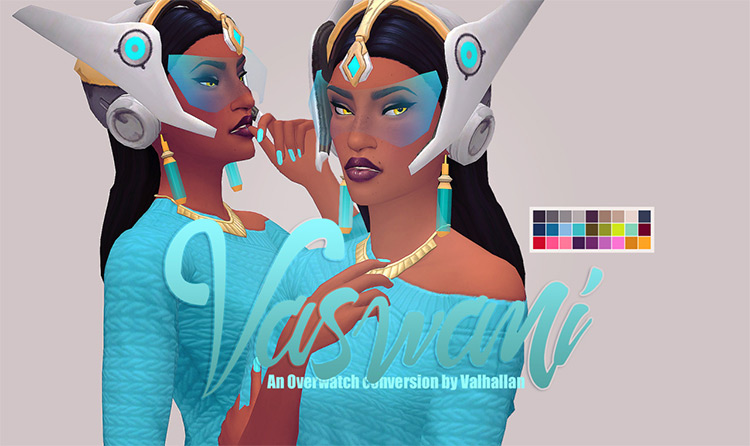 Like the Je Te Vois custom visor (from the same creator), this Vaswani accessory is high-tech headpiece extracted from Blizzard's Overwatch game.
Again, not so alien.
But it does look like something a more technologically advanced race (read; aliens) would be able to use and utilize with ease.
38.

Fairy Ears by tekri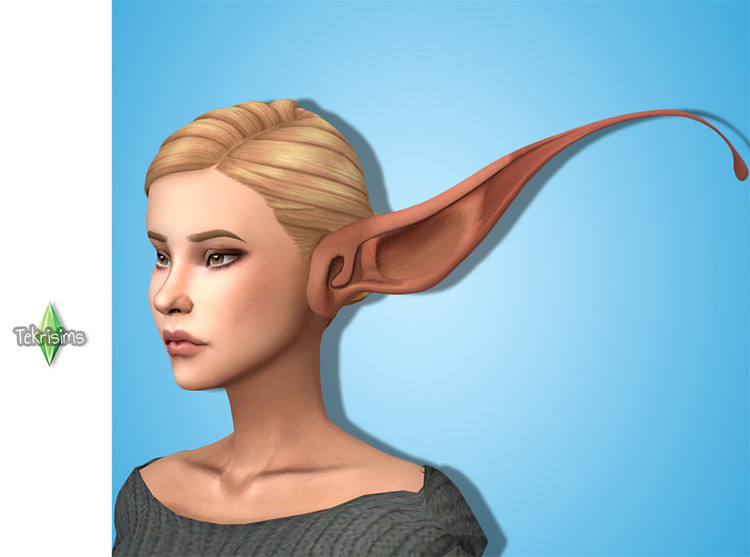 Before you gawk at the size, hear me out.
We have no actual reference of what aliens look like, right? There are some features that we've all collectively accepted – like different-colored skin and different eyes. Other than that, all other elements are fair game.
So who's to say they don't have ears the size of Dumbo with tips that glow in the dark?
39.

Space Face by Pixels & Gnomes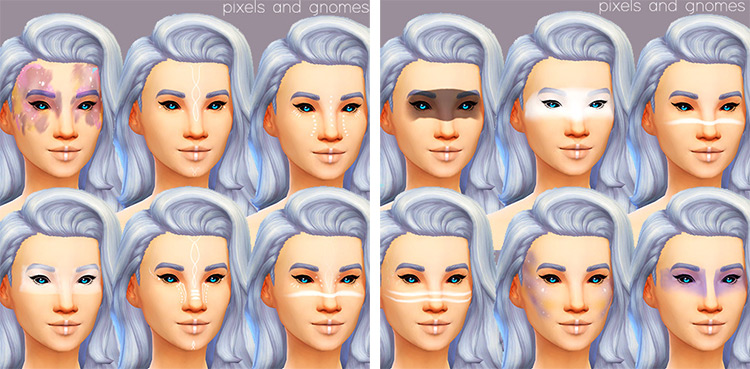 These face paints, according to the creator, were made specifically for their alien!Sims.
Although I kinda see them more as tribal war paint, some of the designs do look intricate, geometric, and/or "spacey" enough to be alien in design.
So maybe they could decorate a tribe of alien creatures?
40.

Star Wars Twi'lek Assorted Set 2.0 by hexmcchina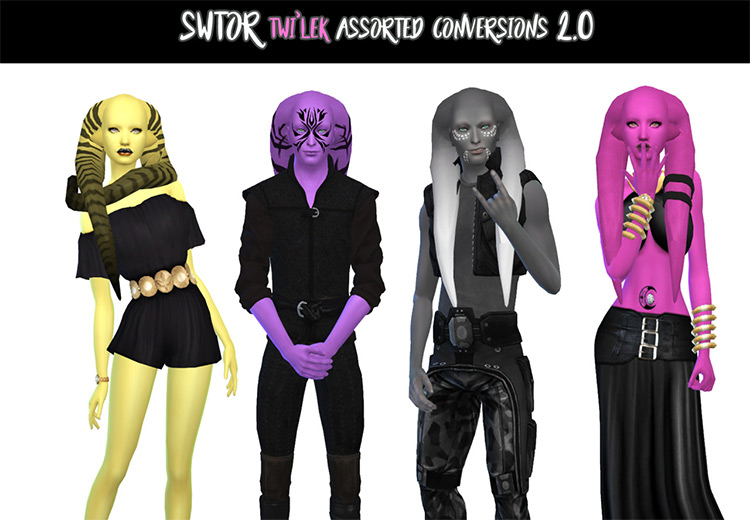 Everything you need to create a Twi'lek Sim, you can find here.
Recreate Jedi Knight Aayla Secura in-game or make your own Ryloth native with hexmcchina's incredibly customizable lekku options. You can choose the patterns, the accessories, the length… they even included new mesh for kids!
Even if you aren't a Star Wars fan, you can still use these twin hair-tails for any fictional space-based species.
Browse:
Lists
Maxis Match
The Sims 4
Video Games