Sims 4 Maxis Match Anime CC: The Ultimate Collection
This post may contain affiliate links. If you buy something we may get a small commission at no extra cost to you. (Learn more).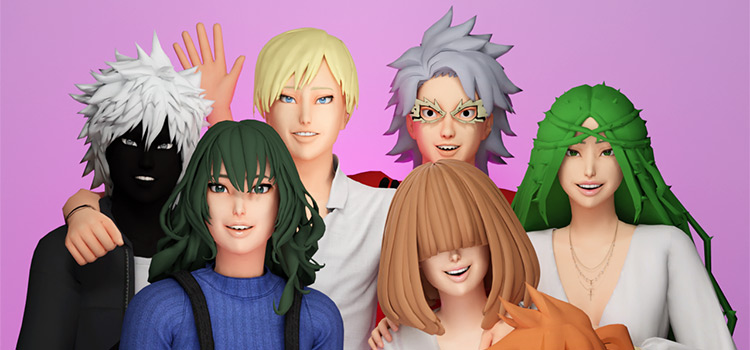 As a kid, I watched a lot of anime. I sort of lost interest as I grew older, but I've watched enough to know the stereotypes and tropes.
Now, current popular shows like Demon Slayer and My Hero Academia seem to have infiltrated the Sims community as well. There are a lot of CC creators coming out with anime-inspired CAS items.
If the cross-section between anime and TS4 content interests you too, then this list should help!
We've curated dozens of pieces inspired by anime series like Naruto, Sailor Moon, and Full Metal Alchemist. To keep things neat and organized, I even broke this list up into categories for CC specific to some shows.
MM Demon Slayer CC: Kimetsu no Yaiba
1.

Inosuke Hashibira by aizawasbby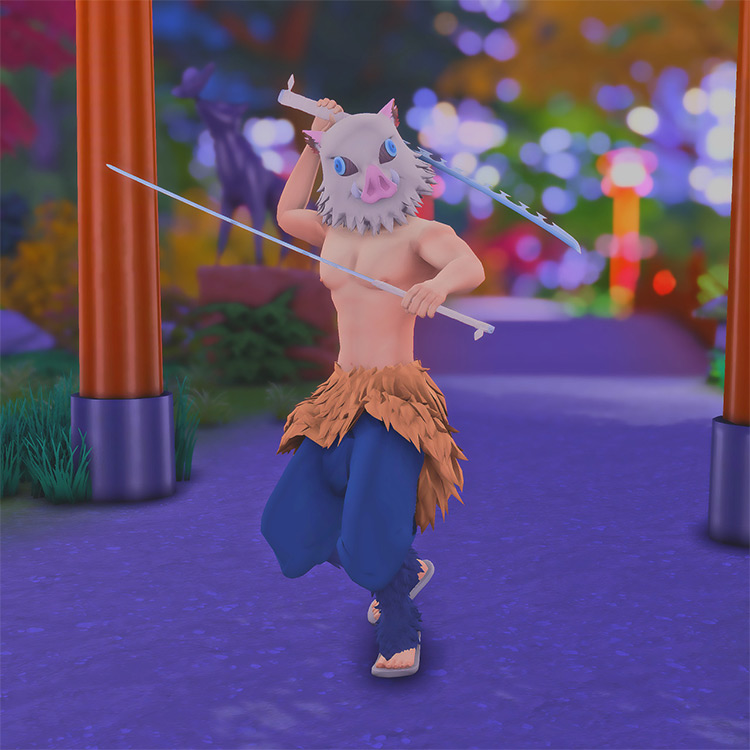 Speaking as someone who knows virtually nothing about this show, I'm pretty lost. But I am also not surprised, as the creativity-plus-wacky-concept-combination in anime knows no bounds.
Whoever this character is, they at least look like they can wield them swords like a pro.
Check the description to see this CC set's inclusions!
2.

Demon Slayer Eyes by aizawasbby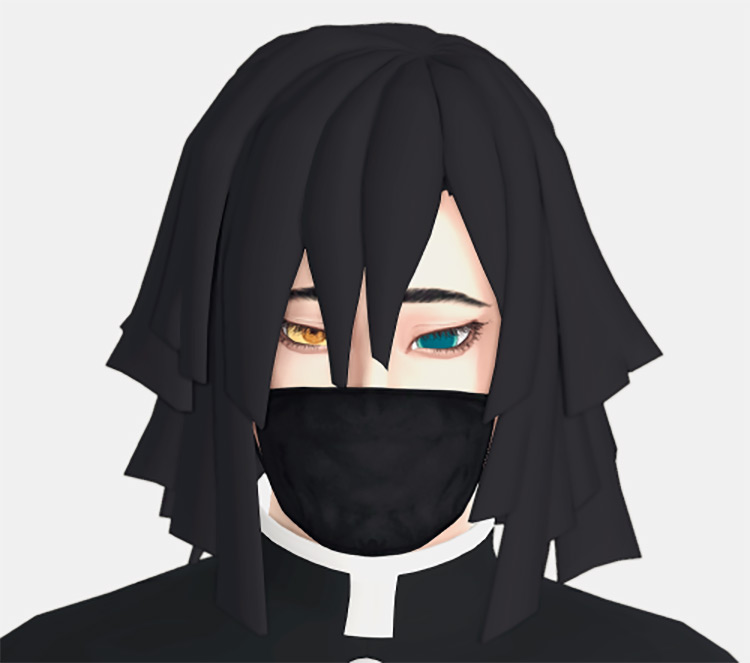 For when generalized anime eyes just won't do, here's a packed set of several different eyes in several different colors and designs.
I'm not talking shapes; I'm talking pupil and iris.
I'm certain fans of this series will be thrilled to know they can have Obanai's crazy eye texture in-game.
3.

Nezuko Set by Natalia-Auditore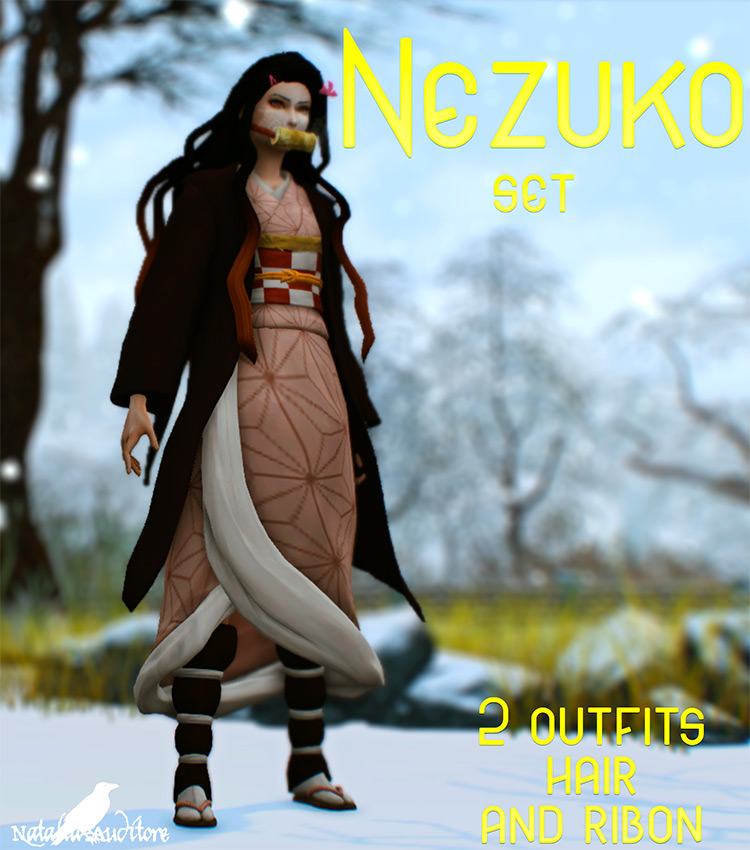 A quick Google search was enough to tell me that this is the girl I keep seeing whenever Demon Slayer is referenced. I don't know if Nezuko Kamado is the main protagonist or not, but I see her freaking everywhere.
And despite not knowing a thing about her, I love her character design.
This set contains everything you need to recreate her in-game, like her hair and her clothing. The creator even links her iconic bamboo muzzle in the notes (so I'll link it here, too!).
4.

Nezuko Hair by aharris00britney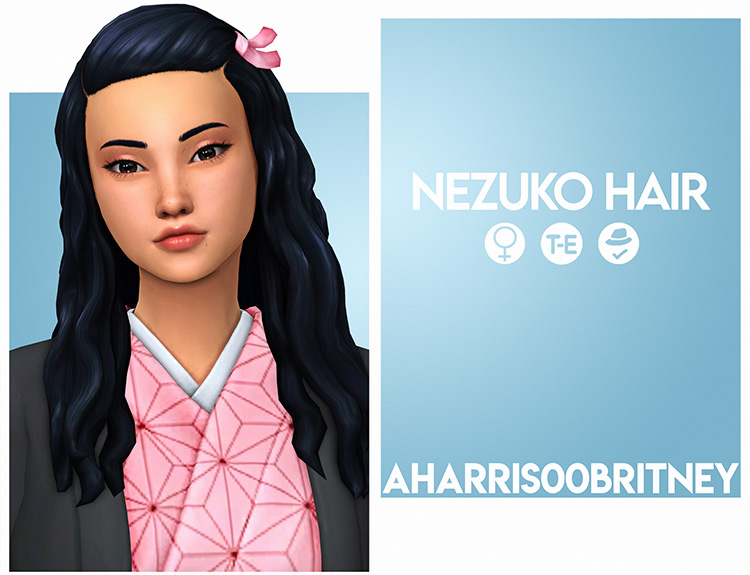 If you want a more subtle recreation of Demon Slayer's Nezuko Kamado, aharris00britney offers this really pretty hairstyle.
The different hair color options plus the relatively normal-looking cut means you could use this hair to create any random Sim, too.
But in the context of this article, yeah; it's totally her hair. Especially when paired with the creator's hair accessory and kimono.
5.

Yaiba Costume Set by McLayneSims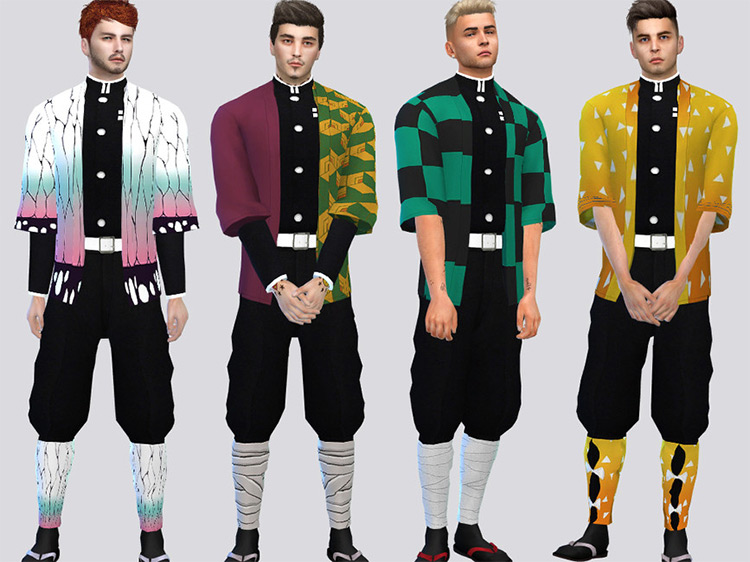 Dress your Sims up in this modern take on traditional Japanese clothing.
Look up Demon Slayer or Kimetsu no Yaiba characters.
You'll notice that these custom TS4 clothes are exactly what they're wearing. The black-and-green one is especially prominent—and on-point!
6.

Adult Male Yukata Recolors – Demon Slayer by modestystudio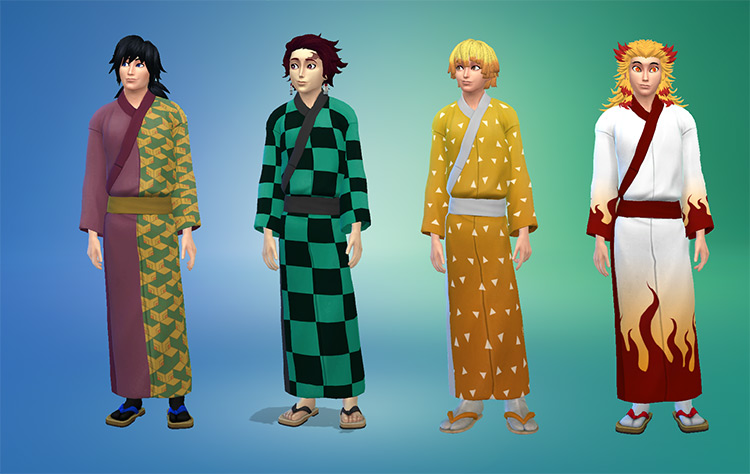 Unlike McLayneSims's Yaiba Costume Set, this CC isn't an exact replica of the show's costumes.
It's simply a Demon Slayer characters-inspired recolor of the default Male Yukata that comes with The Sims 4: Snowy Escape pack.
The creator lists the eight characters he drew inspiration from, so check the notes to see if your favorite's there!
7.

Adult Female Yukata Recolors (Demon Slayer) by modestystudio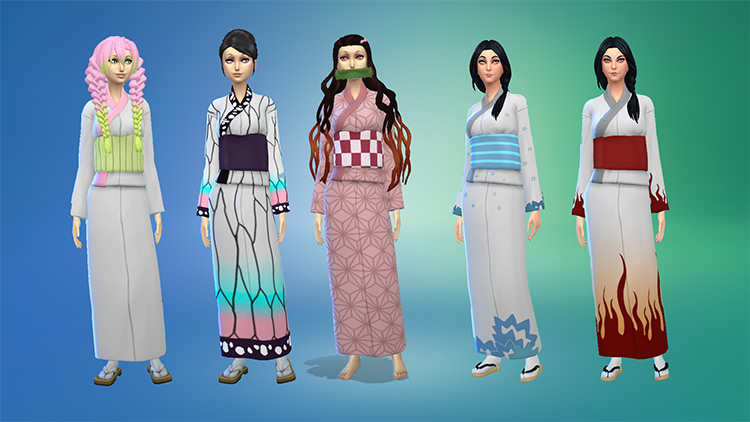 Exactly like the previous item by the same creator, only for female characters (and Female frames)!
There are five character swatches available, but do note that you'll still need the Snowy Escape expansion pack for this CC to work!
8.

Demon Slayer Corps (Uniform + Shoes + Nichirin) by aizawasbby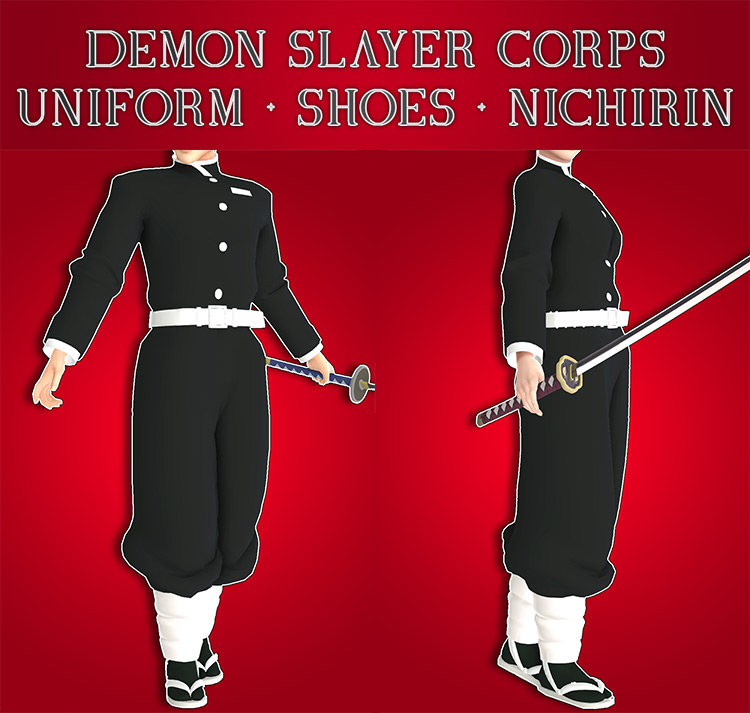 Is your Sim dedicated to protecting humanity from demons?
Do they yearn to fight side-by-side with their fellow warriors, cutting through swathes of demons with shiny Nichirin blades?
Then this CC set by aizawasbby is absolutely perfect.
There are fourteen swatches for the uniform and shoes, and the swords have both left and right hand (or wrist) versions!
MM Boku no Hero Academia CC
9.

Bakugou Katsuki – My Hero Academia by Sakine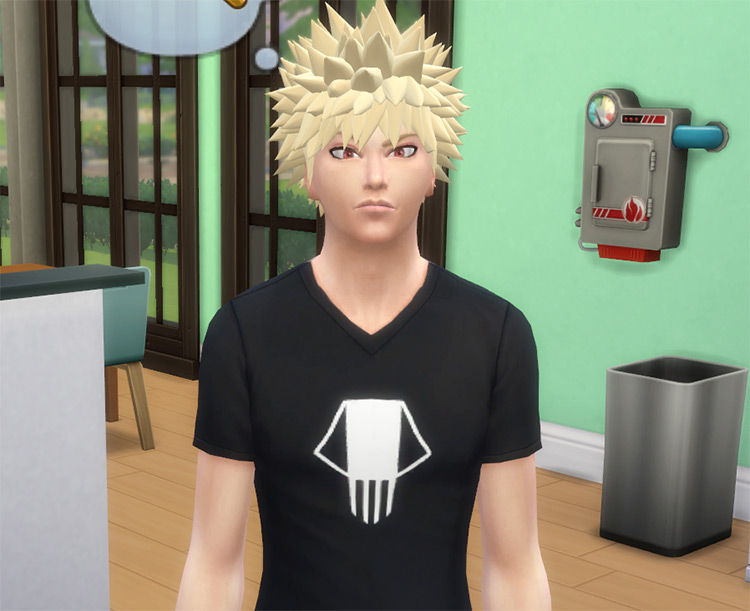 Messed around with literally every feature in CAS but still can't perfectly recreate Bakugou aka Dynamight?
Sakine's CC pack contains his hair, eyes, and casual shirt to help you get started!
They also link some fun bonus content – including a custom Hero Career mod – in the description to add to your MHA x Sims 4 experience.
10.

Hair Pack 1 – Boku no Hero Academia by Botrom-U1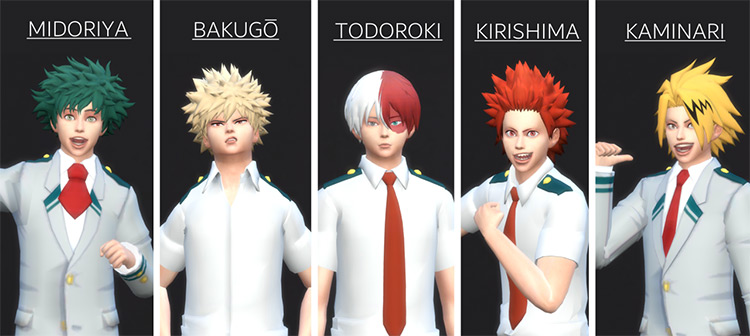 If MHA's crazy anime hairstyles is your biggest concern when recreating them Heroes in TS4 (which, yeah; understandable), then you need this CC pack by Botrum-U1.
It includes the spiky, gravity-defying, unnaturally-colored hair of five fellows from the main cast: Midoriya, Bakugou, Todoroki, Kirishima, and Kaminari.
11.

My Hero Academia Hair Pack #2 by aizawasbby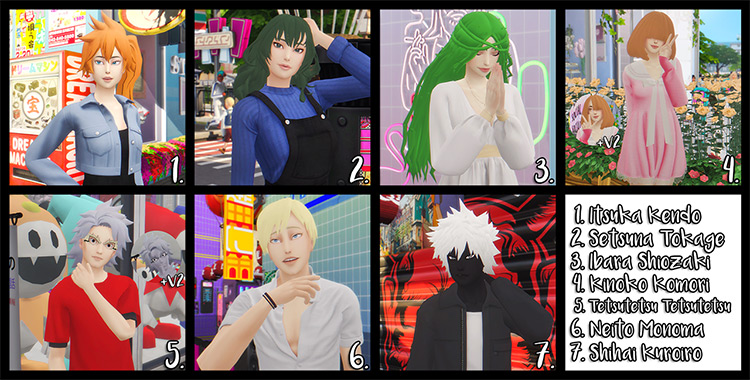 Aizawasbby's custom hair pack is here to further expand your crazy MHA hair catalog! Add these seven funky new haircuts on top of the existing five from Botrom-U1's pack.
They're not as gravity-defying, but they're still pretty impossible to achieve with EA's normal, vanilla array.
12.

Rainy Season Hero: Froppy by aizawasbby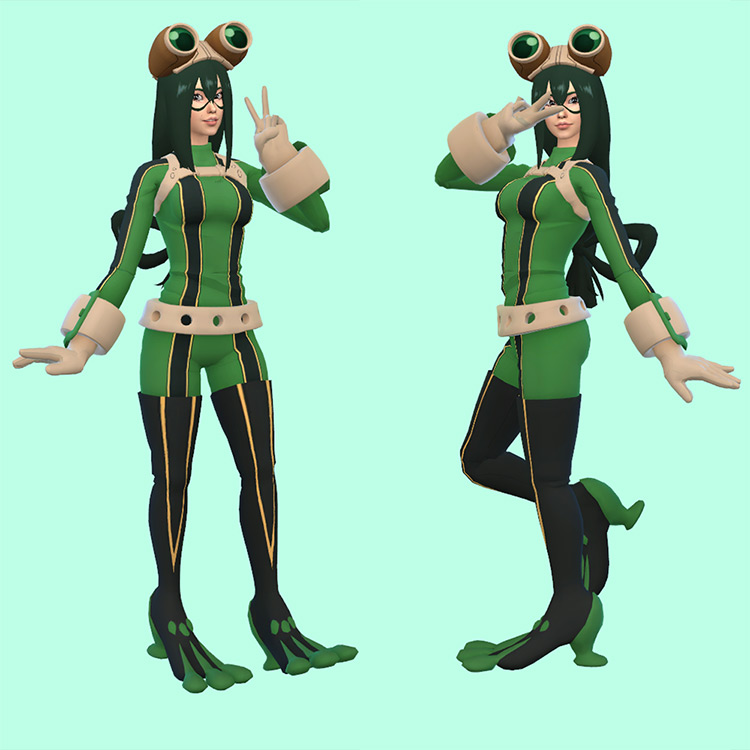 This character definitely looks like she's a fun one to have around.
They say not to judge a book by its cover – or a hero by their costume – but any Sim that can hop around in a frog suit and still kick ass (I'm assuming) gets an automatic invite to all the parties.
13.

Kirishima Cosplay Set by Jay Bird The Nerd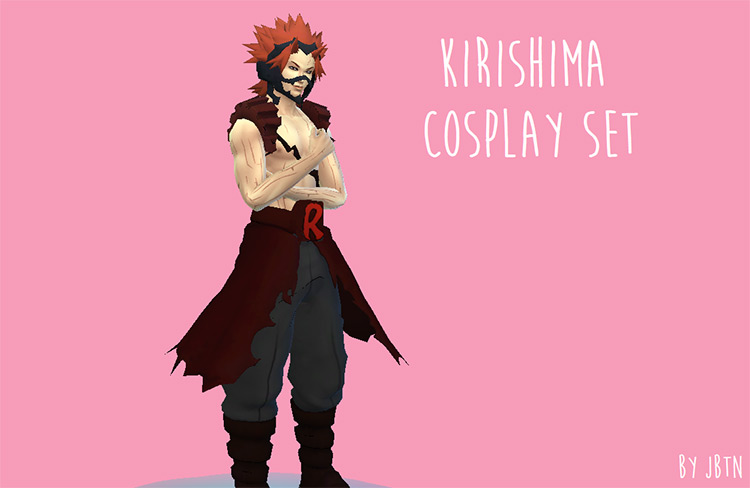 This CC set is exactly what you need to create a TS4 version of Eijiro Kirishima.
It contains visually accurate – and accurately spiky – hair, a mask, a tattoo, the character's costume (top, bottoms, shoes), and even their teeth!
Basically, everything that physically defines this character, all tied up into one neat anime CC package.
14.

Izuku Midoriya (DEKU) Hoodie Recolor by Explosion Boi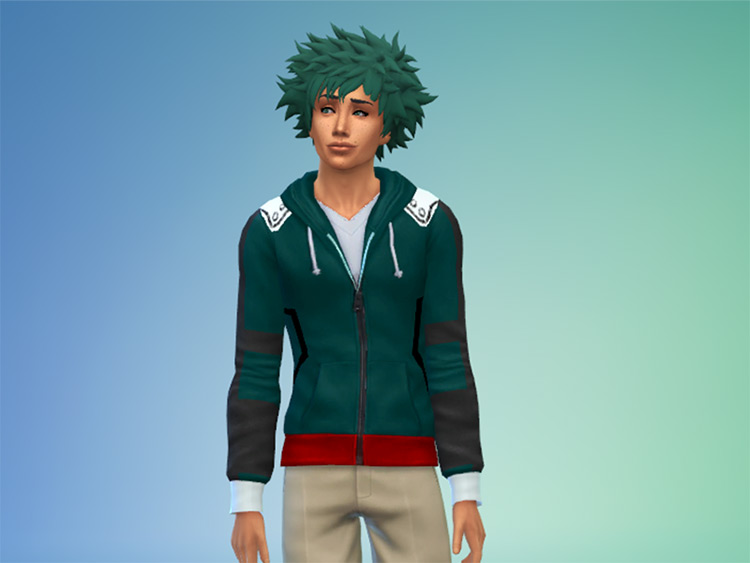 You've got DEKU's iconic green hair thanks to Botrom-U1's Hair Pack 1 (see item #10).
Now how about pairing his snazzy green jacket with it?
This jacket isn't an exact replica of the character's costume, but it's a more wearable TS4-version.
Great for subtle references and in-game cosplay!
15.

Amajiki Tamaki Hair + Hero Mask by drosims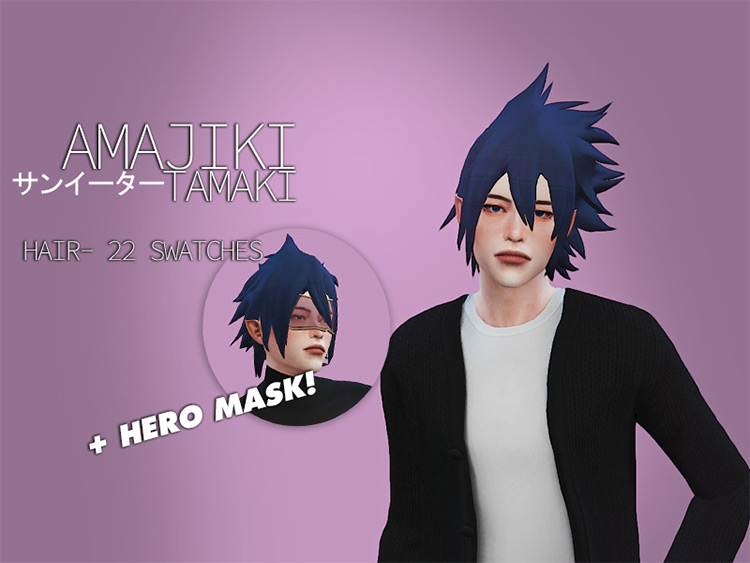 So, according to the CC creator, this hair belongs to "the most adorable character" (not counting someone name Eri).
Can't vouch for the statement, but I will say that the hair is hella cool.
It's classic anime; perfectly sideswept, messily cool, and will perpetually stay in place regardless of wind, rain, or sweat.
MM Naruto CC
16.

Uzumaki Naruto by Happytobe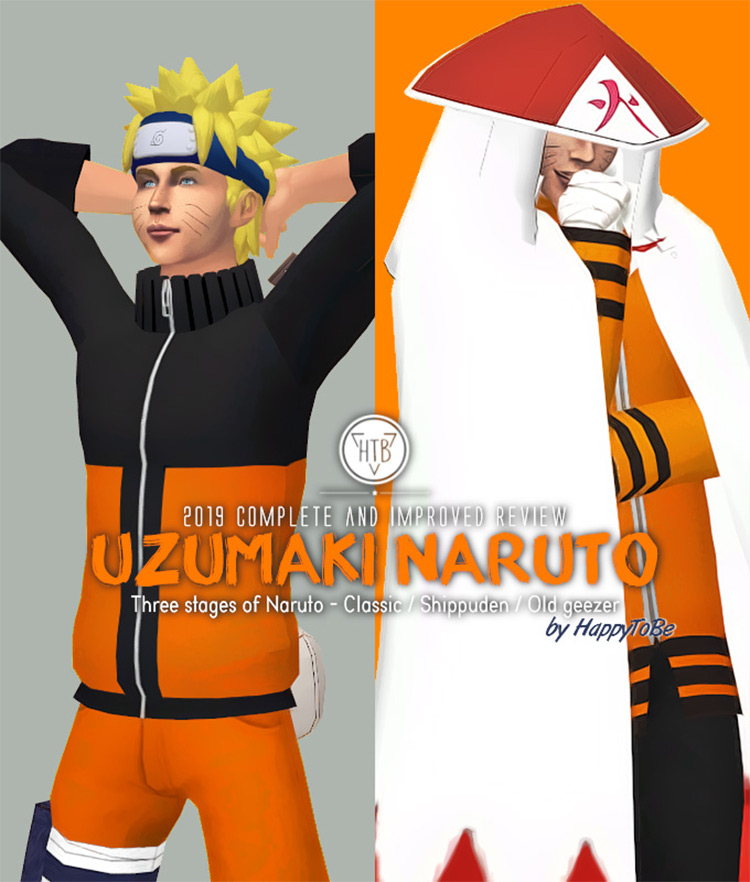 If you watched the exploits of Uzumaki Naruto (titular character of the show) from beginning to end, then this CC set may spark some heavy nostalgia.
It contains the three major versions of his unforgettably orange ninja costume: his original Genin outfit, his classic black-and-orange Shippuden outfit, and his spiffy Hokage garb.
There are also some extra CAS stuff (accessories, face paint, etc.) thrown in the mix to add more detail to each ensemble.
17.

Naruto – Kakashi Set by drosims
Arguably one of the most casually attractive characters in the show, Hatake Kakashi is quite the enigma indeed.
The fact that the lower half of his face has never been canonically revealed doesn't help matters much, either.
This pack gives you what you need to create him in-game; his grey spiky hair, his headband, his eyebrows, and his scar.
18.

Naruto – Hair Set by drosims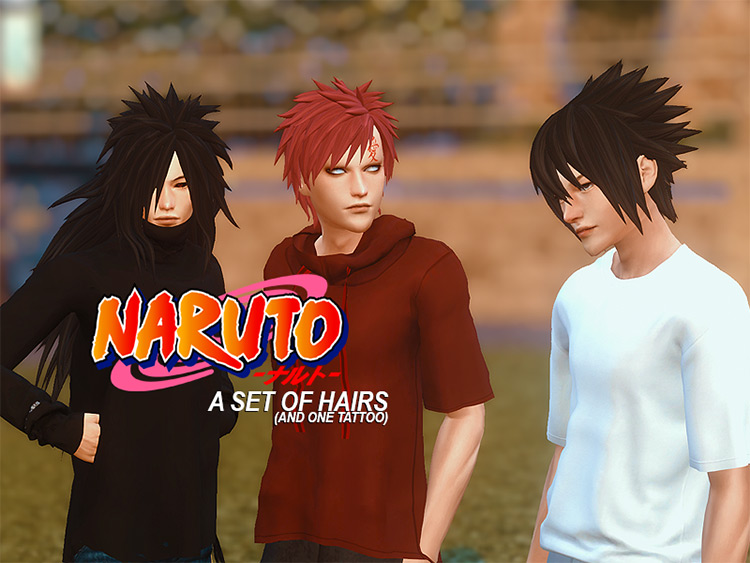 This custom hair pack gives us three of the more iconic – and difficult! – hairstyles in the show.
Some of the ninjas manage to get by with fairly normal-looking haircuts, but a chunk of the main cast definitely sports some difficult, physics-defying 'dos.
Madara, Sasuke, and Gaara are three such examples.
19.

Jounin Uniform 2018 by Happytobe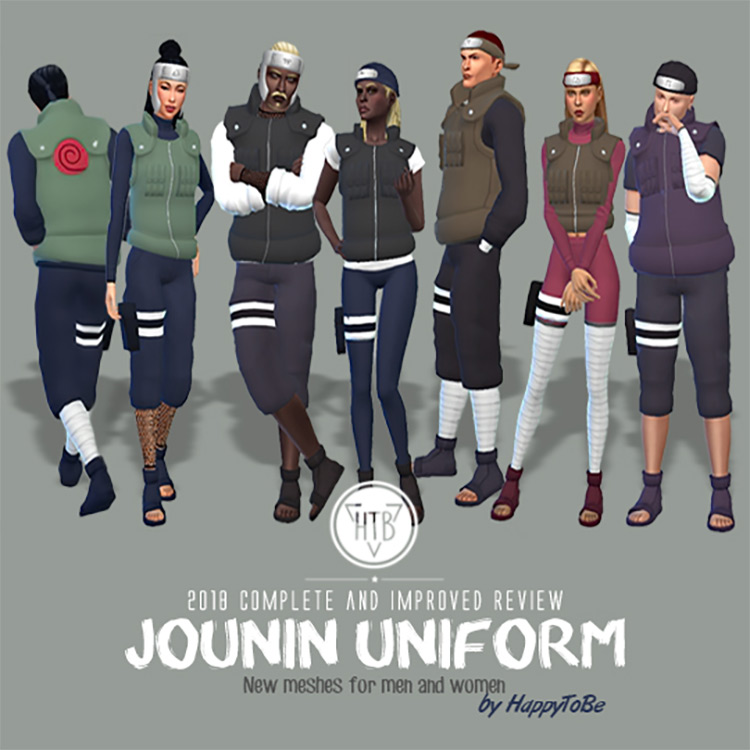 Another awesome custom clothing pack from Happytobe!
This pack contains the standard Chuunin/Jounin ninja uniform from Naruto: thick army vests over long-sleeved turtlenecks and comfortable capris.
What's amazing is that the creator includes a lot of variations to this outfit similar to what the characters do in the show—like crop their jacket or swap their turtlenecks for regular, short-sleeved tees.
Basically, little fashion choices that reflect the character's personality.
It's insanely extensive and incredibly detailed, and I highly recommend you read the whole post just to see how many they included!
MM Avatar: The Last Airbender & Legend of Korra CC
20.

Katara Outfit & Necklace by margosims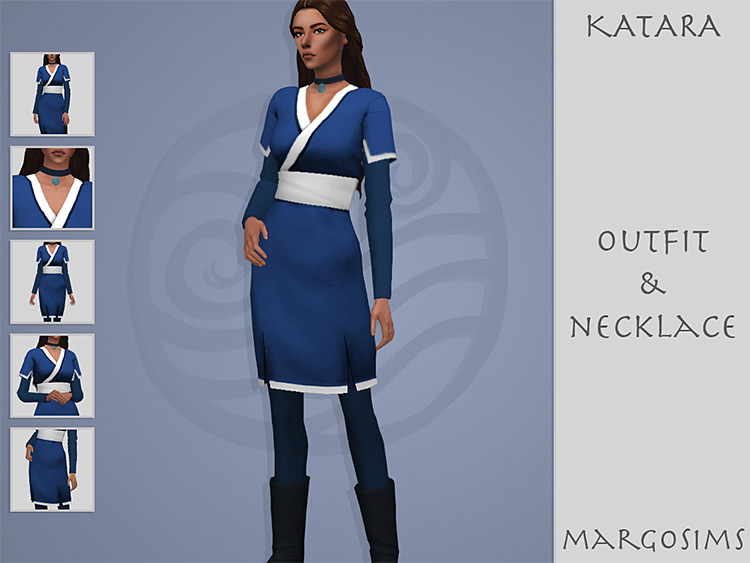 Finally, we're in my element.
No pun intended.
As a long-time fan of Avatar: The Last Airbender (and its sequel, Legend of Korra), these are CC items that I can wholeheartedly recommend. Starting with this gorgeous custom outfit from margosims.
If you want one of the greatest master waterbenders of all time in your game, you need this clothing set ASAP.
21.

Katara Hair by dogsill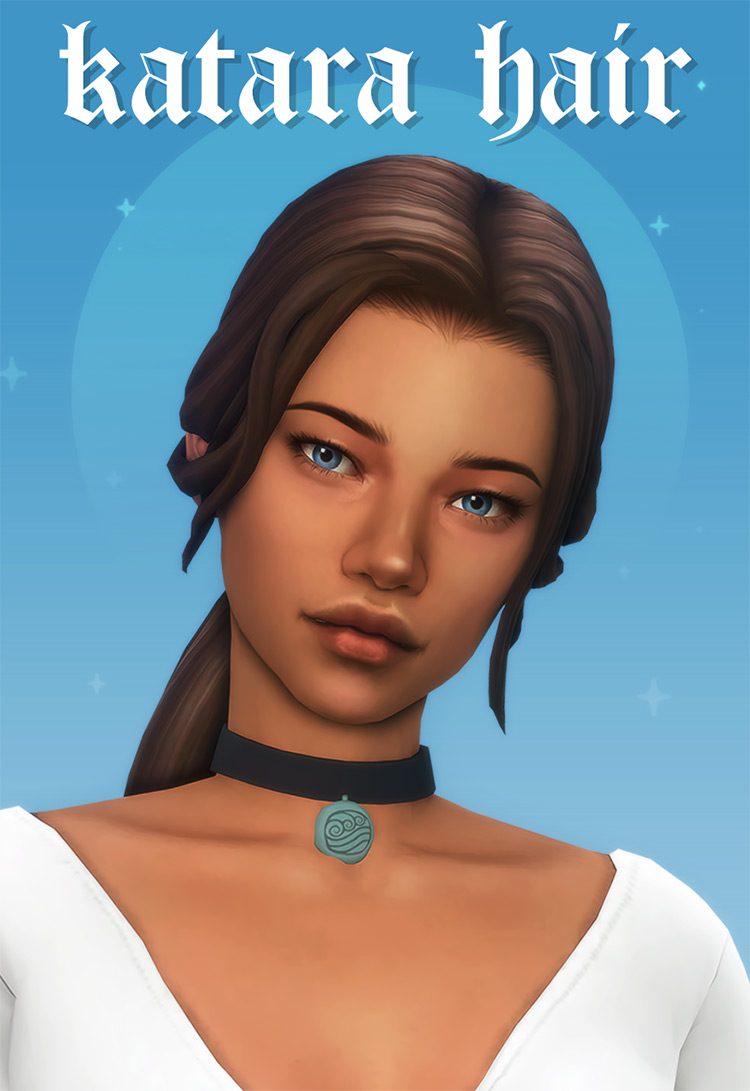 Katara's outfit? Check.
Necklace? Check.
Hair? Here you go.
This may not have her hair loopies, but the silhouette is still on-point. Low ponytail, middle part, and some errant strands framing the face. It comes in EA's 18-color palette which, thankfully, includes Katara's beautiful brown shade.
22.

Korra's Top & Gloves by Simcandescent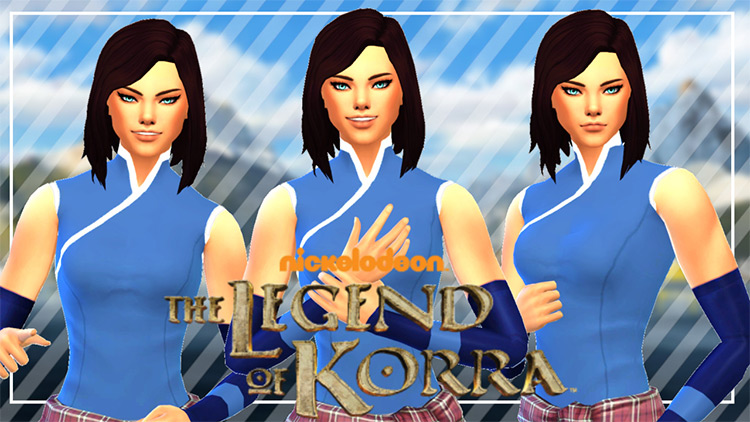 Korra's temper may be more firebender than waterbender, but at least she still wears her home nation's colors with pride.
If you'd like to recreate this fiery, feisty, multi-element bender in your game, Simcandescent's TS4 take on her gorgeous turtleneck top and combat gloves is sublime.
23.

Korra Hair by lazycashew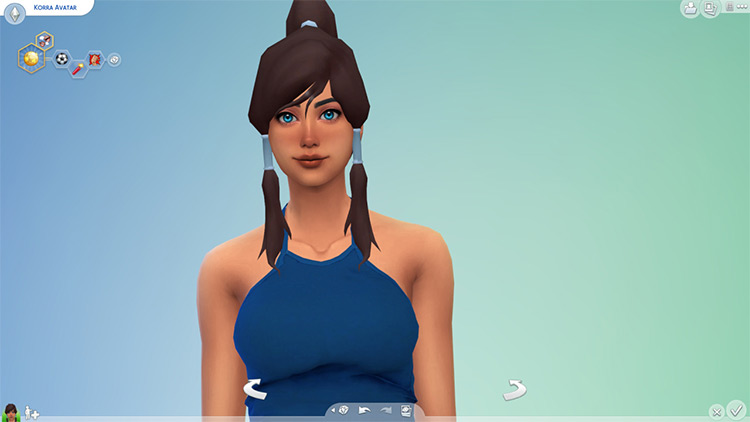 Even though I personally love Korra's hair in the last two seasons (she totally rocked that blunt cut), I also know that her high-pony-plus-face-framing-strands look is iconic.
(Right up there with Katara's hair loopies).
So if you prefer First Appearance!Korra, lazycashew's got you covered.
24.

Avatar Aang's Airbender Tattoos and Scars by Velouriah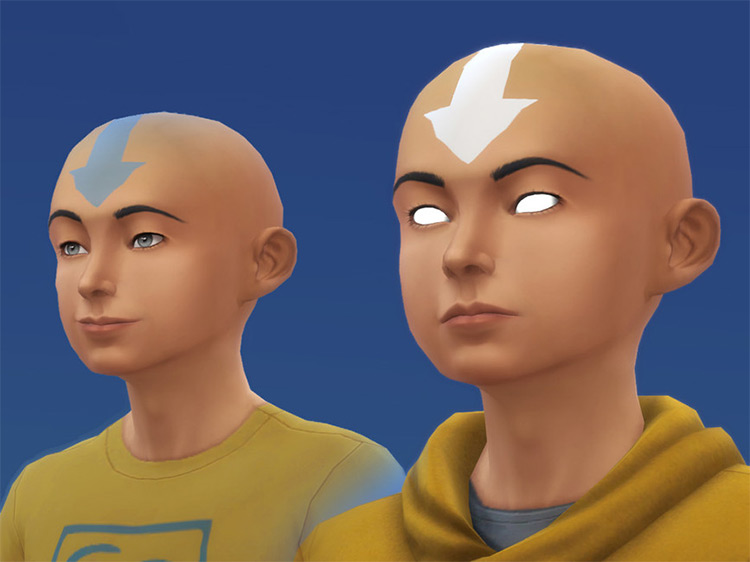 Now for everyone's favorite Avatar.
The little 12-year-old monk that we all fell in love with.
Literally the world's most precious cinnamon roll.
Aang's pretty easy to recreate in-game, what with his shaved head, standard lithe frame, and easygoing features. But this custom CAS item is the one surefire way to let everyone know he's definitely the Avatar: his well-deserved airbending tattoos.
Misc. MM Anime Essentials
25.

Saimi Anime Eyes Series V2 by Vyuna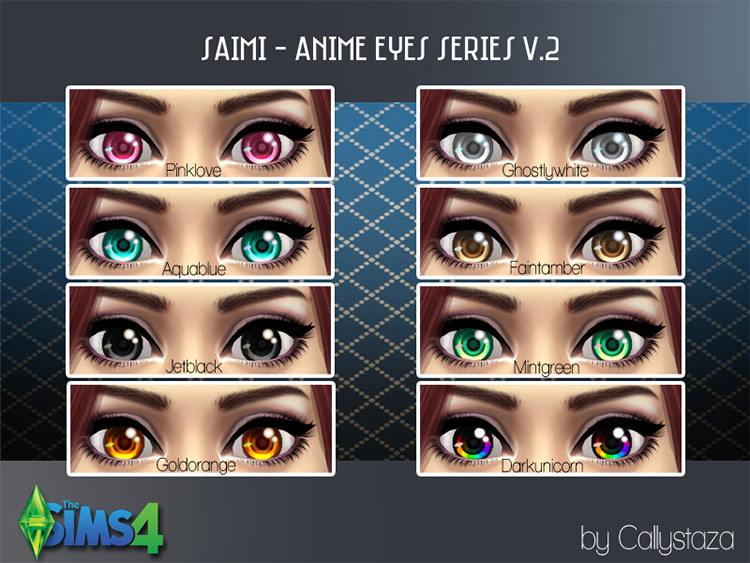 To start our miscellaneous non-show-specific anime CAS CC section of this list, here are some stereotypically huge, glittering, anime-style eyes by Vyuna!
Anime characters are known for 1) their crazy hair, and 2) their big, glittering peepers that take up half their face. These custom ones fit the bill for sure; big, sparkly, and mesmerizing.
26.

Anime Style Eyes Multiple Colors by Hollena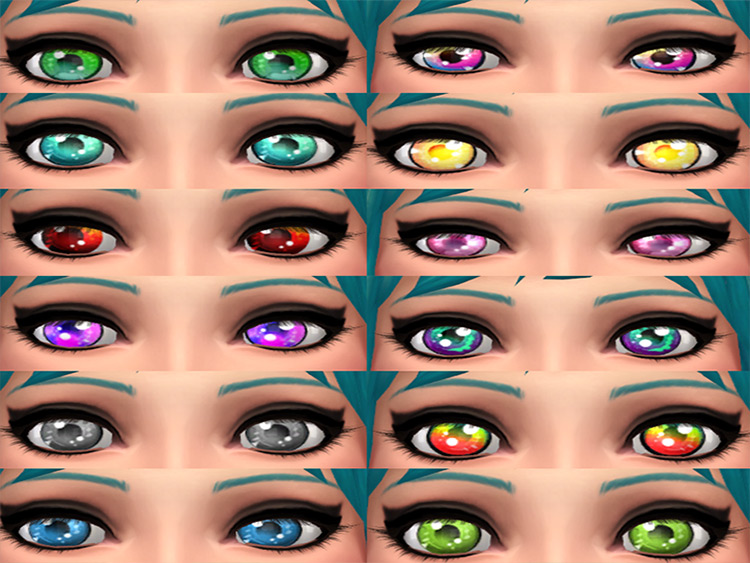 More non-default anime eye options!
This set's a little more multicolored than Vyuna's Saimi Anime eyes, with each style option having at least three colors mixed in the iris. It's also accentuated with a very thick, very prominent cat-eye wing and long bottom lashes.
27.

Long Sleeve Uniform by cas-fulleditmode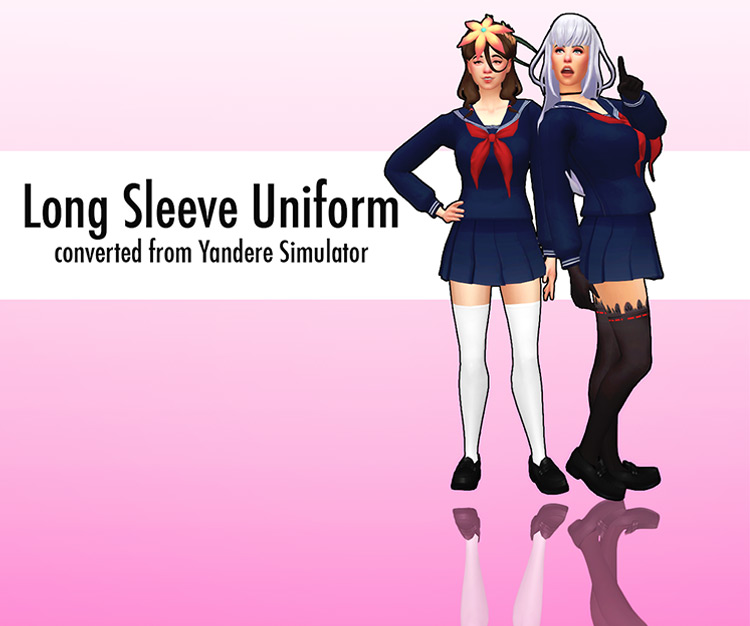 If you watch a lot of anime – especially slice-of-life anime – then you're probably intimately familiar with this uniform style.
If the main setting of the show is a school, you can bet most (if not all) of the female characters will appear in this style of clothing 85% of the time.
28.

Gakuran Uniform by cas-fulleditmode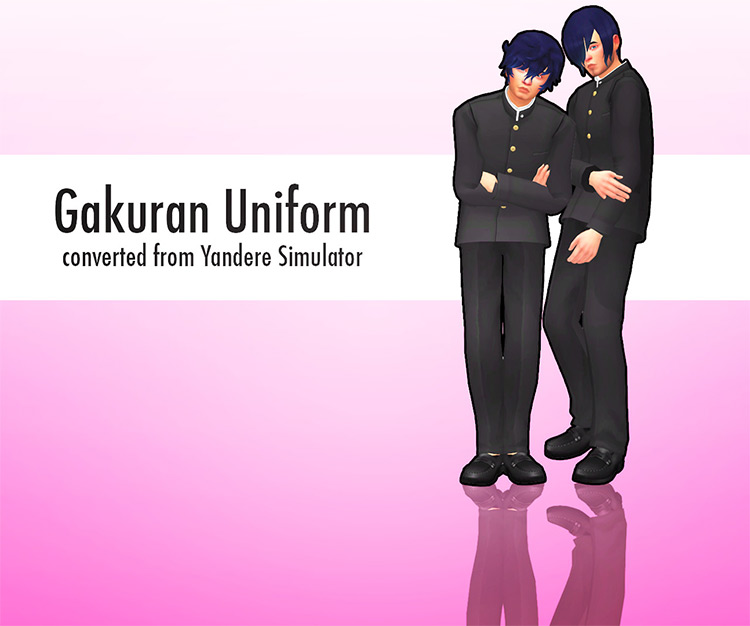 And here's the guy character equivalent of the previous Long Sleeve Uniform item.
Again, if the anime you're watching features mostly students, this all-black-with-shiny-gold-buttons ensemble probably shows up on the screen nine times out of ten.
29.

Sailor Uniform v2 by cas-fulleditmode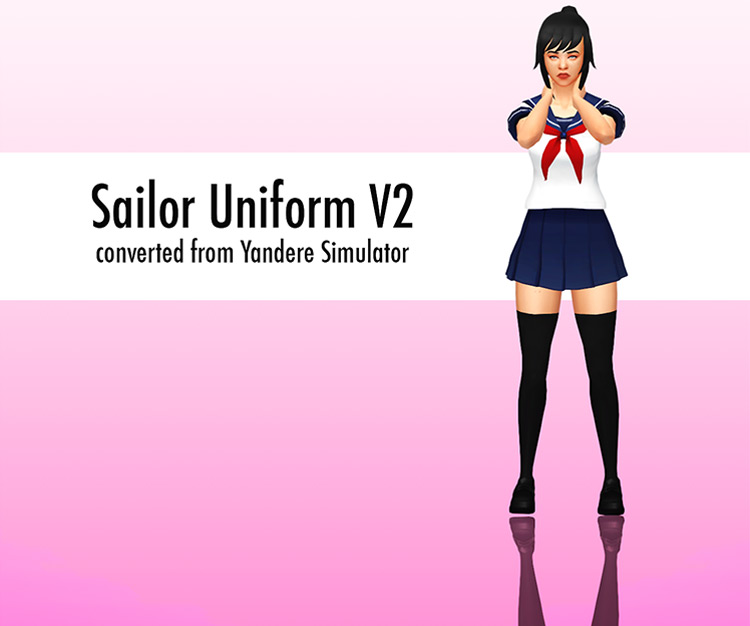 One more for the ladies!
This Sailor Uniform is also fairly prevalent in anime shows with school settings.
This is probably what female students wear when the temperature gets too high for long-sleeved blouses and skirts below the knee.
Don't worry; the cutely tied neckerchief is still very much present.
30.

Usagi Hair by miikocc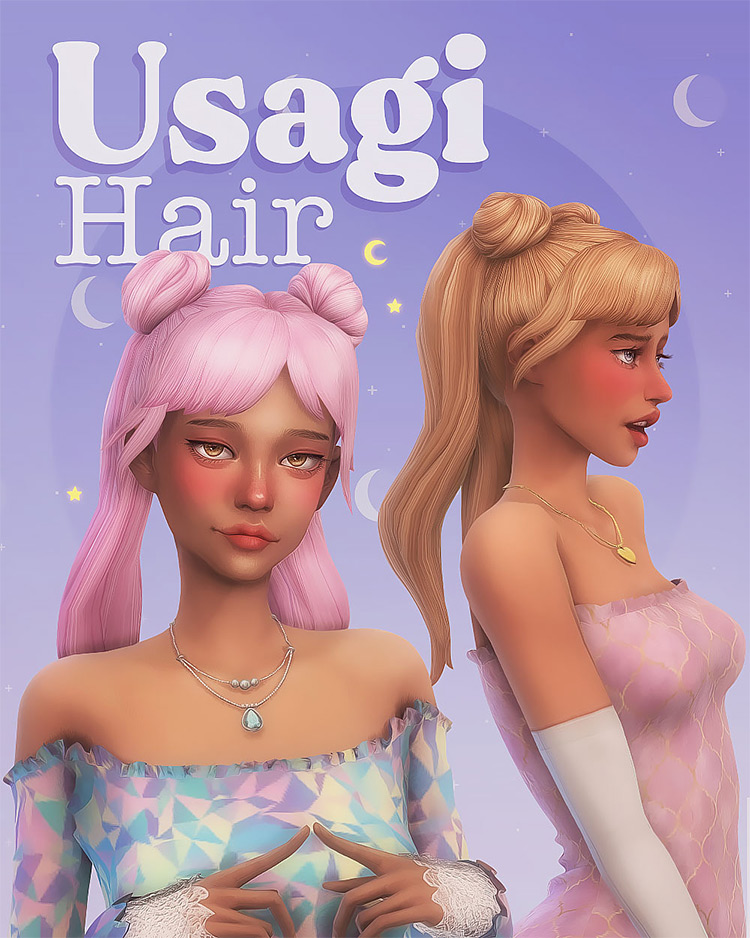 Speaking of sailor, have you ever seen Sailor Moon?
I feel like it's one of those dubbed anime shows that everyone just unknowingly watched because nothing else was on.
Regardless, the titular character Usagi Tsukino (or Serena Tsukino in English) is pretty darn famous. And so is her long-pigtails-topped-with-meatball-buns hairstyle.
31.

Fullmetal Alchemist Outfit by bonensjaak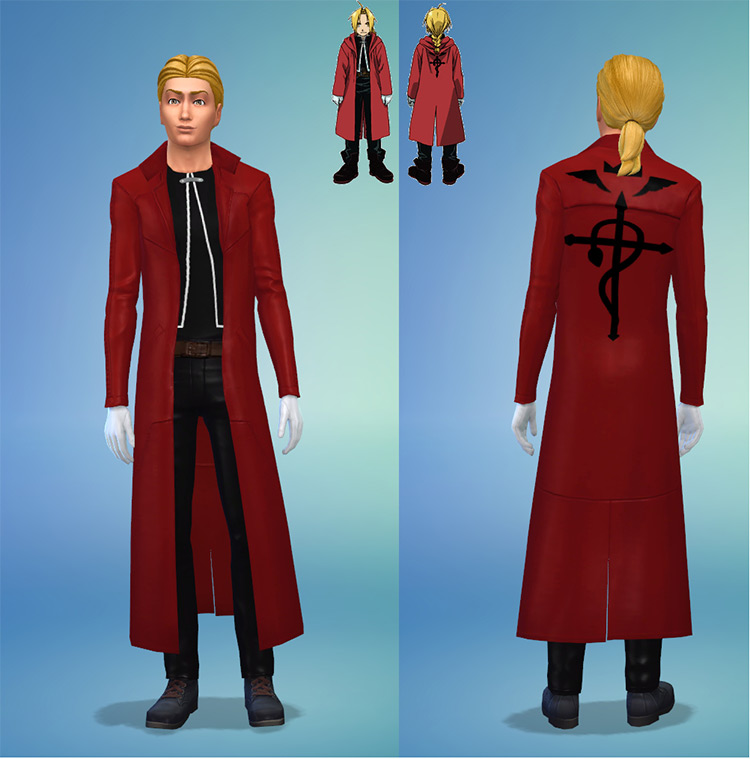 Another show-specific item, I know, but it's also the only one on the list from its franchise.
So I'm tossing Edward Elric's deep red coat right here, where you can find it. Just in case you need a powerful alchemist in your game.
32.

2B Hair (+ headband and blindfold) by Racoonium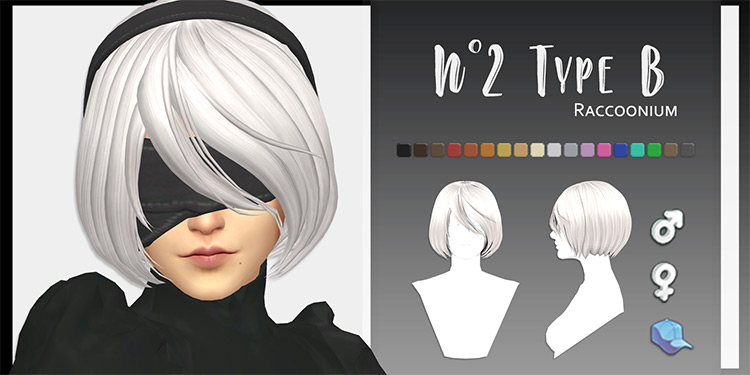 I genuinely thought this character (apparently a robot?) was from a Nier video game, but there is also apparently an anime version of the franchise.
So I'm keeping her here because 2B is one of those characters that pop up freaking everywhere.
I may not know her too well, but I know of her. And I think it's cool that you can recreate her look in TS4 with just the right haircut and head accessories.
33.

Miku by simandy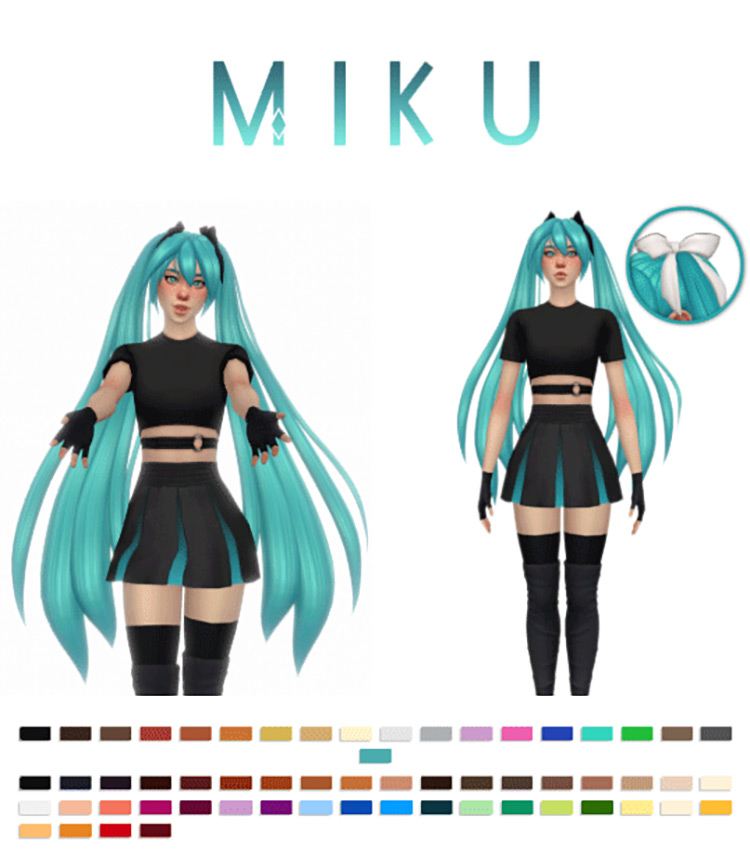 Hatsune Miku is technically a vocaloid, but her origins and design allow her to stay in the anime category.
Plus, this custom CAS item is just based off her hair which, arguably, could pass as a fairly common anime hairstyle.
A lot of characters in a lot of anime sport hairstyles of ridiculous length, anyway.
34.

Sephiroth's New Hair by Natalia-Auditore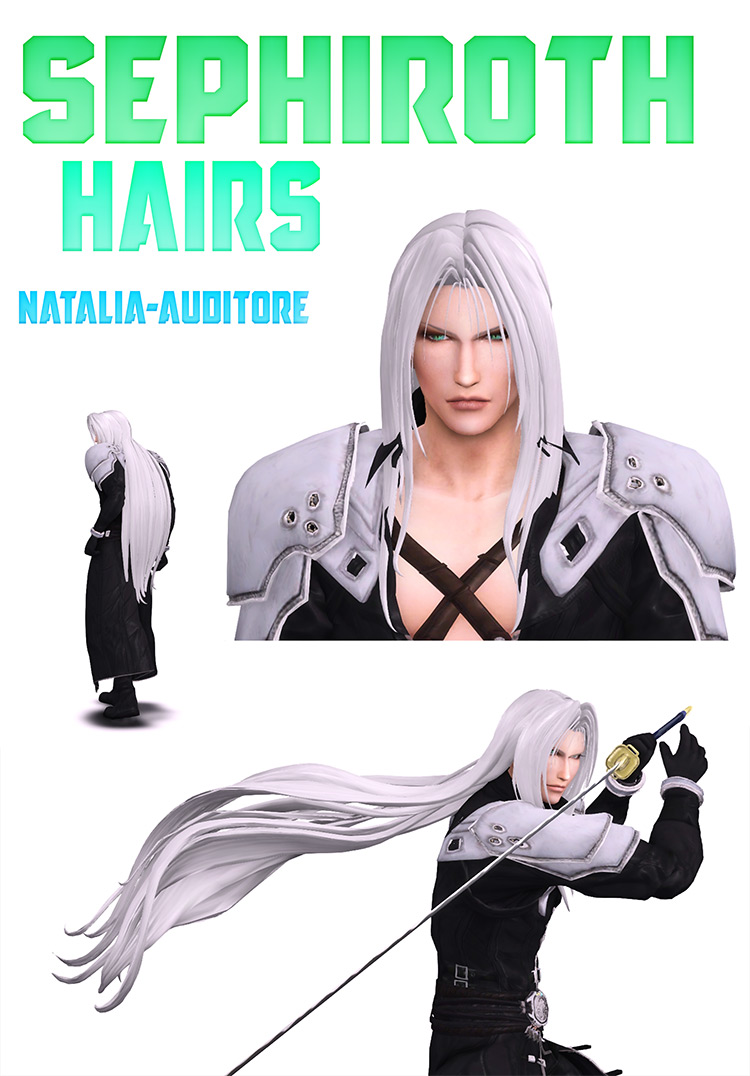 See what I mean about ridiculous hair lengths?
Sephiroth, like 2B, is a character from the Final Fantasy video game series.
However, there is an anime for Final Fantasy VII, so he also gets a pass here.
Which is great, because I am living for the flows-in-the-wind version of this hair (which you can download from the same page). It is so painfully dramatic in the best possible way.
35.

KH3 Hairstyles, Part 2 by Racoonium

All the characters with hairstyles represented here are pretty iconic — to the point that even casual fans can probably guess who they're looking at just by the silhouette.
And as you can see from the preview .gif alone, this pack has a lot of silhouette options.
Tip: we also have a separate list of just Kingdom Hearts CC for The Sims 4, so check that out if you want even more ideas.
Browse:
Lists
Maxis Match
The Sims 4
Video Games