Maxis Match Baby Crib CC For The Sims 4 (All Free)
This post may contain affiliate links. If you buy something we may get a small commission at no extra cost to you. (Learn more).
If you have a baby, you've got to have a crib.
That's a rule not only in the real world, but in The Sims' world as well.
In The Sims 4, they don't give you a choice. You'll be supplied with a bassinet immediately upon the baby's arrival, to make sure they don't start off their life neglected.
You can interact with babies more than ever, despite the fact that they are technically objects. And it's really a matter of personal opinion which Sims game did babies better.
Sure, they weren't tied down to a bassinet in The Sims 3 – but some funky stuff sure happened because of that. Babies on the floor, out in a snow drift, set down right on the sidewalk in front of the hospital they were just born in… it was a rough start to life.
But The Sims 4 babies are cuter, in my opinion. You can see their chubby little legs – and that's all I need to repeatedly allow my Sims to get pregnant, regret it by day 2, age the baby up, and repeat.
There still seems to be a hole missing – and that's undoubtedly the fact that babies are connected to their bassinets, no matter what.
With CC, that's no longer the case.
1.

Stork Crib 2t4 CC
I've really always wondered why folk tales have storks delivering babies.
Pelicans could safely carry the child easier in their huge mouths, a friendly owl seems more whimsical and fitting for most of the world…
Somehow, storks are the chosen ones, with those alarmingly long beaks. That's just how it is, and in a way it's kind of sweet.
This is certainly an original crib – especially for this game. It's hard enough to find alternatives to the base game bassinet, so it's cool that creators have come up with ones as unique as this.
The base includes a stork figure with ribbons in its beak, which is what's holding up the crib part itself.
I don't know about babies, but I know that would make me feel safe and secure.
The overall design here is really cute. And while I'm sure it was quite difficult, the creator did a fantastic job of making sure it doesn't stand out against the Maxis Match style of the game.
2.

Now I Lay Me Down To Sleep Crib
Here we have a more traditional type of custom crib.
It features a sturdy frame and a nice, plush mattress.
There's nothing wrong with keeping things simple. Due to financial reasons, some parents have no choice. But that doesn't mean their new bundle of joy has to be subjected to anything less than a perfect nursery.
You'll be able to build a lovely little space for your littlest Sims with this crib, and it can be just as sweet as it sounds.
I've always thought the default bassinet looked like a stiff wind would blow it over.
That's just not proper sleeping arrangements for a fragile baby!
3.

Portable Crib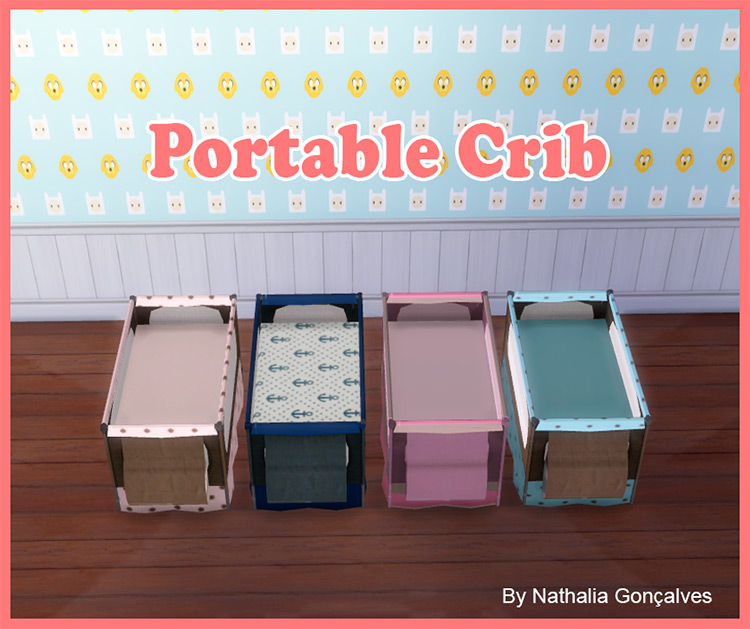 At first glance, I truly thought this was a kennel. Like, for animals. Yikes.
This is The Sims community we're talking about so honestly, anything is possible.
But thankfully, this is not a kennel. It's a floor crib with mesh sides, perfect for babies to nap in and stay safely contained.
Kind of like a playpen, only no playing is permitted.
This is a crib, and cribs are for sleeping, so those little buggers better get that through their heads!
You can explain it to them nicer though.
It's something that almost every modern baby has snoozed in, so in a way it's strange that Sims don't have a portable crib. That would only be helpful assuming that babies weren't treated as objects, I guess.
4.

Crib On Ropes
This is my first time ever hearing about a crib on ropes. And I'm equal amounts horrified and impressed.
I just hope those ropes are sturdy and tethered on there well!
This is definitely a more unique way to store a sleeping baby. It must be rather relaxing, like a hammock.
The gentle sway with each of the bay's movements probably mimics a rocking chair.
You don't want a kid to keep using it any longer than necessary, though. A lot of parents are saddened by moving their babies to "big kid" beds but seriously, a toddler would have this thing flying around the room.
But nevermind that, it's just hypothetical. Sim ceilings don't crack or have weak spots like real ones. So any bay placed in this fun swing- er, crib, should be just fine!
This CC comes in the gorgeous Anna's Palette, with plenty of bright colors, as well as 20 wood tones.
5.

Animal Crib For Toddlers
The time frame of everything is up in the air during the early childhood years.
A lot of it varies just depending on the child and their parents.
Some are ready to boot their kiddos into a real bed as soon as possible, while others are more comfortable keeping them in a crib. Some children still sleep in them after they're able to get up and around, and may even be able to crawl out.
That's just part of growing up.
The days where they'll still sleep in the same crib they have since infancy are precious, though.
And now you don't have to let your Sim's toddlers grow up quite as fast.
This is another way to see how muddled the lines between life stages are, especially from one game to the next. There weren't any toddler beds in The Sims 3, they really had no choice but to sleep in a crib. And I was always trying to find CC beds.
Now we have The Sims 4, and toddlers are presented as old enough for a bed. But a lot of players still want cribs.
It just goes to show that every parent is different, even when their "child" is a pixel toddler with a lifespan shorter than a frog.
6.

The Practical Crib & Mattress
The early days of parenthood are chaotic and stressful enough without being impractical.
There's just no sense in going through that needlessly.
I guess that's why most baby furniture is straight to the point with a set purpose.
Onyx Sims has made a crib here that would fit that description.
This no-nonsense piece of furniture has a rectangular, slatted mattress portion on thin legs. It's another traditional style design, and best of all, you can use it with the "Baby Without A Crib" Mod so your baby can actually use it.
Such a simple design will work in any room of the house, so if you'd like to keep the baby close while your Sim is working in their home office or watching TV in the living room, go for it!
7.

Cribs!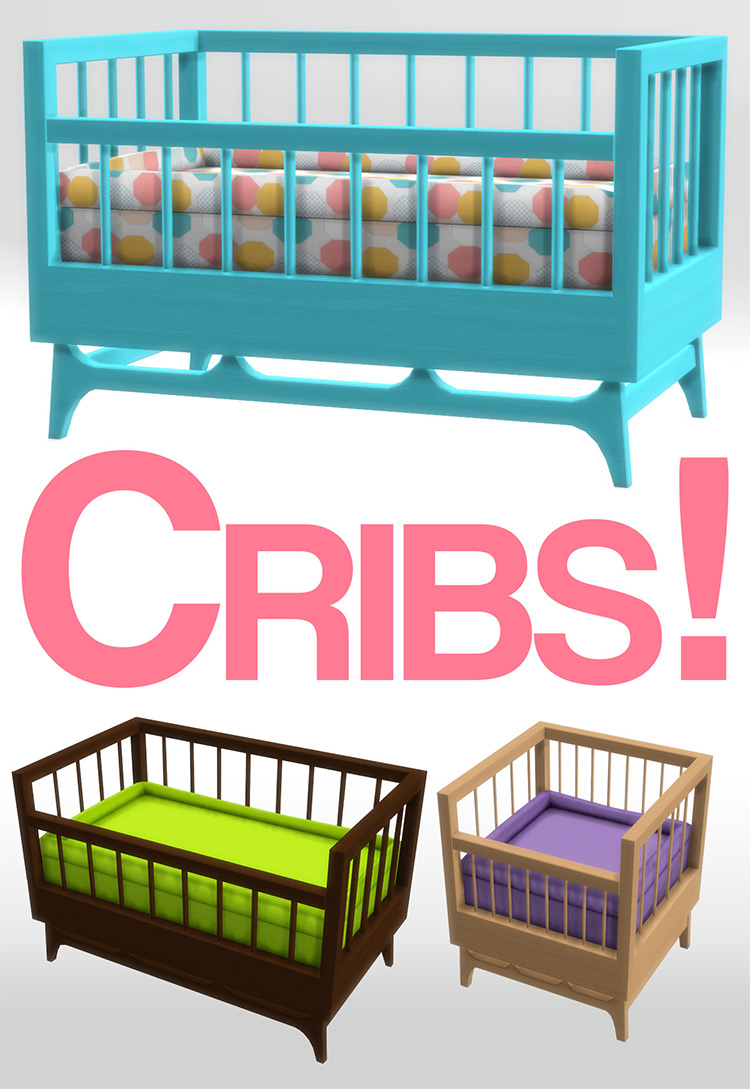 WildlyMinatureSandwich released this set of two cribs as a 400 followers gift on Tumblr – and I can't think of a much better gift.
Both of these cribs have an amazing appearance.
These seem like they'd be a little on the pricey side, but that's the beautiful thing about this game, Simoleons hold no real value! Yay!
The larger version is a standard rectangular with a thick, stylish wooden base. As for the mattress, it's super thick. And I bet any baby would feel like they're sleeping on a cloud.
Then there's the smaller version, which is basically half of the big one.
It's a convenient size, perfect for houses with a lot of clutter or small rooms.
You'll have tons of swatches to choose from for both of them, including vibrant solids as well as soothing patterns.
8.

Default Bassinet Override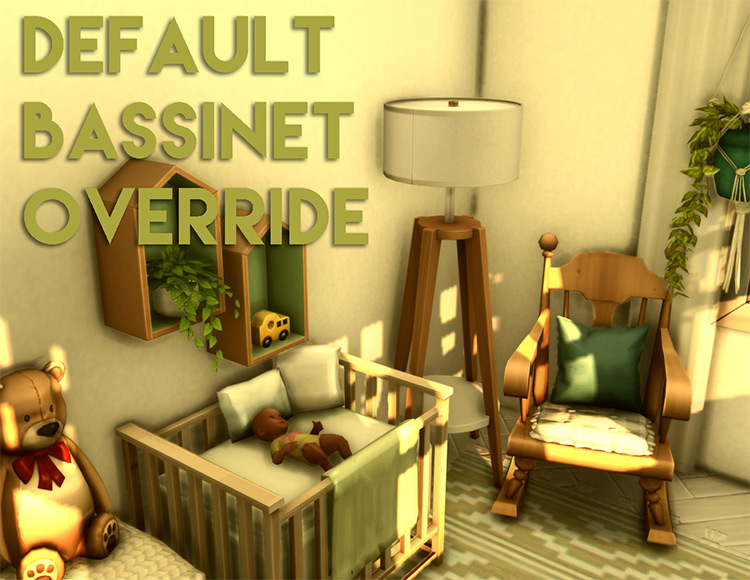 If you'd like to totally eliminate that dusty old bassinet from the picture, that can be arranged.
Overrides exist for a lot of things in The Sims 4. And it's the simplest way to change things to your liking.
Instead of having to work with a mod that banishes the bassinet from existence, this crib simply replaces it completely.
I must say, it's a huge step up.
Awingedllama made it just the right size for infants. And there's no shortage of safety measures.
Every side is high and the mattress has a great smooth texture.
There are 4 wood tones to choose from, but you can only have one at a time.
Each one brings out the wood design the same so they'll always look fantastic, no matter the room's theme or lighting.
9.

Sleigh Crib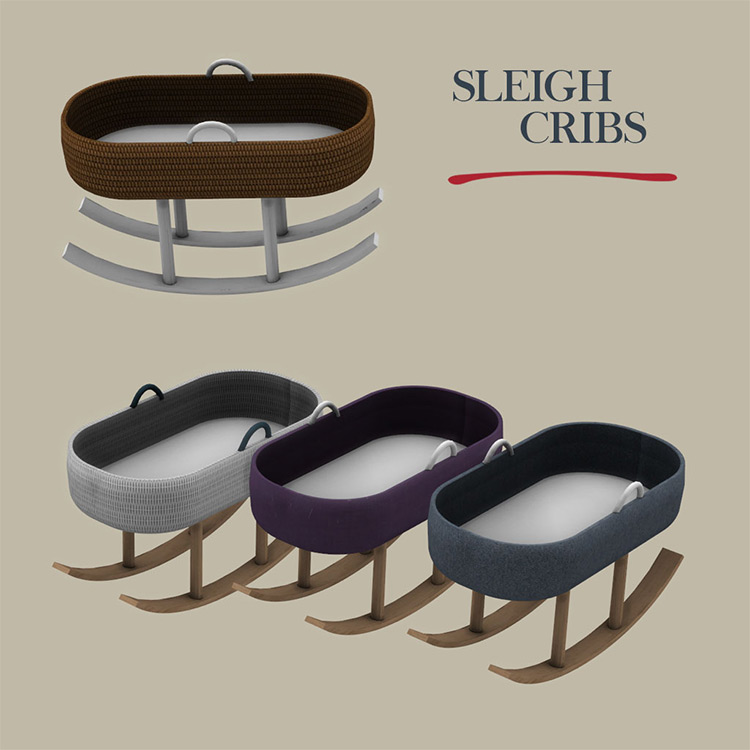 Now your Sim's infant child can shred the slopes of Mount Korembi with them, just like you always wanted.
Well…not quite. But that'd sure be something to see!
In reality, this is a nice festive crib that'll fit right in with holiday décor & and create some heartwarming photoshoot opportunities.
Some designs here have a defined wicker texture, while others have a soft cotton exterior.
And the base is upturned and that's where the sleigh part comes in, since it definitely looks like something that's ready to be pulled by reindeer.
10.

Owl Nursery Crib
At last, owls are getting their due recognition as sweet & gentle creatures!
They're just as fit for nurseries as storks and teddy bears.
This amazing custom crib is similar to the size of a bassinet, except it's a lot cuter.
Each end is the body of a friendly looking owl, complete with big eyes and a little orange beak.
Your Sim baby will fit snug inside, and yes, they really can go inside.
This is another creation that's compatible with the "Baby Without A Crib" mod, so it's totally up to you whether you want it to be functional or just a decorative piece in a nursery.
Speaking of which, this is actually part of a nursery set (you can see all items on the same page).
So with this download you can have a matching desk, chair, and changing table as well. But the option to download the crib alone is also there.
Browse:
Lists
Maxis Match
The Sims 4
Video Games