35+ Maxis Match Bangs CC Hairstyles for The Sims 4
This post may contain affiliate links. If you buy something we may get a small commission at no extra cost to you. (Learn more).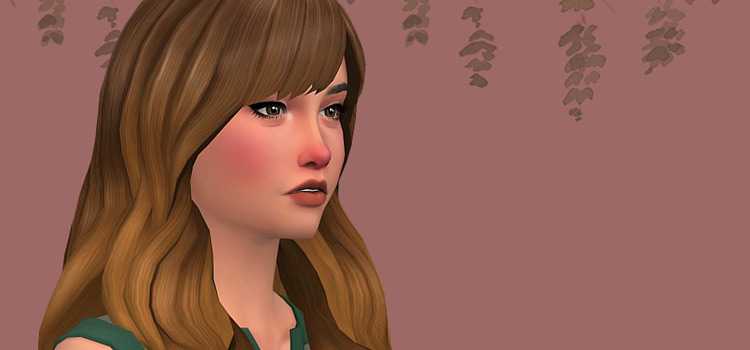 I remember there was a brief stint in fashion and beauty trends where blunt-cut bangs were an absolute no-no. Not sure why.
I just remember that people shied away from it since it seemed like a very difficult hairstyle to pull off. Plus, side-swept fringes were typically associated with emo and scene queens, so. There was that.
Now?
Heck, there are like a dozen different bangs styles. And people seem a lot more eager to try them out.
If you fancy a couple fashionable fringes for your Sims as well, you'll find that the Sims CC community has lots of Maxis Match haircuts with bangs that you can try.
Short Hair with Bangs
1.

Lily Hair by megukiru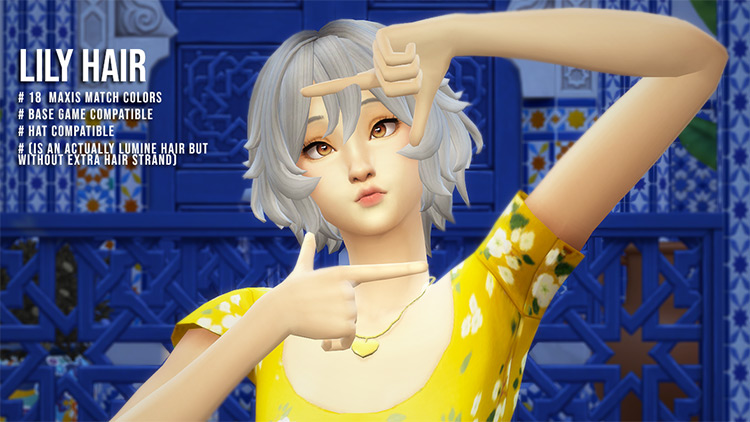 Short, spunky, and stylishly messy.
This is the kind of hair manic pixie dream Sims have, and I'm not just saying that because it's sort of like a long pixie cut.
Think Ramona Flowers, Amelie, and Ellie from Up.
Is this or is this not the kind of haircut they'd sport?
2.

Pixie Hairstyle by Kiara Zurk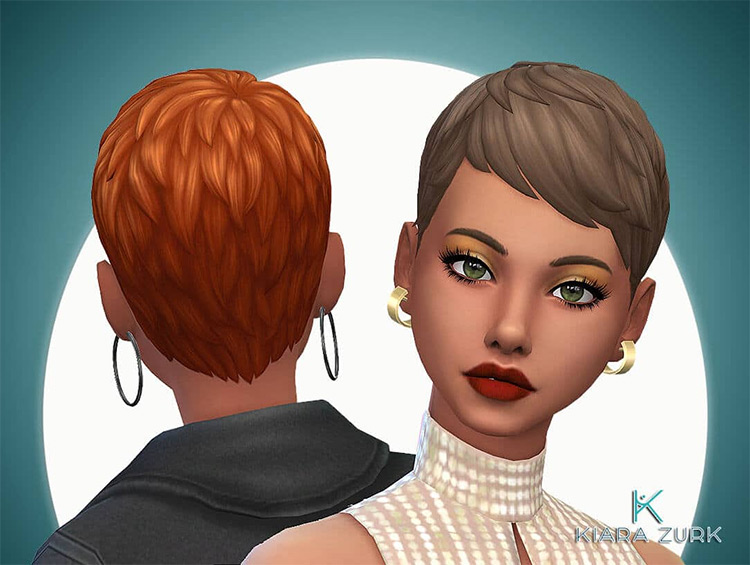 Speaking of Manic Pixie, here's a literal pixie cut for plucky, practical gals.
Who knew that short, sideswept bangs coupled with a closely-cropped cut could look so good?
If your Sim's got the cheekbones, face shape, and/or facial features to pull this off, go ahead and stick it in your mods folder. It'll be great to have on-hand.
3.

Ravenous Hair in All Sorbets Remix by racoonium (mesh) & InfiniteRaptor (recolor)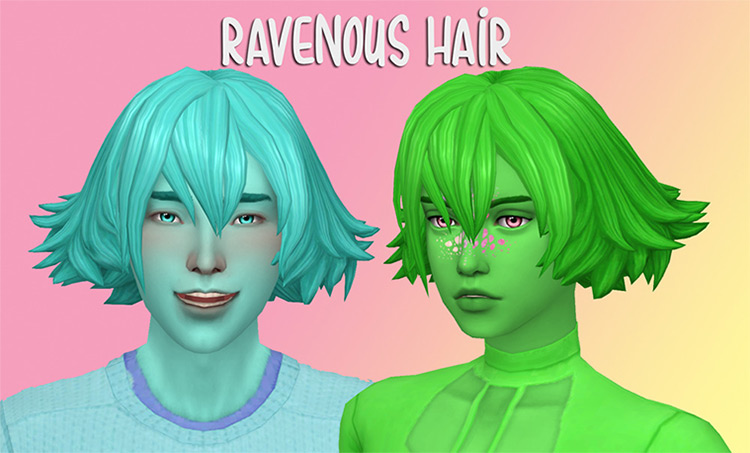 For all the colorful guys, gals, and non-binary pals in the Sims 4.
Racoonium's Ravenous hair is a crazy, anime-esque style that's stylishly eclectic (and probably a real treat on hot days).
Plus, InfiniteRaptor adds 76 more colors on top of the original hair's 24 swatches.
4.

Biscuit Hair by simandy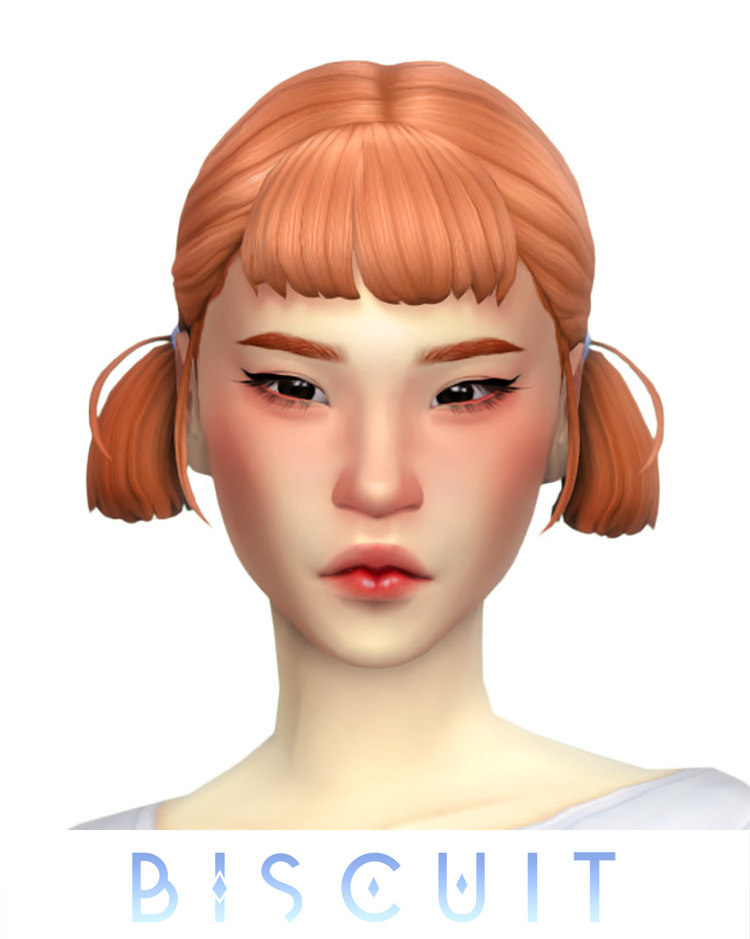 Simandy always has the cutest, most creative names for their content.
The name "Biscuit" is sweet, simple, and incredibly fitting for this adorable pigtailed 'do. The short, fluffy bangs and errant strands really add character to the overall silhouette.
5.

Cecilia Hair v2 by Nords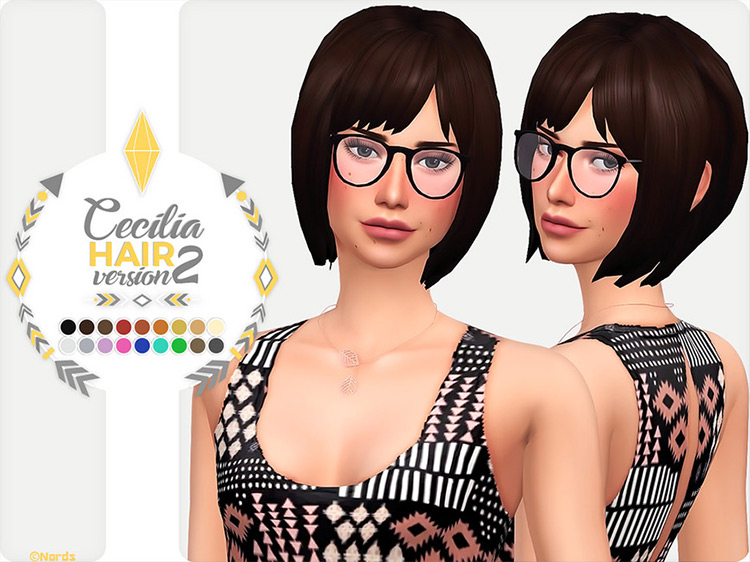 This casual, modish, chin-length bob screams "I've got my life figured out."
It's the kind of cut a calm, self-assured Sim would sport. It's simple and sophisticated enough to pair with almost any outfit, and it's undoubtedly low-maintenance.
6.

Mavis Dracula Hair by Nords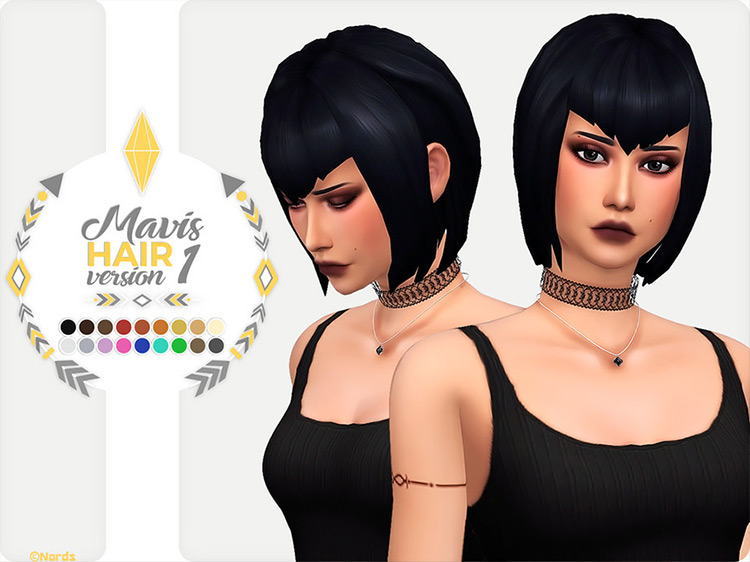 Mavis Dracula has got to be one of the most adorable characters in animated movie history.
She's cute, she's quirky, and her personality is downright endearing.
Her style is definitely classic goth (of course) with just a little bit of clueless-but-determined heroine thrown in.
If you want to create a TS4 version of her, this custom hair by Nords is literally all you need.
7.

Lucy Hair by candysims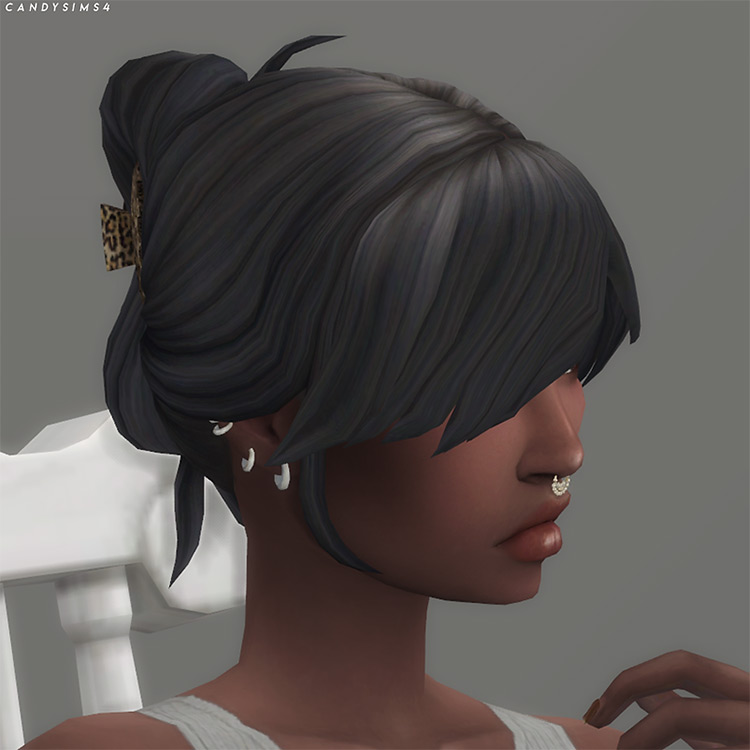 This hair isn't technically short (since, as you can see, it can be tied up).
However, since its silhouette sits roughly right at the neck, I'm including it in this category.
If you ever need a messy, haphazardly-styled bun with bangs, candysims' Lucy hair is the way to go.
8.

Lorelei Hair by Nords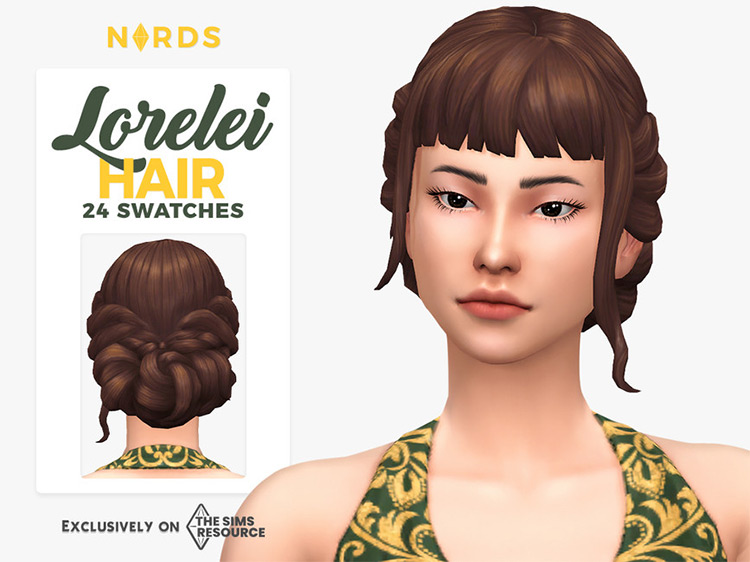 Another tied-up style that should probably go in the Medium or Long category, judging by how thick the bun is.
But, as with candysims' Lucy Hair, I'm leaving Lorelei here. As you can see, it's a sweet cut with a hopelessly intricate braid-and-tuck going on at the back.
9.

Silver by simandy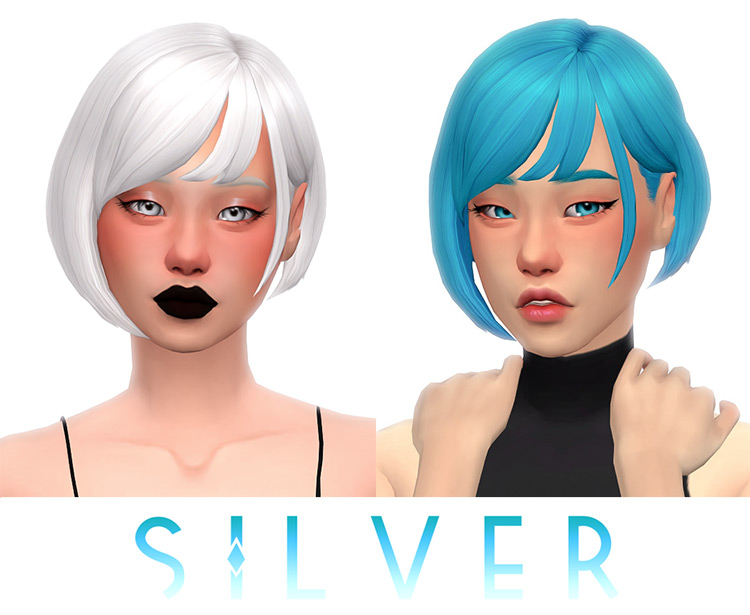 Asymmetrical hairstyles can go both ways.
They either look really cool or really awkward.
I mean, with the right shaping, an unbalanced silhouette can look unique and interesting.
But if the stylist doesn't know what they're doing, it can end up looking cringe-y and uneven.
Obviously simandy knows what they're doing. This cute, bouncy bob with bangs? Literally perfect.
Medium-Length Hair with Bangs
10.

Wanderlust by simandy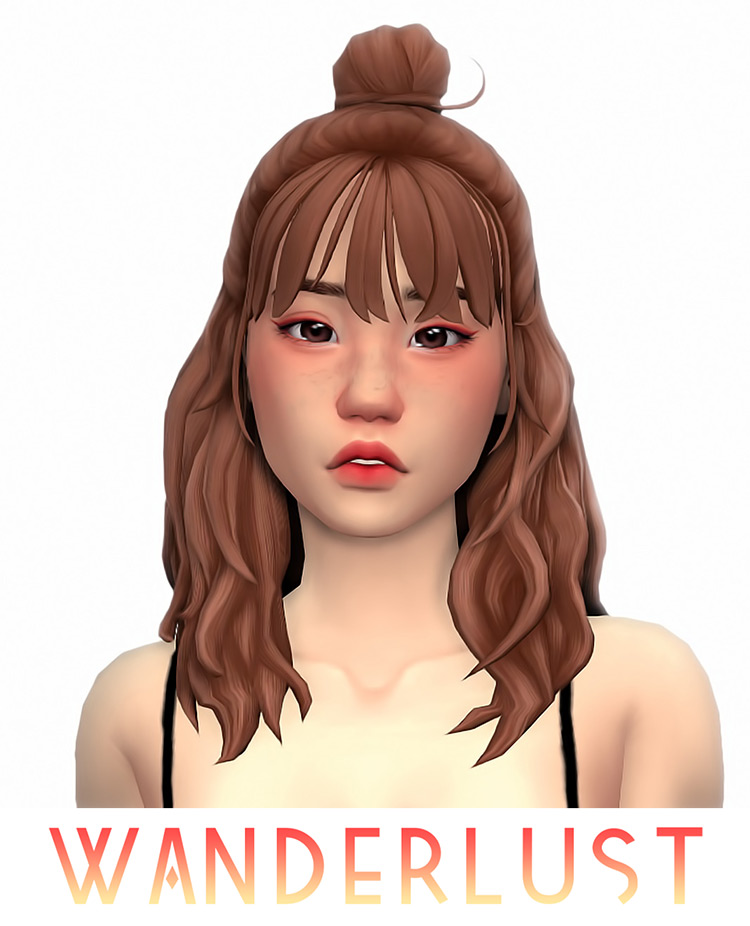 I love the name, I love the silhouette, and I love the body of the cut.
I find the loose, messy waves with the slightly curled tips so incredibly pleasing to look at. And I think the extensive selection of warm, earthy shades helps.
Seriously; look how magnetic the hair is in that pale chestnut swatch!
11.

Karina Hair by aharris00britney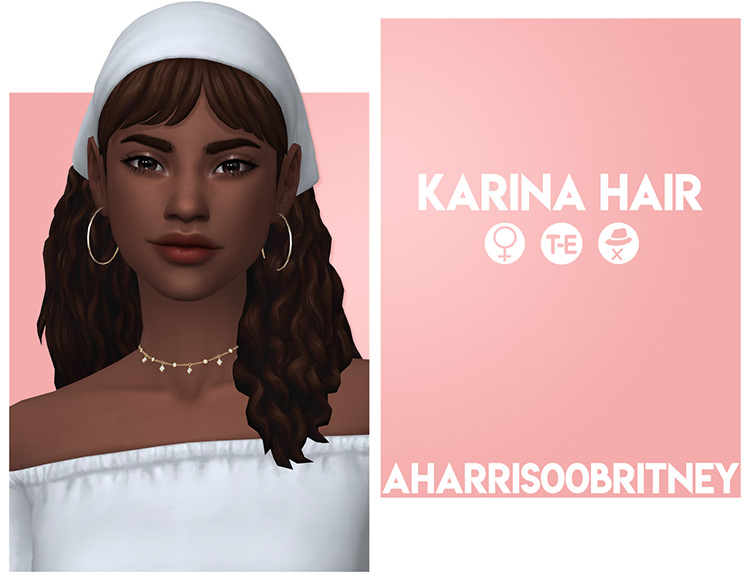 I know I'm going to use this adjective a lot in this article, but I can't help it. Most (if not all) of the custom hairs here are beautiful, and aharris00britney's Karina Hair is no exception.
Tight waves, plenty of volume, and a cute head scarf to accessorize?
It is such a sweet visual.
12.

Ziva Hair by crazycupcakefr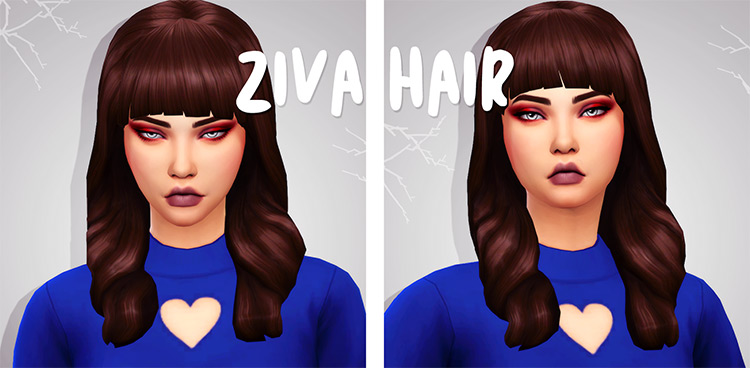 This is a hairstyle I don't often seek out (I prefer loose waves over tight curls, see), but I gotta admit; this is a gorgeous 'do.
Defined curls, straight fringe, and a beautiful middle part?
All the elements worked really well together, and the resulting cut looks fantastic both in CAS and in-game.
13.

Noreen Hair v2 (Seasons Needed) by Nords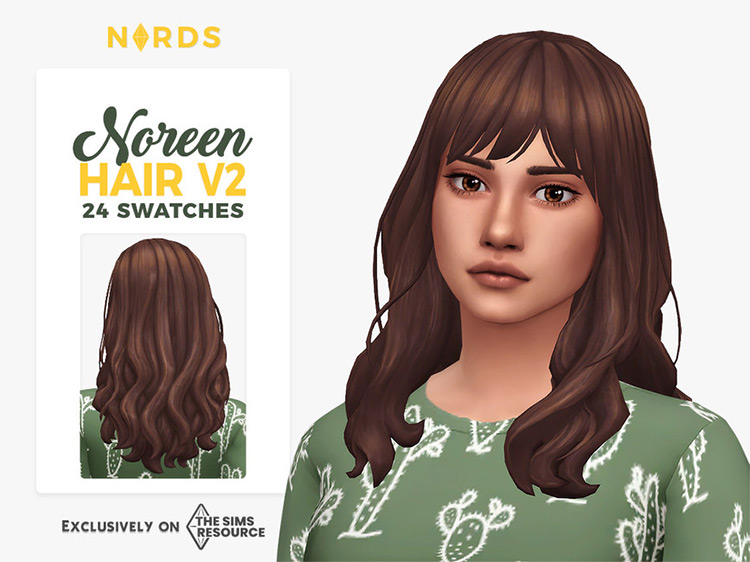 This has the same vibe as simandy's Wanderlust, only without the top bun.
It's a lot thicker and a lot more "loose and casual," what with the waves just tumbling about at the end. Plus it's got that simple, "effortless beauty" vibe going for it.
14.

Nadeen Hair by Nords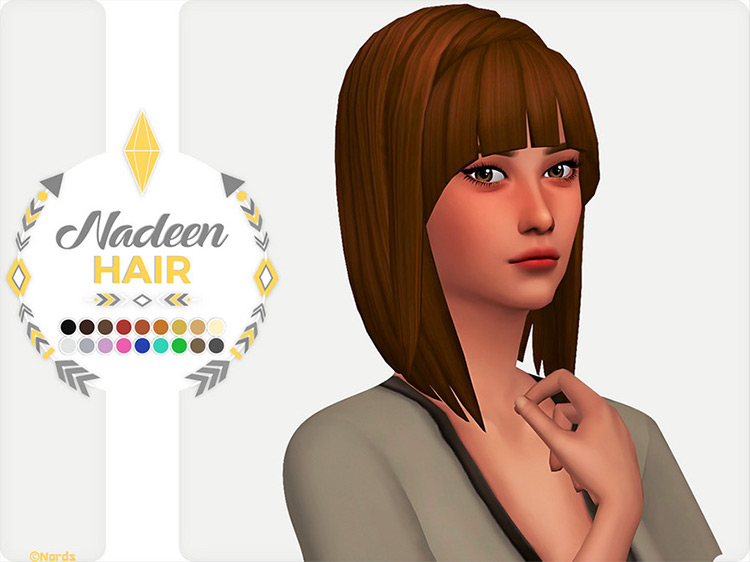 If you prefer straighter, neater styles, this one (still by Nords!) is a real winner.
It falls to the collarbones in a sleek angled bob punctuated with a straight fringe. Plus, I love the unique sectioning going on at the top.
I have no idea what you call that kind of combover, but it looks hella cute!
15.

Bang Bang by simplifiedsimi (Recolor by sevensims)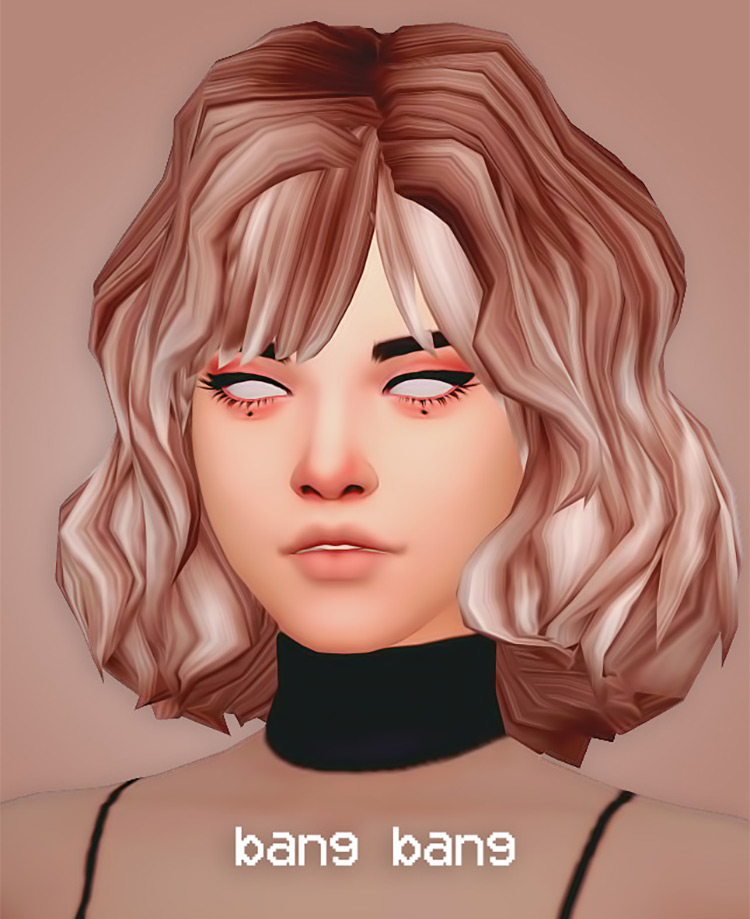 Sadly, most of the meshes in this hair pack are missing (or are no longer supported).
I would have loved to recommend Zoal and Justin as well in the context of this article, but their meshes have been taken down.
Thankfully, Bang Bang – which is also one of my personal favorite hairs – is still available: both the original mesh by simplifiedsimi and the recolor by sevensims. It's a cute, wavy bob with clearly defined sections and straight, side-swept bangs.
Together, these elements create a really fetching visual.
16.

Erin Hair Set by qicc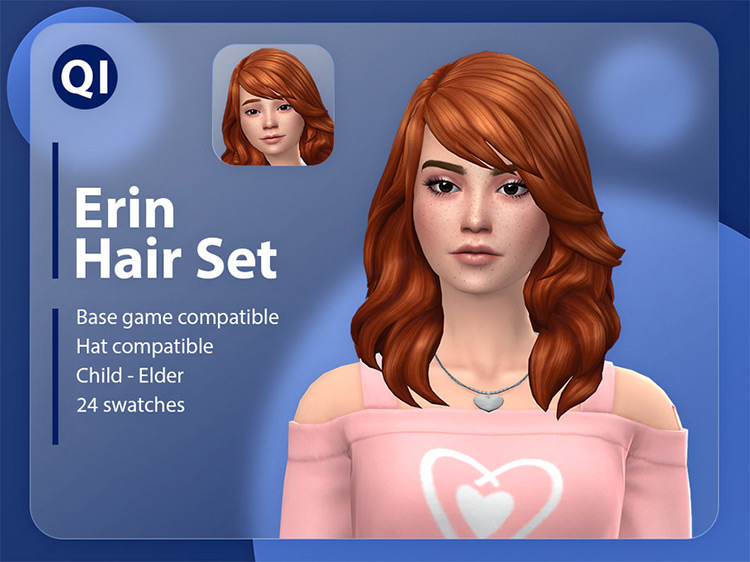 A lot of Maxis Match hairstyles tend to look fluffier due to the clayified texture.
It gives the cut more volume, basically, which is usually a good thing.
This Erin hair, for example, is a simple, layered 'do with tapered ends.
But the visible hair sections and the texture give it that body and thickness that is so incredibly appealing.
17.

Diana Hair by Nords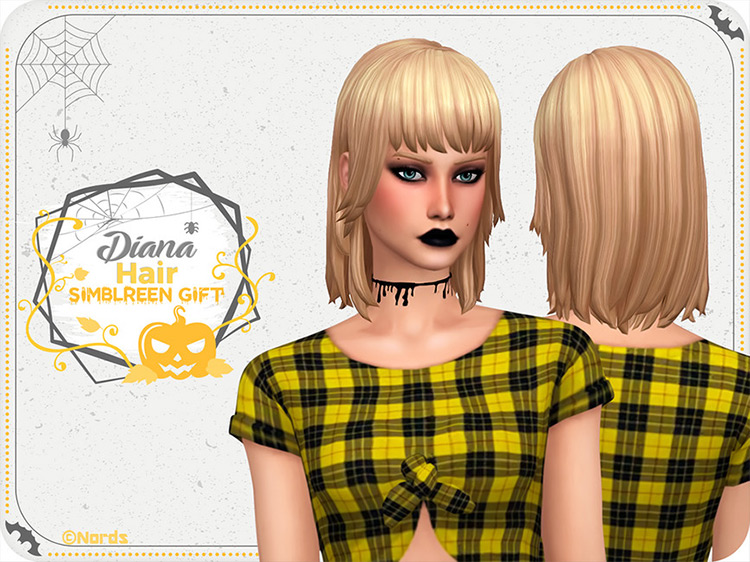 Custom hair from Nords always looks great with caps!
I noticed that the creator takes extra care to make sure they're compatible with all sorts of headwear, and the effort definitely pays off. Take this cool chopped bob with jagged edges and edgy bangs.
It looks so good with wide-brim hats.
18.

Helene Hair v2 by Nords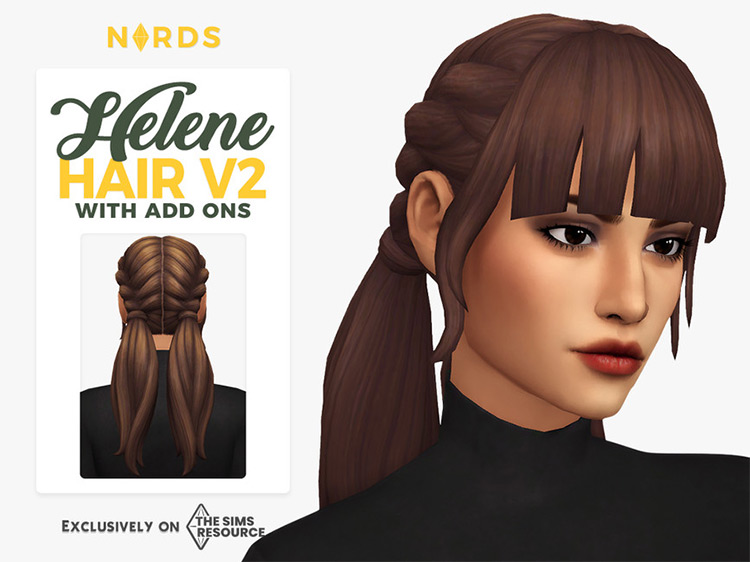 This is another medium-length hairstyle with intricate braiding and sectioning.
This is one of those styles that would look more striking in lighter colors—just so the details really pop out.
I love that, despite the symmetrical pigtails and the neat parting, there are still some errant curls and hair strands escaping. Really cute!
19.

Rock-A-Bye Bangs Hair Set by Nolan-Sims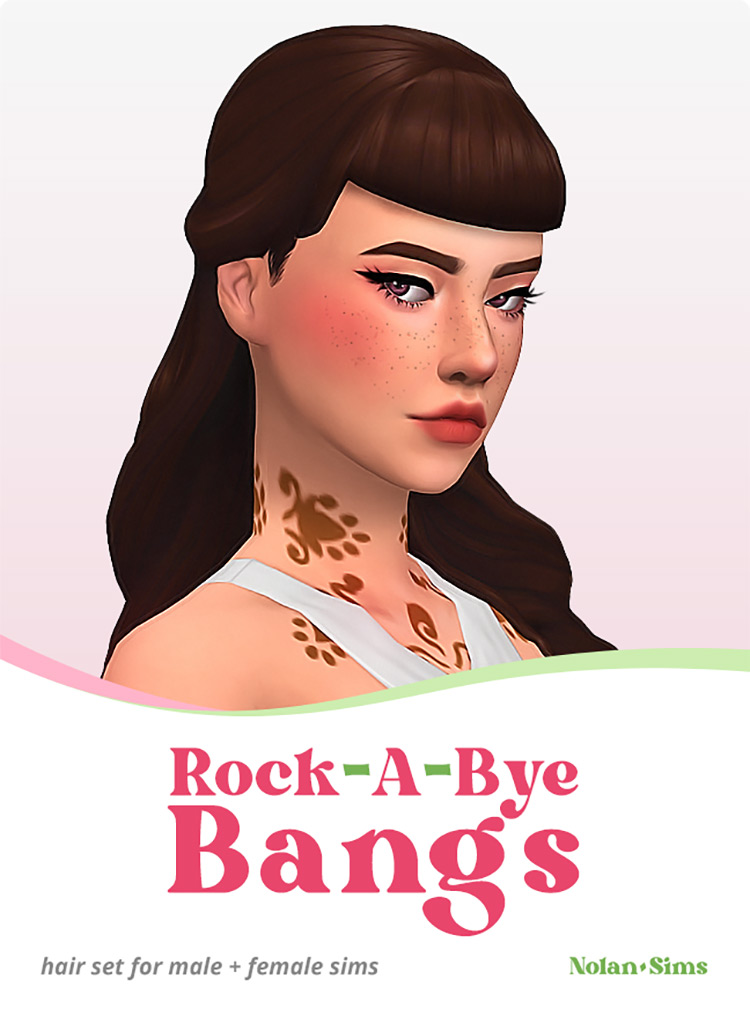 This set actually contains a bunch of hairs (five, to be precise) that have been refitted with some short, blunt bangs.
As you can see from the preview photos, these bangs give the 'dos some vintage, old-timey charm.
Like a flapper femme from the 20s or a Hollywood starlet in the 80s.
All the hairs in this pack came with The Sims 4: Vampires pack, but you'll need the Outdoor Retreat and Luxury Party Stuff for them to work.
20.

Ellie Hair & Soft Skittles Palette by Lady Simmer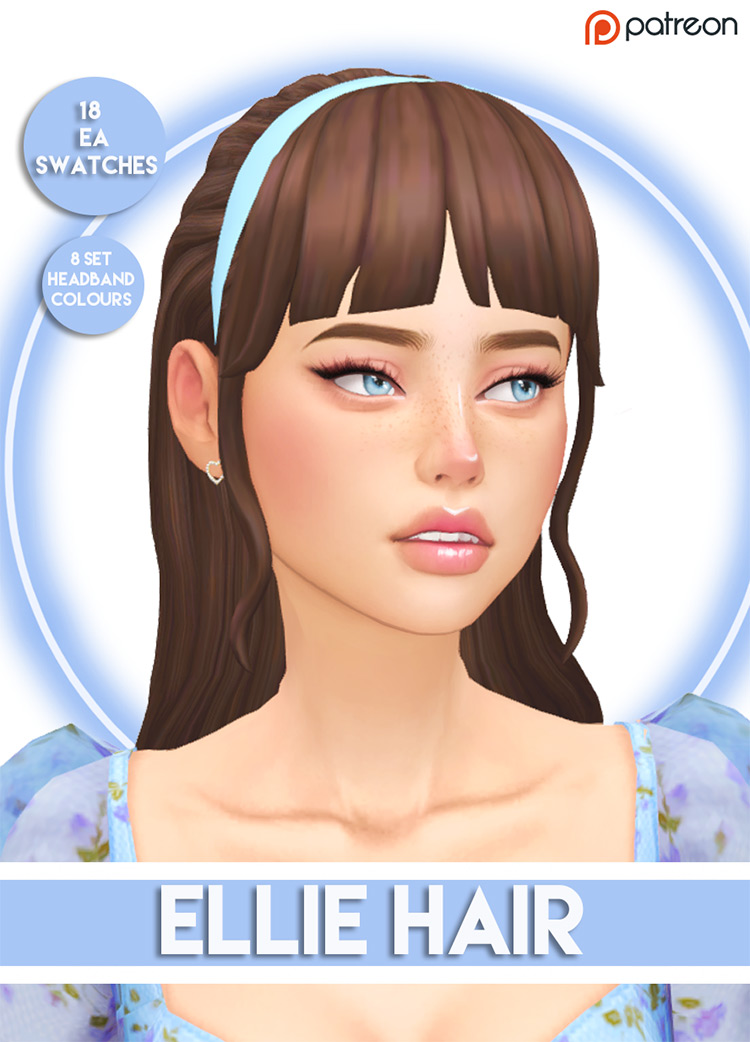 I don't know if it's the Soft Skittles in the name or the charmingly innocent vibe of the hairstyle that's making me gush, but there you go.
This Ellie hair is as sweet and as precious as a summer cottage on a bright spring day. It's got that rustic countryside appeal, for sure.
21.

Cosmic Love by kismetsims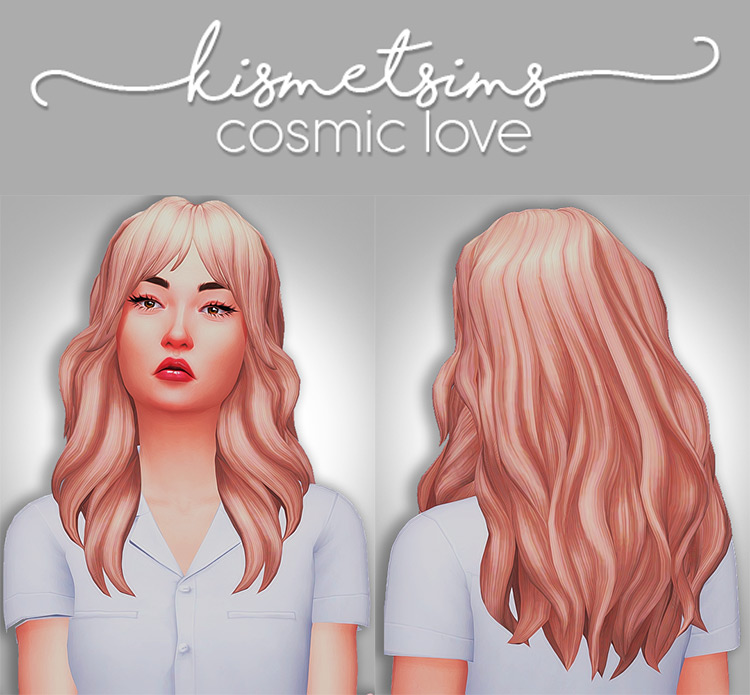 The rumpled, frazzled, slightly messy silhouette of this 'do is strangely appealing.
It's hard to explain, but I like how it looks so casual and stylishly disheveled. Kind of like the Sim just has to finger-comb their hair to make it look good.
Sadly, the creator seems to have taken the download page for this hair off their site. But some helpful Simmers have managed to source the direct download link from Simfileshare.
Long Hair with Bangs
22.

Wish: Another Cute One by simandy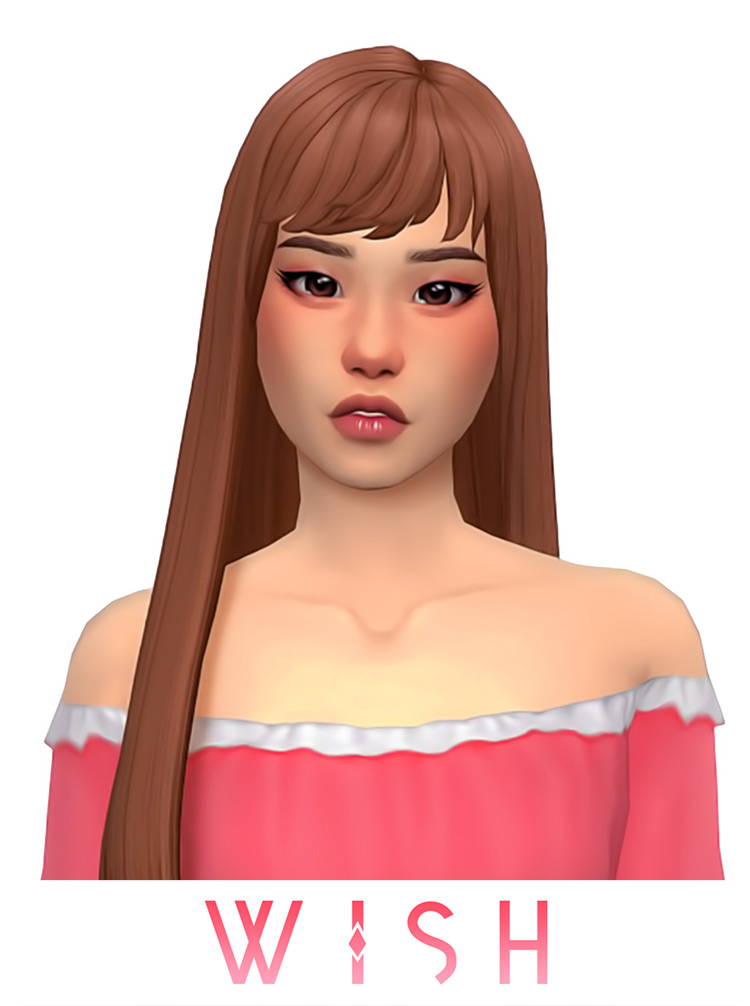 A simple cut that never goes out of style: straight, long, and accentuated with side-swept curtain bangs.
The original mesh comes in EA's standard 18-color palette, but you can download the Puppy Crow palette to add 40 more fun swatches.
23.

Ella Hair by Feral Poodles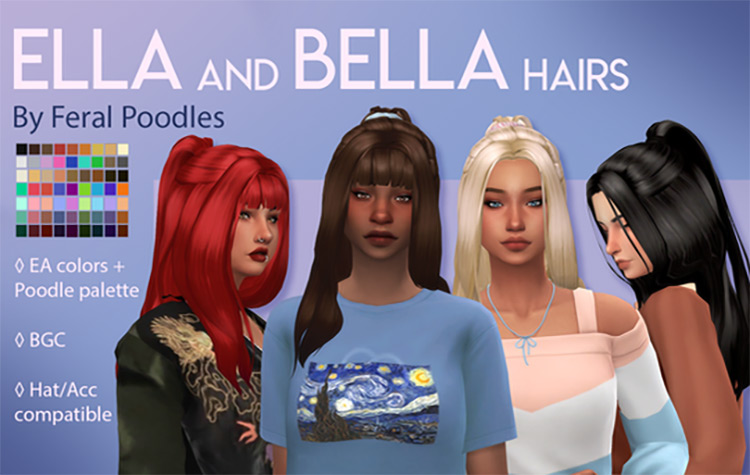 The download leads to two styles: Ella and Bella.
Both are basically the same thick, lightly-teased style coupled with a half-up ponytail (plus a custom removable scrunchie accessory!). The only difference is that the Ella hair has adorable blunt-cut bangs.
24.

Andromeda Hair by evoxyr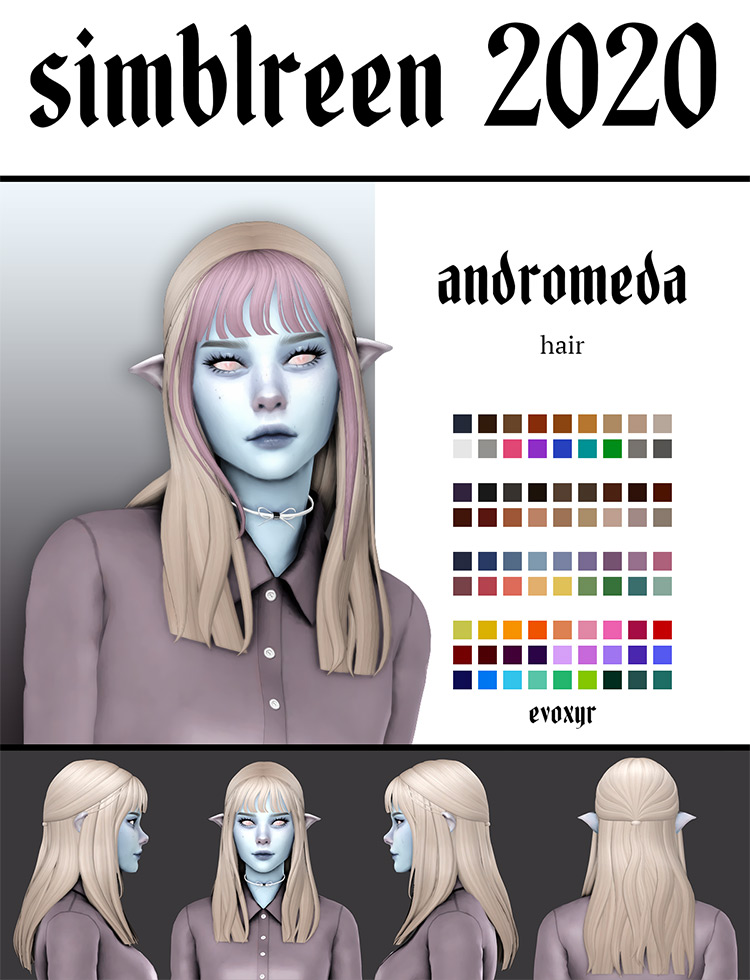 This hair confused me as much as it intrigued me, which is why I had to take a closer look.
If you're like me, you probably thought the model was wearing some sort of scarf or wrap around their head. Nope!
Turns out, the creator has made it so that the bangs can be a different color (using their Eloise hair accessory, which is linked in the notes). Honestly? It's a pretty cool concept.
25.

Clarity by simandy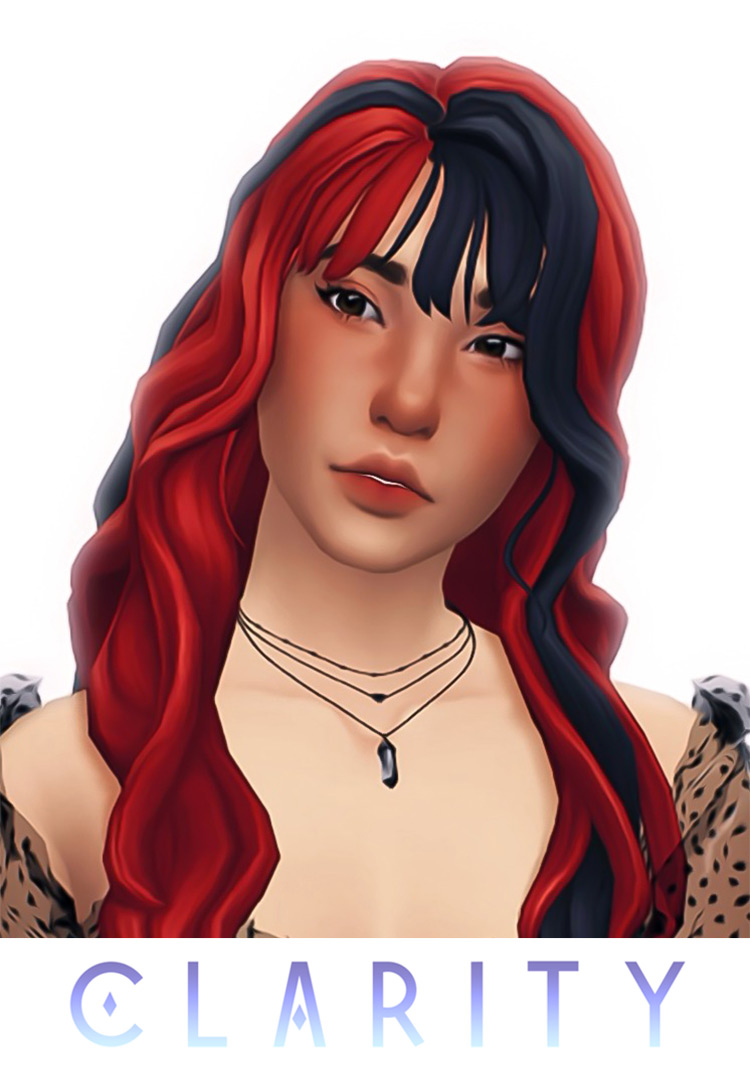 Another one of my personal favorites.
The soft curls and casual waves are everything. I'm also living for the different-colored streak—that always makes a hairstyle look ten times more interesting.
26.

Allegra Hair by jellymoo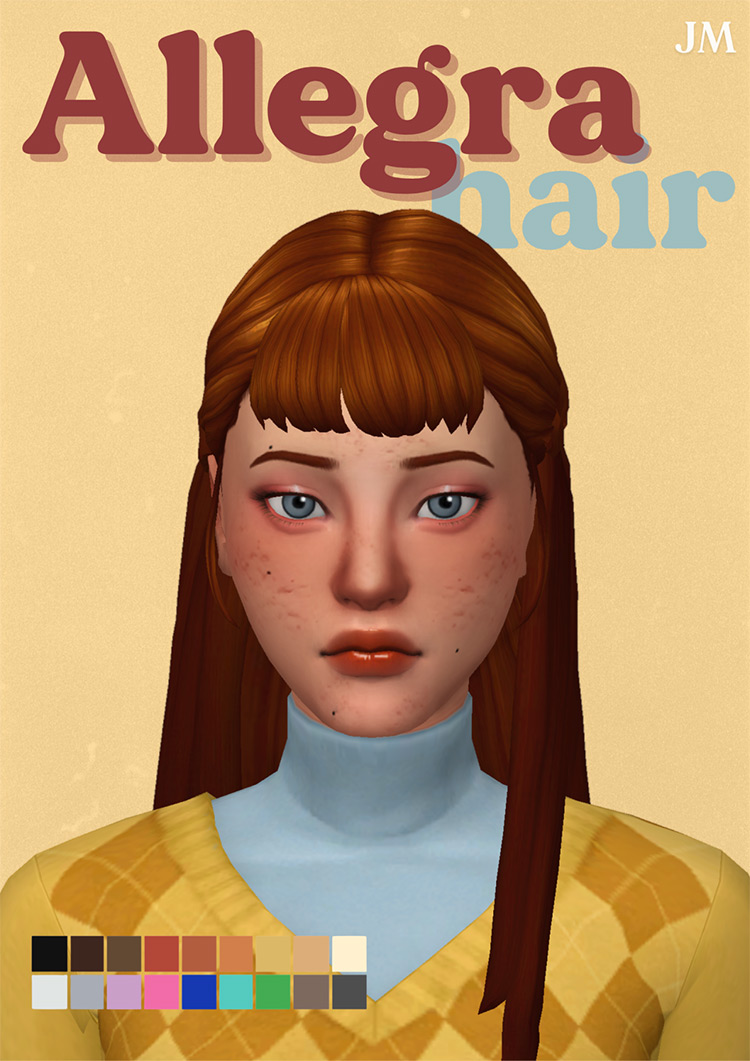 A conservative hairstyle for a casual-and-or-conservative Sim!
This kind of hair definitely looks like it was made to be paired with knit argyle sweaters and sensible closed-toe shoes.
I dunno; it just really gives off that comfy vibe.
27.

Primis Hair v3 by Nords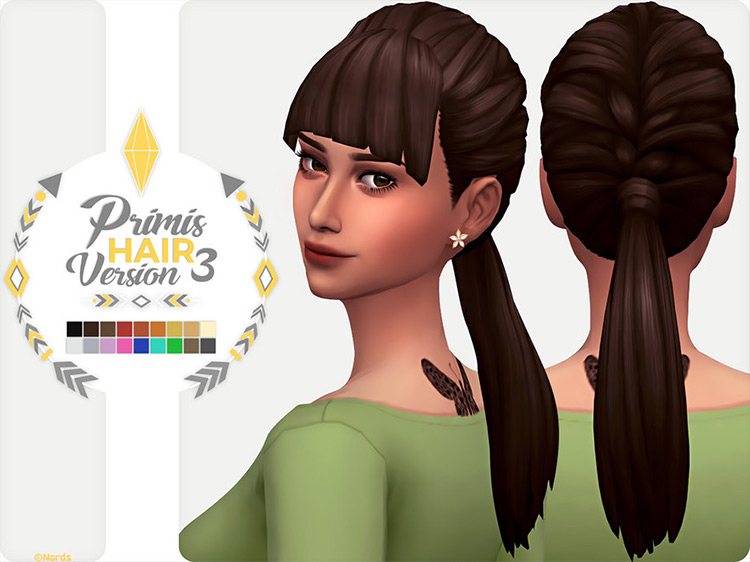 If you've seen those silent, satisfying hairstyle tutorials on YouTube or TikTok, then you know how much effort goes into making even a simple braid.
I think this is called a "waterfall" braid, but I'm no hairstylist.
All's I know is, it's beautiful.
28.

Quella Hair Colleen (Long + Short) by Quella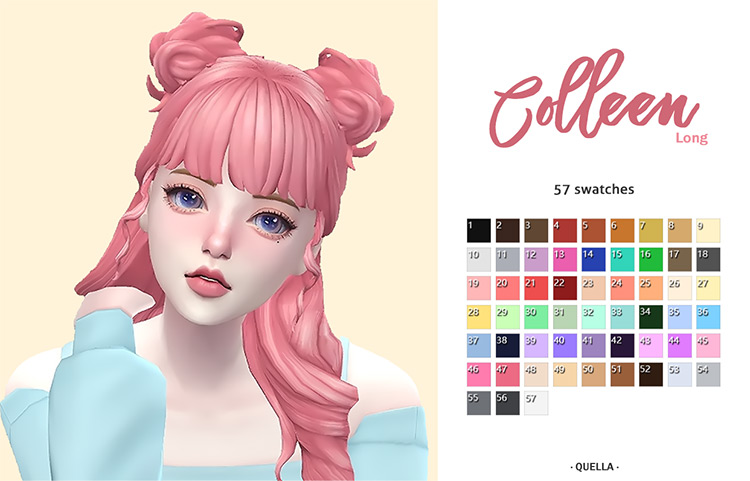 Both versions of this hairstyle (long and short) admittedly fall under the Long category.
I mean, the tips reach past the collarbones!
Regardless, both versions are hella cute.
Curly space buns atop sundae-cone twirls, all tied neatly together with blunt-cut bangs? What's not to like?
29.

YF Yeri Hair v1 by dear-solar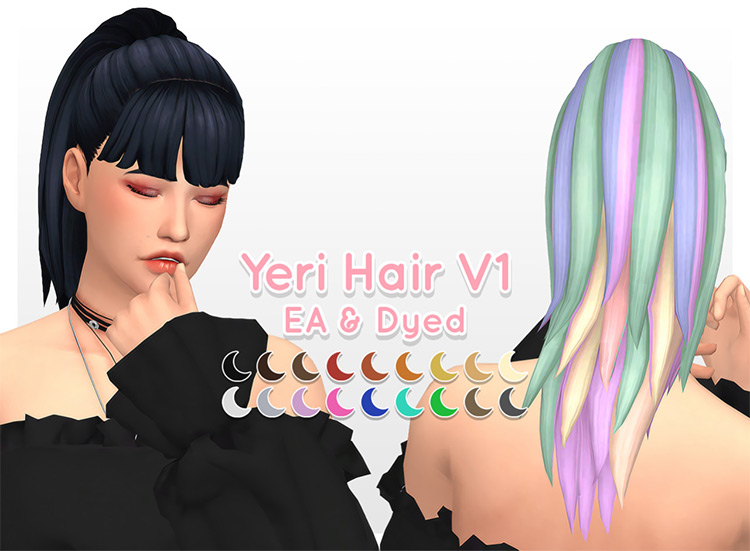 Words cannot describe how much I love this hairstyle.
It's a basic high ponytail with bangs but, for some reason, the thick clayified texture makes it ten times more attractive.
Plus, the amount of multicolored rainbow options it comes in? Literally so gorgeous!
30.

Marine Hair by solice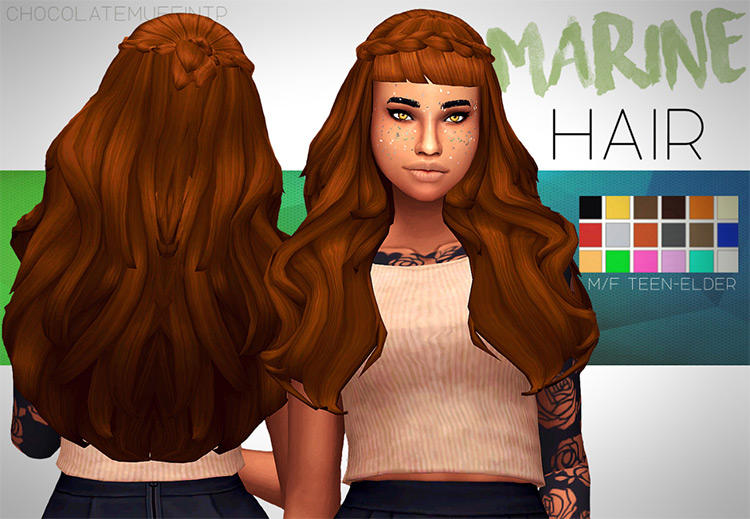 Any hair that looks like your Sim could use it as a pillow gets an automatic "Yes!" from me.
Solice's Marine hair definitely fits that description.
It's thick, it's fluffy, and it's probably wider than their shoulders.
Plus, it's got that cute, Boho-inspired braided headband at the top.
Male-Only Hair with Bangs
31.

Shin Hair by SyaoVu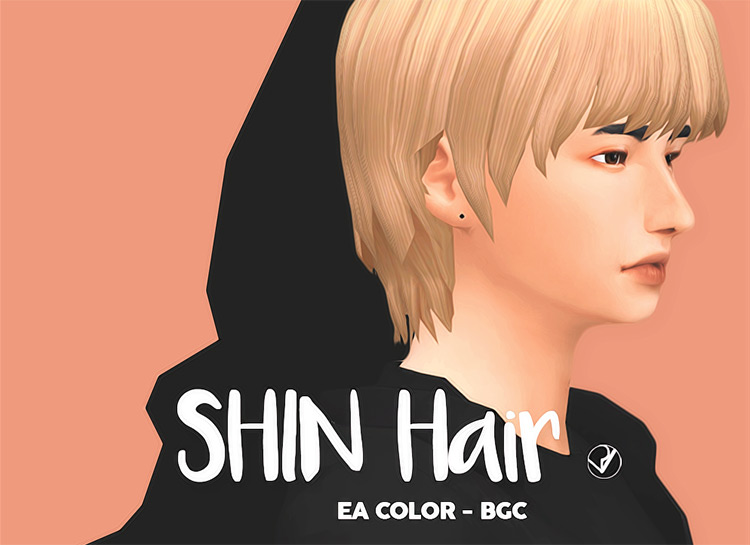 One of my favorite picks on the list.
It's sleek, simple, and straight-to-the-point, but in the best way possible. Definitely gives off heavy Asian/K-pop-esque vibes.
I also like how the cut looks so effortlessly cool. No product or setting spray needed!
32.

Jumin Hair by meghewlett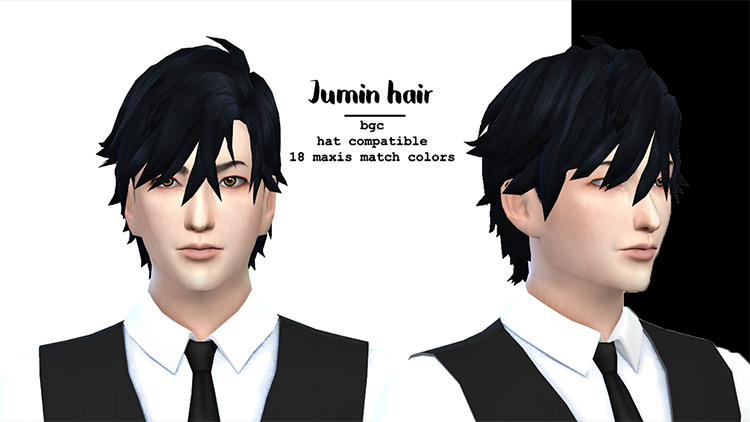 Meghewlett's Jumin hair looks like a cooler, spunkier, and heckuva lot more stylish version of one of the basegame hairs (you can probably tell which one).
For that reason, I had to include it.
It comes in 18 EA colors, but you can download crazysimmer99's recolor to add 76 berry colors (courtesy of @noodlescc's Sorbet Remix Palette) to choose from.
33.

Cameron Hair by vevesims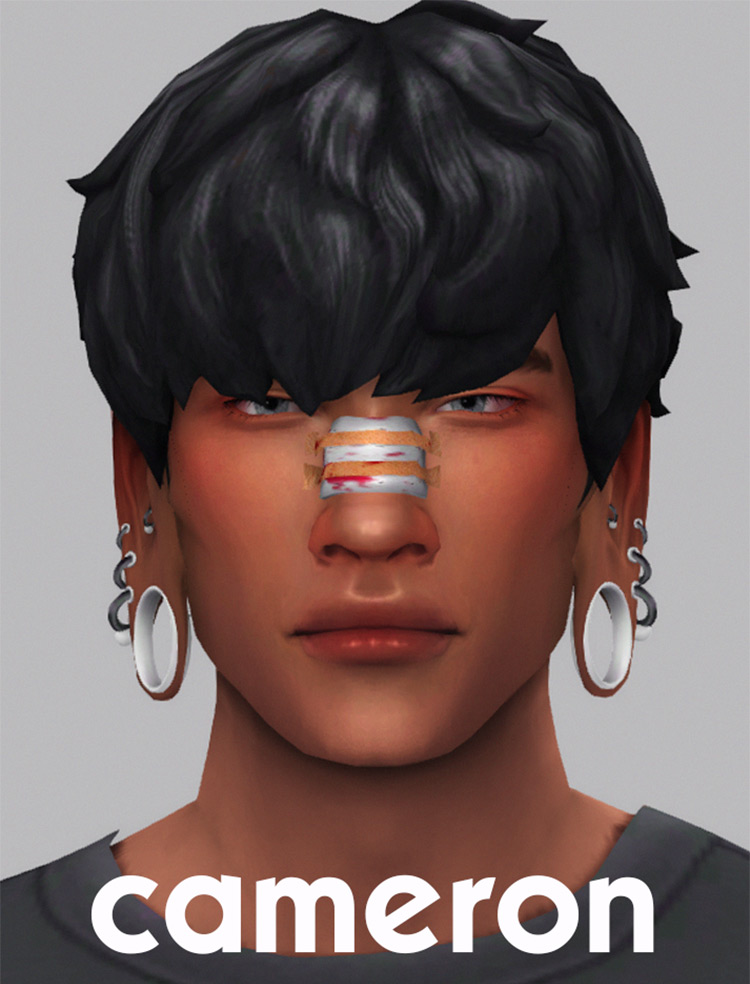 This is one of the many custom hairstyles that I actually use for my personal Sims.
I really like how thick, poofy bangs look on wide, square faces, and this cut by vevesims is curly enough and fluffy enough to soften even the thickest jaws.
34.

Trevor Hair by vevesims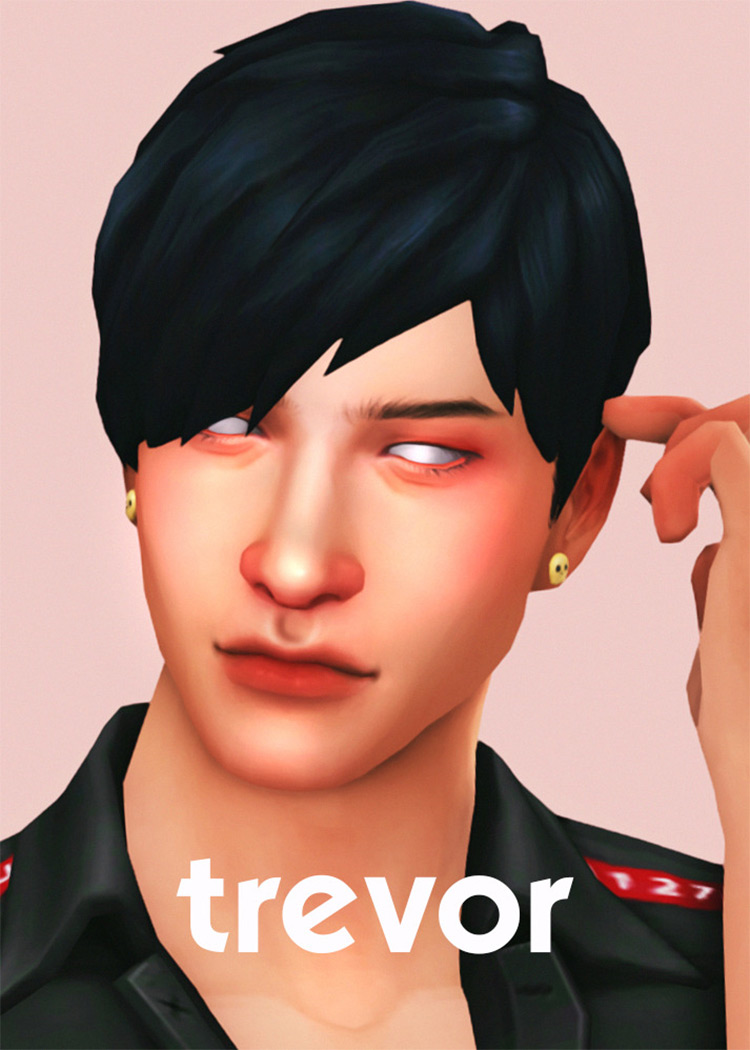 Looking for a side-swept 'do with a fun, fashionable fringe?
Vevesims' Trevor hair for Male frames features a neat, close-cut trim with plenty of volume distributed throughout.
And there are just enough clumps of wayward hair poking out to give the style some character.
35.

Rodrigo Hair by vevesims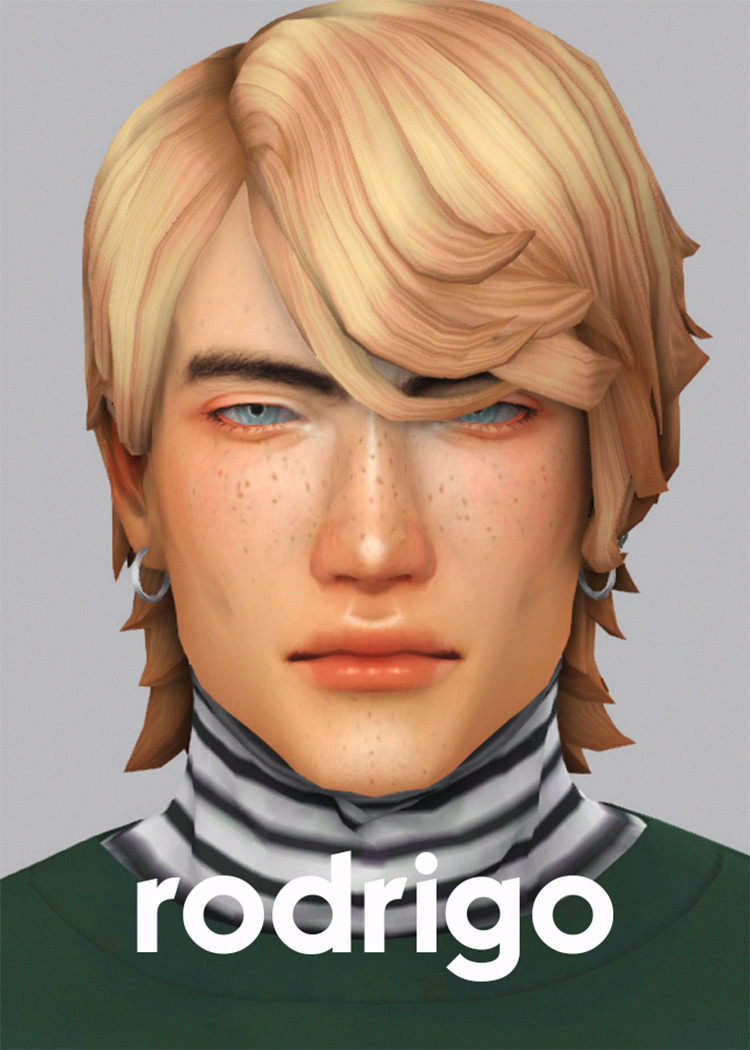 Despite the model's intense stare, this Rodrigo haircut by vevesims is surprisingly soft.
The edges of it sort of curl up and out (flyaway ends, is what I think they're called) as do the bangs. And the bangs are really curly, to the point that I'd call it more of a swoop than a curl.
The overall look is pretty playful!
36.

Andre x Wilfred Hairstyles by clumsyalien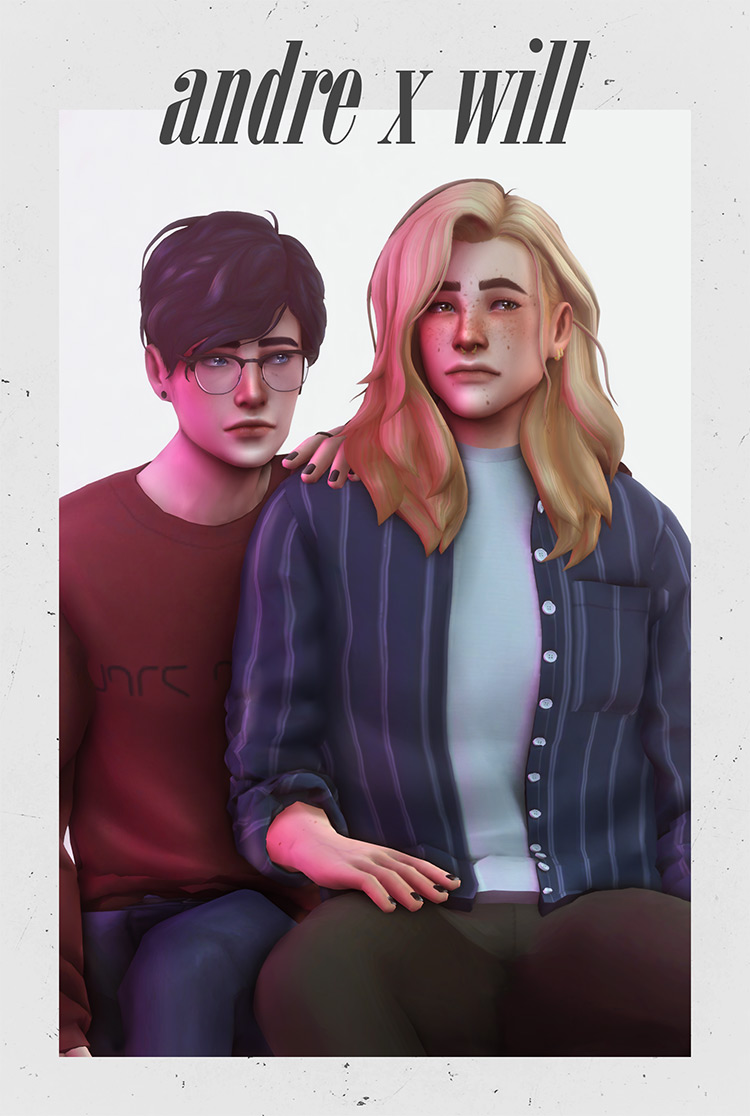 Both hairstyles are full and gorgeous (especially Andre; a true maybe it's Maybelline moment), but in the context of this article, I'm recommending Wilfred.
It's a beautifully thick cut emphasized by loose, whimsical waves and the occasional curled strand poking out. It makes for such a romantic style.
37.

Male Autumn CC Pack by clumsyalien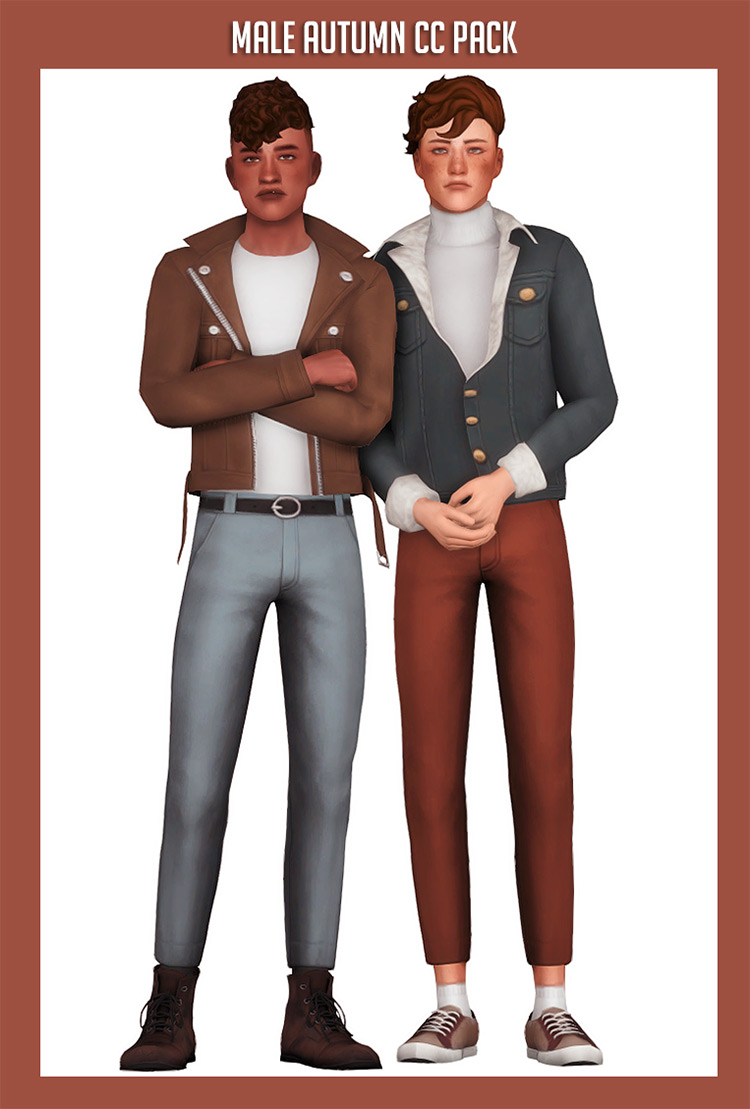 We're wrapping up this list with a headful of playful, charming curls—all swept to one side and teased to look effortlessly stylish.
I love how the creator makes use of the Maxis Match texture to really emphasize the different curls and sections.
Plus, the wisp of bang swooping at the front? Too adorable for words.
Browse:
Lists
Maxis Match
The Sims 4
Video Games