Best Sims 4 Maxis Match Bathroom CC (All Free)
This post may contain affiliate links. If you buy something we may get a small commission at no extra cost to you. (Learn more).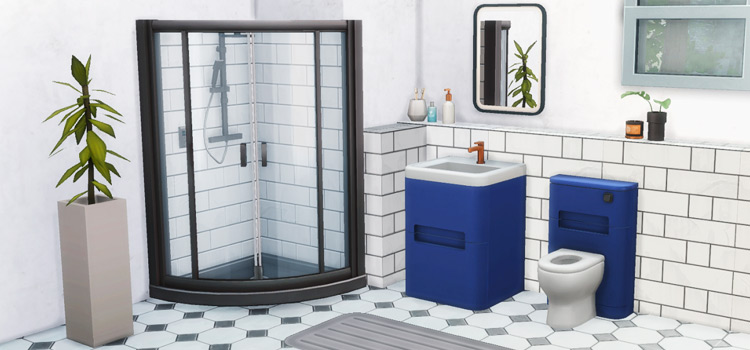 Are you bored of the same old bathroom styles? Tired of washing in the same dull bathtub? Want to refresh your Sims in a freshly-designed lavatory?
Then you've come to the right place!
I've put together this comprehensive list of some of the best Maxis Match bathroom CC out there. From whole sets to cute bits and bobs, there's plenty here to renovate any Sim's home.
And you'll be walking away with tons of new bathroom ideas too.
So strap in and get ready to start downloading!
1.

The Bafroom Stuff Pack by Harrie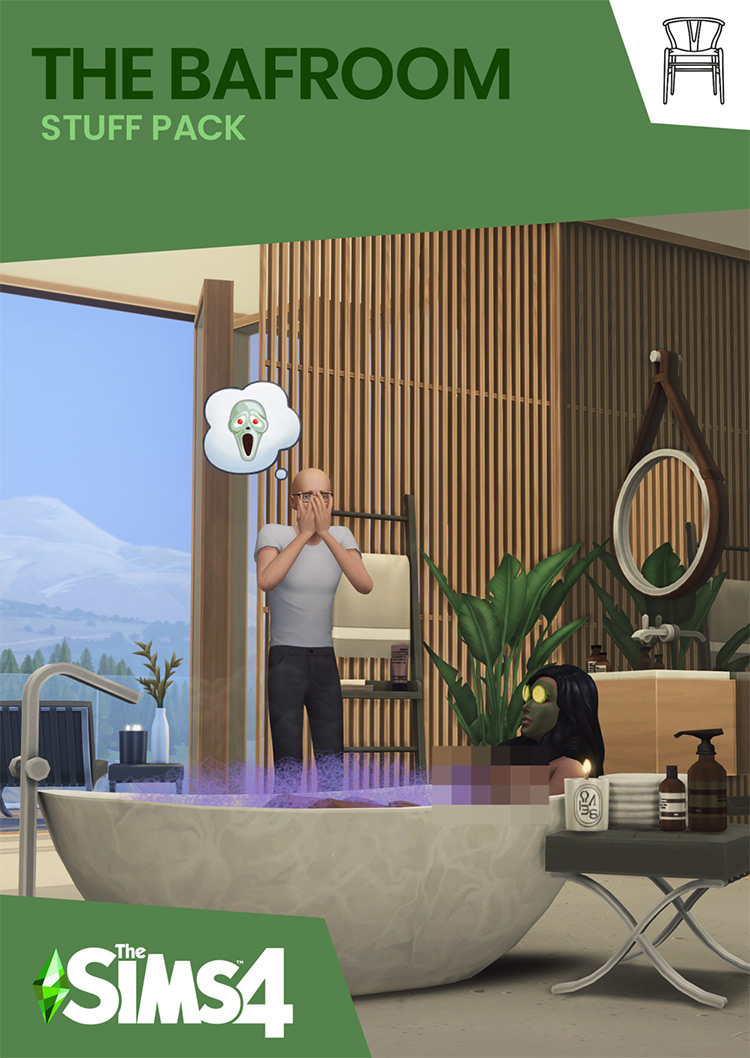 Note: All items here are base game compatible, except for the wall shower (requires Discover University) and the mirror windows (requires Get To Work).
We're starting off strong with this incredible 94-piece bathroom CC set. This modern set has everything you could possibly need: a bath, a toilet, a shower…
And some furniture.
And wall décor.
And bi-fold doors and seamless windows.
Really, you could design more than a bathroom with this set. Because with all the lounge furniture in here, you're almost looking at a bathroom and a living room. All pieces go well together and they're all totally Maxis-Match, of course.
2.

Lux Bathroom by SIXAM CC
Who says luxury has to be monochrome?
This bathroom set is the most fun yet expensive looking out there. It comes with some incredible pieces, like a really fancy shower and a gorgeous chandelier.
Plus there are also lots of clutter too – a hairbrush, some candles, and some picture frames are just a few examples.
With over 40 new items available, you're bound to have some fun in build mode.
3.

Hudson Bathroom by Peacemaker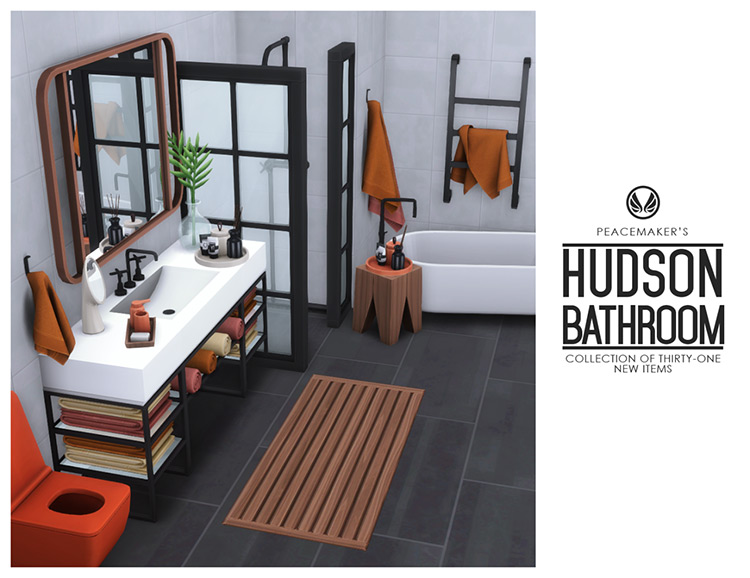 If you're over the "classic" bathroom look and want something a bit more modern, you should definitely try this one out.
It feels close to an industrial style, with metal being the main feature.
This collection of 31 items would be perfect for a lovely penthouse. Just imagine having a bath in this modern bathroom while looking out at the city lights. Is there anything dreamier?
4.

Duo Bathroom by Veranka
Here's a bathroom set that would be perfect for those Sims who enjoy a bit of calm and meditation.
Or those who really, really need some more calmness in their life.
Everything here looks just like stuff you'd find in a luxurious spa. But don't take my word for it – I'm not rich enough to go to those places.
If you think some of your Sims needs that relaxing atmosphere more often, why not get them this bathroom and calm down their nerves?
5.

Mirror Medicine Cabinet by Andrew
This mirror medicine cabinet is a must-have for your grandma Sim.
Because it can't be just me who associates these with their grandparents, right?
It's so old-fashioned yet cute, and vintage in the best way. You can just see your grandma keeping honey in there and then telling you it's a "magic syrup that will make you feel better in 1 minute."
Yep, grandmas do really rule the placebo effect land. Even Sims grandmas.
6.

Hot Sim Disguise Clutter Set by Ravasheen
Listen, there's no such thing as enough space in the bathroom.
Especially not if you're a woman.
A lot of us have way too many products that we rarely use, but that we insist on keeping in the bathroom. So that we can use them if we ever actually remember to.
And this CC set is a bathroom clutter paradise.
It comes with lots of makeup, sponges, soaps, and lots more.
If you're looking for a way to make your Sim's house look more lived in, this clutter set will definitely help with that.
Now get those shelves overflowing!
7.

Fruit Slice Mat by Hezza
We all love fruit. It's sweet and delicious.
We also all love showers (I hope). They make us clean and warm.
What happens if you try combining these two? You get a fruit slice bathmat!
And it's cute.
If you're looking for a way to brighten up your bathroom, maybe a melon mat is the way to go.
Don't like melons? Try kiwi. Or a lemon, a lime, a grapefruit, or an orange.
8.

Laundry Hamper by Pihe89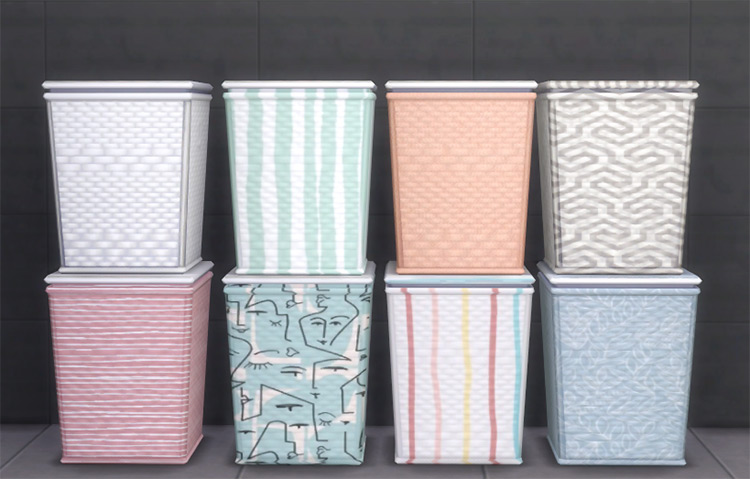 If you want to avoid piles of clothes on the floor, you simply need to get a laundry hamper.
Especially if you have teenagers. They're the worst in putting laundry away.
What might motivate them, though, is if they have not just a regular laundry basket but a cool one. A stylish one. An original one.
Make your Sim mom's life easier by downloading this CC set and picking the perfect laundry hamper for the whole family. It's a solid fit for any Maxis-Match gameplay.
My favorite one is the stripy one. What about yours?
9.

Portable Laundry Basket by Zamboxious-Sims
Note: Laundry Day Pack required for this CC.
Here's a portable laundry basket that's a super fun mod that I'm personally downloading right now.
Also, it's fully functional. Just drag it into your Sims inventory and voilà!
There are 18 color swatches available, too, so you can get a fun laundry basket if you want to. Not that this will make doing laundry much more enjoyable…
It's still a chore.
But now it's a chore with a bit more color.
10.

Towel Collection of Doom by Seraphina Belle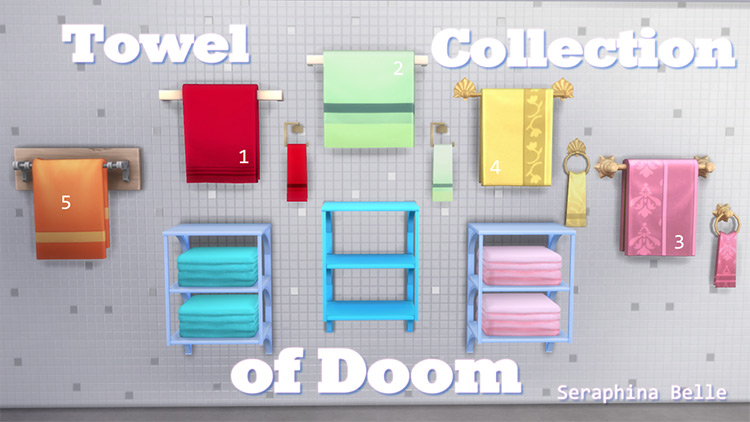 There are only two types of people in the world:
Those who never have a spare clean towel, and those who have way too many towels.
I think we can all agree that option #2 is better. I mean, it's always better safe than sorry and all that nonsense.
Well this set of Maxis-Match towels will make your Sims automatically fall into the second category. And you'll find towels for every color in the rainbow.
Plus there are different sizes, too. A massive towel, a medium towel, and even a hand towel. All available and cozy-looking for any interior.
11.

Nordic Bath Set by LeoSim
The Nordic style of design is one of the most popular styles in the world.
That's because it combines minimalism with comfort. Two very important things in everyone's life.
Well this custom bathroom set is just like that.
Everything looks super nice and inviting – important for a bathroom. But all this CC also has an aura of intentional design.
With all the basics and some extra clutter, this set would work great in a holiday cottage somewhere near a lake.
12.

Luxury Marble Bathroom Set by PigeonAce
Have you ever wondered what it would be like to have a Frozen-inspired bathroom? Or how about being surrounded by marble every time you hit the restroom?
Well, wonder no more!
This bathroom set is absolutely gorgeous. And honestly, who doesn't love a bit of marble effect?
But the marble isn't even the best thing here. The color options are.
Especially the blue.
As I said, it looks very much like what Elsa would have as her private en-suite. So if you love those Disney movies, go ahead and get this set. And maybe look into our list of Frozen-themed CC too.
Live your ice princess fantasy!
13.

Public Bathroom Deco by 333EvE333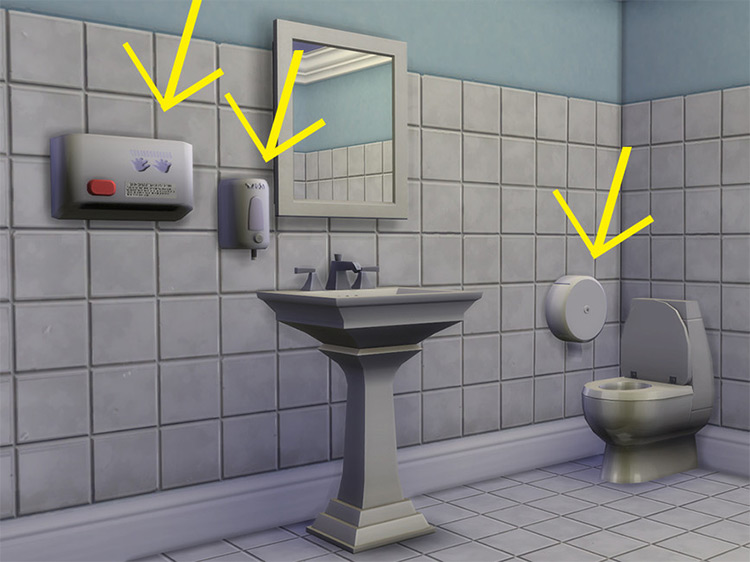 Bathrooms aren't always all about looking nice and clean.
Sometimes they're all about costing you a lot of money for the horrible mess that you're getting. That's right, I'm talking about public bathrooms.
If you're going for some truly gritty realism in your game, this CC set is a must-have.
It features all the important bits, like the toilet paper dispenser. This time it's actually not empty.
And you get a custom soap dispenser. Or is it foam? Or hand cream? Who knows with these things!
And then of course, there's the hand dryer. Maybe it works, maybe it doesn't. It's a lottery.
14.

Angular Toilet Paper Holder by Alistu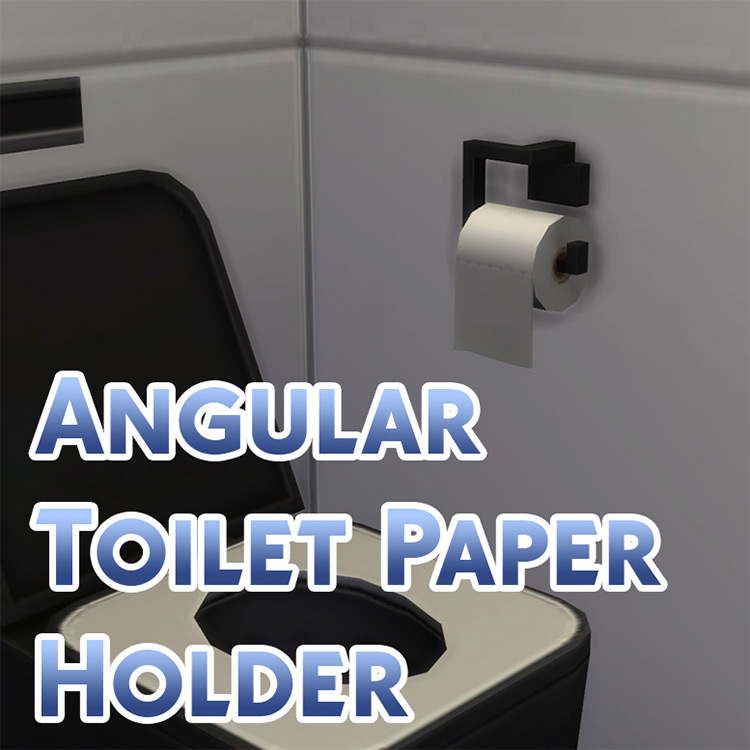 Toilet paper holders are so underrated.
We all need them. If you don't have one, you end up putting the paper at the back of the toilet. Then you have to turn around every time you use it, which is, in all honestly, a nuisance.
These holders are essential. Yet we often forget to include them when designing a house for our Sims.
And this angular toilet paper holder is actually quite nice. In fact, it's so nice it might make you remember to place it near the toilet.
We really owe it to our Sims to have better toilet paper access. Those poor guys.
15.

Stained Cheap Sinks by lazer-bb
If your Sims have a little kid, then you'll probably agree it's unrealistic how clean they managed to keep their bathrooms.
The toddler would be on it in real life. Smearing paint everywhere.
Luckily with this set of custom Maxis-Match sinks, you can get the stains in. And they'll stay.
It's sort of artistic – but also messy. The perfect combination.
Trust me, your exhausted Sim parents won't even notice.
Browse:
Lists
Maxis Match
The Sims 4
Video Games