The Best Sims 4 Maxis Match Bedroom CC (All Free)
This post may contain affiliate links. If you buy something we may get a small commission at no extra cost to you. (Learn more).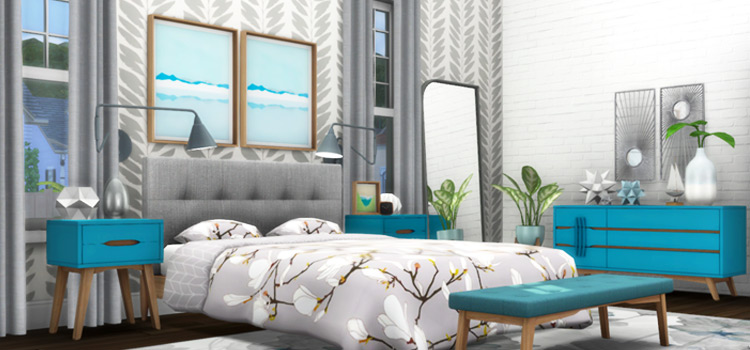 A nicely designed bedroom is a must-have for any serious Simmers. I mean, if you're going to do the 100 Baby Challenge, you better do it with some style!
The best way to make sure that your Sims can live in luxury is to get stuck into CC.
After all, using the same couple of designs for everything gets boring very quickly.
There are so many creators that make amazing, original, and free content. It would be a shame not to take advantage of that and spice up your game.
And if you're anything like me, you'll still want your CC to match the game. That's where Maxis Match comes into play.
So if that's what you're after, take a look at this list of the best MM bedroom sets to snag for your next build.
1.

The Country Collection by Harrie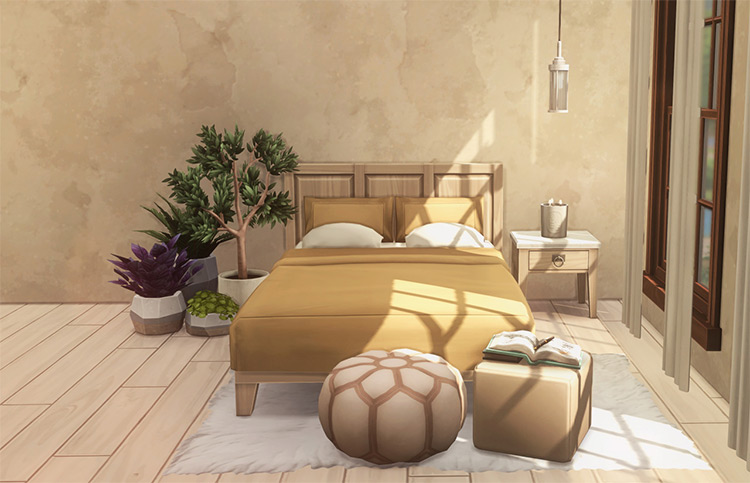 This gorgeous CC collection is compatible with the base game – so right off the bat it's easy to use for every player.
It also contains 21 pieces including a wardrobe, a dresser, a bed base, different styles of mattresses, and a stunning headboard.
(Seriously, you should check out the headboard!)
It's all in a country style, but with a cool, modern finish. Perfect for any big Sims families that love going fishing with their kids on the weekend.
The options with this set are endless. Harrie even made sure the furniture works for both mansions and small, modest houses.
There are also plenty of different color swatches – you'll definitely find the one for you!
2.

Lana Bedroom by 876simmer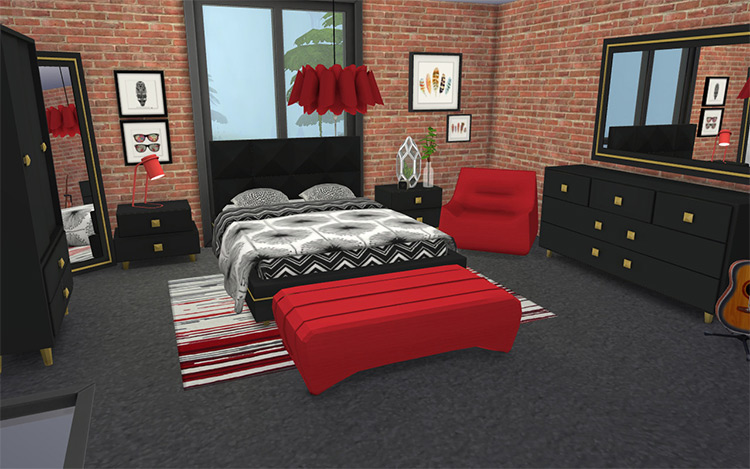 You know that one really cool, young, and single Sim you have?
This is their perfect bedroom! The Lana collection stands out with its contemporary look and vibrant colors.
The peach would suit a gentle Sim with a love for gardening.
The red & black version just screams bachelor pad.
And there are 9 objects in total, with 15 wood and 20 color options.
Trust me: if I was a Sim living in the city, this would be my dream bedroom.
3.

1920 Bedroom Set by linzlu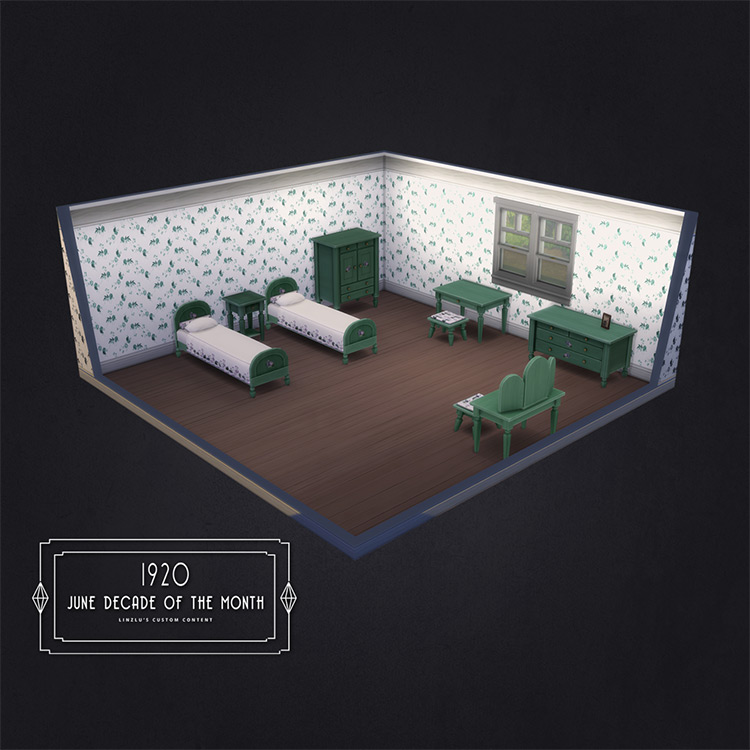 If you're looking for something completely different, this is the set to check out.
I mean really, a 1920s inspired 10-item collection? Perfect for that old soul Sim with a love for vintage stuff.
Or for that '20s history-inspired gameplay you've been planning for ages.
The wallpaper in this set is one of my favorites. It's just so adorable.
And that vintage vanity table? Talk about every girl's fantasy!
4.

Minimalist Bedroom Stuff by illogicalsims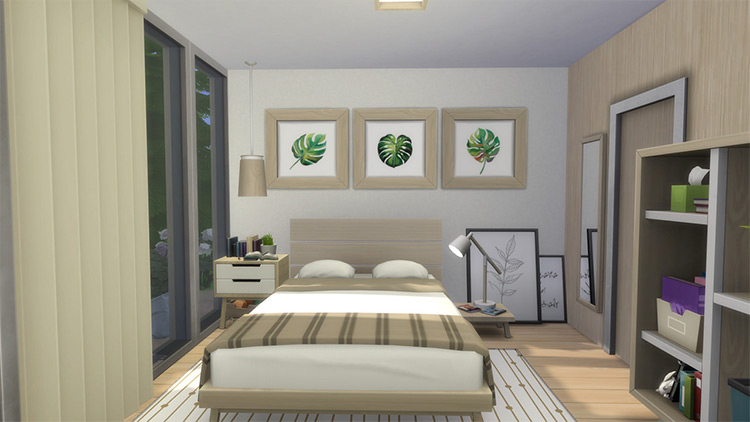 For those of you who are minimalists and love their designs to be clean and simple – you're welcome.
This set has over 25 objects, including some "study" stuff – perfect for a student or a young professional.
Are you really a student if you don't have a desk and a laptop in your bedroom?
The color scheme is on the lighter side, giving it a peaceful, modern vibe.
I can totally see my young adult vegetarian influencer Sim living her best life in here.
5.

Raglan Bedroom by Kiwisim4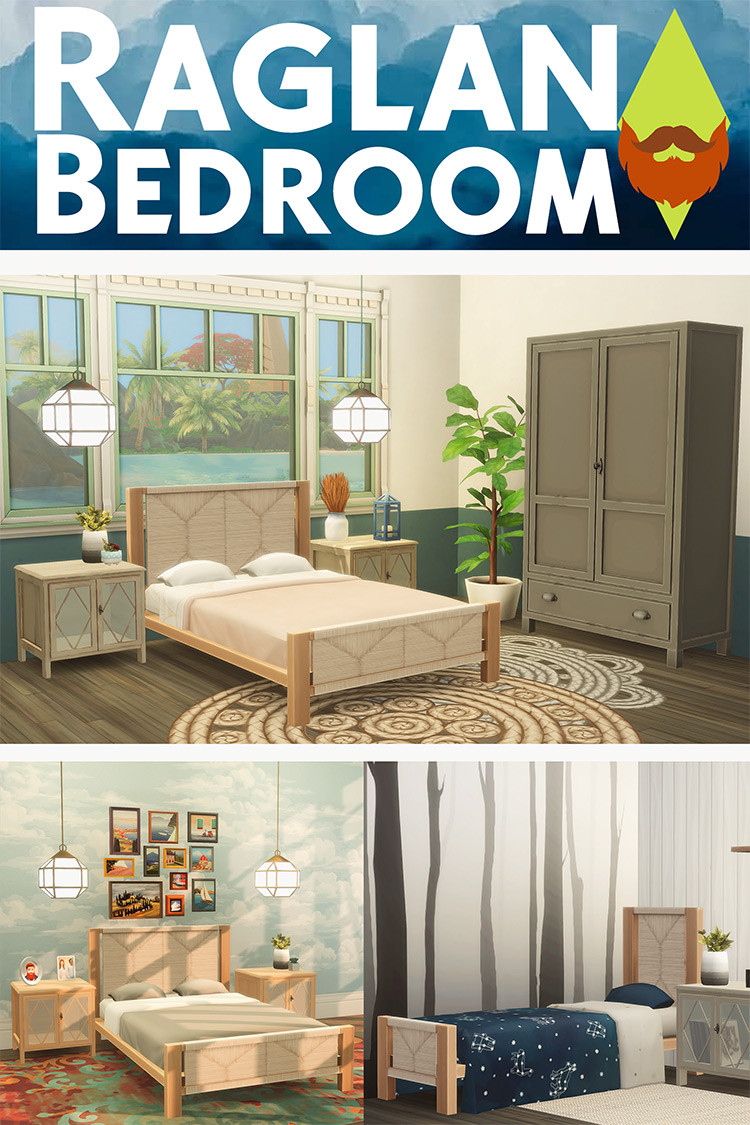 Who doesn't like a bit of Boho chic?
This bedroom set looks super comfy, like it should be in a house close to the beach.
Which it could be! Just a suggestion…
The color scheme gives off 'nature' vibes. And the distressed paint wardrobes tell a story.
What's the story, you ask?
"I got this wardrobe second-hand because I care about the environment and so should you. Also, I'm cool."
6.

Calderone Bedroom by pierisim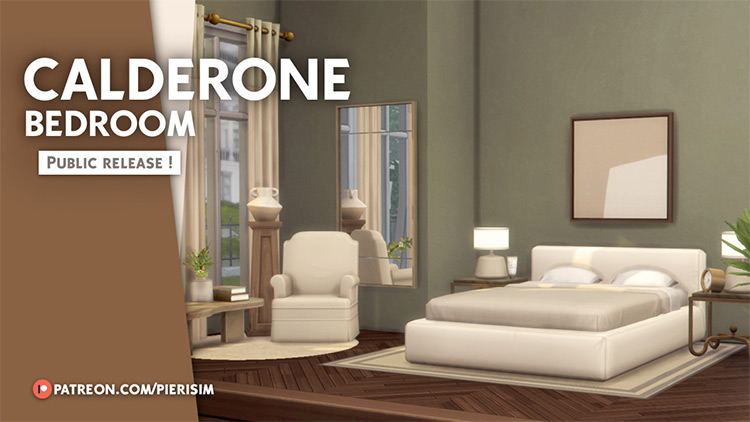 Now for something suited for the more mature, refined individual.
This CC totally looks like the house of that one stuck-up rich Sim that always frowns at everyone going to the flea market.
Was it Penelope Kensington II? Something like that.
I mean, there's a column and an antique vase for crying out loud!
In all seriousness, if you have a Sim that loves to live in luxury and isn't afraid to show it, I guarantee you this is their dream bedroom.
7.

Harmony Bedroom by 876simmer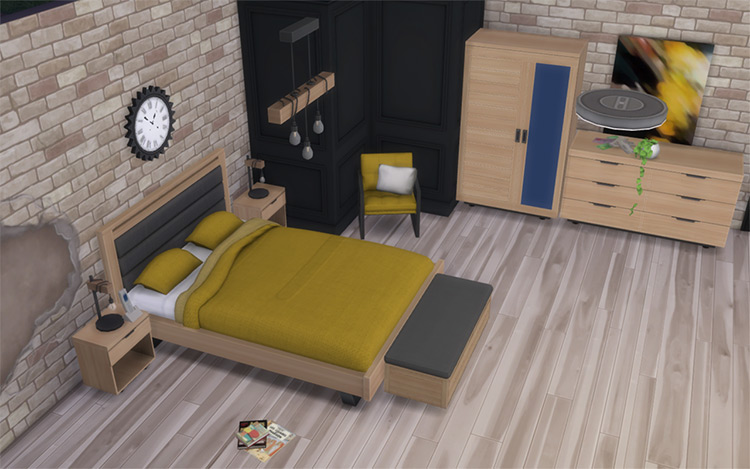 This one is a bit of urban style, mixed with a bit of industrial style.
There are 19 meshes here with up to 24 wood and fabric options, so lots to pick from.
Do you want some bright colors? This set has you covered.
More of a pastel person? Also covered.
The ottoman, the table lamp, and the ceiling lamp are some of the most stylish pieces I've ever seen.
8.

Hout Huis Bedroom by Cicada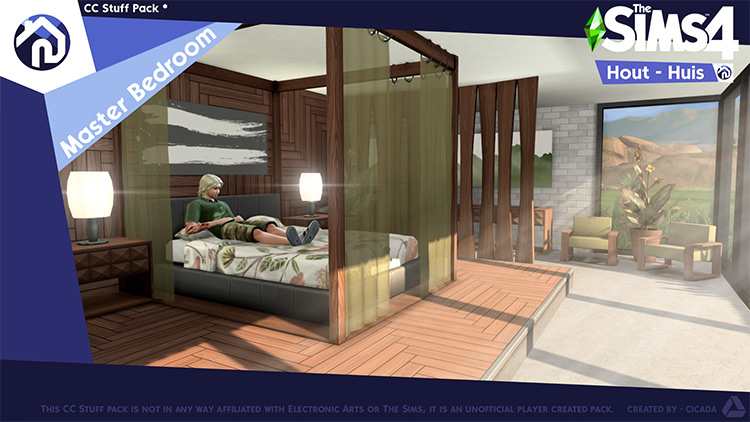 Hout Huis means Wood House in Afrikaans.
And that's absolutely what this set is channeling.
This bedroom CC would be brilliant in a modern cottage-style house. The mix of earthy green and dark wood works great together and creates a cozy feel.
And look at the room dividers – aren't they just incredible?
I can just imagine it: this bedroom leading to a terrace with a fancy jacuzzi. A dream for all your Sims!
9.

Riika Bedroom (7 items) by myshunoson
Do you know what every bookworm needs in their bedroom?
A massive bookshelf!
And that's exactly why I adore this set so much. This modern collection is everything.
The clean lines.
The black/light contrast.
The bookshelf. Have I mentioned the bookshelf?!
It's a simple 7-piece CC set that's tailor-made for a smaller, more minimalist bedroom.
And with the little storage boxes and the sleek mirror? This just calls for a student halls renovation project.
10.

Mid-Century Abode by Peacemaker_ic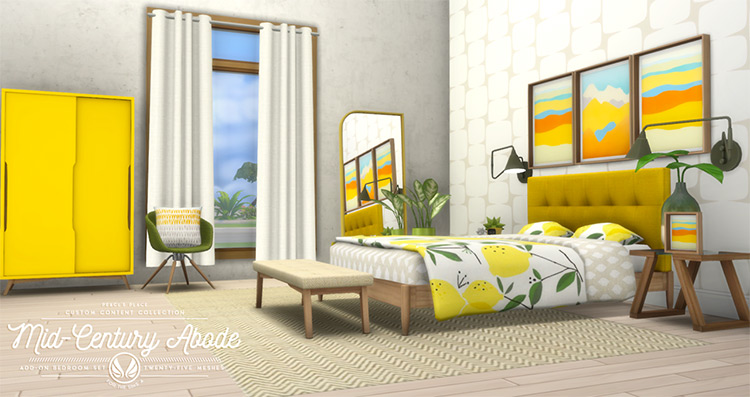 Who doesn't love bright colors and exciting patterns?
If you want to breathe some fun and life into your Sim's bedroom, this is an essential set to download.
The furniture is colorful, the bedding is luxurious, and the décor is plentiful.
And the mid-century modern style is next-level pretty.
My favorite pieces here are the geometric sculptures, the wall prints, and the breathtaking sunrise and sunset mirrors.
There are between 12 and 40 styles for each item, and they're all equally exciting.
11.

Aurora Bedroom by kardofe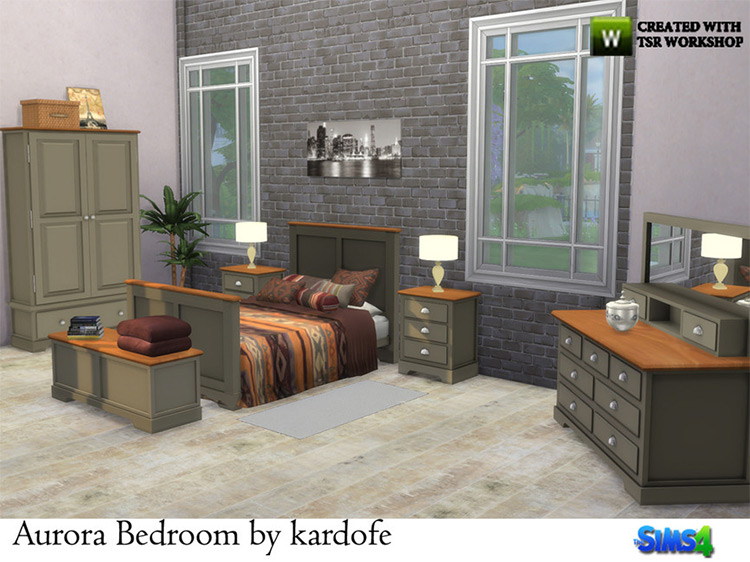 There's something extremely satisfying about this set in particular.
The way it all goes together.
The choice of colors. (I love the teal.)
The detail in the bedding.
But really, the great thing about this bedroom CC style is that it could work for anyone. A young Sim, an older couple, or a pair of busy parents.
Anyone who likes a bit of fun but is all about functionality, too.
In my opinion, this bedroom set would be ideal for that apartment that all your Sims always temporarily rent when they move to the city.
12.

Willow Collection Bedroom by greyzonesims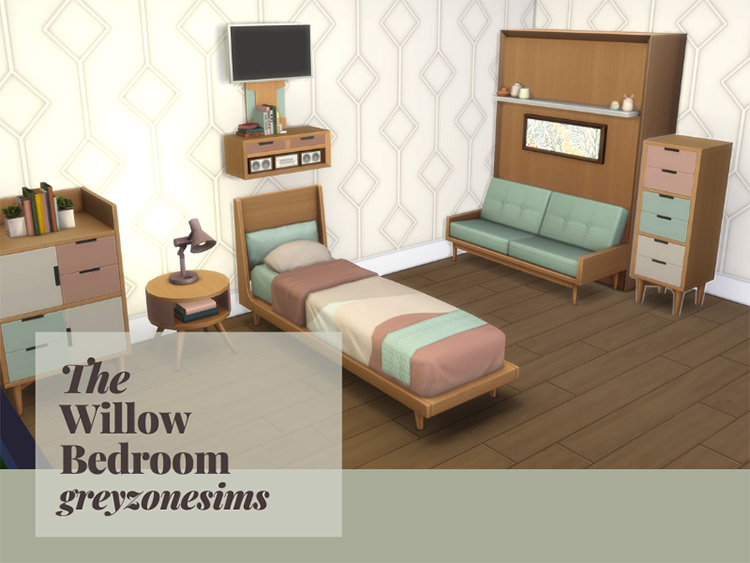 Talk about awesome color palettes with this one!
This Willow bedroom CC collection puts colors together in a way that I wouldn't have come up with. And it all works super well.
You have the dark version, the bright version, and the light version.
All perfect.
This bedroom would be excellent for a college student – or maybe even a trendy teenager!
It looks personalized and so fresh. Imagine all the impressed friends your Sim will have after their next sleepover.
13.

Hinterlands Bedroom by Peacemaker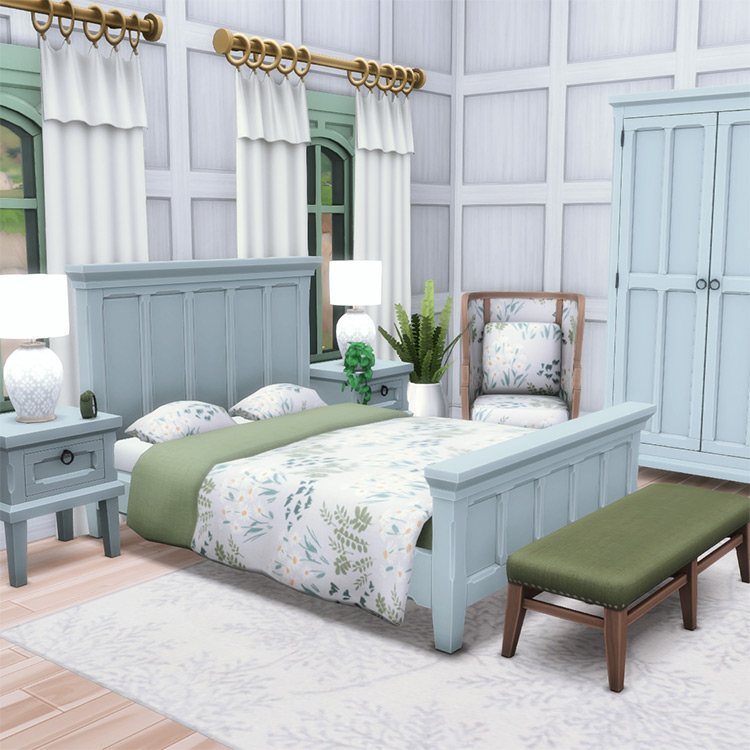 Cottagecore is popular for many reasons.
One reason is that it's adorable. And so is this cottage-core-vibe bedroom set.
Think country style. Think lots and lots of florals and pastels. This 16-item collection is simply a fantasy.
There are even enough pieces and designs to make an adult's bedroom, as well as a kid's bedroom, too.
Why not have your whole house be cottagecore, right?
Personally, I can't get enough of that sweet wingback armchair that matches the bedding. How charming is that?
14.

Sleek Slumber by littledica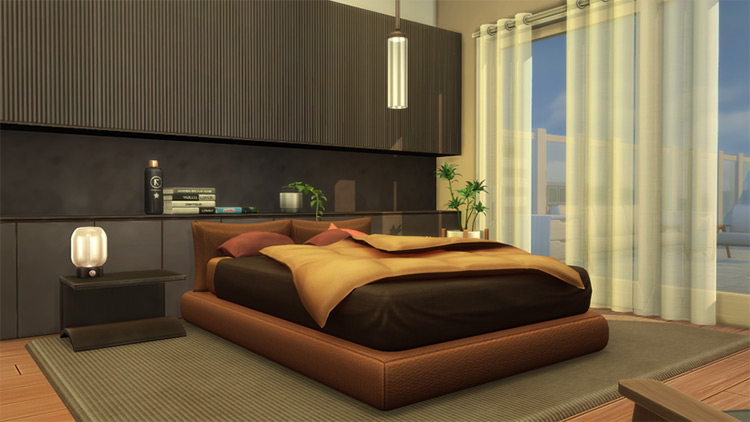 You'll notice this CC set has the word 'sleek' in its name. And rightly so.
This is the sleekest, dare I say sexiest bedroom out there!
It's mainly decorated with neutrals, but the subtle pop of color brings it all together.
This is the perfect bedroom set for all your hardworking couples that look for comfort and relaxation at the end of the day.
Who wouldn't want to unwind in this gorgeous room? It almost makes me wish I were a Sim.
15.

Urban Bedroom Kit by quirkyintrovert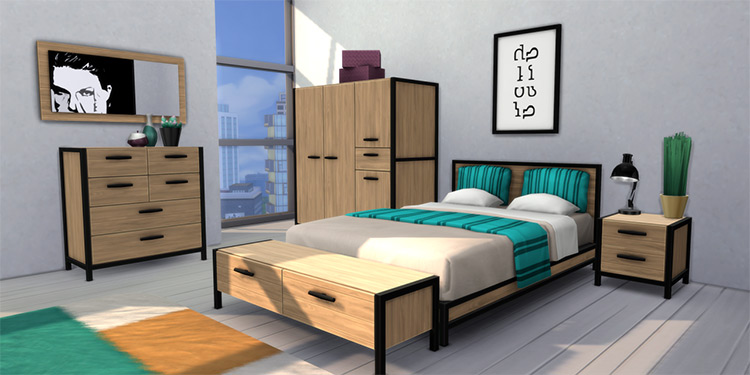 Now. Listen. This is the one.
This is the CC that captures the spirit of the city the most. It has everything a true city-dweeling Sim needs.
Eye-catching wall art.
A collection of succulents.
Enough furniture to build a walk-in closet.
If you have that one Sim that dreams of making it big and becoming a style influencer, you need to get them started with this bedroom set.
Not only is this set jaw-droppingly beautiful, but it's also massive. Download this and you're looking at 50 new pieces that will transform your game.
Browse:
Lists
Maxis Match
The Sims 4
Video Games