Best Maxis Match Belly Button Piercings (Sims 4 CC)
This post may contain affiliate links. If you buy something we may get a small commission at no extra cost to you. (Learn more).
Piercings are more popular now than ever.
But Sims have kind of been left out of the fun.
Sure, they have earrings, and we got some facial piercings with University Life.
But for anything else, custom content is all we've got. It's a good thing there are ample options just waiting! Skim this collection to easily find the belly button accessory that's just right for your Sim.
1.

Pikypikachu's 3D Belly Button Ring
This ring may be small, but the minimalistic style is actually quite eye-catching.
Without CC, there's no body jewelry at all. So a navel ring is a big change no matter the size!
It's really one of the best creations you'll find for this look.
You can tell the creator, Pikypikachu, really went all out with this realistic but still decidedly Maxis Match mesh.
The two little studs, which go above and below your Sim's belly button, can be changed to any one of four awesome swatches.
2.

Star Piercing Pack
Things are kicked up a notch with this slightly larger, more prominent piercing.
A lot of people love the way diamonds sparkle, but that effect is often hard to find in The Sims 4.
Even the fancy necklaces in the base game have sort of a flat, lackluster appearance when it comes to the stones.
Well, these little stars certainly don't lack any sparkle. Each one has a beautiful array of colors, except for one clear, more classic diamond-like swatch.
Even from a distance, it's plain as day!
3.

Simduction's Belly Button Piercing
Flowers are forever going to be lovely.
Whether they're on wallpaper, clothes, or in the form of jewelry really makes no difference!
Here, Simduction has made four variations of a large piercing that'll cover your Sim's entire belly button.
We have so many crop tops available in the game, it's a wonder these haven't been added officially already. It should be really easy to show this beauty off.
And since it's a flower, it'll go with any style easy peasy.
4.

Anchor Belly Button Piercing
Strangely enough, anchors have become a pretty popular symbol in recent years.
It all really depends on your Sim what kind of vibe you want to go with.
Are they a salty sea dog of Brindleton Bay? Perhaps a beach lover, or even a mermaid?
Well, like flowers, anchors are for anyone.
These have a metallic texture and the four swatches of gold, silver, gray, and black are nice and shiny both close up and far away.
5.

Zara Belly Piercing
Suzue brings us another modest piercing, this time in the form of some simple studs.
Each one is lined with some tiny stones, throughout all five metal-toned variations.
The small size and basic design in no way detracts from the quality of this accessory. Since there are no existing models, Simmers must really do some improvising to create jewelry for this part of a Sim's body.
Since it's found in the gloves category of CAS, Sims won't be able to wear gloves and the Zara Piercing at the same time – but that's really a small price to pay.
6.

Pearl Belly Piercing Set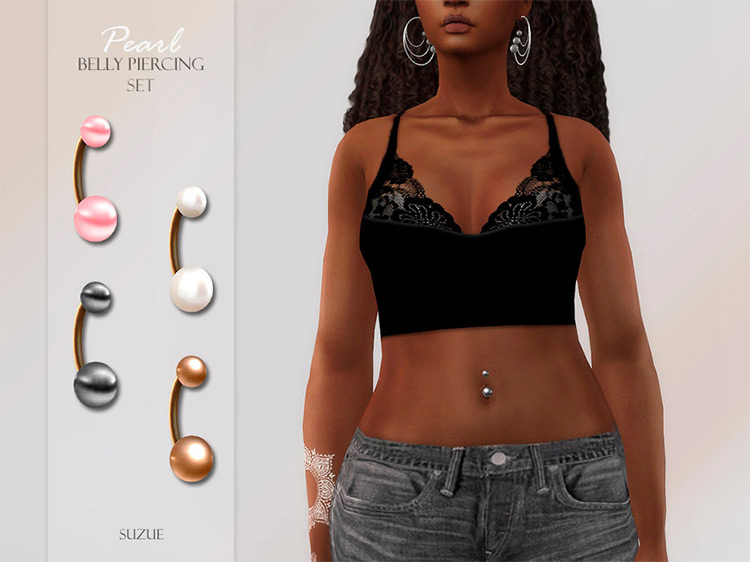 It's hard to compete with the elegance of pearls.
So simple, yet so gorgeous and classy.
We finally got this style into the game with Cottage Living, in the form of necklaces. But Suzue has got a different type of jewelry here, giving pearls a welcomed modern twist.
This set features two pearls, one small and one large.
Though there are just two, there's no doubt they're as striking as always.
Ivory may be the standard color, but pink, bronze, and black are available too.
7.

Chloette's Belly Button Piercings
Two more simple designs are included in this CC set, and one is quite a change of pace from what we've seen so far.
It's a dangly piering! That's a little bigger and bolder than the smaller styles, but a stud is also included.
They both are pretty subtle unless you're zoomed in super close. You can't miss them, though!
You'll actually find these in the tattoo section of CAS. Since TS4 doesn't have a body jewelry category yet, Simmers have got to improvise.
8.

Belly Piercing Set #1
The 10 swatches of this small, three-dimensional piercing are packed with color.
Due to the way the mapping works with these, they will only appear on slimmer Sims.
On heavier body types and pregnant Sims, you won't be able to see them.
Aside from that, this is really versatile. Gemstones are always a solid choice and belly button piercings are no exception.
These are actually really similar to some of the base game earrings, so you could easily do some matching if you want!
9.

Belly Piercing Set #2
Religion is kept out of The Sims for the most part. But a cross is still a meaningful symbol to many.
Cross earrings and necklaces alike are still very popular, and a belly button piercing is just adding onto that.
Your Sim can wear this loud and proud. It's got a super clean & sleek design that's emphasized even more by the various metallic swatches.
Silver or gold might be the typical options, but there are also some bright, fun colors.
10.

Belly Piercing Set #3
If you just want a piercing that's chic and vibrant, then this is the set you're looking for.
This unique design features a tiny, spiky ball.
That sounds kind of crazy but in action, it's really amazing.
All of these 18 swatches are one of a kind. Sims just don't have anything else like this in the base game.
Each piercing has a black base, but the color varies wildly. If you look closely, they actually have a trippy little design and very bright, contrasting colors.
Browse:
Lists
Maxis Match
The Sims 4
Video Games