Best Maxis Match Blush CC for The Sims 4 (All Free)
This post may contain affiliate links. If you buy something we may get a small commission at no extra cost to you. (Learn more).
There was a time when the makeup trend was no blush. Can you imagine?
If I go on Instagram or TikTok today and search for trendy makeup looks, I guarantee all of them will have blush galore. But ten or so years ago, what was in was "snatched" aesthetic; no blush, all contour.
Thankfully, we're past that. Because I definitely like blush better. I hope your Sims do too.
1.

Autumn Blush by onceabluemoonsim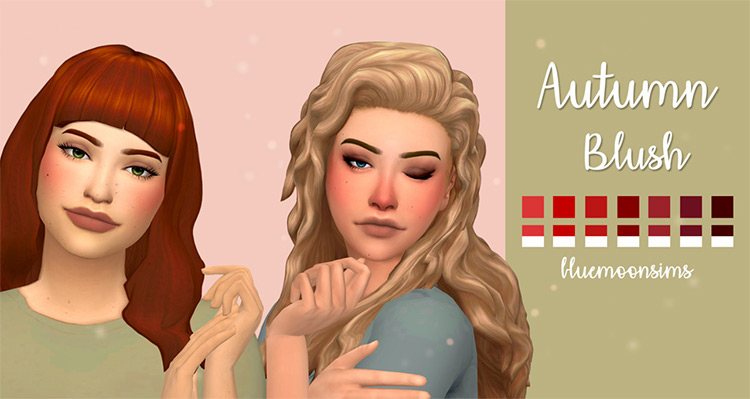 This Autumn Blush by onceabluemoonsim is cute, beautifully blended, and has plenty of style options to play around with.
Aside from seven color choices (of varying shades and depths) for the nose and cheek area, the creator also include seven bonus swatches that apply color to just the upper cheeks. It's pretty neat, having so many options.
2.

Cute Blush by voidboredom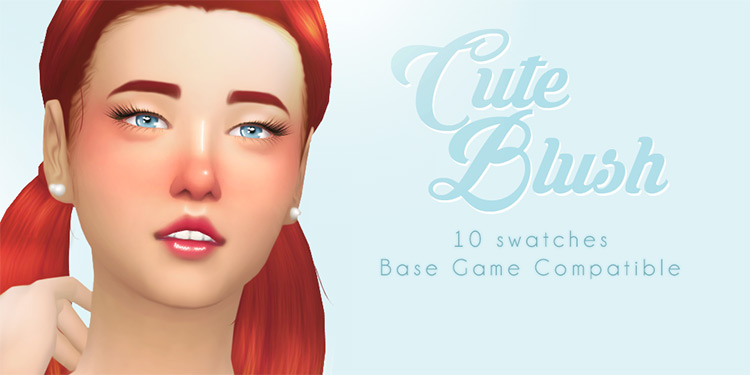 This one's pretty self-explanatory—and true to its name.
Voidboredom's Cute Blush adds an adorable flush to your Sim's upper cheekbones and nose area to create a youthful, innocent complexion.
It also works pretty well with most custom default and non-default skin overlays.
3.

Don't Make Me Shy by Guradzu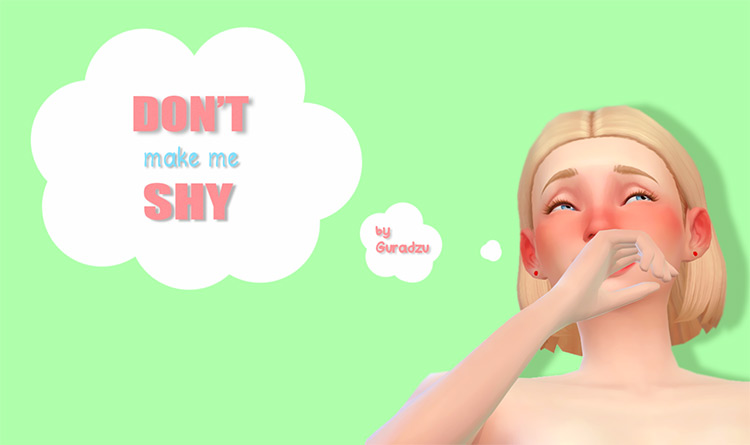 Speaking of options, how about a nice, smooth skin overlay + blush combo where you can choose the blush opacity?
That's what this Don't Make Me Shy set by Guradzu is, basically. A custom non-default skin overlay that evens out the planes of your Sims' faces, and a simple Maxis Match blush that provides a swathe of color over the nose and upper cheeks.
And you get to decide how pigmented you want it to be.
4.

Igari Blush by dirtsims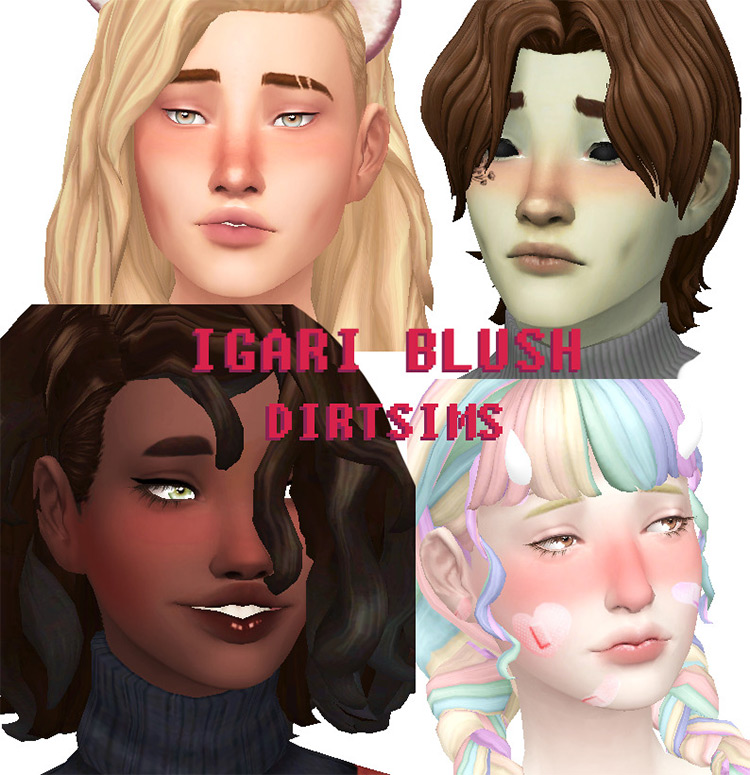 The term igari or igari makeup in Japanese roughly translates to "hangover makeup."
It uses as much blush as feasibly possible, and then balances it out with very minimal or natural-looking makeup everywhere else.
And it's apparently called "hangover" because it's meant to emulate that drunk flush most people get.
5.

Flushed Blush by simulationcowboy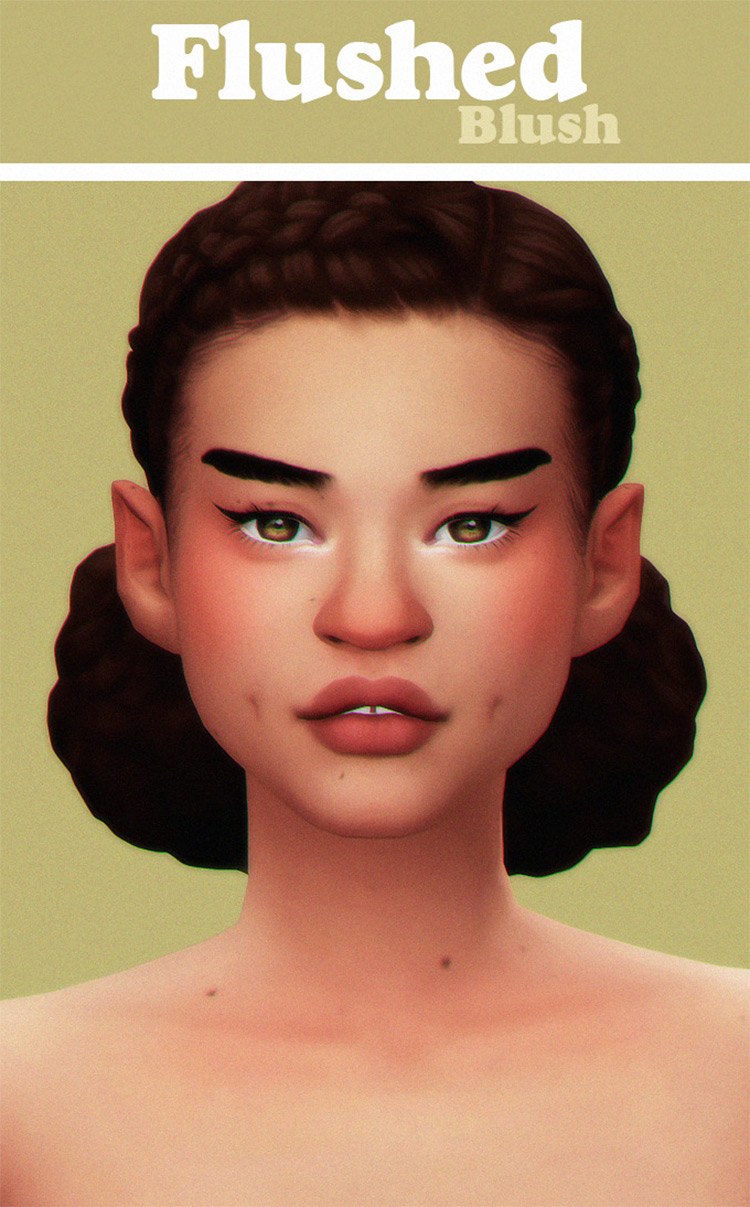 As it says in the title, this blush gives your Sims a very light, very natural-looking flush.
There's just the slightest hint of color around the cheeks and cheekbone area. That, plus the twelve color options it comes in, makes it look great on virtually any skintone (custom or not!).
6.

Lillian Blush by onceabluemoonsim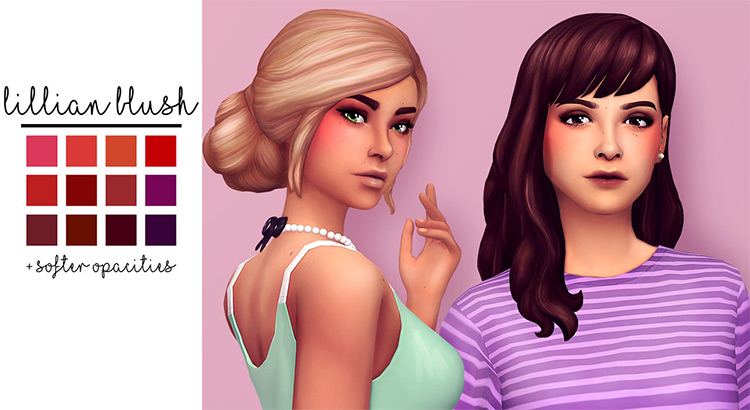 I love the placement of this custom blush (high on the cheekbones, near the corner of the eyes) because it's closest to my personal style.
I also love the fairly varied color options (twelve total, ranging from a light rose to a very dark violet).
The fact that each swatch comes with two opacity variations each just sweetens the deal!
7.

Babie Blush by RVaiiyne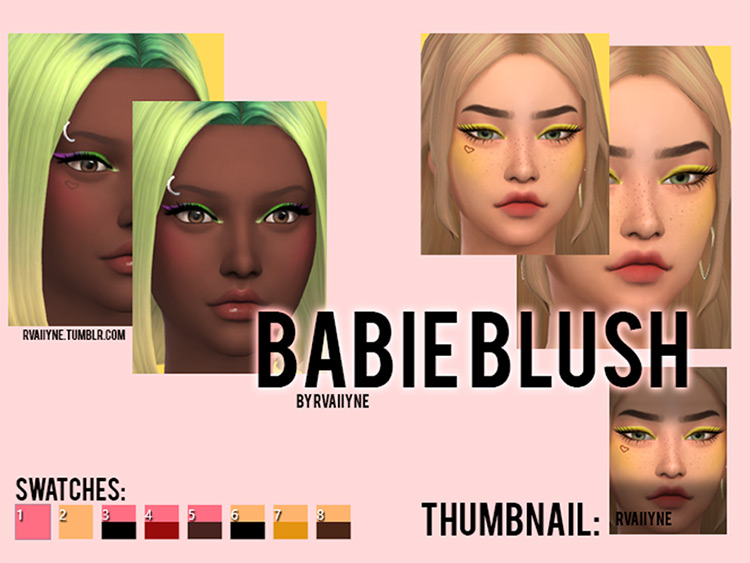 So this one's a bit different in the sense that it only has two major colors: yellow and pink. Already; a yellow blush? Pretty unique.
But the creator expanded the options to eight swatches by adding a cute little heart stamp as part of the blush (goes right below the right eye) in varying complementing colors.
The overall effect is incredibly adorable (and subtly e-girl).
8.

Strawberry Blush by creamlattedream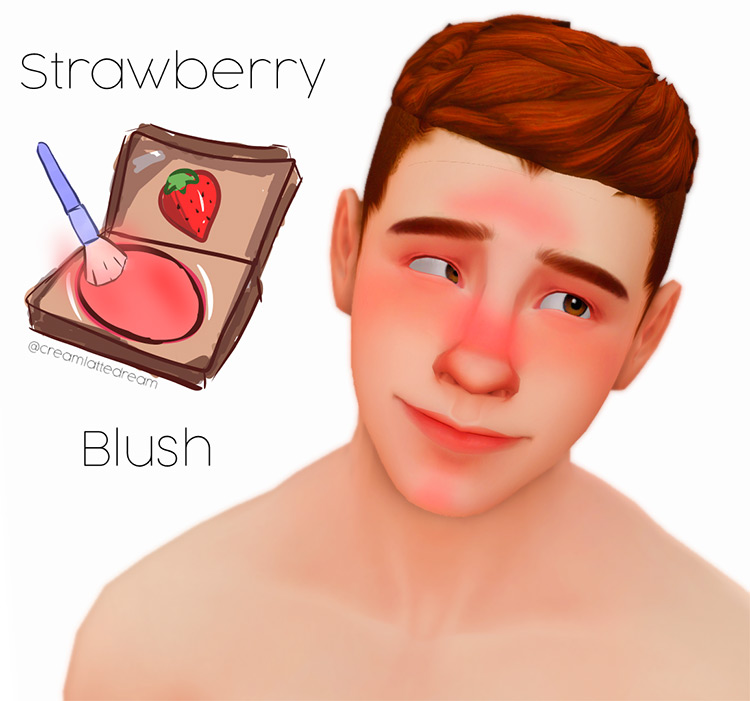 One of my go-to custom CC blushes for Male and Female frames. Absolutely love how customizable the pigment placement is (you can opt to remove the forehead and/or chin blush) and the fairly varied color options.
Plus, it's CAS slider compatible.
9.

Meredith Eye Blush by MSQSIMS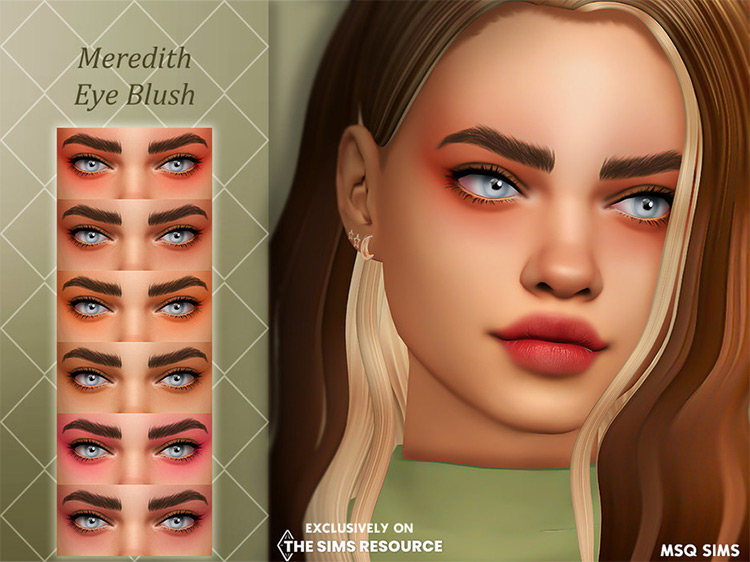 This custom blush placement is pretty uncommon, so I was pleasantly surprised to see that it photographed really well in-game. MSQSIMS basically puts the color way above the cheekbones so that it hits your Sim's outer eye area.
Kind of like extended eyeshadow, only softer and subtler.
10.

Cold Noseblush by Sagittariah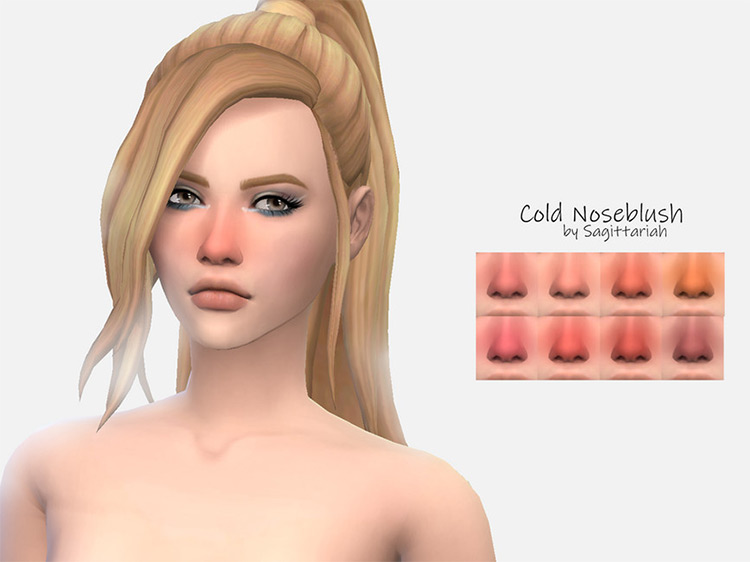 As someone who loves a good splash of color across my Sims' noses, I'm always on the lookout for this style of blush.
Saggitariah's Cold Noseblush definitely delivers. Plus, I like how the different color options look on EA default and custom skinblends.
11.

Blue Skies: Body Blush by simandy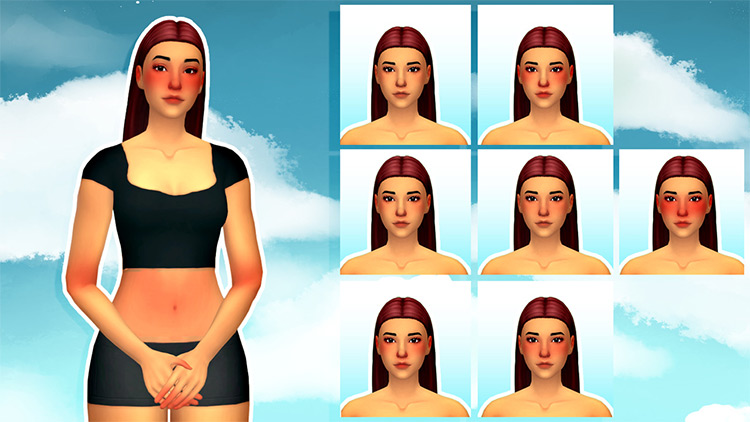 Full body blush is something I just recently got into for CAS options, but I have no regrets.
The random splotches of color around the knees and elbows look really good in CAS and in-game.
If your Sims (like mine) dress up mainly in shorts, skirts, and short-sleeved tees, I recommend adding body blush. It's something subtle but extra that really helps accentuate the outfit!
12.

Colder Spring Blush by Sagittariah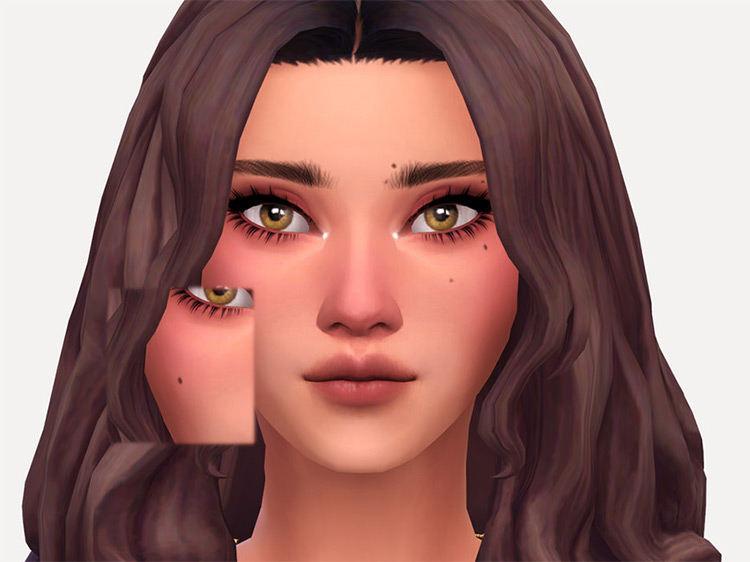 Although this blush only comes in five color options, it's still one of the most versatile ones I've had the pleasure of trying. And that's thanks to its opacity.
Each color comes in the prettiest, softest sheen that blends out almost flawlessly on your Sim's skin.
I haven't tried it with EA's default skin yet, but I have tried it with a custom overlay I personally use and, trust me; it is stunning.
13.

Sunburns Are Cute Blush by candygarden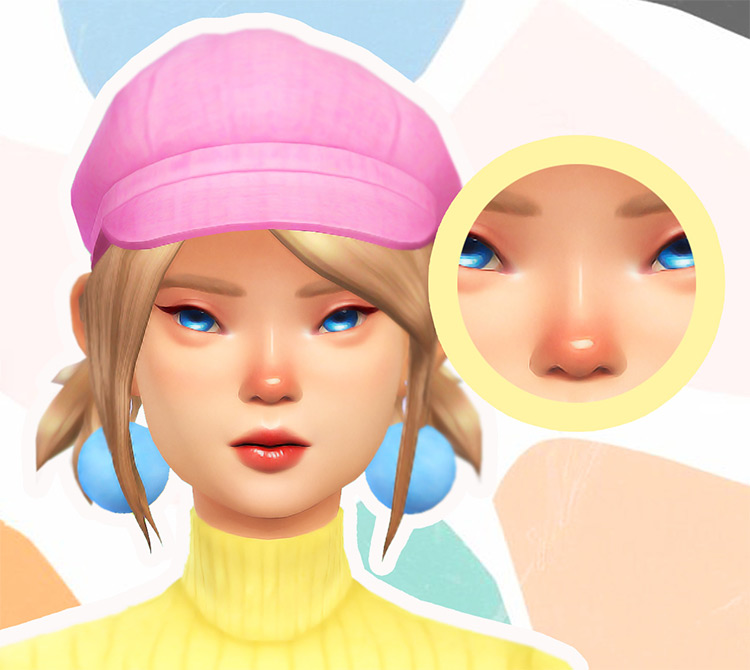 I have to agree with the creator on this one; sunburns are cute!
(Sometimes.)
This custom blush follows that principle by adding a little dab of color on the tip of your Sim's nose to make it look rounder and more button-like. It also adds the slightest bit of highlight to the inner corner of your Sim's eyes for a refreshed look.
14.

Peachy Keen All Over Body Blush by candygarden
This is, according to the creator, the full-body version of their Sunburns Are Cute blush.
It covers the usual highlight points on the body and comes in several peach-based shades that flatter a wide range of skintones.
15.

Temple Blush by Sagittariah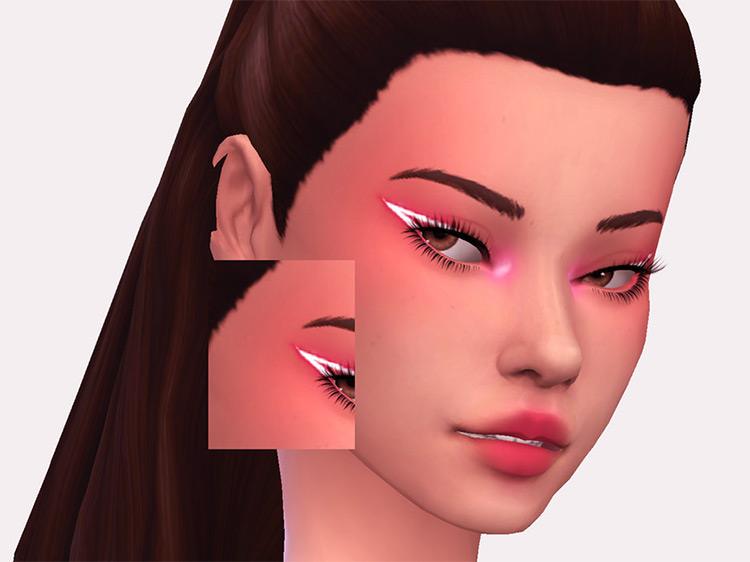 This here's another custom blush with an interesting pigment placement.
As you can guess from the title – and see from the preview photo – it places the color right at the temples. It's kind of like MSQSIMS's Meredith Eye Blush in the sense that it looks like eyeshadow that's been fanned out and blended.
16.

Pumpkin Spice Blush by Sagittariah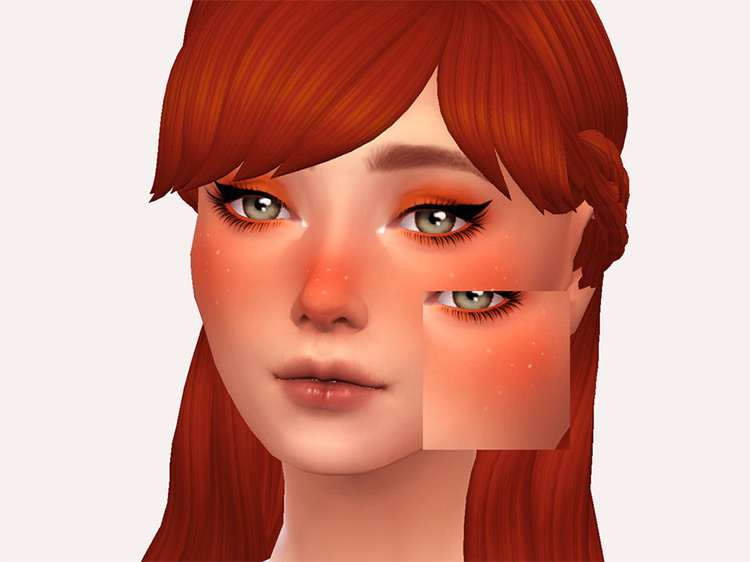 The term "pumpkin spice" will forever be equated with scarves, beanies, and fashionable padded jackets.
So the fact that this Pumpkin Spice blush has an exclusively fiery, autumnal palette makes perfect sense.
17.

Cinder Blush by weepingsimmer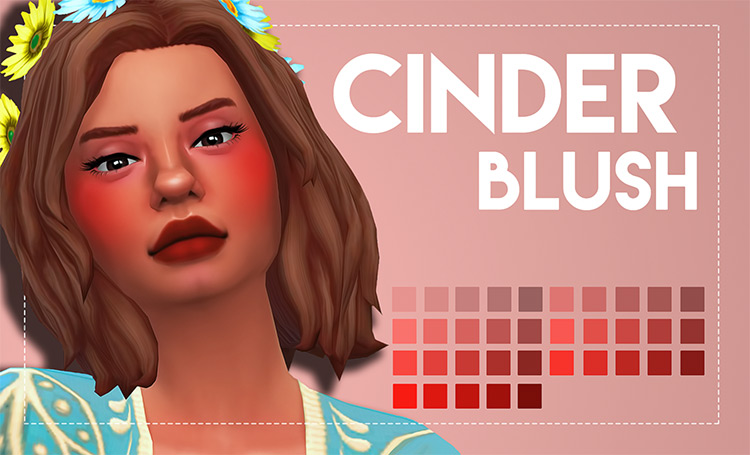 I've introduced a lot of soft, subtly blended out blushes with a near-translucent sheen.
But if you want more than just a "hint of color" to grace your Sims' cheeks, look no further; weepingsimmer's Cinder Blush is an incredibly pigmented blush that's set to max opacity.
Trust me when I say that it'll show up strongly regardless of which color you use (and you've got 35 options).
18.

Hibiskus Blush (Updated for Toddlers) by weepingsimmer
This blush is actually a recolor of one of the base game blushes.
According to the creator, it's been edited to look more vibrant, work for toddlers, and come in more colors. 40 shades, to be exact.
Now that's what I call variety!
19.

Cloudy Blush by Sagittariah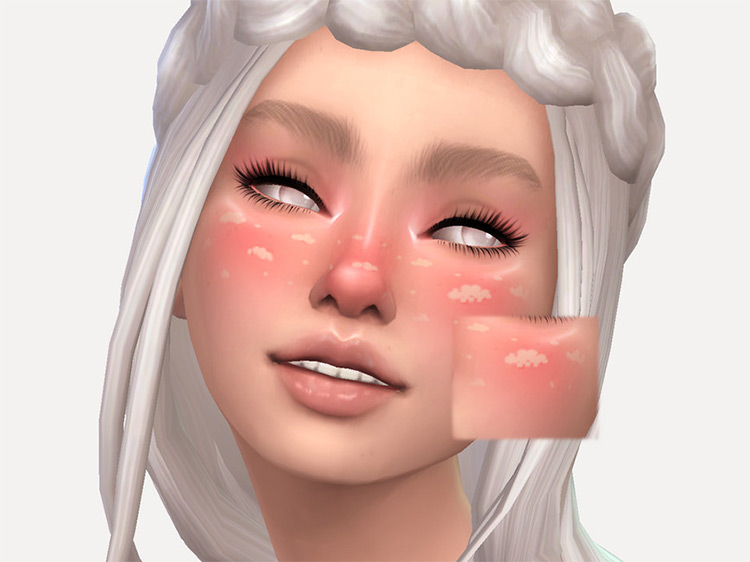 Why go for subtle when you can choose art?
If you've got a TikTok-gen Sim who's really into the e-girl/soft-Sim aesthetic, Sagittariah's Cloudy Blush is perfect. A wash of color (five options!) across the cheeks and nose, dotted with a smattering of cute fluffy clouds?
What's not to love?
20.

Subtle Blush by tragicsimblr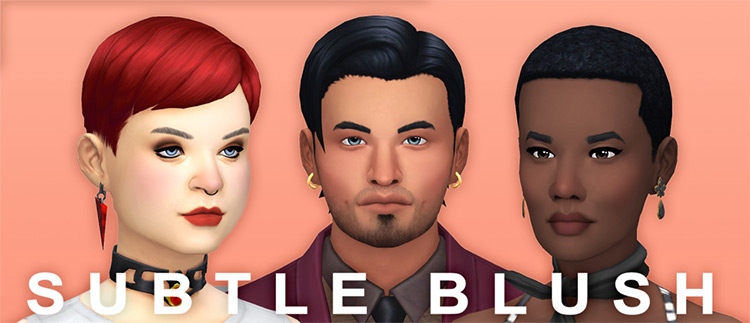 Okay, if the clouds were too much, I can dial it back.
Here's tragicsimblr's Subtle Blush.
It can be exactly as the name says; subtle. It can also be highly pigmented if you want!
That's because it comes with four intensity options. 25% is practically non-existent (unless you squint) and 100% is what happens when someone gets a little too enthusiastic with the blusher.
Browse:
Lists
Maxis Match
The Sims
Video Games