Sims 4 Maxis Match Boots CC (Male + Female)
This post may contain affiliate links. If you buy something we may get a small commission at no extra cost to you. (Learn more).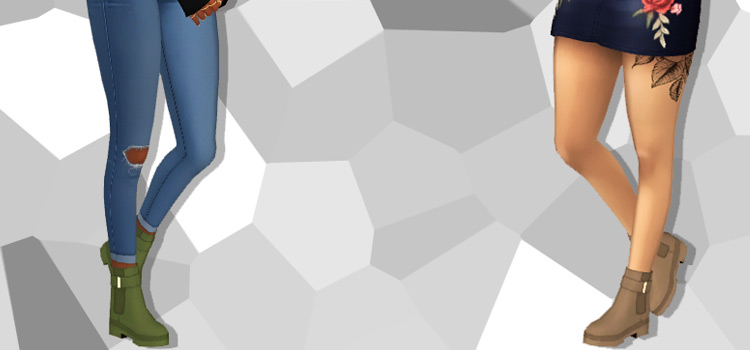 Boots are bound to make anyone feel bad to the bone.
They're great for casual outfits while still bringing a little more edge to the table than sneakers.
Adding more options to your Sim's wardrobe will just open up more possibilities in CAS, so take full advantage of this hand-picked Maxis Match collection!
1.

Maxis Fisherman Boots Recolored
Is your Sim a working man?
Then he'll need a working man's footwear… in pretty colors, of course.
Whether he's a fisherman, famer, or is in the vague "manual laborer" career, Gorky7's new and improved rubber boots will do the trick. They even threw some dirt textures on for good measure.
2.

Tall Rain Boots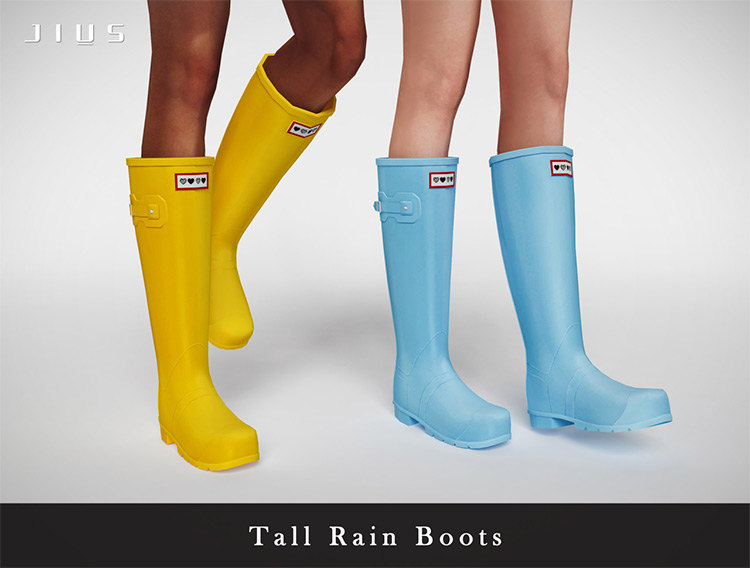 Here are some rain boots tall enough to protect your Sim's pants from even the deepest, spashiest puddles.
27 very solid and vibrant swatches are available so you can color coordinate them with your Sim's outfit easily enough, if that's your thing.
You don't even need Seasons to enjoy them!
3.

Madlen Zora Boots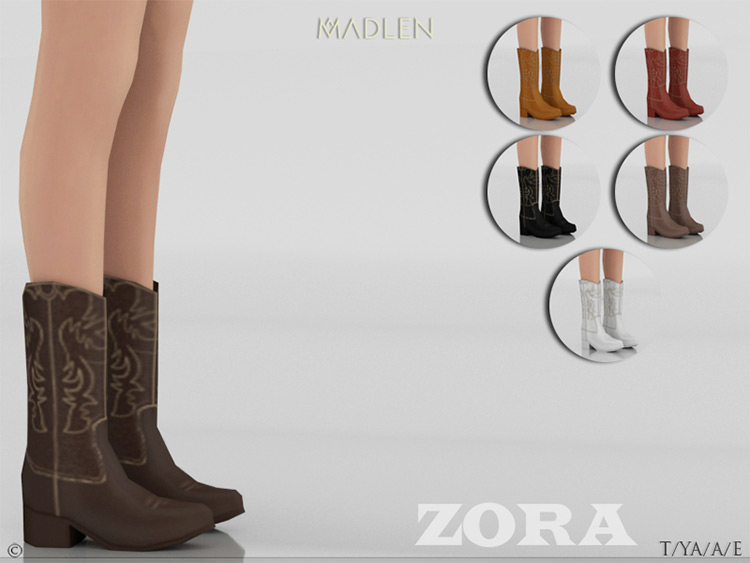 Cowboy boots are the bread and butter of country folks worldwide.
Unfortunately, since The Sims 4 is mainly urban, our options are super limited.
Madlen's new mesh features a great leather look and ornate detailing. They come in standard shades of brown, black, and white.
4.

Noctis Boots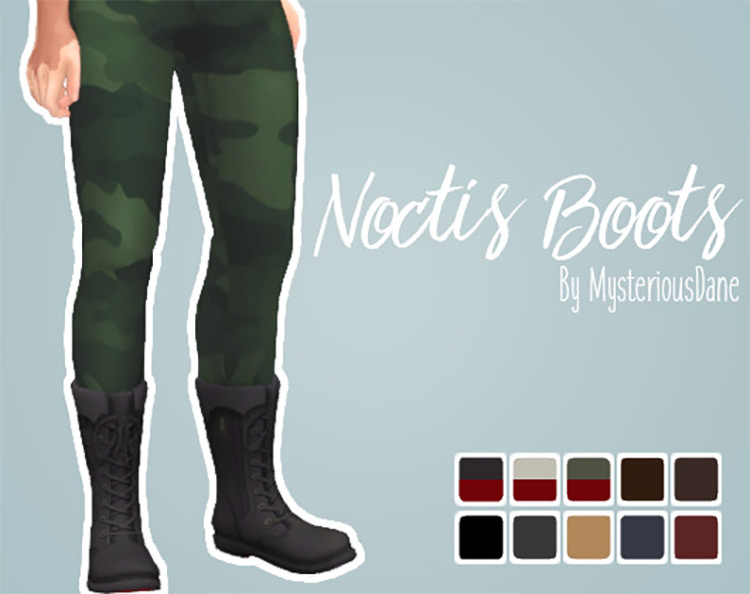 Although these are based on a character from the Final Fantasy series, they're just some awesome combat boots at the end of the day, really.
They're bigger and better than the ones we're familiar with from the base game. All of the added swatches are a nice touch, too.
5.

Child's Play Rain Boots (Seasons Required)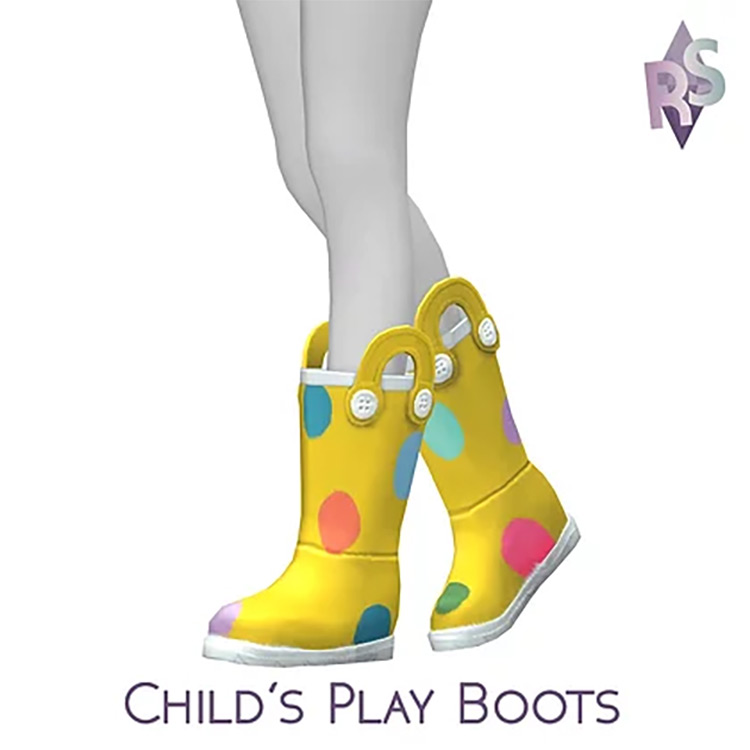 Seasons adds so much great content for all ages that is… seasonal.
Shocking, right?
The toddlers and kids got so much cute stuff, but it's great for grown ups, too! RenoraSims has converted this classic rain boot design for use by children and adults alike.
6.

Thunderous Boots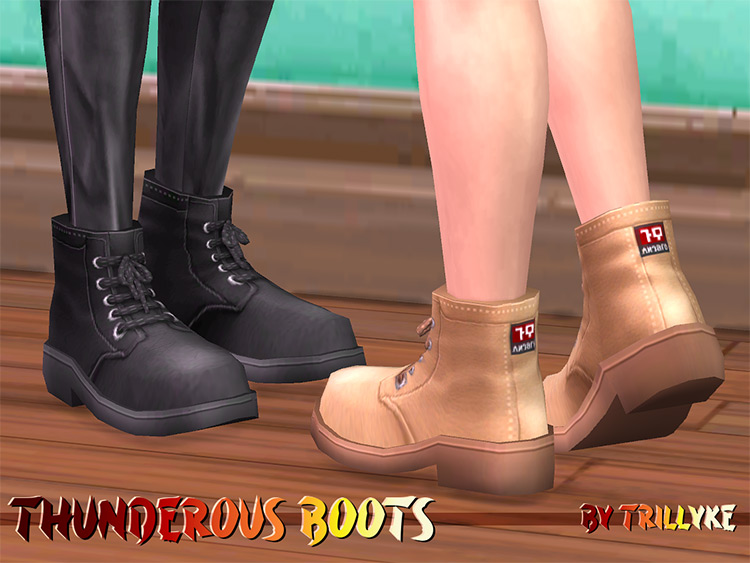 Here's something snazzy that'll bring a masculine flair to any outfit.
Trillyke's Thunderous Boots will leave quite an impression. The leather texture is just flawless, and there's some great stitching, tag, and shoelace details. Most men's boot options are tall but these are about ankle height.
7.

Road Trip Boots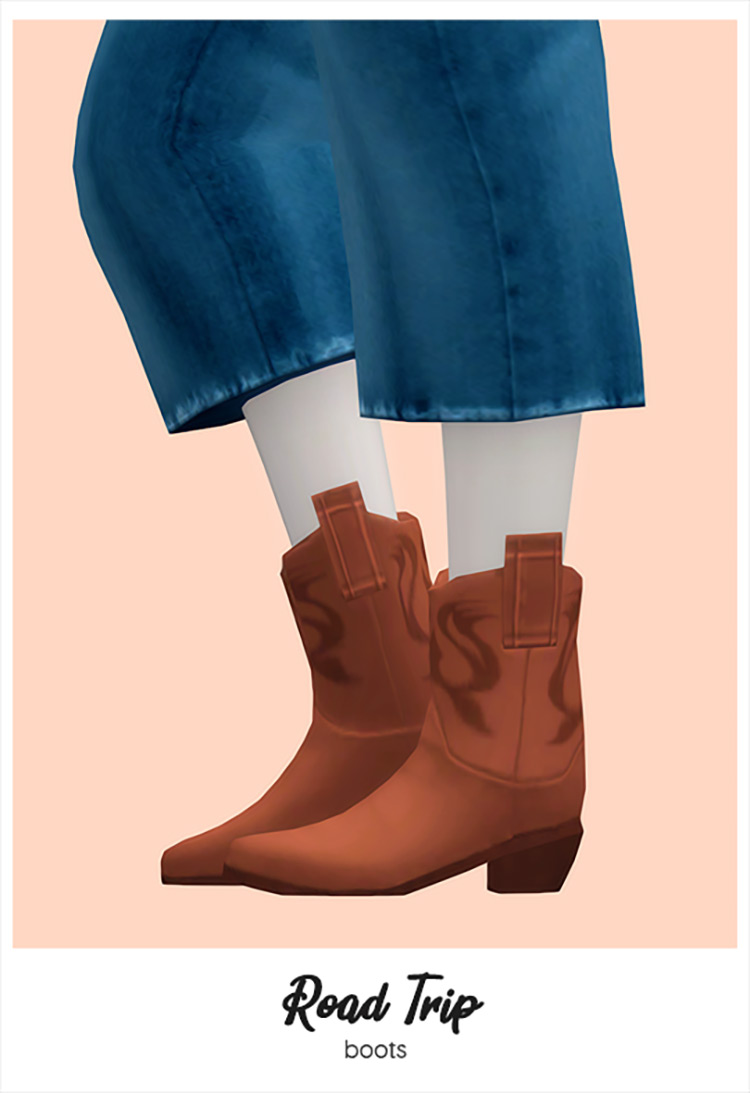 Although this collection has all sorts of attire based on the impeccable vibe of StrangerVille, the modified cowboy boots are why it's been included here.
They aren't as hardcore western as the original ones. Now that they've been turned into an ankle boot, they're even cuter.
8.

EA Buckle Boots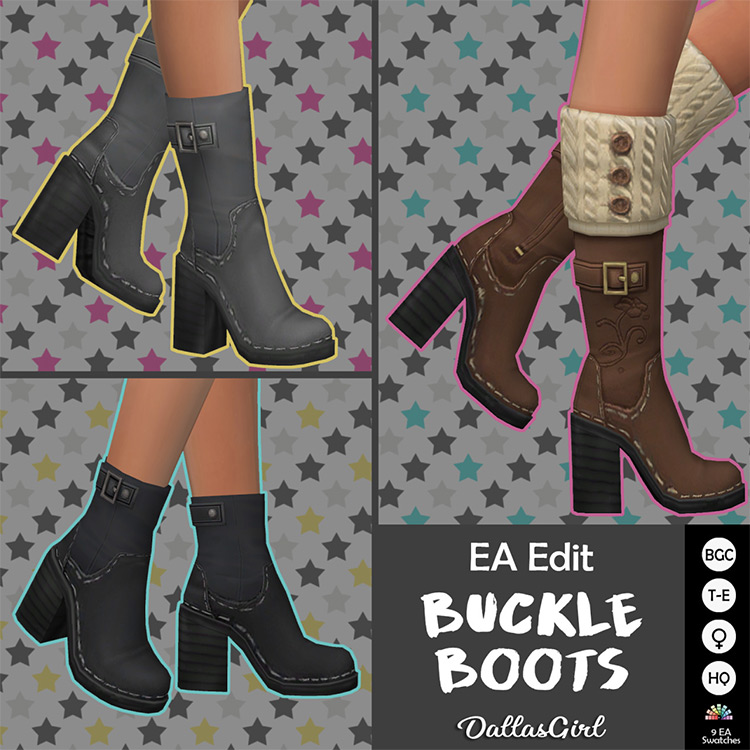 More personalization options are offered with these boots than ever before. Not only can you add or remove the cozy knit cuff as you please, but they're even compatible with a height slider.
That's a whole separate mod, but it's awesome to have the option!
9.

Doux Slipper Boots
Speaking of cozy, slippers really have that market cornered.
There's nothing better than sticking your feet in a pair of soft, fuzzy little clouds.
These booties definitely look more comfy than the base game slippers, so go ahead and upgrade your Sims's pajama situation.
10.

Cowgirl Boots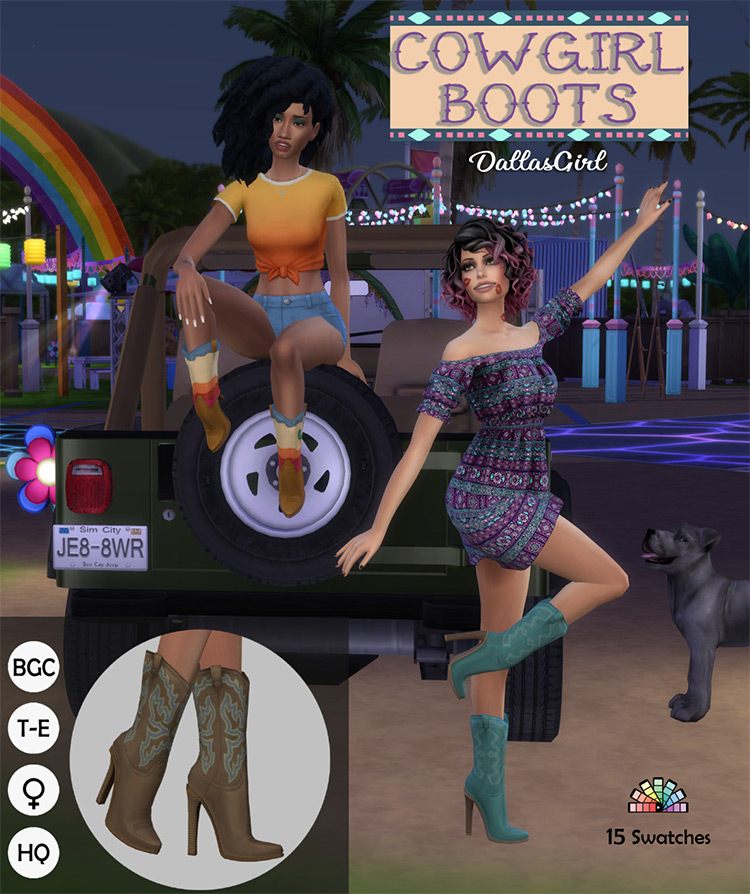 Here's something for when you really do want to fully embrace the cowgirl look.
Western aesthetics are just so charming, and that's what each of these watches focuses on. I'm talking cacti and sunsets, turquoise, daisies… these boots are western from the tip of the toe to the block of the heel!
11.

Mars Boots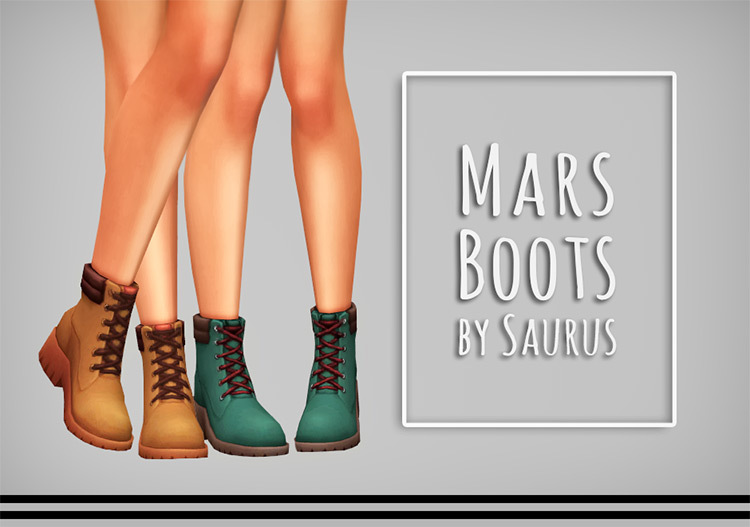 You may just find these to be among the most versatile boots around.
They're super basic but that's what makes them so handy. Whether your Sim is an outdoorsy gal or just needs more practical footwear, these will fit her look.
A wide variety of colors are covered by the 25 vibrant swatches.
12.

Diodato Boots Recolored
Madlen's original design was nothing short of a masterpiece, but some more swatches are always in demand.
Here these tall, retro-influenced boots still have a modern twist, thanks in part to the vast palette of colors. They're even tagged for cold weather, which is great if you have Seasons.
13.

Better Than Mosc Boots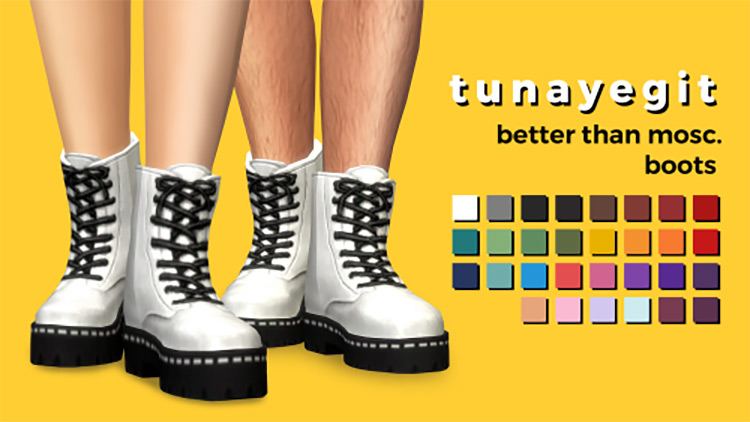 These are a little like Doc Martens, just a bit bulkier than the classic design. That thick, chunky sole looks sturdy enough to handle even the roughest terrain.
After a minor mesh edit, they're now base game compatible and available to both masculine and femine Sims!
14.

Adam Gusset Boot (Cats & Dogs Required)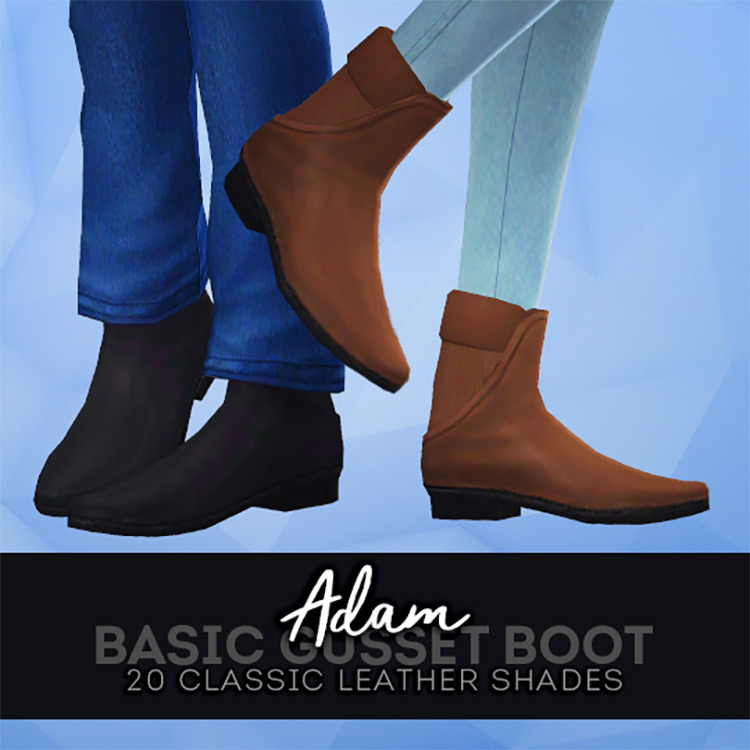 It just goes to show how much of an impact recolors can have, because Pleyita's makeover of the male boots from Cats & Dogs is totally unrecognizable.
They've been given a really fresh look here that brings out the leather texture.
The swatches all lean into that vibe, providing plenty of new leather options.
15.

Echo Boots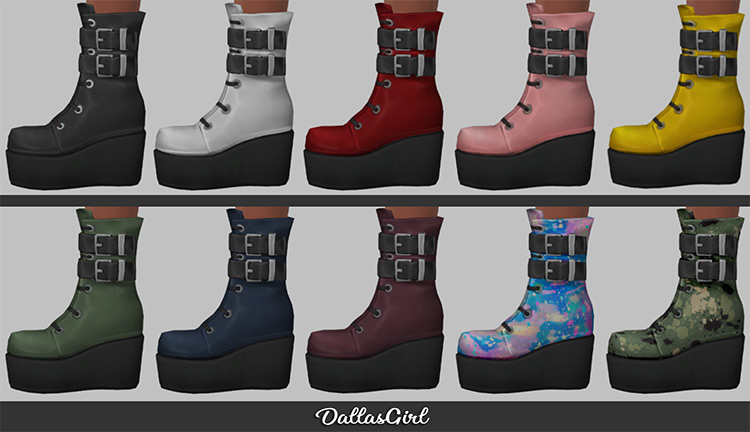 If you're looking for something truly unique, DallasGirl has got your back.
From the super high platform heels to the chunky buckles, the Echo Boots are just overflowing with style and originality. It doesn't stop there, though. Both guys and girls can enjoy these, and the equally impressive designs that come with them.
16.

Seasons Boots Long & Short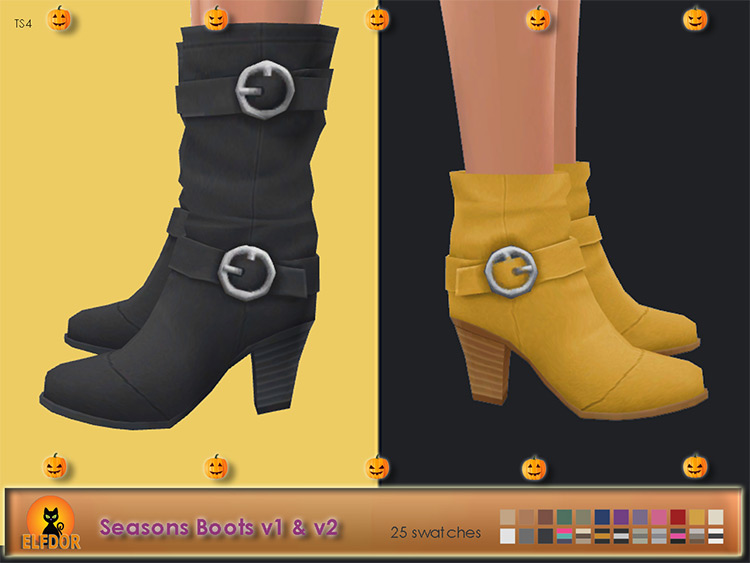 Despite the name, both versions of these are base game compatible now thanks to Elfdor's edits!
Just as chic as before, these heeled boots are fastened on the side with stylish buckles. Now there's an ankle boot version, as well as the classic taller style.
17.

Chelsea Boots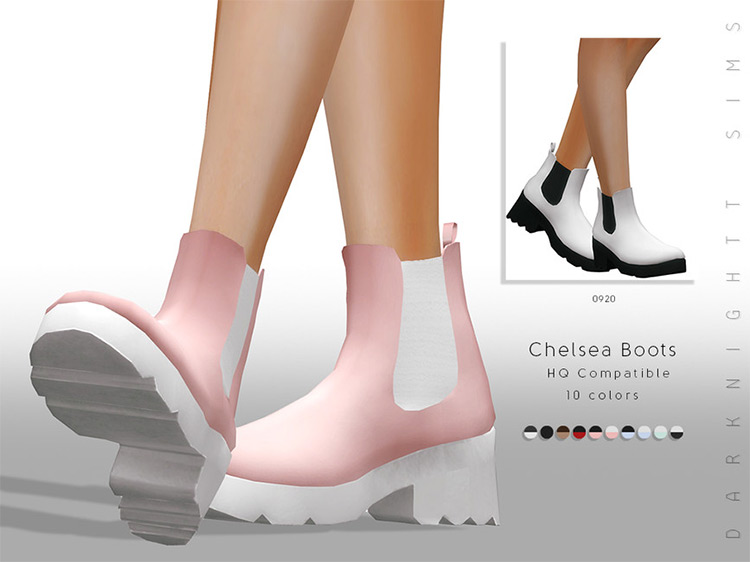 Bulky heels might be "in" now more than ever, so Sims will be very fashionable thanks to this creation.
Other than that, these have a very simple pull-on design. In the absence of laces and all that comes with them, we have a smooth surface that's great for all sorts of colors.
18.

Dahlia Boots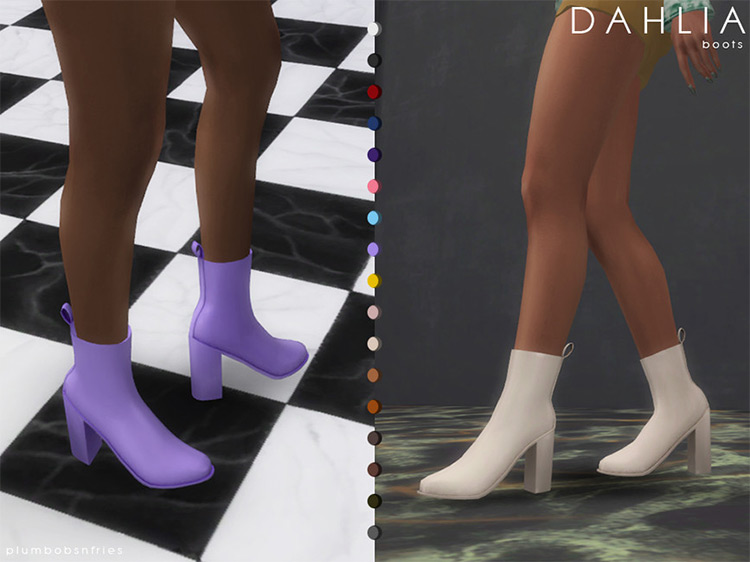 The sleek, minimalistic design of Plumbobs n Fries' Dahlia Boots makes them a fantastic footwear option for almost any taste or outfit.
There's a lot to choose from!
The darker shades are perfect for punk and goth Sims, the white ones definitely bring a vintage feel, and brighter hues are super trendy
19.

You're An All-Star High Top Boots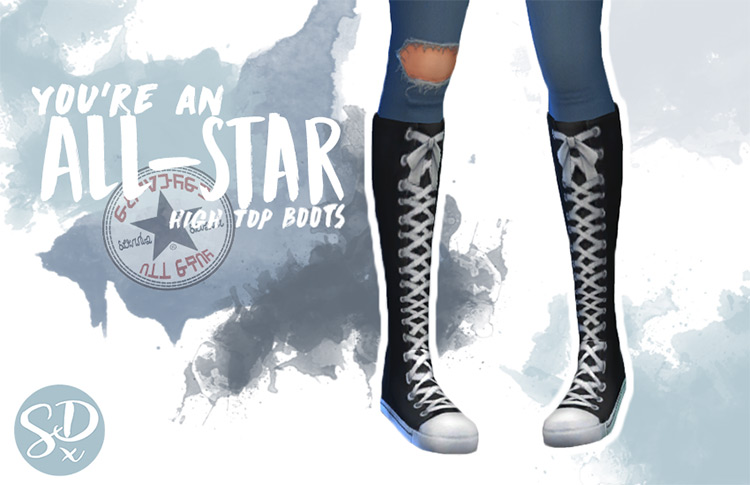 Converse are never going to stop being cool.
And as great as the high tops already look, how about high top boots?
I know, these have always been mind-blowing. Now Sims can wear these beauties too.
Sondescent did a fantastic job with them, they're honestly flawless.
20.

Madlen Mitra Boots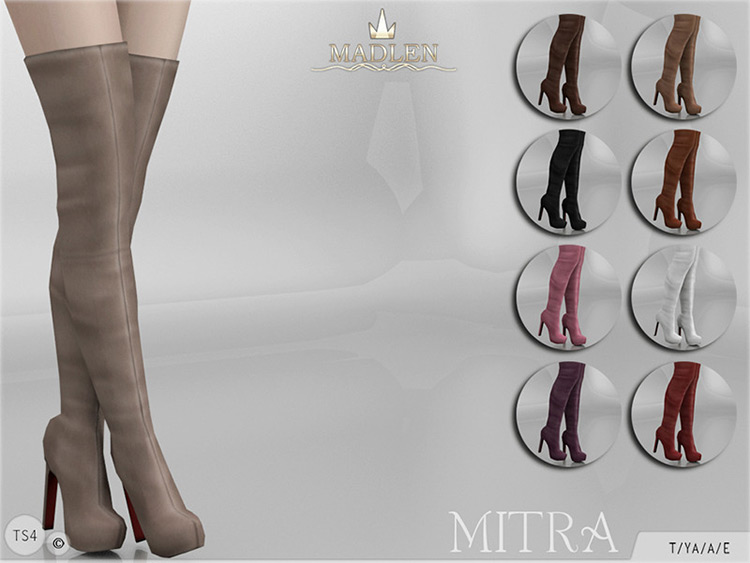 Your Sim will definitely be eye-catching when they've got Madlen's Mitra Boots.
And they don't stop at the knee. They keep going all the way up to the thigh.
Although all adult Sims have the same length legs, these boots will make them look longer for sure!
Browse:
Lists
Maxis Match
The Sims 4
Video Games