Sims 4 Maxis Match Bracelets CC (All Free)
This post may contain affiliate links. If you buy something we may get a small commission at no extra cost to you. (Learn more).
Character creation is one of the best parts of The Sims 4. But that doesn't mean that all parts of character creation are created equal.
By the time I make it to jewelry, I find it's so easy to just skip past it.
It's such a small detail in the scheme of things, so does it really matter?
Yes. Yup. Definitely.
It really does make a difference, especially since it's the perfect way to subtly inject some more personality into your sim's appearance. And there is no better form of subtle jewelry than a good bracelet in a Maxis-match style.
1.

Jelly Bracelets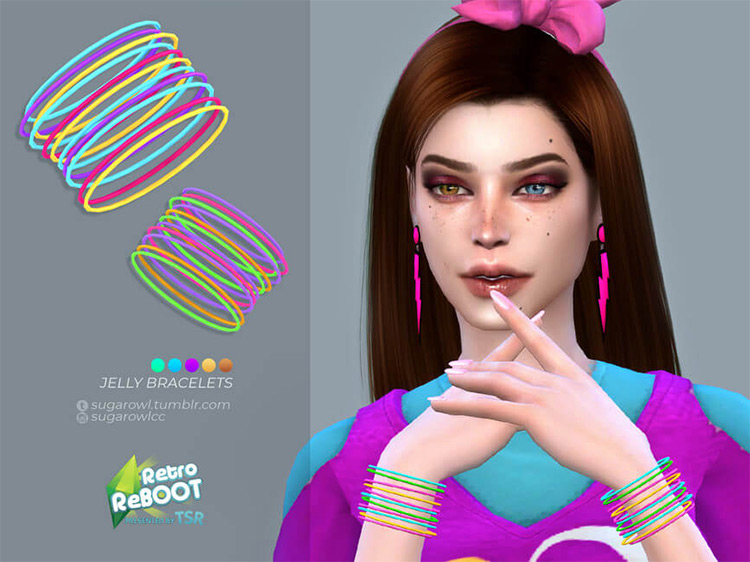 These chaotic Jelly Bracelets might not be the most typical bracelets out there – but there's no better way to start this list!
While you're creating new sims outfits, accessories that you would never wear in real life often look extra enticing.
After all, our Sims are made for experimentation and for living different lives.
So why not don these crazy colorful bracelets next time you're switching up your Sim's look?
This CC adorns both wrists and comes in 15 swatches. No matter what color you choose, you'll be going all in!
2.

Sea Glasses Bracelet
There's a line (a shoreline, if you will) between ocean lover aesthetic and mermaid aesthetic, and the Sea Glasses Bracelet walks it perfectly.
It uses rich ocean colors, and it's the type of delicate dinner party jewelry that looks like it costs a fortune.
In reality, sea glass isn't all that expensive.
And even if it were, this CC is totally free!
With 4 swatches, your sims will have a beautiful set of sea glass to match any beachy outfit.
3.

Strawberry Chain Bracelet with Ring
Bracelets are a great choice to pair with rings.
And things get even better if you have a matching set.
Since both rings and bracelets are made to jazz up your hands, your sims will look wonderfully put-together if they use matching jewelry.
This simple strawberry set is made to be used in summer looks, and it shows. The bright red and green crystals look good enough to eat- although I wouldn't recommend it.
There are 2 ring swatches (gold and silver) and 2 bracelet swatches (also gold and silver), so you can match the metallics with any other jewelry your sim is wearing.
4.

Get to Work Bracelet Edit
Jewelry is a subtle art.
Even with giant chunky or bright neon pieces of jewelry, there is a certain level of finesse that's needed.
Unfortunately, a lot of original Maxis items aren't great at balancing that subtlety. I guess that's what we have content creators for!
This edit of the Get To Work pearl bracelet slims down the clunky original design to make a truly chic bracelet. Not only does it look great, it's also far more suitable for work settings.
You'll need the Get to Work pack here, but every original swatch will be included in this CC.
5.

Friendship Bracelets
Is there a type of bracelet more famous than the braided friendship bracelet? I think not.
These Friendship Bracelets will live up to their name, and that's a guarantee.
They're colorful, braided, and tasseled, which are the definite features of true friendship in bracelet form.
And just like all friendship bracelets should be, this 5-in-one bracelet CC is highly customizable.
There are 16 colors, but you'll be able to mix and match the different colors and patterns to your heart's content. Or should I say to your best friend's content?
6.

Pride Bracelets for Male Sims
There's always room in my CC folder for a few pride bracelets.
Pride doesn't stop after pride month!
This CC has 16 pride flag swatches, including less common (and equally as important) flags like the intersex flag and the demi girl/boy flags.
All of these bracelets are designed to fit on a male Sim. So while there are flags for non-binary identities, there doesn't seem to be a lesbian flag or other WLW specific flag.
7.

Scrunchie Accessory
It's fun to dress up your sims like they have pockets as bottomless as the Queen of England.
But it's also fun to dress them up like yourself.
So for now, let's put away the gold-plated, crystal embedded bracelets.
This cute little Maxis-match scrunchie is a great way to add some charming realism to your sims game.
Any long-haired character would need a couple scrunchies around, so the classic scrunchie bracelet is a must-have.
Your sim will never lose their scrunchie again!
Of course, they also can't actually put this scrunchie in their hair, but that's besides the point.
8.

I Love Animals Bracelet
A comfortable bracelet is easy to forget about – which is what makes bracelets a great option for kids' jewelry.
Plus, braided bracelets are much harder to break or lose, unlike rings and fragile chain necklaces.
The "I Love Animals" Bracelet takes the kid-friendliness a step further.
Decorated with cats, dogs, and cute animals, this is the bracelet for any animal-loving child; and when I say any, I mean it.
It's a unisex bracelet, with 4 swatches to boot.
So long as your sim child is human, they can rock this bracelet!
9.

Leah Powerful Bracelet
Accessories do lots of little things for an outfit.
They can make certain details pop, or be the missing piece to balance things out.
And this bracelet will give any sim that wears it a powerful presence.
It's not strictly a snake bracelet like the much-beloved bracelet from the Sims 2, but it'll do the trick in a pinch. By 'the trick', I mean scaring away unsuitable suitors, such as poorly designed townies.
It has 5 metallic swatches, all of which are gorgeous. Unfortunately, none of them are scaled.
10.

Multi-Bracelets Set
Quality bangles CC have no right being as hard to find as they are. It's just not fair.
After carefully surveying my options, this Multi-Bracelets set seems to be one of the best of the bunch.
I can't really be too upset about the lack of options with this CC in the midst!
This bracelet is a set of 6 bangles of varying sizes and decorations. The differences are subtle enough that each bangle meshes flawlessly.
11.

Bracelet 201802 L
Flowers are the go-to tropical accessory, and with good reason.
What could possibly beat an entire necklace made out of fresh flowers?
A bracelet, that's what!
This CC is a great way to get into the vacation spirit or show how much fun your sim had on their last beach trip.
Although this bracelet has just one delicate flower, it's equally as fabulous as a flower lei.
It comes with 7 fun swatches that change the color of the flower.
12.

Cord Bracelet with Feathers and Beads
A cord bracelet is the way to set your sim apart from all of the leather and chain wearers.
Not only does it look cool, but it's very convenient and cleanable.
Your sims can magically keep all of their clothes clean and indestructible, so they probably don't care about those last parts, but still.
Of course, this CC does use metallic feathers and beads to keep that fun and luxurious look.
There's no need to deviate from what works!
13.

Knotaclat Bracelet
The Rastaclat brand of bracelets is well-known for making durable, meaningful bracelets out of cord.
Even more impressive, in my opinion, is the fact that it makes just as many men's bracelets as women's.
The Knotaclat, which this CC is based off of, is meant to symbolize the past and present intertwining in a single knot. It also just plain looks cool, so there's that.
This CC version comes in many of the original Knotaclat colors, including silver, black, white, and purple.
14.

Leather Bracelet
Like the Get to Work bracelet, this Leather Bracelet is a revamp of a bracelet in an EA gamepack.
There's no better way to ensure your CC is Maxis-match, I suppose.
This time, it's a small leather bracelet with a medallion from the Jungle Adventure pack.
As wonderful as the big original bracelet is, this little one deserves its own spot in the sun – which is exactly what this CC provides.
It comes in the same 3 swatches that were originally available to it in the Jungle Adventure pack, so you won't be missing out on anything in that regard.
15.

Bracelet GVEN
This Maxis-match bracelet is more simplistic than some of the other bracelets on the list.
Don't mistake that to mean that it's plain, though!
The brown cord is dotted with colorful jewels, which are what really make this bracelet pop. They also make it match perfectly with the other piece in the GVEN set, a cute necklace. And you can download them together or separately.
Although I can't speak on the necklace, this bracelet has 4 color options. The cord color doesn't change, but the jewel colors do.
Browse:
Lists
Maxis Match
The Sims 4
Video Games