Sims 4 Maxis Match Braided Hair CC (All Free)
This post may contain affiliate links. If you buy something we may get a small commission at no extra cost to you. (Learn more).
Hair is an all-important part of any sim's style.
And this makes hair CC wildly popular.
Think about it: the first thing people's eyes are drawn to is the face, but hairstyles are what frame the head and add a personal touch.
In that vein, braided hairstyles are a great addition to any CC folder.
They look cute, are super versatile, and are great at protecting your hair.
Although The Sims 4 offers a few braids in the base game, they barely scratch the surface of how many braids are out there!
1.

Shespeakssimlish's Braid Series Hair Dump
There's no better way to start this braid-fiesta than with a 5 mesh, 30 swatch hair dump.
In real life, a hair dump sounds like an especially bad hair day.
In the realm of Sims CC, it foretells many good hair days to come!
All of the hair textures featured in this particular set are African, which makes it a great set for filling up on quality Black hairstyles.
Out of the 30 swatches available, many of them are deep browns, blacks, and other natural hair colors.
Still, there are a few creatively dyed ones that will make your sim pop.
2.

Valentina Hair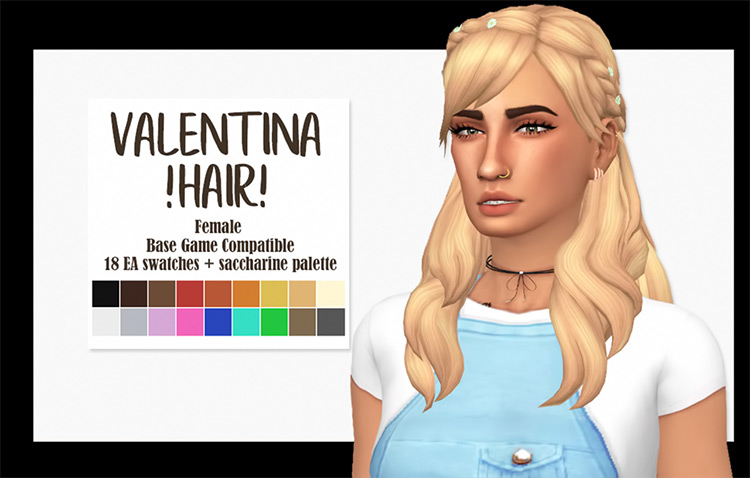 Out of all the braided hairstyles out there, the braided "crown" hairstyle stands out for being regal in a down to earth kind of way.
In this CC example of the braid crown, the mostly loose hairdo is subtly elevated by the braid. Or not so subtly, if you opt for one of the brighter swatches!
The 18 swatches available for this hair are all EA swatches, which helps it coordinate even better with Maxis items.
But my favorite part of this CC is that it's compatible with a cute flower accessory.
No need to choose between flower crowns and crowns of hair – you can have both!
3.

Mona Hair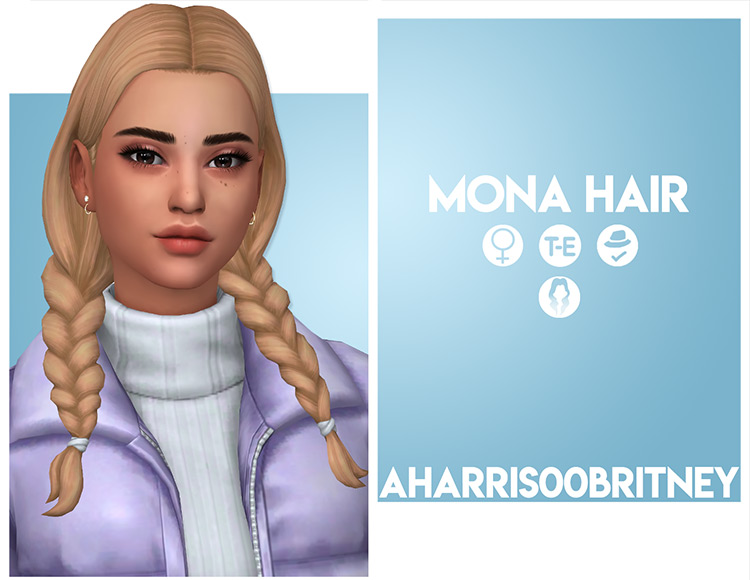 Some people may argue that the twin braids look is only for little girls.
But I think their argument falls totally flat against CC like this one.
Just take a look at that thumbnail.
While super cute, the Mona Hair is far from childish (grown women can be cute, too, people!), and it adds tons of personality to a sim without being overbearing.
There are 24 swatches included, with both EA colors and EA ombres to pick from.
The only problem with this CC is the difficulty of choosing from all those colors!
4.

Royal Braid for Girls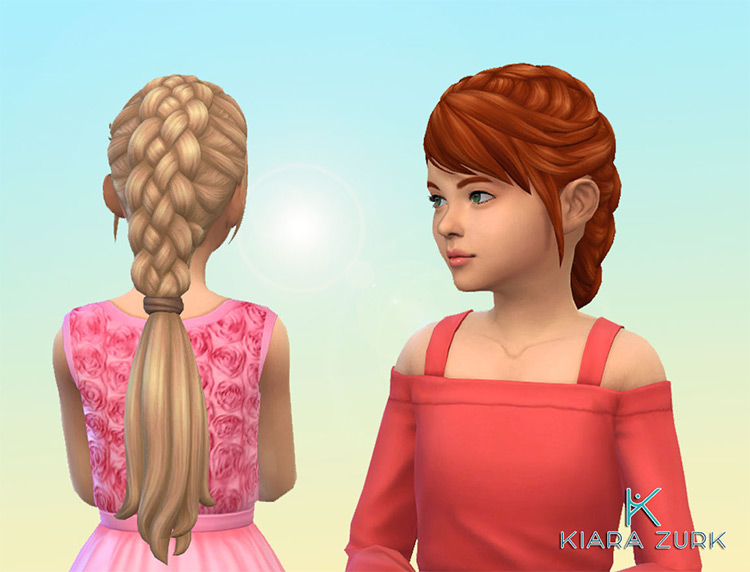 On the flip side, this exceedingly mature seeming hairstyle really is for little girls.
Admittedly, these little girls are royalty, so looking put-together is part of their daily lives.
But I can still be impressed, can't I?
As far as braid CC goes, this one is quite complex.
Your Sim could be wearing just about anything and it wouldn't matter, because the hair would take the spotlight either way.
There are 18 colors here, covering all of the natural hair colors that are usually associated with royal figures – and some more fantastical colors for if you're feeling bored.
5.

Paula Ponytails
I love pigtails, I love braids, and I hate having to make decisions first thing in the morning before going to work.
So why make your Sims go through that?
These Paula Ponytails are an adorable combination of pigtails and miniature braids in Maxis-match style, and they'll make an amazing addition to your hairstyle repertoire.
Since hairstyles are so important in defining a Sim's overall style, I always jump at the opportunity to add a unique design to my collection. This hair is definitely deserving of that treatment.
While not hat-compatible (I can't even imagine a hat going on top of this hair, honestly), it offers 24 Maxis swatches and 7 more Mod Max swatches.
6.

Olympe Hair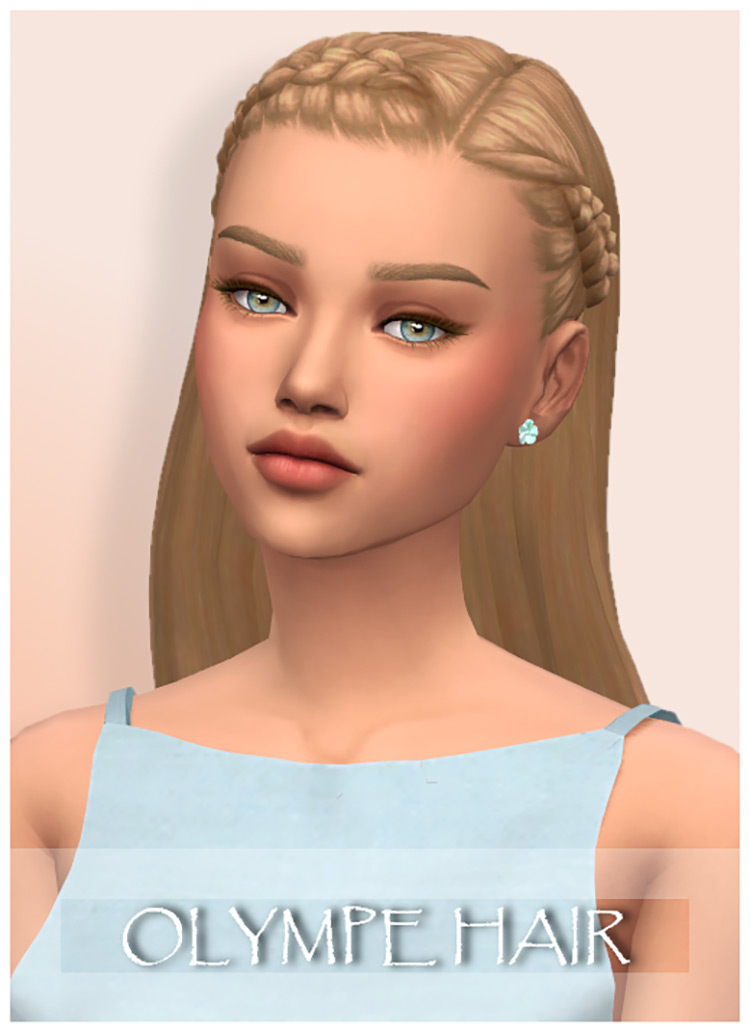 The name Olympe is very fitting for this hairstyle, because it really does look like something Hera, Aphrodite, or another beautiful Greek goddess would wear.
The Sim model used in this thumbnail really sells the look, with a sharp gaze and an air of superiority.
All that being said, the Sim makes the hair in this situation and not the other way around.
There are tons of different personalities and people that could sport this hair.
After all, powerful goddesses aside, it's also just a great and unique way to hold your hair out of your face.
7.

Barracuda Hair
Some hairstyles are timeless because they never get old, enjoying popularity in the past, present, and (presumably) the future.
Other hairstyles are timeless because you can't figure out where in the space time continuum they could possibly fit.
This Barracuda Hair falls into that latter category, but it really sells the cyberpunk alien viking look in a way that no other hairstyle can.
Although this hairstyle could dominate your CC folder with only one swatch, it comes with 27 swatches (including braid overlays so you can color those separately) and works for both male and female Sims.
8.

Lavellan Braids
While the Lavellan Braids aren't quite as in-your-face-crazy, this Nordic-inspired hairstyle is equally as magical.
Since it's more "normal", it also is more versatile.
Historic, royal, and mystical Sims would all benefit from a hairdo like this.
But modern party-goers, farmers, painters, and literally anyone else you can think of would benefit just as much.
There are 18 EA swatches, allowing for natural hair colors and synthetic ones.
9.

Riya Braided Pigtails
The Riya Braided Pigtails are a longer version of the twin braid look.
But that small difference changes more than you might think.
Just think about how hard it can be to grow even an extra inch of hair, and you'll understand.
And just like many of the other hairstyles on this list, you have 18 EA swatches here to play around with; but since this CC is an edit of a different braided hairstyle, you can also download that original braid too
The original CC set includes a braid, Indian clothes, accessories, and even furniture.
10.

Elsa Braided Hair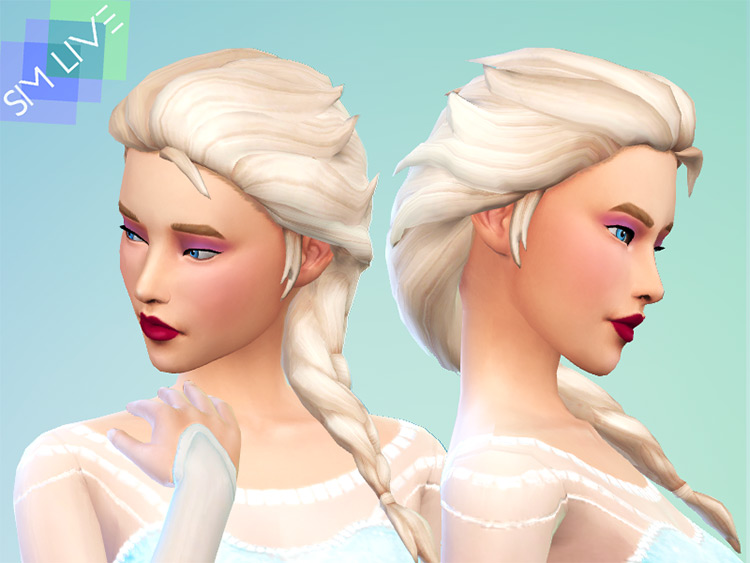 As far as iconic braids go, Elsa's hair is hard to replace.
I mean, literally, it's pretty hard to replicate a hairdo with hair wisps that probably need to be frozen in order to stay in place.
Maxis-match CC doesn't have those bothersome limitations.
So here we have Elsa's hair, in all of its snow queen glory.
There aren't any swatches other than the default white one, which works just as well.
I don't really want to see Elsa's hair pulling a Rapunzel any time soon.
Note: you'll need the Spa Day gamepack to install this CC.
11.

Bee Braids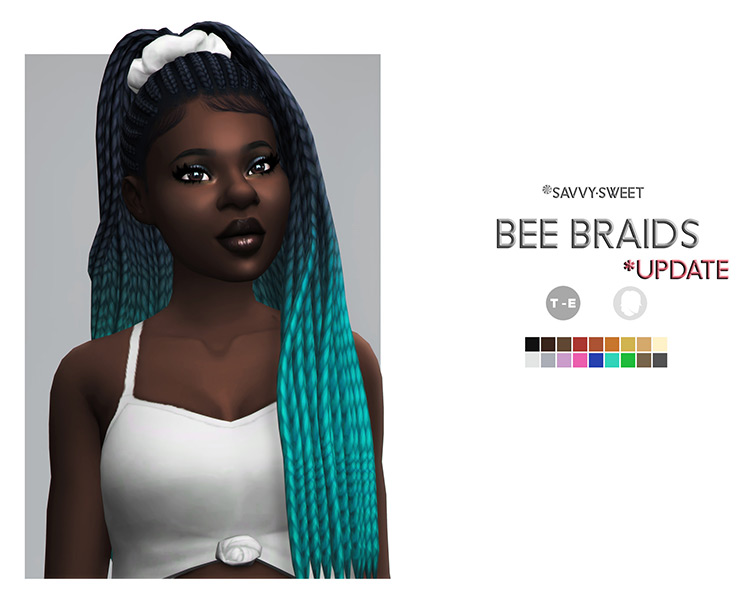 Scrunchies are an underrated accessory.
I know that anyone with long hair probably has one or two lying around, but there's a difference between using it for utility alone and using it as an accessory!
With these Bee Braids, you can rock some awesome mini braids and match your scrunchie with your outfit at the same time.
You get 18 EA swatches included in this CC.
12.

Bluebell Hair V.2
I don't always get the urge to dress like a fairy, but when I do, The Sims 4 is there to help me through it.
This Bluebell Hair is fit for a pixie, with curly hair pom-poms and gorgeous braids. But thankfully, it takes 0 effort to give a sim this fancy updo.
I'm not sure I'd be able to achieve a hairstyle like this in real life, even if I spent hours on it!
There are 18 Maxis swatches here, plus another version without the front strands that you can download separately.
13.

Bey Braid
This thick braid is equally as gorgeous as the Bluebell Hair – and for me, it's equally as unattainable.
For me and other sensitive-scalp-havers, it's really hard to wear your hair in tight styles on top of your head.
Good thing Sims have invincible scalps.
Although this is one of those CC hairstyles that isn't hat-compatible, I can't imagine it any other way.
And as per usual, it comes in 18 EA swatches for you to use.
Browse:
Lists
Maxis Match
The Sims 4
Video Games