Sims 4 Maxis Match Bunk Beds (All Free)
This post may contain affiliate links. If you buy something we may get a small commission at no extra cost to you. (Learn more).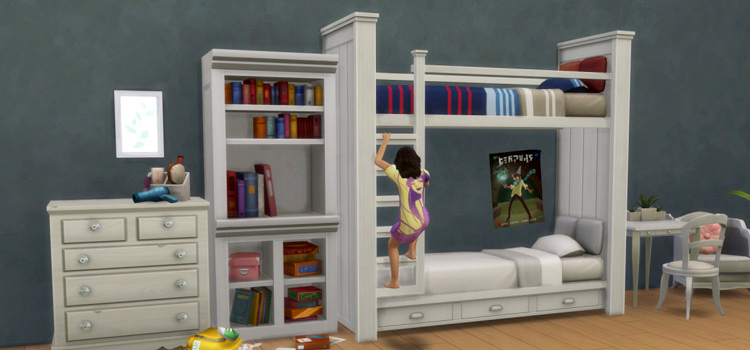 Fans of The Sims 4 know exactly what most players want.
We aren't exactly quiet when it comes to what content we'd like to see.
Not so long ago, bunk beds weren't officially included in the game in any capacity. That never stopped players from making them on their own.
Where there's a will, there's a way. And if you have ever played a household with more than 4 kids while not using money cheats, the need for bunk beds becomes clear real quick.
It's a rough world, trying to cram four kids into one bedroom.
But with CC, anything is possible. Whether you just want some pretty new swatches, or a bed unlike anything you've ever seen, your fellow Sims-obsessed cohorts have you covered.
1.

Tiny Living Bunk Beds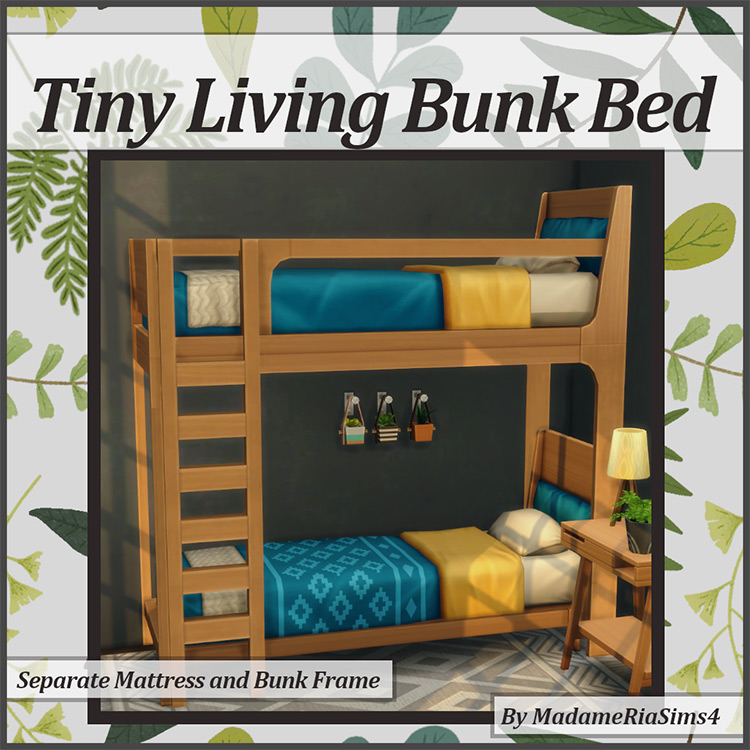 When Tiny Living Stuff was released, bunk beds were still just a distant dream.
I love this pack and everything it entails, yet I couldn't help but wonder why on earth they weren't included. They're a fairly basic essential that plenty of real-life tiny home owners use.
Well, at least they were later released in the base game.
No one can complain if it's free, right? I certainly can't.
But someone had to take the awesome furniture style from that pack and make bunk beds happen. MadameRia did an epic job, and the best part of this set is base game compatible!
Yay, pseudo-retro fun for everyone!
The bed frames and mattresses are separated here, giving you full control over the combinations.
That means you can pair any wood-toned frame with any mattress swatch you want.
If you want to have a lower frame and mattress as well, then that will require the mother pack, Tiny Living Stuff.
But either way, these offer more storage space, including where you store your Sim children at night.
2.

Vintage Bunk Bed Recolors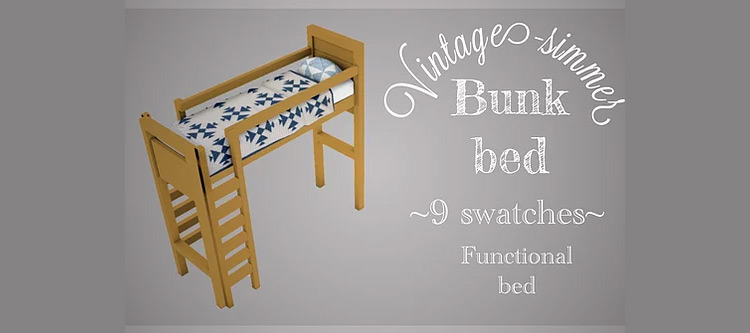 Despite their fairly recent addition to the game, bunk beds are far from a modern invention in the real world.
They date all the way back to the Medieval era – and have been used for everything from Navy ships to children's bedrooms.
Seriously, lodging multiple people together just isn't as easy if you want to give everyone their own bed that doesn't touch any other beds.
Most of us Simmers have lived that through this game, it sucks, that's why we have these options!
Now even those of you who like to play in the olden days have more choices.
This creator (who focuses on making vintage content) recolored the base game beds, so now they have a lovely quilt and rustic wood frame.
3.

That's What She Bed – Bunk Bed Series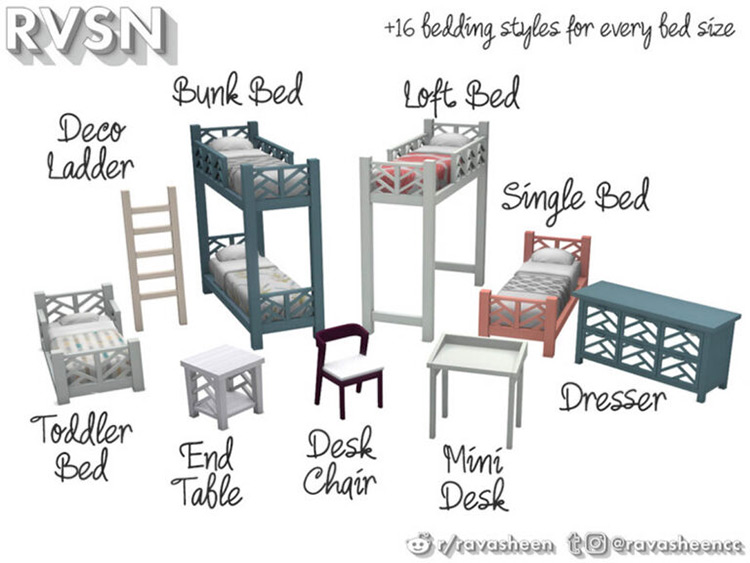 RAVASHEEN is one of those creators whose name becomes instantly recognizable if you look for CC enough.
I'm always thrilled when I see a search result yields something from them – because it tends to be amazing, well-made, and exciting.
This series is no exception.
In fact, this incredible set will allow you fully take advantage of all the pros of having a bunk bed, and customize every bit of it.
You'll be able to integrate this into a room like never before, since the ladder is a separate, decorative piece that you can place on either side. There are options here for a single bed, double, and a toddler bed as well.
If you opt for a loft bed, with just one bunk up top, then you can make the most of the space below with the mini desk and chair set, or the dresser.
4.

Parenthood Bunk Beds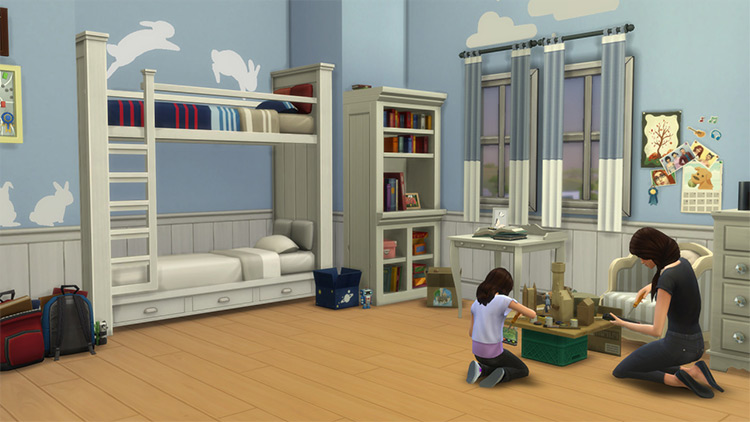 Parenthood is another pack where including bunk beds would have made a lot of sense.
Depending on the number of offspring, parenthood gets a lot easier when you have them.
That goes for the real thing as well as the pack, in case you're wondering.
Some of my favorite beds came with this one and I like them so much because they're generally basic, modern designs.
That's perfect for when you start stacking one on top of the other.
Illogical Sims created this as a loft bed CC, where you can place the bottom bunk and it'll snap into place.
The frame and top bunk come with the original Parenthood swatches, which just so happen to work great for this.
5.

Functional Toddler Bunk Bed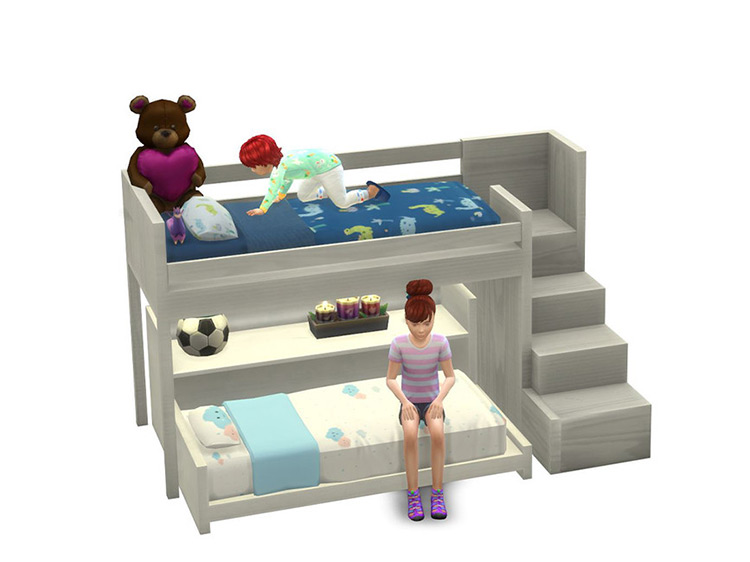 This is the ideal model for kids and parents alike.
It's like a triple threat of awesomeness, because not only does it include a safe stairway to the top, but also storage cubbies on the side, and a shelf beside the bottom bed.
I think I can safely speak for everyone when I say this is every kid's dream bedroom setup.
It's not just practical, it's cool. There's nothing boring about it!
You aksi have a lot of creative control here, so you can even place toys or other furniture in the bottom space rather than a bed, and change the design of the stairs.
Oh, and those storage cubbies? Those are functional too.
They include 6 slots for you to decorate and clutter as you please.
6.

University Life Bunk Beds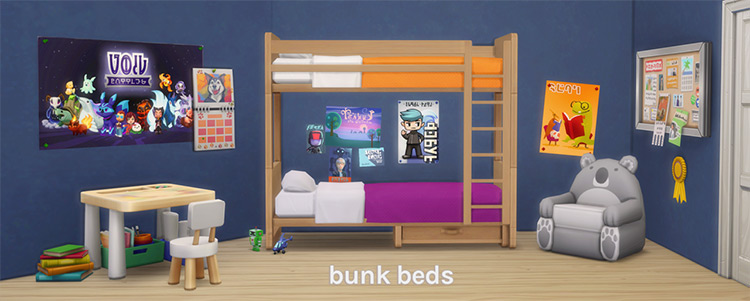 Of all the times to introduce bunk beds, The Sims 3 chose University Life.
I get it, but I sure could've used them with Generations.
That's a blast from the past, right? The current game's method of adding them in for free has been nice, I must say.
But the previous game's design was a little unique and can definitely still be used now. They're in perfect condition here, as if they were made for TS4 and not actually a conversion of content that's 8+ years old.
It may not sound like much… but just remember Sims 3 toddlers aren't much older than that.
We have made leaps and bounds, not just as a society but as Simmers!
These beds prove that simple often is best, with the general wood frames you'd expect from a University and solid swatches for the blankets.
7.

Little One Dresser With Fake Bunk Bed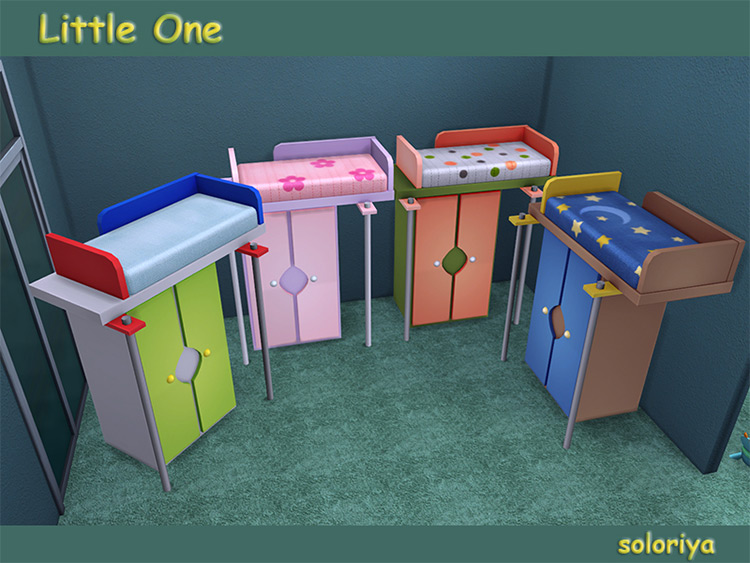 Have you ever wanted to include a bunk bed in your child Sim's room in a really original, unexpected way? Then you're in luck.
This CC set consists of a tall dresser with a slight retro feel, and on top of that, there's a bunk bed.
That'd be a total hazard if kids were actually supposed to climb up there and sleep. But instead, there's no ladder.
It serves only as decoration, with some of the benefits of a shelf.
That's right, it has slots!
So you can place stuffed animals, toys, or pillows up there to really complete the look.
8.

Functional Triple Bunk Beds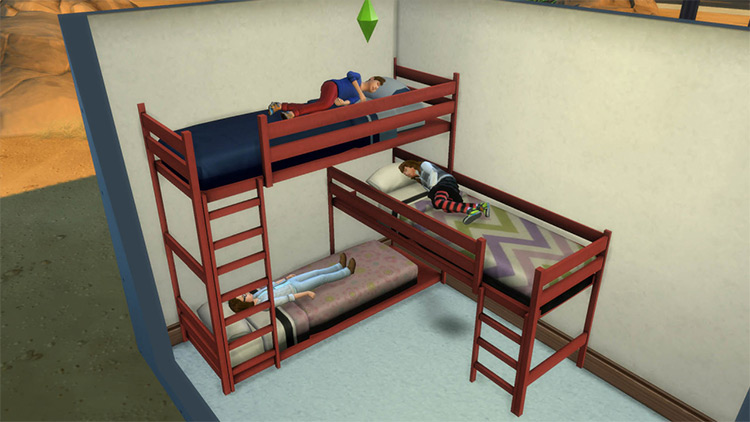 Desperate times call for desperate measures.
And three kids in one bedroom just might call for a triple bunk bed.
Yes, such a thing exists, thanks to Necrodog!
Your mileage may vary since the official bunkbed update can make things a little buggy, but this set will be valuable as both functional and decorative furniture.
First off, there's the version that's a stack of three beds, which is exactly as it sounds.
Get all the kids lined up in one spot, along one wall, and it'll be easier to see who's leaping out of bed at 2 AM to pee and then never coming back.
Then the other option is like a regular bunk, except there's a third bed in the middle, creating an L-shape.
9.

Mod Pod Bunk Bed (Separated)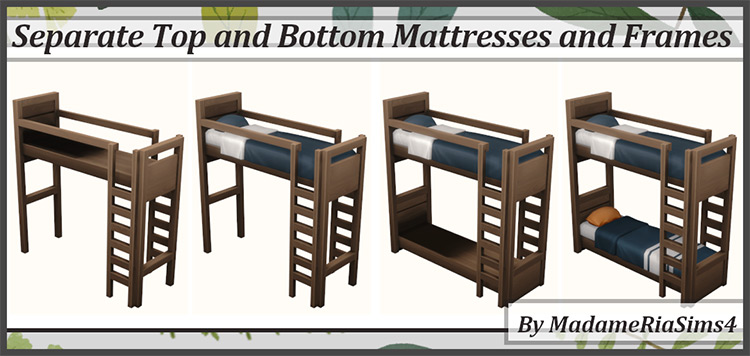 More separated beds, more swatches. That's the deal.
MadameRia has really given the basic Mod Pod beds an upgrade here.
By making the frames and mattresses two different things, you can make them a lot less dull by just using your style.
The 17 original swatches are still available, but there are 33 additional swatches available here too.
They continue the fairly simple, affordable-looking theme of the original in mind by sticking to solid colors, plaid, and stripes.
Bedding tends to be a personal thing and picking out your own set is always a plus.
Now you can give your Sims some individualism as well, by moving away from those base game swatches we've seemingly had to use forever.
10.

Bunk & Loft Beds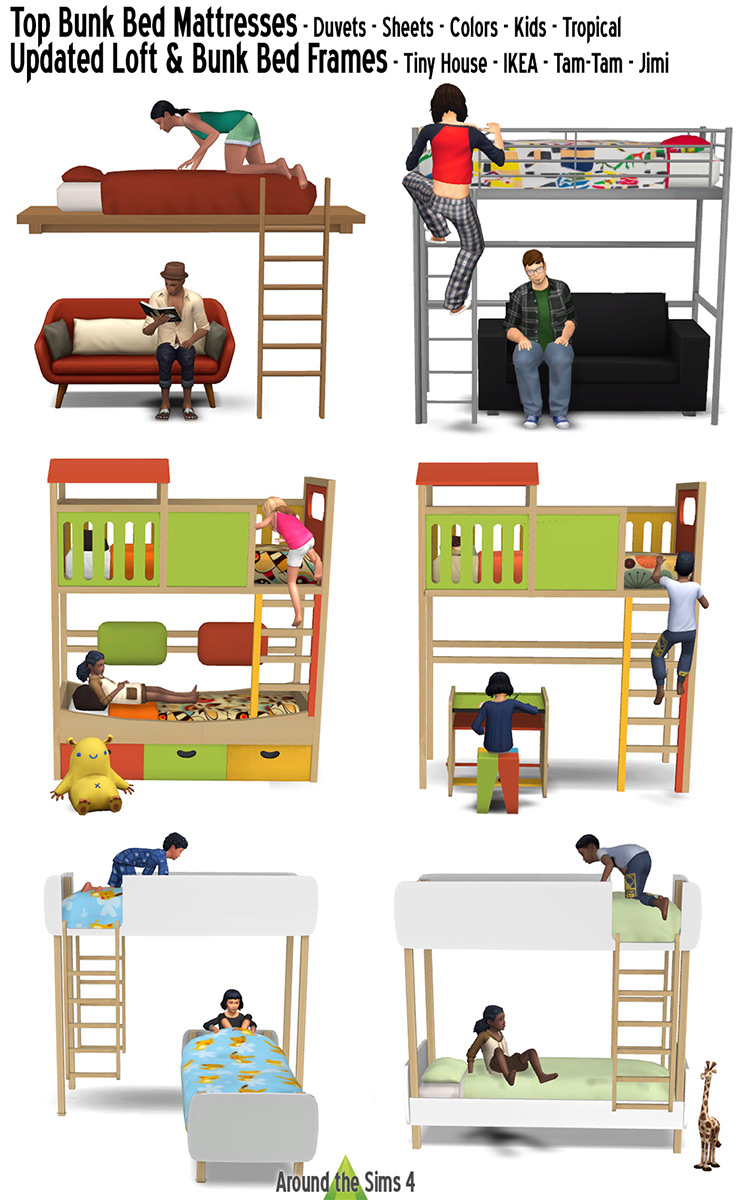 Here's a set that will make any kid's bedroom better and more functional than ever.
One of the sets here is really fun, because the frame looks like a playhouse, complete with a little roof! It just goes to show that bedtime doesn't have to be a drab affair.
Even the colors are perfect, bringing the joy of a playground home.
You can place furniture under the loft bed versions, but the double bed style even has decorative drawers.
Once the kiddos get a little bigger (or are even all grown up) then there are more options.
The CC creator also includes a minimalist, wall-mounted platform bunk, as well as one with a simple metal frame.
Like so many other sets on this list, this one focuses a lot on allowing you to make it your own – so the mattresses and frames are separate here as well.
Browse:
Lists
Maxis Match
The Sims 4
Video Games