Sims 4 Maxis Match Child & Toddler Shoes CC
This post may contain affiliate links. If you buy something we may get a small commission at no extra cost to you. (Learn more).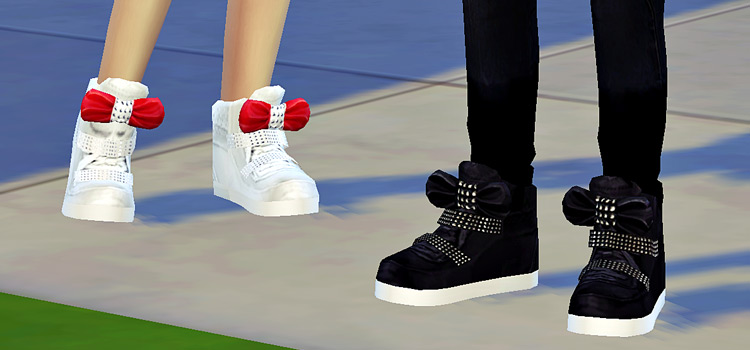 There just aren't enough clothing options for toddlers and children sims.
But the shoe options? It should be criminal how little there is to choose from.
I personally love dressing up my little simmies, and I think we all know that shoes can make or break an outfit.
With these curated toddler and kid shoe picks you'll be making those tiny outfits pop with no fuss. Okay, maybe some fuss from your little one, but that's expected.
1.

Toddler Leather Boots
These precious little leather boots are not just for playing pirate.
Dress them up with a little dress and some leggings, or dress them down with some jeans.
If you have the Seasons pack, be sure to download the correct option to have your tiny sims pants tuck into their boots.
The base game compatible download won't tuck pants into the boots, but it can still look very cute with a sundress or shorts, and both downloads come with twenty-two different color choices.
2.

Madlen Kylie Shoes
You won't have to worry about getting these cute white sneakers dirty, so go ahead and put them on anyone – they're for all ages, including kids and toddlers.
Is white not your look? Well there are 9 other color options available for these timeless sneakers.
3.

Crybaby – Toddler Hair & Shoes
This pack comes with three fun pairs of shoes for your toddlers, and two bonus hairstyles.
The little strawberry sneakers look cute and comfy and the tiny furry booties are just too precious and perfect for taking your toddlers on a winter stroll.
Each pair of shoes come with 10 different swatches, even the classic low tops.
4.

Madlen Aneska Boots
I love these little ankle booties.
They look so stylish without being unrealistic for a toddler to toddle around in. The fur accent on the ankle is just the icing on top.
These cutie booties come in 7 color options, including a white that would be perfect for when the flower bunny comes around.
5.

Singing in the Rain (Toddler Wellies)
While I like to believe I am an adult, the word wellies always makes me giggle.
These wellies, or rain boots, come in bright exciting patterns that any toddler would choose given the chance.
Twenty fun swatches are available here, including prints like pandas, clouds, polka dots, flowers, frogs, watermelon seeds, and my favorite: bees.
6.

Pixicat High Converse + Vans
Did that fad ever die out where every kid was in either Vans or Converse?
Well regardless, I know what all my toddler sims are rocking when we visit Granite Falls.
There are 10 swatches to choose from – five of which have the iconic Converse symbol, and five of which have the equally iconic Vans design.
7.

KeyCamz Girl's Boots (Get Together Needed)
These boots give me total Parent Swap vibes, and I am loving them.
Trot your little child sim down Henford on Bagley and practice that British accent just in case.
Four different colors are available, but the traditional haymarket check design will always be timeless and my personal favorite.
8.

Abstract Panel Chunky Trainer (Child)
Chunky sneakers are all the rage right now and these are no exception.
If your young sims want to be effortlessly cool and sporty, these shoes are your best bet.
You have the choice between ten different color swatches in mostly neutral tones, so you don't have to worry about any difficulty in matching them.
9.

Gum-Gel Sandal
I don't know about you, but every single girl in my elementary school owned a pair of these jelly sandals. I even saw a pair a few years ago on someone who was adamant they would make a comeback.
Honestly, I hope she's right. These comfy Lisa Frank era shoes are the epitome of childhood and perfect for your kid sims.
There's also a toddler version available here, both with tons of color options to choose from.
10.

Rain Boots for Kids
Fun rain boots aren't just for your toddlers.
With these boots your kids can now rock some fun prints, too, like a frog under some rainbows, ladybugs, or strawberry-themed boots.
These are perfect for hanging out in their parent's garden or learning how to catch fish in the local pond.
11.

Strappy Sandals – Base Compatible
I don't care how old you are, everyone needs a pair of reliable strappy sandals like these.
They can be removed easily and still somehow stay on when you run. The best combo for children's footwear.
You have the choice between 14 different color swatches, including neutral and fun colors.
12.

Hello Kitty shoes for children
Can you believe that Hello Kitty has been around since the mid seventies?
I'm honestly impressed they're still popular, but they definitely seem to know what they're doing.
These Hello Kitty flats will make your sim the coolest kid in school. And if they're ever feeling down, they can just peek at their shoes for a cute greeting and a little pick-me-up.
13.

Children Alien Slippers
There really aren't enough cute slippers to pick from in the Sims 4.
These fuzzy little alien slippers will make your sleepover the best one yet.
The Sixam inspired slippies come in 10 different colors – more than enough to have your kid sim and their friends all match while running around and doing everything under the sun except sleeping.
14.

Slouchy Boots
Your sim children will effortlessly become little fashionistas in these cute slouchy boots.
Just watch out, soon they'll be spending all your hard earned (or not) simoleons in Magnolia Promenade.
These are for both guy and gal sims, and can be paired with a cute skirt, leggings or skinny jeans. With four neutral tones to choose from, the opportunities are endless.
15.

Toddler Rainbow Mary Jane Shoes
These shoes are an absolute classic. Whether you're taking your toddler to a formal family event, a playdate, a photoshoot, or a holiday feast, these little shoes will never look out of place.
I know I'm not alone in having a pair of these for most of my childhood. I can even remember having a pair for my doll!
Now you can dress your little toddler sim up in 9 different colors of this timeless Mary Jane shoe.
16.

Moshino Boots
How cute are these little Doc Marten look-alikes?
I've always wanted a pair like these, and now I can live vicariously through my sims. These shoes can be used by either toddler or kid sims.
And there's a whopping 56 color swatches available here. However, you will need to have the Moshino pack for these boots to work.
17.

Toddler Animal Face Wellies (Seasons)
Okay, I just had to pick another pair of wellies.
These are way too stinkin' cute to pass up.
Little animal faces are painted onto the toes of these rainboots, including a cow, frog, lady bug, fox, duck and little piggy, each with corresponding color schemes.
Now, time to seek out an IRL pair for myself.
Browse:
Lists
Maxis Match
The Sims 4
Video Games