Sims 4 Maxis Match Cheerleader CC (All Free)
This post may contain affiliate links. If you buy something we may get a small commission at no extra cost to you. (Learn more).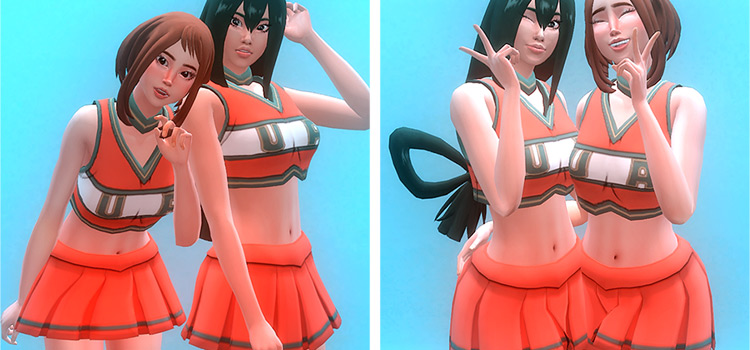 No sport is more focused on spreading joy than this one. It's right there in the name!
There's a very specific aesthetic that goes with it, however, that isn't fully supported in The Sims. As with so many other things, CC is the best route to get your Sims looking exactly the way you want.
You can easily give your Sims the right look from head to toe thanks to all of these brand new meshes and recolors.
1.

School Spirit! Cheerleader Outfit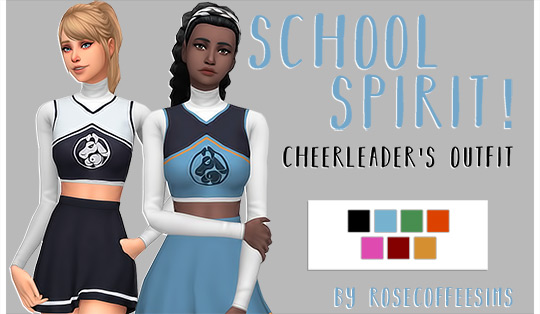 Cheerleaders are basically the forerunners of school spirit. So even if Sim's schools don't have mascots outside of University, their uniforms need an insignia of some kind.
This modern and cute outfit looks very realistic, and there will be no doubt that it's no everyday skirt and crop top combo.
2.

Cheerleader Uniform Separated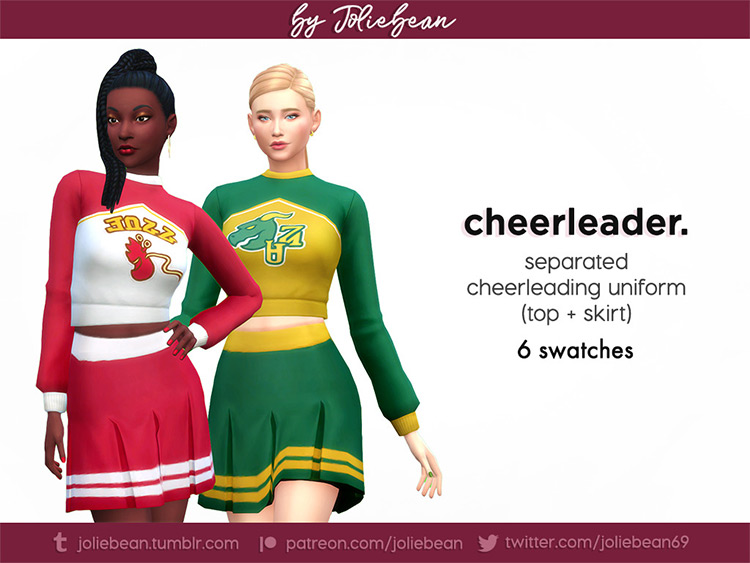 EA has pretty generous terms for creators, which allow them to tweak all kinds of stuff from packs and release it as BGC stuff.
Such as Joliebean's separated cheerleader uniform! It's got that professional quality for free and looks better than ever now that we can mix and match it.
3.

PvrpleHaze's Cheerleader Outfit Recolors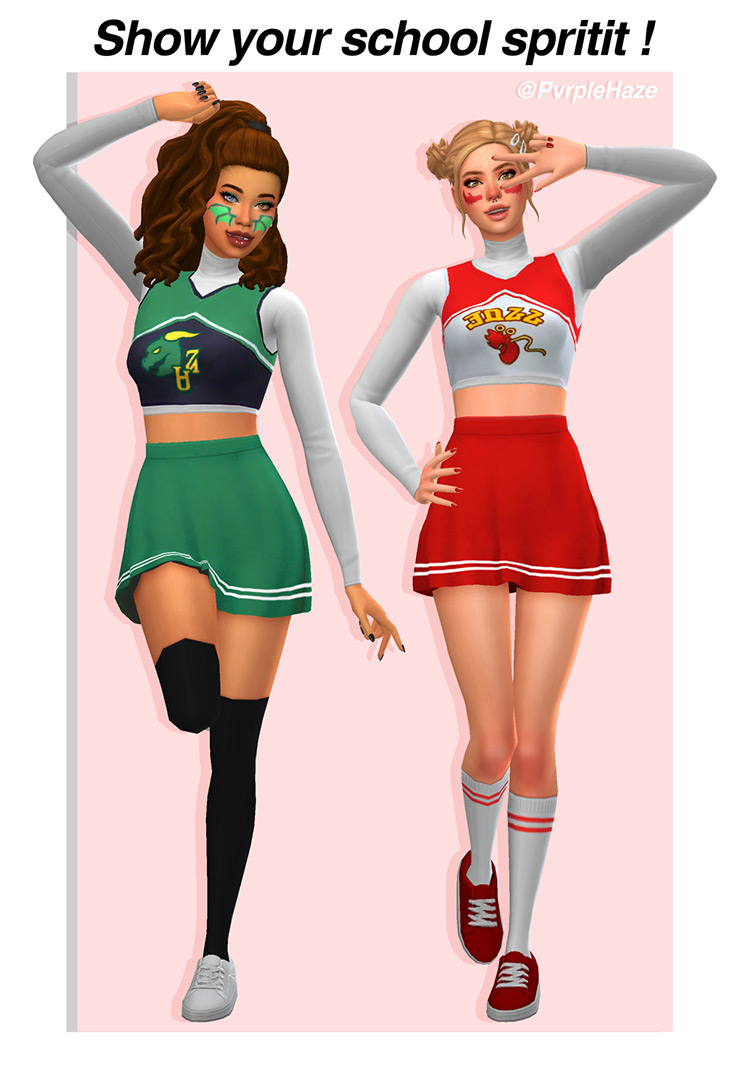 You may notice that this is extremely similar to the previous uniform, but this Simmer has blessed us with more swatches.
I love these bold colors which give the whole outfit a slightly retro vibe. It's not so heavy-handed that it won't work for Sims of any era, of course.
4.

Cheer Up! Outfit & Jacket
Here's a little something for when your cheerleader is just practicing or hanging around.
Keeping up with her team pride is a must!
Sure, we have a base game varsity jacket, but it's not as cropped and cute as this one. There's also a simple athletic outfit to pair with it.
5.

Monster High Cheerleader Pom Poms
I don't claim to know anything about Monster High, but you don't have to be a mega fan to see how snazzy black and purple are as school colors.
Your Sims can actually carry these pom poms, all you have to do is have them "wear" them! They can be found in the ring category of CAS.
6.

All Harlow's Eve Pom Pom Recolor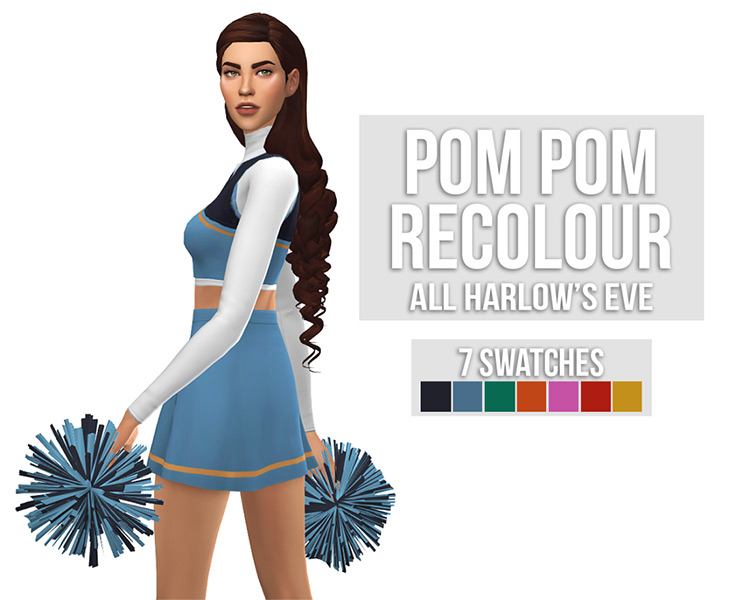 After grabbing the above pom pom mesh, you can enjoy these recolored versions.
What's so awesome about this is that the creator made them specifically to match some of the above cheerleading uniforms! Now your Sims can have the complete look like never before!
7.

Male Cheerleader Uniform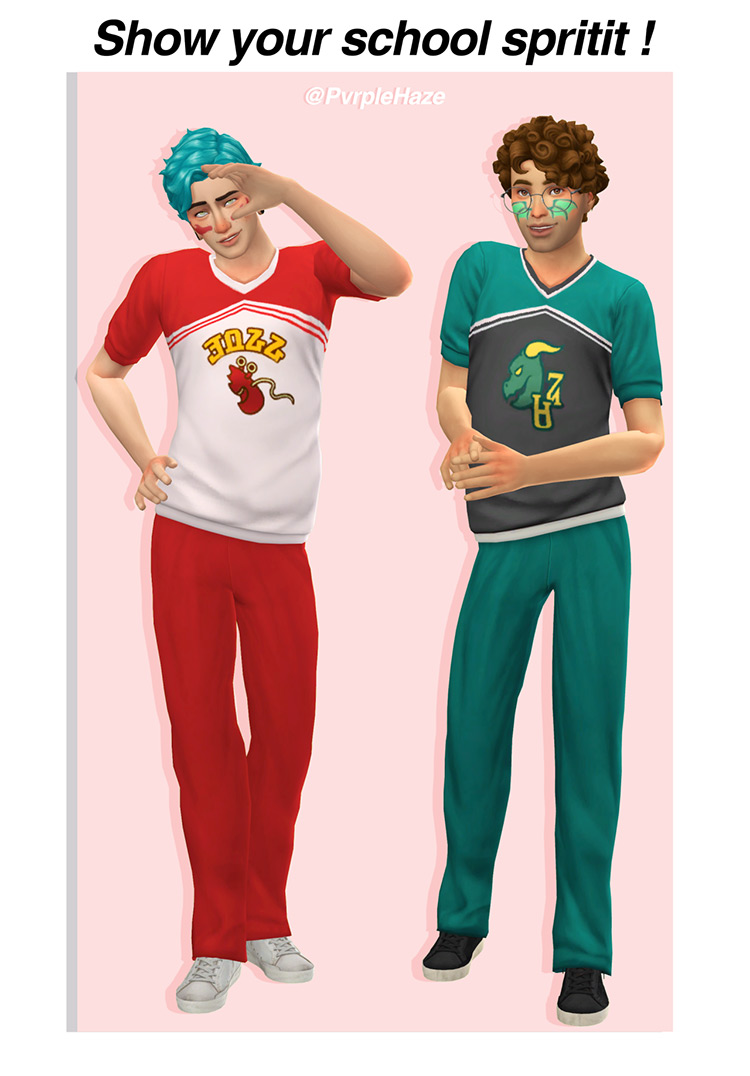 We can't forget the guys who cheer.
Not only are they vital to the squad, but their uniforms are super cute.
These are BGC and were also made to match the female outfits. The sweatpants and jersey tee combination looks really comfy.
8.

Berry Sweet Cheerleading Uniforms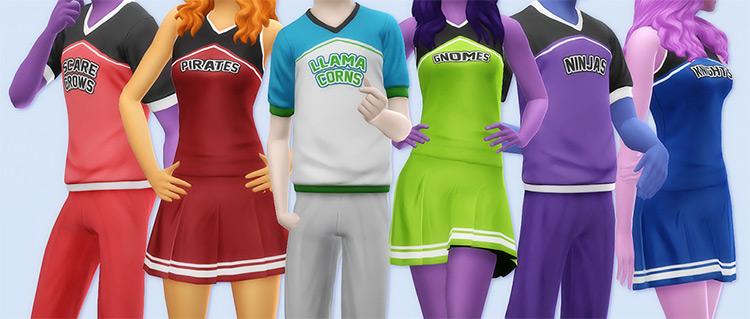 More recolors are always welcome, and you won't want to miss this incredible new color palette. There's an epic variety, ranging from timeless combos like black and red to more fun, fresh looks like blue and green.
Both masculine and feminine uniforms are covered here. Yay, more matching!
9.

Cheer Hair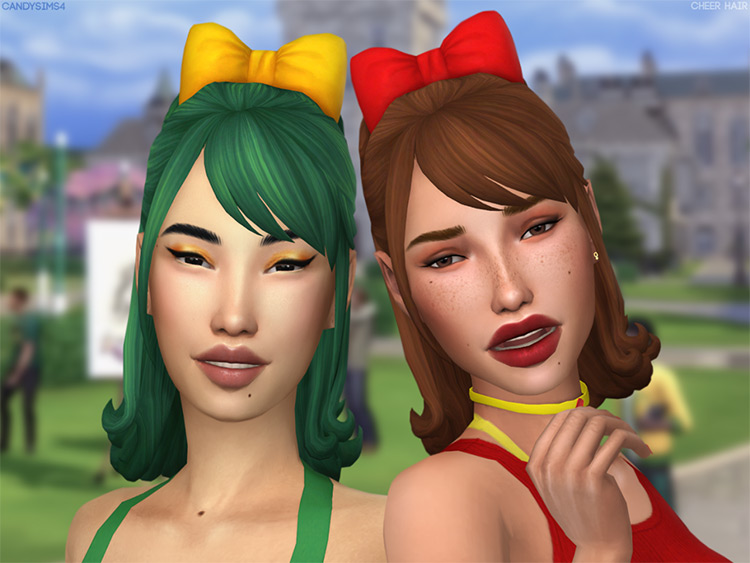 A high ponytail will give your Sims the look you want, and that may have been your default choice… until now!
This was literally made just for cheerleaders, and the inspiration is cute. The bangs are adorable, but what really makes this look is the accessory bow.
10.

Cheerleading Uniform For Children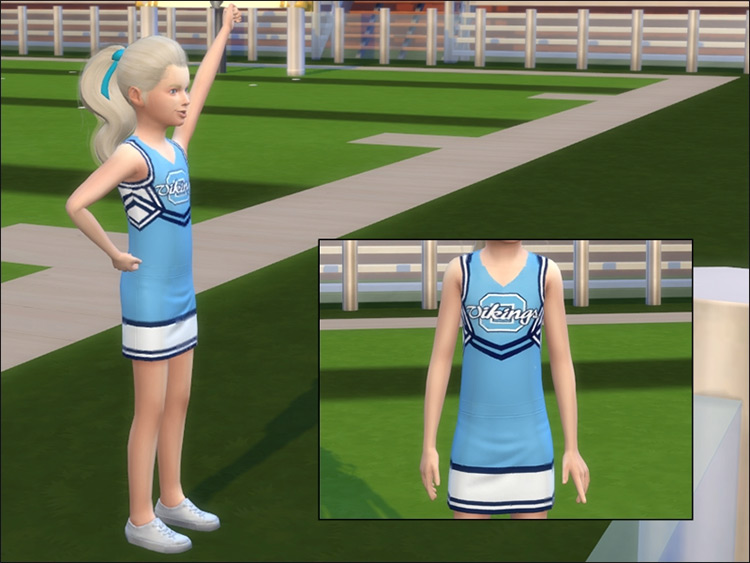 The love for this sport often starts young, and cheerleading doesn't have to be restricted to teen or young adult Sims.
Here's one adorable option for children.
This matching top and skirt will fit right in, and it's easy to complete the look with some simple sneakers and an updo.
11.

Go Team! Cheer Dress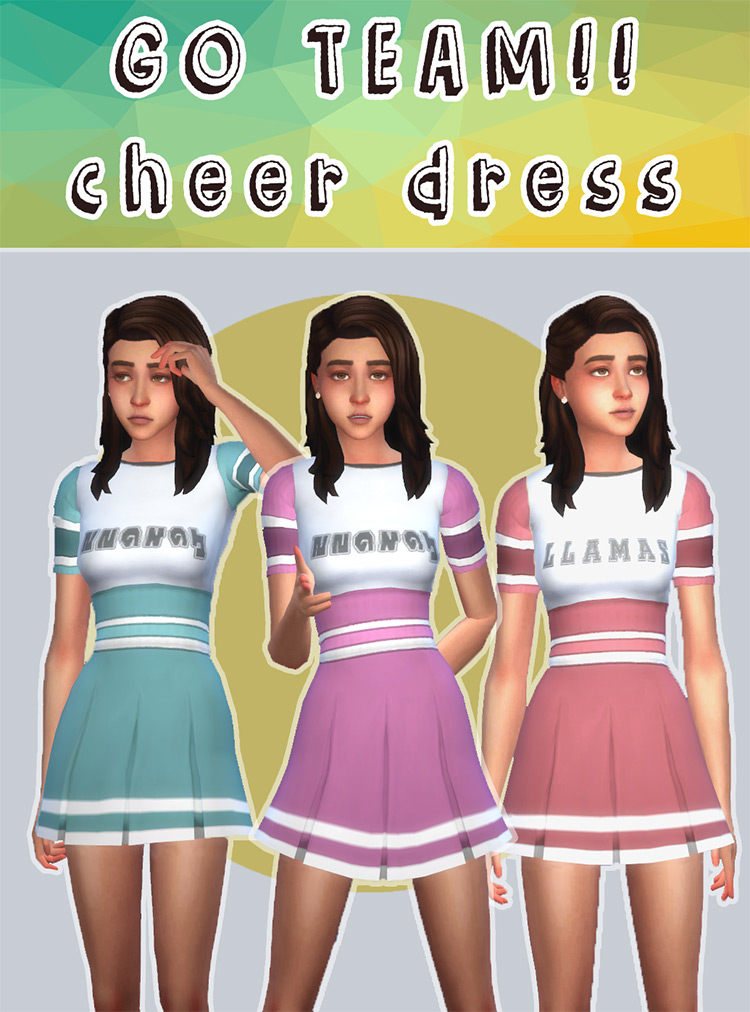 Most of these outfits are a separate top and bottom, but this dress will get your Sims on the fast track to cheerleading.
The pleated skirt and t-shirt top really look great, and they're made even better by the two dozen pastel swatches.
12.

Oh My! Girl Outfit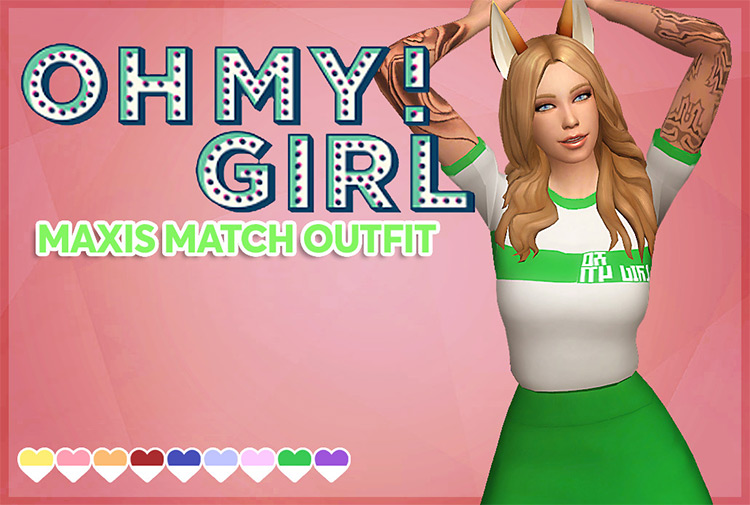 Although the creator didn't specifically dub this a uniform, I think it really has the right look.
It's a nice alternative to the sort of style we've seen so far, with a more casual vibe than your typical outfit. The Simlish text is a nice touch, too.
13.

UCLA Cheerleading Uniform Recolor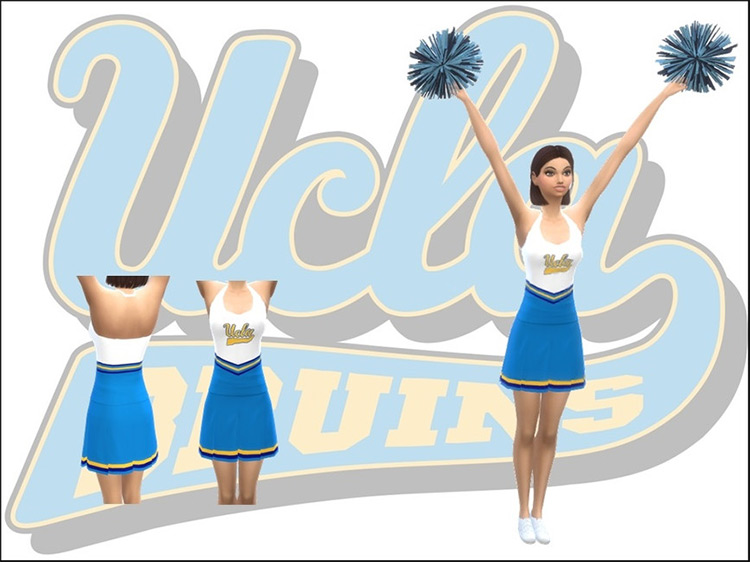 As one of the most popular colleges in the country, there's a good chance this is the alma mater of many Simmers.
Now you can rep your real school's colors in the game, thanks to this recolor.
14.

Toddler/Kids Cheerleading Outfits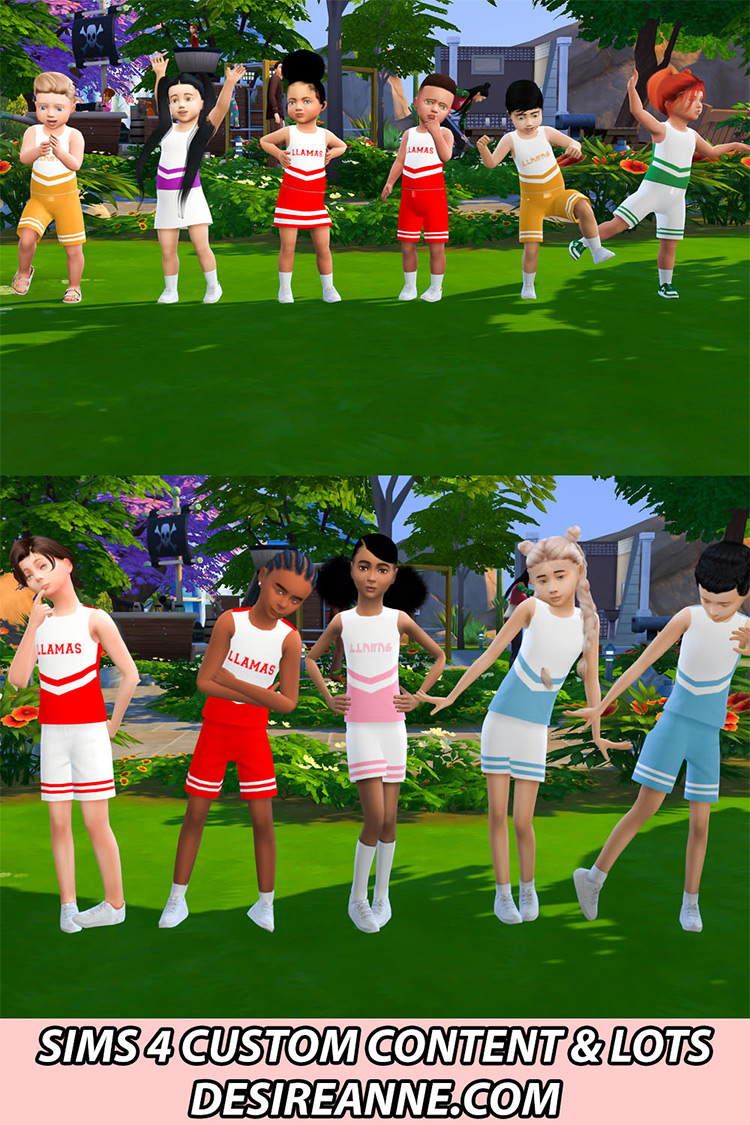 We definitely need more cheerleader options for little ones, so thankfully this set is pretty expansive.
Options for both male and female toddlers are included, as well as matching sets for children. Plenty of colors are included so you can switch it up.
15.

Cheerleading Uniform by Cheer4Sims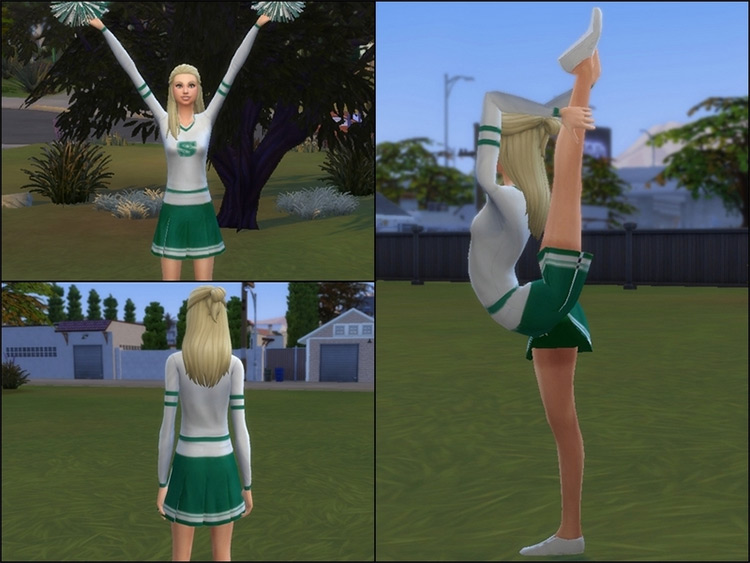 This one definitely has a classic look.
The long sleeve top and pleated skirt pairing is timeless for sure.
It really looks great in game, and since most sports take place in autumn, this slightly warmer variation will be great if you don't want your poor Sim to freeze.
16.

Cheerleader Ponytail
Just look at this thick, glorious mane of hair.
When making a new outfit for something specific like a cheerleader, I always like to have a new hairstyle for them, and this is absolutely perfect.
Your Sim will be set apart from the rest, as she should be.
17.

School Spirit Face Paint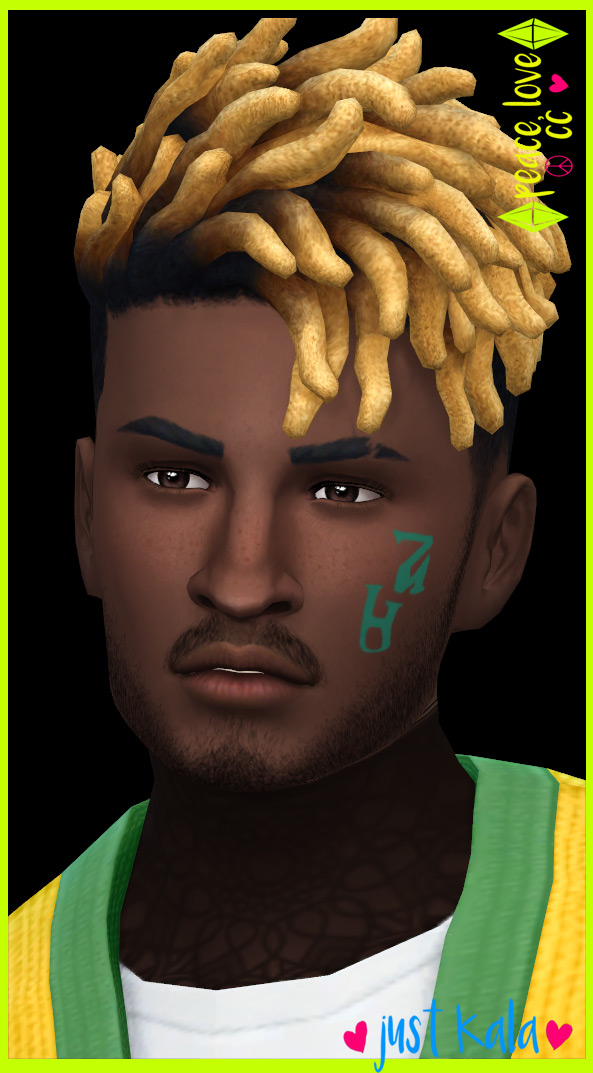 This is a really fun little way to branch out.
The facepaint section of CAS is totally neglected and forgotten by most players… myself included.
But these little streaks and emblems are a must-have. They'll even match most of the outfits in this list!
18.

UA Cheerleader Uniform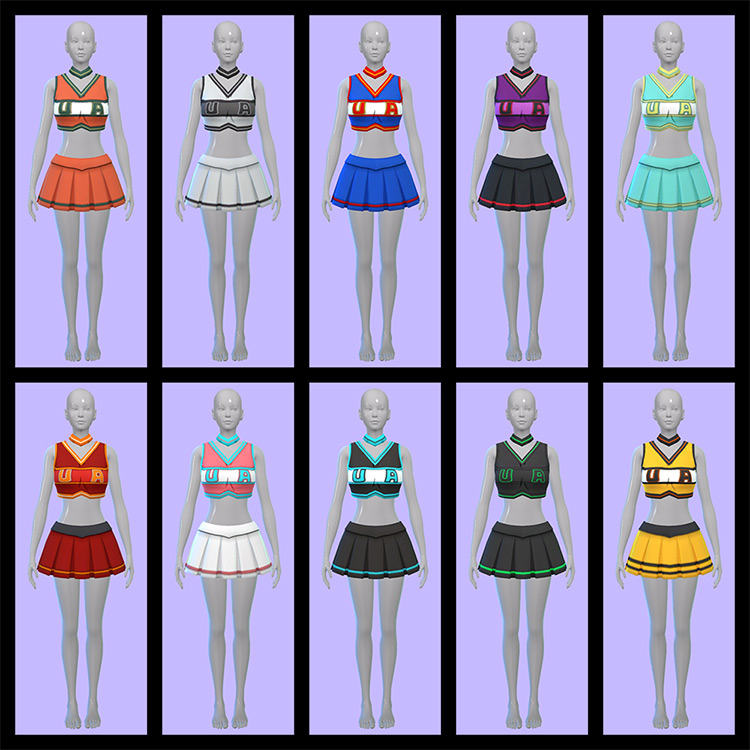 Here's a brand new, unique uniform option.
Although the cropped top and skirt might look like separate pieces, they are in fact one outfit, so you won't have to worry about finding the match.
The 10 swatches are a little different from the ones we've seen thus far, with many of them including black.
19.

Joliebean Cheerleader Uniform Recolor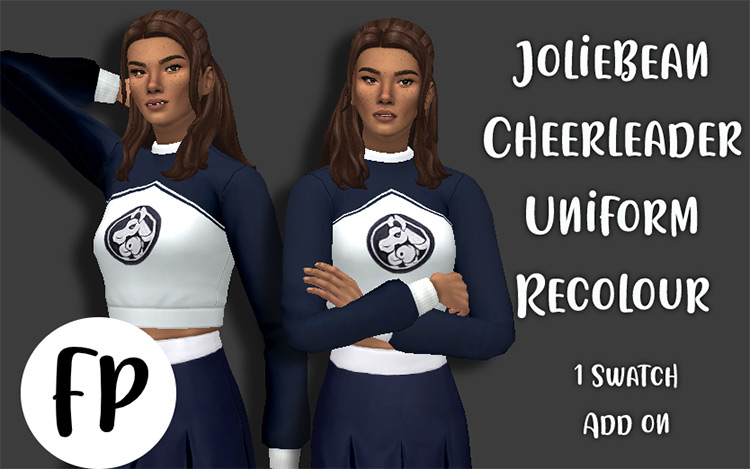 This Simmer is not alone in being pumping for the new High School Years Expansion Pack, which makes the cheerleader experience richer than ever.
This one last recolor of Joliebean's separated outfit is really a gem. The dark blue and white just go together so well, and it's got a modern look.
20.

Bring It On Clovers Cheerleader Uniform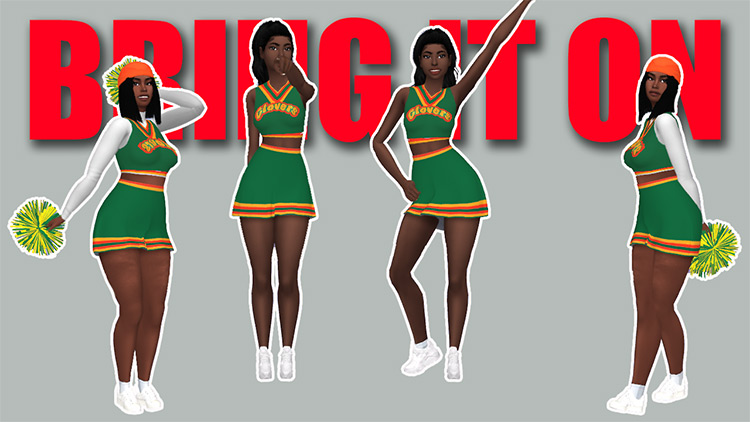 As one of the most iconic cheerleading movies of all time, Bring It On introduced cheerleading to a lot of people.
It's also just a good movie with memorable characters, so bringing the famous Compton Clovers into your game might be right up your alley.
Browse:
Lists
Maxis Match
The Sims 4
Video Games