Sims 4 Maxis Match Christmas CC (CAS + Décor)
This post may contain affiliate links. If you buy something we may get a small commission at no extra cost to you. (Learn more).
If you're dreaming of a Maxis Match Christmas, I've got you covered.
From fuzzy knit sweaters to decorative stockings, the TS4 CC community is actually bursting with fun, festive, Christmas-themed treats.
Sifting through literal mountains of Christmas sweaters, holly wreaths, and big, evergreen trees, I was able to put together this list of 30+ custom items your Sim can use for the holidays!
1.

Bright Lights Sweater by citrontart | retexture by bohehlda
These sweaters may not be ugly Christmas sweaters, but they definitely feel Christmas-y.
Especially in green and maroon swatches.
And, come on; a string of fairy lights wrapped 'round the shoulders? It's fashionable and festive!
2.

Starfall Sweater by citrontart
This Starfall sweater? Same concept as the creator's Bright Lights sweater.
The word "Christmas" may not be in the title, but these sweaters could definitely pass for holiday garb.
Plus, citrontart includes two "xmas swatches" to this recolor, so there you go.
3.

Christmas Collection by Jius-sims
Candy canes are to Christmas what pumpkins are to Halloween.
They're distinct, brightly-colored, and seeing their color scheme instantly brings the holiday to mind.
So it makes sense why Jius-sims' titled their custom shoe collection that way. I mean, look at the bright red leather ballet pumps paired with the white socks. Or the Mary Janes in candy-apple red.
Definitely screams holiday family photo outfit.
4.

Christmas Collection by savvy-sweet
Jius-sims' Christmas Collection gave us shoes. Savvy-sweet's collection gives us dresses! And two new hairs with really fun names (Carol Curls is a personal favorite).
The dresses come in several color swatches but their main colors – as you can see – are red, white, and green. Award for the most obviously Christmas-inspired outfit goes to the Grace gown. Love the faux fur trim at the neckline!
But the collection is no longer available for download on Patreon, so you'll have to stick to the Simfileshare link.
5.

Yuletide Hair Set by Nolan-sims
The hairstyle itself isn't obviously festive – but it's still a fun option to keep in your CAS gallery.
Plus, the curls become infinitely more seasonal with the mistletoe headband.
You can wear it with both long and short versions of the hair.
6.

Queendom Slaybell Lipstick by simsfan923
Common colors for a Christmas party? Green, red, white—with the occasional gold tinsel or accent.
Have your Sim stand out from the crowd while still staying in-theme with this custom holiday lipstick set! Comes in 22 Christmas swatches.
7.

Reindeer Antlers by bellassims
The holidays are a perfect excuse for your Sims to break out the antler hairbands and wear them 'round town.
Pair with a bright green outfit or the traditional ugly Christmas sweater, and they're all set. Reindeer noses optional.
8.

Christmas Sweatshirts with Bonus Toddler Shirts by streneesims
These aren't so much "ugly Christmas sweaters" as they are "thick wool sweaters with Christmas-y designs on them."
They're not the over-patterned disaster that typical Christmas sweaters are, but they're definitely not worn for fashion, either.
But since it never hurts to have a cute penguin or jolly snowman grace your outfit, why not add this seasonal sweater to your Sim's virtual wardrobe?
9.

Christmas Earrings by softpine
I love this idea. Honestly, the pine tree earrings are super clever.
However, my eyes are fully on the knit fluffy stocking earrings.
They're cute, they're unique, and they seem so fluffy. I genuinely want to squish them to see if they're as soft as they look.
10.

Mrs. Claus Dress + Gloves by GoodChillsStudio
This outfit may not be the most practical (especially when you remember that Christmastime is also wintertime), but its design remains iconic.
There's no mistaking that bright red color and fluffy white trim. Jolly ol' Saint Nick inspired this getup.
You can get it in eight other colors, but why replace the holiday's main color scheme?
11.

Candy Cane Accessory by simlasya
This accessory isn't actually an interactive accessory, nor is it technically usable.
It was created for TS4 custom pose creators who may want to make Christmas-themed poses with a seasonal treat (or two) thrown into the mix.
But even if you're not a pose creator, you can attach this candy cane accessory to your Sim just for the festive fun of it. Trust me; it looks so good in-game!
12.

Snowdrop Sweater by AdresteaMoon
AndresteaMoon's cute Christmas-y/ wintery sweaters are appropriately decorated with snowflakes, Santa hats, Christmas stars, and the like.
However, it's done in a clean, minimalist way, with the patterns mostly being outlines or block colors on a solid background. It creates a very clean and cozy aesthetic that is eons better than traditional Christmas sweaters.
13.

Holiday Hat by Nolan-Sims
Yes, The Sims 4: Seasons added a Santa hat to the game.
But what about us Simmers who play strictly base game?
Nolan-Sims to the rescue with this fun, festive Holiday Hat. It's available in different colors, too!
14.

Christmas Stockings by bellassims
The stockings weren't meant for the fireplace; they were meant to be worn proudly. Look at those colorful, eye-catching designs. They are so unapologetically loud and distinct, and I love the effect.
Rudolf, snowflakes, and seasonal, Christmas-color-themed donuts?
What's not to love?
15.

Christmas Came Early by oliveandoaksims
I don't know if Christmas actually came early, but it definitely came in fashionable.
These sweaters are the kind of Christmas sweaters you wouldn't mind wearing out and about in public.
With the right bottoms, shoes, and accessories, they could even look stylish! See the Sim model with the beret. Her outfit is a solid 10!
16.

Candy Cane Stickers by Desimny
If your Sim wants a distinct look for the jolly holidays, slap a couple candy cane stickers on their face and top it off with green-and-red lipstick.
It's not advisable for everyday wear in the slightest. But, hey. It's Christmas.
If we can wear knit sweaters with garish designs to the bank, candy-colored face stickers shouldn't be an issue.
17.

Winter Wonders by aliennooboo
With this CC, Christmas will hit your Sim's closet—hard.
Baggy dungarees, thick socks, red jeans with reindeer print, and multiple sweaters with over 60 holiday-themed patterns.
So if your Sim needs to dress up for an obnoxious seasonal greeting card, there's no excuse. They literally have a dozen options to choose from.
18.

Garland Gown by Nolan-Sims
Nolan-Sims adds some festive, wintery-themed patterns to their Ghostly Gown to turn it from sweetly spooky to holiday-ready.
You'll need to stop by the Ghostly Gown download page to make this Garland Gown work, but I think it's worth it.
This way, your Sim'll have something to wear for both Christmas and Halloween.
19.

Candy Cane Braids by JujuAwesomeBeans
Some people stick candy cane stickers on their face.
Others dress like a candy cane, in red-and-white stripes galore.
If your Sim wants to take it a step further, they can turn their hair into a wintery, peppermint delight. These multicolored braids by JujuAwesomeBeans are available in six festive flavors!
20.

Holiday Pullover #1 by SimmieV
Don't worry, Male Sims – there are items in here for you, too! Specifically, this distinctly seasonal pullover in varying combinations of red, white, and green.
And they're surprisingly easy on the eyes.
If ever Ugly Christmas Sweaters get phased out, I vote for Christmas Pullovers to take their place.
21.

Nutmeg Beanie + Carrie Puffer by ajduckie
When the days are getting colder and the nights are getting nippier, it pays to stay bundled up.
Keep this knit Nutmeg Beanie and insulated Carrie Puffer jacket in your Sim's closet so that they're never unprepared.
22.

Separated Presents by dew of the sea
"No-one knows if there is really something inside it or if it's just a cardboard box."
Even if the massive mountain of gift boxes in the corner doesn't actually contain presents, it'll still help to liven up the atmosphere and turn bland corners more Christmas-y.
After all; what could make better clutter for the season than brightly-wrapped boxes tied up in shiny ribbons and sealed with a bow?
23.

Winter Welcome Mats by incandescentsims
If your Sim is going to be inviting three dozen guests over for the holidays (maybe not all at the same time, yeah?), best give them something festive to wipe their shoes on.
These Winterfest Welcome Mats are cute, practical, and seasonal!
And there are a heckuva lot of designs to choose from, to boot!
24.

Lighted Mini Tree by leosims
Festive mood lighting? For the traditionalists, Christmas lights or yuletide log candles are the way to go.
But if you want something a little quirkier for your Sim, try these mini Christmas trees with tiny string lights.
They make for quite the interesting setup, believe me.
P.S. if you're having trouble with the creator's download link, you can download the CC directly using this link.
25.

Winter Choices by SIMcredible!
SIMcredible!'s "small box of goodies" contains enough décor and furniture to fill a small Christmas cottage in the winter.
The cute snowman lamp and the hanging snowflakes are definitely a bonus, but it was the adorable giftwrap-patterned mugs that sold me on this set.
26.

Popcorn & Cranberry Traditional Deco by dew of the sea
Ever hung up popcorn garlands for Christmas?
They're cute, they're easy to obtain, and they look a right treat (no pun intended) when they're all strung up.
The Sims 4: Holiday Celebration pack added Christmas trees and seasonal string lights, but where are the cranberries and popcorn?
Turns out, they're right here.
27.

Holidays 2017 Christmas Tree by littledica
This Christmas tree was apparently originally made for a project titled FreeSO (Free Simulator Online) that aimed to revive The Sims Online.
No news what's been happening with that project since, but I'm happy the creator decided to share their contribution with us TS4 Simmers.
This lovely tree comes with a total of fifteen design options: five colors, three snow coverage variations for each color. Check the creator's notes for more deets!
28.

Christmas Wallpaper Collection by simplistic-sims4
This set of seasonal custom wallpapers apparently came about because the creator was inspired (and sort of maybe challenged?) by the McAllister family's walls (from the Home Alone movie franchise).
So, not to be outdone, they created a couple wallpapers with fun festive-y motifs.
29.

Nevergreen Gothmas Tree by deathpoke1qa
For the grumpy green Grinches who would like to celebrate the holiday in an unconventionally joy-less way, this Nevergreen Gothmas Tree CC is for you.
It is, without a doubt, the exact opposite of what one would expect for Christmas décor.
But if your Sim likes going against expectations and breaking the mold, might as well dabble in the "goth-friendly Christmas experience!"
30.

Christmas Day CC Set by soloriya
A grab-bag of Christmas day basics that no proper holiday setup can do without.
Decorative snowmen in brightly-colored scarves, a festive fireplace hung with stockings, a pile of expertly-wrapped presents, and lots more.
For the true traditionalists, this CC pack is perfect for you.
31.

Candy Cane Garden Lights by bellassims
If you can deck the halls with boughs of holly, then you can for sure deck your Sim's lawn with clusters of candy canes.
This sweet holiday treat by bellassims is fun, functional, and seriously creative.
Choose from seventeen candy cane flavors!
32.

Yule Log Candle Set by dew of the sea
Whether your Sims follow the tradition or they just think the it's pretty, they can use this Yule Log Candle Set by dew of the sea to add some seasonal warmth to their home.
Plus, all three pieces of this item – the log, the candles, and the decorative holly – are separate.
So it does allow for a fair bit of customization!
33.

Grander Christmas Tree by MelonSloth
This Christmas tree is exactly what the name says it is: a version of The Sims 4: Seasons' Christmas tree that's bigger, grander, and a lot more stylish.
It comes with a lot more design options, too. The creator's notes will have more details about the swatches, but trust me when I say that there's a lot to play around with.
34.

Gingerbread House + Men by maxsus20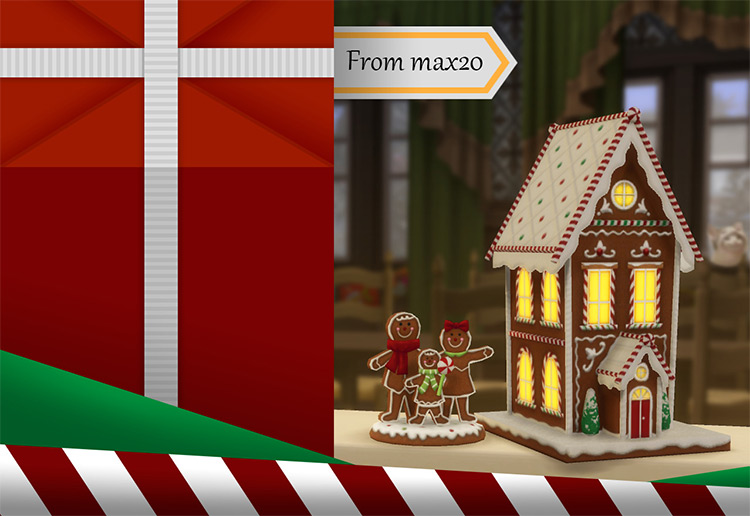 A perfectly-iced gingerbread house with a matching Gingerbread family to boot—could this look any cuter?
Gingerbread houses are like the portable, tabletop equivalent of Christmas trees.
Take one out, place it down, and the room is instantly five times more festive!
35.

Irrelechristmas Recolors by irrelephantsims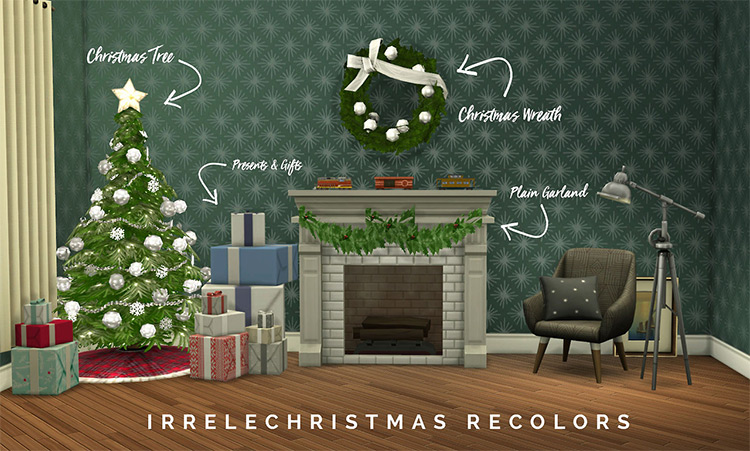 I'm wrapping this list up (get it?) with a tidy little recolor package from irrelephantsims.
They added a number of color and design options to several existing holiday pieces like the Christmas Tree, Christmas Wreath, and the Christmas Rugs.
Having a variety of new styles to choose from is always refreshing.
Browse:
Lists
Maxis Match
The Sims 4
Video Games