Best Sims 4 Maxis Match Clothes CC: The Ultimate Collection
This post may contain affiliate links. If you buy something we may get a small commission at no extra cost to you. (Learn more).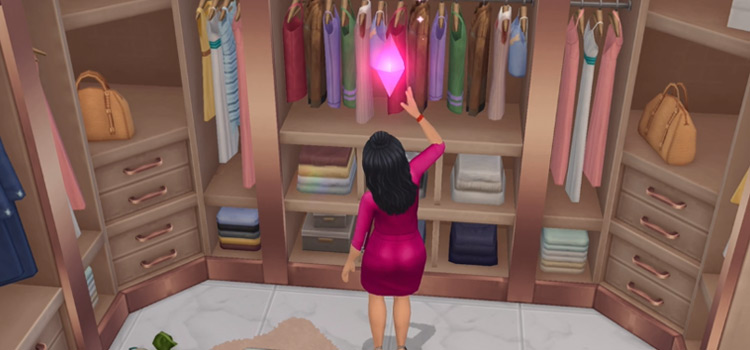 When it comes to custom content clothes and hair, there are two main routes you can take:
Alpha or Maxis Match.
Alpha stuff has a more realistic appearance, while Maxis Match emulates the game's style, or "matches" the type of clothes Maxis makes.
It just depends on your own personal style and taste. But I personally always go for Maxis Match.
A little bit goes a long way since you can easily mix and match it with other things in CAS, really giving your Sim an expanded wardrobe.
The thing is, there's so much of it out there & you might not know where to begin!
Dresses and jeans and sweaters, oh my! No matter what you're searching for, there will surely be dozens of options.
But don't worry: this list really has some of the best Maxis Match stuff out there.
Whether you'd like a new pair of jeans or some overalls for your Sim, you'll find it here, and it's guaranteed to be awesome.
1.

Sarah Top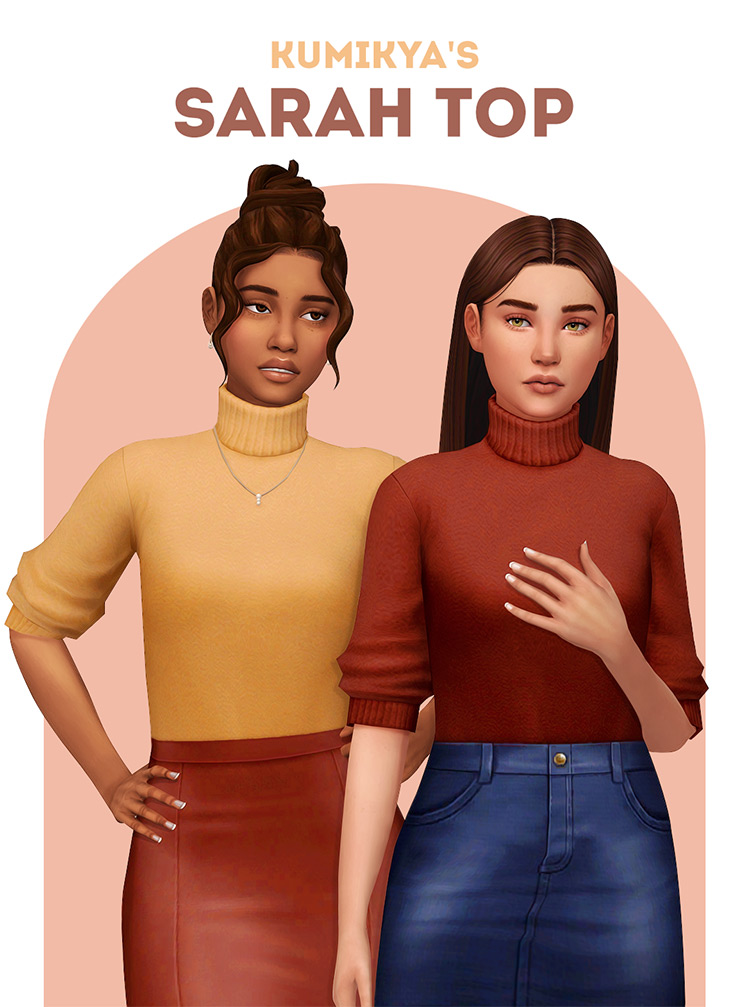 Sweaters are as versatile in The Sims as they are in real life.
You can wear them in fall, winter, and sometimes even for a while in spring. They come in an endless variety of patterns, colors, and styles.
These turtlenecks are the perfect choice for when you want your Sim to look classy and sassy.
There's a wonderful ribbed texture on both the neck and at the end of the 3/4 length sleeves.
Plus you'll have 20 solid swatches to choose from, so these sweaters will be usable for many different outfits and occasions.
2.

Rylann Shorts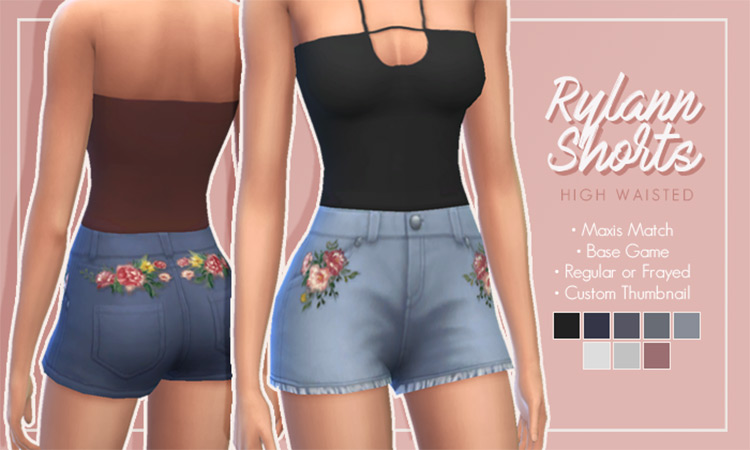 When it comes to shorts, you can only do but so much to create something fresh.
Sure, you can alter the length or cut a fringe design into them.
But aside from that you just have to take them as they are – especially in The Sims.
And then people started embroidering designs into their shorts.
The world was forever changed, and no one ever had to wear boring shorts again!
Maybe that's a little bit of an exaggeration, but I just love the floral designs like these on denim.
There are 8 swatches here with lovely flowers and greenery on both the front and back of the shorts, and you'll have two options to choose from: frayed or neat.
3.

They See Me Roll'n Tee
This tee proves that only using one type of shirt doesn't have to get dull.
As long as you have plenty of different colors to choose from, it's like an endless supply!
Why bother trying to find more t-shirts to pad your guy Sim's closet, when you can just choose one that's really cool (like this one) and use it again and again?
The rolled sleeves on these make them visually interesting and stylish, and all 20 of the color options are great.
You could use these with shorts, khaki's, and jeans alike, and they'll always work.
4.

Toddler Overall Dress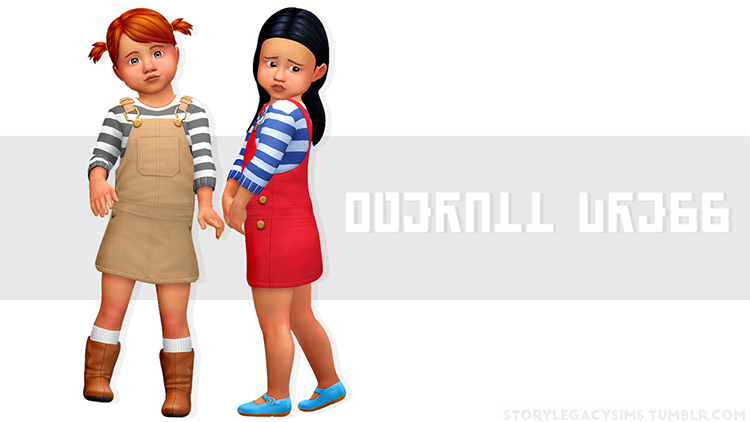 It's funny how toddlers have the shortest lifespan in the game after babies, and yet I absolutely cannot get enough CC clothes for them.
There is just so much amazing adorable content out there, it's really hard to pace yourself.
So I'm warning you, even if your Mod folder is already packed, you're gonna want to make room for this.
Even the Sim toddlers modeling the dress are cute – but once you have your own little tyke in it, you won't believe how precious they look.
They can get away with anything once they're wearing an overall dress, honestly.
Never mind her tantrums or the messes she makes, she's wearing a sweater and overall dress, she's a stylish little lady now!
5.

Riley Sweater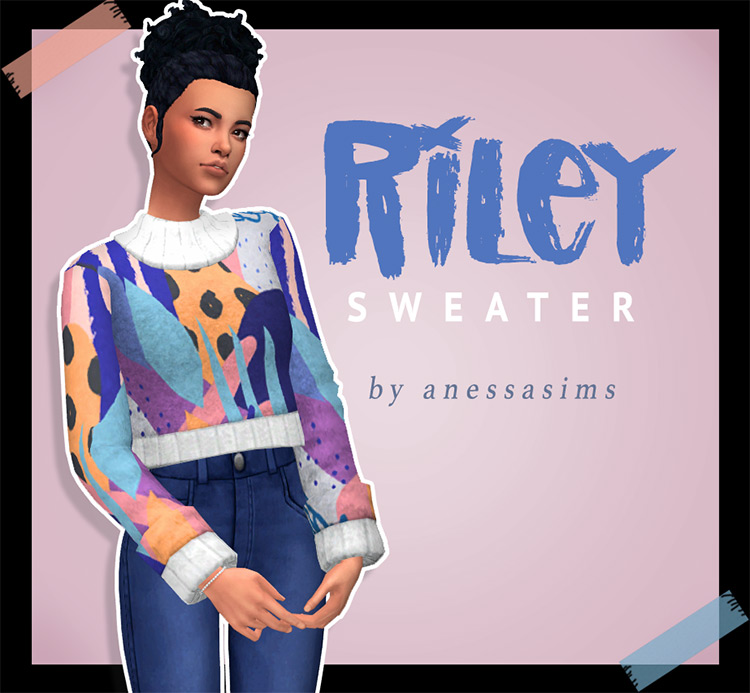 Most of the sweaters we have in the game are baggy, oversized designs.
And of course those are very popular in real life, plus pretty comfortable as well.
But sometimes it's nice to see your Sim in something a little more flattering.
This Riley Sweater from creator Anessasims has a more mature cut. It's almost cropped, but not quite; with most pants, the bottom of the sweater and the top of the jeans will line up right beside each other.
As such, it'll give any outfit a more modern appearance.
There are a total of 56 swatches here of both solids and patterns, so… that's basically a lifetime supply of sweaters for your Sim.
6.

Classy & Chic Shirt
Speaking of flattering tops, you know what's not at all flattering?
Any of the base game female button-downs. Eek!
Don't get me wrong, they're great for a formal outfit, or when you want your Sim to look like she means business.
But as for incorporating them into fashionable, casual outfits… there's not much hope.
This creator's edit of the shirt from Get Famous is the perfect solution.
Every inch of it is stylish and feminine, plus it's a tucked design.
Your Sim will look unstoppable if she wears this with belted jeans or denim skirts.
The collar is a little opened, removing the formal element as well. At last, your Sim ladies can have casual button-downs!
7.

Honeybee Jumpsuit
Here we have another great creation from Anessasims, and this time it's a jumpsuit.
Yes, a jumpsuit!
That's something you don't see much of for Sims, though I'm not sure why. They're always cool.
This is a really cute design, with an overall-styled look, except they're fastened with little ribbony accents.
The jumpsuit also cinches in the middle, there are "pockets", and the legs are cuffed.
In other words, there's a lot going on. And it all makes for a really unique ensemble.
The shirts beneath are amazing as well and really compliment the jumpsuit with their small designs.
8.

Alexaar's Jackets
There are three jackets here, and all of them are prime examples of the Simming community's talent and eye for fashion.
Once you start using these, it'll be hard to go back.
Every Sim you make henceforth with have slightly retro denim or corduroy jacket.
That's true for me, at least.
I first found this sometime in early 2020 and have never got tired of them. The furry collar and cuffs are just such a timeless look.
And while the jackets themselves are for sure the stars here, the sweaters beneath go with them incredibly well.
The Demi and Cordi jackets each have 45 swatches, and the Cordi one has 75.
You'll for sure find something fitting for you and your Sim here, whether you like the vintage look or want something more trendy.
9.

Checkered Shirt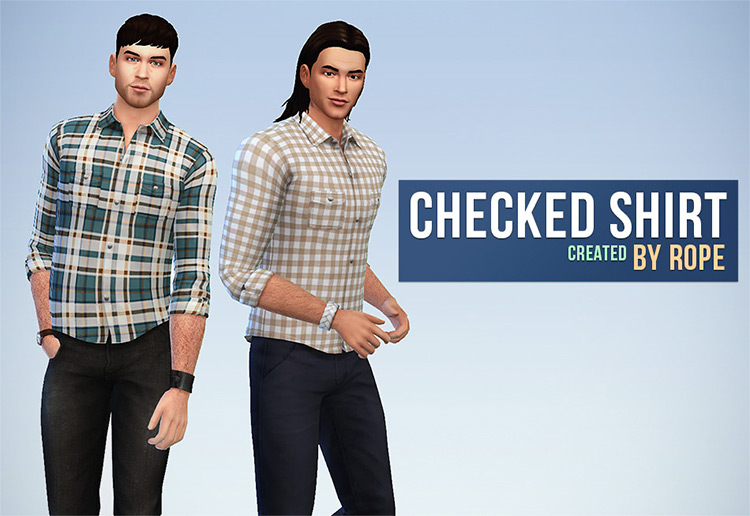 Finding stylish stuff for guy Sims besides t-shirts can be a bit of a challenge.
But creators like Rope make it a lot easier.
These checkered shirts really look great. They have a casual appearance, and the 15 swatches cover a variety of different designs.
There are some small checks, larger plaid swatches, and some really big boxy ones as well.
Plus the color schemes are awesome, too – very vibrant!
10.

Xero Denim Shorts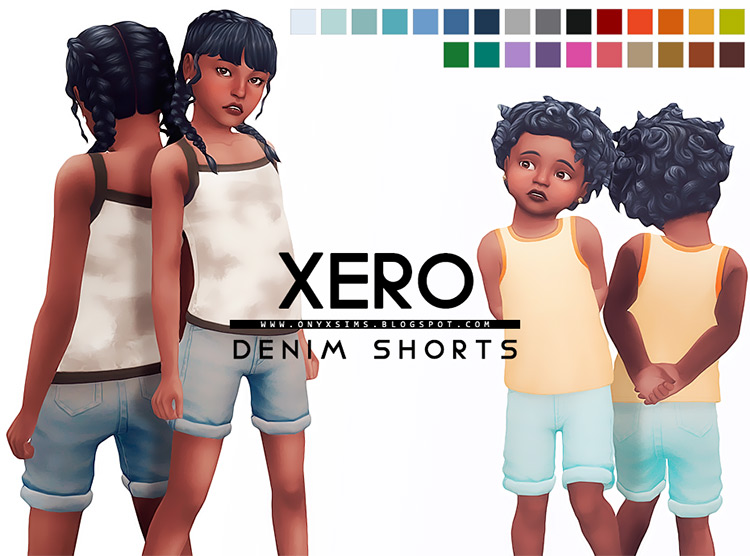 As a kid, I got the majority of my shorts by waiting until the knees of my jeans got so thin my mom snipped the legs off, and voila, cutoff shorts were born.
I know I'm not the only one.
That doesn't seem to be very common anymore… maybe the quality of jeans got better?
But in any case, it's a bit of a nostalgic yet classic look that I like to give my Sim kids.
These shorts from Onyx Sims are definitely a little nicer than most of the cutoff shorts I had, but I love them.
They have a nicely detailed denim design and the legs are a little cuffed.
They're available for both toddlers and children, so all the kiddos in your household can live the jorts life.
11.

Paperbag Trousers
You might not think there's much room to innovate when it comes to pants.
But as it turns out, that's not quite true.
I've never seen anything quite like these Paperbag Trousers from Colorful Plumbobs, and now I feel like I've been deprived.
They are honestly gorgeous and have a very original design.
The waist is a little ruffled and belted with a bow. Whatever swatch you choose, that bow will match the pants. And the floral design is just gorgeous!
If you're someone who almost always puts your Sims in skinny jeans because other types of pants seem unflattering, then these are definitely for you.
They have large baggy legs, but not at all in a bad way.
Your Sim will in fact look amazing.
12.

Sannie Overalls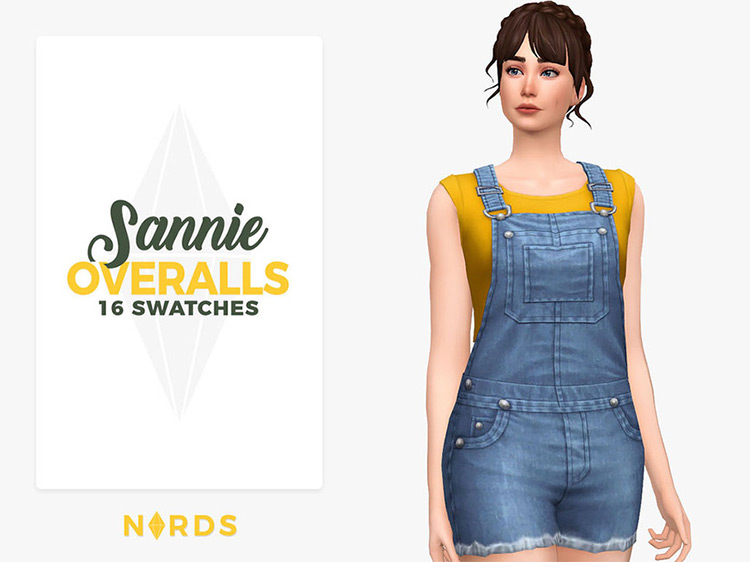 Overalls might just be one of the best inventions ever.
Not only are they incredibly practical, but amazing for casual outfits, too.
They've gotten pretty popular over the past few years, and don't show any signs of slowing down. Tons of people still love to wear them with sweaters, cropped tees, long-sleeved shirts for a whole range of occasions.
This creator, Nords, brought some of the best things this trend had to offer together.
These overalls have an amazing & detailed denim texture, right down to the frayed design on the legs.
And the shirt layer fits right in, with a short-sleeved cropped tee.
13.

Jessica Skirt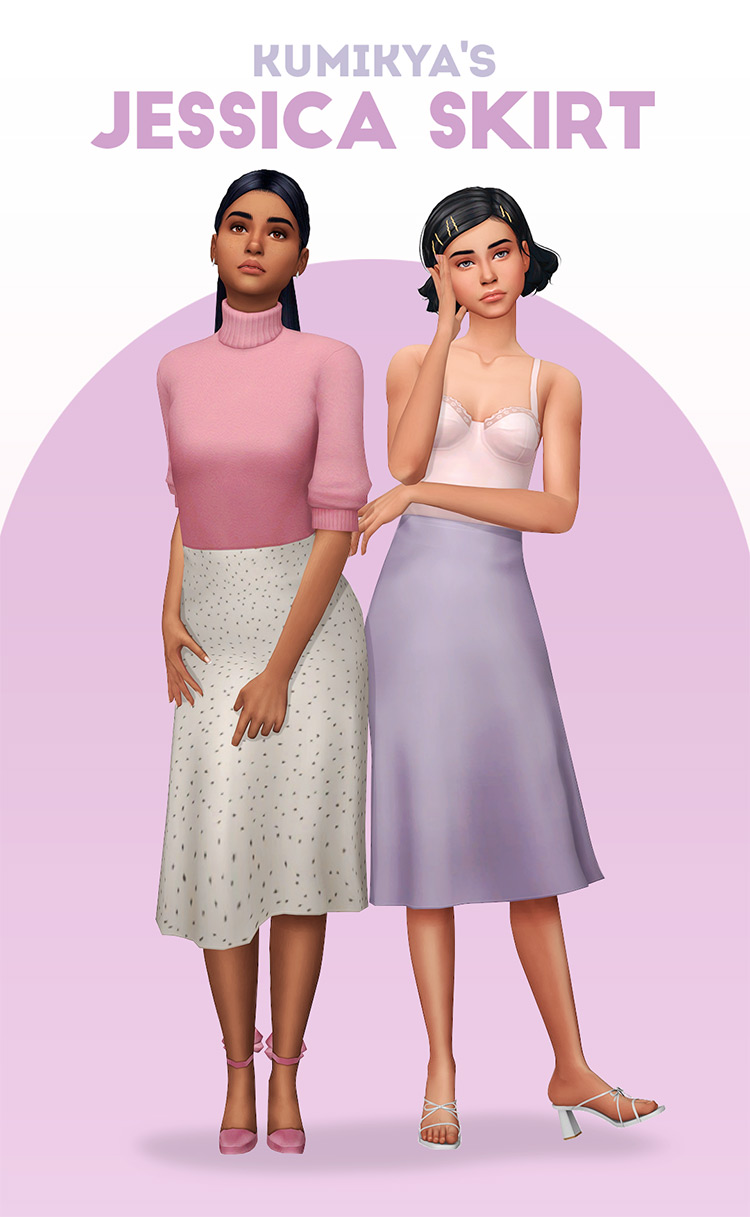 Until The Sims gets some sort of slider for clothing length, you'll have to make do with what's already in CAS.
Sure, there are plenty of nice skirts already.
But let's be honest… most of them are a little weird when you try to use them with outfits.
Many are really short, or most tops wind up not quite reaching the waistband – and you're left with a revealed midriff, whether you want it or not.
For that reason, CC skirts are some of my favorite things.
Simmers seem to be very aware of what's in and out in terms of fashion, and this Jessica Skirt is fantastic.
It has a higher waist that'll work with plenty of tank tops, t-shirts, and sweaters.
And it has a really nice length as well, stopping just a bit below the knee.
14.

Rosemary Outfit
You've probably heard the term "business casual" but have never really thought much about applying it to your Sims.
I mean, unless you have Get To Work, their job is just somewhere they disappear to for several hours per day – then return home in a rather unfashionable outfit that you immediately change them out of.
But this Rosemary Outfit will bring that classy vibe you wish your Sim's real work outfit had home.
It's a skirt and blazer set, and a very chic one at that.
Many of the blazers in-game, for both men and women, have a rather dowdy appearance.
This is like it was specifically tailored for your Sim, though.
The fit is great all around.
It also comes in 38 swatches, including unique swatches as well as some patterns like plaid.
15.

Daisies Top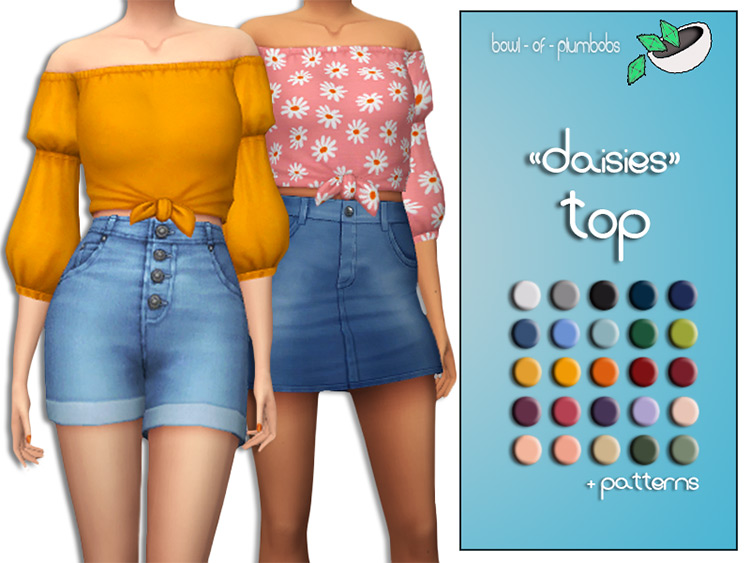 Your real-life wardrobe is probably quite varied.
Chances are you have more than just some t-shirts, sweaters, and a handful of crop tops.
To give your Sims some clothes that look more interesting, you don't really have to go far into the CC realm. These creators are amazing at making looks just like you yourself would snatch up off the rack, and this top from Bowl Of Plumbobs is no exception.
It has a sort of puffy, layered sleeve design and a little knot at the bottom, both of which make this top very cute.
There are 26 swatches total here, including solids as well as florals.
16.

Denim Vest for All Ages
Clothes that are available for multiples ages are some of my favorite things in this game.
I mean, plenty of real-life kids want to dress like their parents.
And with stuff like this, you can even do a "daddy/mommy and me" thing and make them match!
This creator has made these cool denim vests for all. Men, women, adults, children, toddlers – everyone can wear a vest.
The way it's layered over a t-shirt gives it a bit of a retro look, and I'm living for it.
But vests, and especially denim vests, are timeless.
Your Sim can rock this whenever – or even for their whole life.
17.

Casual Dress
You can never have too many casual dresses, honestly.
The smallest alterations can make a dress look completely different.
Changing out the jewelry or shoes can reinvent the whole look.
All of that will be super easy with a dress as lovely as this one.
It has a skater style, with shirt sleeves, a scoop neck, and a short length.
There are 50 swatches in total here, including 40 solids and 10 pattern designs.
Because of the style and amount of swatches, you can do all sorts of things with this CC. Choose a fall-toned swatch and some leggings for a cozy Harvestfest outfit, or go with a bright color and some sandals for a spring look.
18.

Summer Festivals Pants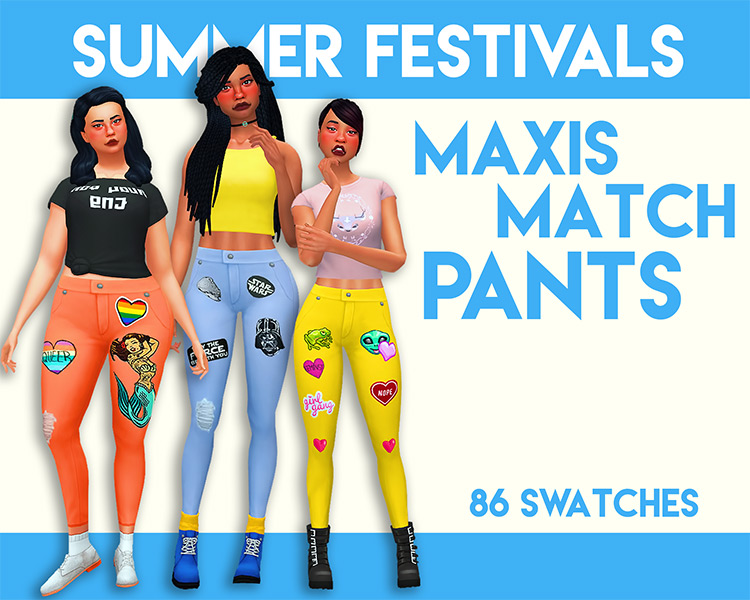 Now that we know we'll be having a real music festival in the game, these pants are especially appropriate.
They were created with just that sort of vibe in mind, and cover a huge array of styles, interests, and identities.
The pants themselves come in dozens of designs, including denim swatches and bright, fun colors.
But the patches are what really make them special.
Your Sims can sport everything from Star Wars, Voidcritters, LGBTQIA+ and more.
Like… a lot more.
There are 86 swatches here in total, for both males and females, and there are a ton of different fandoms and general Maxis Match styles to choose from.
19.

Cozy Plaid Robes for Men
When it comes to sleepwear, male Sims have been a little left behind.
For women and kids, there's plenty of stuff around, both CC and stuff you'll find in the game.
Guys don't have to just throw on a t-shirt and shorts and call it good.
With these robes from SimmieV, your Sims will look cozy and suave, morning or night.
I don't think most people actually sleep in robes, but since your Sim is only in the bed for a short time, it doesn't matter.
It'll be nice to see your Sim cooking breakfast in something his underwear, won't it?
And just imagine Winterfest morning… dads in plaid, how sweet!
20.

Splash Oversized Cropped Cardigan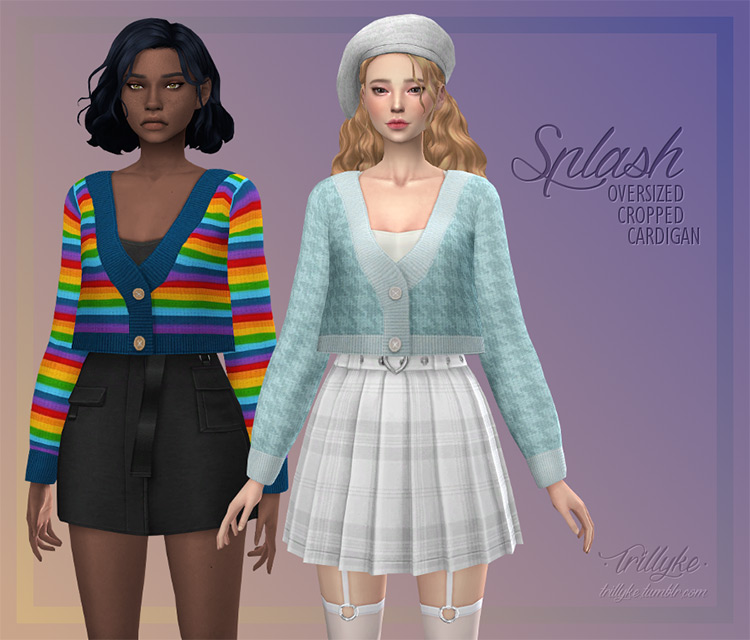 Oversized doesn't have to mean frumpy, even though that sometimes is the goal.
Big sweaters just have a naturally comfy, cozy look, and are key for many casual outfits.
But depending on the cut and style of them, any person (or Sim) can turn oversized tops into a truly well-put-together outfit.
This cropped cardigan proves how powerful it can be to take some length off.
You can really see how it becomes the focus of the outfit, thanks in part to the colorful swatches and fun designs.
These 30 swatches have something for everyone.
There are some with a houndstooth pattern, animal prints, flowers, butterflies, solids, and more!
21.

Baggy Cuffed Jeans for Guys
Sometimes you just want something that says your Sim just rolled out of bed and pulled on the first pair of jeans he found on the floor, and that's okay.
Seriously though, these jeans are actually an amazing creation.
And they're a nice change of pace from the more prim and proper, almost skinny jeans we have so much of already.
These are the jeans of a guy who's a little rough around the edges and doesn't mind getting dirty. He knows his pants are up to the job, after all.
The denim texture here is really great, and the cuffing at the bottom of the pants a nice touch, too.
I'm sure it was no easy feat, but these baggy jeans look fantastic!
22.

Sweet Dreams Tots PJs
There's nothing cuter than a toddler in their jammies.
But we have so few options in the basegame, they get old kind of quick.
Racecars and cowboys are only cute but so many times in a row.
You'll have plenty of new designs to dress your tot in here, 12 in total.
They feature plenty of cute critter designs, hearts, trees, rockets, and the like to maintain that childhood innocence at bedtime.
Plus they're separated into tops and bottoms, just like the basegame pajamas, so you can mix and match as well.
23.

Guys' Thrift Tops
Everyone loves a good thrift top.
It's actually become quite a hobby in recent years for people to find them, as well as other goodies from thrift stores.
For many people it's about aesthetics, for others it's just the thrill of finding a bargain.
But either way, your Sims can always use more stylish t-shirts.
These will be an awesome addition to your Sim's everyday wardrobe.
They have cuffed sleeves, and all 10 swatches have some vintage designs.
When it comes to casual outfits I can't think of a much better way to make your Sim look more like a real dude, without deviating from the game's style.
That's the beauty of Maxis Match.
These Simlish sayings still look right at home in the game, every though they're all CC items.
24.

Molly Outfit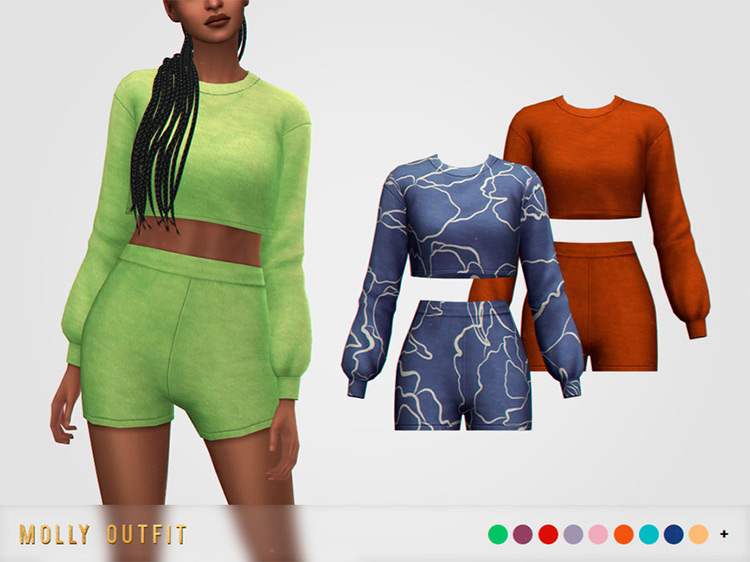 Even in The Sims, athleisure has exploded.
No one can resist the temptation of comfy & stylish clothes that also serve many purposes.
As the creator of this Molly Outfit says herself, it's something that can be worn as an everyday outfit, working out, or chilling at home.
And that is indeed the beauty of clothes like this.
Honestly, finding sets that look this good in real life can be difficult. I guess that's all the more reason to let your Sims live out their best lives… they have easier access to better clothes!
There are 44 swatches here, including solids as well as some pretty cool designs like lightning.
25.

Wyatt Suit
There's nothing more dashing than a man in a suit… a good suit.
It's probably not often that your Sims wear their Formal clothes. But even so, you'll still want them to have something great.
Whether they're going to a fancy party, out on a date, or to a wedding, their appearance is very important.
You don't want them to get confused for a townie because of their clothing, do you? Never! The horror!
These suits are some of the best ones I've ever seen, both in form and style.
They have a much nicer look than many others, and the swatches really make them special.
You'll have plenty to choose from too with 56 total swatches in total, including a ton of solids and patterns to suit any occasion.
Haha get it? Suit? Anyway…
These are a fantastic Maxis Match choice to add to your game, since they "feel" a little more modern and fun than most of the other suits, which just have the usual dark swatches.
Browse:
Lists
Maxis Match
The Sims 4
Video Games